When Audrey sent us her insanely sweet nursery makeover we couldn't wait to share the goods. Here's her letter:
I really enjoy reading your blog and thought I'd shoot you guys a before and after that I've gotten some good feedback on my blog for! I know you guys are suckers for a good before and after, so I hope you enjoy this one. It's a nursery that I did for my sister – she's due in a few months with a little boy, but on modified bedrest so can't do much in the way of creating a nursery. I'm a commercial interior designer by trade, but I thought I'd take a stab at some interior "decorating" and whip up this nursery for her (with the help of my family members) during a weekend visit. I hope you guys enjoy! Some tidbits about the makeover:
We were definitely on a budget, so almost everything was from Ikea or Target, sans the new ceiling fan and glidder from Babies R Us.
The paint color we used (blue) was Valspar – 5001-5B, High Noon – and low VOC for baby on the way.

We did the bike mural by borrowing an overheard projector from my sister's school (middle school teacher) and projecting a bike image up on the wall that we found online. I traced this bad boy with a white paint pen and then filled in with some ceiling white paint.
The before picture was from before they moved in, so please excuse the heinous floral bedding and lacy window treatments.

Keep up the good work! – Audrey
We are suckers for a good before and after! And this one's especially delicious. Here's the granny-inspired before picture: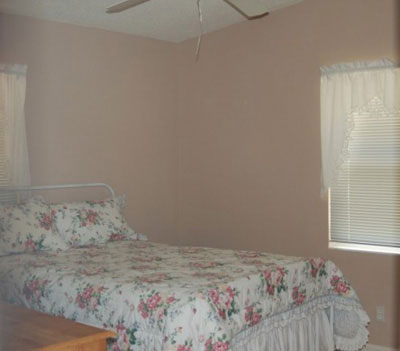 And the amazingly adorable afters: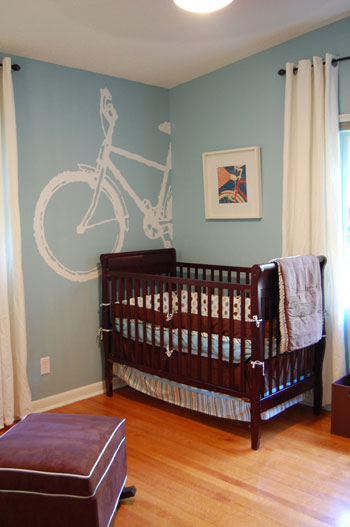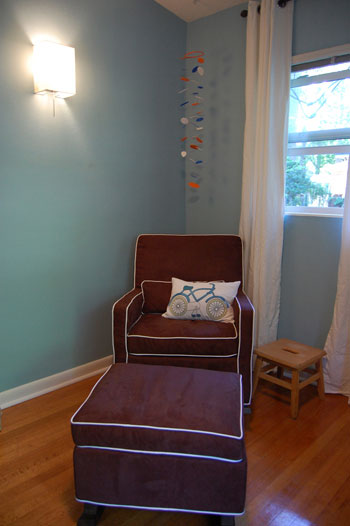 Isn't Audrey's nursery makeover inspiring? It's crisp and cute and oh so fun. And you know we're crazy about that bike mural, right? That's one lucky baby (and sister for that matter)!