We recently snagged this recycled glass soap pump from Target for $9 and we couldn't be more excited about our sleek Restoration Hardware-esque purchase.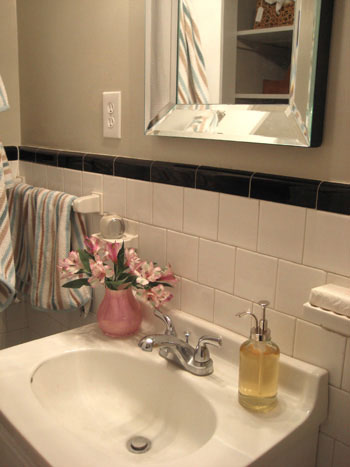 It's a little bit industrial and a little bit classic and it may just help us avoid the flu this year (hand washing just got more fun). In fact we love it so much, we grabbed a second one for our other bathroom, and now we have two refillable soap pumps made from recycled glass full of Dr. Bronner's Organic Almond Castille Soap (our favorite) that make sudsing up a little swankier.
We can't find it on target.com but we're crossing our fingers that your local Tarjay will come through with the goods. And it's not in the Home Design Event area, it's right in the regular bathroom section (although there were other recycled glass soap dispensers over there last time we stopped in and picked up our beloved gourd lamp). Happy hunting!