Update: Yeesh, sorry about that oddly reoccurring Amazon/B&N.com "out of stock" message. To everyone who's contacting us about getting our book (thank you!), you can order a signed copy here (they can ship it right to your door) or you can try calling/visiting a Barnes & Noble in your area (we hear they're easier to find in stores at the moment).

Happy Friday y'all. Now that we've checked off a bunch of projects this week (decorating our tree, framing our bathroom mirror, and ORBing our hardware) along with a craftsman house crash, a DIY link-fest, and a look back at a bunch of mistakes we've made, we thought we'd take a moment to look back at November in our regular monthly wrap-up before we're inexcusably late like we were last month. This little moment of looking back keeps momentum and morale nice and high, so we're inspired to keep checking things off the list instead of feeling like we're hamsters running on a wheel-to-nowhere (so to anyone who wonders how we've done this for five straight years, stopping to appreciate what you've accomplished is definitely key). Insert random photo of Sherry in love with a life-sized ram here: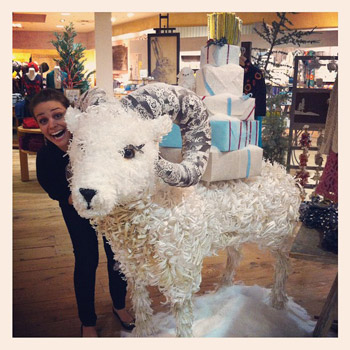 And this month was especially crazy! We found ourselves traveling 14 of its 30 days for book tour events, so we're pretty proud to have somehow still snuck in a near complete hall bathroom upgrade, a buffet update, a new kitchen window shade, some nice basement progress, and a few random fall-themed decorating projects. Not to mention that we got to unleash four House Crashing posts on you. And if you'd like to journey further back into 2012 (or even peek all the way back through 2011) you can see 22 other recaps right here (which is a lot easier to peruse than clicking though over 740 individual posts). Oh yeah, and we've also snuck in a clue about Monday's giveaway at the bottom for ya. And it's one that anyone in the entire globe can enter… so… rock on. Or should I say ram on?
Most Likely To Be A Used Car Stuff Salesman: Both of us, after we realized how much stuff we actually sell on Craigslist (the items below are just the tip of the iceberg). That's why we finally wrote a post with all of our tips for both selling and buying on the ol' CL.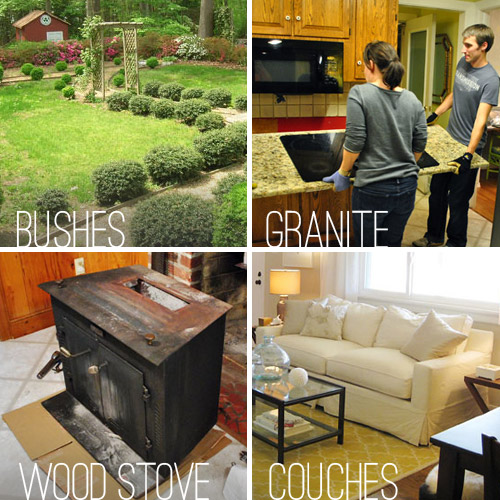 Freshest Face: The touch up job on our still-rustic-but-not-as-beat-up living room buffet, which Sherry refreshed with some carefully color-matched paint that we followed with a few coats of polyurethane to seal and protect it.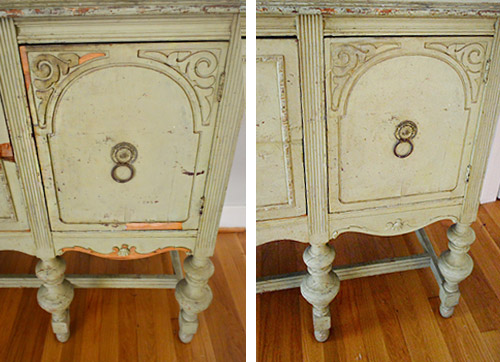 Most Inspiring: Nate's garage workshop was the kick in the pants I needed to start work on my own basement. So I'm forever grateful that he and Michelle invited us to crash their Northern Virginia home.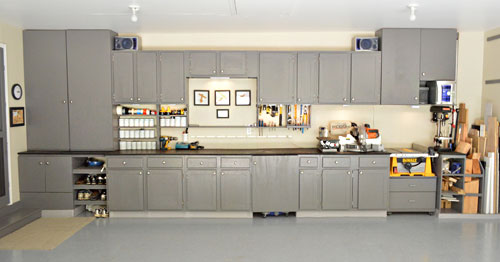 Most Secretive: This boxy floating shelf that we constructed to hide the secret tile eyesore that was leftover after Sherry unsuccessfully busted out a soap dish built into our hall bathroom. Woops.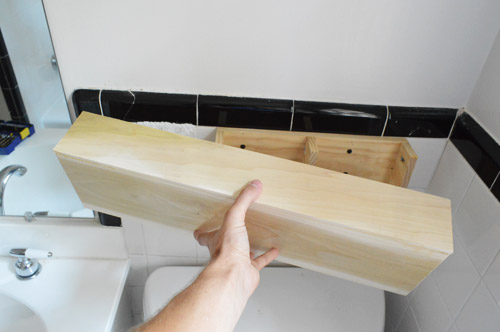 Juiciest: This behind-the-scenes post that gives you page-by-page tidbits about what chaos transpired to get the shots in our book. We were ridiculously psyched to finally be able to tell some of the stories we've been sitting on since January.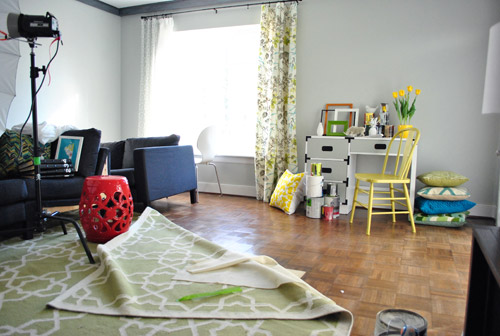 Most Mouth-Watering: These pretzels, which Sherry was actually using to prop up the acorns that were drying for one of her little fall projects (which ended up getting a smidge moldy). Next time we try acorn art we'll be sure to slowly heat them in the oven as many of you suggested to dry them out. You guys are smart.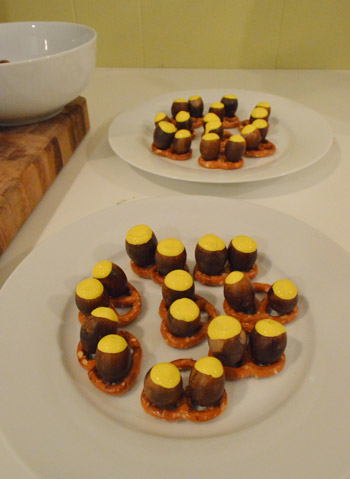 Most Welcoming: Rich and Jessie, who not only invited us to crash their home when we were in Cincinnati for our book tour – but even picked us up from our hotel (after waiting an extra hour or so due to a flight delay). Talk about gracious hosts… with a beautiful home to boot.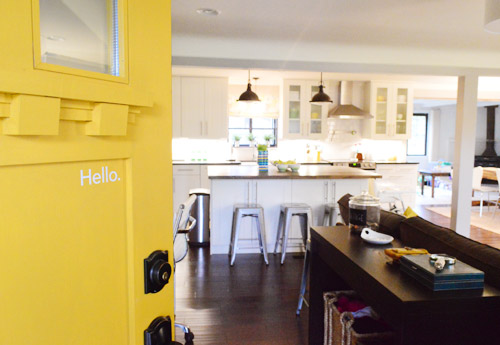 Most Granny Chic: Our hall bathroom, which we painted a purplish-gray thanks to being inspired by the muted lavender color that we chose for my Granny's bathroom makeover back in September.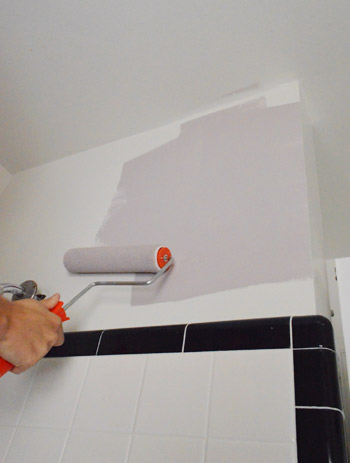 Most Likely To End Up On The Weather Channel: Any of the cities on the New England leg of our book tour. Between the Sandy aftermath in our Connecticut and New Jersey stops followed by the Nor'easter-induced snowstorm in Boston, it was quite a weather-filled start to a travel-riddled month. We're still sending love to everyone effected by Sandy – including many of Sherry's friends and relatives.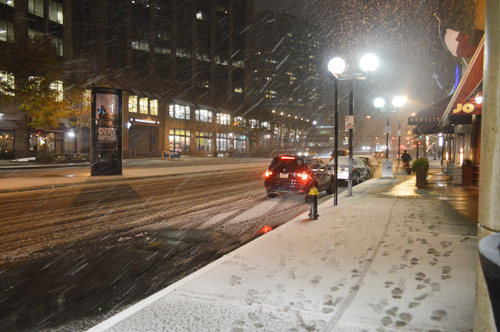 Most Faux Real: The faux roman shade Sherry created for our kitchen using around a yard of fabric, a scrap piece of wood, some iron-on tape and a whole bunch of pins. It ended up being the first of two quickie window treatments that she made this month.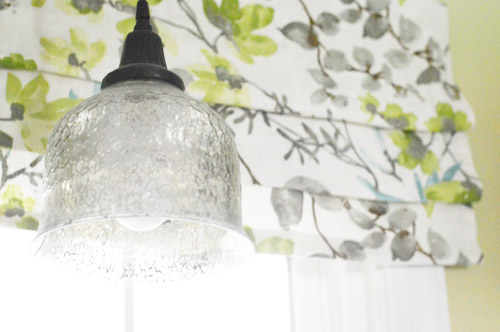 Most Fishy: This sailfish that Lesley & Jeff are sporting in their guest room. And it's just one of the many memorable items that we discovered upon crashing their eclectic Richmond home.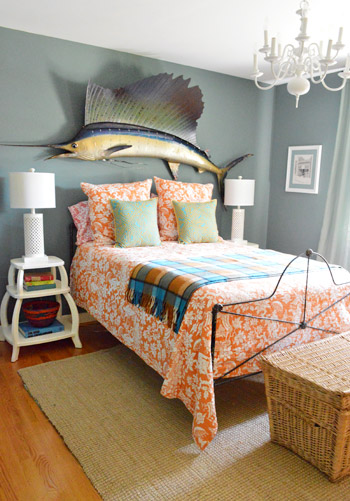 Most Non-Sensical: The middle, according to this post where we reassured everyone that there's often that point during a project or a room makeover where your vision hasn't quite clicked yet (like this mid-point of our office makeover). But persevering and pushing on can often get you over the hump to something that makes beautiful, beautiful sense.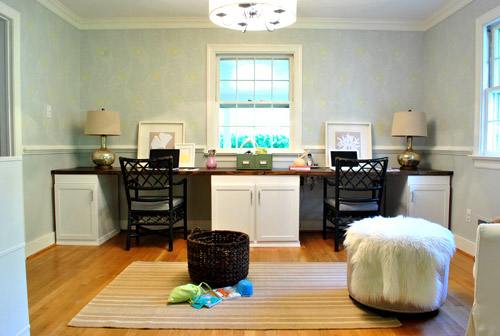 Most Chaotic: Our "playroom" – even after a good cleaning and purging of items from book photoshoots. This room probably won't look "put together" until we paint over the random colors (and stenciled patterns!) that we put up for our book. And actually figure out basic things… like a functional furniture arrangement.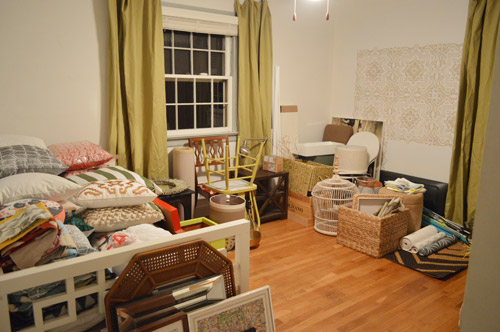 Most Likely To Open A Paint Store: Definitely us, especially after tidying up our paint collection as part of my basement organization effort. But in an attempt to make a dent in what we accrued thanks to book photoshoots…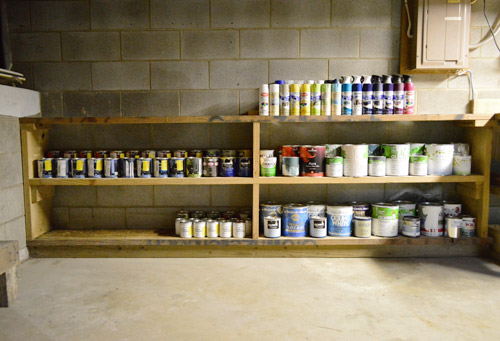 … I reused one of the colors to paint the pegboards in that room.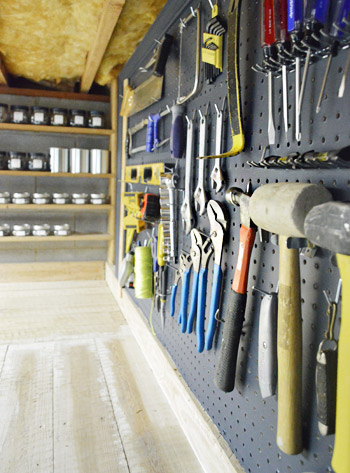 Moose-iest: What? Your high school didn't have a "moose-iest" award? If it did, it'd probably go to these guys that we met during our Canadian stop of the book tour. We covered more about the moose-fest as part of our tour recap of Richmond, Chicago and Toronto.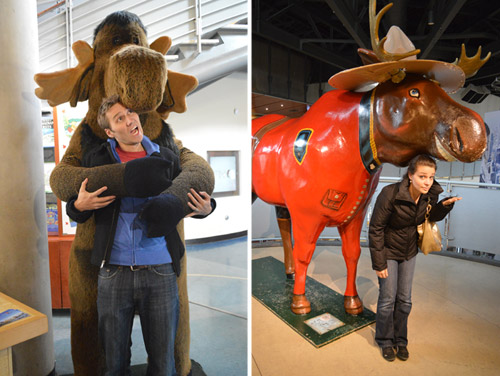 Quickest Upgrade: The new Hobby Lobby knobs that we added to our hall bathroom, which took about 0.00 minutes (I may be exaggerating) to install.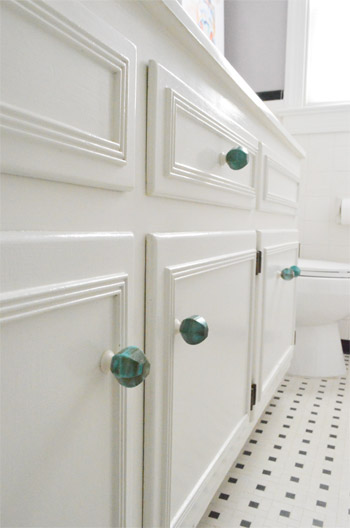 Frosting the window in that room (also covered in that post) took a bit longer, but was still totally worth it.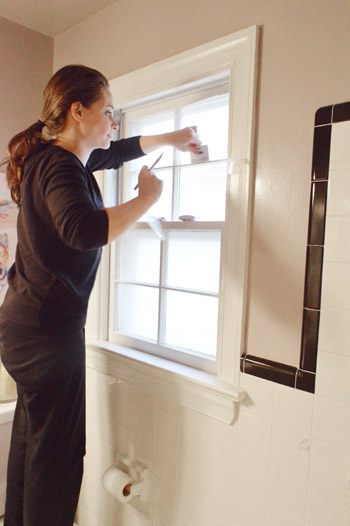 Most Unused: We did this post about finally crossing that line and joining the ranks of people with TVs in their bedroom thanks to our leftover living room television. However, we've yet to actually hook it up to anything so it has still never been used in there. Oh, and the poll we took on Facebook was incredibly close (the "No bedroom TV" folks took the lead by a tiny margin over the "pro bedroom TV" people). It was lots of fun to hear everyone's bedroom TV opinions.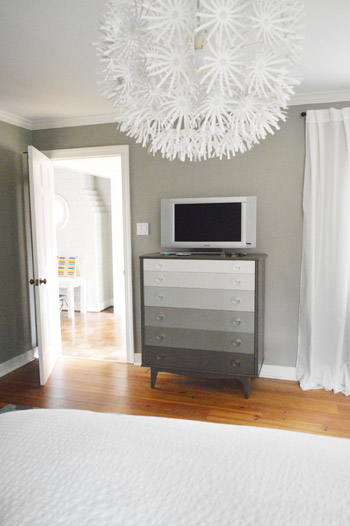 Most Heartwarming: This sweet post that Sherry wrote about me for my birthday last month. I believe my favorite comment on it was Kay's: "Great. Now I'm in love with John." (And to be fair, Tracie later said something quite similar).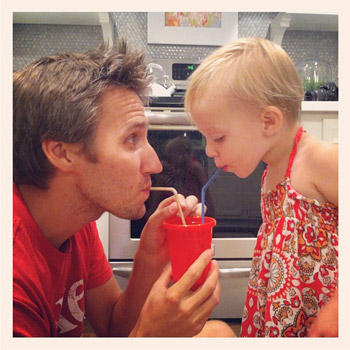 Most Cringeworthy: Adapting our annual thanks jar tradition to our chalkboard, which made me put aside my aversion to the sound of chalk on a chalkboard. But you guys gave me some tips in the comments for my next attempt at chalk art. Update: I tried dipping chalk in water before writing and it does seem to help.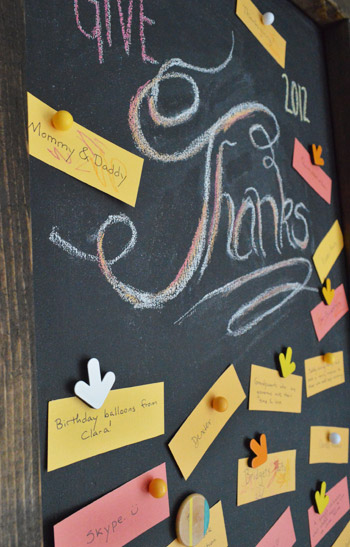 Shadiest: This 15-minute window shade that Sherry whipped up for our hall bathroom out of some bright and bean-tastic ikat fabric. It may just be our favorite thing in the whole room.
Most Serendipitous: Realizing that our 5″x5″ Instagram prints fit nearly perfectly in a CD jewel case, which allowed me to put together this super cheap photo display in my basement workshop that's virtually sawdust-proof.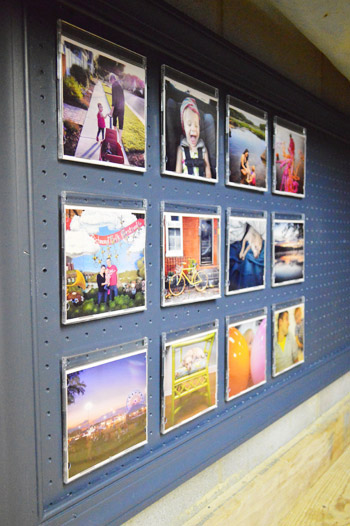 Most Insightful: You guys, since you all chimed in with lots of other great suggestions back when we shared our tips for what to look for (and look past) when house hunting.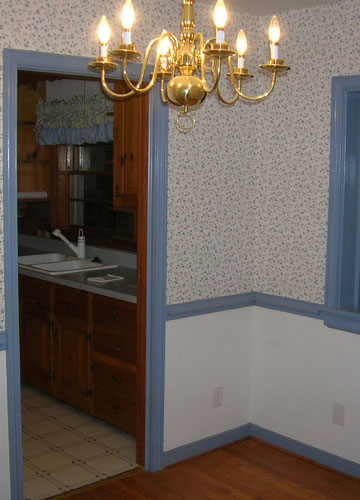 Most Cheerful: Lesli, whose Charlottesville-area farmhouse we crashed last month. Like us, you guys seemed to enjoy her bright, casual, and colorful decor – which included many of her very own paintings.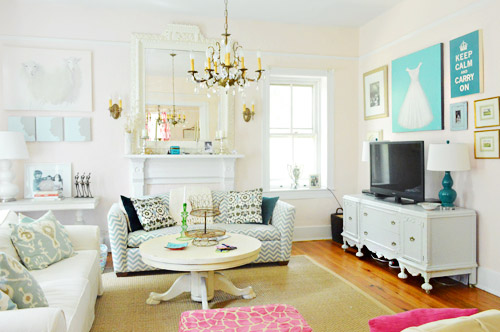 Most Potential: Our sunroom, which we were just starting to think about at the end of November. It was nice just to get it cleaned up a bit – but now that we've stuck our toe in the water we're ready to dive in. Update: In fact some painting might already be in progress (pics to come on Monday!).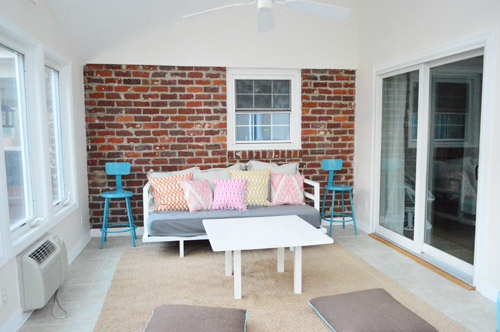 Most Entertaining: Um, you guys! The comments on this random-fact filled post are just about the best laughs we've had in a while. Ok, ever. I seriously recommend a breeze through at least a page or two of the now 1000+ comments. You guys are hilarious. And all need your own talk shows.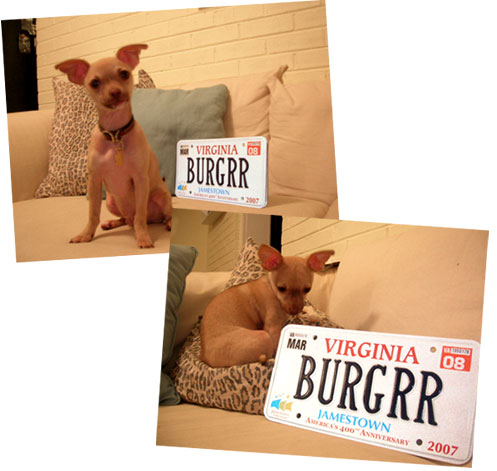 Most Artistic: The husband who drew this Beavis-ified portrait of his wife based on a tip in our book, which we admitted could go terribly wrong, but just might be hilarious. She showed it off at our Houston book tour stop and we all got a good laugh. And that laughter continued when we shared it as part of our recap of our tour stops in Minneapolis, Houston, and Dallas.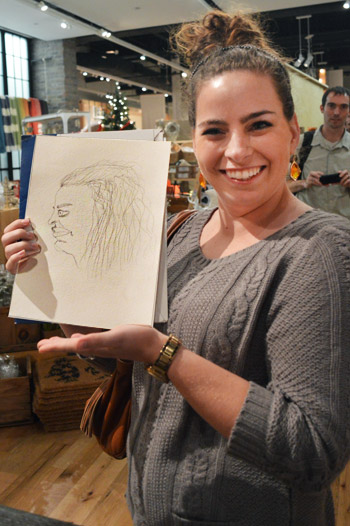 Most Iconic: The images below, which each represent a word that might help you decode the prize for this Monday's giveaway – which, by the way, is available to anyone in the whole wide world!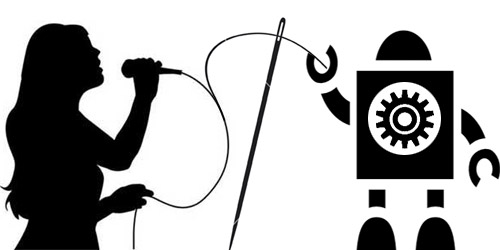 How did November look for you? Did you knock out a lot of travel for work or for play? Did you get any major projects completed? Or did you just enjoy those last few weeks before holiday craziness kicked in?