We can't wait to share this house crashing adventure because you've actually seen how Lesley & Jeff live…. but that was over 4.5 years ago (before they had two sweet little boys and moved into a new home for their growing family). It's actually a mid-century split level house in a charming woodsy neighborhood right here in Richmond, and of course Lesley and Jeff have completely made it their own.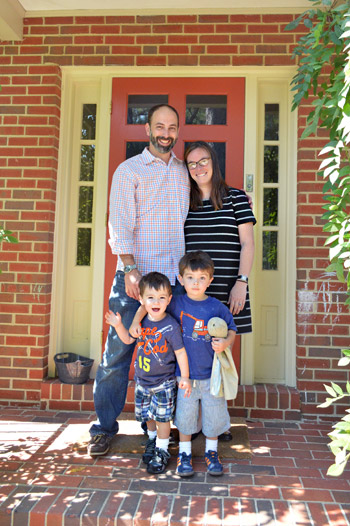 But first, just to refresh your memory, here's their first house – which we crashed all the way back in 2008!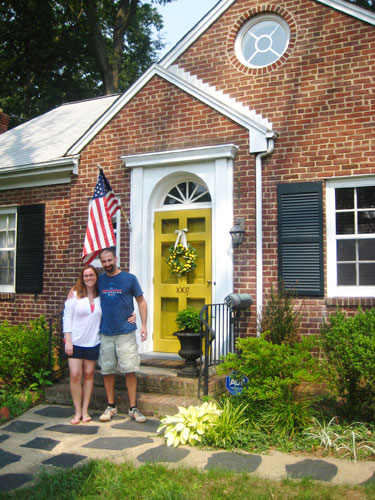 But back to their new place. You guys might remember that Lesley is a master of making ugly things into assets. For example, she didn't like the dated iron columns full of swirls and zig-zags on her new front porch… so they trained some vines to grow around them and cover them. So charming right? No more swirly iron posts. And it was a lot more cost effective than demoing them out and redoing the porch (although they're open to tackling that down the line).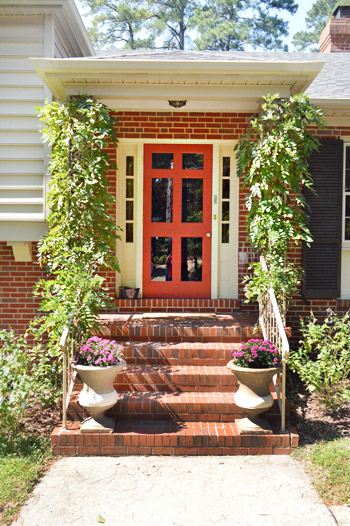 One of our favorite things about Lesley's stye is how she mixes things. And not just anything, meaningful things. See the red chandelier in the mirror of her entryway? That was actually something she spray painted red years ago for her wedding. She and Jeff danced under that in their reception tent and now it graces their hallway. And lots of their furniture is secondhand (hooray for worn and loved pieces made from solid wood!).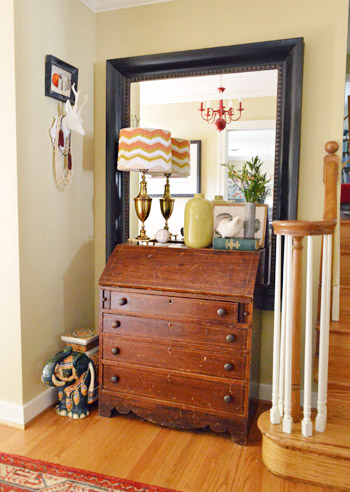 Here's another corner of their entryway, complete with a pillow with a meaningful number and upholstery fabric that she chose to give the old seen-better-days chair a fresh look.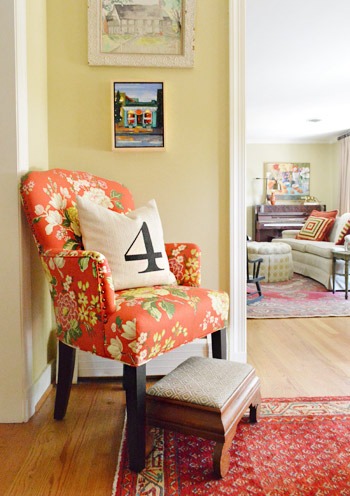 The family room was one of my favorites in the house. Why? Because it's paneling, people! But they decided to embrace it. It wasn't that flimsy faux paneling, it was thick solid wood and Lesley called it "embracing her inner Golden Girl." How hilarious is she? So instead of drywalling over it or even painting it, she and Jeff added a few other retro touches (like that awesome old laundry sign that Lesley got from a local cleaners that was going out of business – she just asked for it and they gave it to her). Lesley is a master at effortlessly mixing and matching textiles (check out the layered patterns of those pillows, the rug, and those ottomans) to create a cozy and welcoming vibe. It was definitely one of those rooms that draws you in where everyone ends up. And see that pair of wing chairs? Lesley got them for $50 each on craigslist and didn't even have to recover them (they had been covered with protective plastic for decades since they were bought!).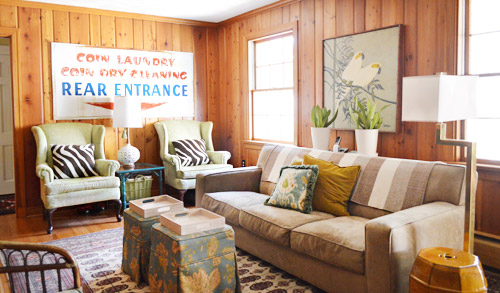 How awesome is this framed secondhand art that Lesley scored on sale for $50? Oh and the throw over the sofa is from her friend's etsy store.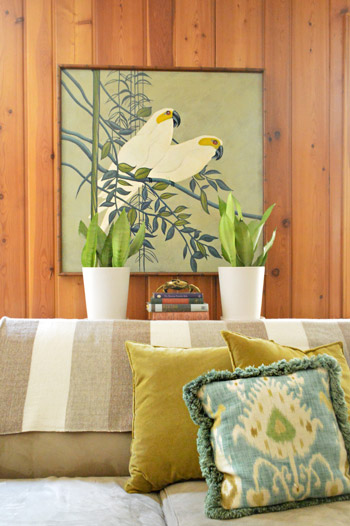 You know what John went wild for, right? This map. Lesley got it on ebay. I think the bright teal color looks awesome against the paneling with that chic gold lamp layered in.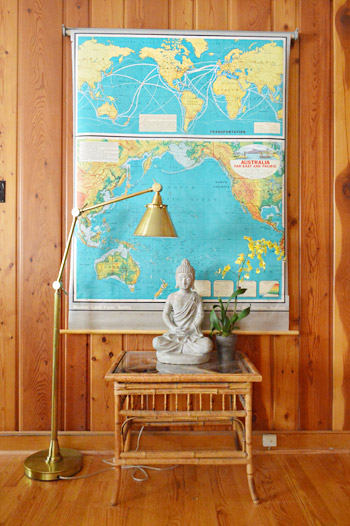 Here's the kitchen, complete with dark stone floors (the tile is just simple durable tile store stuff, but Lesley upped the ante by laying it in a herringbone pattern), dark painted beadboard for the backsplash that they DIYed themselves for under $40, creamy white cabinets, and dark hardware that ties into the dark floors and counters.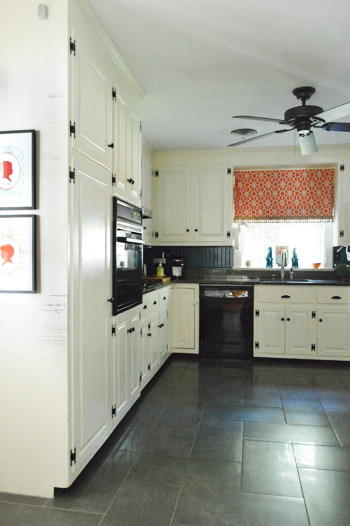 They also have a wall where they measure the kiddos and have bright silhouettes of each of them. You know we're suckers for those personalized details.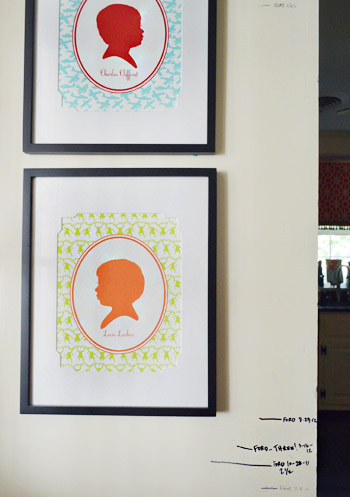 Lesley also made the curtain from happy and bright fabric with some fringe on the bottom. And check out that crane to the left of the curtain that Lesley rests her dishtowel on. Yup, I was certifiably crazy about it. And the aqua foo dogs.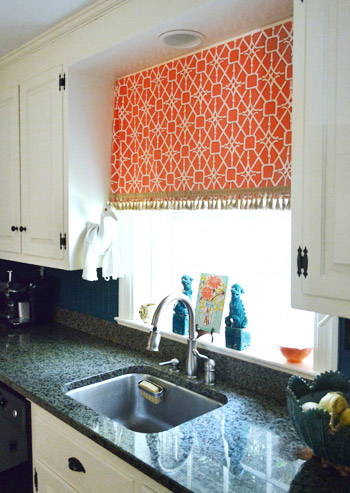 There's an awesome sunroom off the back of the house that Lesley and Jeff converted into a playroom. They added functional toy baskets, a big train table, some rich color on the brick (Woodcliff Lake by Benjamin Moore) and the door (Goldsmith by Benjamin Moore) along with some beautiful and architectural custom window shutters. As you might guess, Clara made a beeline for that room and basically never left.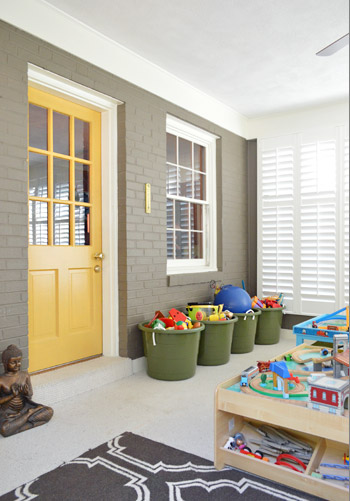 Upstairs in the bedroom is more patterned fabric, and touches of wood. And how great are those framed blueprints (from West Elm a while back)? I love how Lesley hung them in a fun offset way.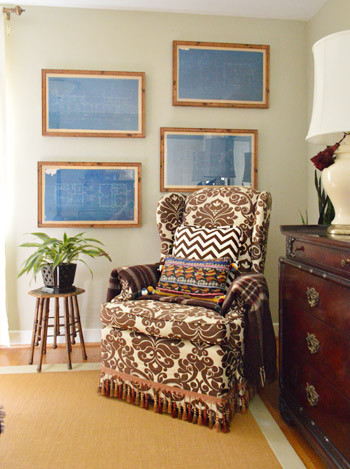 This is the guest room, complete with dusty grey blue walls, orange patterned bedding (from Pottery Barn), and a giant thrift store sailfish over the bed. And how awesome are those sculptural side tables (from PB Teen) and the textured white table lamps (from HomeGoods). It's awesome how Lesley tempers her bold colors and accents with crisp white or rich wood to keep rooms from being too chaotic – even with a big ol' fish on the wall.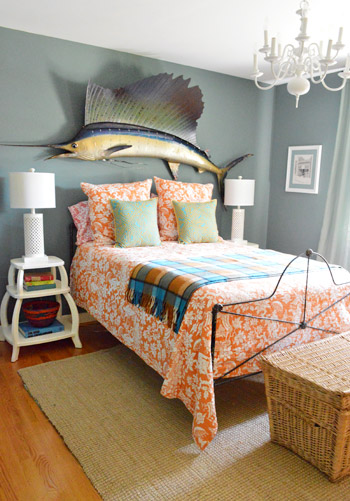 One of our favorite things about Lesley is her work-with-whatcha-got spirit. She actually embraced her pink tiled bathroom to the point that it feels totally like her. Isn't the ornate thrift store mirror, the bright green rug from Target, and the blue-gray wall color (Metro Gray by Benjamin Moore) mixed with the ruffled curtain (from Anthropologie, but found on craigslist) so sophisticated and fun? I love how it doesn't look too "serious" or "over designed" – it's just easy and everything goes without being matchy-matchy. So I was so excited to share this picture for anyone else out there with a pink bathroom.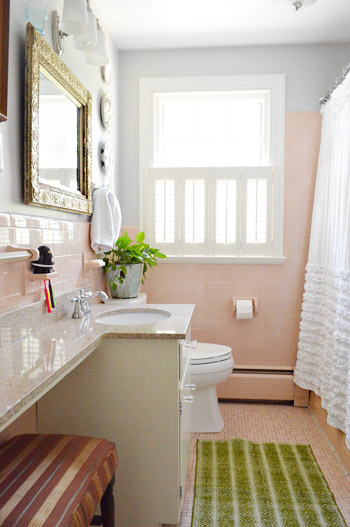 Her sons love sharing a room, and we loved how their beds were the same color/style (found on the cheap thanks to craigslist) but that the bedding was slightly different along with what was hanging over each bed (they were both secondhand finds – the flag was found locally and the old bus scroll was from ebay). We think it's really cool to personalize each corner so things aren't cloned but still tie together really well.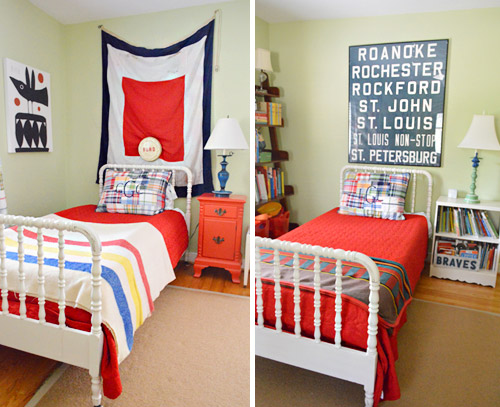 And this is Lesley's office down in the basement. I loved everything from the black storage boxes and table lamps (those are HomeGoods lights for 30 bucks a pop) to the casual stacks of books going in all directions. Even with the blanket draped over the chair and the flowers in the vase, it definitely didn't feel crazy-styled thanks to those random ribbons on the shelves and all of those colorful stacks of books just shoved in there. There's something very easy-yet-chic about Lesley's house. Like she's not trying too hard but it still looks awesome, cozy, and personal.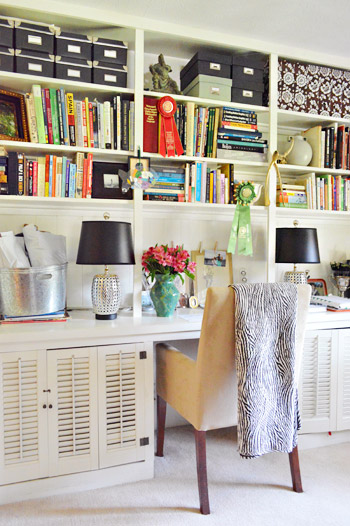 So we're sending out a huge thanks to Lesley, Jeff, and her two sweet boys for having us over so we could share all the photos with you guys! Hope you got some inspiration from things like the pink tiled bathroom and that paneled family room! Let's play the whats-your-favorite-part game. Mine is the smart vine trick they pulled on the porch to hide those columns and the boys' room with those matching but not too-matchy craigslist beds. And of course John loves the framed blueprints and that awesome teal map. No surprises there.
Psst- Don't wanna stop snooping around? You can check out dozens of House Crashing adventures right here.