Ack, we're painting the hall bathroom, and we can't wait to finish, shoot pics, and share them with you guys! But since that's still in progress, I thought this stellar example of things not always working out might make you guys smile. We always get asked "what happens if you try something and it doesn't work?" and I always say "we blog about it, of course!" You know, like this and this and this. We love sharing the good, the bad, and the ugly. And we can totally relate to a failed craft project or ten. So here we go…
In Richmond it has been raining men. If by men I mean acorns. Seriously, those little buggers are everywhere.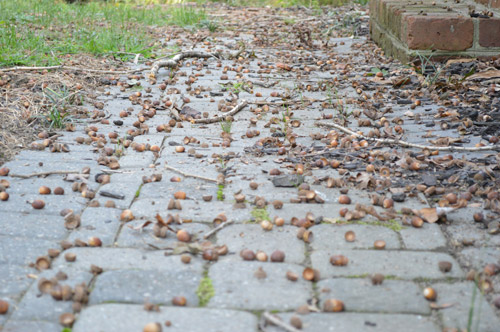 So I got a wild hair and decided – most definitely inspired by all the crafty acorn projects on sites like Martha & Pinterest – that I would do a cute little acorn craft. So I gathered up some acorns with my trusty assistants (those would be Clara and Burger, who actually worked against me the whole time by throwing/kicking/chasing them away from me) and put a few dozen into a bag.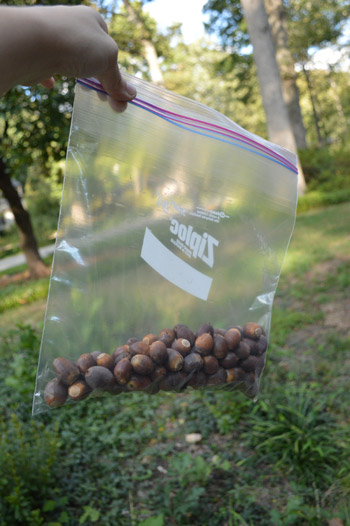 Then I froze those suckers because I remember hearing a few horror stores about bugs or other odd things "hatching" from acorns, and those I did not want.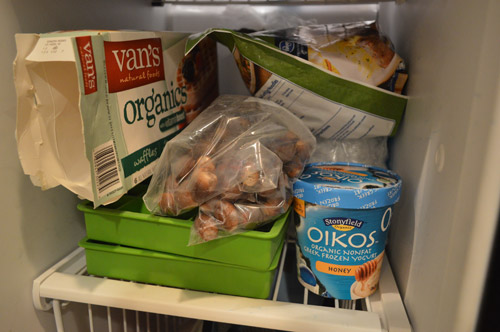 I left them in the freezer overnight, which I hear is all that it takes to kill off anything suspicious (although I did think to myself "self, doesn't it get that cold outside? what is superior about a freezer that makes it better?").
Then a day later I took them out of the freezer and let them thaw out. Later I poured some leftover craft paint (a little tube of acrylic paint that was originally like two bucks from Michaels) into a bowl. Then I took all the "hats" (you know, those little top parts of the acorn) off and dipped the end of them into the yellow paint.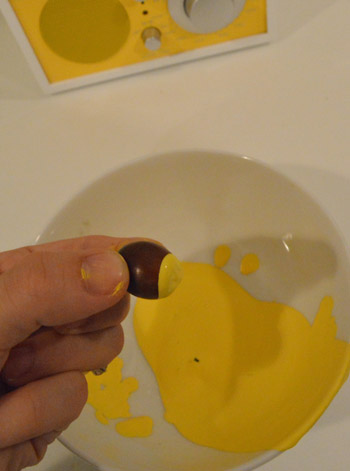 Then I realized this was a terrible plan since I had no way to keep them from rolling all over the place and smearing, until I looked over at the pretzels that we keep in one of those big glass containers on the counter next to the cereal. Are you thinking what I'm thinking?
Yup, I totally made little pretzel stands so they wouldn't roll around. Oddly enough it actually worked. I know, I was just as surprised as you are at this fortuitous turn of events. Don't worry, things go bad later.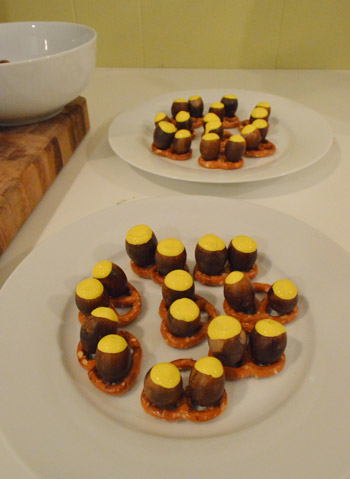 After dipping a bunch of acorns and setting them in their little pretzel holsters to dry I turned my attention to the $2 faux flowers that I'd grabbed at Michael's (50% off thanks to those ubiquitous mailer coupons). When I got them… yeah- not so hot. But it wasn't anything a little trimmy-trim and a cute vase couldn't solve.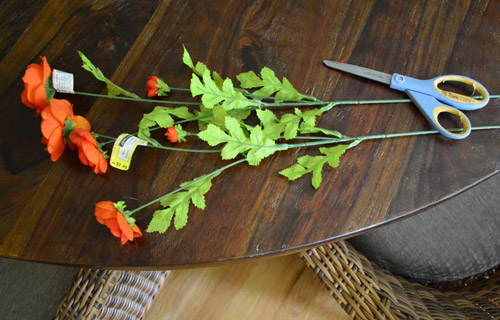 Ah, much cuter. And kinda fall-ish in that not-putting-fifty-gourds-everywhere way. Understated and easy, if you will. And then a few hours later when my little yellow tipped acorns were dry they came into the picture too. See them chilling in that glass container?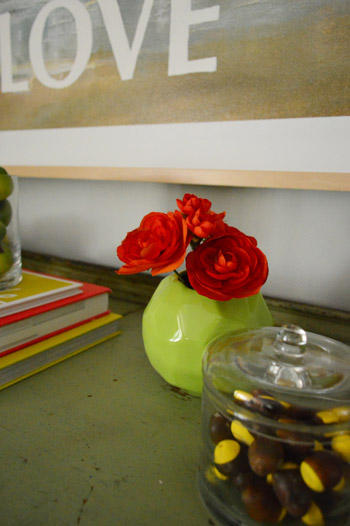 Here's a panned out shot of the console with a few other tiny fall tweaks. I switched out the blue and gray books for some leaf-colored yellow and red ones…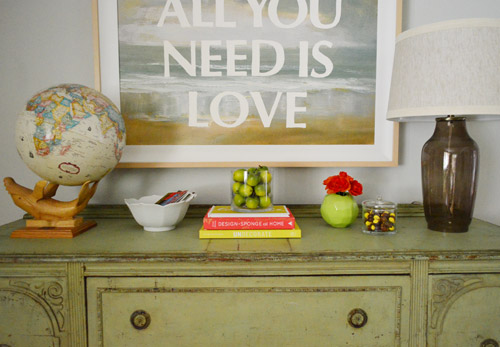 … and grabbed some old vase filler from my fall tupperware bin in the form of some tiny faux apples, that I shoved into a clear cylinder vase leftover from our wedding (it's the same one that held lemons and limes on the table).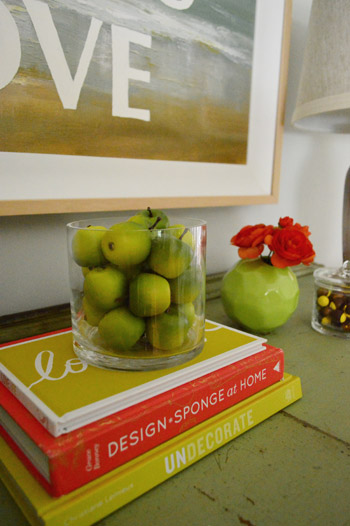 Then I felt very chuffed (that's my favorite English word along with "the till") until about a day later when I saw this. What the…?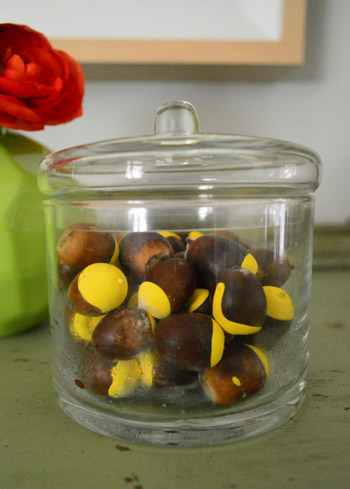 I popped the top and looked a little closer and it was totally mold. Boo! And I know you guys get a kick out of the what-didn't-work projects just as much as the ones that did – so there ya go. My name is Sherry, and I somehow made beautiful yellow tipped moldy acorns. I'm not quite sure what went wrong, but I'm pretty sure that mold is not the new chevron, so it's not going to be sweeping the DIY world anytime soon. Just say no to mold.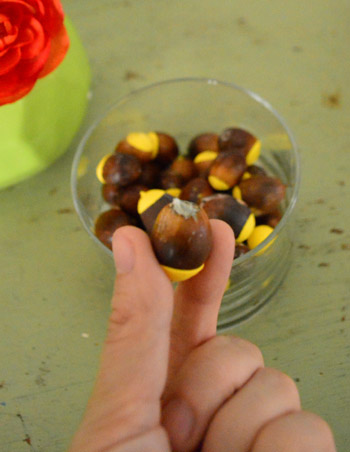 Actually, to say that I don't know what went wrong is a lie. I totally know what went wrong. I'm just not adept enough to dabble in acorn crafts. The stakes are just too high. Glue guns? Sure. Paint? Ok. Drills and power saws? Yes please! But acorns? They send a shiver down my spine. I'm clearly not ready for them yet…
So I did the loving thing and threw those moldy paint-dipped acorns away and whipped out some fun old printing letters for a rustic fall-ish feeling without the threat of mold (we have a ton of these with all of our initials, our wedding date, and even "YHL" thanks to a sweet friend who sent these three our way).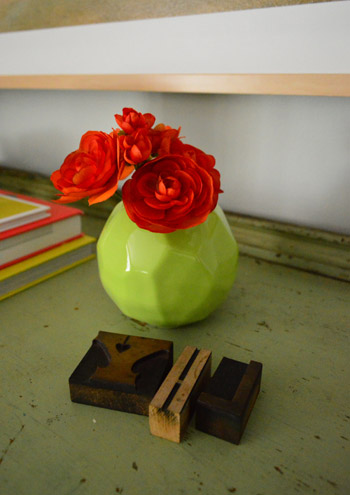 So other than a few tiny and cheap (well almost all of them were actually free) fall tweaks in the form of some leaf-colored books, a few cut down fake-blooms from Michael's and some cute little apple vase filler, we've learned one thing. I'm clearly not attentive enough to master the delicate eco-system that is an acorn. So I'm leaving them to Martha and you crafty folks on Pinterest who can manipulate them into wreaths and decorative orbs and all of those other wildly creative things without so much as batting an eye. I'll stick to cutting down faux flowers and popping them into a bright little vase thankyouverymuch. Eh, who am I kidding, I'm totally going to try my acorn luck again next year. It'll be like an epic annual battle that keeps no one on the edge of their seat but me.
Has anyone else mastered the acorn or done any especially cute and not-at-all moldy fall crafts? Do tell. I promise I'll only pout a little…