Quick update: Today we'll be getting cozy in Boston at the West Elm on 160 Brookline Avenue for cookies, cocoa, and a book signing at 6pm. More info here. We'd love to see ya there!
We shared a sneak peek of this House Crashing adventure in our post about Cincinnati, and we finally sifted through the 200+ photos that we took to get this post together for ya. So let's let ourselves in, shall we?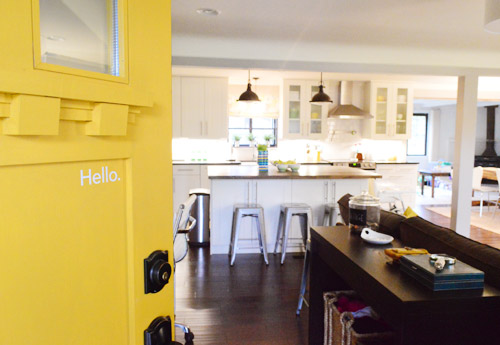 Did you see the little welcome note right on that happy yellow door? So cute, eh? And I love the three glass panes in that door. As for who lives here, meet Rick and Jessie. They were literally the sweetest folks we met the entire time we were in Cincy. Not only did they wait for us for over an hour at our hotel when our plane was delayed (eeks!), but they were so nice for the entire few hours we spent with them (since we didn't have a car in Cincinnati they drove us to their house, chatted me up while John shot the place, and then drove us back to our hotel). So we're officially "real friends" since we spent so much time bonding. Haha. But enough chit-chat. Let's get to their awesome casa.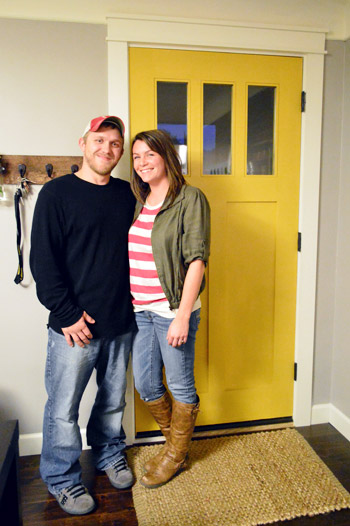 There were lots of homemade touches around the house, like this cool mason jar vase hanging from a rustic wood coat hook next to the yellow front door (which is painted in Valspar's Santa Monica Blvd).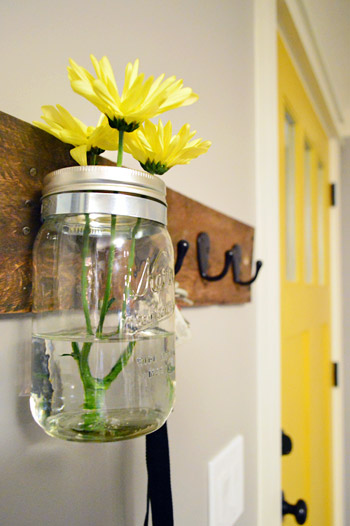 As for their kitchen, you might recognize it from this Reader Redesign. It's always fun when someone invites us to crash them after we've seen one of their room makeovers, and let's just say the rest of the house was just as awesome as their amazing kitchen (which was so much fun to see in person).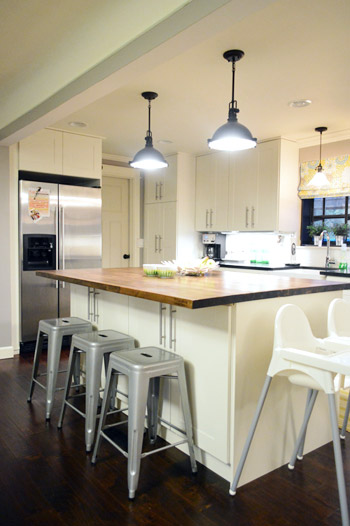 The cabinets are Ikea and they hung them all themselves as well as selecting things like butcherblock for the island and gorgeous soapstone for the rest of the counters.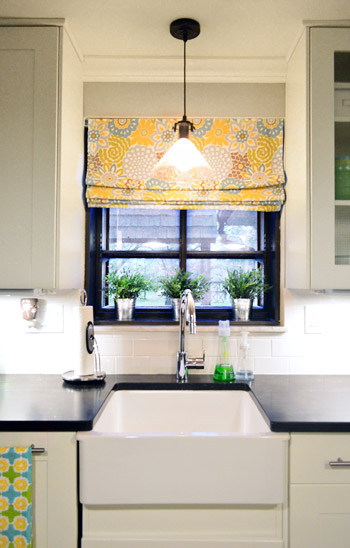 This picture doesn't do it justice (it looks a lot more "loud and swirly" than it really was in person – it was very subtle and sophisticated). It's this gorgeous dark stone that looks like honed black granite but they said it's really easy to take care of (no issues with staining or scratching so far). We've heard dark honed granite can be a bit higher maintenance, so soapstone sounds like a great alternative.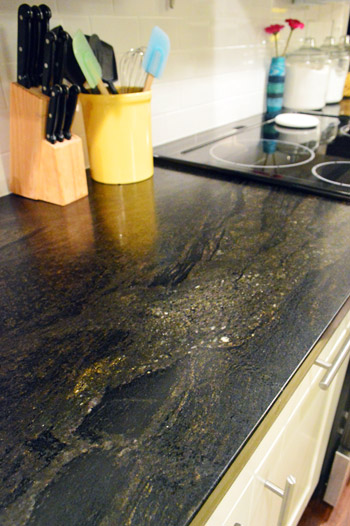 Where they built in their fridge they also added a framed out chalkboard, which was so sweet. The funniest part was that it said "we love the sun in our house" but ironically we were shooting just after the sun went down thanks to that delayed flight (our first house crash ever without natural light) – but we're so thankful that we still got a bunch of good shots. It's kinda hard not to when a house is this charming. How sweet is that yellow stool?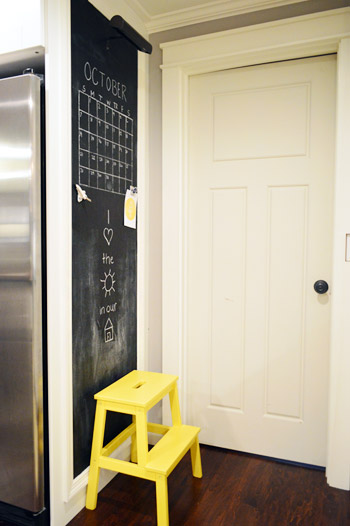 Here's a shot from the kitchen looking towards the dining space they're working on. They're going to build in a bench against the wall for sort of a banquette feeling and add some giant art on the wall between those floating shelves that they hung. And that sweet striped runner is from Dash & Albert.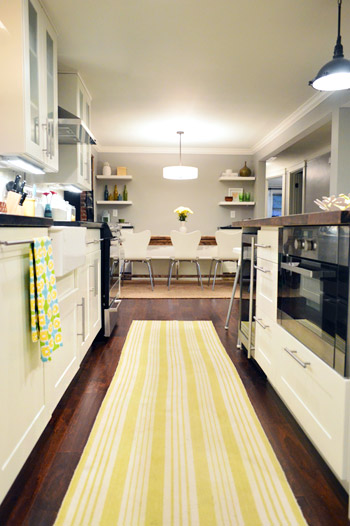 They also had this awesome wood wall in their living area that John and I loved. And everything from the media cabinet that they painted themselves to the homemade art (where they showcased dates that were important to them) had us grinning like fools. It really was one of those awesomely personalized homes.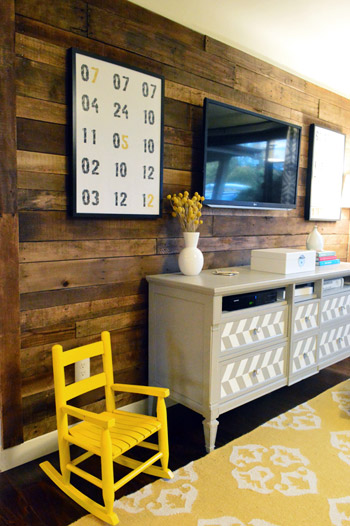 There's also a little desk area across from the wood wall in the living room, with a cheerful green filing cabinet and some more handmade art.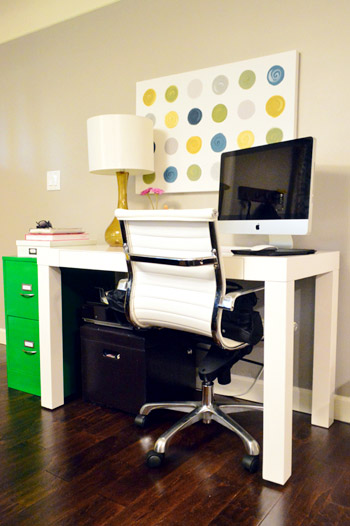 I love that yellow glass lamp (from World Market) with the swirly canvas behind it.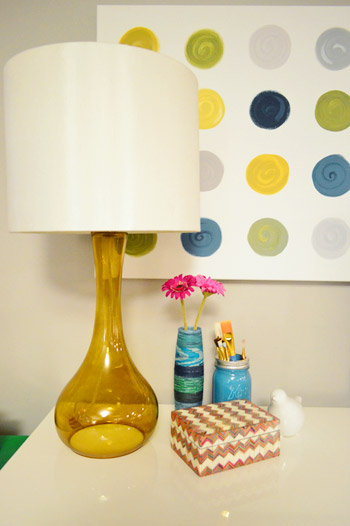 In the hallway, their homemade ruler that they use to measure both of their girls had us smiling (which Jessie actually did as one of our Pinterest Challenges).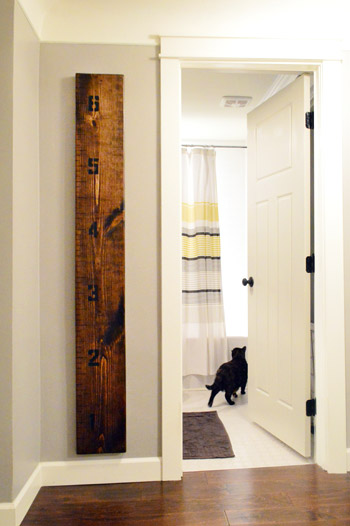 Rick and Jessie have two daughters, and their youngest one's room was full homemade art (framed craft paper)…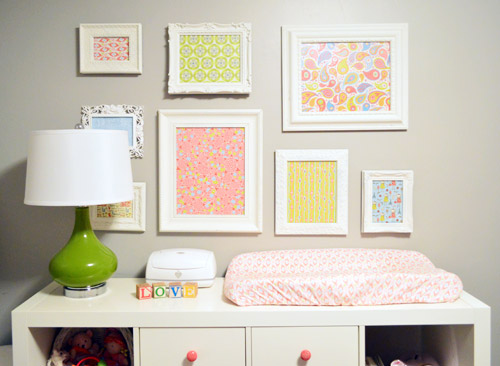 … and a homemade mobile…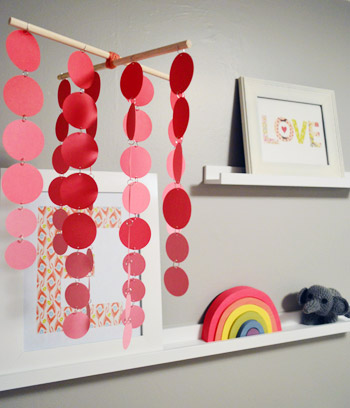 … while their other daughter's room had things Clara would totally go nuts for (check out that amazing play kitchen!!!!).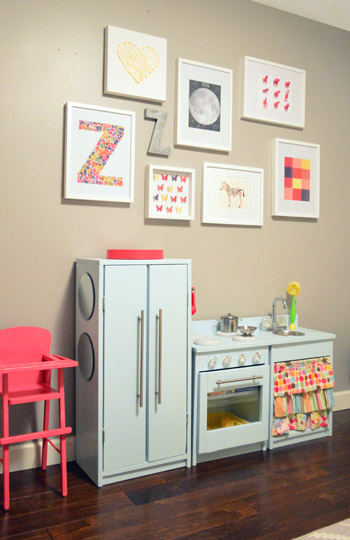 This plastic animal art was especially awesome. Yup, I totally had a moment with it. Love. Jessie actually got the idea here and did her own spin here.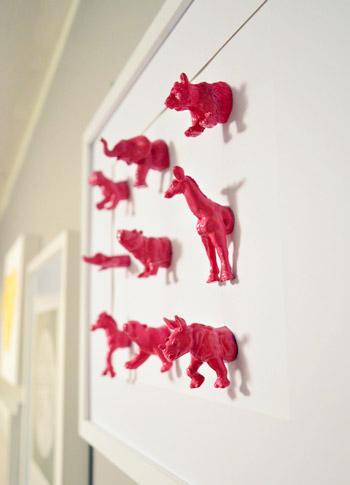 So there you have Jessie and Rick's charming home. We are SO GRATEFUL to them for waiting for us and being such amazing hosts while we traipsed around taking photos and chatting their ears off. You can see more over on their blog, but first let's play the favorite part game. We all know I'm crazy about the animal art but I also love love love that play kitchen and those dark soapstone counters. And John was especially enamored with the apron sink and the modern dark window trim above it in the kitchen.
Psst- Don't wanna stop snooping around? You can check out dozens of House Crashing adventures right here.