Happy Friday! Quick updates first:
If you're trying to order our book (to read, for Christmas gifts, to use to kill bugs, etc), and you're getting a "sold out" or a "1-2 month wait" message through Amazon, B&N, or anywhere else online, there are thousands of books making their way to warehouses in trucks right now, so in a few days they'll be entered into the system and should all be available for immediate shipping then (so check back in a few days and they should definitely arrive before Christmas!). #godspeedlittlebooksintrucks
Tomorrow we'll be in DC doing some Living Social events at 918 F Street. These are pre-ticketed events, so if you've snagged a spot we can't wait to see you there! Then on Sunday we'll be back in Richmond for a free signing at Mongrel in Carytown at 1pm (more info here).
Dude, you guys are hilarious. See the 800+ comments here as evidence.
It's been two weeks, so we owe you another #warningitslong tour update. We've finally caught our breath after the busiest portion of our tour so far. It was both awesome and exhausting and we're very thankful to be back at home sleeping in our own beds again. During the 11 days between hitting up Boston on Nov 7th and Dallas on Nov 18th, we've clocked 6 cities, 2 countries, 10 flights, and 6 nights away from Clara & Burger (we knew they'd be more comfortable at home with my mom and dad than on those 10 flights). And I won't even dare tally the number of cookies we consumed (thanks to the locally baked creations at each of our six West Elm hosted events).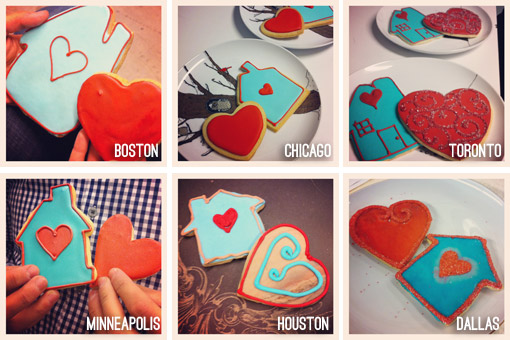 Our last tour recap two weeks ago left off in Toronto, which we flew out of on Tuesday and headed back to the states. The state of Minnesota to be exact. We've always heard great things about Minneapolis, so we were bummed when our schedule didn't leave much time for exploring (even though our event wasn't 'til Wednesday night, we had tons of blog stuff to catch up on between phone interviews scheduled by our publisher, etc). But despite missing out on the good sights that MPLS had to offer, we did get to take in plenty of the good people of the Twin Cities at our event. Cue the crazy faces.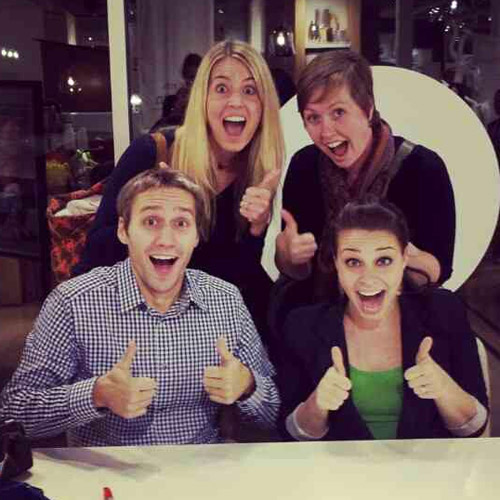 Like previous West Elm events, the staff was awesome ("Elmers" as we hear they're called) and those of you who came to meet us were exceptionally kind, patient, and fun! We even met some familiar faces, including Jen from IHeartOrganizing and Jackie from Teal & Lime (we've featured Jen's office and Jackie's dining room so meeting them meant that we got to put a room to a face, which is always fun). And apparently we need to work on varying our photo poses a bit. #Ipromisewe'renotstatues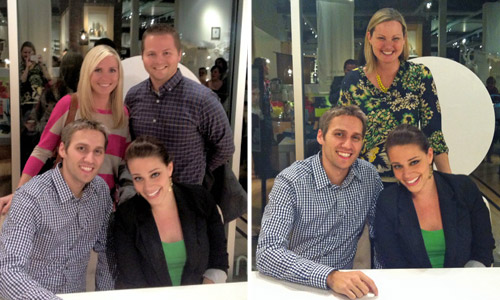 We also had the pleasure of meeting hilarious Sarah, who we previously referred to as "frame wall girl" thanks to the photo she tweeted to us after receiving her copy of the book (which we included in the photo collage in this post). She was even kind enough to share a follow-up photo with her now-signed book…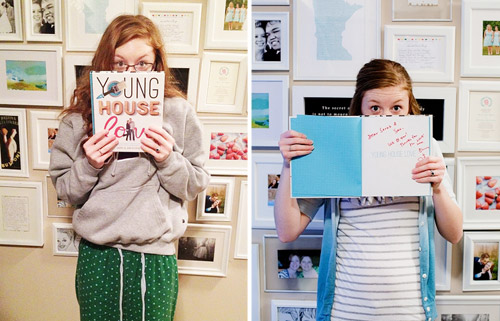 We always get a bunch of good stories out of these tour stops, and we wish we could share them all with you guys, but here are a few highlights. Like this one that comes complete with a video (thanks Laura!). It was Amy's birthday the day before mine, so she and her friend Ashley brought four cupcakes – one for each of us – and made Sherry keep her word that she'd sing happy birthday to her. Sherry just learned her lesson to double-check someone's name before breaking into song. Thanks Amy for being a good sport! The funny thing is that we later learned that Amy's friend Ashley was also a birthday girl, so stammering out both names actually kind of worked.
And while there have been plenty of fun inscriptions we've written, this one may take the cake as the weirdest. Yup, I wrote "I'm watching you poo" in someone's book. You'll have to read Daci's post about it to get the full story. I promise it wasn't totally gross and out of context. I was just following orders.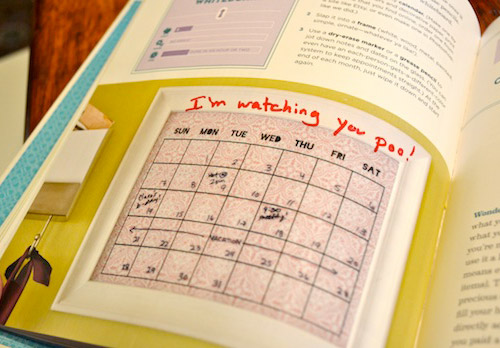 One of the most amazing moments was when West Elm asked us to sign the leg of this parson's table for them. They auctioned it off that night at the event and were able to make $170 to benefit St. Jude Children's Research Hospital! We're so grateful to have been part of that act of kindness that the Minneapolis Elmers thought up.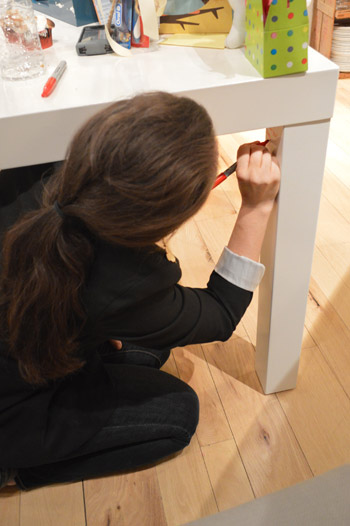 That pretty much wrapped up our night in Minneapolis. If you want to read more about our time there (from a not-us perspective) you can check out these posts from Malisa, Jen & Chrissy, Kirsten and Carolyn… because after about 5 hours of sleep, we woke up early the next morning (Thursday) and headed back into the air on our way to Houston, Texas. Thank goodness for in-flight wi-fi so that we could keep our regular blogging schedule.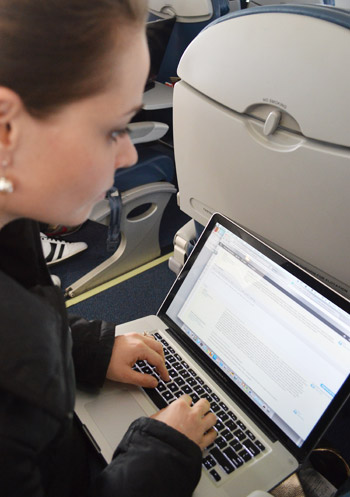 By the time we landed in Houston and were finally able to check into our hotel after a few hours of waiting in the lobby (long story, we'll spare you) we once again had lost pretty much any time to explore the city. But we did get to chow down on some Tex-Mex, shower, get dressed, and head to that night's event. A little birdy (Sherry) had clued them into the fact that Thursday was my 31st birthday, so my jaw dropped when I saw this waiting for me. I know you already saw it in last week's post but I still can't get over it. And the fact that someone went through all of this trouble for me… I'm a modest guy when it comes to birthday celebrations, so this is like 100 times above and beyond.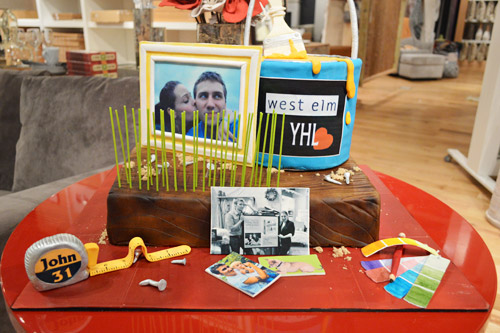 Oh, and Emily (who was conveniently waiting in the line nearby) sent us this video of me attempting to blow out my candles. I was soooo determined to get all 31 candles out, so you'll see my disappointment when I realized it wasn't gonna happen. #trickcandles
But enough about me. Let's talk about the people we met. And the weird faces we made (are you sensing a theme?).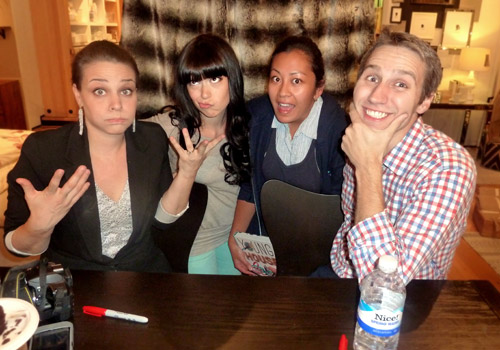 This next picture still cracks me up. It was this lovely woman's well-intentioned husband's attempt at Idea #141 in our book (Sketch Each Other). We even wrote on that page that "this could go terribly wrong" but they still might "become lovably entertaining." Consider me entertained. If there wasn't such a thing as Beavis-ification yet, I believe this man discovered it.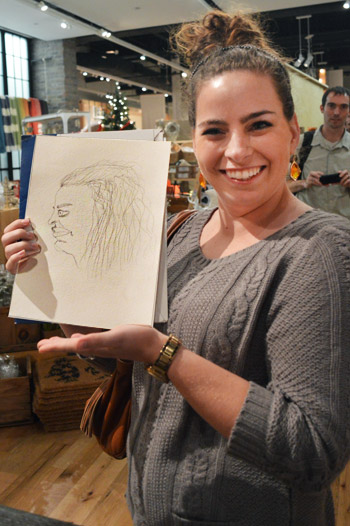 Lori Ann's request for a funny photo started off like many others. But it ended with Sherry's marker-stache falling off and somehow making a huge red dot on the middle of her neck. Like a single-fanged vampire got her good.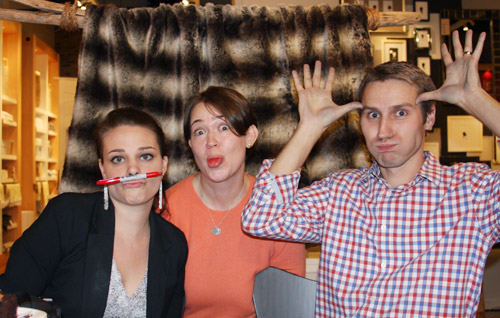 In addition to funny stories and weird faces, people continued to be so thoughtful and generous. Kiki (who came with her friend Roxy) painted two small canvases with matching cows on them. This picture doesn't do them justice, but hopefully the expression on Sherry's face proves how impressed we were with the gift. We already hung them in Clara's room and she's in love, so we owe you a picture.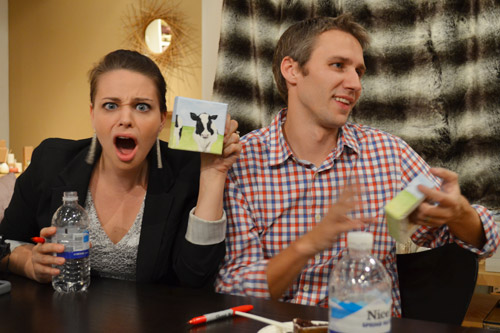 Since our schedule in Houston didn't really leave much time for taking on Texas, we were grateful to have more time at our next (and final) stop in Dallas. We left Houston first thing Friday morning and were in Dallas in no time. Our hotel there was da bomb – and I don't break out past-its-prime slang for just anything. It was the new Omni in downtown Dallas and it was so cool we're gonna "crash" it in another post. I mean, just look. There was a TV screen built into the bathroom mirror (if I were less refined I would slip in another watching you poo referenced here… but I've already done that once in this post).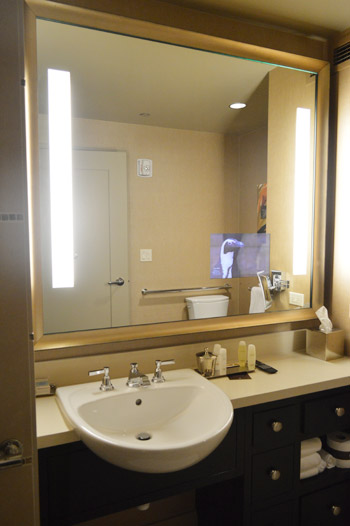 But as captivated as we were by that screen, we had a date with another screen: a Skype call with Clara. It was harder to squeeze these in during this trip than we expected. It seemed whenever we were settled into a hotel she was at school or napping or out on some adventure with my parents (who graciously watched her at our house so she and Burger didn't feel displaced). Here she is below presenting me with my birthday balloon: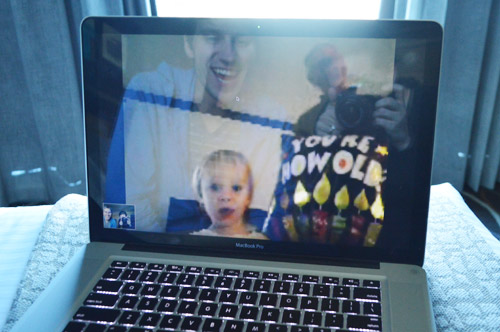 Once we dried our eyes after chatting with our baby, we were ready to take in some of the big D. Yes, this was the view from our hotel room. And we took full nerd advantage of the floor-to-ceiling windows by taking some random silhouette photos.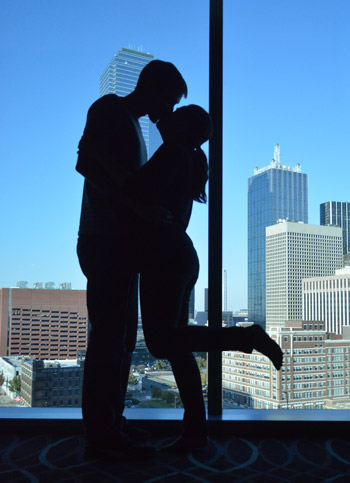 Then this happened. I'd worry that you'll question our maturity, but if you've read this far you're probably not one bit surprised. I actually thought Sherry was pretty creative considering that wasn't a pole (it was actually the frame between two large window panes). #funwithshadows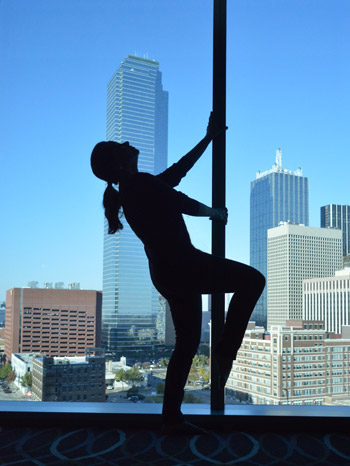 With our eating and sleeping schedules firmly off any semblance of normal, we walked down to the West End where had a 3:30pm dinner of Tex-Mex (we couldn't resist it again) and then moseyed into a cowboy boot store. We didn't buy any, but we did splurge two quarters to test ourselves on this "Guide To Romance." Neither of us ranked very high, but at least we scored the exact same thing. Basically this machine thinks we're soul mates. The funny thing was that Sherry asked the guy working there if it was based on hand temperature or pressure on the handle and he said it's totally random and that he never saw people get the same one since it just seems to bounce around each time. #whataretheodds?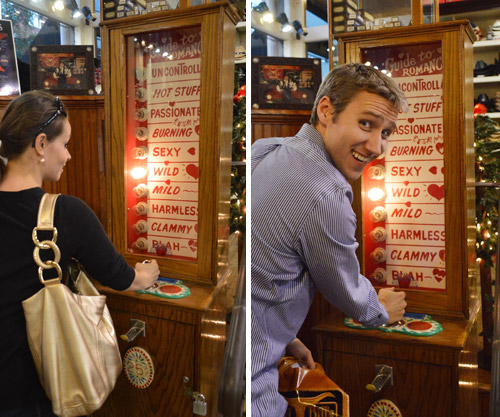 After exploring a bit more between the West End and our hotel (the history nerd in me was glad we stumbled across the JFK Memorial Plaza), we decided to make the most of the night (it was only 1 of 2 nights that entire week that we didn't have an event). So yeah, we went in the hot tub. It was awesome. We highly recommend a stay there (the Omni, not the hot tub) if you're ever in Dallas. We snuck a peek at the bill for our room and it was only like $150. It certainly felt fancier than that to us!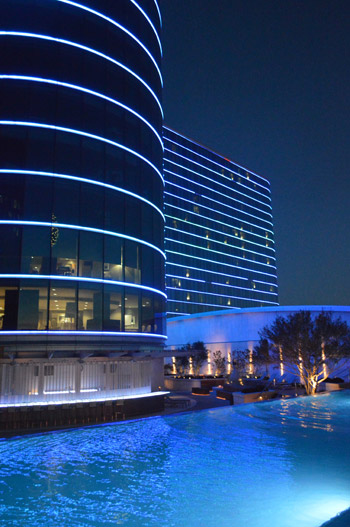 The next morning we packed up our stuff, contemplated ditching our signing for another soak in the hot tub (okay, not really) and taxied our way to West Elm. There we ended up hanging with more kind and hilarious people (someone in the press referred to the event as watching "hundreds of people politely mob the store" which cracked us up). And yes, more goofy faces were made.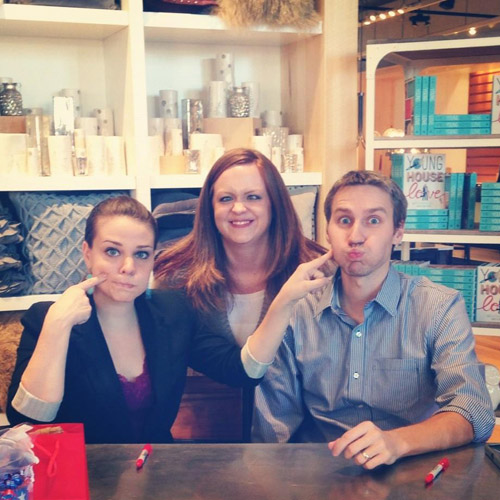 One of the first people in line brought this along with her. It's a relic from back when we once sold YHL t-shirts. I thought my dad was the only who still had one.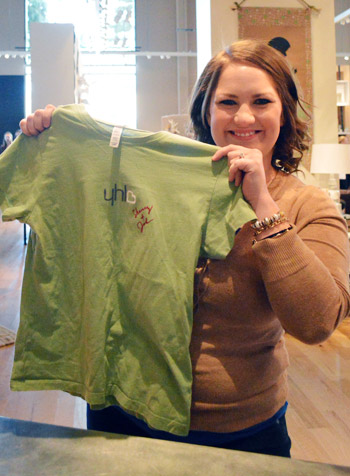 More t-shirts that we were excited to see where these colorful ones that Jill & Laura were sporting. They literally came straight from their 5k race (much like this one that I ran a few months ago) to the West Elm event. Had I known it was going on that morning I probably would've tried to run it myself!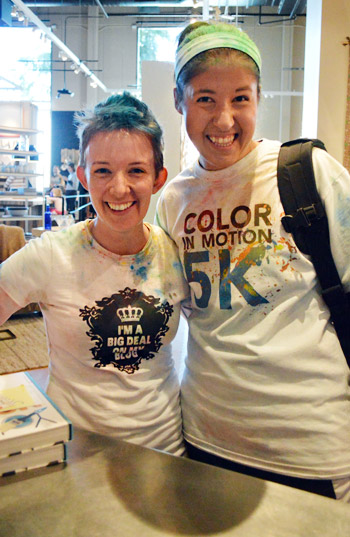 On the other hand, I was less than thrilled to see what Susan brought with her. That's gear for the Virginia Tech Hokies, my alma mater's rival. I agreed to take a photo with the stuff, but I wasn't going to be happy about it!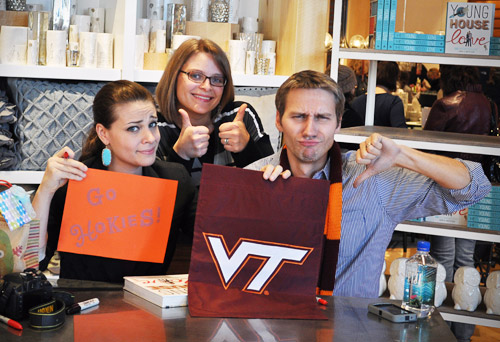 Stefanie was also sporting some Virginia pride, since she's originally from Richmond. We loved this little sign she whipped up, but were even more enamored with the Lowe's and Home Depot aprons that her kids Nolan & Leah were sporting. Gotta get one of those for Clara.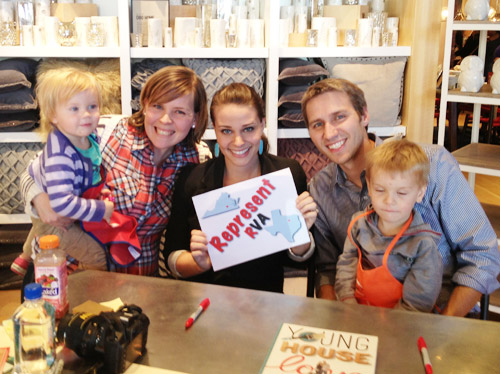 In Dallas we also saw Jess, who had come to the Houston event two days before. She's gonna try to make it to our Austin stop in January too, completing a hat trick of Texan signing events. See you in a few weeks Jess!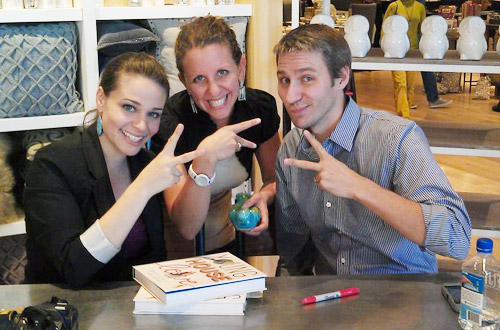 Dallas might win for "most unusual items that we signed." We certainly put our names on plenty of ceramic animals throughout the stops, but I think this was the first time I signed someone else's book. This friendly young man accompanied his mom in line and then realized he didn't want to leave without getting a book signed. Presumably he had little interest in a DIY book, but he did bring his Harry Potter book along… so he asked me to sign it. I felt a bit like I was stepping on J.K.'s toes, but how could I say no to such a mannerly young gent? So Ms. Rowling, if you're reading this (ha! yeah right), feel free to sign one of our books in return…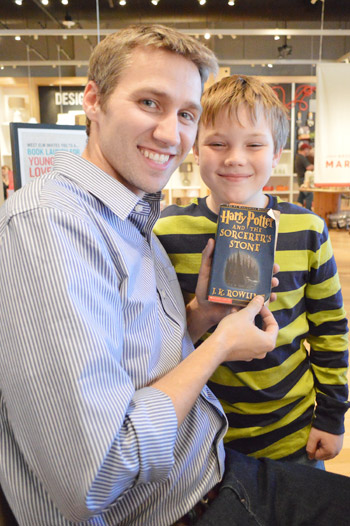 And then there was Ellen, who invited Sherry to sign her baby. She posted a video of it on her blog. Let's just say baby Marc was a good sport about having a strange lady take a pen to his onesie (which Sherry pulled out to avoid sharpie-ing his belly directly… moms!).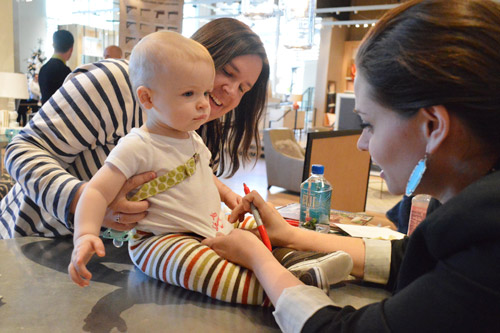 This Saturday event was one of our longest (I think it was over four hours) but we thankfully got out in time to make our flight that evening. News spread around West Elm that we had a 3pm flight, which made the folks coming up to us after 2pm very apologetic, but our flight wasn't until 6 (we just heard we should leave by 3:30 to make sure we made the flight since the airport was a ways away, so we think that's how the 3pm rumor started). So don't worry, no flights were missed and by about 11:30pm we were home in Richmond, staring creepily at our sweet sleeping bean (and getting cozy with The Burgs who was very much awake). Of course since then we've had our recent DC signing and have another two this weekend so we'll have to update you on those in two more weeks. #betitsgonnabelong
Oh and one last thing. We just heard that in the first month of our book being out, we've raised over $1200 for charity (both for St. Jude Children's Research Hospital through West Elm events and a local charity for kids thanks to auctioning off book projects here in Richmond). We couldn't have done it without you guys, so thanks for making such an amazing difference!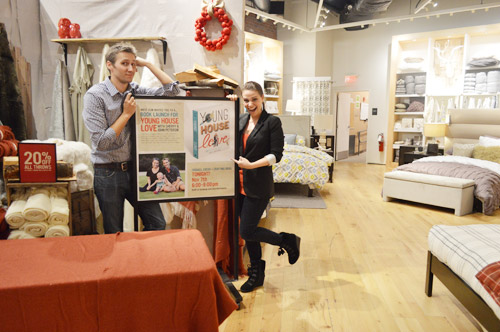 Now we'll end this long wrap-up with a big big thanks to everyone who's made our tour stops such a pleasure – from the awesome event hosts and the many many taxi drivers who have helped us get around, to you guys who have taken the time to come see us – many of you with thoughtful cards and sweet/tasty treats. We're so incredibly grateful to live through an experience like this. It has been crazy. And it has been a bit tiring. But ultimately it has been such an amazing feeling to get to see all of these places and meet so many hilarious and kind people. And now, in case you're wondering for a future event- we will sign your baby, your Harry Potter book, or write poo in your book. #gladthat'ssettled