Quick note: Tomorrow (Saturday, November 10th) we'll be in Chicago at the West Elm on 1000 W North Avenue for cookies, cocoa, and a book signing at 1pm (arriving on the early side might help ya get a jump on the line). More info here. We'd love to see ya there!

Who's ready for our once-every-two-weeks recap of our book tour-y adventures (here's the first one)? Just us? Okay. Here we go anyways! #warningitslong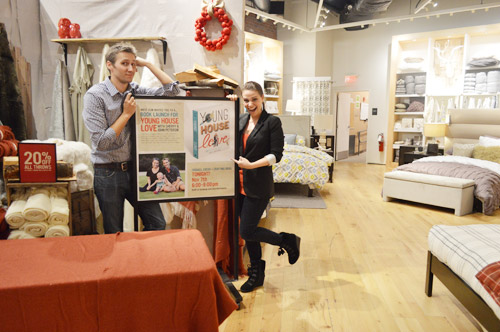 As most of you know, weather has been kinda crazy in the Northeastern part of the country lately. Between Hurricane Sandy two weeks ago and this spontaneous Nor'easter this week, well, things have been a little crazy. And it just so happens that all of our book tour stops in the last seven days were scheduled in the affected areas. Cue the adventure! Actually, first cue the worry and concern. Having lots of friends and family members in those regions (not to mention bunches of you) made us cross our fingers for safety, warmth, and electricity for everyone.
Those things are far more important than frivolous things like book signings, so when the SoHo FLOR store said they were without power and there was no option other than rescheduling (the new date's still TBD but we'll keep you posted!) we were completely expecting it and totally understood. But surprisingly both hosts in Connecticut and New Jersey had been open, with power, for a few days before our scheduled events – so they were actually eager to have us come up. They thought it would be a fun distraction for folks up there dealing with loss of power/heat and all of the other comforts they were sorely missing, and we thought that sounded great too. We were eager to drive up and see all of our friends and relatives up there to make sure they were ok (and bring some supplies to Sherry's family), so on Thursday around noon we packed up the car and set our sites on Wilton, Connecticut.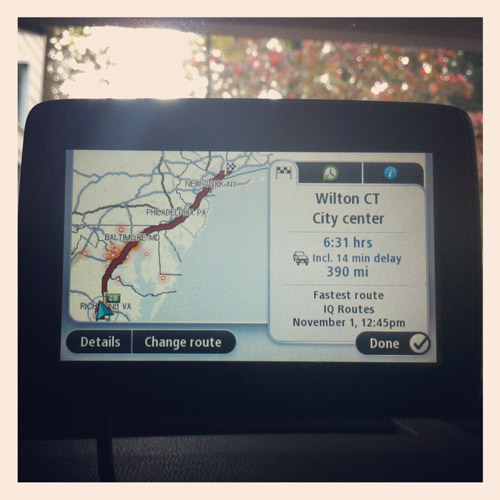 The other crazy behind-the-scenes happening was that Sherry actually developed a kidney infection, but thankfully she was diagnosed on Tuesday and antibiotic-ed up so she could recover just in time to hit the road on Thursday. (Her PSA is that if you ever have strong pains on one or both sides of your lower back along with a fever and nausea, get to the doctor asap).
Clara joined us for this trip so that she could spend some quality time with Sherry's mom, aka Nonna, while we tended to our book duties. Burger stayed at home with my parents since we figure Clara-wrangling was enough to keep Nonna busy for this trip (and Burger's idea of heaven is being house-sat by his Grammy and TomTom). As for how Clara did on the drive, don't let this trip photo fool you. The bean is not all hugs and naps all the time. But we made what ended up being a nine hour drive and lived to tell the tale.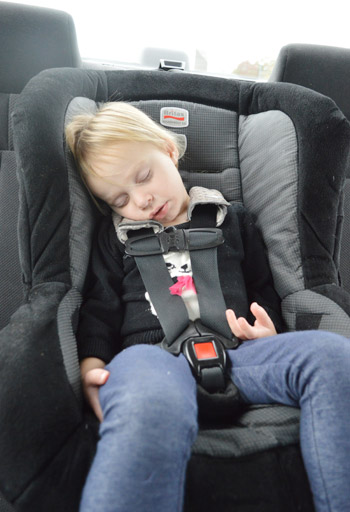 We landed at our hotel in Connecticut around 10pm, waaaaaay past Clara's bedtime. Did she seem to notice? You be the judge.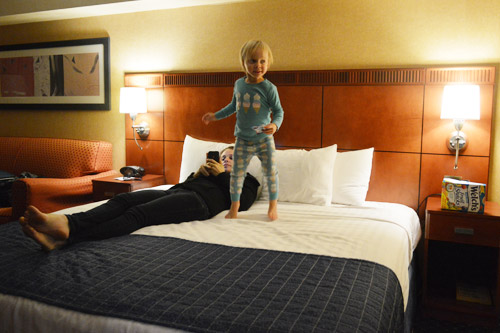 The next morning we found ourselves at the Wilton Library, which was a beautiful library, btw (and this is coming from a guy whose mom worked in the public library system growing up, so I have high standards). We were so grateful to see lots of smiling faces in the audience. Whether they were happy to see us or just happy to have heat, we didn't care. We were downright psyched to have them… as clearly demonstrated by this that photo Crystal took of us giving our presentation. Just kidding, this is right before we started (no idea why we look so blank, because I promise we were all hyper and nervous on the inside). We think it's pretty funny that we're both sitting the same way and looking the same direction. #twinsies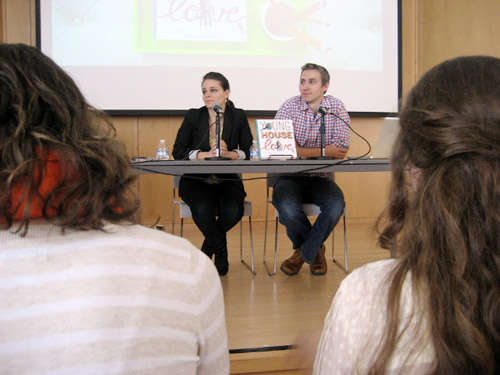 Crystal actually did a really sweet post about her morning, which you can check out for more photos. She says she was very shy, but I'm not sure I buy it. After all, she's the only one who suggested that we recreate our book cover pose with her and her husband Aaron. Looks pretty good, right? #dorksforlife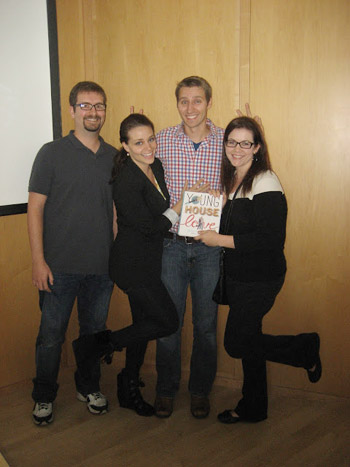 The people of Wilton were super nice, which is encouraging because we worried that Cincinnati's kindness was just an isolated case of Midwestern-ness. Phew! Sherry even got her second opportunity to sign a ceramic animal. See how her eyes light up at the opportunity. She's never happier.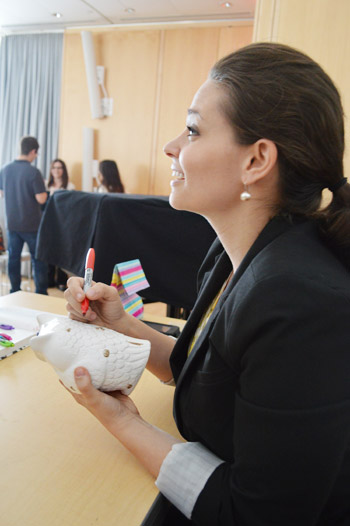 There were also fun requests like this one to sign $herdog on this over-sized clothespin for someone's desk.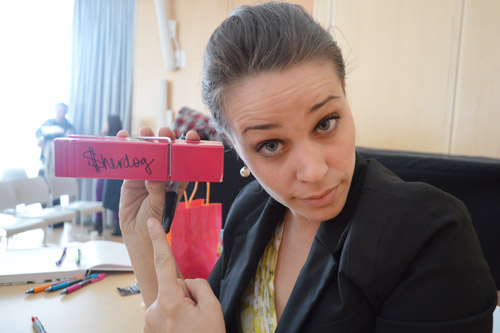 And just like in Cincy, people went out of their way with little gifts that made us ooh, ahh, and make other incredibly weird expressions. You guys totally don't have to do that! Seriously. But check out this charm that someone crafted using a tiny printed thumbnail of our book cover. Clearly Sherry is impressed.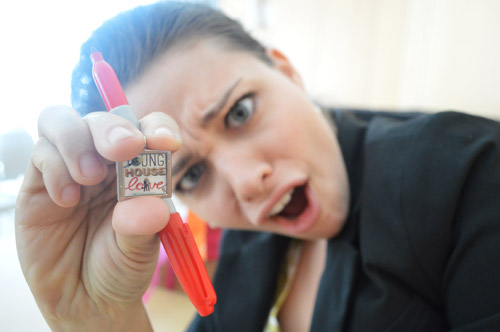 While there we also got to finally meet Connecticut resident and hilarious blogger-friend Roo from SemiProper. She was kind enough not to give me a crazy look when I suggested that she, Sherry, and Clara ride the animal statues outside the library. Though she later one upped me by Photoshopping me having a Slurpee binge at a 7-Eleven.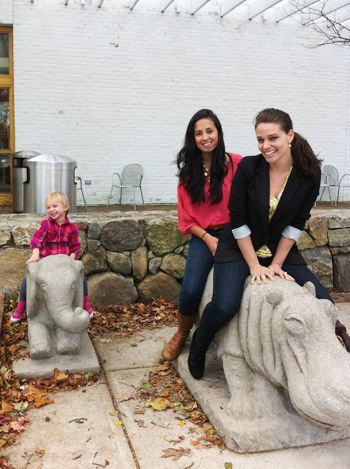 Roo is famous (infamous?) for her mad stick figure drawing skillz, so I got all sweaty-palmed when she challenged me to sketch something inside her book. Eventually I came up with this masterpiece of Sherry fist pumping and me being ashamed of her. I'm not sure why I drew Sherry in a skirt. I think it's my default for girl stick figures. Though I guess I should be more concerned that I drew myself pantless.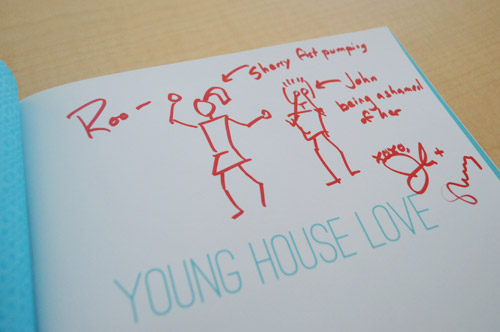 Here's Roo's drawing in our little tour yearbook that we have been asking everyone to sign (more on that blank-book-business here). See, isn't she much more skilled at these things? Roo actually has a new line of notebooks out that may or may not feature some DMX-inspired lyrics on them. So yes, she's Sherry's old-school-rap-loving soul mate.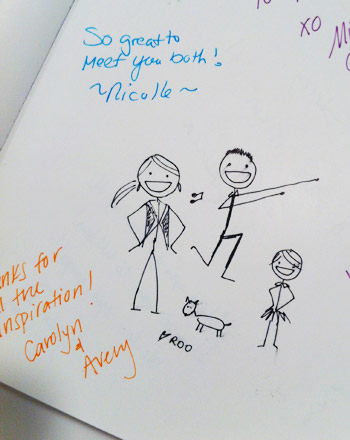 When things wrapped up in Wilton (and we successfully wrangled Clara away from the library's train table) we started our journey back across the Hudson to New Jersey. Given that it was lunch-ish time, we were very lucky that readers Bill and Kristin had invited us to check out their sandwich shop which was right on our route. Lunch was delicious and here's the cute pic that Sherry snapped of our mealtime hosts.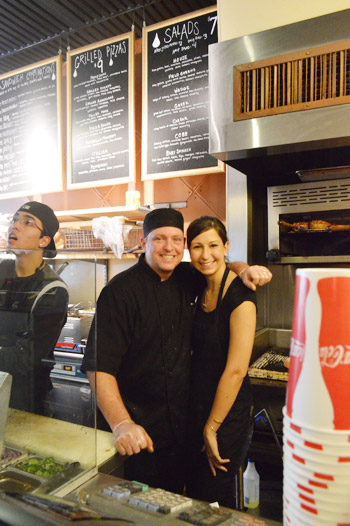 And here's the photo that Kristin and Bill instagrammed later. If ever you needed proof that Clara is a normal 2 year old, here it is. And yes, I'm posting this so when she's older I can say "see, that's why you should've listened to Daddy when he told you not to pick your nose." Ok, Sherry will probably make me take it down in a year or two to keep from "scarring her."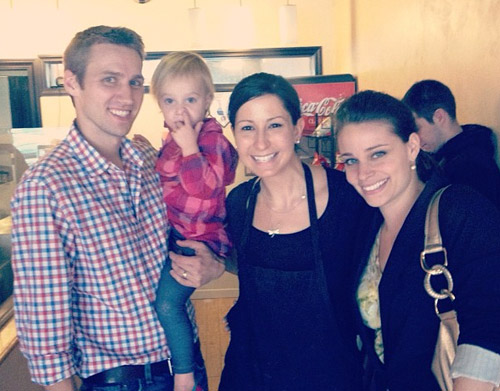 Here's where you should pretend to hear a record screeching to a halt: after lunch we arrived at our hotel in New Jersey just in time for Clara's nap before our NJ event… only to find this taped to the locked and bolted front doors. #wompwomp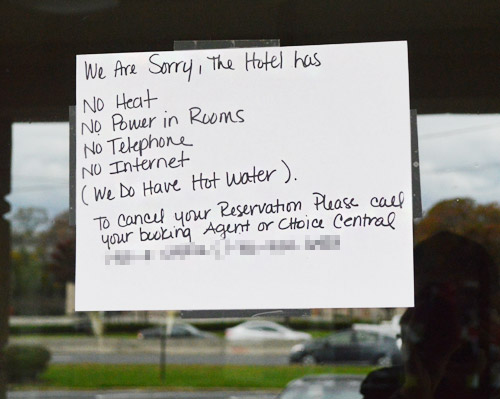 We feel bad even sounding upset about this, since the situation for residents affected by Sandy who had been living with stuff like this for days already – and more days to come – are MUCH more deserving of anyone's compassion. The first floor of Sherry's brother's apartment in Jersey City was flooded and her grandma was without electricity and heat for nearly a week. We've had to deal with no power and no heat ourselves before thanks to Hurricane Irene last year, but the lines for gasoline were like nothing we'd ever seen. There were lines of cars literally miles long at each gas station that was open. Sherry heard of friends and family members waiting upwards of four hours just to get their tanks full.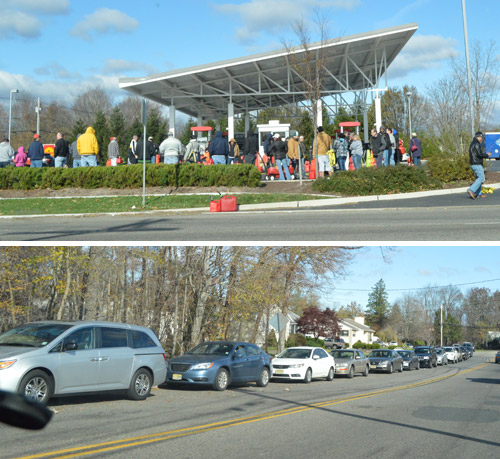 Thankfully we had fueled up in Connecticut so we only had our hotel issue to deal with. So after spending a couple of hours on the phone only to find there were no vacancies within a 50 mile radius, we heard that one of Sherry's mom's friends had a spare room where we could crash (with power and heat!). We were so thankful. So with that settled we ran over to Bookends in Ridgewood NJ for our signing there.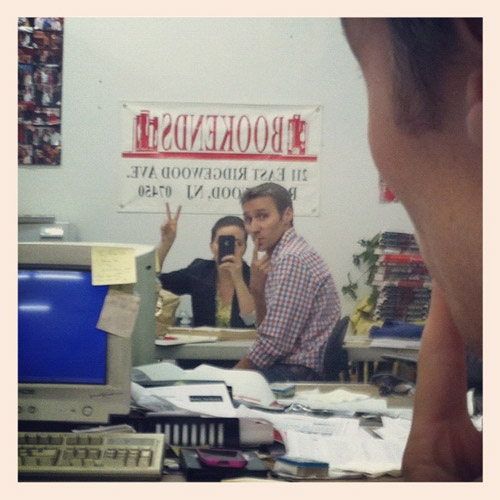 We weren't sure who would show up thanks to all of the gas/heat/power issues, but we were just happy to visit with anyone who could make it out. We were so grateful to everyone who made it out to see us and they seemed grateful that we made the trip! Mutual gratefulness. We had a great time with Sherry's (sorta) hometown crowd, and although it was a smaller group than originally expected, it was still an awesomely smiley and friendly crowd – including this little fellow named Greysen (who had fun "playing trains with the girl from the computer" – aka Clara). And of course we completely understand that everyone who couldn't make it out had far more important things to use their gas supply on! Heat > book signing any day of the week!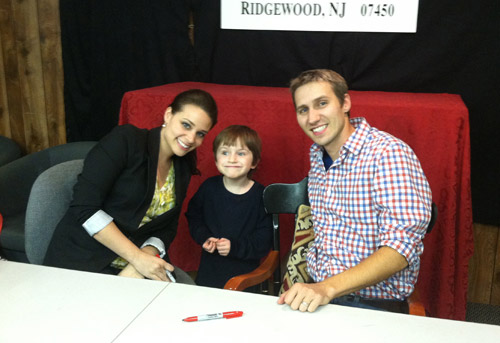 Being in Sherry's home state meant some familiar faces were able to swing by, including her bestie Heather (whom you've seen here and here before).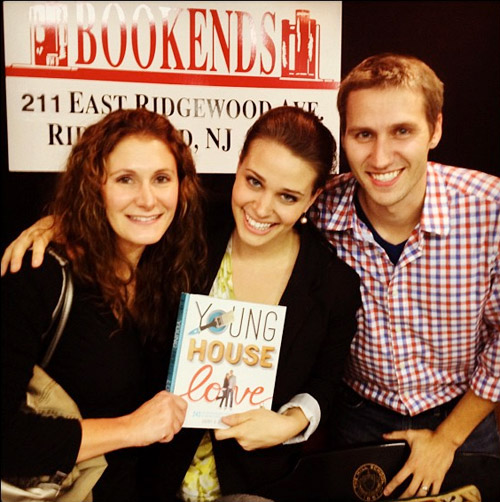 My sister Katie and her boys – her husband Martin and her sons John & Ben – even braved the trek from Manhattan since the SoHo event had been postponed. Can't believe we didn't get a picture with them! Maybe it was due to the three toddlers that we had running around…
When that event wrapped up, we ventured off to Nonna's friends house for the night. We were so happy to have a warm, safe place to rest our heads after a long day! Seriously, we slept like rocks and were never so grateful for two mattresses on the floor.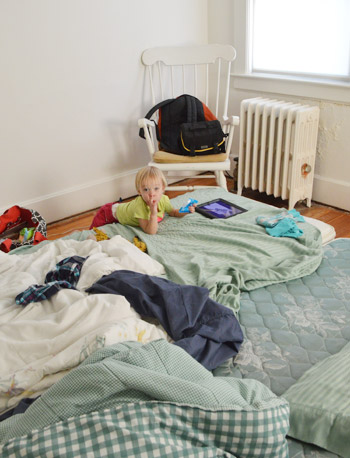 And instead of driving back home on Saturday morning, we stuck around for some quality family time with Sherry's family. We got some breakfast with her dad, stepmom, and grandma and then celebrated an early Thanksgiving with the Nonna side of the family. Clara even got some quality time with her Uncle Monkey (Sherry's brother Dan). Note: quality time was often defined as poking Uncle Monkey in the nose so he'd make funny noises. He's a good sport that guy.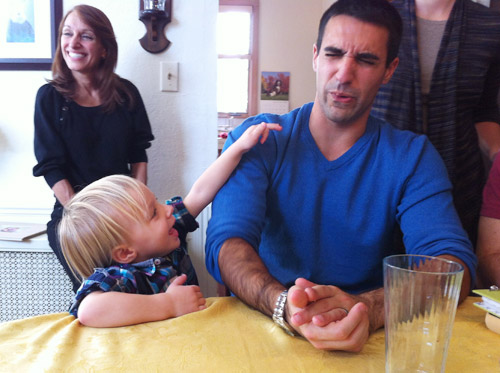 When fake Thanksgiving wrapped up around 6pm, we hit the road for the long and mostly dark roadtrip back to Richmond. It was smooth sailing and we've never been happier to see our beds. And to get an extra hour of sleep thanks to Daylight Savings Time…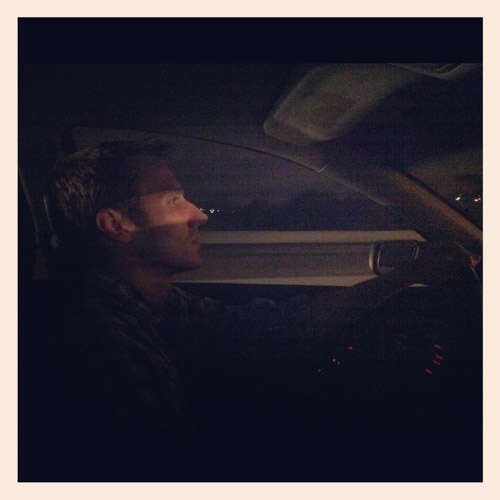 Fast forward four days to 4:45am (go go gadget alliteration!) and we found ourselves waking up verrry early on Wednesday morning to catch a morning flight to Boston for our first West Elm event. Clearly 6am flights are not a good look for me. I need to work on my awake face.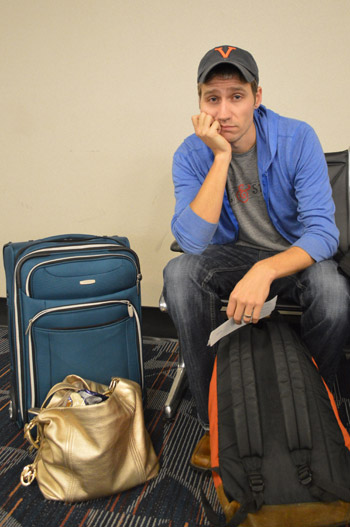 The awesome news about that early flight into Beantown was that it got us in by 8:15am, which meant we actually had some unexpected time to enjoy the city… if only the city weren't about to get slammed by a Nor'easter. The wind made our flight a little white-knuckled at moments and the cold / impending rain meant that we spent more time bundled up in our hotel than we had planned, but it didn't keep us from grabbing a delicious burger lunch with my cousin Casey and her husband Kevin at the Boston Burger Co. Yum.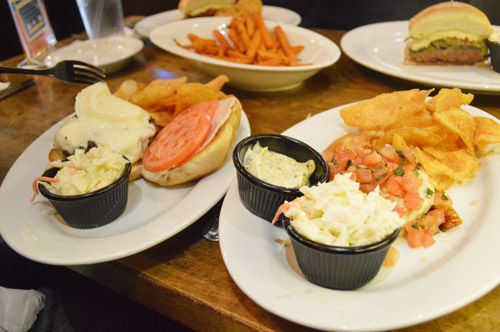 And since it was nearby, we squeezed in one sight that I've been dying to check out since my mom told me about it: the Mapparium. It's a three-story, stained glass globe that you get to walk inside of courtesy of a clear walkway that cuts through at the equator. It was awesome… except that photography wasn't allowed. So here's a shot from Northeastern University. You know I love maps, so I pretty much geeked out.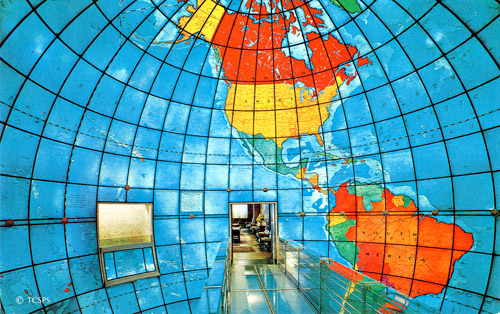 As the West Elm signing grew closer, rain turned to snow and we were certain no one was going to brave the weather. Seriously, Sherry talked about just playing with the ceramic animals in West Elm since the store would be empty. But New Englanders are apparently very brave when it comes to snow (guess you guys get a lot of practice?) and we were so shocked when the West Elm staff said there was already a line when we arrived through the back door to prep some of the book projects we'd brought along with us.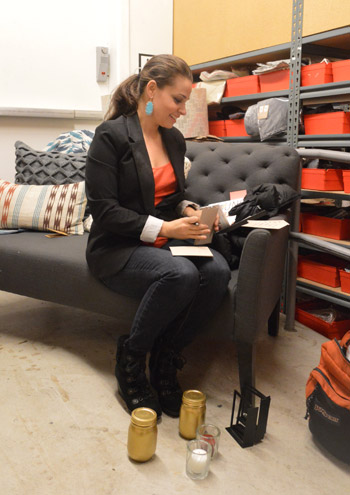 In addition to the great news than more than zero people showed up, West Elm was a super host. No one had to wait outside AND they had hot cocoa and cookies for everyone while they waited. Each of the West Elms that we visit will have cookies made by a local bakery (fun, right?) so here are the ones that a Boston bakery whipped up. In case you were curious, they were quite yummy. And quite large (or "head sized" as Sherry likes to call them).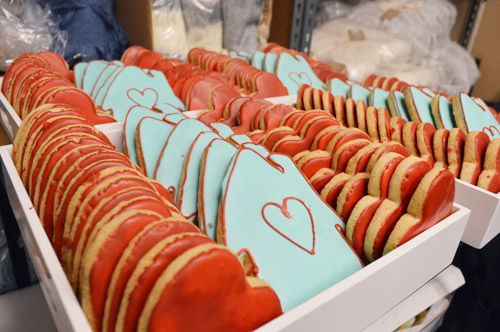 After a lightning fast welcome and speedy explanation of some gift-y type projects in the book, we got straight down to book signing so that we could finally chat people up and congratulate them on being brave enough to come out during a nor'easter. Because, just FYI, it looked like this outside.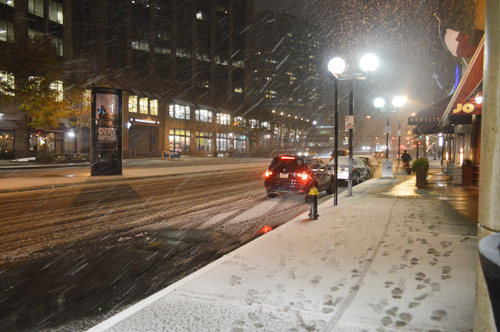 It was easy to forget the snow outdoors because the people inside were so darn friendly and excited to be there (or maybe just excited to have scarfed down a big cookie?). Either way, we were just so flattered that people showed up.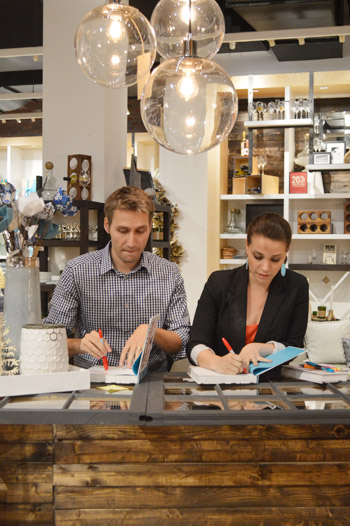 Since the store offered up plenty of ceramic accessories for people to pick up while they were there, Sherry found herself signing quite a few. Like this pretty snow globe…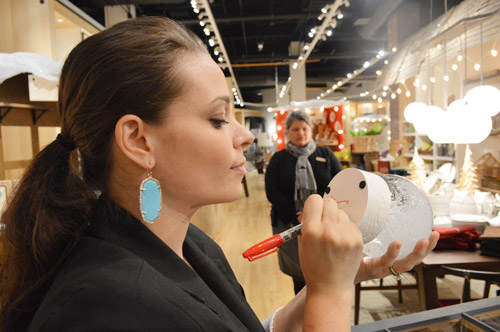 …and we probably signed about two dozen ceramic owls. Here's a shot that Karen snagged of Sherry posing with her colorful flock (from here).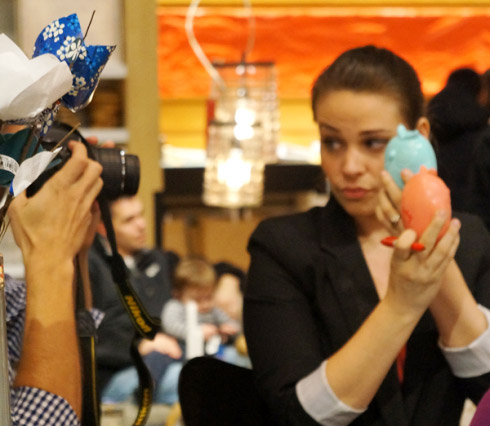 Oh yeah, and here's Karen herself. She wrote a very sweet post on her blog about the signing. Oh and see that yawning guy in the background? As a dude, I can totally relate to being the man on the sofa waiting for the wife. Hilarious.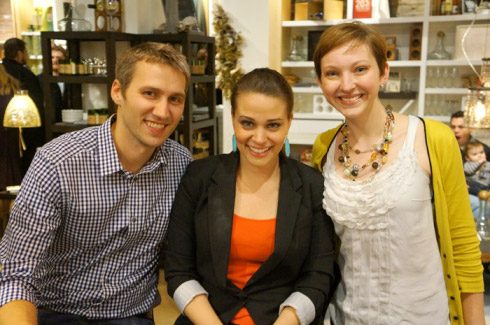 In addition to seeing my cousins again in line, I also got to (briefly) catch up with some friends who now live in the area. I saw friends from college, high school, and even elementary school there. And although I hadn't met these kind folks below before that night, they instantly won me over by bringing UVA shirts for us to "wear." Wahoo-wah!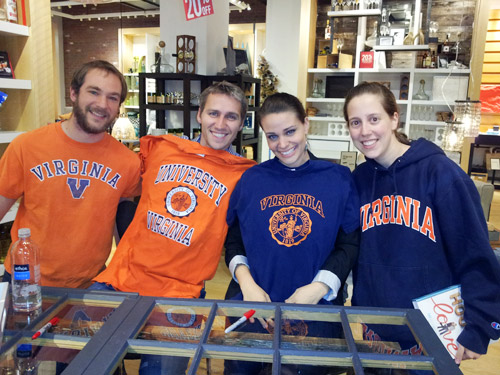 We could go on and on about all of the fun encounters that we had on Wednesday night… but I think we can all agree that I've already gone on and on enough. So let's just say that Boston was awesome. West Elm was awesome. The weather was… well, less than awesome. But hey, at least we got to see Clara's eyes light up yesterday when we landed back in Richmond and told her "Mommy and Daddy saw snow!"
Speaking of Richmond, we had our event here last night but will have to recap that for you in another post in a week or two. We're actually publishing this from the airport terminal just before we hop on our plane heading to Chicago (so comments might take a while to pop up). It'll be our third consecutive morning on an airplane, so forgive us if we start to lose track of what day it is! In summary: thanks again to everyone in Connecticut, New Jersey, and Boston! And to anyone who made it through this long rambling post, well, you rock too.