So many people ask us how we know we're going in "the right direction" in the middle of a project. We try to describe our method as one big study in trial and error, with course correcting and tweaking along the way, but we also haven't talked much about how we try to at least come up with a general plan in the beginning of a project, and then we try to stick to it loosely as we go, since it gives us a "path" to follow. Why? Because (sing it with me): the middle makes no sense.
It's a phrase that John and I toss around a lot as we go and we realized it might be helpful for you guys at home in the middle of something who are pulling out your hair and worrying that something is "off track" or "might suck when you're done" (which are both things that we fear throughout most of our room makeovers). The truth is, even if you've been doing this for years, sometimes when you're halfway through a room upgrade it looks crazy. Obviously this is clear in a situation like a kitchen reno, which always gets waaaay uglier before it gets better…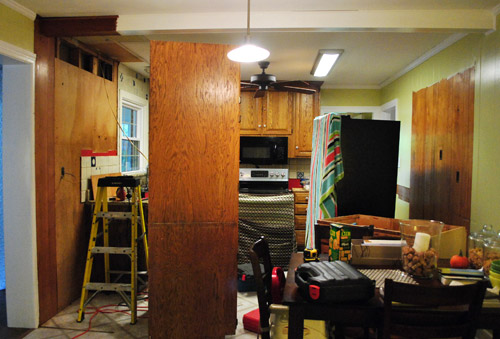 … but sometimes it's a little harder to realize (at least it was for us) that normal room makeovers that don't involve tearing things down or rebuilding major things can also completely throw you off in the middle. So we've generally learned to just try our best to be confident that "it'll all work out in the end" because in the beginning we allow ourselves to tweak and change things a lot, as well as in the end, but the middle… well, it never makes any sense anyway.
So we've learned never to rush to judgement when we're dealing with only half of the changes being implemented, major components that are missing, half of a color scheme going on, etc. In the middle (which is a good long time in many cases) we may silently question something (and our readers might not so silently question something, haha) but we try to remain calm and keep going. If we end up hating something in the end, we can usually course correct (repaint it, sand and stain it, rearrange it, move it to another room, craigslist it, etc) so most home related choices aren't irreversible at all, which is really comforting when you stop and think about it.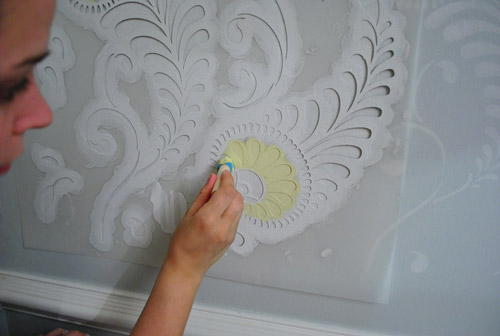 Oddly enough, even though the middle never makes sense, in most cases we end up loving something in the end, simply because we try to make choices in the beginning (after putting lots of thought into things) that seem like they'll "click" at the end of the tunnel. So I guess the lesson is that if you're frozen with indecision forever you'll never get somewhere, but if you rush into things or are constantly changing/second guessing things before a room comes together- it might never come together at all. Which is why we like to take some time thinking about the end product right at the beginning and then just follow through on enough things to get past that weird middle phase and into an end phase where it's easier to judge/evaluate things when the room is more complete. Of course you don't need a totally fleshed out vision of the room the first day you get started (we never have that!) but you definitely should try to consider some main ideas before diving in, like: what color scheme am I considering, what layout would be the most functional, what do I want to get from this space, what vibe am I going for, etc.
One good example of this concept would be the opening that we added between the kitchen and the dining room. Again you might say "of course a wall with a gaping hole in it makes no sense" but this is more about a concept/shape choice than the finishing. When planning the opening between the dining room and the kitchen, we worried that a half-wall was a really weird choice. But we reasoned the whole thing out and drew floor plans, and used Google Sketchup to picture it, and decided it was our favorite option by far. So then we committed to it. Wholeheartedly. And even though the middle looked downright crazy (and definitely made us sweat when it looked like this)…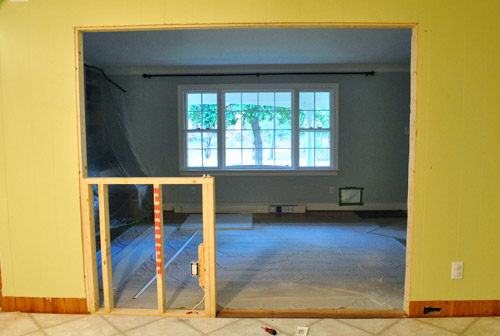 … we vowed to press on and keep the faith. There was a reason it was the plan we loved most after thinking things through a lot in the beginning, and it definitely looked crazy until we polished things off by fixing drywall, adding trim, and then bringing in furniture/cabinets/counters along with lighting and other finishing touches in both areas so all of the focus wasn't just on a gaping hole.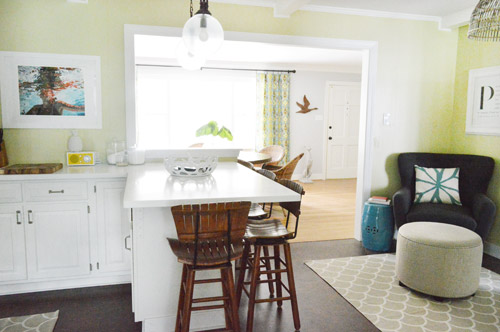 Sure enough, the half wall was the best choice for us, and it wasn't until the end that it all finally came together. But if it hadn't, we could have rejiggered things then (ex: drywalled the area above the counter to create a more traditional doorway). But had we jumped the gun and changed courses in the middle, we never would have made it to the end and realized that we love it as-is, and it was the right choice for us after all.
But what about decorating a room in a less hardcore manner (no wall-removal or kitchen renovating)? We find that it's exactly the same concept. Finished rooms have balance and a variety of finishes/colors/textures and things like scale/balance often don't come together until the end. So when you look at a room that's half done… it usually doesn't make any sense. Most definitely not to people on the outside, but even to the people with the "vision" (excuse me while I titter at the idea that John and I have a "vision"). What I mean is that even if we know exactly where we want a room to end up (or at least have a pretty good idea when it comes to the color scheme, layout, which specific items of furniture we'll be using, what function and vibe we are going for, etc) sometimes when we're halfway there it still looks crazy – and we used to not know if we should bail, keep going, cry, start over, or what. But over the years we have learned to just take it one step at a time, continue on, and constantly repeat "the middle makes no sense." In short: keep calm and DIY on.
For example, when we took our chipped black secondhand office chairs (scored for $35 each at a thrift store)…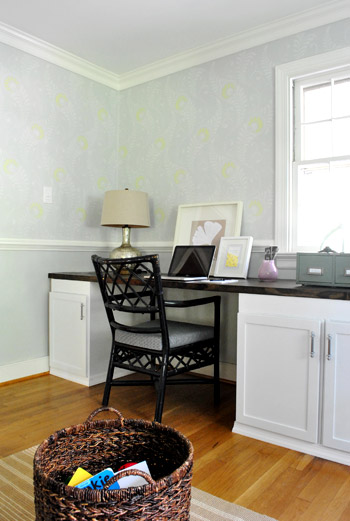 … and painted and reupholstered them in a bright green tone with patterned fabric, they looked crazy bright compared to what our eyes were previously used to.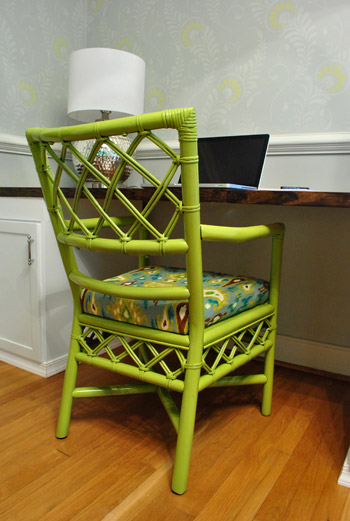 More than a few people even commented to say they were too loud and that they competed with the stenciled wall, and we agreed that they might look unbalanced and a bit too loud for the rest of the room at that point, but we still had other things to add (aka: the middle makes no sense). In the words of $herdog: we had plans, yo.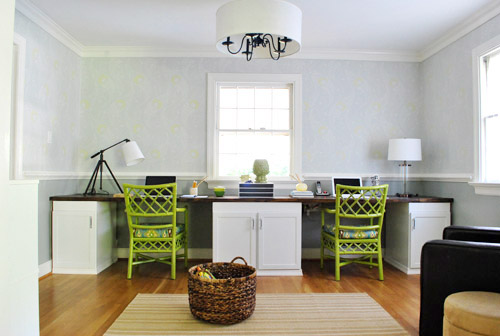 We totally could have been wrong (goodness knows we've made a ton of mistakes and course corrections over the years) but we just kept putting the room together, with the hope that some bright cheerful art and other happy pops of color would balance things out, make sense of the green chairs, and help the room come together as we continued to let it evolve over time. The middle = a judgement free zone for us. Sure enough, once we added some art, brought in a green artichoke planter to tie in the chair color, and painted the area under the chair rail a darker gray tone to ground the room, it all started to make a lot more sense to us. So we're definitely happy that we went for it with the chairs, and then added the art and accessories to balance things out, or the room never would have evolved from this less "happy" look…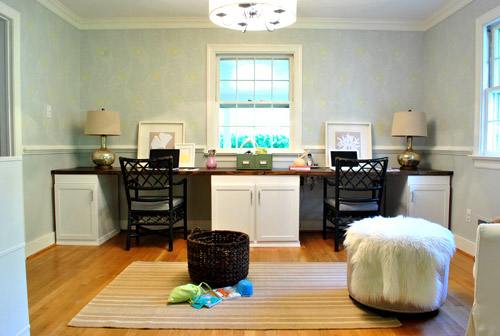 … to the personalized cheerful spot where we spend most of our waking hours.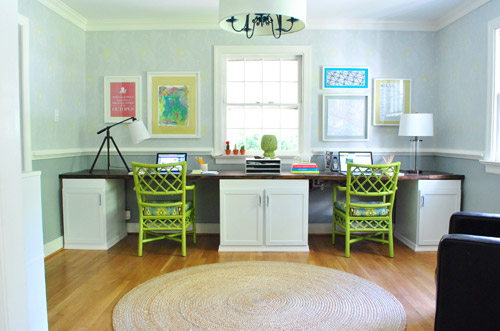 Yet one more example of this concept might be the mirror that we hung over the window in our bedroom. It looked like this when we moved in (creaky old bifold doors, a medicine cabinet at a right angle to the sink which made shaving rough for John, etc).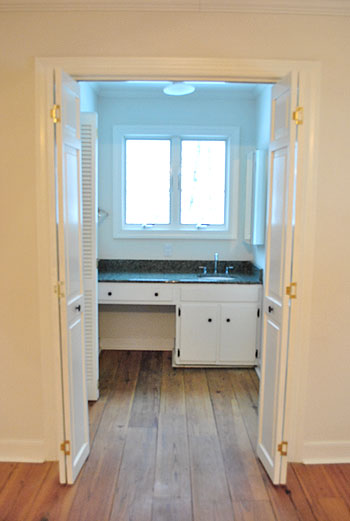 We removed the medicine cabinet and I demoed out the thick stone backsplash to make it look more like a granite topped piece of furniture and less like a sink on the side of our bedroom – and we shared this picture of the mirror when it was its original color: black. We mentioned we might paint it white but just wanted to live with it for a hot second to be sure.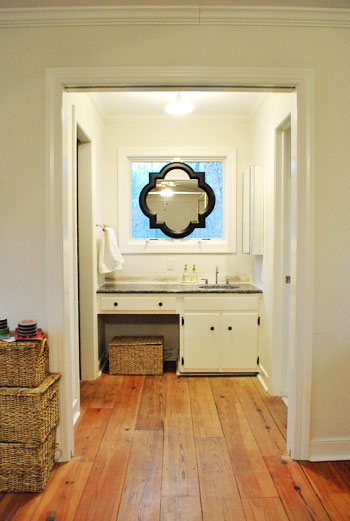 Secondary hint: take your time in the middle – it's nothing to rush though but also not usually a good place to make total plan deviations or do anything impulsive. Live with things, see what you think of them before you do something like paint or repaint at that stage. But once you think about things a bit and form a plan that you think makes the most sense, obviously the only way to move forward is to get 'er done. So onward and upwards! You just gotta keep moving towards a more finished product, which is usually when things finally gel anyway.
In the end, we took our time and definitively decided to paint it white along with painting the walls a moody gray/tan (Rockport Gray). And that little sink nook evolved into this, which we now think is one of the most charming corners of our partially unfinished bedroom (we still have an entire side of the room with no furniture and a big bare wall):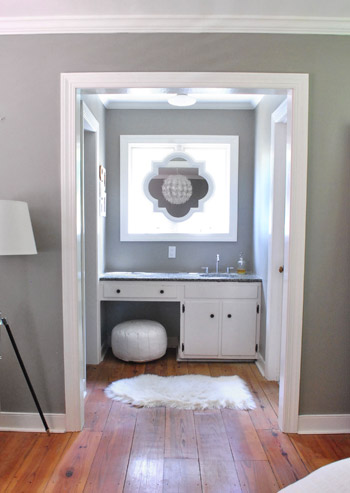 But do you see how we (or our readers) might look at the middle pics of all of these projects and say "whatchu talking 'bout Willis?" We totally get why we receive so many "wait, have you thought about ___?" or "why don't you undo ____?" questions when things are still mid-progress. We're usually asking the same questions ourselves! But we have just learned not to panic, to be patient, to have faith, and to keep moving towards a more finished stage since that's usually when things finally come together (or when it's a lot more obvious what will solve the issue – like repainting a wall, changing the layout, switching out some chairs, etc). In the middle it truly is nearly impossible for us to see what's wrong or what's right, so we like to let things shake out since it's usually waaaay clearer a little later in the game when the room comes back together and enough balance and order is restored to fully get "the whole picture" instead of judging a half-baked makeover that's only 47% complete.
So there's my big, long, Tuesday afternoon brain dump. Do you guys have any sayings that you tell yourself during a renovation or room overhaul that help you get through those tough parts in the middle? Share and share alike.
Psst- For more posts of the it-just-takes-time-and-it's-all-trial-and-error-but-you'll-get-there-someday variety, check out this post about how our first house looked after eight months of living there and this post about how we do our best to try to relax and enjoy the ride.