Quick note Book holla! -We're publishing this post early since we'll be at our stop in Wilton, CT this morning and then we'll be at Bookends in Ridgewood, NJ at 5:30 pm (and staying as late as it takes to hang/sign/geek out with everyone). More details here. We'd love to see ya!

A little while ago we took a road trip up to Northern Virginia to crash an awesome house that we thought you guys would love. It's in a charming town called Herndon, and Michele and Nate poured some serious love (in the form of some serious work, time, and sweat) into their home. So let's get our with the tour on, shall we?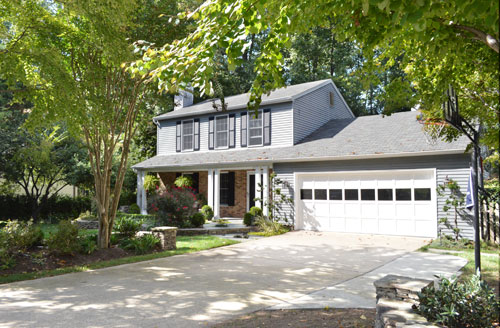 Here's the sweet couple now. They were so friendly and humble – we were so happy they invited us over with our camera (and Clara) to snoop around. Thanks again guys!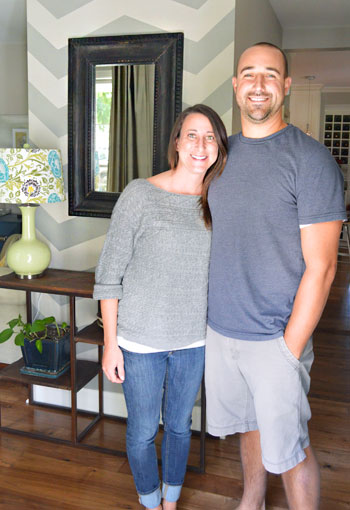 If you peeked past them in that picture above you've probably already noticed that awesome painted wall that Michele did with some painter's tape and a whole lotta time and dedication. I also love that console table, which she revealed was from HomeGoods for some crazy cheap price but it was a bright orange-y wood tone, so she stained the whole thing down with some darker walnut stain. Always a good reminder that if the lines/materials of something are good but the color is baaad, you can save it (and probably save some money on the item thanks to that less-than-appealing color). And if you peer past it into the living room you might recognize the rug. It's actually the same Pottery Barn clearance guy from our guest room. It's a nice splash of color that draws you into the room from the entryway.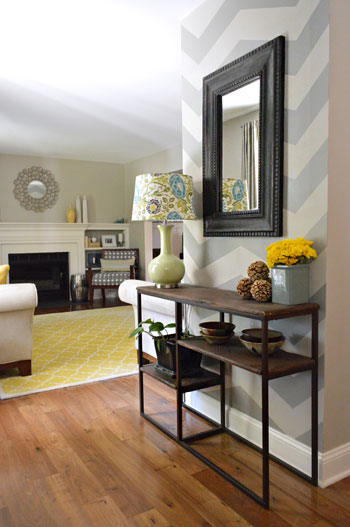 Beyond the living area is a charming dining room with two light fixtures from Overstock above the table (I thought two of them was a fun choice!). And do you see that sweet wainscoting that they added along with some awesomely textured walls thanks to… fabric?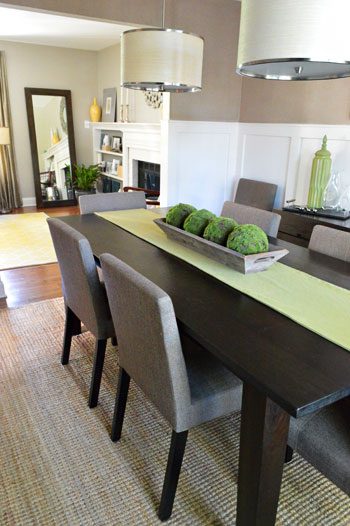 Yup, they starched some textured linen fabric (on sale from Joann) and stuck it up on the wall! How awesome is that. Here's her tutorial on that for anyone interested (I love that it's removable, so it's even a cool idea for a rental).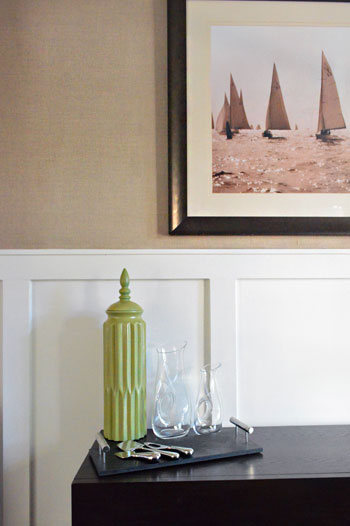 As for their kitchen, let's just say they put in some major time here. Not only did they do things like tile the backsplash and redo the counters, they actually built the cabinets themselves. Yes, they built them from scratch! So inspiring, right? I can tell you that in person they looked amazing. I seriously never would have guessed. Oh and those stools are lucky Crate & Barrel outlet finds.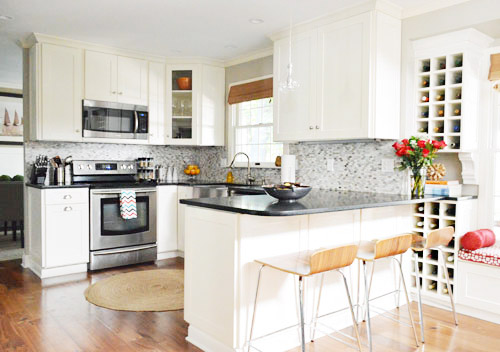 They also created this awesome little wine nook in an odd recessed area by adding a bench and lots of wine-a-licious built-ins.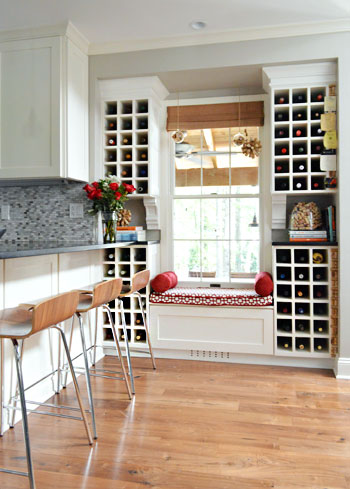 Here's the money shot for ya. Does this gorgeous marble mosaic tile say "how you doin?" or what? In lurve. I petted it. No shame. And that awesome apron sink is from Overstock in case you're in the market for one.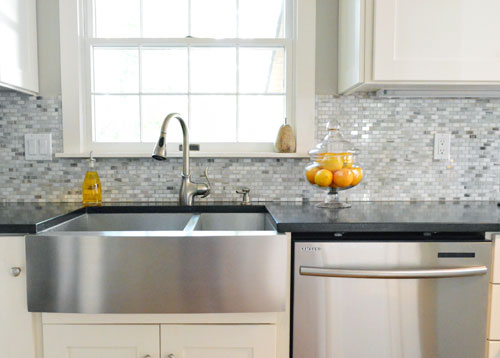 The family room was super cozy and welcoming. Everything from the large scale art they made to the stone wall and the dark wall color was totally doing it for us. We both were like "this room – yeah we want it." Oh, before I forget, the wall color is Benjamin Moore Gunmetal Gray. This was just one of those rooms that sucks you in and you want to snuggle down on the sectional. So casual and inviting.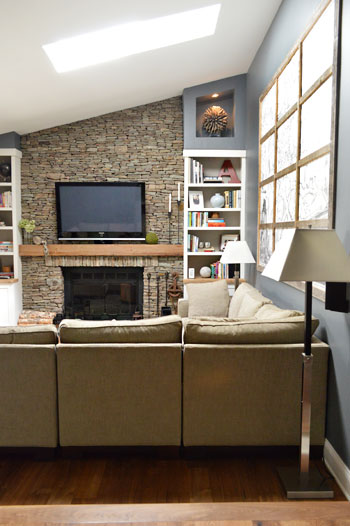 Here's a better shot of the art, which they actually made with an ebay map and some reclaimed wood that they already had (more on that project here). And how cool is that awesomely nature-esque tree trunk coffee table? Here's the story on that from Michele: "We made it! A pretty bad storm rolled through VA and we contacted a tree guy that we know in the area. He was taking care of some larger trees that had fallen and we asked that he cut us a chunk. It is a red oak. We counted about 110 rings and it was about 350 lbs! We let it dry out for a few weeks and Nate begin using a chainsaw to carve out the inside to lighten it up. (This was NOT an easy task!!). We spend weeks sanding it, chiseling off the bark, etc. After we had a smooth, hollowed out stump, we tung oiled it. Thanks for reminding me about a post that I need to write!"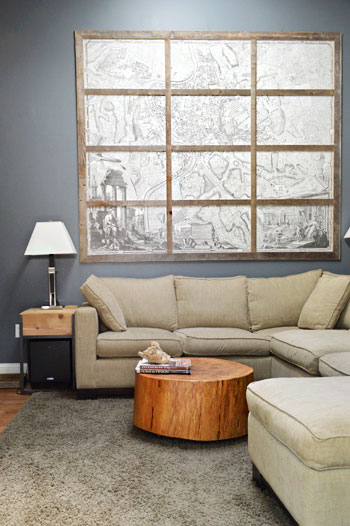 We loved that every nook was an opportunity for Michele and Nate. They even added some great wood detailing along the stairway walls, and the awesome orb-like light is super cool too. They actually made that with a light kit and a big metal cage that they found at a secondhand store.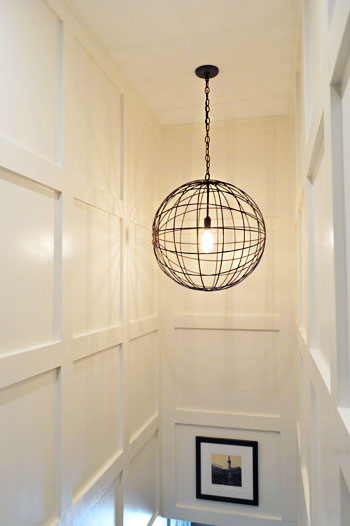 Here's the guest room, which had a pretty cool story when it came to those dressers along the wall. They're actually Nate's from when he was a kid, and instead of retiring them, Michele refreshed them with some paint and new hardware (Benjamin Moore Chelsea Gray, with pulls from Home Depot). You know we love that use whatcha got spirit!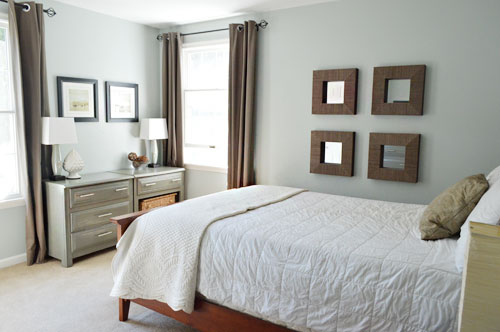 This bathroom was another showstopper when it comes to details that they added (like the penny tile border along the wall, the awesome dark floor tile, and the vanity that they got from Lowe's). It felt really classic and crisp in there.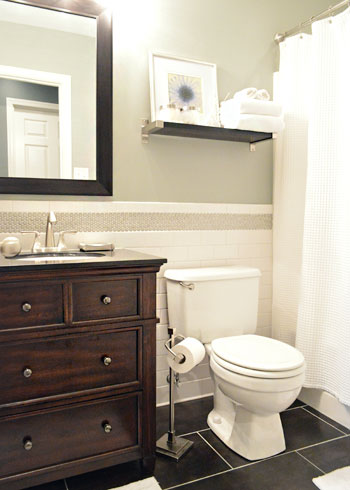 Boom. I just hit you with a detail shot. How you like me now?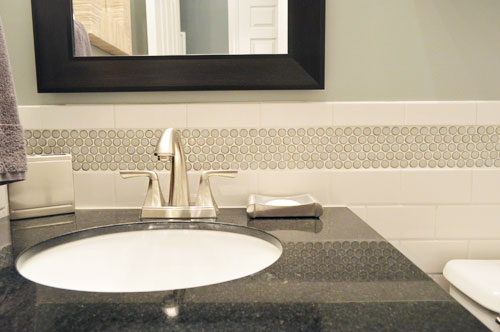 Seriously, that bathroom was awesome.
And speaking of bathrooms, this one was a powder room downstairs, and it was really cool because they added an entire accent wall of tile (from Home Depot). It looked so great with the sconces and the pedestal sink and that awesomely rustic wood mirror (which they made with some old wood). This picture doesn't do it justice at all.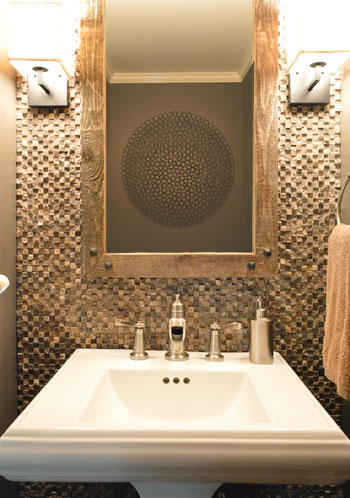 And the garage. Oh the garage. Let's just say that John wanted to move in. It was awesome. Again they were so smart about using what they had, so these are actually their original kitchen cabinets. Yup, instead of demo-ing them out when they built the new ones, they moved them right into the garage and primed/painted them. It was such an organized and inspiring room. Made me wanna build something.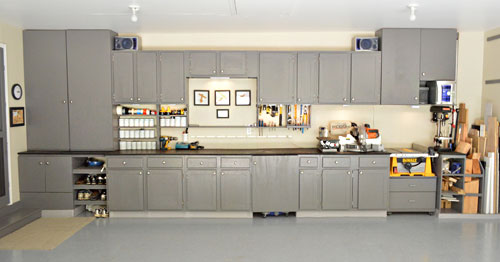 There were some really cool personal touches too, like some old airplanes that Nate framed (he'd made them as a child and his Grandpa saved them and gave them back to him as an adult). How sweet is that? And of course John was drooling over the supreme organization going on when it came to all of those labeled screws and nails (it might have inspired this recent basement project). The funny thing is that when John asked Nate if he cleaned things up because we were coming to take pictures he said "nah, I'm just a type-A guy." So funny!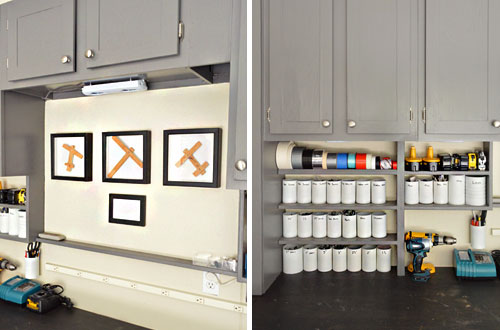 And we saved the best for last. How awesome is this backyard? Did you faint? I almost did when I rounded the corner and saw this. I was all "wait, am I in Hawaii? How did I get here?"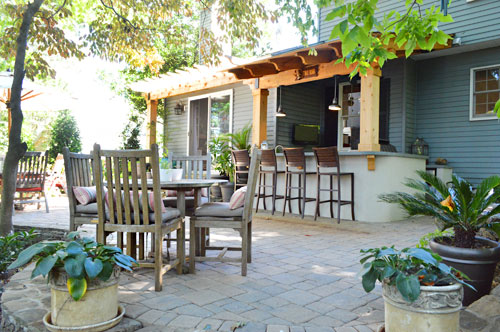 Not only was there an outdoor kitchen that they paintstakingly pieced together over time, but they also have some great outdoor furniture and even had a hot tub tucked in the back. Yeah, buddy. I was in heaven. Jersey girls like me love their hot tubs. Just saying.
And look at those pretty stone steps. The hardscaping in the front yard and the backyard were so great. It was like extra credit. It went the extra mile above regular garden borders and stairs and felt so special and upgraded, you know? Nate and Michele are actually both landscape architects, so that might explain why they have some seriously swanky outdoor areas. And the planters all around the yard have been collected over time (some are leftover from the previous owner and they spray painted them oil-rubbed bronze to freshen them up).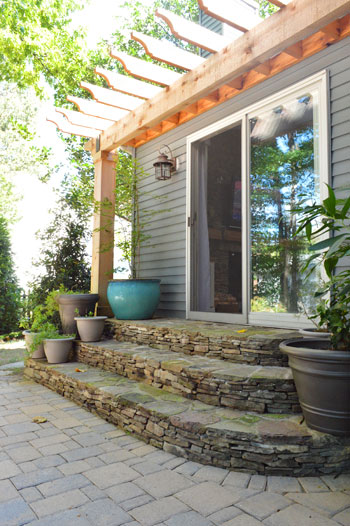 So there you have it, Michele and Nate's awesome house in Northern Virginia. You can read more about their amazing DIY journey here on their blog, but first let's play the what's-your-favorite-part game. I'm all over that giant map against the dark walls of the family room. And John's very much in love with that garage. As in, he smiles like a fool when I mention it. I've been calling him Young Garage Love for weeks.
Psst- Don't wanna stop snooping around? You can check out dozens of House Crashing adventures right here.