I was lying in bed thinking about what random lessons we've learned in over nearly seven years of homeownership and DIY, and I realized it might make a good post. Shoulda woulda coulda – ya know? Here's what I came up with (which is by no means all-inclusive, but hopefully will help someone else out there who's just learning as they go like we're apt to do). Who's ready for number one? Ok, since I can't actually hear you guys (but clearly you're all screaming "we are!"), I'll continue.
1. It's not always best to blindly follow one sentence tips in home improvement magazines without knowing if they'll work for your system/house. For example, we read somewhere that shoving a piece of insulation up your not-in-use chimney was a great way to save energy since you won't be losing heat or cool air through the chimney. So we did it, just shoved in some insulation (warning: if you are eating or afraid of bugs, don't read this tip).
A few weeks later after a lot of rain while John was away on a business trip I was walking into the kitchen, past the fireplace without my contacts in. And I saw what could best be described as a bunch of white pieces of rice on the floor. So I knelt down to look a little closer and they were… maggots. Crawling out of the fireplace.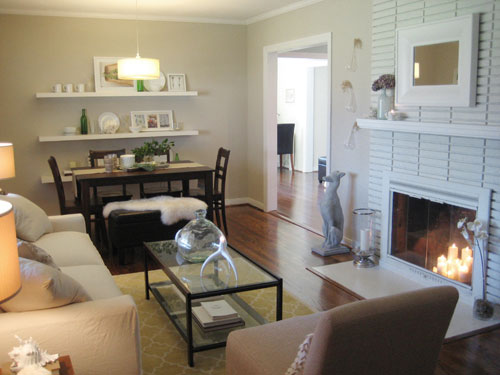 Probably fifty or more of them. Thankfully I'm not too squeamish (although I did take a moment to resent John for missing this debacle entirely by being gone on business) so I used a paper towel to gather them all up and fling them outside. Then I shined a light up the chimney only to realize that somehow the chimney cap must have leaked and the moist insulation was the perfect place for a fly to lay her eggs, which had hatched and were now in their larvae stage.
How did I know they were flies? Because apparently I missed a few of them and a few days later flies were all over the house. Thankfully I could solve the problem by removing that nasty piece of insulation, resolving to get the chimney cap looked at (we later resealed it with some silicone caulk) and reminding myself that perhaps every one-sentence tip in a magazine isn't a blanket this-is-definitely-best-for-your-house rule.
2. Don't decorate around a stump. Just pay to get it ground instead of sinking money into trying to make it look like a pretty planter. Although I'm sure some folks could totally pull it off, we couldn't. We thought we could, so we attempted to make a little octagonal planting bed with some wood on top of the stump but it always looked like a tree stump in the corner of our driveway with a weird wood planting bed on it. So when we later decided to get our pebble driveway paved for our backyard wedding, we jumped at the chance to finally get that stump ground once and for all so we could reclaim that corner of the driveway and no longer look at our mutton-dressed-as-lamb stump.
Note: here's where I'd put a picture of the hideous octagonal planter that we built on top of our giant 3′ wide stump, but the thing was so ugly we never snapped a picture. But you can see the tree that we had to remove (it was dead when we bought the house) which left the stump in the background of this picture of the sunroom: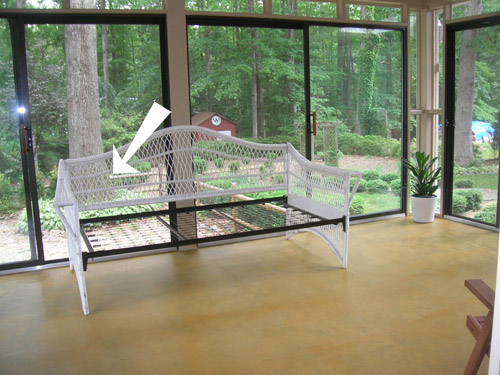 I think this is probably a wider concept, actually. For example, if you have an ugly obstacle (gross wallpaper you haven't gotten around to removing), don't try to pick art, drapes, and accessories in that color palette to try to make the ugly thing work if you don't even like said ugly thing. If at all possible, just save up money (or wait to have some spare time) and remove it if you can. Then you can spend money and energy towards creating a room/feature that you love instead of spending money and sweat to try to disguise something that makes you twitch whenever you see it.
3. Plant things a safe distance from your house's foundation. Some things we dug in at first were borderline too close, so we learned that even though planting a dwarf tree four feet from the house feels oddly far, from the street it looks just fine and it's much better for the foundation (and the tree itself since it gets more sun and rain than it would if it was half-tucked under the eave of the house).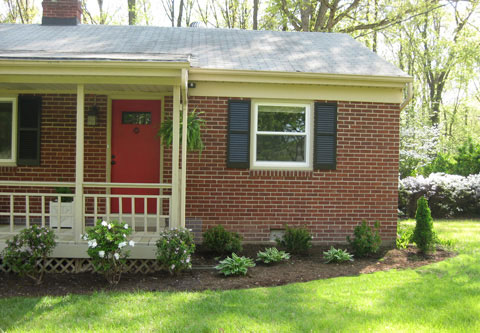 4. Spackle and drywall mud need to be smooth before you prime or paint. Primer and paint actually will enhance any irregularities, so they won't hide any sins at all. And once those things are painted if they're not smooth, you can no longer just easily sand them to make them smooth (paint is really hard to sand and get the same smooth look as caulk or putty or drywall mud before the paint is applied).
So when in doubt, we like to spackle and sand and spackle and sand – at least two rounds just to make sure we fill everything in that needs to be flush and sand everything down that needs to be smooth. The instinct is to hurry up and get done as quickly as possible, so you really have to fight yourself to make sure you sand things well so they're nice and smooth (in the end it'll save you lots of time since going back and trying to fix things after they're painted over is a royal pain in the behind).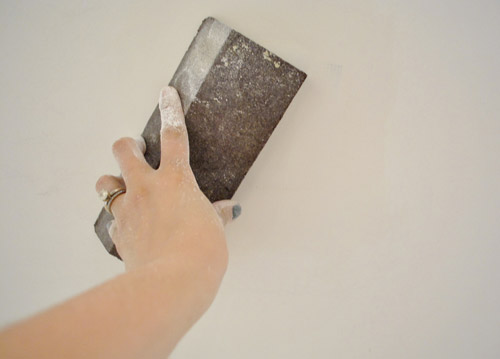 5. Your first idea isn't always your best idea. Take our first house's kitchen for example. For a while we were planning to just get new cabinets and put them in the same configuration as the old ones. But after a while of thinking and rethinking and brainstorming we came up with removing the door to the old dining room, making that a third bedroom (it already had a closet), moving the dining area off of another kitchen doorway in our extra-long-never-used living room, and making a completely functional and much more beautiful u-shaped kitchen instead of the old i-shaped counter that used to be there (we gained at least three times the storage and counter surface along with making our house more valuable since we added a bedroom).
Similarly, in our current house we initially wanted to add an island to the kitchen. And then we considered a banquet.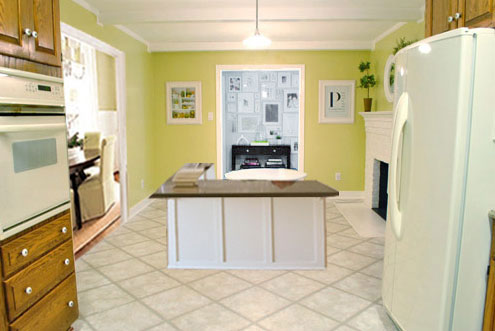 It took us a while to get to the peninsula idea, which we definitely think was the right way to go.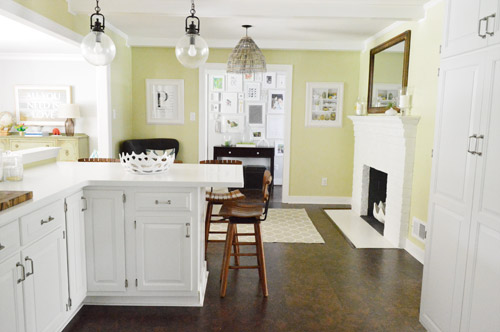 So try not to rush into anything major without really thinking and rethinking everything. We find that living in a house for a while to get a feel for it can give you major layout-change and floor-plan ideas that you never could have come up with if you renovated off the bat.
And there you have it. Five things we learned the hard way. Well, I guess the last one wasn't something we learned the hard way because we rethought things enough to narrowly miss creating a similarly small and cramped kitchen in our first house and a room with an oddly placed island or banquette in our current house. But it's still definitely a lesson we learned along the way. What have you guys learned the hard way? Share and share alike.
Update – Wanna know where we got something in our house or what paint colors we used? Just click on this button: