Ahhh! Our book baby is officially out there in the world. Holy cow it's crazy. We thought once the book was actually released this might feel real but it still feels like it's a big game of make believe – despite all of these awesome photos that you guys keep tweeting and Facebooking to us (anything with a dog, a baby, or a funny face = awesomeville).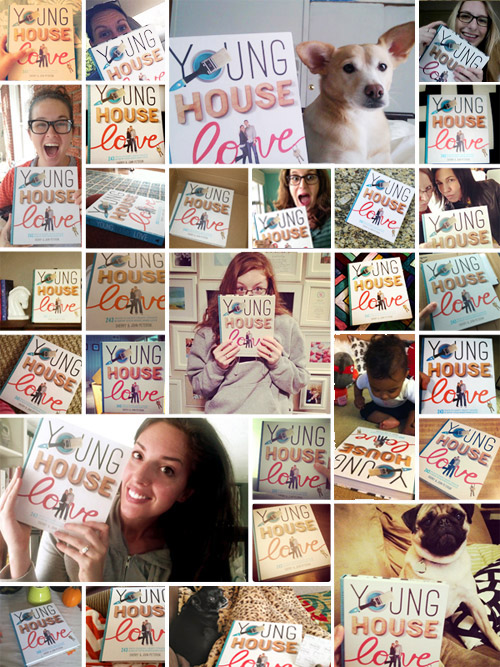 And ever since those early days of cobbling this labor of love together, we've been itching to share some behind the scenes peeks, so it's an understatement to say that the 27 photos in this post were burning a hole in our pockets for nearly a year. So without further ado… the long-awated we-can-finally-share-these-photos scoop. Below you'll also find a ton of details from many pages of the book with the correlating back story (if you don't have a book in front of you, it might not make as much sense as it could – but you can still check out all the behind the scenes pics and then flag this for later). #warningitslong
The inside flap picture – The photo on this page with me and John mugging for the camera was actually one option that they shot for the cover, but since we were trying to dodge having our big smiling faces on the cover we campaigned against it being "the one." Thankfully they opted for a more text heavy cover (with our cheesing faces much smaller) and we dodged that bullet. But while we had that corner all styled (we did all of the photo styling for the book ourselves so it felt as much like us as possible), we shot this picture to remember the setup. We love that it's a bunch of projects smashed together in a random-ish grouping.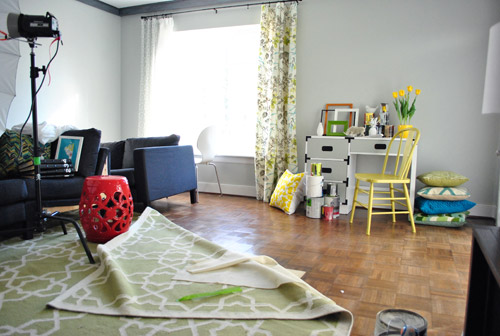 Page 25 – We only papered the backs of the bookcase that were going to be seen in this shot, so if you zoomed out the back of the shelves above it were still blue – and the rest of the room was a disaster.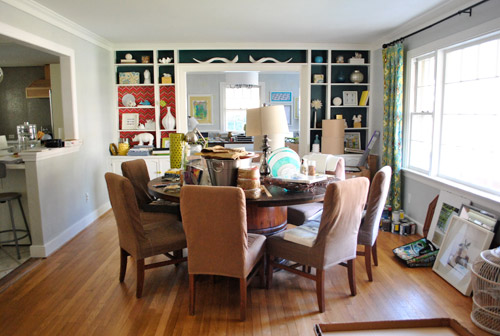 Page 30 – This is the first of several furniture makeovers in the book, but to save time we executed them at the same time (it's easier to prime everything while the primer is out, right?). We were pretty certain the neighbors thought we were crazy. We called it our "furniture graveyard."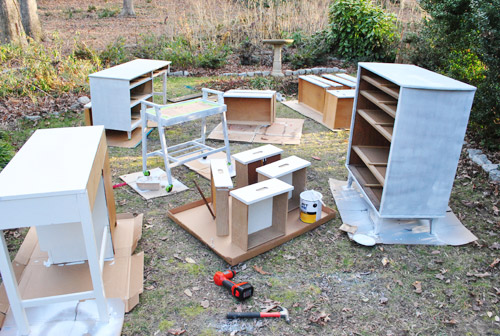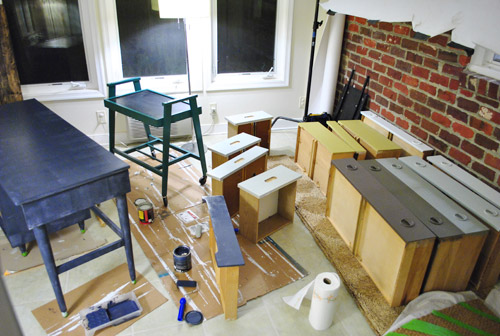 Page 32 – We snuck a family photo of one of our visits to see the Bowers in Georgia into this shot. And oh yeah, that paint color is still on that wall in our playroom to this very day. Someday we'll repaint.
Page 35 – We only made one curtain panel for this project, which meant it wasn't really functional as a curtain or usable to anyone else in a charity auction, which is why it later became our headboard. And the nail holes from those frames are still in our living room wall. We'll caulk them someday…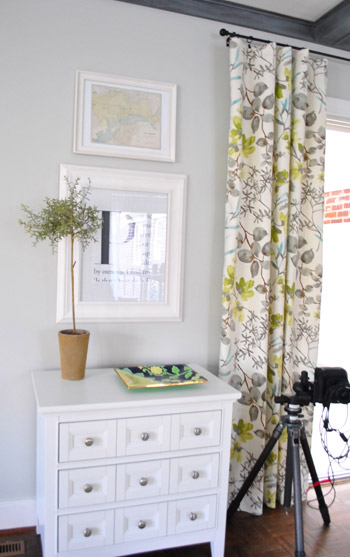 Page 37 – There are several illustrations throughout the book because we knew we couldn't execute every idea that needed some sort of visual (and our publisher agreed that it'd be nice to break up the photos a bit). Our publisher asked us to send some samples of illustration styles we liked, so I plucked out some from a Real Simple article that we loved and hoped we could find someone similar. They did us one better and actually snagged that very same illustrator – Emma Kelly – and she was awesome.
Page 38 – This was the first shot we took for the book. We had to scramble because the first day was supposed to be all of our "before" photos of all of the various pieces of furniture that we were making over, but a miscommunication meant that the photographer didn't have the right equipment with him for those. So we went straight to shooting a few already-done afters. The red berries were stolen from a bush out back because we hadn't planned on needing flowers that day.
Page 39 – We originally shot this without Burger and then he jumped up there and we liked it better with him in it, so we snapped a few more shots and called it a wrap.
Page 46 – We borrowed this sofa for the day since we couldn't shoot our giant sectional as cleanly/easily. We only had it a few hours with it, so we rushed to set everything up – including adding a rug and frames that later got cropped out of the final images. D'oh!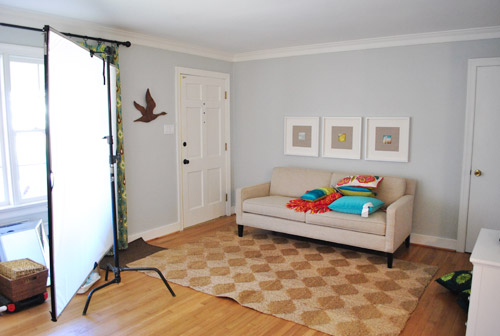 Page 47 – That's Katie Bower's hallway. Since this isn't your typical home book shot across multiple high-end residences (and it was all a grass roots book shot in our home) there were a few concepts that we wanted to touch on but couldn't demonstrate in our own home – like a project with stairs since we live in a one story ranch – so a handful of room pictures in the book (like the stairs on page 49 and Layla's kitchen on 85 and the front door on page 309) are photos that we got permission to use to help demonstrate some of the projects that we didn't want to leave without a photo.
Page 55 – This is a project that almost got scrapped. My first attempt was to splatter paint the lantern and I think I went a little completely overboard. Luckily we had bought a back-up paper lantern so I could try the more subtle watercolor approach that ended up in the book…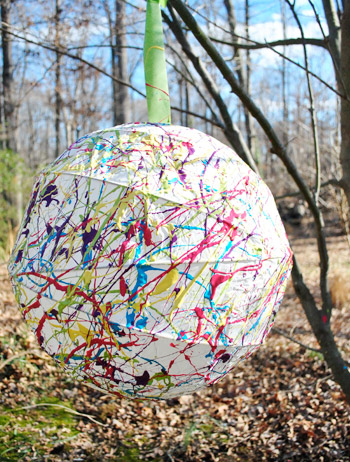 Page 56 – We temporarily hung wallpaper (with tape, not glue) just in one section of the entryway to get this shot and then removed it quickly to keep the wall freed up as a background for other shots.
Page 57 – Tulips became the unofficial flower of the book. Every time we needed some life we got pulled towards them at the grocery store, so by the end we didn't even think twice. It was just "grab the tulips- whichever color looks the healthiest!"
Page 59 – We got this lot of old postcards on eBay. I was in love with them and didn't want to take them down (but of course I had to or they'd sneak into photos or house tours before we were allowed to let these secret projects out of the bag).
Page 61 – We loved how this project turned out and actually left it for months, but it became so difficult to shoot around it that we finally painted the door white again. I'd totally paint it again though. And remember when our bed was right near the door back then? So funny to see now…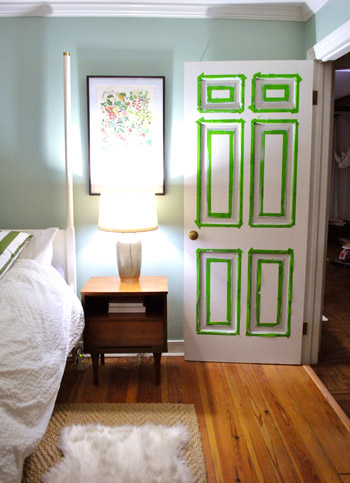 Page 62 – This is one of many colors that we painted various walls in the playroom for a varied background for projects and shots (didn't want them all against our Moonshine dining room and living walls, our Plumage guest room, and our Sesame kitchen). And those reading glasses were the photo assistant's – we scrambled to use anything we could to style things!
Page 66 – To pull this tip off we wallpapered a spare piece of foam core and taped it to the ceiling temporarily. Everything had to go up quickly and come down even quicker so it didn't end up in another book shot or in a shot for the blog that could give something away.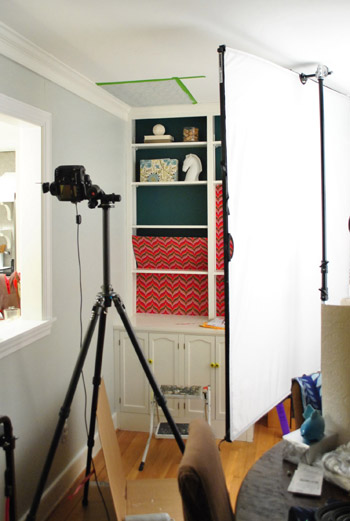 Page 75 – Shooting anything in our kitchen proved very challenging because of the lack of natural light. So we ended up shooting most of those shots after sundown since we'd need artificial lights anyway.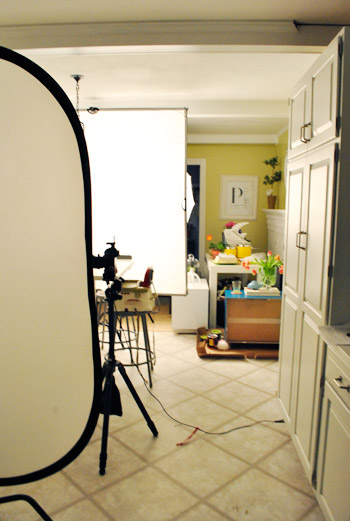 Page 78 – The wire basket is a thrift store find that Clara uses as her shopping bin for the wooden food in her play kitchen. Works for real food too!
Page 88 – We had to reshoot the macaroni set up after zooming in on our film and realizing there was some rice hiding at the bottom of the vase from that previous setup. Sneaky little buggers.
Page 89 – John got me these yellow flowers for Valentines Day and I loved them so much I made sure they snuck into the book at least twice (they're also in the background on page 239).
Page 103 – We bought these glass votive holders at Target along with little candles to put into them and right before the shoot we realized the candles were a smidge too fat to slip into the votive holders – so we had to go back for slightly thinner ones. Who would've thought they weren't standard sizes?! I also insisted that we burn the wick of every candle we shot, just since the waxy unburned ones look "dorky" to me (like sneakers that are too white, haha).
Page 105 – We had to photoshop some Garfield paraphernalia out of John's childhood room photograph for "copyright reasons."
Page 107 – My nails are always painted dark in the book because they were so dirty from constant projects (I had so much glue and paint under my nails that we had to paint them to hide the mess).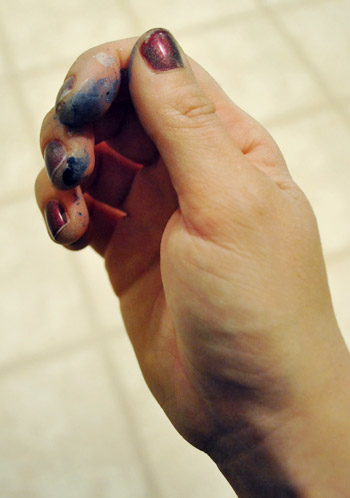 Page 108 – We brought our guest bed into the corner of the living room where the desk usually sits since there's great light there – which is where it lived for a few days. Burger was a fan.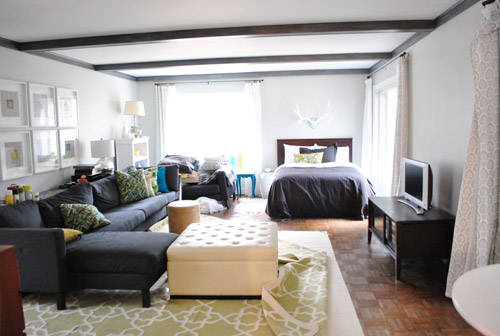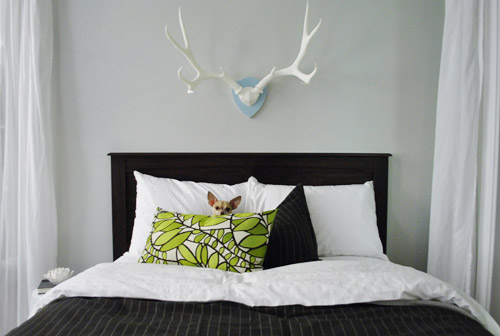 Page 115 – We tried to hide meaningful things in photos when we could, like the gold giraffe necklace that Clara loves and my favorite quatrefoil earrings.
Page 119 – This is another example of our guest room bed getting around. We stuck it up against the fireplace in the living room (where Clara's desk usually lives) and shot it there for a different backdrop. Gotta spice things up, right? It actually blocked the walkway so while it lived there for a few days we'd just crawl over it to get through. Oh yeah, and that's Clara favorite stuffed animal Gee making his book debut as a bed prop.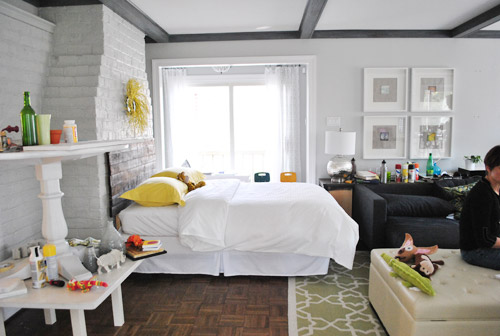 Page 120 – The photographer Kip loved Burger, so shooting these Burger pics (there's at least one in each chapter) was a fun break from all of the room pictures. We shot him on an all white background to make him easier to cut out later so he could "walk through" pages of the book. Lots of treats were involved.
Page 121 – This is another bright color that we painted a wall of the playroom just to add some more color in the background of certain projects – it was called Moroccan Spice and we loved it. We used an N as the letter on the shelf in honor of my mom (Clara calls her Nonna).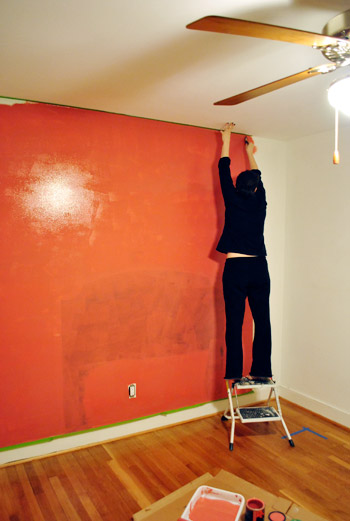 Page 125 – Kate's original after photo had a Buzz Lightyear and an R2D2 on the shelf but we had to ask her to reshoot it without them for "copyright reasons." She was so sweet and sent another shot that very day.
Page 131 – This is our favorite Burger blurb in the book. It cracks us up every time we see him sitting in that basket. Dorks for life.
Page 130 – There was a chandelier over the tub in the original illustration but since that's not to code in most places we had the illustrator remove it. #codenerds
Page 139 – None of our bathrooms were big enough to shoot in, so we actually shot this book photo in the playroom. We placed a toilet tank top on a makeshift shelf and just cropped enough to fake it. Looks like a real toilet in the book, right?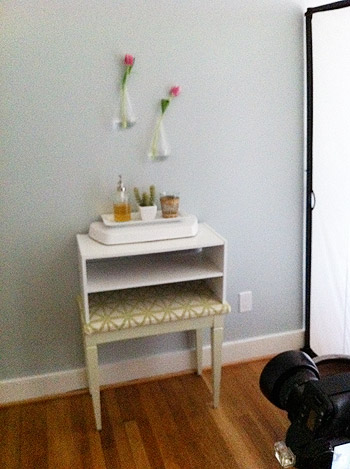 Page 148 – As a subtle shout out to John's parents (Tom and Kathy) we made these canvases in their initials and later gifted them to them as a thanks for watching Clara during so much of shooting.
Page 156 – Everything we wrote on the calendar had some significance (ex: the 4:30 meeting has our favorite number 43 in it and we also had Clara's birthday and a vet apt written in, in honor of Burger). We also styled the heck out of the mail holder to the left of the calendar only to realize that once it was cropped and laid into the layout you didn't even see them. Oops!
Page 158 – We didn't know what to write on the label of the box so John suggested "secrets." It makes us laugh every time we see it.
Page 159 – This is another subtle Bower shoutout (that's a pic of Will and Clara in the bowl).
Page 174 – We loved the opportunity to get our niece Olivia (then 11) and nephew Jake (then 13) involved, so we were psyched that they were willing to do some original art for us. Here they are with their "practice" sheets and their final works that made the book.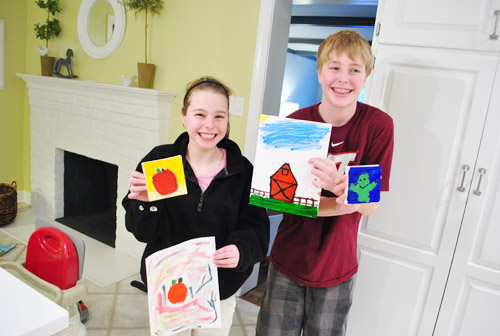 Page 180 – I originally painted this project red and John hated it! Said it looked like bloody crime scene. Then I couldn't not see blood either so I waited for it to dry and repainted it green.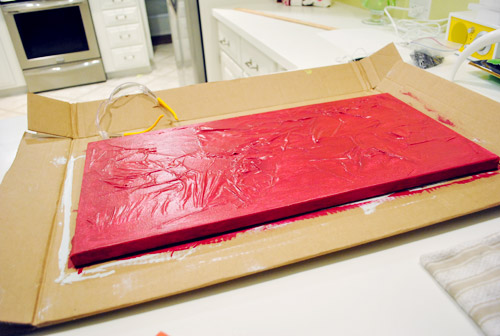 Page 182 – We used the fabric that we stretched around the canvas of this photo as a Clara fabric the next month (February). Also in styling news, if I could do it again I'd remove the lamp from the right and move the yellow art over a scotch to the right and turn it vertically to balance the lamp on the left. Two lamps on that small console just feel kinda cramped now that I stare at the pic. So there you go. #keepingitreal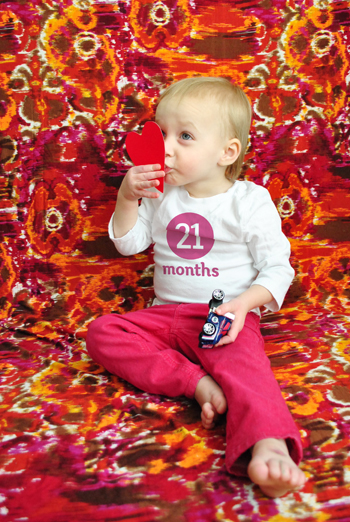 Page 186 – After hanging all the butterflies made from book pages we realized the one that the photographer was focusing on had a rather dirty word right in the middle of it… so we blushed profusely and cut a new one after reading the whole page to make sure it was more PG.
Page 190 – This tip was supposed to be "paint an old corbel or sconce" but then we found and fell in love with that chippy corbel so much that we couldn't paint it and wound up leaving it as-is (so the tip changed to be more general for folks with beautiful chippy corbels that shouldn't ever be painted!).
Page 196 – We had done this once about six years ago and the results were terrible so we were nervous about how these would come out. John says his original drawing of me looked like the Terminator since he gave me giant sunglasses and a super square jaw – so this time he went a lot more abstract. I loved his new sketch because I'm all about big colorful earrings. Perfect.
Page 214 – The black and white photo in this layout is a really old picture of my dad and his sister when they were kids. And all of the stamps for the stamp family tree were under $6 from a local stamp shop, even though two are from the 1920s! That was a gift that we sent to my stamp-loving dad after we shot it, and he loves it.
Page 218 – So many frames were missing from the frame wall during shooting since we'd use them as props, etc. So on the right in the background of this page's photo there was one picture that was actually missing, so we added one into the hole thanks to Photoshop.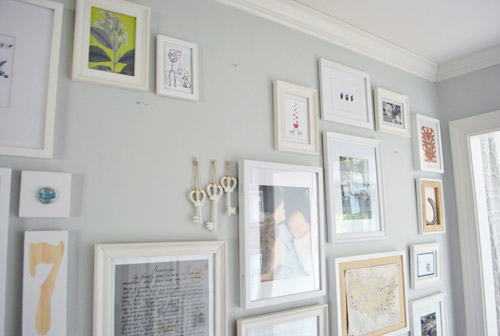 Page 231 – We didn't think the notebook in the shot should be empty so I quickly wrote "just writing words so this notebook isn't naked. Words, words, words. This is weird."
Page 232 – This shot was looking kind of bland and "staged" until I ran around the house and collected as many colorful hardcover books that I could find and haphazardly stacked them with a glass of water on top. Suddenly it felt like a room someone actually lived in.
Page 243 – We were having a "cleavage issue" in these progress shots so I actually had to change into something with a higher neckline. Mortifying. And this was a fabric that had previously been one of Clara's backgrounds. We used the backside of it because it was a bit more muted and subtle that way.
Page 248 – This gilded glass lamp was one project that I didn't think was going to turn out well (the first coat was more than a little streaky) so a few more coats later I was beyond relieved that it turned out so well. The only bummer is that we somehow forgot to shoot an after shot of the lamp! Luckily we had included it in a photo for an alternate cover idea that required us shooting against a white backdrop. We're bummed we didn't get a "prettier" after, but I guess it's better than no after at all!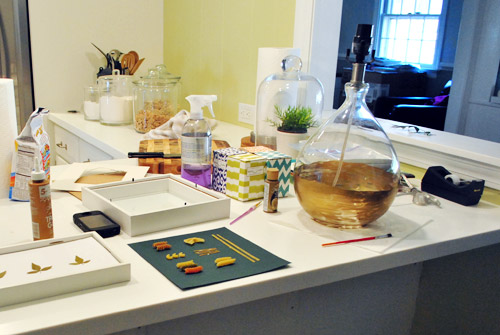 Page 252 – To save time, we sometimes completed a project and then half completed another one so we'd be able to shoot an "in progress" and an "after" shot quickly without making the photographer wait for us to finish the project or reset his camera. In this case we actually drew on an entire pillow and just started a second one to use as the progress shot.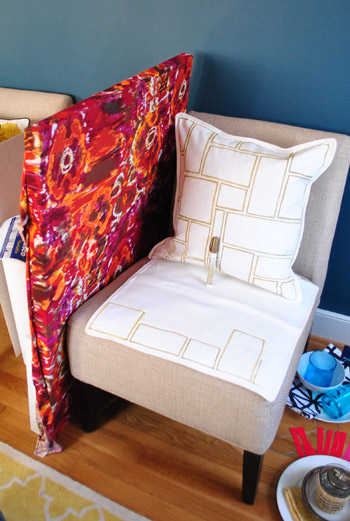 Page 263 – Of course Sue the Napkin had to make it into the book, so here she is. I also hid a stack of these napkins in the bar cart pic on page 30. And the B on the rock is a shout out to Burger.
Page 273 – The cupcakes on the cake plate in this shot are locally revered Ukrop's cupcakes (the same cupcakes that we served at our wedding).
Page 281 – We painted the ceiling in our bathroom nook for this shot in the book and it took us over five months to finally paint it back to white (and we were constantly accidentally sharing it on the blog and then photoshopping it back to white, so it was a huge relief to finally repaint it).
Page 283 – We only stenciled about a 9′ x 6′ rectangle on one wall of the playroom (enough for this shot to look legitimate) and it's still there right now. I always forget it's there until I open the door and see a big ol' stenciled rectangle, just floating in the middle of the wall.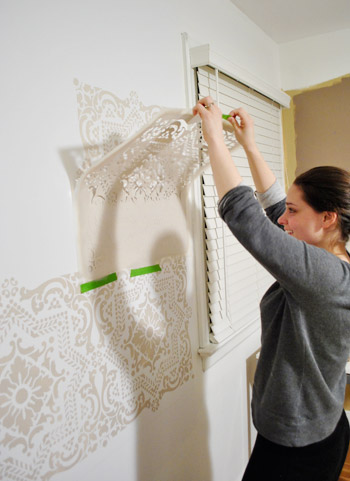 Page 286 – This pattern was all John's idea. He just cut painters tape into small strips and created this basketweave pattern and it came out awesome. It took longer than we probably should've spent on a project at the time, but it was worth it. Go hubby.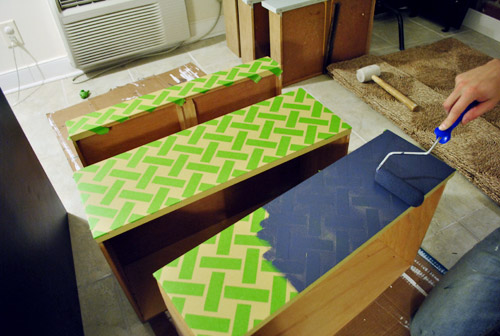 Page 289 – For this project, I actually originally tried to use a seafan as a stencil and it bombed. It was too thin so the spray just left a big blob on the pillow cover. So I let it dry, flipped it over, and tried one more time with leaves on the back of the pillow cover. Thankfully that worked a lot better!
Page 291 – The chair and table in this shot are all up on quarts of paint that were later cropped out. Everything was looking oddly low and looked better closer to the windowsill. So from far away it looked like a crazy chair and table on paint-stilts, but in the book it looks pretty nice, right? #booktrickoutofthebag
Page 295 – We really wanted the images in this book not to just be regurgitated from our site – especially on must-have projects that we've previously blogged about, but couldn't fathom leaving out (like how to paint wood paneling or a brick fireplace). So we bit the bullet and repainted the corner of our grellow kitchen for this shot and then repainted it back less than 24 hours later since we were actively blogging about our kitchen remodel at the time. Oh and see the old floors before we laid the cork in the book shot? Forgot all about those!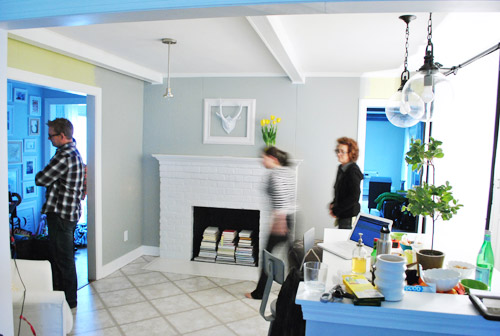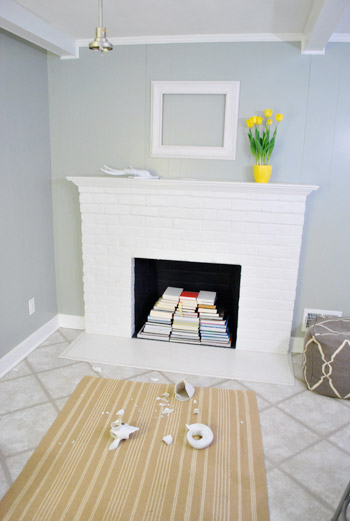 Page 300 – After shooting the before picture for this layout, we marked the location of each item on the floor with painters tape so we knew where to place things again after painting the wall. Then we lined things back up with the tape, removed the tape, and shot the after pic so the only thing that changed was the wall color – which we actually painted (no photoshop here!).
Page 302 – We used the brick wall in the sunroom as a backdrop too, just to spice things up. The funny thing is that we never noticed how crooked the floor tiles were in there until we saw this shot! See how the four under the chair don't line up at the corners?
Page 304 – We were so in love with this dresser when we saw it at the thrift shop that we bought it with our own money (instead of the small book budget that we had for projects) since we knew we wanted to keep it! Nearly every other item of furniture is being auctioned for charity, was gifted to a crew or family member, or returned to the donor, but this guy is staying! We'll share where he ends up soon…
Page 311 – We were shooting the after photo of the mat on this page without our feet in it and it looked sort of plain, so we thought "let's stick our feet in the shot!" – I threw on my leopard shoes and all was right with the world. It's also the set-up that spawned the photo of us that they eventually used on the cover (I changed shoes and they Photoshopped a drill into John's hand).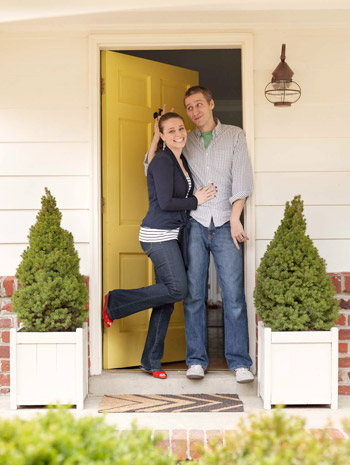 Page 312 – We carried this birdbath all over the yard to find the least brown background that we could (it was February, so nothing was looking as hot as it does in the spring).
Page 317 – Finding a wood planter in January is nearly impossible. We ended up having to get one shipped from a garden store on the west coast. Who knew it would end up being such a hunt?
Page 321 – Don't worry, this isn't our current house's address… it's actually our first house's! We did it as a loving little homage. Of course it confused the heck out of our neighbors because it's nothing like our current address, so we kept it covered with a piece of card stock on the door until we shot it and confirmed that the photo was securely backed up. Then we just peeled it off since it was a $6 decal.
Page 323-336 – In order to keep the book in the lowest possible price point, we needed it to be no longer than 336 pages, so there was a big scare when it ended up a being a good deal longer than that. But instead of caving to the price hike, our designer and publisher worked with us to get things down, so one way we condensed things was by making the source list at the end of the book a smaller typeface, like an index. Boom, it shaved off a ton of pages and we were right at 336 (after a few other design choices inside to condense things as well). Whew.
And since more than a few of you have asked what it was like to see the book for the first time, we actually video taped it. Don't mind my terrible camera work (our camera makes this loud noise when we zoom so we need an external mic to fix that, hence all of my chatter about resisting the urge to zoom in).
I think we were both sort of in shock. Still are, actually. And as for that tidbit about photoshopping out Clara's sleeve, the editor thought part of her sleeve on the arm behind her head looked weird right next to her face, so they photoshopped it out so her profile was more clear. It was something we never would have noticed, but they were totally right.
But enough jabber. Here's where we beam at our computer screen and thank our lucky stars that we have you guys… our amazing, encouraging, and hilarious readers. There's no way we'd ever be where we are today without you, and we don't want to take a second of this who-woulda-thought journey for granted. We said it on the thank you page at the end of our book, and we'll say it right here for ya too: you guys make our day every day. Thanks so much for taking this crazy DIY ride with us. We love you, for reals.