Houston, we have liftoff! We made a big kitchen purchase. We ordered the floor! Wait, we should back up. We originally hoped to find hardwood floors running all the way under the linoleum in the kitchen (after finding out that it ran under the fireplace side of the room here)…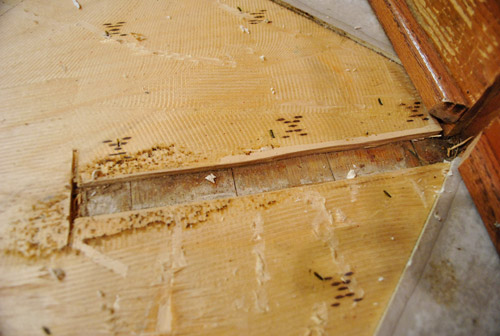 … but we removed the transition between the kitchen and the office on the other side of the room to find… booo!… plywood. So no refinishing for us. Gotta start from scratch.
But there were a few limitations off the bat. We learned from the previous owners that the kitchen floors couldn't handle tile (they would need to be reinforced/leveled from underneath = $$$), so tile was out. Even laying down new hardwood worried us since it's thick and heavy and not as flexible as some other options. So based on the limitations, we honed in on these three options (any of which we hoped to install ourselves if we chose it):
cork
floating wood laminate like Pergo
vinyl or linoleum/marmoleum
At first we loved the idea of laying some sort of sleek eco-friendly linoleum in some chic tone-on-tone stripes. Candice Olsen does it sometimes, but I couldn't find any online pics. And I'm sure it sounds really tacky but I promise it looked really good and that lady spends five thousand dollars on sconces so she's not exactly about compromising when it comes to form. But after checking out a ton of local places /online stores we just couldn't find anything that we liked. And we didn't want to give off that "we upgraded the whole kitchen but forgot to update the floors effect" (which is a pretty embarrassing result if you do, in fact, upgrade the floors but no one can tell).
So we were happy to move on from the whole striped linoleum thing. We also realized that we prefer when our floors fall back and let other things be the star (like the wall paint, textiles on the chairs & windows, light fixtures, art & accessories – etc). Next was the possibility of: 1) a Pergo type wood-look click floor or 2) cork (since it was substantially lighter than hardwood and even bamboo). So we looked at a bunch of options in both materials and zeroed in on two options that we liked best.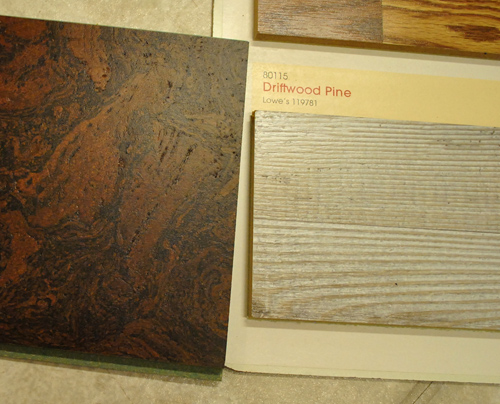 One was a whitewashed Pergo from Lowe's (for $3 a square foot called "Driftwood Pine") that looked so much like the hardwoods we already had in the house, except whitewashed – which could have been a fun choice for the kitchen. The planks were the same size as the existing ones and it still had warm wood tones underneath so it would almost look like we had the same hardwood running through the kitchen that we had in the office, dining room, and bedrooms, but decided to whitewash them in the kitchen.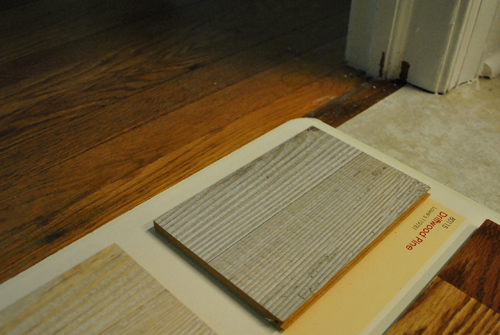 The other option was a rich mocha cork from Lumber Liquidators (called "Porto" by Libson Cork) that was on super sale for $3.26 a square foot. Which is an awesome price since cork usually starts around $4 or $5 a square foot and can go all the way up to $10+.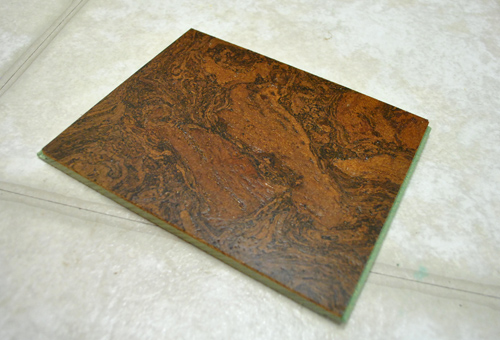 We realized we might have initially been attracted to the whitewashed Pergo because it's similar in tone to the existing vinyl flooring in our kitchen (so our eyes are just used to seeing that tone underfoot), but once we paint the cabinets white and add stainless appliances and make a bunch of other upgrades, we realized that we might appreciate a warmer toned floor (so the whole room wouldn't be white and gray). Boom, option one was effectively eliminated. Buh-bye graywashed Pergo.
The funny thing was that when we checked out nearly all of the inspiration kitchens that I pinned on Pinterest, they all had one thing in common: rich dark floors. Talk about subliminal messages. Can't believe we didn't pick up on that sooner. They were actually similar in tone to the mocha hardwood ones that we added to our first kitchen, which we still miss on the daily. Oh and it bears mentioning that while some folks prefer lighter wood for shows-less-dust reasoning, we never had any issues with that (or keeping them clean in general) since they weren't super dark/ebony, just deep enough to be called "mocha."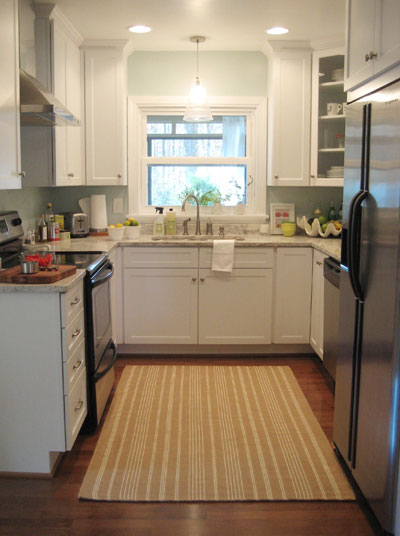 Decision made. Mocha cork it is! Especially since we planned to refinish the existing hardwoods in a similar tone for an even more seamless whole-house feeling down the line. But before pulling the cork trigger we googled around for cork pros and cons – just to be thorough. We learned it's warm, quiet, naturally fire & water & bacteria resistant, soft underfoot (for less dish breakage and sore knees from standing), and eco friendly. The cons were that the finish could be scratched (like hardwoods) and it could be dented over time by heavy appliances or furniture if you don't put those felt feet on them (like hardwoods). But if scratched or dented it could be sanded down and even restained and resealed (yup, you guessed it – like hardwoods). So it didn't sound too out of our league since we're definitely not strangers to oak flooring, which is apparently pretty similar.
But because we're neurotic, we took it one step crazier further. We emailed four people we know and love who have cork and asked them to be brutally honest with us and tell us what they hate and if they'd recommend it and what they'd change and all the bad stuff. Well, not a complaint among them. Everyone said they loved their cork and would make the same choice again. Whew. So we (finally) went for it.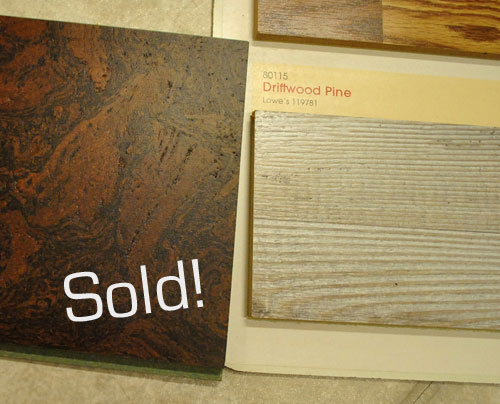 We put in an order for 265 square feet of it to cover the entire 25′ kitchen and adjoined laundry room (and account for about 10% of extra cork, just in case of a catastrophe cork-tastrophe). Of course I haggled with the Lumber Liquidators guy to get $15 off our $863 cork order (down to $848, baby). Haha. Every penny helps. It's definitely not a drop in the bucket, but we're excited to install it ourselves (it should be pretty simple since it's click + lock and doesn't call for any adhesive). The awesome thing is that refinishing hardwoods usually runs around $3-4 a square foot around here, and our new floors were $3.26 a square foot – so we're psyched that new cork floors are about the same price as refinishing what we wished we had found under that old linoleum. In the words of Clara: yoi! (that's how she says yay).
The only ironic thing: installing the floor is one of the last things we'll be tackling (floors usually go down last so they don't get dinged up by demo or painting or appliance installing) but the price was right so we pounced! For anyone wondering what we have to get done before cork-ing things up, here's a brief rundown:
Switch out/alter some of the existing cabinets & relocate some appliances
Order/install new appliances (since we have some bisque mixed with black going on)
Open the doorway between the dining room & kitchen (still working on permits/contractors)
Create a peninsula out of secondhand, built, or purchased cabinetry
Upgrade the counters (possibly with some DIY concrete ones if the floor can support them)
Redo the backsplash (we have something pretty fun planned… more on that later)
Paint the old and new cabinets white, so they look nice and seamless
Add some open shelving (that'll go along with our fun TBA backsplash idea)
Completely upgrade the lighting (goodbye florescent tube lights!)
So yeah… we might not have after kitchen pictures for you until 2013. Just kidding. But maybe not. Have you guys purchased flooring lately? Gone crazy for cork? Or whitewashed wood (or faux wood)? Or realized that there's a subliminal common thread among all of the kitchens you've been pinning on Pinterest? It was kind of hilarious when we noticed they all had nearly identical floors.