Let's see… when we last left off on Monday, our open shelves had been primed in preparation for their big hanging debut.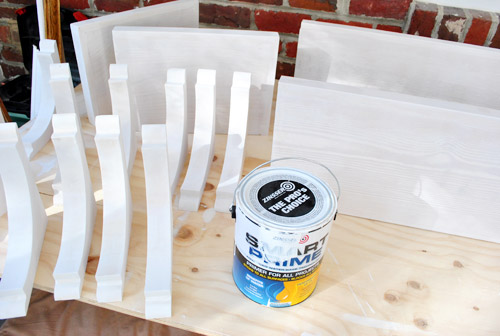 While we had the primer out we went ahead and slapped a coat on the hood cover too (using a 2″ angled brush in the cracks followed by a small foam roller to smooth everything out). Things were instantly looking less wood-sy on that wall.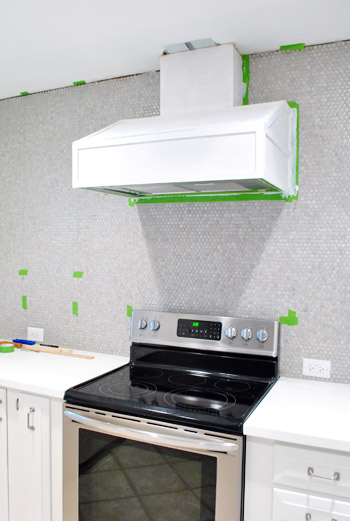 Once the primer dried on both – we used Zinsser Smart Prime which is low-VOC and was recommended by a few pro cabinet painters that we know – out came the same high-durability paint that we used on our cabinets (yes, there's still plenty left!) and we gave the brackets, shelves, and the hood a couple of coats. Two thin and even ones over one coat of primer did the trick. We also applied those with a 2″ angled brush followed by a small foam roller to keep things smooth and even. Oh and the paint is Benjamin Moore Advance paint in Cloud Cover, bee-tee-dubs (which many pros use to paint the inside of their clients' cabinets along with the outside, so it should stand up really well to everyday use once it's nice an cured up).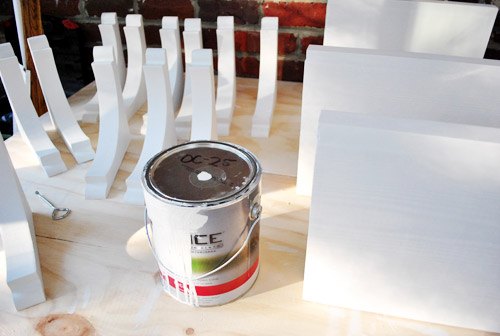 But the exciting stuff really started to happen when we finally got to the point of ACTUALLY PUTTING STUFF ON THE WALL. Yowza. Sorry for the caps. I said we were excited, right? Excited might be an understatement actually. Luckily, since we had already drilled all of our screws into the wall, the hanging step was pretty easy. Up went the brackets on the short side…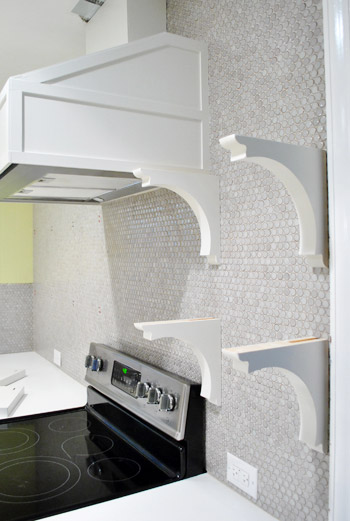 …followed moments later by the shelves themselves. Can I get an "Ooooh"? How about and "Ahhhhh"?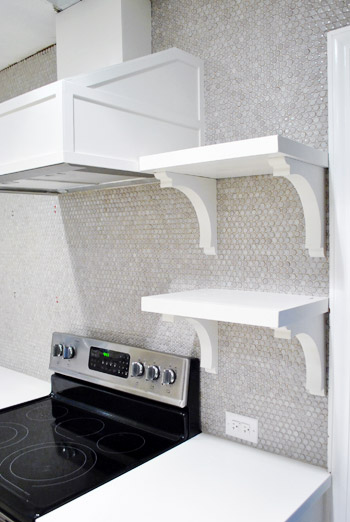 Don't worry, we weren't gonna just let them sit there unsecured. We just had some other things to do first – like making sure everything was still level. It was. Phew.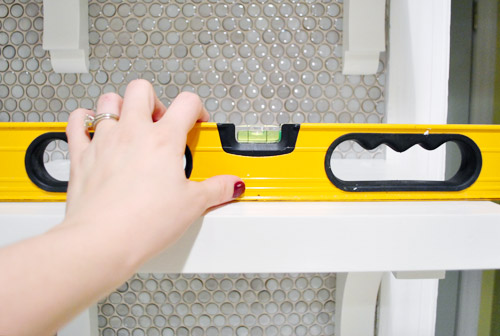 So then we put everything up on the long side of the wall.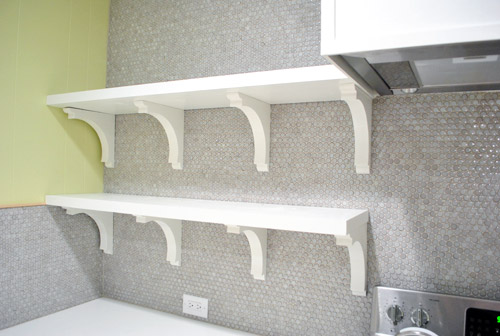 We had mentioned in the previous post that we had originally planned to screw the shelves into the wall (we even made some pocket holes in preparation for this step). Well, after feeling how solid the brackets felt (more on that here) and not really wanting to put 12 more cringe-inducing holes in our tile – we opted to just use those pocket holes as a spot to screw the shelves firmly into the brackets (so the screw actually went straight down, not at the angle of the pocket hole). In hindsight, we definitely could've skipped the pocket hole step, but at least now the screw will be hidden in a spot that we can easily caulk over.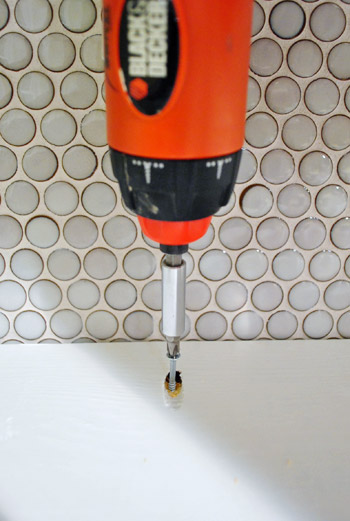 Speaking of caulk, that was our next step after everything was drilled together. Since there were some dark seams where the shelves met the brackets, we just ran a thin bead of white paintable caulk along the top of each bracket and smoothed it with our finger to make the shelves and brackets look more like one unit. Tedious? A smidge. Worth it? Totally. Then of course we painted over it so everything matched.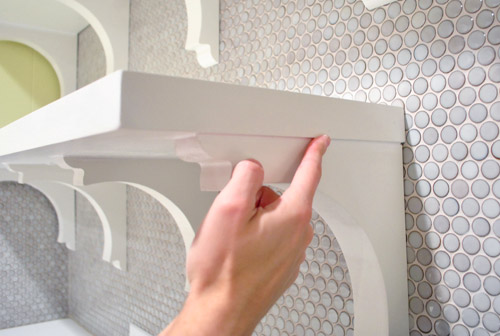 And with that folks, we were done! Except for more waiting. Booooo.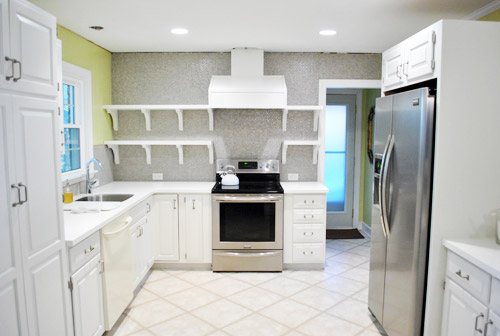 As eager as we are to immediately fill them with plates and bowls and cups, we resisted that urge in order to let all of the paint cure a little bit longer – just because we caulked those screw holes and around the edges which called for some touch up paint. We definitely don't want to jump the "fully cured" gun (which could result in a bunch of dents and dings in our shelves during their first few days of use). So for now we'll just have to enjoy these empty "after" shots thanks to following the full curing time on the paint can's directions. But tomorrow – oh baby, it's on. Sherry's even planning to shoot a little time lapse video of the process of loading them up.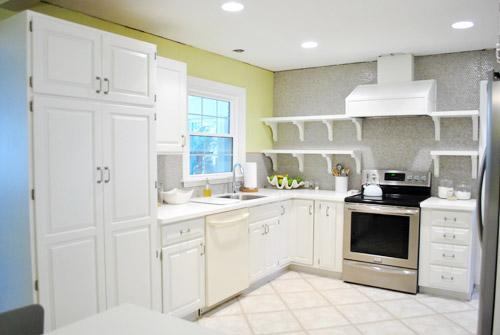 Oh and of course we still have to add crown molding to the ceiling to finish things off and make the top of the hood a lot more seamless. But slowly it's all feeling a lot closer to "done" than "just started" – especially now that the hood is painted too (never mind the fact that we still have some patch work to do on the ceiling along with that aforementioned crown molding).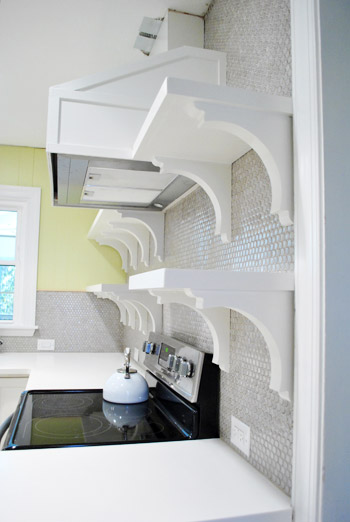 We're really happy with how the brackets turned out, so we haven't thought twice about our decision not to do true floating shelves. We think these are really charming – and they're super stable so Sherry could probably hang off of them if she wanted. Instead she wants to fill them with ceramic animals. Same difference.
It's nice that there's still plenty of room to load them up and make them really functional, even with the brackets (no, they will not actually end up full of ceramic animals- not on my watch). Our shelves are deep enough for our 12″ dinner plates and the brackets are 15″ apart so we should have lots o' room to put everyday stuff up there – which we hear from other open-shelf-having folks works really well, since it's used often enough not to get dusty).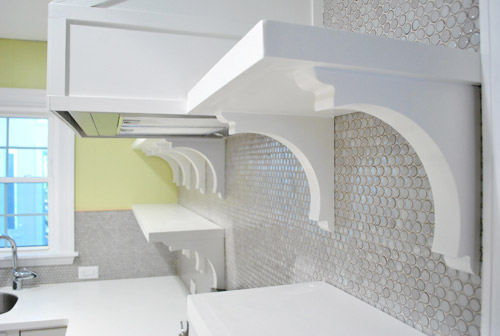 And even though it was a bit weird at first to see our wall of penny tile suddenly broken up by these bright white lines, it's cool to see the thing we've always envisioned come that much closer to being a reality.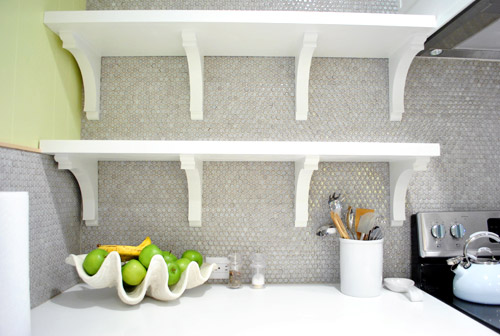 So we should have pics (and a video) of the shelves all filled for you tomorrow. Until then, we'll leave you with this slightly-closer-to-after shot of the room. We're definitely getting there. And we're counting down the seconds to Operation Cork My Floor (along with adding that crown molding, patching the ceiling, adding a pendant over the sink, covering the base of the peninsula with some decorative wood planks, hanging some art to the right of the fridge, do something to the side of the pantry, etc).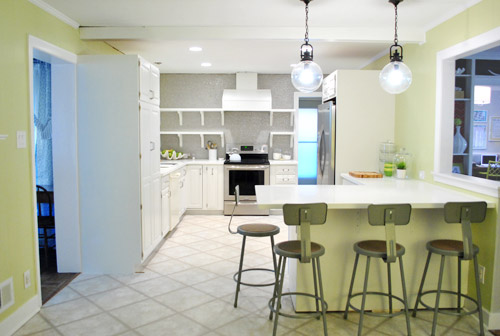 We feel especially giddy when we look at old photos of the room back when it looked like this: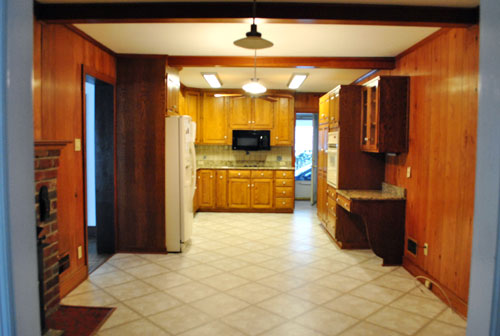 We can hardly picture that old room anymore. Isn't it funny how quickly your brain replaces things? It's so crazy that we lived with the room just like that for over six months before even painting the paneling. But once we finally got the ball rolling… well, it's still rolling. Haha. Is anyone else in the home stretch of one of their home projects? Though I probably should knock on wood when I say that, since it sounds like a sure way to jinx myself into some last-minute wrench in the plan (he says as he gets up to literally go knock on wood while crossing his fingers and eyes).