Holy cow, is it really going to be 2012 on Sunday? December flew by. So before it scoots away for good, we like to take a moment to look back on all that we've done at a glance (and gather all the links in one handy place for ya). And of course we tossed in some never-before-seen stuff for kicks. This month we were all over the place as usual, but focused a lot of our time on the kitchen along with tackling a few other projects in rooms like the living room and the hallway while shoving a decent portion of holiday fun in there too. So let's take a walk down memory lane, with yearbook-esque superlatives, shall we?
Most Improved: The three switcheroos in our living room that made a big difference (a larger rug, square ottoman, and more refined office chair).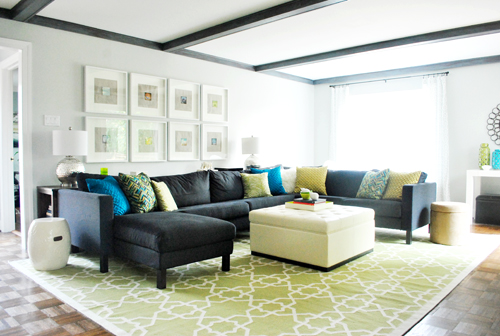 Most Memorable: Looking back at moving day 2010 in celebration of our one year anniversary of living in this house. Oh how far we've come… and oh how far we still have to go.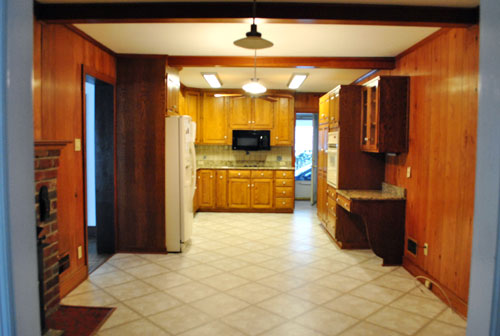 Most Artistic: Clara, after we repurposed our old desk into a toddler-sized drawing table for her.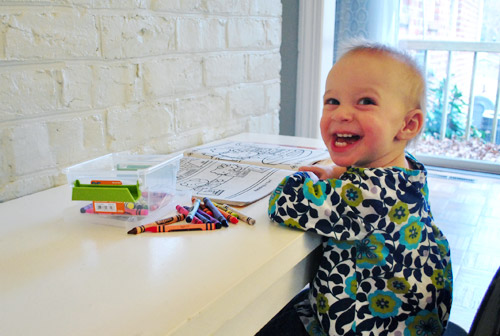 Most Artistic (Runner-Up): Sherry's Dad, who sketched this owl back in the 1970's and sent it to us so it could be framed in our hallway.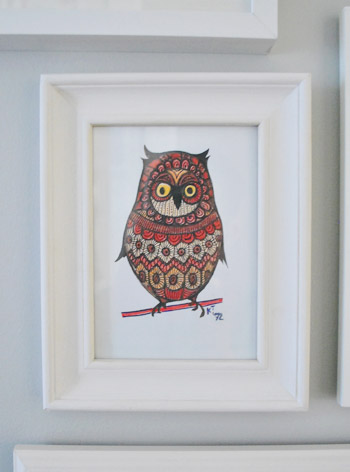 Least Artistic: Us, since doing some minor paint touch-ups in the kitchen before the counters arrived required little artistic talent. At least there was a paint brush involved.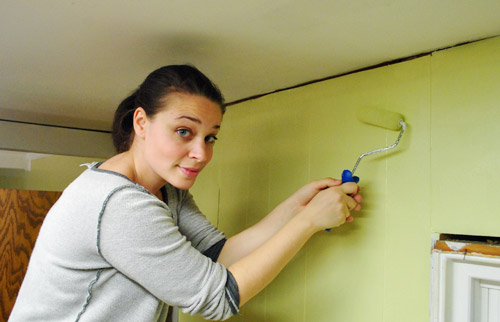 Craftiest: The vendors at the Richmond Handmade Holiday event that we hit up (which explains why we didn't leave empty handed).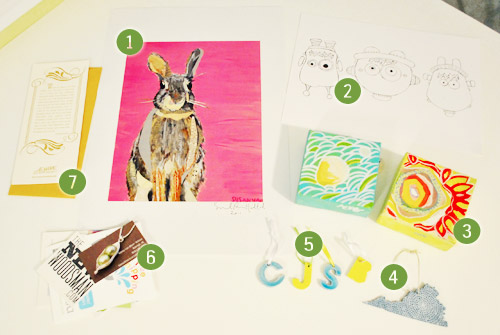 Most Advent-urous: Our homemade advent calendar that turned an Ikea scarf hanger into an ornament-a-day countdown to Christmas.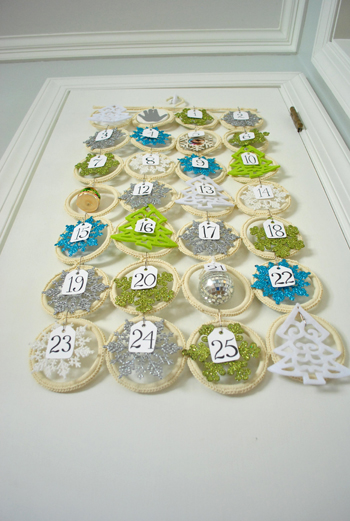 Cheeriest: The ribbon covered stars of our 2011 Christmas card. Burger should also win the award for "Best Tongue"… if there were such an award.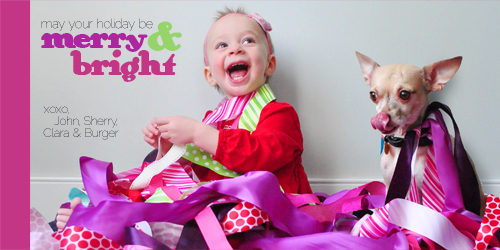 Merriest (Tall Edition): Our toddler-friendly Christmas tree that's decked out in paint swatches, ribbon, and other unbreakables (see updated photos of it here as the added advent ornaments filled things in each day).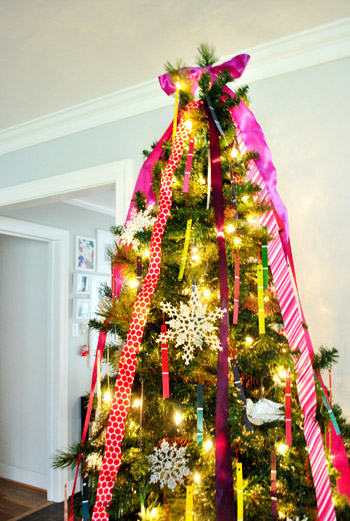 Merriest (Short Edition): Our lil' table-top tree that brought some sparkle into the living room, loaded up with the Pinterest Challenge ornaments that we made in November.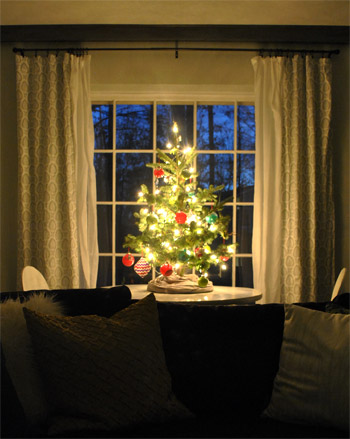 Brightest: Our first go at exterior holiday decorating. Hello candy cane lights, Moravian stars, big glowing lanterns, and some all-red (you know, as opposed to just red-nosed) reindeer.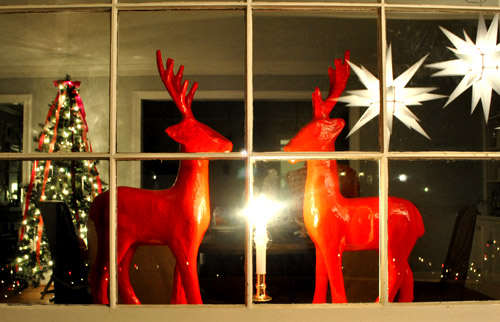 Brightest (Runner-Up): The twenty-something tweaks to our hallway frame wall to bring a bit of the holiday cheer to this tiny space.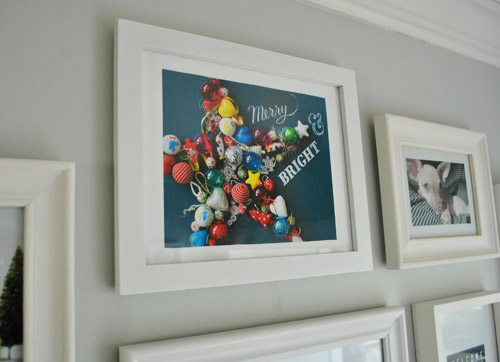 Brightest (Second Runner-Up): Our new countertops! Bright white Corian landed in Casa Petersik before we knew it. Though "landing" involved a few crazy contraptions, including this device that eliminated seams.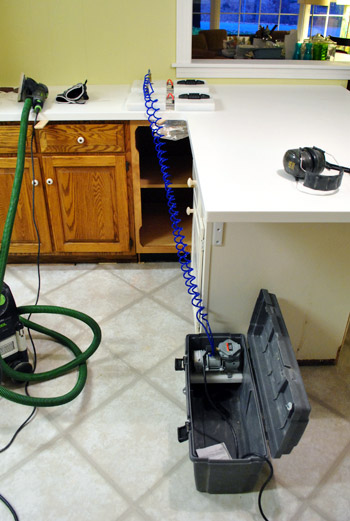 Most Free Spirited: Okay, it's not really spirited – but this microwave was basically free (we bought it for $84 after selling our kitchen's original over-the-cooktop one for $90). And working with our existing cabinets (like repurposing this one to house it) allowed for splurges in other areas – like new counters, backsplash tile, a giant wall opening, and cork floors.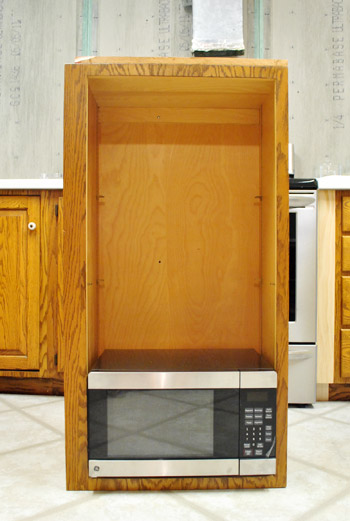 Diciest: Cutting up a few leftover cabinet doors so they'd fit a few rebuilt or secondhand cabinets that we added to tweak the layout. It was a bit touch and go there for a moment, but after some pro pocket holes and some heavy duty screws, they turned out totally solid. The jury's still out on the final result (we don't want to jinx ourselves, so we're waiting until all the paint is cured before saying they're seamless).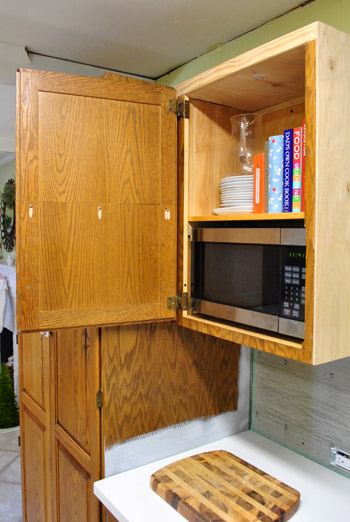 Best Backside: Our new industrial-inspired stools for the peninsula scored for $33 a piece at a school supply site (they're actually meant for a science lab). Geek is the new black.
Most Tedious: Little pre-painting projects in the kitchen, like recreating the windowsill, adding some toekick and trim, cleaning the sunroom, and finally picking a cabinet paint color.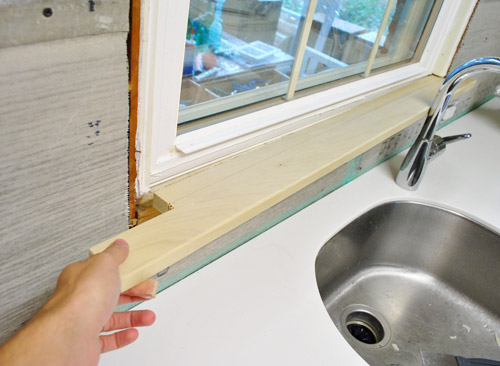 Sandiest (TIE): John and the kitchen, after going on a putty-sanding-deglossing spree in preparation for priming and painting.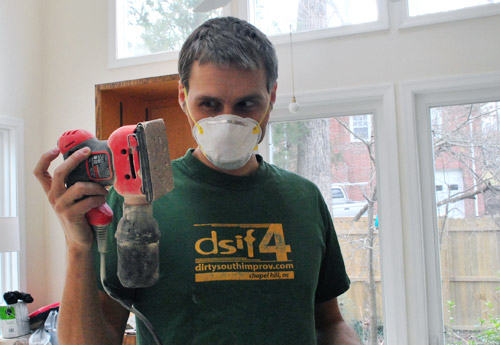 Biggest Tool: Our tool-tastic list of gift ideas for the DIYer in your life. Maybe it'll help you spend some holiday cash or those lingering gift cards.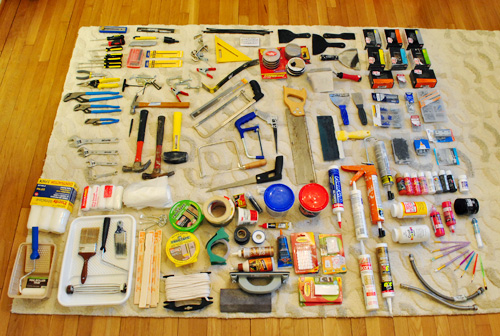 Most Date-d: Our homemade 2012 calendar (you can still download a free template of it if you want to customize a version for your family).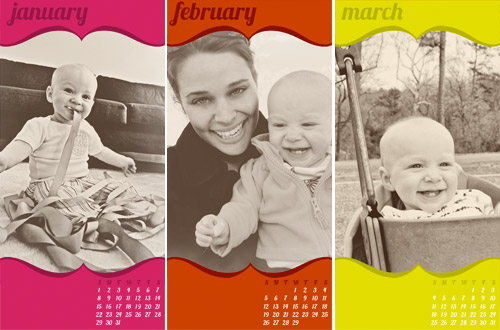 Most Resolute: Tossing a few 2012 resolutions out there into the world, in the hope that it'll light a fire under us to get 'em done!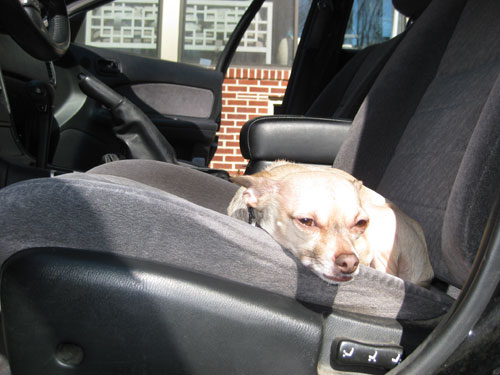 Most Transformative: Priming the cabinet doors and frames. Sing it with me: it's beginning to look a lot like Christmas a new kitchen…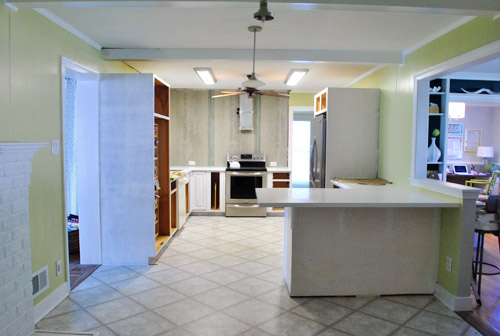 Cutest Hat: Clara, who after opening this leopard print cap from my godmother on Christmas morning, refused to take it off for the rest of the day. Once we get around to posting Christmas photos on Young House Life, you'll be seeing a lot of it. In the meantime you can check out Clara's fun with letters and numbers here.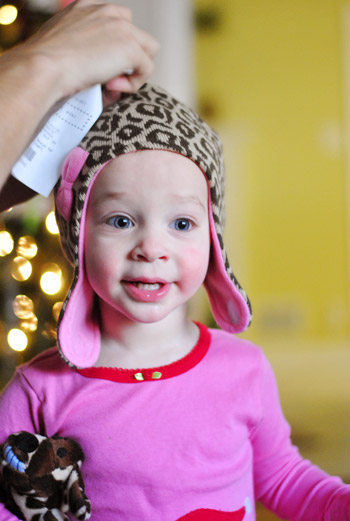 So there's our last month of 2011 at a glance. Can you believe it's about to be '12? What did you guys eke out in December? Have you ever made a list of accomplishments to look back on? Feel free to use the comment section of this post to list what you've done (or just toss out a few highlights). It's so nice to take a break from adding things to the ol' to-do list for a second, just to look in the rear view mirror and appreciate the crossed-off tasks. HAPPY NEW YEAR TO EVERY LAST ONE OF YA! We love you. Really. We do.
Psst- You can check out July's superlatives here, August's here, September's here, October's here, and November's here.