John wanted me to work Stool Boom into the post title because of this video (which he requests that you all check it out so that you can hum the song while reading this post). Anyway, now in stool news… we got them for our peninsula! And we're so excited about 1) where we found them, and 2) the price (because four stools can definitely be a budget breaker if they're priced at $250 a pop). But first, let's chat about the kitchen budget in general for a second…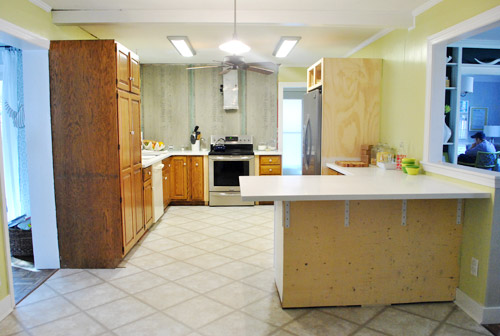 We've actually spent some real money in certain areas like:
new Corian counters (around $1700)
new stainless appliances (around $2213 with the new microwave but not including a range hood that we still need)
new cork flooring ($848 including underlayment)
new backsplash tile (and lots of it, since we're taking it to the ceiling on one wall – around $280)
tearing down a wall to create an extra wide doorway into the dining room ($700 to the contractor plus $90 for the drywall/trim that we did ourselves)
in-progress total for the big stuff: $5,831 (still need a range hood, new lighting, floating shelves, art, etc)

And like the majority of renovators, we're also choosing areas to save, like:
reusing our existing cabinets (they're solid oak, full of interior upgrades, and in great shape)
reconfiguring the layout ourselves (we had fun pushing the pantry around and building a cabinet to enclose the fridge)
priming/painting the cabinets ourselves (we did it in our first house along with in the office for our built-in desk and really dig the finished product)
installing as much as we can (like some of the new lighting that we have on the agenda, and those cork floors that we plan to lay ourselves)
using as many discounts and coupons as we can (we stacked discounts when we got our appliances and our counters, along with using a coupon code on our backsplash tile, snagging clearance cork, and getting three contractor estimates to shave over 3K (!) off the highest one)
selling things we no longer need on craigslist for money to put back into the makeover (so far we've sold our old kitchen table, our old granite, and the black over-the-range microwave that came with our house for a total of $815)
We still have a backsplash to install, cork flooring to lay, new lighting to buy/hang, and floating shelves + a range hood to go up – so admittedly it looks kinda crazy for the amount of money that we've spent (since many of the elements that we've purchased aren't in yet). But in a month or two the kitchen should look significantly more finished and upgraded. At least that's the plan! It's all just a work in progress until then…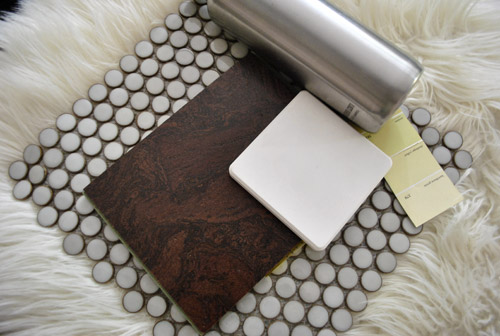 But weren't we talking about stools? Back to that subject. First we debated something clear/acrylic but heard from a few people who said they really disliked how scratched and foggy theirs got with everyday use and only found a few options that we liked (all of which were over $100 a pop). So we went back to the drawing board, which basically meant examining a ton of inspiration rooms. Which (duh) allowed us to pick up on a pretty obvious theme. Apparently we have a thing for industrial metal stools. We also like that they're not wood since there are a ton of wood-legged chairs in the nearby dining room, so a contrasting metal look is a nice variation (so not everything feels heavy and wood-y).
For functional reasons we decided that our stools had to have backs (so Clara's booster seat can snap onto one, so bigger kiddos can more easily sit up there, and even for the added support/comfort they'll provide for adults). So it eliminated some of the cool backless ones like the stools in this photo from atlantahomesmag.com (we've seen similar versions on overstock for anyone interested). But that decision still left us wide open to cool science-y stools like these from Restoration Hardware. Too bad they're $375 each, making four of them a budget breaking $1,500 (sniffle).
So we set off to find some thrifty (preferably secondhand) options for our kitchen – hopefully at around $60 each or less (you know, in an ideal world where perfect $60 stools abound). We actually found an awesome vintage one at a local thrift store for 50 beans (it was even counter height and not bar height, which is what we need) but there was only one and we needed four. Wop wop. So we took to the internet to try to find some sort of industrial warehouse or bulk manufacturer who made science-y counter height stools in our price point. What do ya know, we found these guys on a school supply website of all places: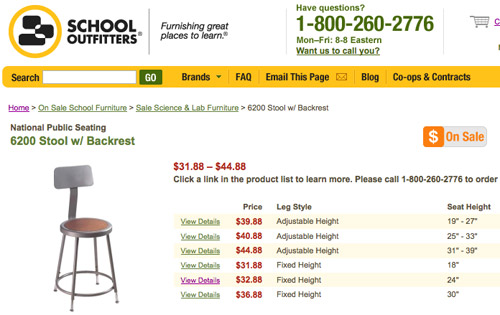 I know, I know – it looks more than a little nerdy in that pic (especially because they placed the backrest super high- it's adjustable). And because it's not in a delicious room like the other stools above (nothing looks as glamorous when it's cut out on white). But oddly tall adjustable backrests and white backgrounds aside, there was just something charming about getting lab stools from a school supply place.
They're admittedly not exactly the same (aka: not nearly as amazing in shape or finish) as the stools in the above inspiration images, but those were sadly (very) out of our budget. And we had a feeling in the right room these affordable guys could really be elevated (you know we're all about mixing high and low, so things like the new counters, ceiling height backsplash, new appliances, pretty pendant lights over the peninsula, and cork flooring should really elevate them). And the price was riiight. They were $33 each (we got the fixed height 24″ ones). Which means for $168 (including tax and shipping) we got four stools delivered to our door. Here they are in our still very raw and completely unfinished kitchen (but just scroll up to see how metal stools can look pretty darn cool in more finished spaces).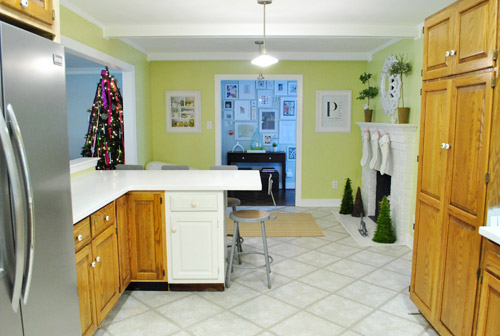 As for their finish, they look nice with the stainless appliances, but once the room comes together more I'm not above tweaking them if I think they'll look better that way (they were $33 after all…). I've definitely contemplated these four options:
trying a deeper color, like the brown and oil-rubbed-bronze Elle Decor stools that are up a few photos (thankfully metal takes spray paint really well, and any painted metal chairs that you'd buy from a store are essentially just spray primed and painted in thin and even coats). I was thinking I could even upholster the seats with rough chocolate leather or something, along with using ORB spray on the leggier metal parts.
spraying them all white with wipable leather or vinyl upholstered seats if we want them to gleam like the counters (we're contemplating a deeper toned accent treatment under the peninsula behind them, so white could really pop – more on that in a minute).
somehow roughing them up by scuffing, sanding, and maybe even tinting them with some sort of metal stain or glaze that would give them more of an aged/beat up look like some of the more expensive antique-ish stools out there (they could then be sealed with poly so they wouldn't rub off on anyone)
spraying them shiiiiiny shiiiiiny chrome like the ones in the Cote De Texas photo a few pics back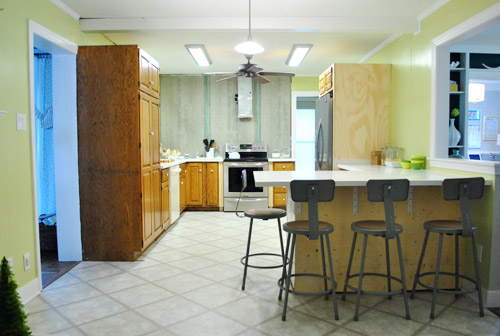 We'll have to wait and see as the room evolves. You know we like to tweak/learn/figure it out as we go. Our house is like a big puzzle and I'm Nancy Drew… and maybe John's Scooby Doo? Wait maybe Burger is Scooby and Clara is Nancy Drew. And I'm Angela Lansbury. And John is Mulder. Or is he Skully? I always forget which one is the guy. Update: the guy is Mulder. Thanks google.
Ugh- but those orange-y wood cabinets are really cramping our style. We're actually working on trim and baseboards and puttying and sanding right now… which means priming and painting are just around the corner! So I know some of you might not "get" the stools at all right now (mom!) but I promise when the rest of the room starts to make more sense around them, you might come around. Just give us a chance to get the room a bit more developed. Pretty please? When in doubt, just remember that our first house eventually looked like this, but while it was in-progress it looked like this. Haha.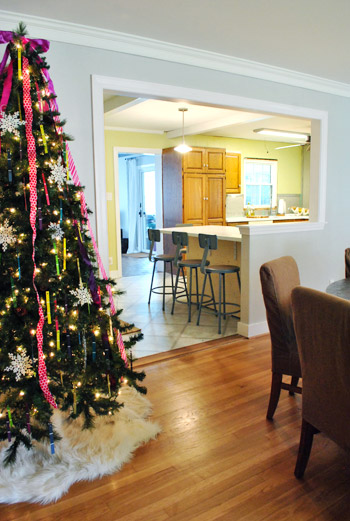 We especially love how the two adjoined spaces don't look too wood riddled since we skipped wood stools for the kitchen and went with metal for some nice variety.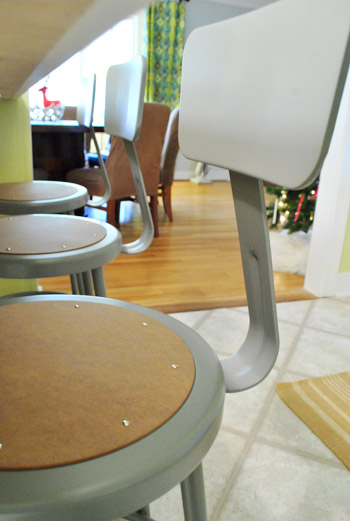 And although they look a bit light on their feet (thanks to the airy metal construction) these dudes are solid. Not wobbly. Not lightweight. They're lab stools for goodness sake. So there's no flimsy feeling because they're made to last decades in classrooms with people/teens/teachers of all sizes sitting/beating on them. Most likely while using bunsen burners.
In the comfort department they're actually really comfortable (there's a bit of flex in the back rest, which is really nice). I mean it's not like sitting in a padded armchair, but for stools at a counter we think they're perfect. And Clara's booster chair snapped right into the one on the end, so that was nice (it said it worked with any chair with a back, but it was good to have confirmation that she was nice and secure up there). Yup, that means we've all been eating (and generally hanging out) at the peninsula these days!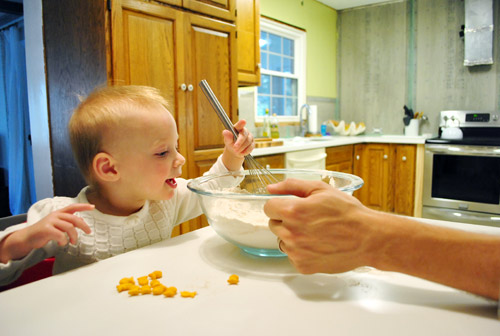 Look, here are Clara and John making cookies at the ol' new peninsula (can't see much of the stool, but she's all strapped in and happy to help stir). More on what amazing concoction they were making here.
Speaking of Clara's assistance, she also "helped" us assemble the stools. Check out our little leftie in action: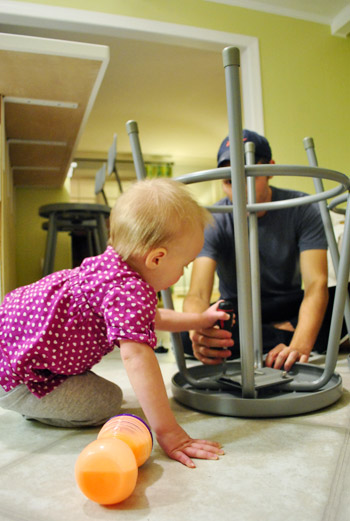 And now for a Burger photobomb: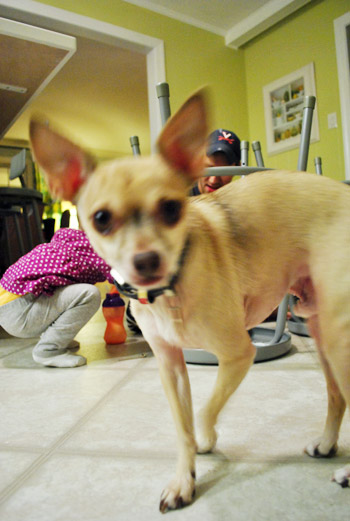 He couldn't resist getting in on the action too.
Once we have some amazing (we're actively on the hunt) pendant lights hanging over them above the peninsula things should start coming together a little more. We sort of have something like this in mind, but we're definitely not 100% settled yet.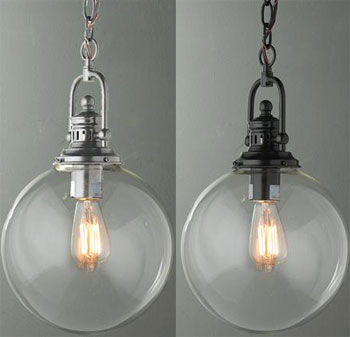 Oh and speaking of the peninsula, a few of you couldn't tell from the installation photos that we got the corners of it rounded, so here's a pic from the top with a penny on the edge to show how they're softly curved. Hooray for no sharp corners (for the bean's noggin and our hips!).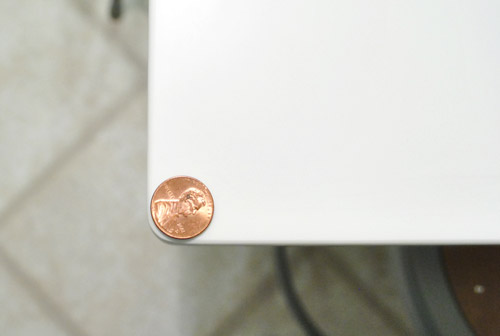 But back to the stools (I'm all over the place today, huh?). Have you scored a deal from a school supply company or other unexpected source? Have you recently purchased new stools or chairs? Are you into the whole rough/ industrial mixed with fancy/polished look? It's definitely not for everyone, but it's funny how many of our inspiration kitchens are exactly that.
Psst- Ahhhhhh- who saw the Dexter finale last night? Don't want to give anything away, but it was craaaaaazy! We're still taking about it.