We knew we weren't likely to find $1 cabinets again (like we did for the office built-ins) but we couldn't resist checking out the Habitat For Humanity ReStore for the four cabinets that we need to create the peninsula and build in the microwave/fridge (we're able to reuse the 36″ cabinet that used to live where the stove now sits, so that saved us some major money). The good news is that we found three out of the four we needed! And only spent $90 total.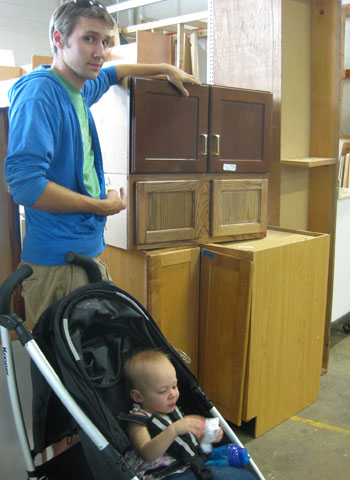 Yup, we got a corner base cabinet for the peninsula for $50 and two upper cabinets (one for over the fridge and one slightly taller one for over the microwave) for $19 each. And just for reference, to buy those cabinets new from Home Depot or Lowe's (in the stock, off-the-shelf department) they would have been $219, $96, and $89 respectively (for a grand total of $404). So we saved $314 by going secondhand. Which made complete sense since we'd be scrapping the doors anyway.
The issue with the doors? They don't match our existing ones (nothing that we hunted down both new or secondhand did since our doors are 30 years old). But to get the solid oak cabinet frames for that price is a steal and once they're all painted white with new or retrofitted matching doors (from other existing cabinets that we're not using), no one would ever guess they hailed from the ReStore.
We could only fit two of the three into our trunk. But thankfully they'll hold items for seven days at our ReStore, so we just came back for the giant corner cabinet with a bigger car borrowed from John's sister a few days later.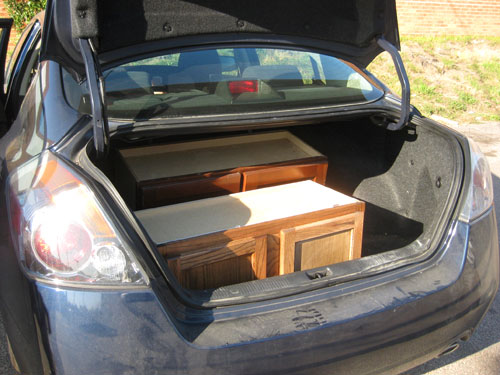 Now they're all at home, but not in their places yet (the carport and our sunroom are the holding area for lots of old cabinets and doors that we have removed and new ones that we'll be switching in).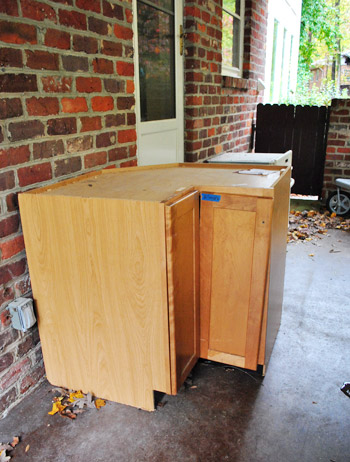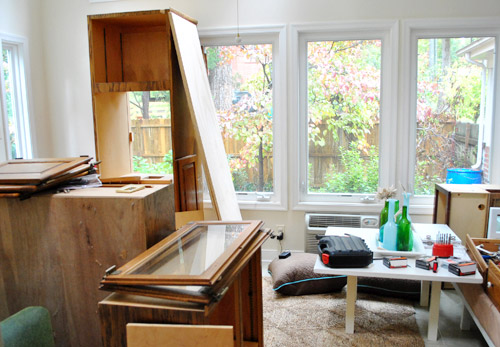 And yes, the sunroom looks especially crazy and smells like wood. Could be worse (wood isn't that bad of a smell, actually). Hopefully in the next few days we'll be back to share our freshly built-in fridge.
But wait- it's Halloween. Did you really think we'd let you go without sharing the kiddos in costume? Meet Mrs. Monkey & Mr. Banana: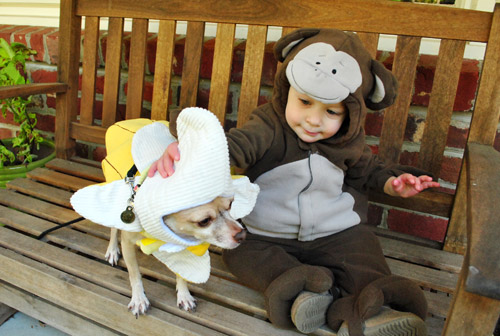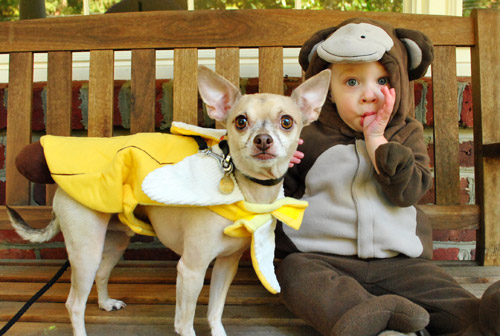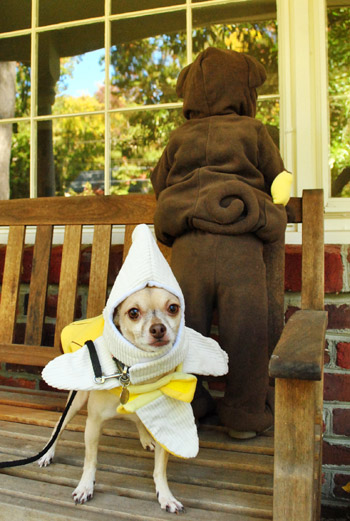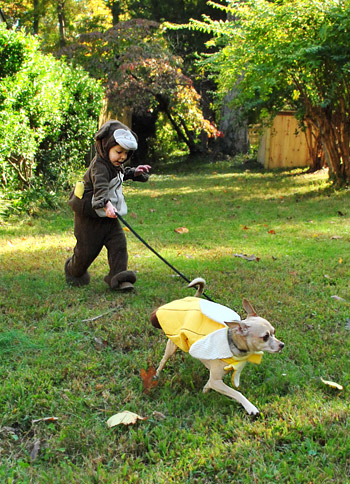 Clara liked doing her best monkey impression (saying "ooh ooh ah ah" and waving her arms) while Burger slinked around looking beyond embarrassed. The second we popped on the "hat" part of his banana, he just slumped down and half-closed his eyes as if to say "this is not ok." We freed the poor guy from his yellow prison within a few minutes of this photoshoot though. And gave the boy a bone. Actually his monkey friend handed one over. She's a very generous chimp indeed.
And Clara's cousin Emanuel (seen here turning two) even got in on the fun. He was a ferocious lion who requested candy corn throughout the photoshoot. Hilarious.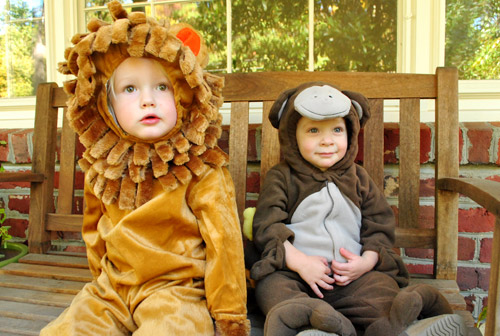 Of course the banana + monkey thing might not be as cute as one especially cute combo from last year…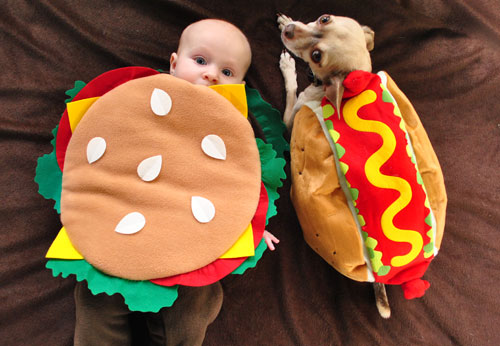 Hope you all have a very happy halloween! Oh and what were you guys up to this weekend? Any cabinet hunting or candy corn binging goin' on?
Psst- Check out our pumpkin patch adventures (including a family moon bounce and corn bin adventure) here.