Aw yeah, you know we love a good Britney reference. And you know we love painting (walls, paneling, brick, large ceramic roosters…). A big part of that is picking a paint color. Paint chips are kind of like potato chips to us (we can't pop just one), and Benjamin Moore has been our snack of choice for a while now. Their color catalog is massive so it's no wonder we've used their tones in nearly every room (Sesame in the kitchen, Moonshine in the living room and dining room, Proposal in Clara's room, and Dragonfly on the back of our dining room built-ins). Then we used their Advance paint when it came to painting our office built-ins and kitchen cabinets since we'd heard so many good things about it (contractors and readers alike were always such enthusiastic Benjamin Moore fans). We even used their paint for a bunch of secret book projects (both on the walls and on a number of furniture pieces).
So, long story short, when Benjamin Moore invited us to curate a collection of our favorite colors… ummm, it was pretty much a dream of ours. I can't even tell you how crazy it is for us to see our header on their site.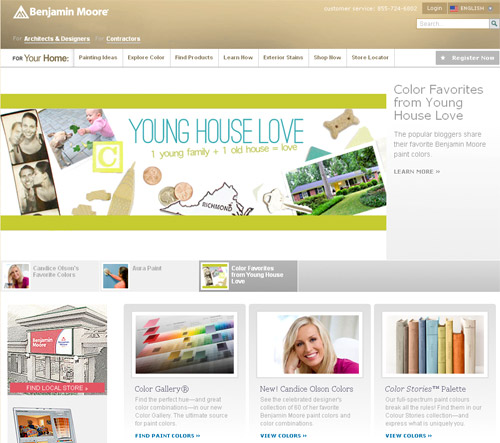 So after months of development, we're crazy-excited to share our Benjamin Moore collection with you guys. Our job was essentially to sift through gobs of swatches (literally thousands of them) to pluck out 32 of our favorites in the hopes of helping anyone who is suffering from the dreaded paint paralysis. So yeah, picture us covering the entire sectional (poor Karl!) with paint swatches and creating different combos and switching things in and out until we landed on a collection to call our own. This partnership is just like any other side gig that helps pay the bills – like writing our magazine column or our book – except we got to play with paint chips for this one, so… score!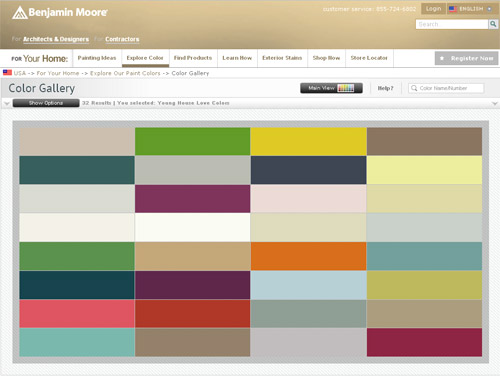 Some of the colors in our collection are tried and true choices of ours that we've already got on our own walls and some are colors that we've eyed forever (and haven't used in our own house yet… but it's probably only a matter of time). And some of them are colors that we used for our book – so we've seen them on the walls and on furniture, but the walls have since been painted over and the furniture has been hidden because that stuff has to stay secret until our book's out this fall. So while many of them would be great on walls, we also split or collection into some suggested uses to help you out (like for trim/doors or as accents), so you can check that out here. We love the idea of using the bolder accent colors to wake up a room by:
painting a media cabinet, dresser, bed, desk, or chair
making some homemade art on a large canvas to fill an entire wall
painting a collection of frames to unify them and add drama
adding color to a lamp base, basket, or tabletop accessory
painting the back wall of a bookcase or built in for added interest
You can read a little intro to the collection here, check out all of our colors here, see them split by suggested application here, and read more thought behind the collection here (if you told us five years ago that we'd end up on the BM website, we'd have laughed at you for at least ten minutes). And you can pop over to view our collection whenever you'd like by following this little sidebar button.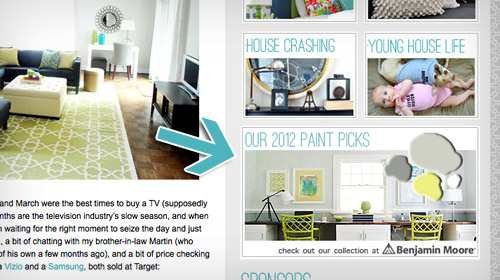 Now can we just take a moment to talk about how INSANE it is to see our mugs right under Candice Olson's? There might have been a series of ten to fifteen shrieks that scared a certain dog and delighted a certain toddler (who joined in on the last five to ten of them).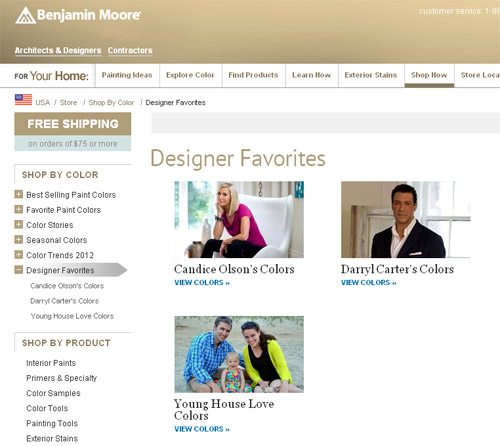 So that's our latest secret project, which we couldn't wait to share with you guys! I hope anyone out there who is overwhelmed by a giant wall full of swatches might find comfort in a smaller little collection of favorites to peruse and potentially use in their home. And since we're on the subject of color, do you have an absolute favorite paint color? Is it the perfect neutral? A bold bright hue? Or a color that reminds you of a special place or time?