Who would have ever thought we'd be without a kitchen for almost four months? Not us. But it's baaaaaack. And it's better than ever.
First a shot of the kitchen that came with the house when we purchased it almost two years ago:
And now for the dramatic transformation we promised. The granite was totally the icing on the cake. Here's a shot of the whole shebang as seen from the living/dining room: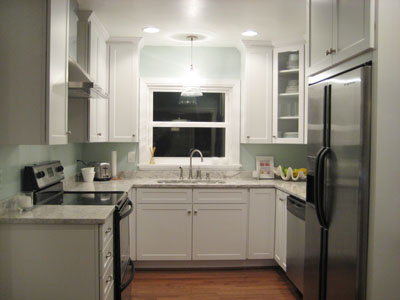 And here's a shot of the left side with that sexy hood that we just used while MAKING DINNER. Sorry for the caps, we just haven't made dinner at home in ONE HUNDRED AND THIRTEEN DAYS!!! Oops, there I go again.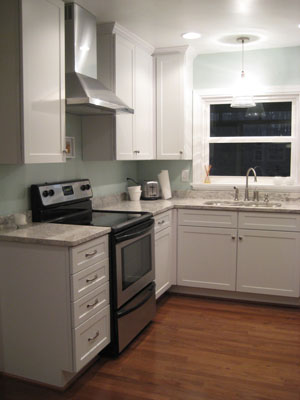 Here's the right side with our stainless dishwasher, fridge, and microwave- is there anything we can't cook in our new kitchen? Well, yes. But at least we'll burn the filet mignon in style.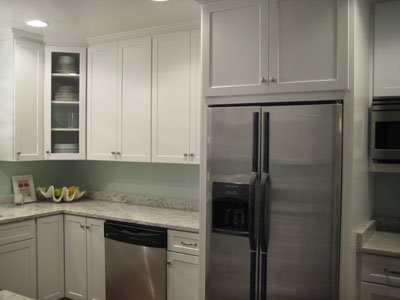 This is a shot of the little microwave nook, a really cute little bonus area in a corner of the kitchen that we originally planned to leave bare. Thank goodness for our kitchen designer Nancy Kulik, who convinced us that storage is better than floorage.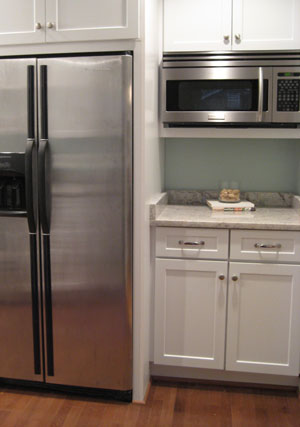 And here's a closer shot of my favorite corner, which sports all sorts of little extras. A cabinet with a glass door (which does wonders for making the kitchen seem less "boxed in")…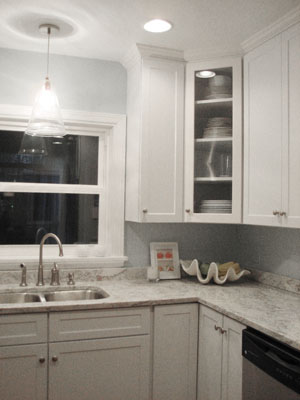 … and a built in double-tiered lazy susan for an insane amount of storage in the base cabinet: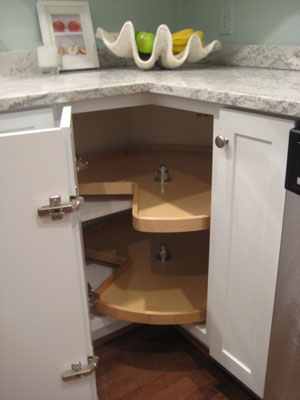 And no kitchen is complete without a little jewelry. Our brushed nickel faucet fits the bill. And check out that undermount sink. Me-ow.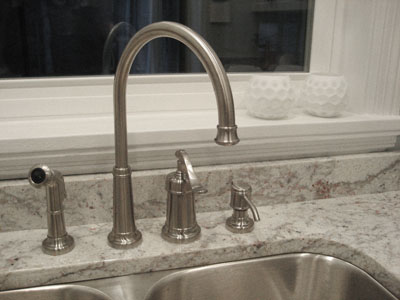 We hope the wait was worth it for all you lovely readers. We'd love to know what you think!