Yup, it really has been seven whole months since our last house tour video. Unacceptable. So here it is. Eight riveting minutes of me walking around the house and babbling about anything and everything with the Flip cam catching all the shaky Blair-Witch-esque action. We just figured it was a nice time to shoot this now that the kitchen is done and we're gearing up to start some new stuff (some landscaping bidness, upgrading one of the three bathrooms that we haven't touched, building a big arse deck, etc). So come on in and poke around:
A few notes:
Am I the only one who still has a scratchy voice two weeks after the flu? Sorry about the croakiness!
I do know that a trifecta involves three things and not two. Brain = fried.
This time my bra isn't laying out on our bedroom chair…. and that, my friends, is progress.
It also means I was actually wearing a bra while filming this video (as opposed to this time, since Katie blew my cover about my one-bra-ness here).
I've listened to this five times trying to hear Natalie Portman or Mila Kunis (since you guys say you hear it) and I just can't. But I really tried.
I filmed about five minutes of this video and then walked into the bedroom and the front of the door (where we did a secret book project) was visible, so I had to start all over again. Woops!
It's fun to play Where's Waldo Burger (he's in there). And actually my BFF is randomly visible through a window for a second too. She was just arriving while I was scrambling to make this video for you guys (hey, if the house is clean…)
Yes, you can actually see my shadow wildly gesturing while I talk about not being able to open the playroom door. Apparently I talk with my hands whether someone can see me or not.
Once again, I'm terrible at walking around, talking, and holding a camera (it's too much multitasking) so pardon the shaking!
Second random CougarTown-related side tangent of the week: dude, who watched Tuesday's episode? Our ceramic rhino was totally in the background: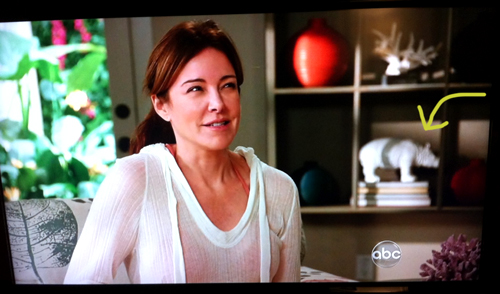 I'm taking it as a sign that rhinos are the new elephant/owl. Seriously, soon people are going to be putting a rhino on it. And have you noticed the big ceramic dog sitting next to Cee-Lo on The Voice when he told his team who was battling who? Ceramic animalz 4 eva, y'all. And the mysterious fluffy white cat that Cee Lo randomly holds/maniacally strokes is pretty fantastic too. If only I weren't allergic…
Psst- Check out all the other house tour videos since we've moved in here, here, here and here. And here's an outside tour from last year.