Between finalizing our 260+ page book manuscript (due Jan 4th- ack!) and hosting/enjoying family time (and lots of delicious food), we've also been priming! Can I get a "holla!"? Or more likely, a "you're crazy."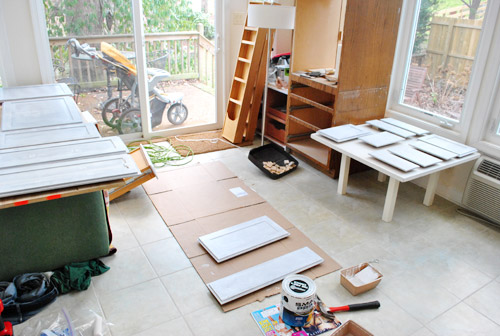 Thank goodness our guests are so understanding! Oh man, and it feels great to be seeing some progress.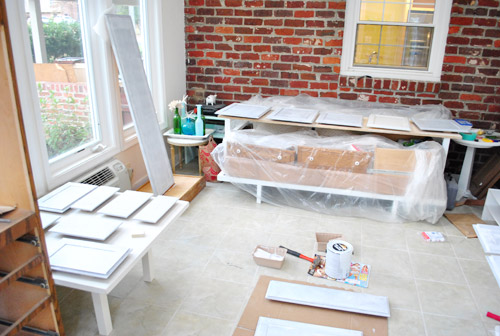 The beauty of primer is that it always looks a little rough (so you don't have to stress about getting it to look perfect). By nature, it's just a sticky sub-layer that helps grab paint and hold on for the long haul, so as long as you apply things thinly and evenly (drips = baaaaad), you're all set to just follow the recommended drying time and then get right to painting!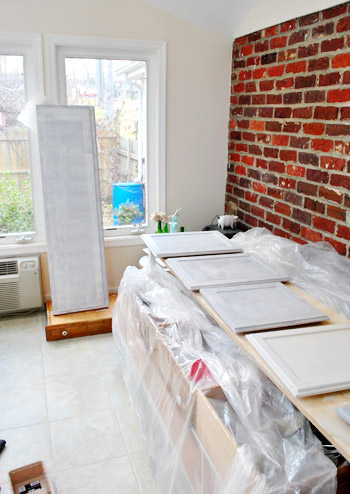 You definitely want to use a stain-blocking primer when painting wood cabinets (especially when they've been stained and exposed to kitchen grease like ours). We chose Zinsser's Smart Prime (a super high quality low-VOC primer sold at our local Benjamin Moore store that was recommended by two different pro cabinet painters). The nice thing about it is that it's "open" a bit longer than some other primers, so it doesn't dry right away while you're still trying to work it into the cracks and smooth it out to make sure it's not drippy or bumpy. And it's nice and durable, so it should definitely help with those decades-of-great-results that we'd like.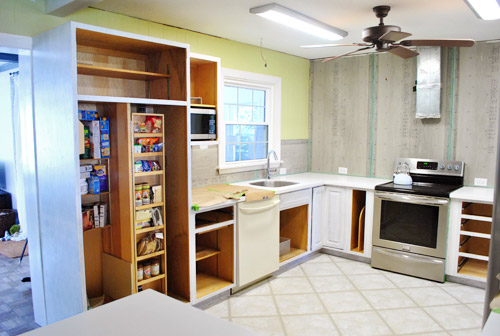 Oh and we use a small foam roller and a 2″ angled brush for the smoothest application. Of course there are a million other primer steps to share (and even a video to show exactly how we apply it), so we'll be back to detail every last step (arms. too. tired. to. type.) next week.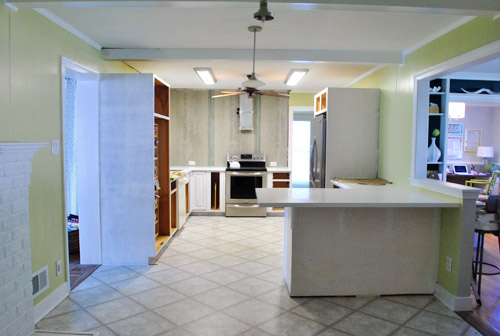 You know, after the painting's done and our sweet and extremely understanding house guests bid us adieu. Until then, picture us painting / doing the happy dance / book editing / asking everyone if they'd like something to eat or drink (in the dining room or living room since the kitchen's kinda out of commission).
Oh man, this is totally the exciting part though. And we're inexplicably excited to add hardware once everything cures up. Yes, we're strange birds. New hardware = beyond thrilling. Especially when the room used to look like this: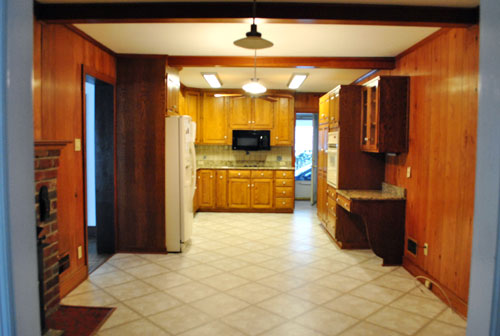 Wahooo progress!
Psst- Check out this kitchen post all about how we prepped our cabinets for paint and this one about how we picked hinges and a cabinet color.
Psssssst- We picked this week's giveaway winner. Click here to see if it's you!