Can't we just paint some darn cabinets already?! If your patience to see some painted cabinets is wearing thin – just imagine how we feel! When we were planning this kitchen project our big-picture brains said "We retrofit those few doors to match the rest of the room and then we paint. Hooray!" But now that we're in the weeds (amid holiday madness, no less) we realize that a lot of stuff actually has to happen between those two steps." There are gaps to be filled, rough spots to be sanded, trim to be added, hinges to be dealt with, hardware to be chosen, primer to be selected, a final paint color to be decided, etc, etc, etc.
First up, this goes under the category of trim: I wanted to rebuild the window sill and molding so that we could caulk / prime / paint it while we had everything out for the cabinets. And since our old sill was a piece of granite that matched our old counters (but we were very happy with a wood sill in our first house), I snagged a piece of pine board at Home Depot that would fit in the space and cut a couple of notches out of it.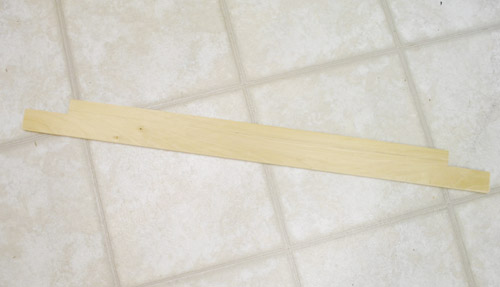 Then I just slid and nailed it into place.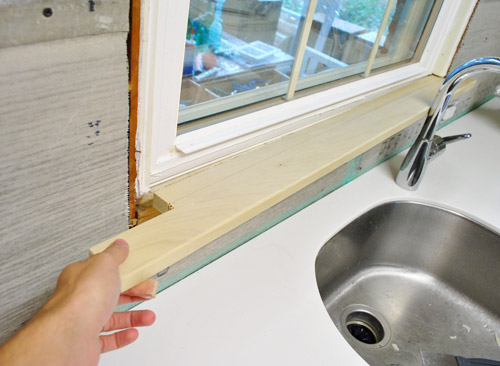 From there, it was the usual song and dance of cutting and nailing the trim casings around the edges. I even added a smaller piece underneath the sill to mimic what we had done on the half wall ledge.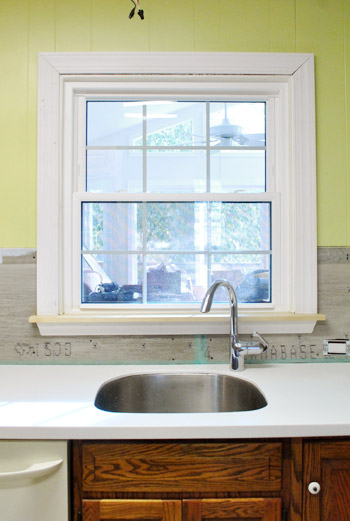 Now that the window's ready for caulk (to fill the small gaps at the corners), primer (for the raw sill) and white semi-gloss paint (to protect the wood and keep it all durable and wipe-abe) – it's onto some other trim. Specifically, the toe-kick that goes around the bottom of the base cabinets. A lot of it got removed when we shuffled cabinets around. So in some places I was able to cut down/reinstall the leftover pieces.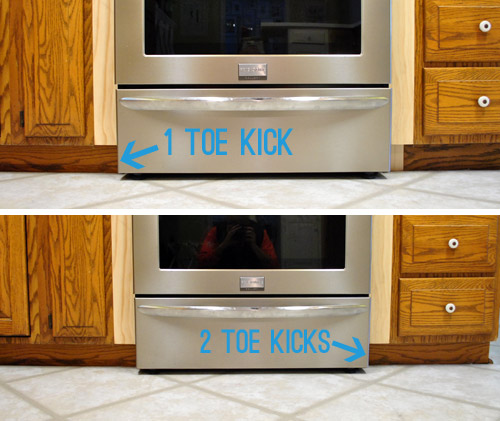 But around the peninsula I needed to buy new stuff (since we added that to the layout). I actually couldn't find any off-the-shelf toe kick trim (perhaps it was sold out due to last minute holiday DIYers like us?) and although I knew I could special order it through the Home Depot's kitchen department, I didn't have that patience. So I just bought some standard pre-primed baseboard that would fit under my peninsula cabinets and installed that. Since everything's getting painted the same cabinet color, no one should be the wiser. Whew.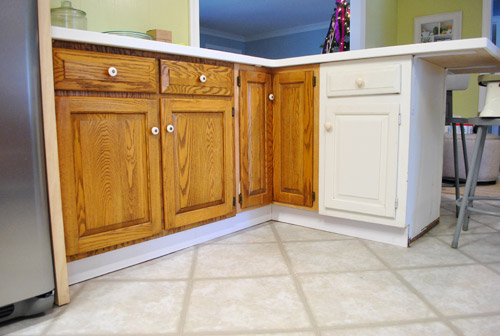 Oh, and since we're still undecided on what treatment to give the back of the peninsula (worn wood? raised panels? we'll keep you posted!), that's why the toe-kick stops suddenly there on the right. I'll cover up that raw end with whatever trim/wood we apply to the side and back. And although I did buy all of my shoe molding, I'm not installing that until after the new floors are done (we'll prime and paint it before it goes in to avoid getting paint on the new cork floors).
But that wasn't the end of my trim-venture. Check out the subtle unevenness when it comes to the bottom edge of that corner cabinet's frame. See how it's a tiny bit higher than the two cabinets surrounding it? Annoying, but not the end of the world. Fortunately it was exactly 1/2″ too high on each side, so I just bought 1/2″ pieces of pine craft wood and securely wood-glued them into place with clamps and glue boasting an especially heavy duty hold (there was no way I could fit a hammer or screwdriver under there). Once we putty, sand, prime, and paint it should be completely undetectable.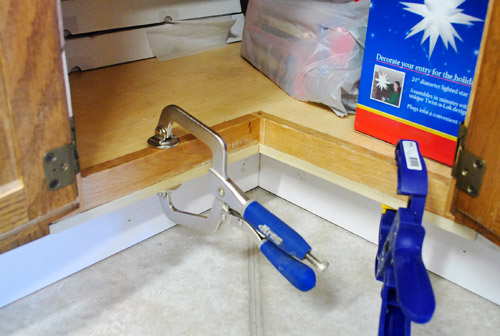 The only other trim we had planned to install at this point was some crown around the upper cabinets. But, believe it or not, we've kinda been digging the clean and modern look of just the sharp squared-off edges (we held some crown up against it and cringed, really- it just seems sleeker and cleaner without it and a bit too adorned with that stuff going on up there). So we're gonna leave things alone for now and proceed without crown. But if we decide later that it's missing something we'll just add it after the fact (pre-primed and painted like the shoe molding so we won't worry about ruining our cabinet paint job).
Oh and as for hinges, we considered hidden ones, but our doors are half-sunk (more on that here) so they have a very thin stepped down edge all around them (and since hidden hinges need to be routed in, our doors would be too thin around the edge so it wouldn't work for us). No worries, there are plenty of awesome kitchens on Pinterest (according to my obsessed wife) with exposed hinges and great hardware – so we're cool with them. So after moving on from hidden hinge research we thought we might be able to spray prime/paint the hinges that we had (since they're pretty rare/hard to find and it would save us money) but we gave it a try with two different satin nickel finishes (we picked hardware- it just hasn't come in yet- but it was nice to make that decision so we knew what exact finish our hinges should be)… and… it didn't work.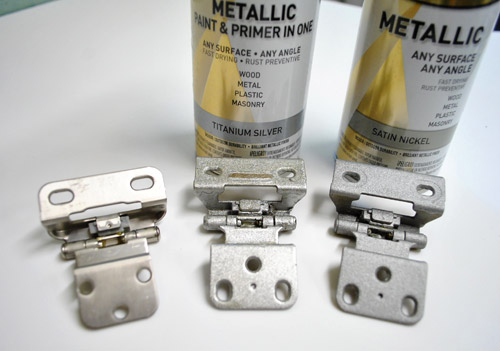 See the hinge on the left? That's a new hinge (one of the rare ones that actually work with our door- which we tracked down at a local hardware store called Pleasant's with tons of extra options). And it's in the exact finish we need to work with our hardware (which they also had in their store, just not enough of it to take home on the spot). Those other two hinges to the middle and right are the original ones from our kitchen after being sprayed with the two types of spray paint in the cans above them. See how they don't look as smooth and satin-nickel-y… and look a bit stippled and – well, fake? And even worse, when you moved the hinge back and forth (which would happen a million times a day for the next few decades) the paint actually got worn off on the middle of the hinge: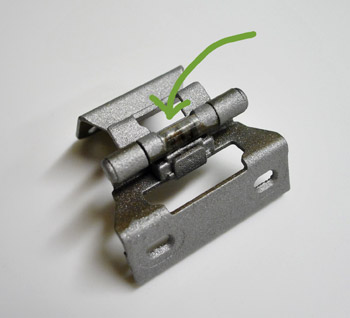 So it didn't work. But we're happy we gave it the ol' college try. Thankfully shelling out $90 for new hinges isn't really much in the scheme of a full-on kitchen reno, and definitely worth a clean/fresh/new/functional look.
Oh and speaking of other decisions we've made, we've finally picked a cabinet color. As in, there's no going back (we got it mixed and brought it home and everything). We were switching back and forth between pure clean white (we loved our white cabinets in our first house) and a soft warm gray or gray-beige color – but ultimately decided against anything too gray or gray-beige because:
there's so much gray on the walls of the dining room, the living room, and the hallway that a room in the middle of all of those spaces full of gray cabinets (especially when seen from the gray dining room since they're so open to each other) might be too much
our backsplash is a soft gray penny tile, so that's a less severe way of adding that color to the room than putting it on every cabinet – plus the penny tile will really pop if the cabinets are lighter instead of too blendy
painted cabinets in a tone of white feel the most classic to us – so we won't worry that they're trendy or "out" in a decade
But we didn't actually go with a bright white color – so we sort of landed in the middle of the two camps. Here was our process:
#1. Pull a ton of swatches out to look at them with the counters and the backsplash tile and the rich dark cork floors (which will definitely keep the room from feeling too sterile and white-washed):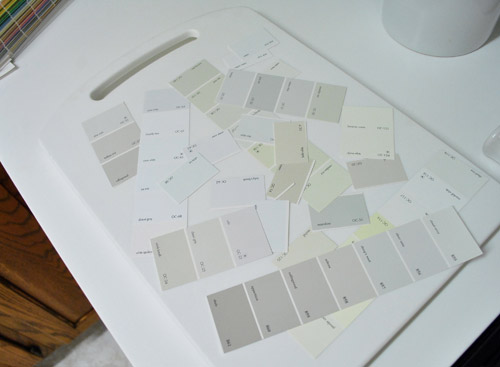 #2. Pick our favorites of the bunch and place them on the plane that they'll live on (ex: sit them vertically against the cabinets to see how they read vertically since that's how the color will be seen). Oh and the backsplash tile is there too for our reference.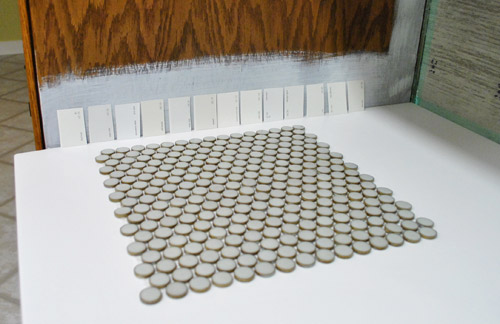 # 3. Study those colors in the morning, noon, and night (and on a sunny and cloudy day – just to be thorough) and slowly eliminate swatches until we were left with our four finalists: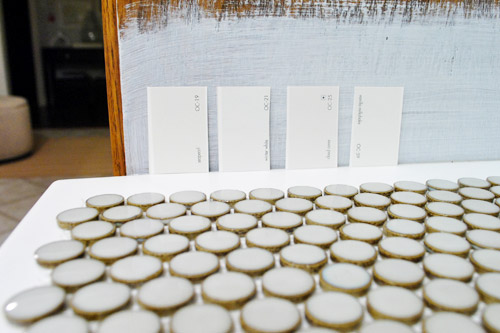 #4. Realize that we probably can't go wrong with any of them so just go with our gut (our favorite swatch all along- yes, from the very beginning, was the one second from the right). It's called Cloud Cover and although the picture above hardly does any of them justice, it's basically not a bright white (which you can see represented by the bright white counter under it) but it's sort of a very very very light gray- but it's a warm gray. Sort of the lightest greige in the world that would look like a soft white from afar but as you get closer and see the bright white counter it'll be clear that it's not completely white and a bit moody and tonal. So yeah, it's safe to say we're so excited and can't wait to see how bright and glossy and clean our new kitchen is going to look once those cabinets slip into their new "wardrobe" and our floors get the rich cork treatment to keep it from light/white/bright overload.
And speaking of getting to the cabinet painting finish line, here's a quick breakdown of our steps:
Remove doors, drawer fronts, and hardware
Remove everything from our cabinets
Use wood putty to fill any lingering gaps, seams, and holes (like where the old knobs were since our new hardware won't be placed the same way)
Sand dried putty as well as any ridges, scrapes, chips, or other dings that our cabinets have collected over the years to get them as smooth as possible.
Sand all cabinet doors (front and back) as well as all cabinet frames to rough them up before priming (some folks skip sanding, we want these babies to last forever so we're not taking any chances)
Clean up all the sanding mess to ensure that we don't get dust in our primer
Use a liquid deglosser on all cabinet doors and frames to be extra sure they're ready for primer
Buy hardware and finalize hinge plan
Prime (hopefully one coat, depending on what kind of primer we end up getting – still have to talk to a paint pro and decide)
Paint (we're hoping that two coats on each side of the doors and the frames give us enough coverage, knock on wood)
Let everything dry and cure for 3-5 full days (at least that's what the paint can said the last time we did this- and we followed that to the letter)
Drill holes for and install new hinges and hardware
Reinstall all doors and drawers
Restock the kitchen with all the stuff we took out of our cabinets/drawers
Take a long nap (preferably for 2-3 days, Clara permitting)
Take after photos (preferably 500, from every last angle)
Man, just typing that out made me tired. But we're trying to be thorough because we want our paint job to be clean, even, and durable. As in a-couple-of-decades durable. So even though it will take us extra days going through all of the prep, we think it will be well worth it in the end. It's actually looking like we'll be priming and painting during the week between Christmas and New Year's. Which means we should have 500 after pictures for you in early January. Woot. We can't begin to tell you how excited we are to have "new" cabinets for the new year!
Oh but if you're dying for a before & after rightthissecond, here's an equally thrilling much less exciting one for ya. This is what our sunroom (aka our kitchen reno storage room) looked like recently.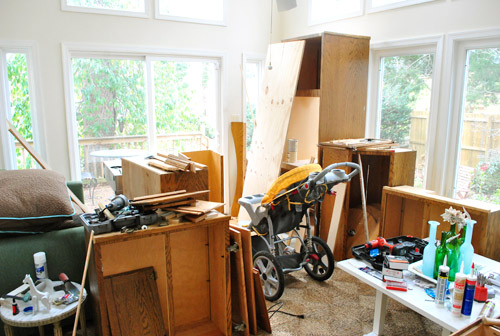 We were basically hoarding every scrap from the demo process "just in case" we needed it to rebuild cabinets or complete the peninsula. But now that it's clear what cabinet, doors, and trim we needed – and, more importantly, what can go – we did a big clean up. And now it looks like this: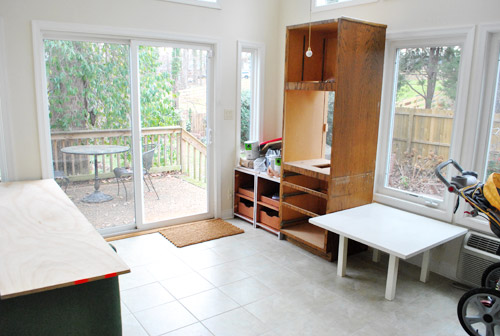 We brought all of the usable cabinet scraps out into the carport to be donated to a local thrift store (one of our local favorites, Diversity Thrift, came right to our door to pick them up on Monday). Then all of the smaller pieces of wood got tossed into my scrap pile in the basement. There might have been some general tidying too… like putting my tools away properly.
Oh, and notice those big planks of spare plywood resting on the couch and the daybed?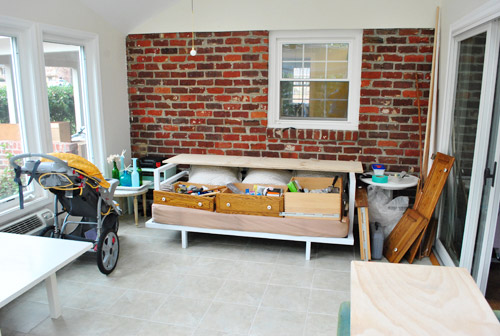 Welcome to our makeshift cabinet door wood puttying / sanding / priming / painting zone (we'll just lay some drop cloths under the plywood to protect the couch and the daybed first). We figure the sunroom is a good place to spread out and get work done (while keeping things off limits to Clara, and keeping the fumes out of the house – even though we'll be using low and no-VOC stuff). So expect a lot of pictures taken in here in the coming days.
Maybe I should've added "prep sunroom work area" to our list so I could have another thing crossed off. Well, make that two other things…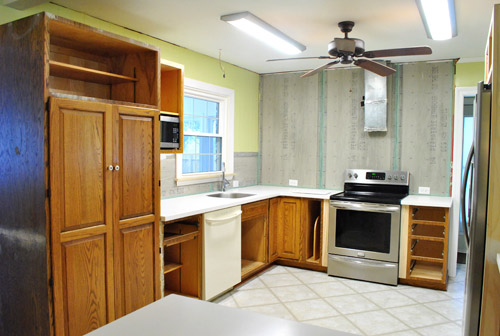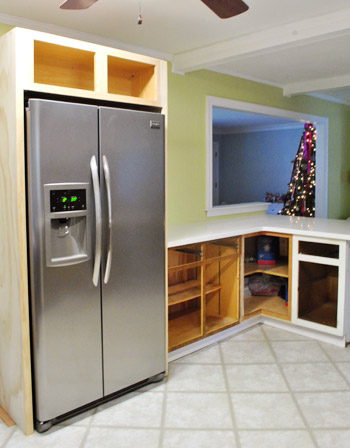 Yup, the cabinet doors, drawer fronts, and hardware have been officially removed. Oh, and since we emptied the cabinets (mostly) I guess that makes another things off our list. Looks like we're on a roll.
Prep sunroom work area
Remove doors, drawer fronts and hardware
Remove everything from our cabinets
Only fifteen more to go. Let's just say it's a good thing my parents are hosting the official Christmas dinner…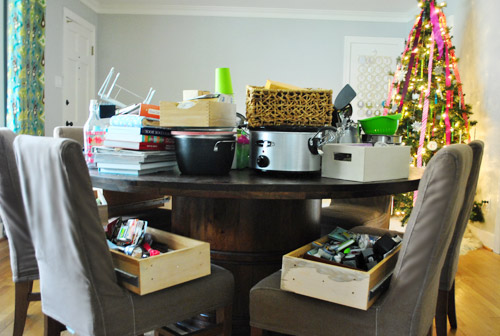 … although we do have four relatives staying with us for the holiday weekend. Thankfully they've come to expect nothing less than chaos whenever they come over. They even claim to look forward to seeing what we're up to. Now that's unconditional love. Update: although the chair covers look different in the pic above (not sure why) we haven't dyed or changed them out, so they're still the same mocha color – for now…
What are you guys doing this week and next? Any big projects? Big meals? Big presents? Big lists?
Psst- We're over on BabyCenter talking about Clara's favorite books/toys/songs/activities for anyone looking for last minute toddler gift ideas of something to do with their little ones over the holidays. You can find it all here.