Every year we publicly proclaim a few of our resolutions in the hope that it'll light a fire under our arse (arses?) and help us "get there." So without further ado (except for this gratuitous and very much in-progress pic of the cabinet doors being primed)…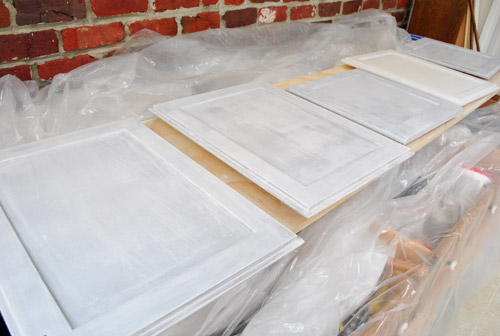 … here they are:
Resolution #1 – To Get Around: We're excited for 2012 to be a good travel year for us, since we have been invited to speak at the Portland Home & Garden Show in February (really? us?) and at the Haven Conference in Atlanta in June (we're the keynote speakers, which makes us excited and nauseous all at the same time). So we'll hopefully get to meet a lot of you guys at those events. And when our book comes out this fall we hope to get to do some touring just to thank as many of you for reading our blog right to your face as possible. You know and be awkward and blushy and say things like "that's so weet of sou" instead of "that's so sweet of you." True story.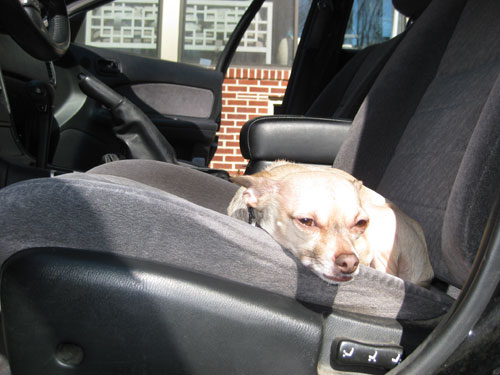 Resolution #2 – To Make Our Archives Easier To Navigate: With 2,000+ posts that have been written over 4+ years, we completely understand how hard it is to find things, especially all of the projects that get buried as we go! So we'd love to revamp our Projects page with photos and easier to use archival systems. You know we like to DIY things, so that means learning some coding stuff as we go. Should be fun…
Resolution #3 -To Find More Balance: This guy's a repeat because we haven't conquered it since declaring it last year. We mentioned that "since the internet is 24/7, and we work from home, sometimes it's hard to resist working nights, weekends, and even on vacation, so we hope to get a handle on that." Especially with Clara around, some healthy family-friendly balance seems like a good idea. Here's hoping 2012 is the year that we get it down!
Resolution #4 – To teach Clara how to prime & paint: Ok, maybe that's not very age appropriate, but at least let me teach the girl how to caulk. Kidding again. Hmm, maybe we can show her how to peel painter's tape? Seems like something she'd love! This resolution is just about keeping Clara involved and hopefully raising a little DIY lover like ourselves. I mean, we won't force it on her, but including her in some toddler-friendly projects or steps could be fun for the whole fam. The girl does love her tape measure (more on that here), so we're off to a good start…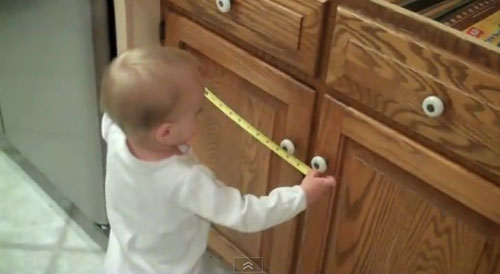 Resolution #5 – Simplify, simplify, simplify! Sometimes it seems like we should say yes to every opportunity (why not?) or try to tackle ten projects at a time (gung-ho!) but we've learned that keeping things simple and staying focused on one task at a time might just be the key to sanity. So we have to fight that "little voice" that pushes us to do more/attempt to be super-human/cater to everyone else. Just sharing whatever's going on in our little world is what got us here (over four million hits a month is both humbling and mind-blowing). So we have to fight the urge to keep piling more on our plate or attempting to please everyone on the planet. This is just a good old fashioned DIY diary. And simple = a beautiful thing.
Who's ready for 2012? What are your resolutions? I'd love to hear what you guys would like to accomplish this year (either in list form like ours or just a sentence or two about whatever you plan to focus on). Do you have any personal resolutions going on? I'd love to drink more water, eat more veggies, read more books, and get back into painting (on paper and canvas – since I have wall and cabinet painting covered already). Oh yeah and to Netflix Homeland since so many people have recommended it. Is that resolution-worthy? From what I hear, it is.
Psst- We're over on BabyCenter sharing a cute handmade-with-love nursery that's gender neutral, modestly sized, and packed with DIY ideas! Check it all out here.