Dude, my dad is an artist. I mean not by trade (he's a super-genius math teacher), but both he and my mother sketched and drew for fun during my childhood (in turn art was my favorite subject in school and off I went to get a bachelor of fine arts in NYC). I remember being in complete awe about how my mom drew horses and ladies while I loved how my dad drew all sorts of abstract shapes that filled a page with lines and dots and squares. Sort of like this.
So about a week ago I was standing in the frame hallway thinking about my dad and his awesome drawings and realized that I needed one to frame in honor of him and his super cool art skillz that inspired me so much as a kid. So I called him up (you can see an old picture of him here) and begged him to photocopy one of them and send me the copy in a big rigid "do not bend" envelope. But he did me one better. He sent me the original (!) of what he calls his "best drawing ever" – a super sweet seventies-tastic owl that he sketched in 1972 (when I was negative ten years old).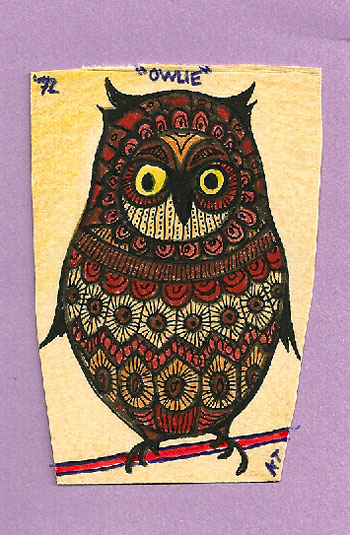 First of all, I love that dad named him "Owlie" since I'm no stranger to naming my ceramic animals (like this gal). I also love that if you look closely you'll see that the entire owl is made up of repeating shapes and patterns (totally a signature thing that my dad did in nearly all of his sketches). And everything from the repeated hexagons to the soft layered colors that feel so "authentic seventies" just makes me smile. I know owls are all the rage these days, but I love that my father sketched this guy 39 years ago! Although maybe owls were hot commodities then too. Haha. Everything old is new again.
Anyway, true to my obnoxiously excitable personality, the receipt of this amazing guy got me ridiculously hyper. Stupid-giddy even. I couldn't bring myself to frame the original (way too precious) so I decided to scan it so I could mail the original right back to dad where it belonged. And since my father had mentioned that he wished he hadn't cut it down and matted it on purple paper decades ago, I took the opportunity to "digitally restore" his sketch to its original glory by putting it on a while background just as it had originally appeared. I also moved the little signature and date together for the new not-cut-down arrangement while I was at it: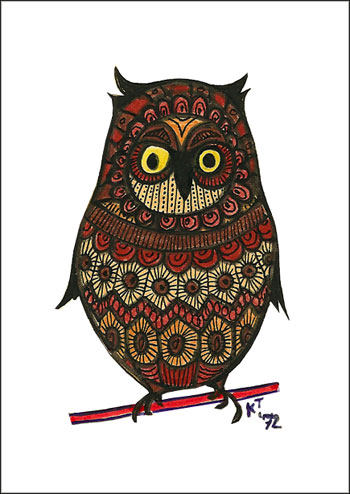 Then I printed it out and popped it into a hallway gallery frame that had something less exciting (a picture of our wedding table, but we already have a few other more beloved wedding pics on the wall so… it got dethroned by Owlie).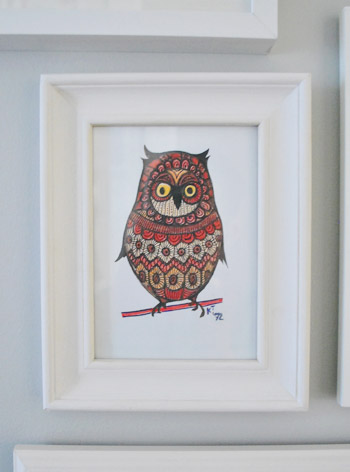 Total spent: $0.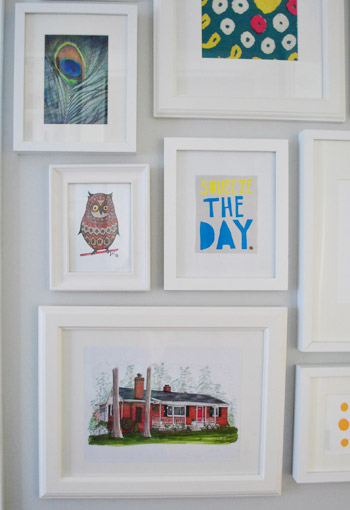 I think it makes the entire wall.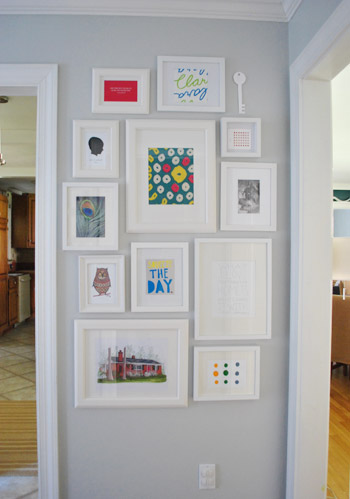 And sure enough, when we recently had some people over they gravitated to it and I got to proudly tell them that my father drew it in 1972! Woo to the hoo. Get it? Owl? Hoo? See what I did there?
Anyway, I love me some dad-made owl art. And as many of you know, I also love me some crocheted owl hattage on the bean (she calls this her "hoo hat"). Can my child really be into bad puns at the ripe old age of a year and a half?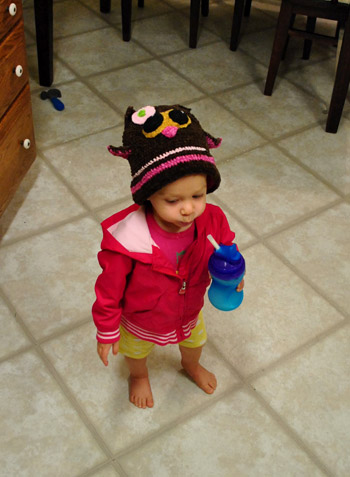 With us parents… I think so. Oh and in case you haven't seen her singing Adele, here's that link for ya.
Have you guys framed anything that your friends or relatives have drawn? Did you only feel right keeping a copy of it? For some reason the original just feels like it belongs at dad's house taped up next to his desk like it always has been (I also sent him a "digitally restored" printout, in case he wants one of those). What's with kids wanting their parents to keep their houses exactly the same for sentimental reasons, anyway?
Psst- We announced this weeks three giveaway winners! Click here to see if you're one of them.