Two Sundays ago we hit up the Richmond Craft Mafia's craft show called Handmade Holiday. As one of my friends described it, it was like Etsy… only in real life.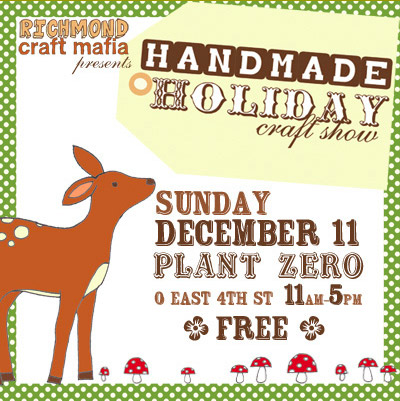 We love supporting/meeting local (and not so local) artists and artisans, so we went expecting to see some cool things, bump into a few people we knew, and maybe even to snag a gift or two. Instead, we saw LOTS of cool stuff, bumped into DOZENS of friends and blog buddies, and snagged a BUNCH of gifts. Well, I guess I should clarify. They were gifts for ourselves. Here's a snapshot of our handmade bounty after we returned home and laid everything out on the counter: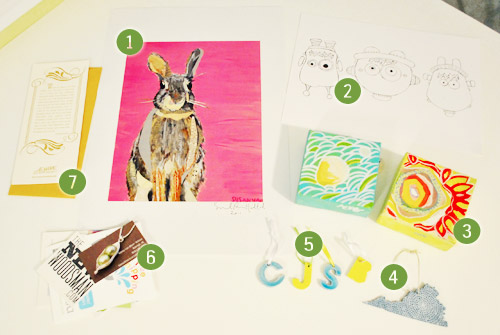 1. A print from Zou Zou's Basement ($25) which is a print of a mixed media rabbit painting. We thought it was fun and colorful. We actually almost got this elephant, but at the last minute Clara said "Bunny rabbit!" and the switch was made.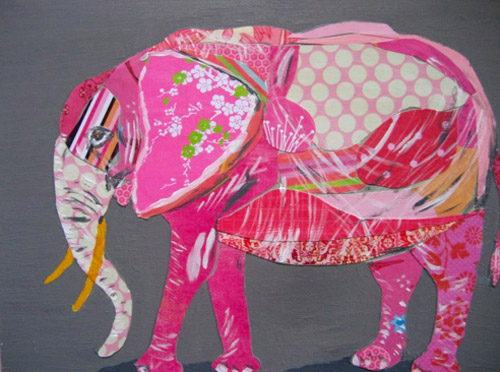 2. A robot coloring sheet from Turnerbots which they threw in for free after we purchased a bunch of ornaments (see #5). So nice! Clara had a blast coloring it when we got home because, as you may have here in our desk-building post, Clara is a coloring fanatic as of late.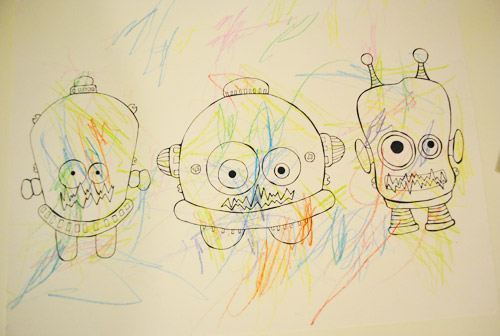 3. Two small canvas paintings from Amy Keith Barney ($15 each) who mainly specializes in stained glass – but the bright colors of these felt perfect for Clara's frame wall. And can you beat $15 for such amazing little original paintings?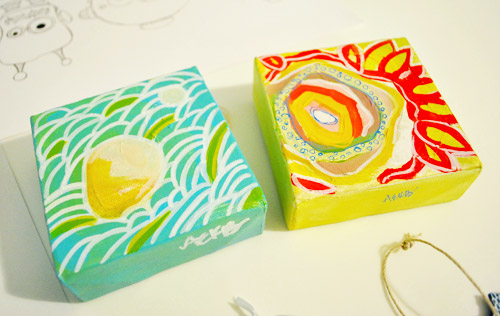 4. A Virginia-shaped ornament from Funnel Cloud Studio ($7). The ornament had us at hello (yay maps!) and we almost got one of her Virginia prints too, but managed to practice a smidge of restraint. She has Maryland and DC ones too for anyone interested…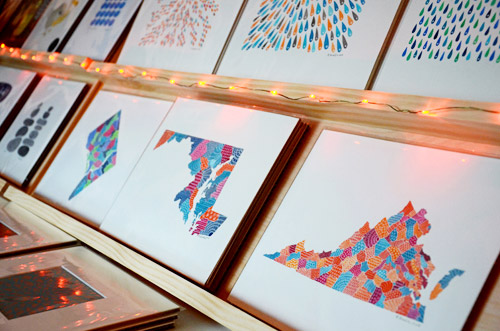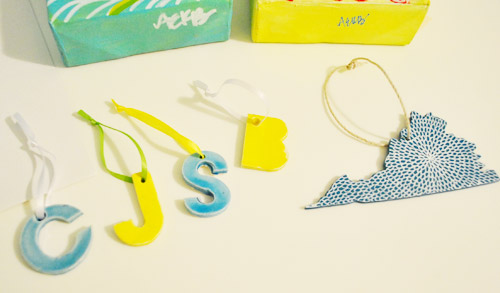 5. Ceramic letter ornaments from the aforementioned Turnerbots ($7 for all four), one each for Clara, me, Sherry and Burger. Turnerbots mainly specializes in candy-colored pottery like these cool vases and cheeky robots: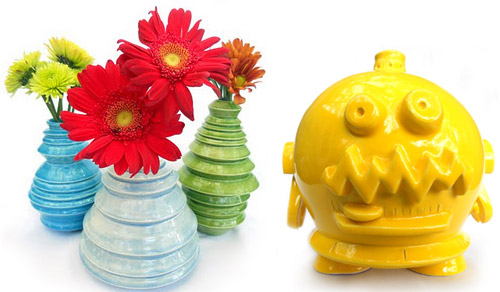 6. A crudload of business cards for all sorts of vendors – every booth was seriously worth stopping for!
7. A letterpress card from Almanac Industries (free) who had one of the coolest booths at the whole fair. You could just feel their passion for what they do.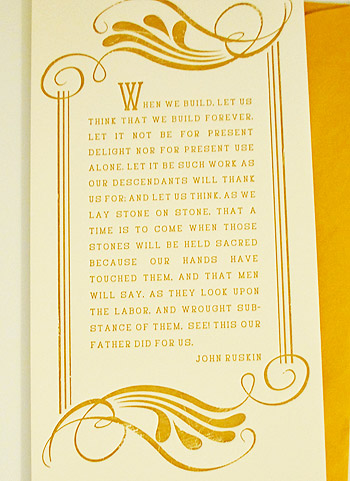 And we loved that our initials were coincidentally on display (doesn't take much to excite us). Well Sherry's, Burger's and mine were – and if that P had been a C we really would have been downright giddy.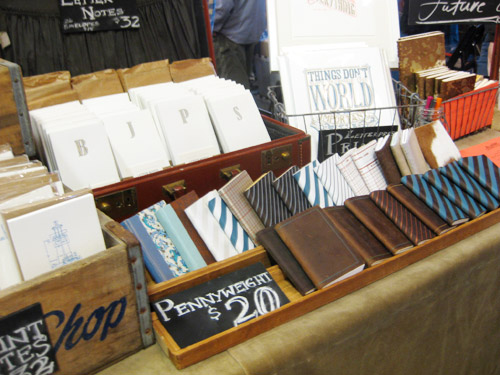 And since we couldn't support every vendor that we admired with a purchase, we thought we'd at least show them some love by sharing their cool stuff here. Like these "Dangerous Animal" notebooks from MonkeyDogStudio. Sherry and I disagree on which one we think is the funniest. I vote the octopus with the ninja throwing stars, but Sherry died when she saw the squirrel with the pistol.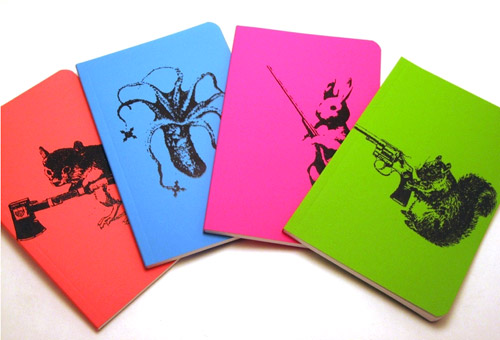 Speaking of cheeky animals, there were also cool woodblock prints and cards featuring some chic birds with fresh, punny attitudes (Yo Momma!) from Bowerbox Press.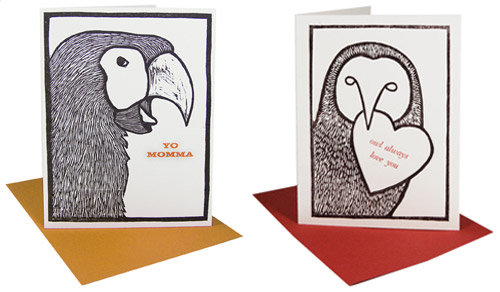 Continuing the theme of craftiness with a sense of humor, we loved all of the funny crocheted items – like this jellyfish and ray-gun from Needle Noodles…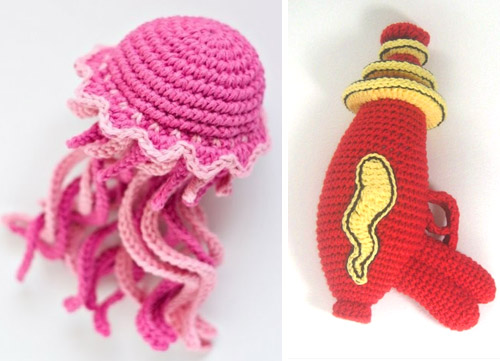 … and more jellyfish (this time as ornaments) and a crocheted conch shell from Lazymuse Productions.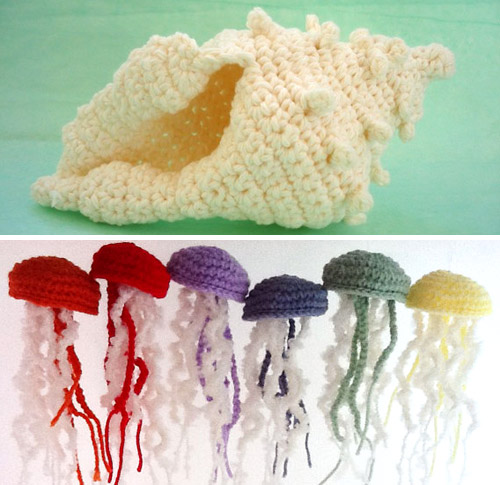 There were also this awesome assortment of colorful faux antlers (they were made of resin) from The New Woodsman. Predictably, Sherry my Jersey wife was most in love with the metallic gold ones (sadly not pictured).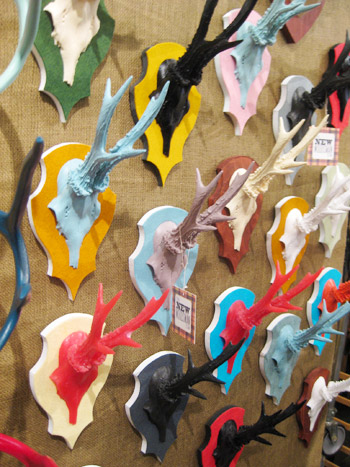 Illegible Ink's print of vegetables was really charming and detailed. You could stand there and study it for hours. There was a really funny meat one too.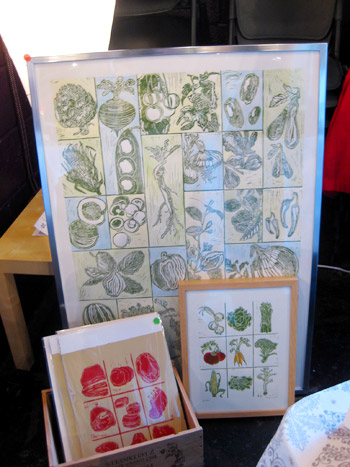 There was also lots of jewelry at the fair, like this peapod necklace from Lucky Accessories that Sherry mentally bookmarked for the day that we have more than one child (it was available with one pea, but she figured she'd rather wait and beef up her pea quotient before jumping the peapod gun).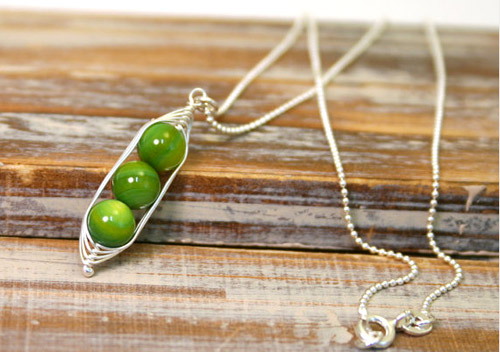 We also saw some familiar faces, like Love Elaine (who gave away a fabric wreath back in May). She had lots of Christmas fabric goods, but what caught our eye most was this festive kids apron. Clara would look so cute rocking this while making cookies.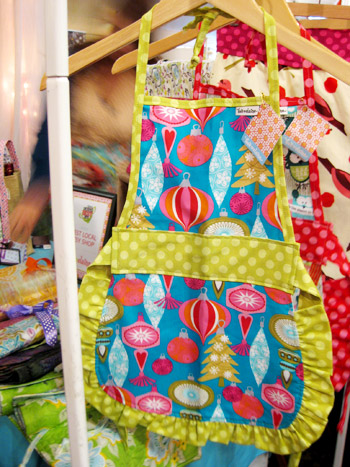 And there was Phil Barbato, another giveaway alum, who makes these funky ape stuffed animals amongst other things (Clara said "buh-bye monkey!" when we walked away):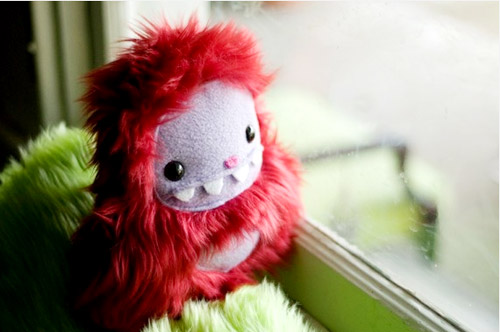 We actually bought a print from Phil this summer at another Richmond art event (the First Friday Art Walk), but it wasn't until returning home with our new crafty treasures that we finally figured out the perfect place to hang it along with two of our Handmade Holiday finds (don't mind the frames, they're just what we had around).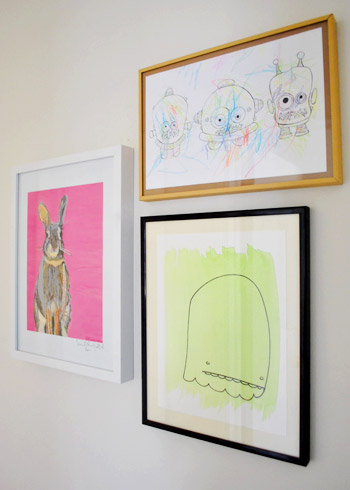 This little frame collection is on the short wall right outside Clara's bedroom door, opposite the playroom door. We thought she'd love saying "Hi" and "Goodnight" to the bunny, but instead her favorite thing to do is point at the robots and say "Color! Color!" Figures…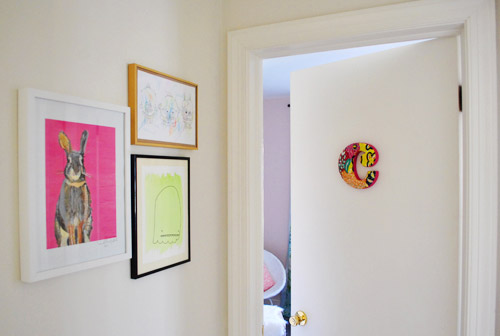 So that was our adventure in handmade arts and crafts. Are any of you going handmade for the holiday this year? We'd love to hear about any craft fairs in your area, or if you've snagged any crafty gifts or items for yourself or the ones you love.
Pssst- For more gift-related fun, check out Mrs. Limestone's post about the whole Secret Santa thing that Sherry and a bunch of other fellow bloggers have been having fun with. You can even guess who had who to win a prize over there!