Last week we shared how we painted our cabinets, and today we're taking you through the whole shebang of how they're organized. This kitchen has around one 25% of the cabinetry/storage of our last one – and even we were a little nervous about how we'd adapt to significantly less countertop & cabinetry – but the spoiler alert is that it has been great! We can store everything we need and use – and things are pretty easy to grab (no digging behind a bunch of items to find something). So if you've been curious about this particular aspect of downsizing – or just like peeking inside other people's cabinets – this post is for you.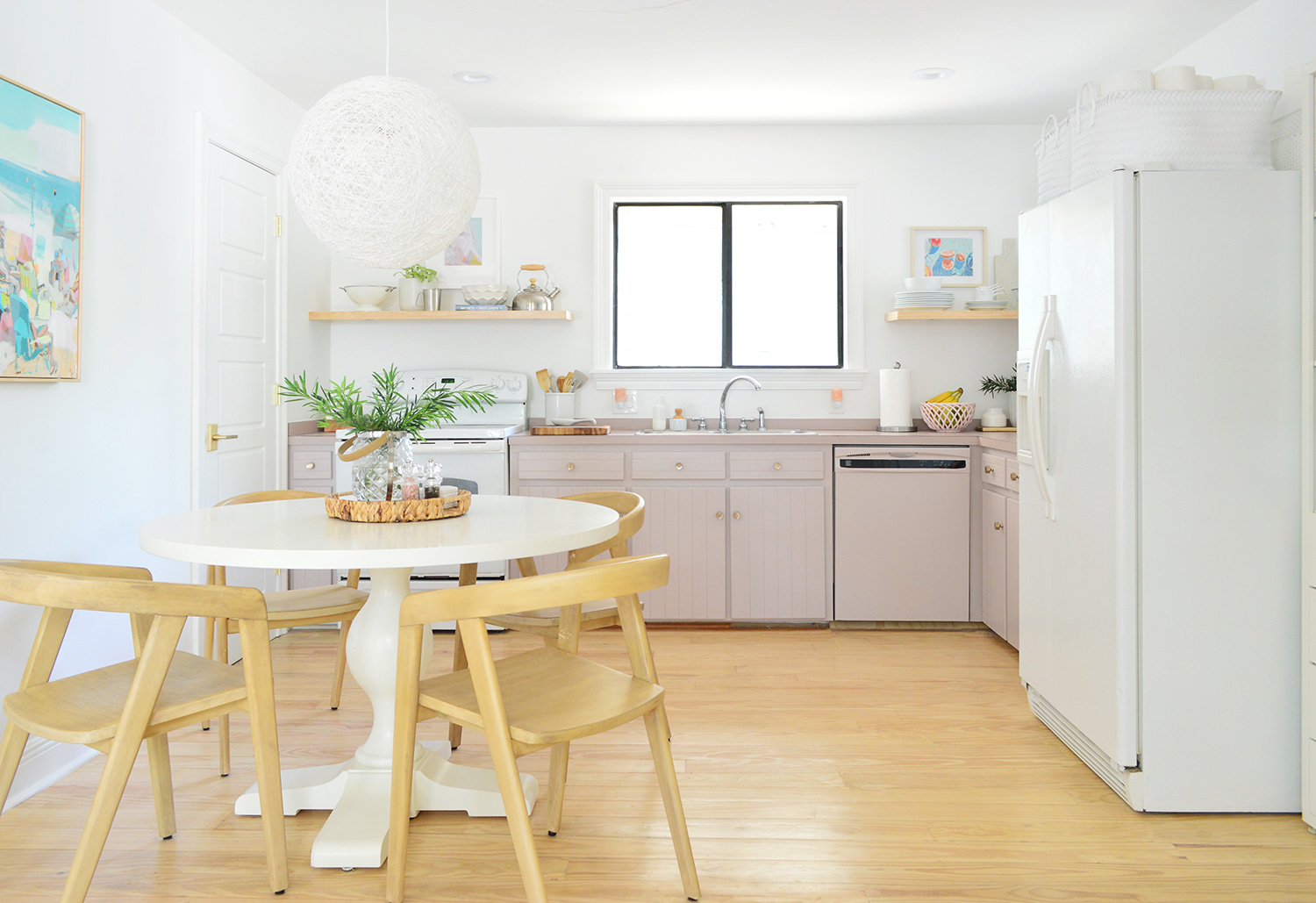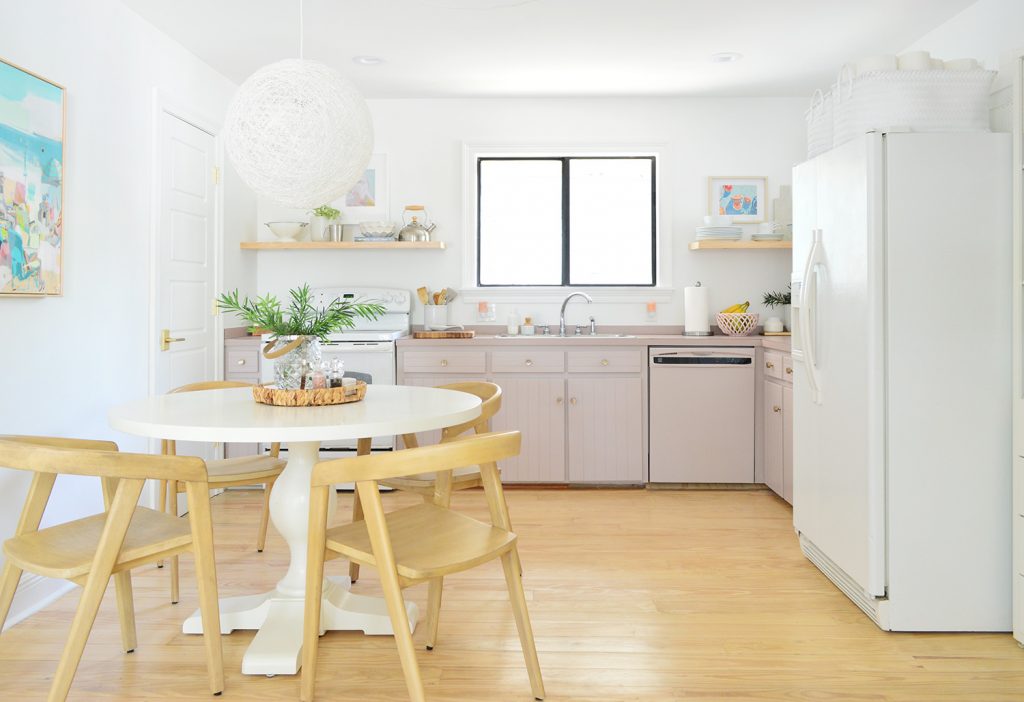 You might describe our last kitchen as gargantuan compared to this one – we definitely would! It had a huge ten foot island with storage on three sides as well as perimeter cabinets on all four walls! If memory serves me, that kitchen had 36 cabinet doors and 15 drawers (you can see it below). By comparison, our current kitchen has just 7 cabinet doors and 5 drawers (the two under the sink in both kitchens were false). So for a rough comparison, that's a count of 51 versus 12! And most of our current cabinets & drawers are much less spacious than the ones in our old kitchen (wait until you see the drawer to the left of our stove).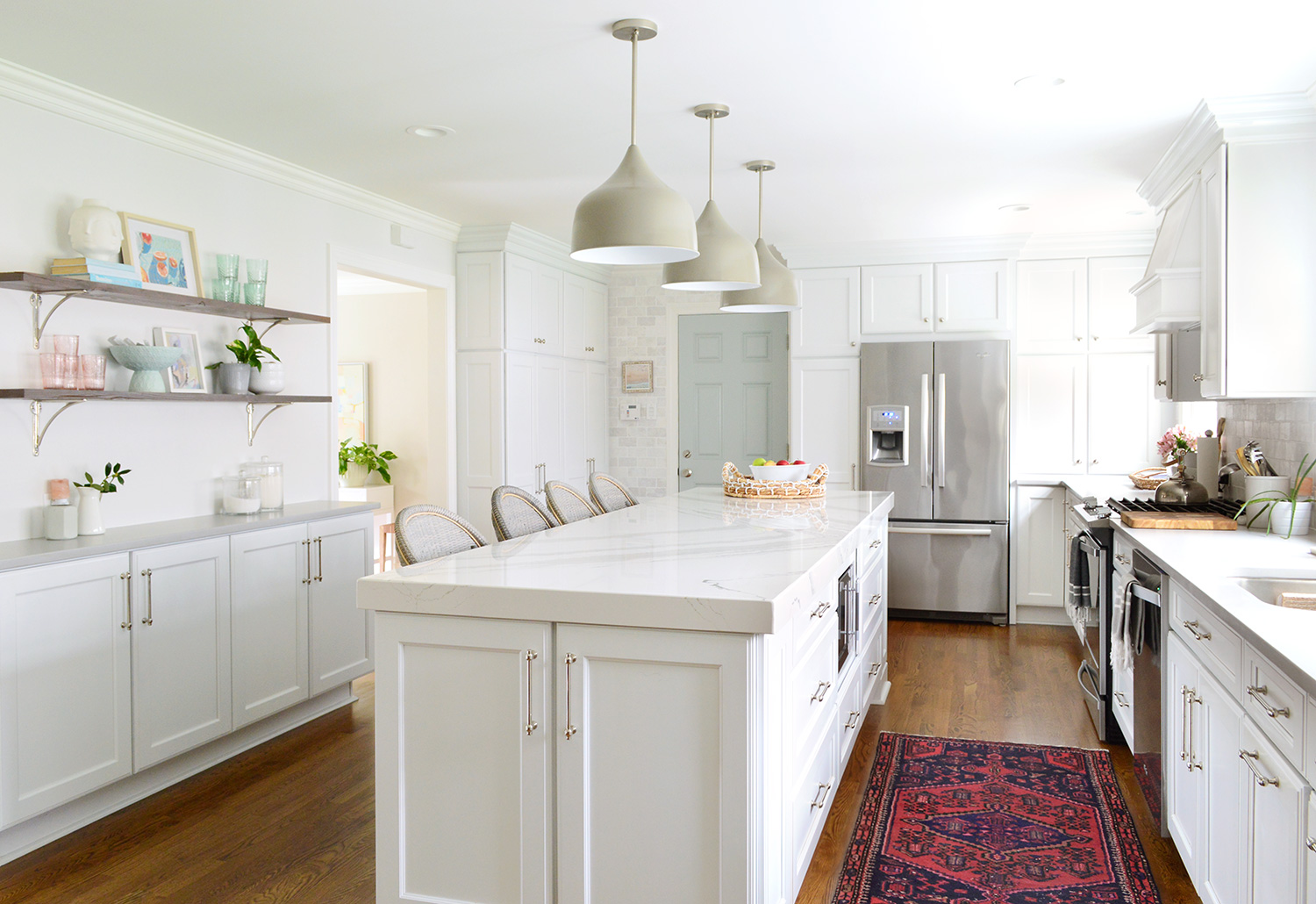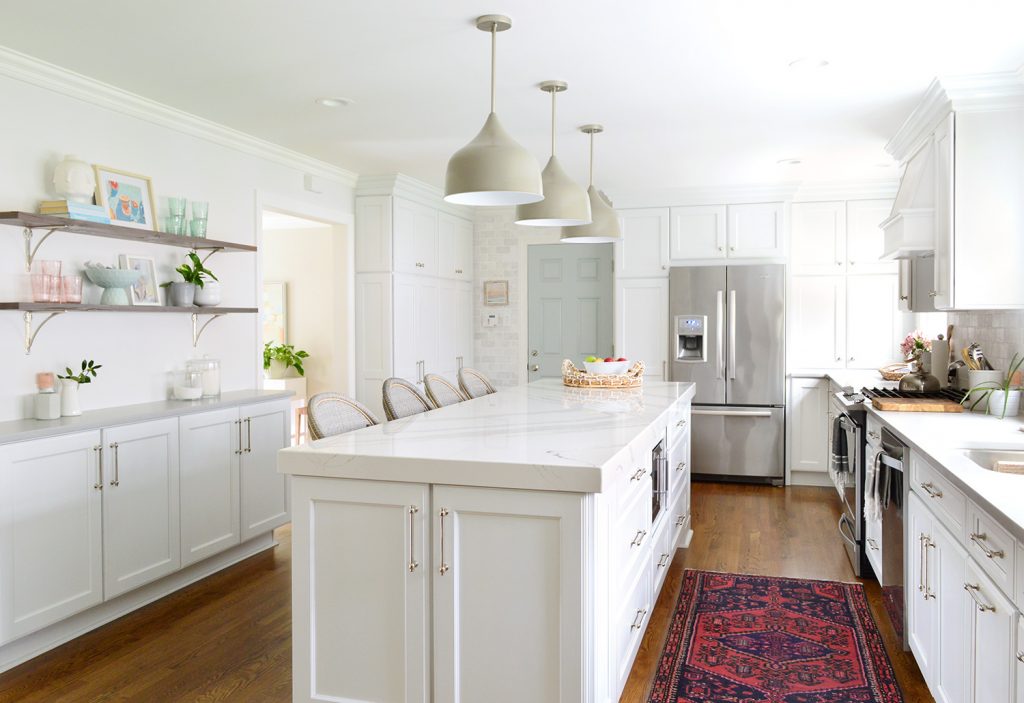 To be fair, that old kitchen definitely had more storage capacity than we actually needed. Neither of us is that into cooking, baking, or any other hobby that might require a lot of gadgets and gear – so we've always kept a pretty streamlined kitchen. In fact, we actually stored a lot of non-kitchen items in that old kitchen (tools, backpacks, extra accessories, and even holiday decor) You can see how we organized our old kitchen in this post if you're curious.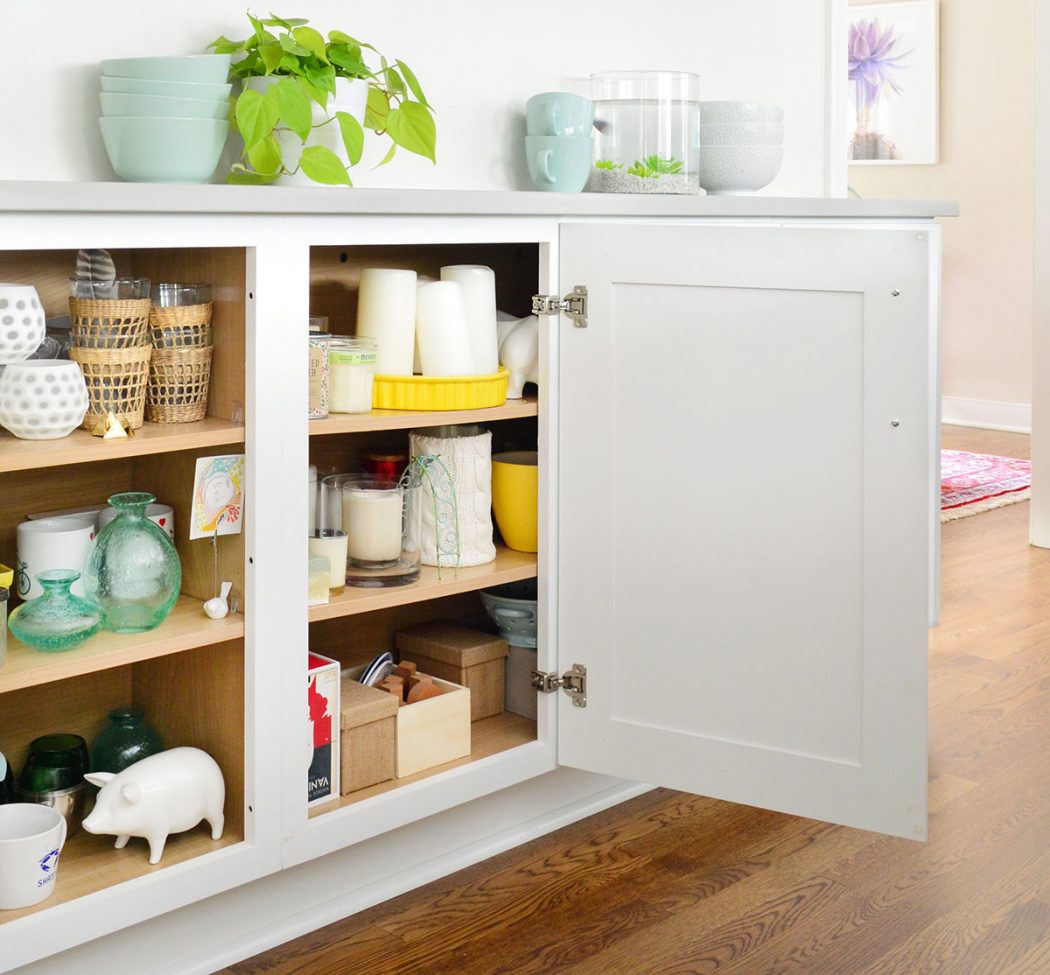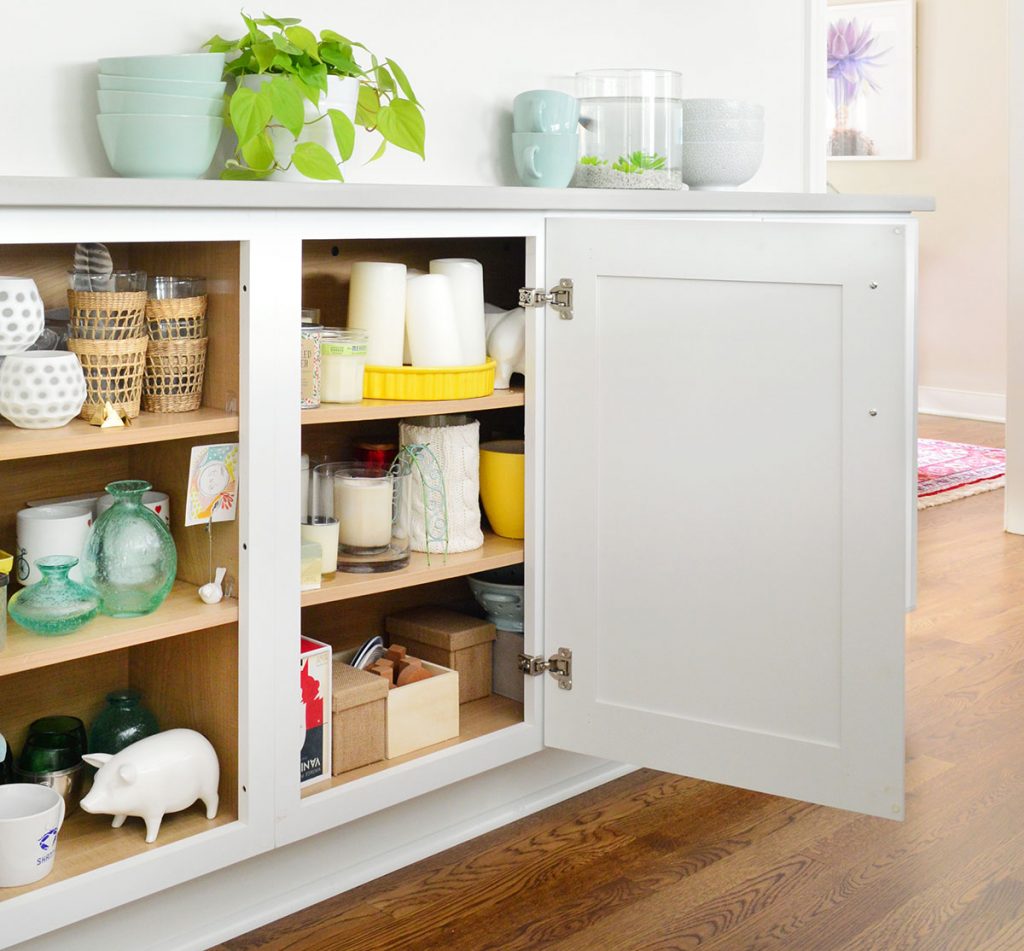 So the good news is that we're doing perfectly fine in this smaller space – and all of our paring down before the move definitely helped! It still took even more strategic downsizing once we got here, along with some careful organization, but this kitchen has space for everything we want and use (I'm emphasizing the "we" in that sentence because I know some of you will see these photos and think "But where do you keep your crockpot? your blender?! your stand mixer?!? your COFFEEMAKER!?!!" Some of those things we've never owned in 14 years of being homeowners – and others, like our rarely-used crockpot, got donated before we moved.
That may sound blasphemous to some, but downsizing is about being honest about what you really need and use (again, the emphasis is on the "you" – because it'll definitely differ for every individual or family). But rest assured that these last few months have been the ultimate test for this kitchen because we basically cook & eat every meal at home – and it has worked out even better than we hoped.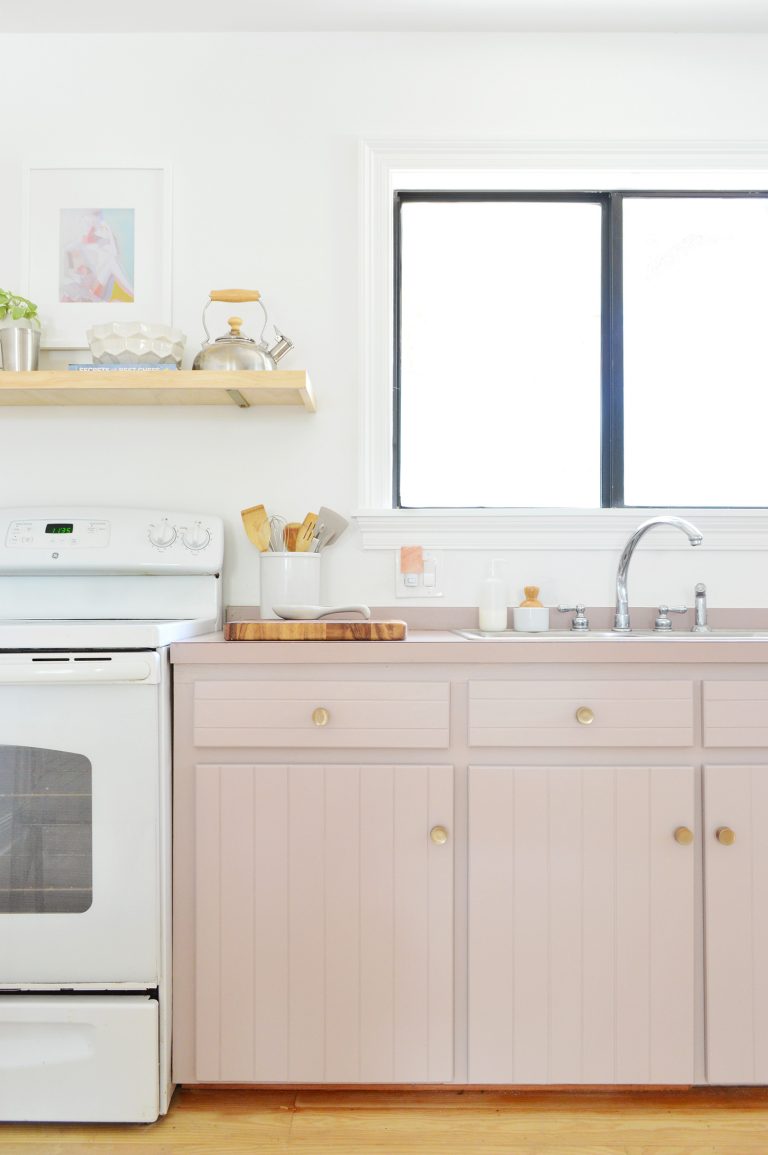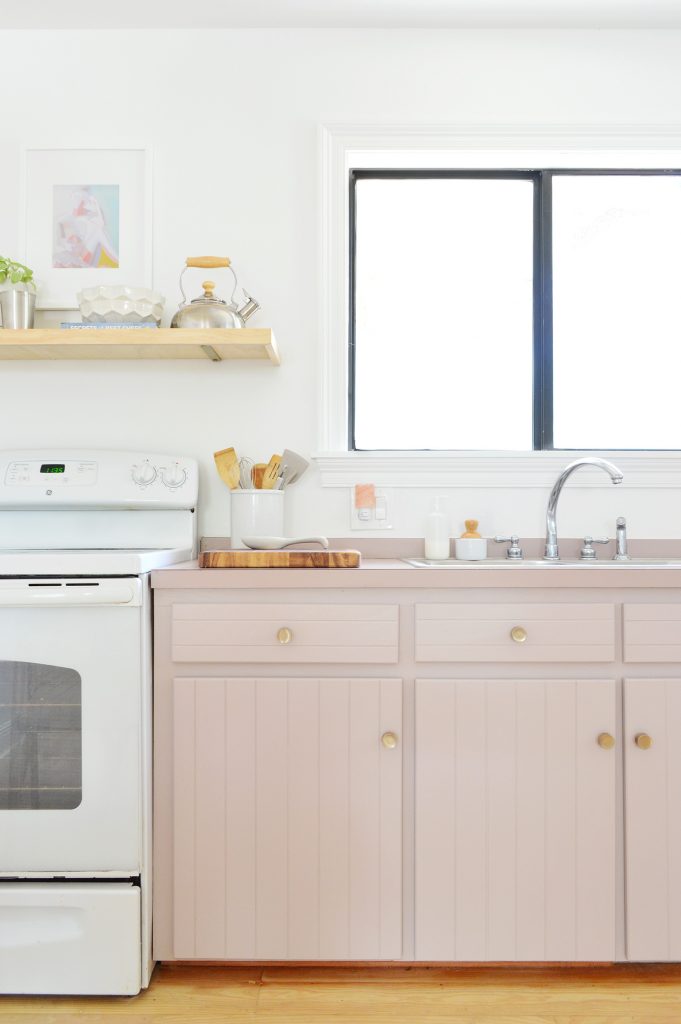 One big thing that helped was adding these two shelving systems next to the fridge. You may remember them from this first post about our new kitchen (they had been in our old office). They immediately added 8 large drawers to the kitchen, along with some open shelving that has ended up being a pretty good balance of functional (plates, glasses, mugs, bowls, etc) and decorative (you know Sherry loves her plants, vases, and big hardcover books). We use the 4 drawers on the left as our pantry (update: I bolded that because so many people were asking "but where is your food?" – you can also read more about that & even see it on video in this post). The other 4 drawers to the right of them are, well, mostly tools (just like we stored in our last house's kitchen). I guess old habits die hard!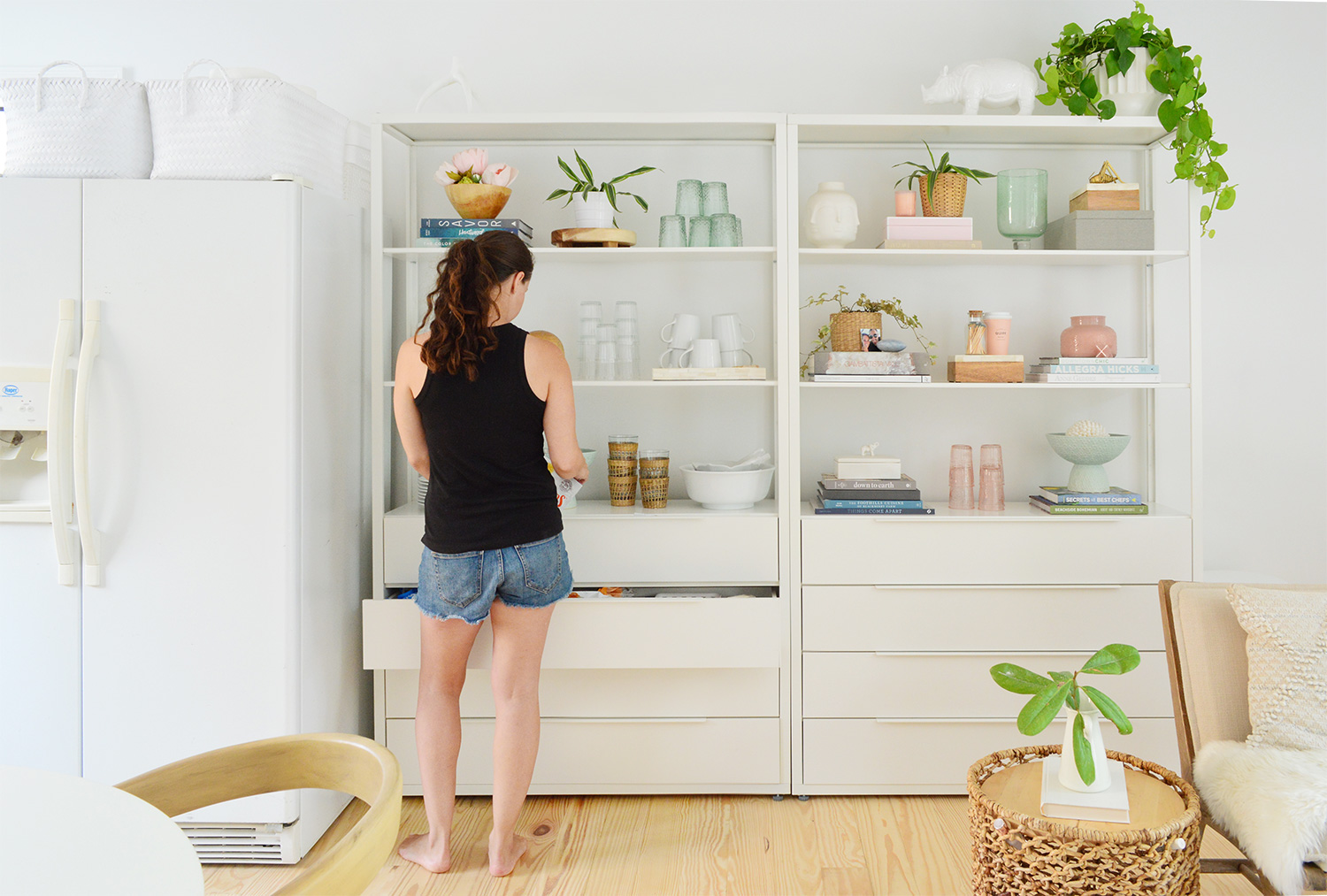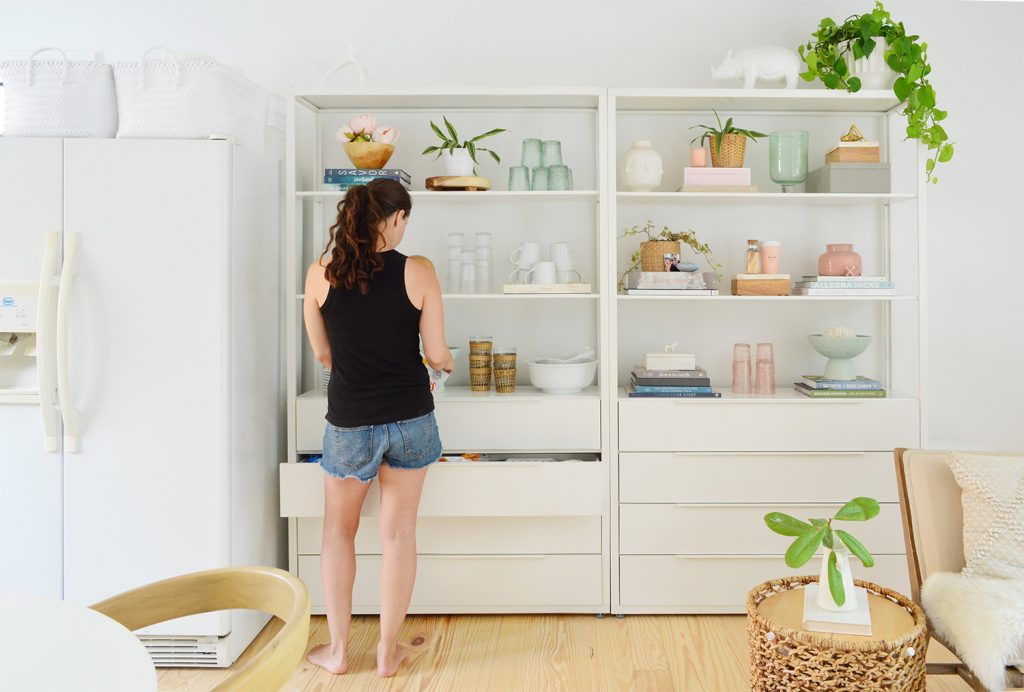 It feels like a good sign that we have those four drawers on the right full of tools, because if push came to shove and we absolutely wanted more storage for some new kitchen gadget that we suddenly couldn't live without – well, the tools could easily go in another room (like the built-in cabinets that we're planning to add to both sides of our fireplace in the bedroom) and we'd have that overflow kitchen space available to us for more kitchen-y things.
Apart from those two bookshelves and the two floating shelves that we added to the back wall (more on those here), everything else is wrangled in those 7 cabinets and 5 drawers. So let's start our little cabinet tour du jour with that small corner cabinet that's between our stove and our utility closet (that houses our HVAC system along with some holiday decor, paint cans, and other random stuff like brooms, the vacuum, etc).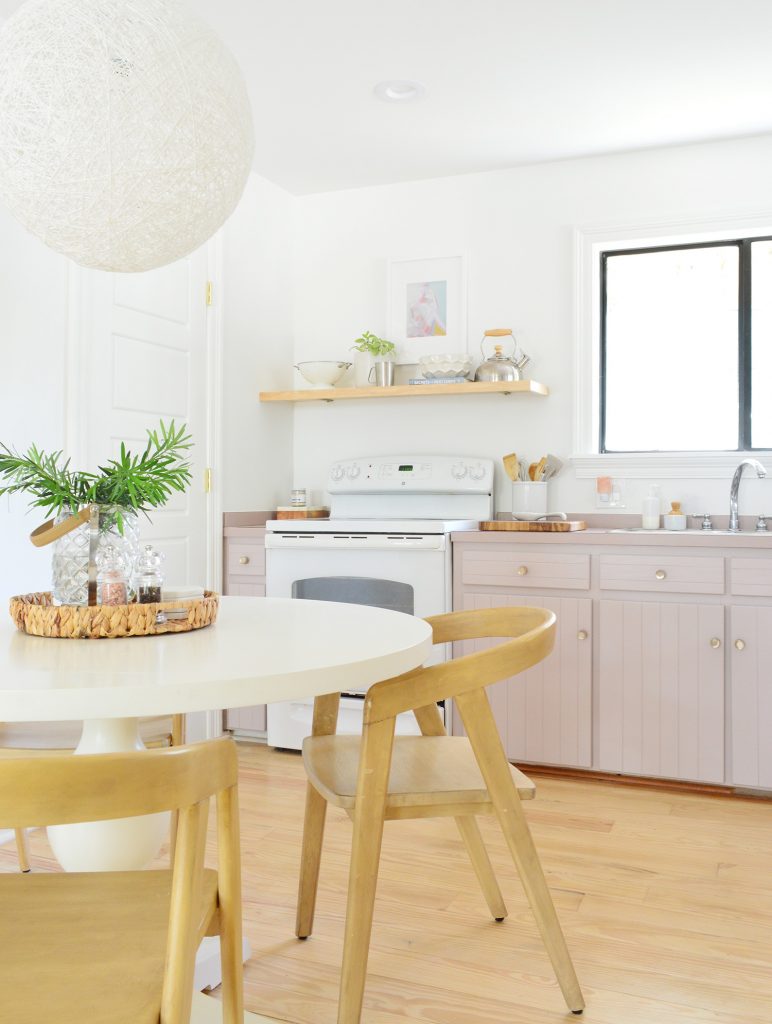 I told Sherry it felt weird to start with our smallest, most anticlimactic drawer (not that the others are really "climactic," I guess), but I'm a sucker for order, and going left to right just feels right. So here we are: our olive oil drawer. Yes, it literally contains a single bottle of EVOO and a jar of salt. All of our spatulas and cooking utensils are on the counter, so this drawer didn't really fit much else (even our rolls of foil and plastic wrap didn't fit), but it's actually nice to have our cooking oil near the stove and in a cool dark place. By some small miracle Sherry even had a plastic bin that fit the olive oil bottle and the drawer perfectly so errant drips don't ruin the drawer.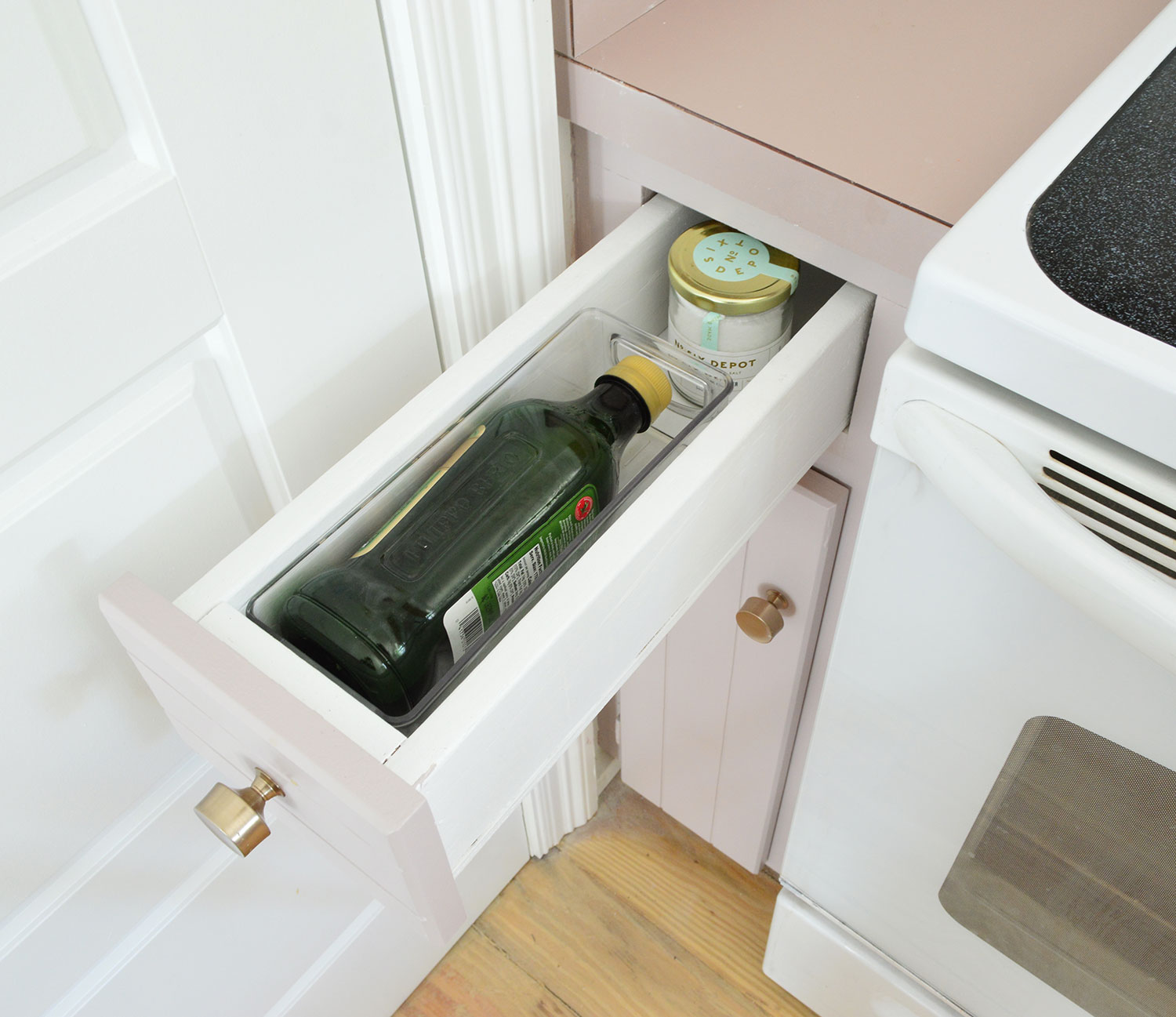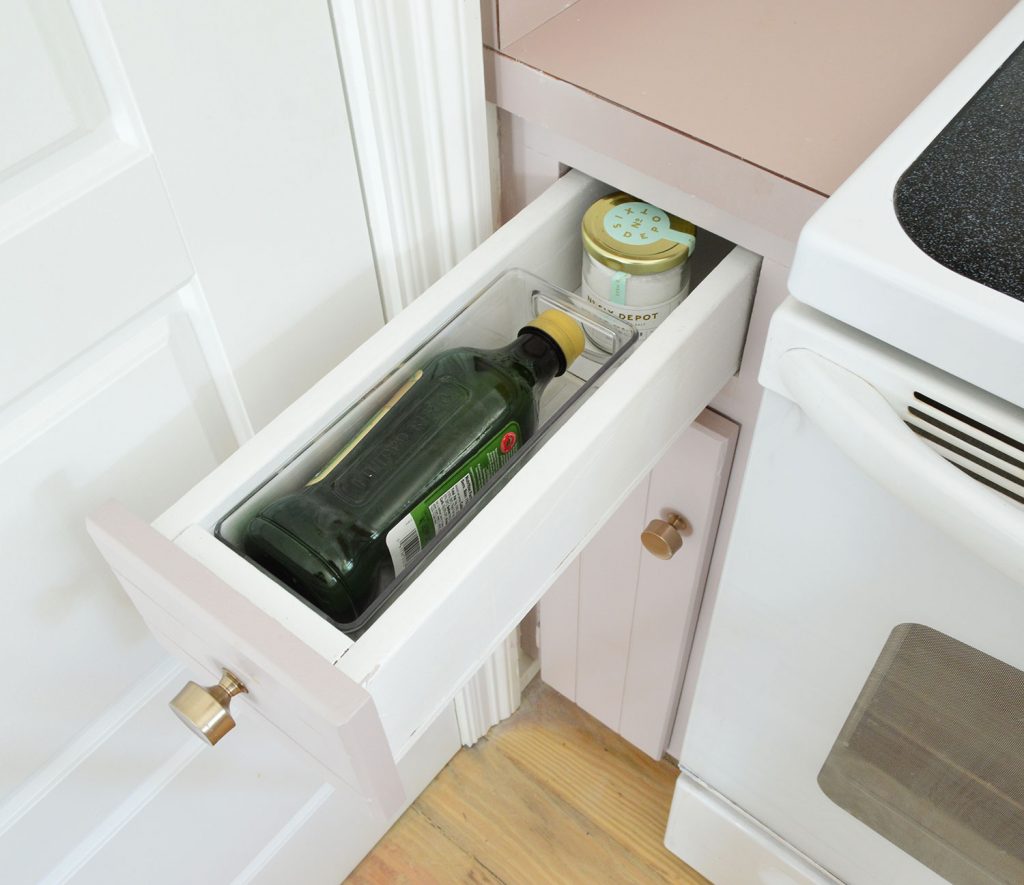 The cabinet below it is also awkwardly skinny, but it has been useful for standing up our plastic cutting boards, cookie sheet, muffin tin, and wire cooling racks. And yes, that's cookie sheet and muffin tin singular. That was one thing we downsized before we moved. We rarely make muffins or cupcakes, but you would never have guessed it from the multiple tins (and cupcake carrying case?!) we had been storing. Literally never used that thing once. We also use the warming drawer under the stove to house our shallow pans and griddle pan.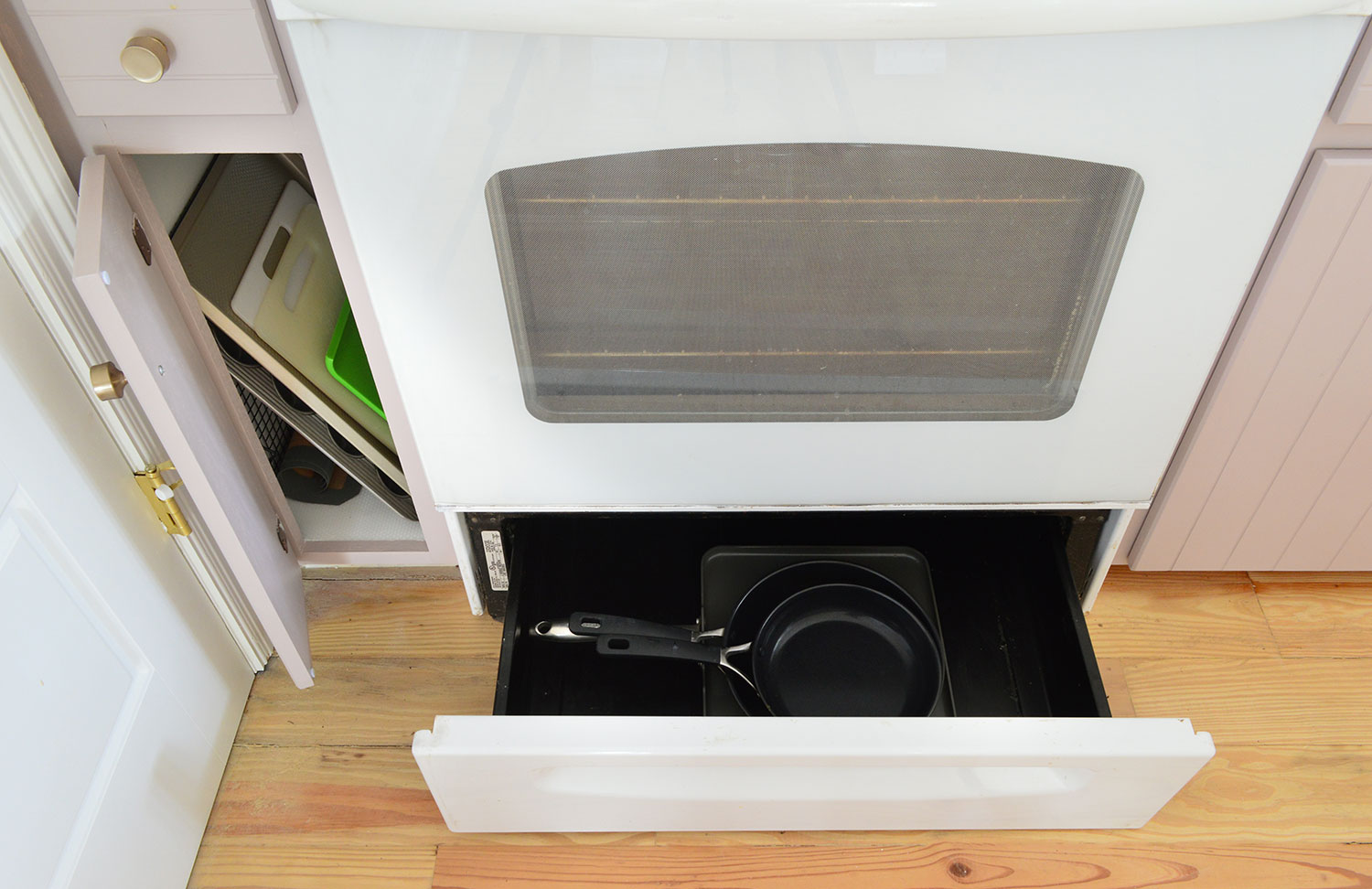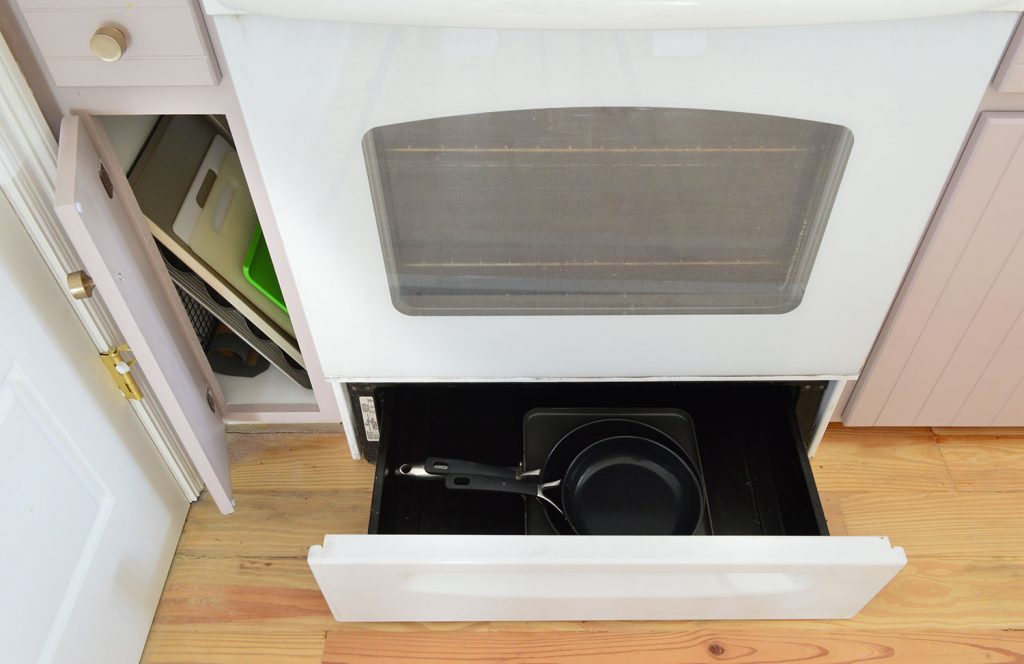 The rest of our pans live in the larger cabinet on the other side of the stove. We already owned the wire shelf rack that we used in the back to make it easier to grab some of those saucepans, but we purchased that $15 back-of-door lid holder to make it less of a clusterfudge in there. Everything used to be stacked and nested in a way that made it alarmingly loud to retrieve whatever pot you needed – but that door rack for the pot lids & that wire shelf thing made such a difference. Now it's easy to grab whatever we need without taking a whole lot of things out or sounding like an accidental jam session.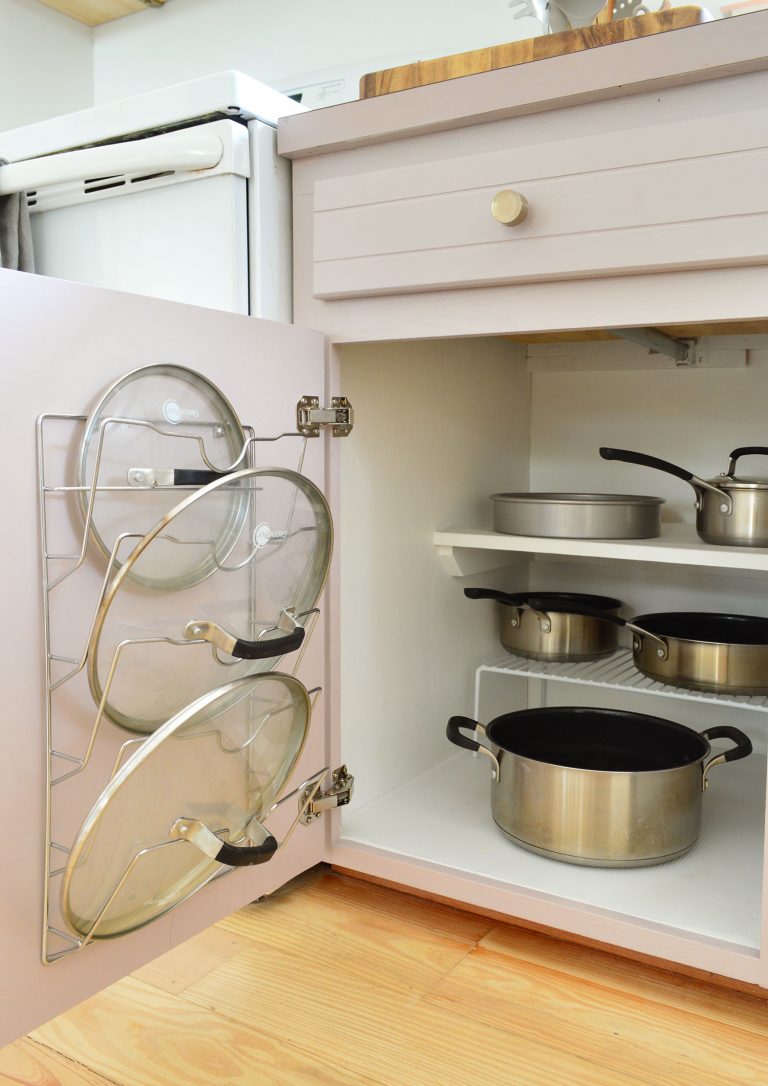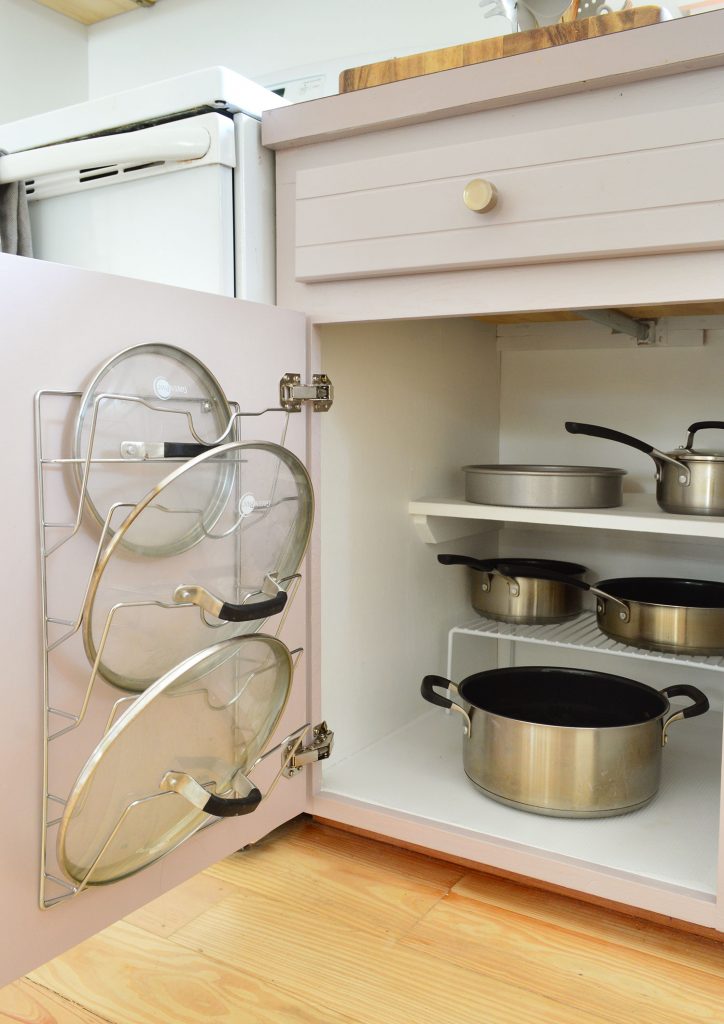 It's a pretty streamlined collection of pots and pans, but it meets our needs (we actually didn't pare down much in the pots/pans department – we've typically just had a set of this size for years – we love Greenpans). We also lined the bottoms of the cabinets with this clear non-sticky drawer liner to keep our fresh white paint job looking clean. It doesn't show in the photos but it's on all of the cabinet bases & shelves.
The drawer above this cabinet is the largest, so it's where we keep our flatware and a few large cutting knives. This is the same expandable bamboo utensil organizer we had in our old house (it's adjustable to fit a variety of drawer sizes, so it has narrower compartments here but still works).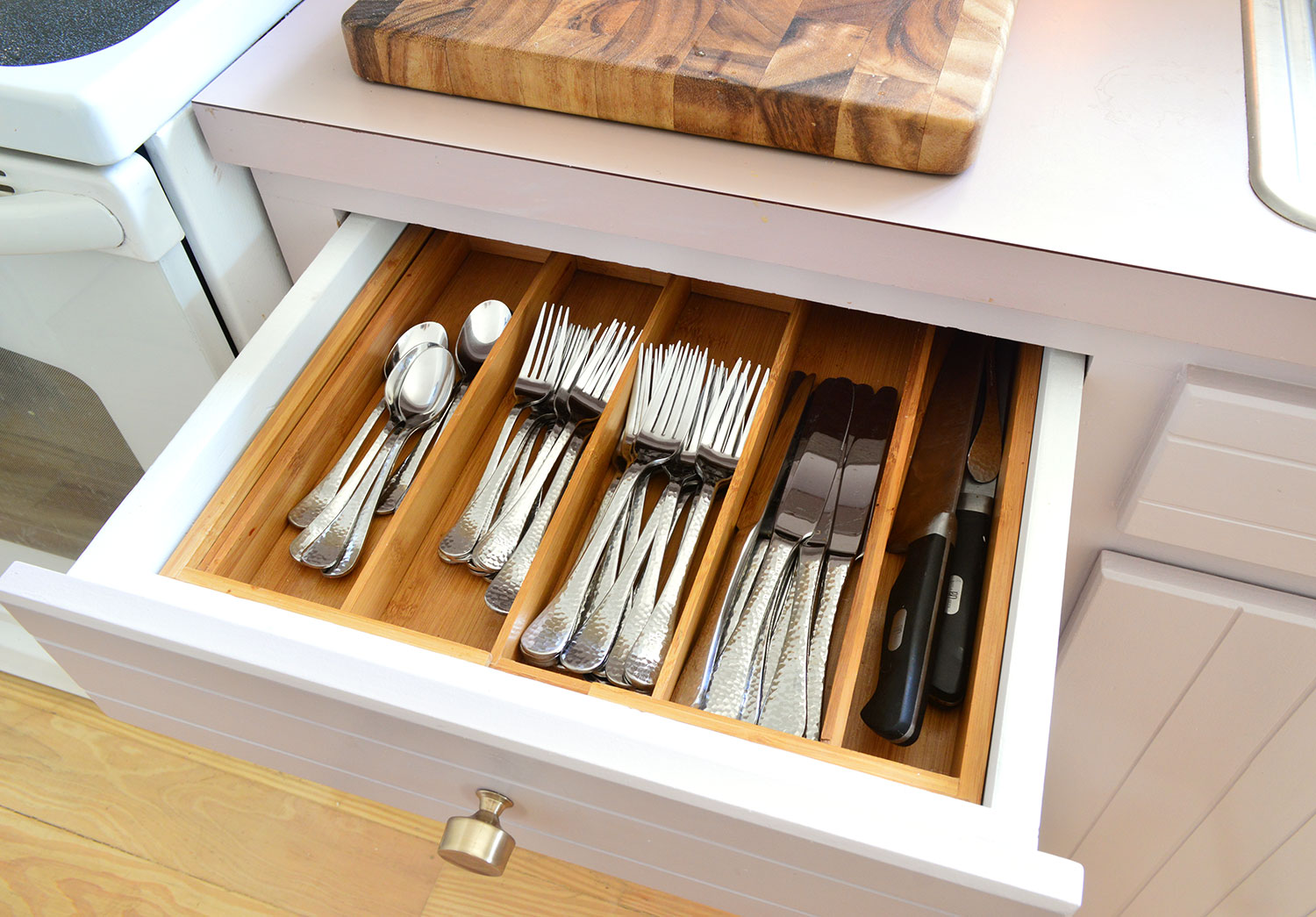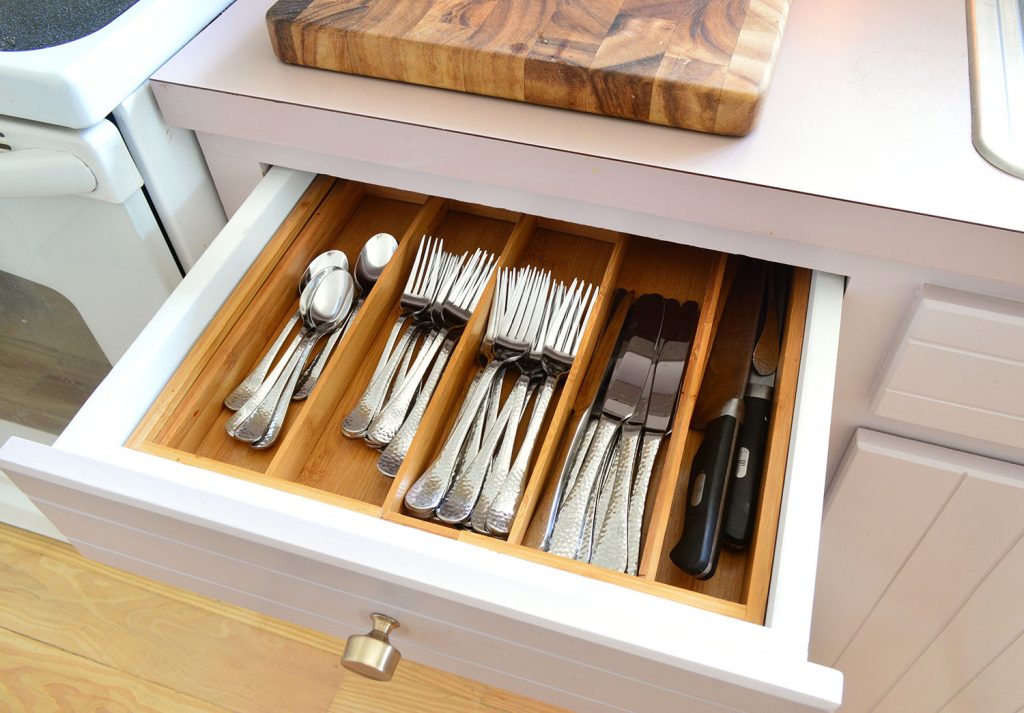 The big sink cabinet wrangles the kinds of things you typically find under someone's sink: cleaning gear, spare sponges, dishcloths, trash bags, etc, etc. We used a smorgasboard of mismatched existing bins to help keep things from ending up in one giant mess pile, which keeps us sane and cost us zero dollars to implement. Sherry pretty much always has a few freestanding wire shelves, a clear divided lazy susan, and a few bins & boxes on hand – and together they really help to make it a lot easier to grab things.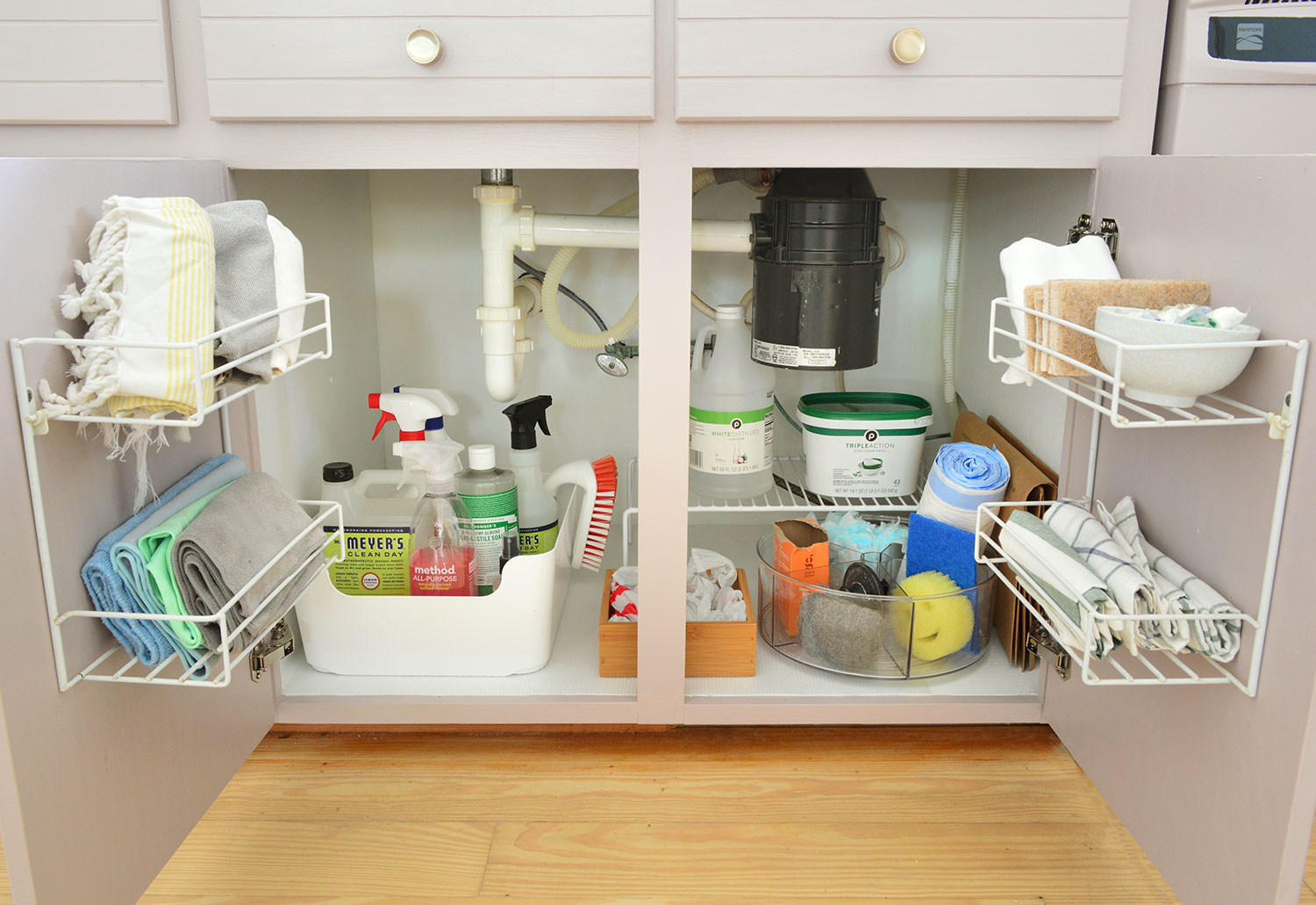 In the lucky breaks category, these two back-of-the-door wire organizers were actually already here when we moved in. And they've proven to be extremely helpful (we just removed them when we repainted the cabinets and rehung them afterwards). Here's a similar one if you're looking for one that, unlike lots of others, doesn't hang over the top of the door and show from the front.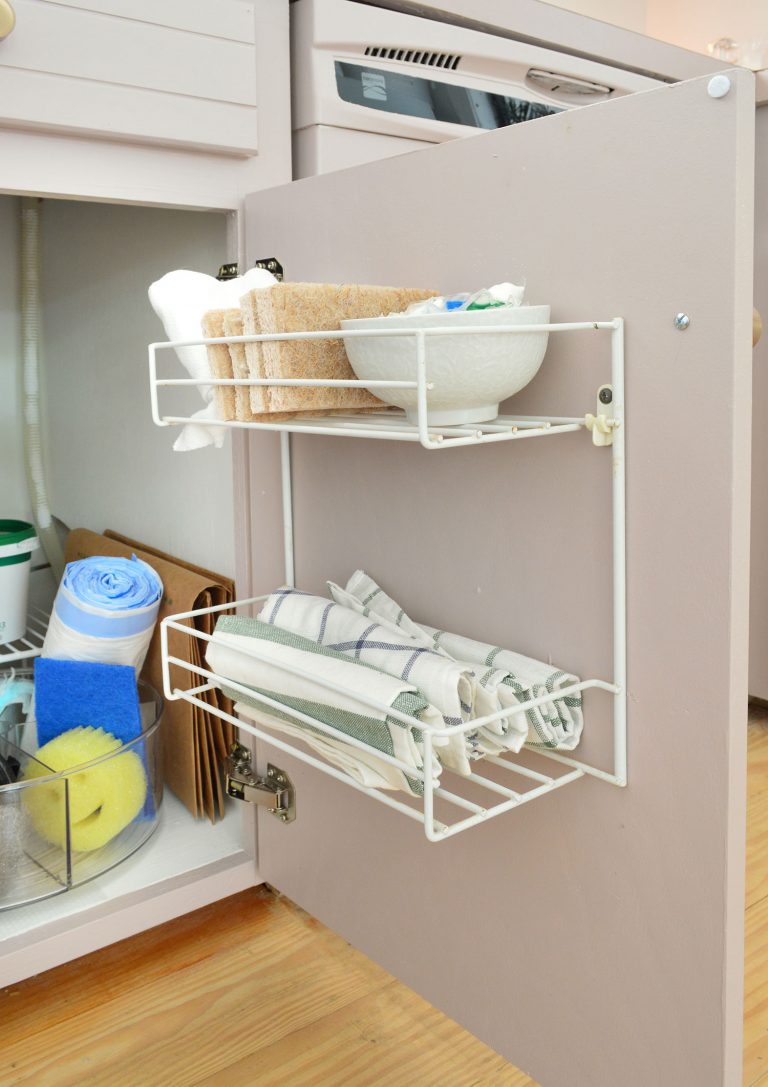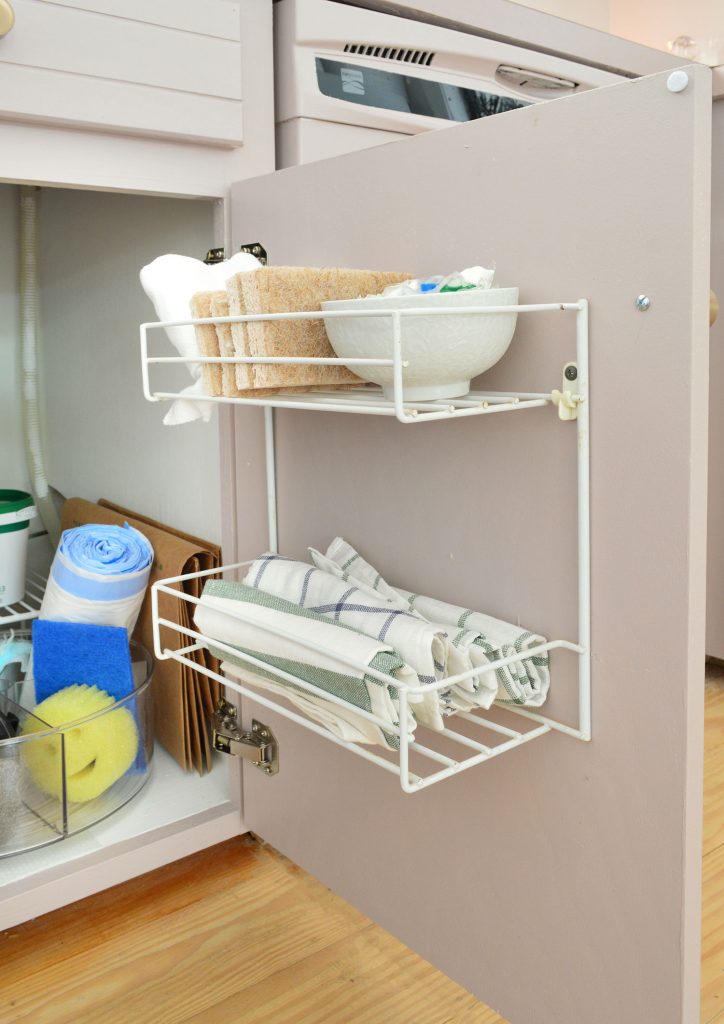 You're at the halfway point now. The only thing left on this back wall are the 2 false drawers under the sink, the dishwasher, and the floating shelves we built. The shelves are each about three feet long, so not huge, but big enough to hold things like our strainer, measuring cup, and tea kettle (all conveniently located above the stove)…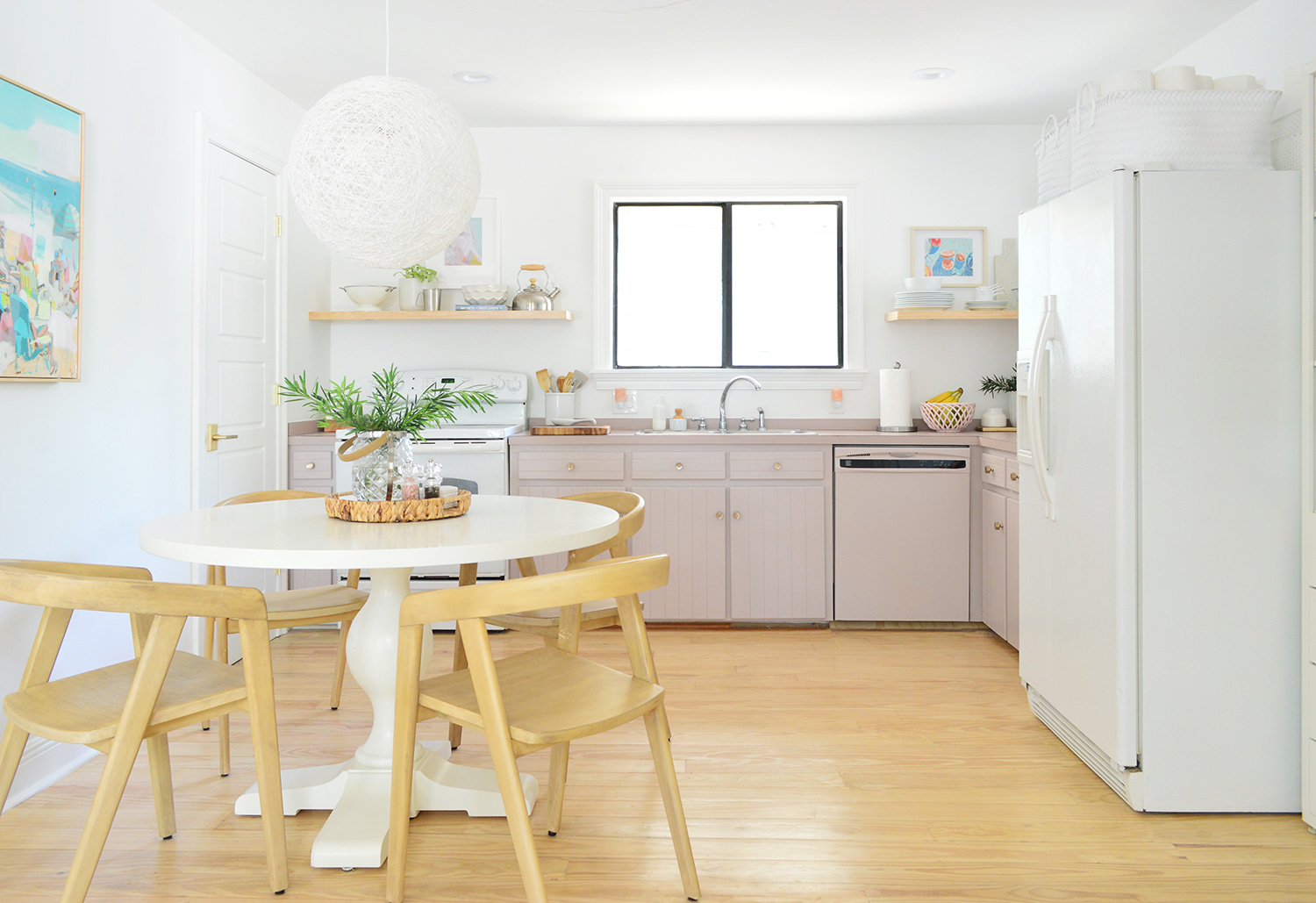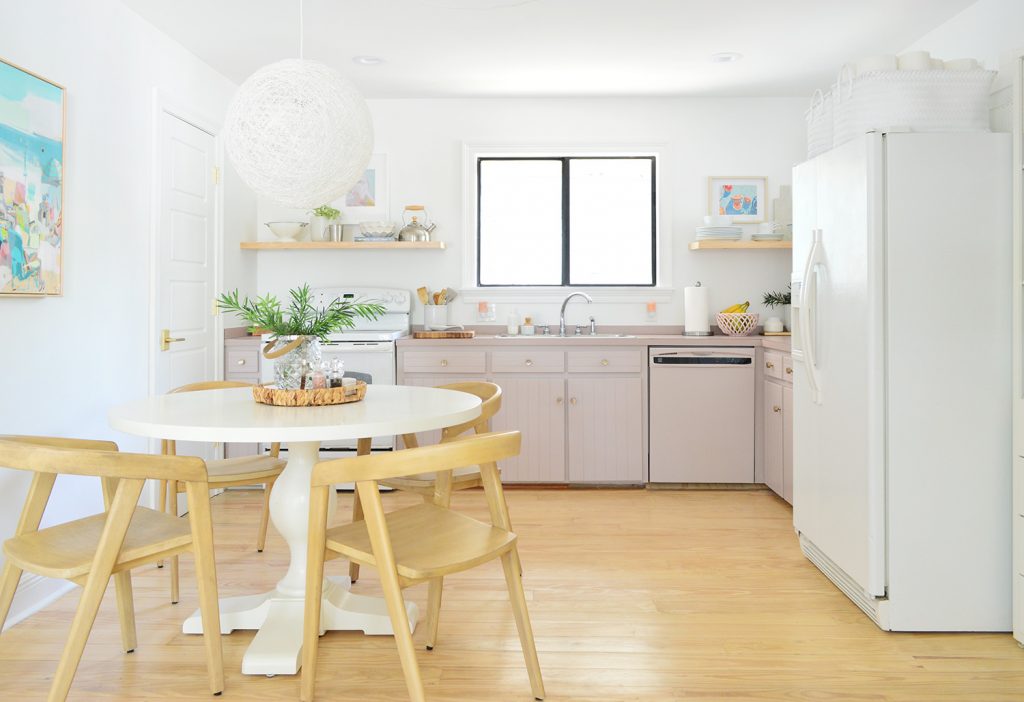 … and our plates and glass mixing bowls are on the other side. Some of those things had been over on our "pantry shelves" but we moved them closer to the work triangle once we got the shelves up.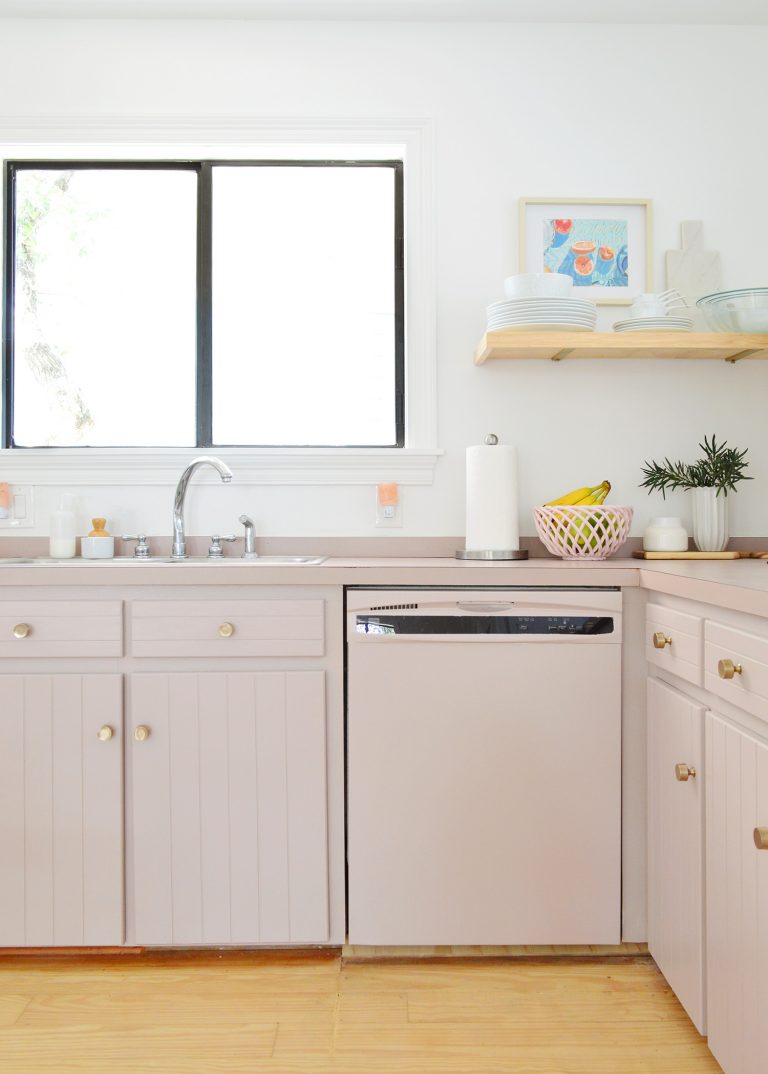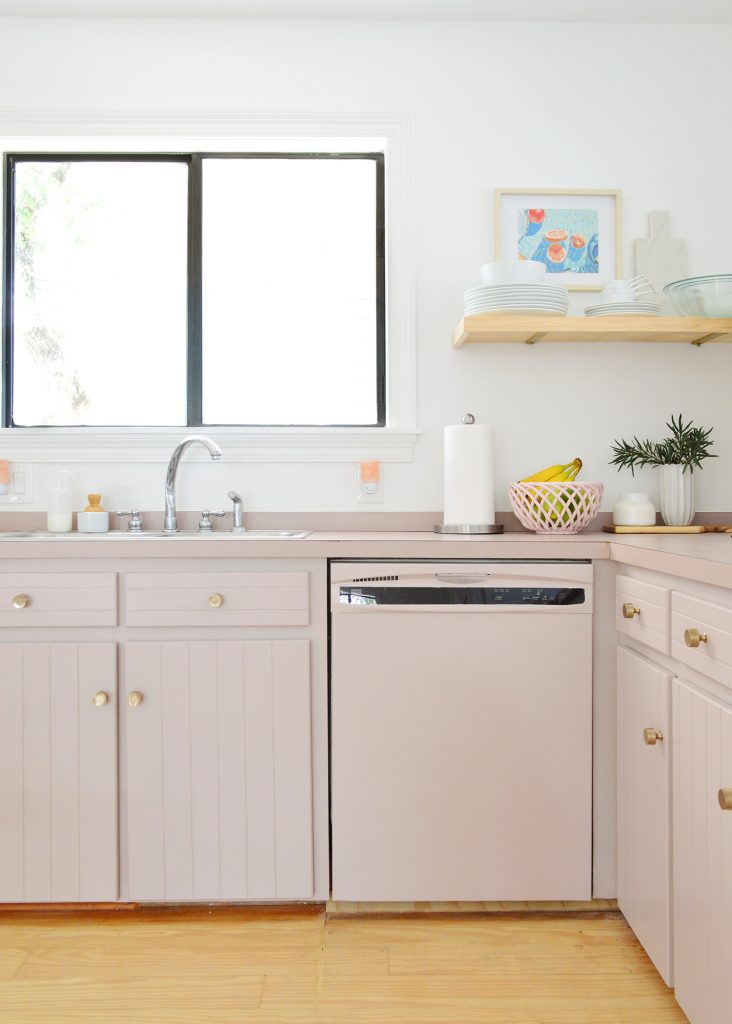 If you turn 90 degrees to the right, we have this shorter run of cabinets that's actually one large cabinet with three separate doors.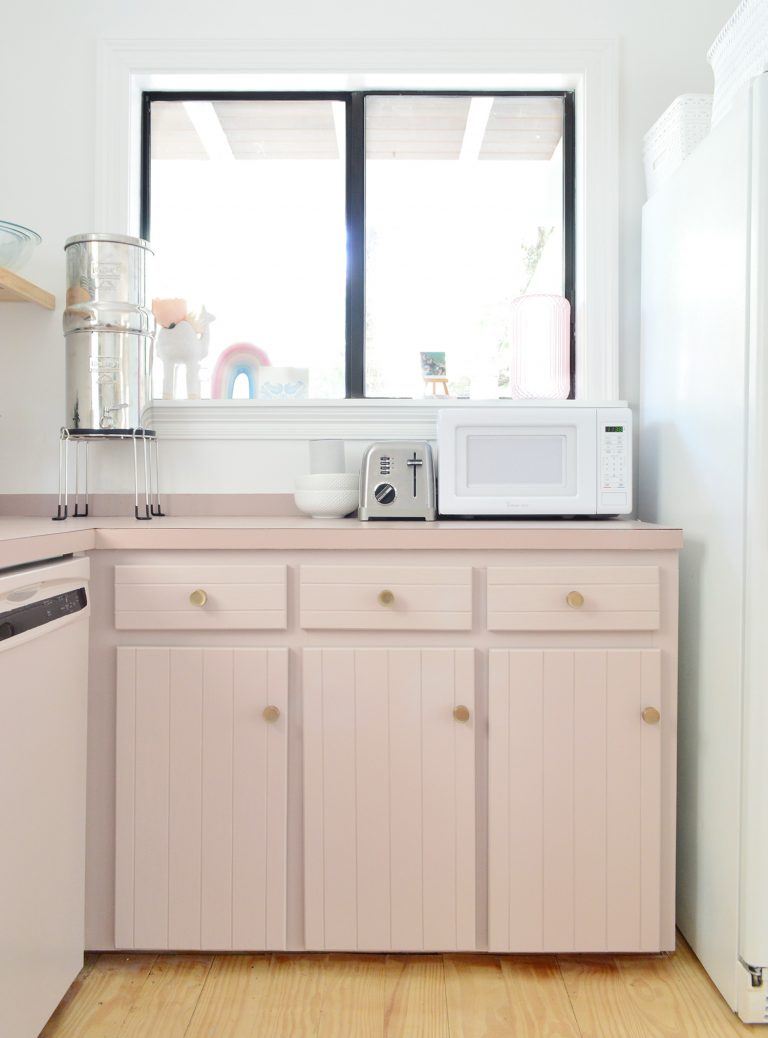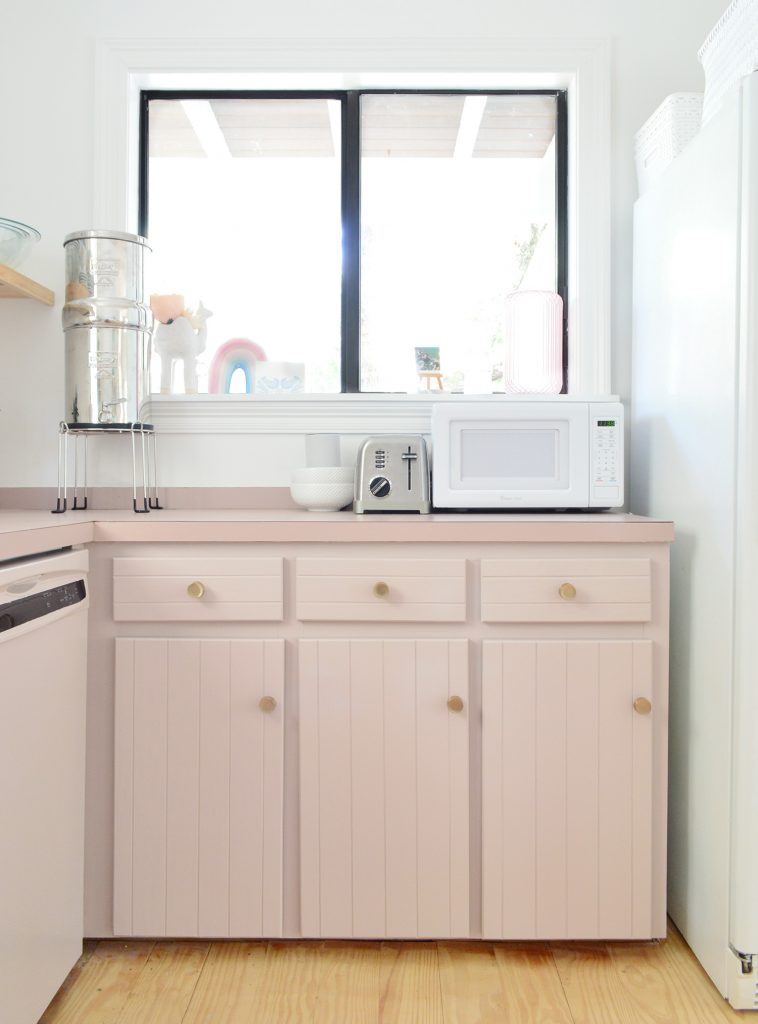 I wish I could snap my fingers and turn the three narrow drawers into two larger ones because there's lots of wasted space between these puppies, but we made things work as well as we could with a series of bins & boxes – as is the theme! We've got things like foil, wax paper, and sandwich bags in that drawer on the left. Our knives, measuring spoons, can opener, peeler, etc. are in the middle drawer (corralled in these plastic bins we've had for years). And on the right we've got our junk drawer with these bamboo boxes that we used in our last junk drawer too. We're finding these things pretty universally helpful – whether you have a big kitchen full of storage or a smaller one with narrower drawers & cabinets.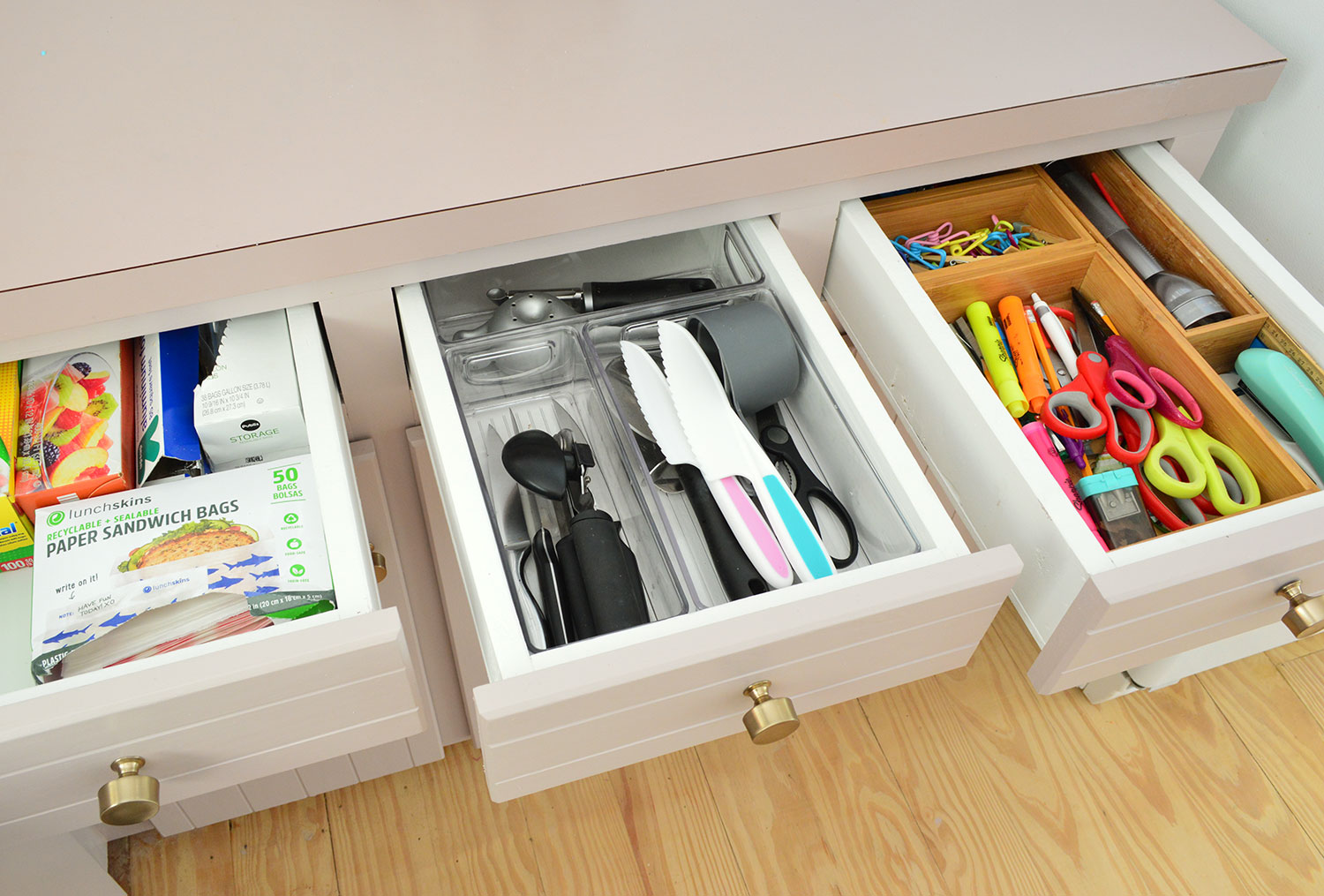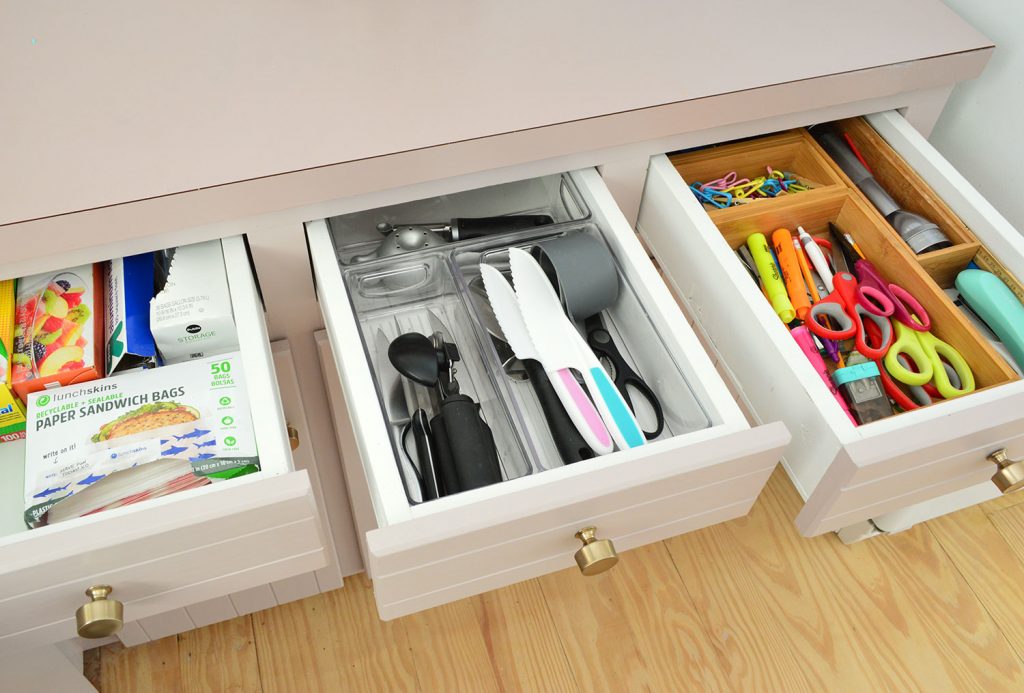 If you remember our old junk drawer (below), this new one is greatly compressed. But before you think we performed some heroic feat of de-junking our lives, we actually just moved some of these functions to other places. Like our batteries and crazy glue are now in those aforementioned tool drawers. Our stamps and address book stuff is in the dresser by our front door (you can see that here). We still did a lot of paring down, but rest assured we still have plenty of junk.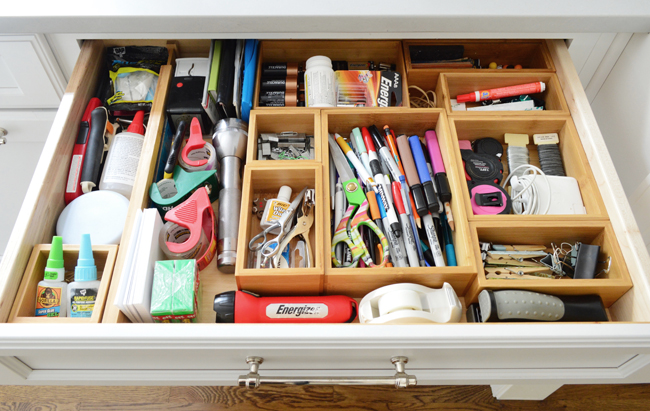 Back to our current cabinets. These were the three you saw in our painted cabinet post last week. These white plastic Ikea bins fit nearly perfectly in each opening and help to create some distinct organization zones. We've got some random overflow snacks in one, glass food storage in another (although most of it is in use in the fridge since our leftover game is strong these days), and our spices & other oils/vinegars in the last one.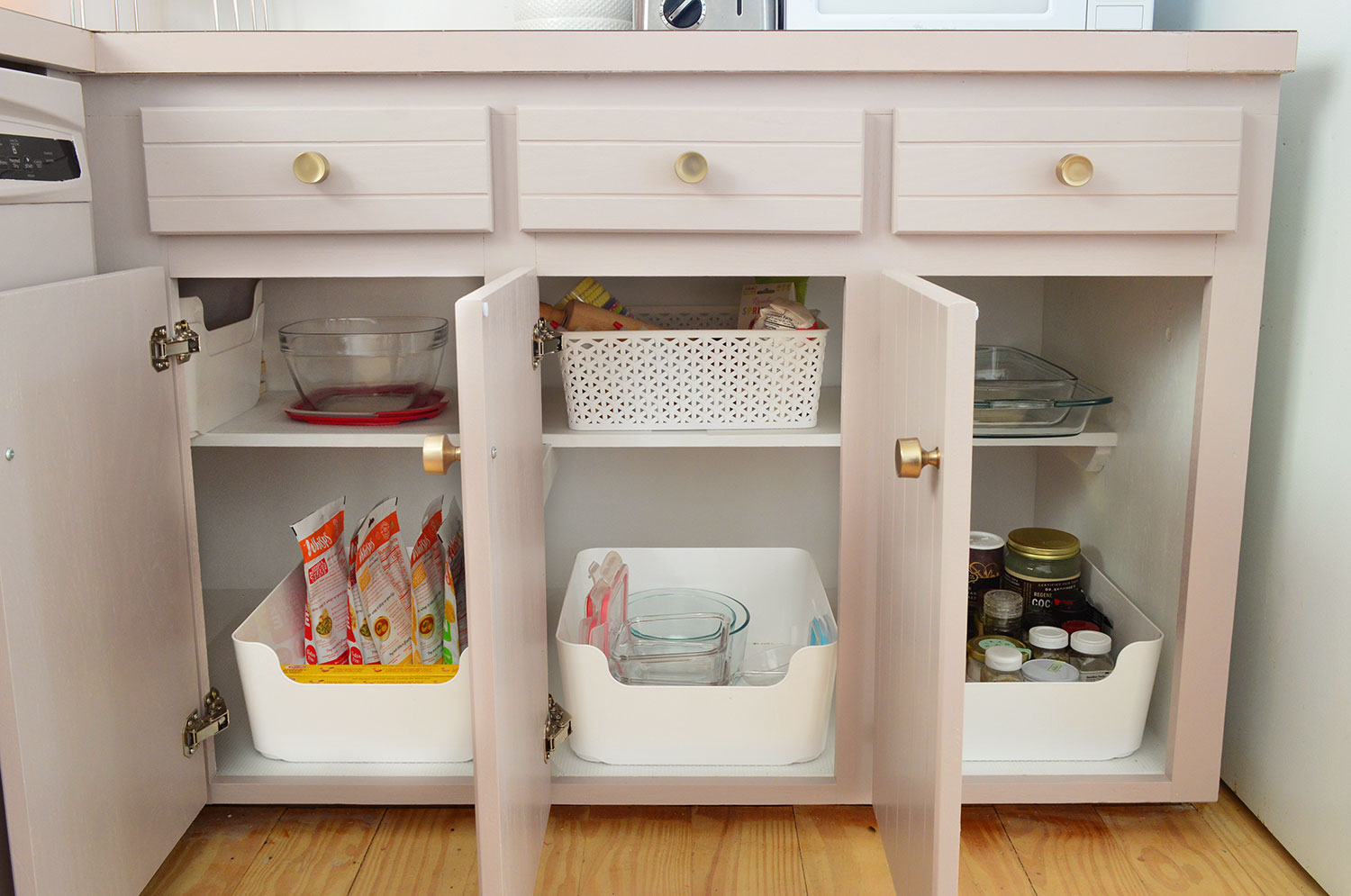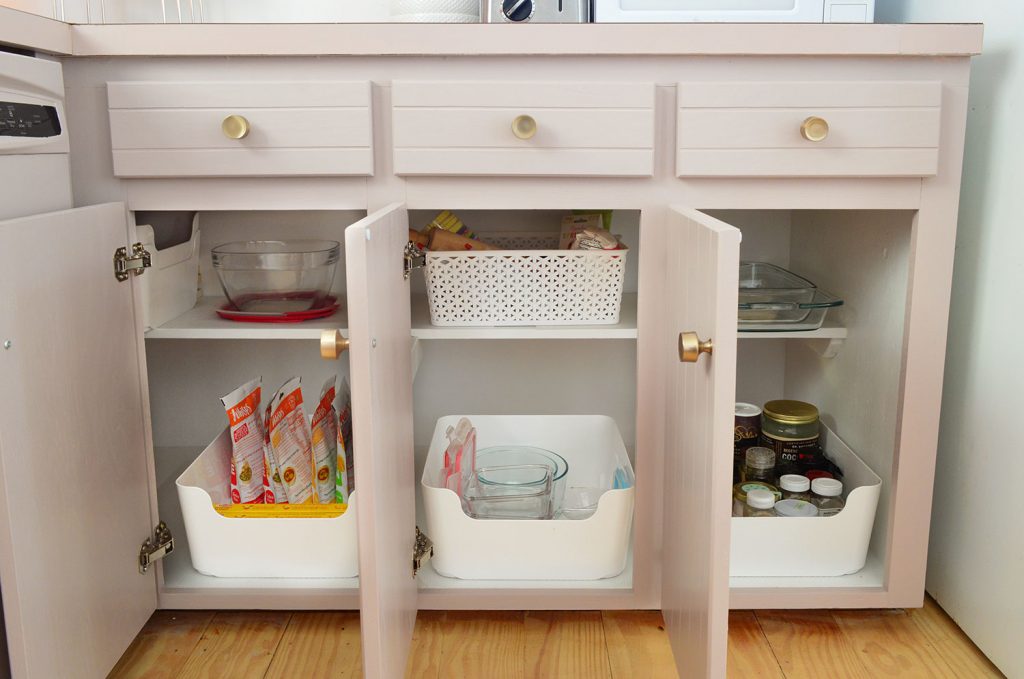 On the upper shelf we've got some more glass cookware/food storage stuff as well as another plastic bin that holds our baking stuff. The cabinet does extend back into the corner behind the dishwasher, but it's super awkward to get things back there so right now it just has some spare empty bins. Because by now you know that Sherry has nothing short of a storage arsenal.
Speaking of even more storage, we've received requests to see how we organized the bathroom sink cabinet and our linen closet right outside the bathroom, as well as the HVAC closet to the left of the stove, so maybe we'll get a post together with those details sometime. One thing's for sure…. THERE WILL BE BINS!
P.S. You can catch up on our entire Florida house reno right here. From our bedroom, the kids' rooms, our family room/office, our bathroom, and some pretty major outdoor updates, it covers a lot of ground.
*This post contains affiliate links, so we may earn a small commission when you make a purchase through links on our site at no additional cost to you.