In case you haven't had a chance to listen to this week's podcast or read the transcript, we wanted to put our big news into an actual blog post. This is one of the biggest life changes we've made in the last decade, so we want to get everyone up to speed. And a huge thank you for all the support and encouragement you've shared for this new adventure of ours. We can't wait to live with less, be outside a lot more, and eat even more fresh-caught shrimp than we ever thought possible. And yes, to everyone asking – we definitely plan to share more about downsizing, moving, renovating, and even things like feeling at home in a brand new area.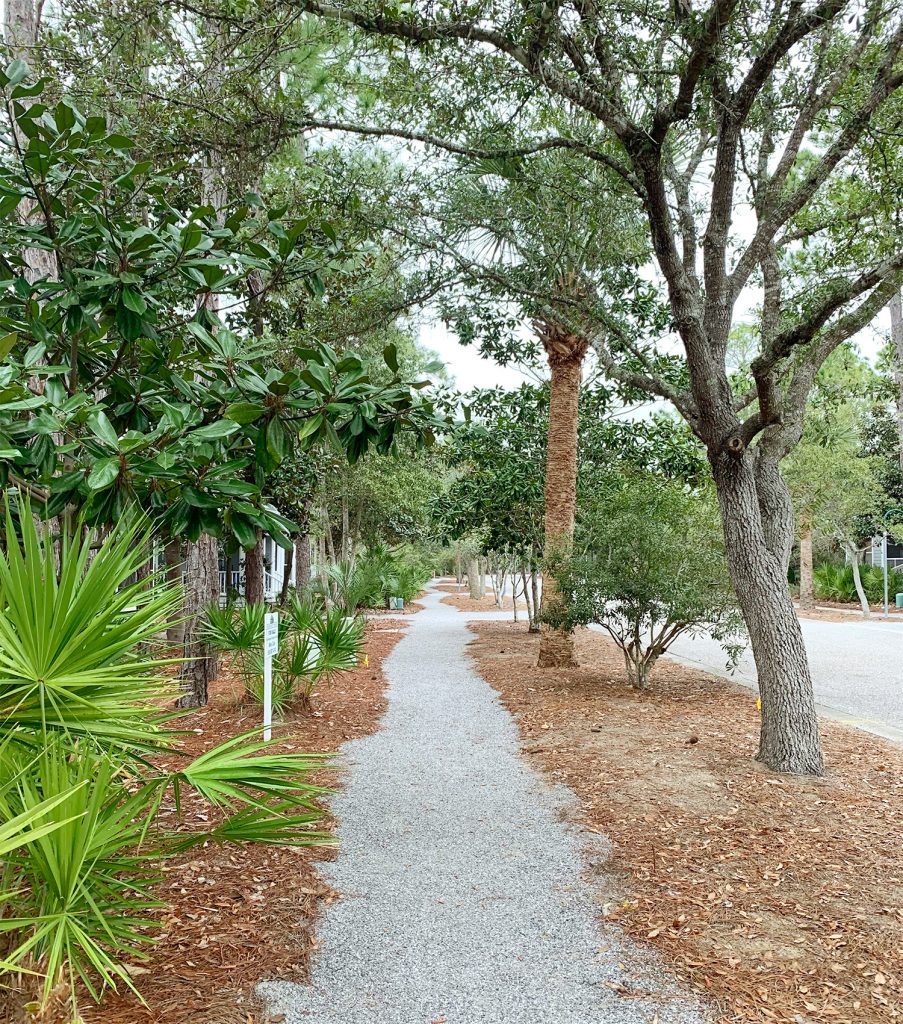 Wait, Is This An April Fool's Joke?!
Nope! We're officially moving to Florida! Seriously. Like full-time. We know it probably sounds insane and rash, but it has actually been something that we've talked about off and on for years. We kept chickening out for various reasons, the main one being that we've got so much established here in Virginia. We've lived in Richmond for 14 years. We've been in our current house for almost 7 years. We have lots of family, friends, and neighbors here that we love and will have a hard time moving away from. But there are some reasons why we finally feel like this is the time to go for it – as big and crazy as it may sound. Or, as Sherry so eloquently stated on the podcast: the time came for us to poop or get off the pot.
Where In Florida Are You Moving?
This was probably the #1 question we got! We've pinpointed a spot in the Florida panhandle that feels like a great fit for our family. It's the Northwestern part of Florida on the Gulf Coast, so it has that super beautiful blue-green water and it doesn't get as hot as some of the more southern areas of the state (although, our family loves hot – hence always vacationing somewhere like Florida, which we did for our last four Spring Breaks, or even going to Costa Rica this winter).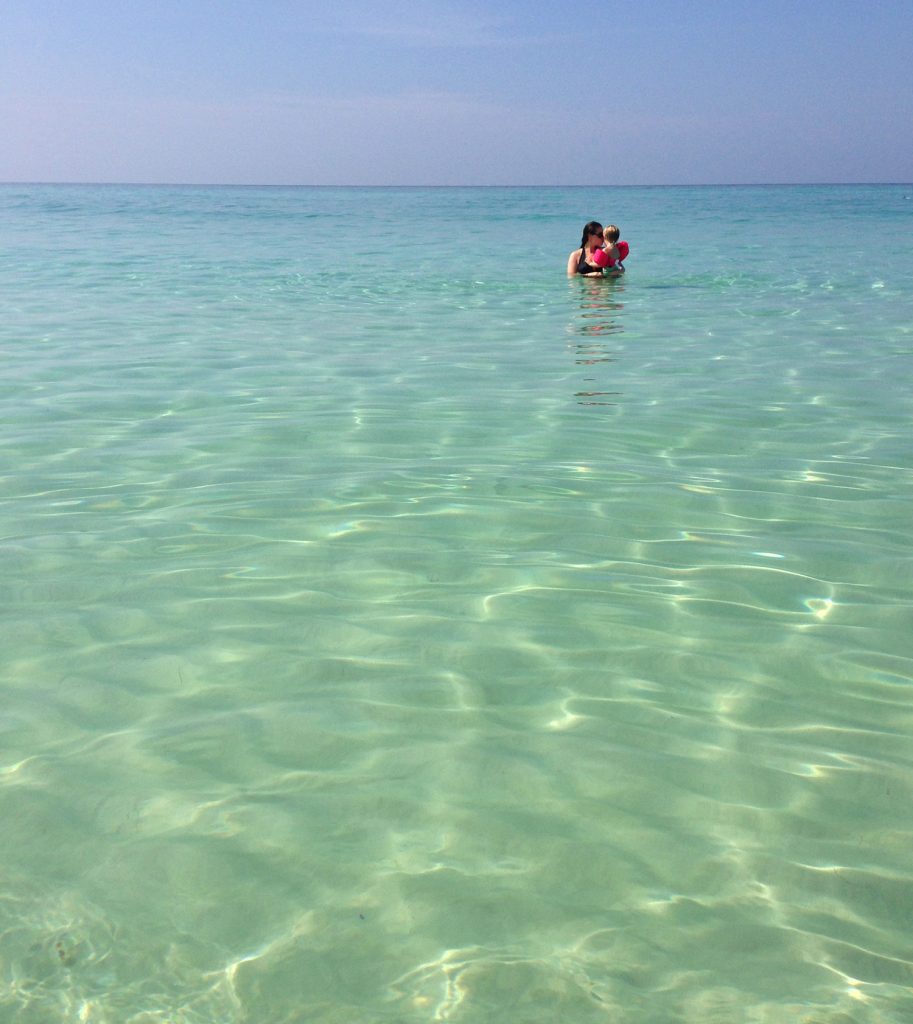 We're not ready to be more specific about the area since we don't officially own the house yet (our offer was accepted but we haven't closed). The house is vacant right now & not secure yet since it's such a fixer-upper, so it feels unwise to point a big glowing arrow at a smaller region on the map right now, but we're sure we'll share more info about the general area down the road when it feels right. There were a LOT of guesses from you guys that it was Destin, since that's the airport we flew into and we'd previously vacationed there (the picture above is from that trip). We did check out a few houses there, but it's not where we ended up finding "The One." Oh geez, now I've already said too much :)
Why Move? To Simplify!
The thing that really sold us on the idea of moving to Florida is the very basic idea that we could have one smaller house that checks all our boxes, and checks them year-round.
Spending summers at our beach house in Cape Charles (shown below) has made us really fall in love with the lifestyle out there: being near water, being somewhere that's walkable to shops/restaurants/the park, and having a bit more of that small-town urban feel versus the suburban feeling that we have now in Richmond. So while, yes, being close to a beach is one goal of the move, it's not about trying to be on some permanent vacation with our toes in the sand 24/7. It's about the general lifestyle we seem to embrace in an environment that's more relaxed and encourages less driving, less errand running, and more quality time. Small-town walkability, especially to locally owned shops is just magical to us.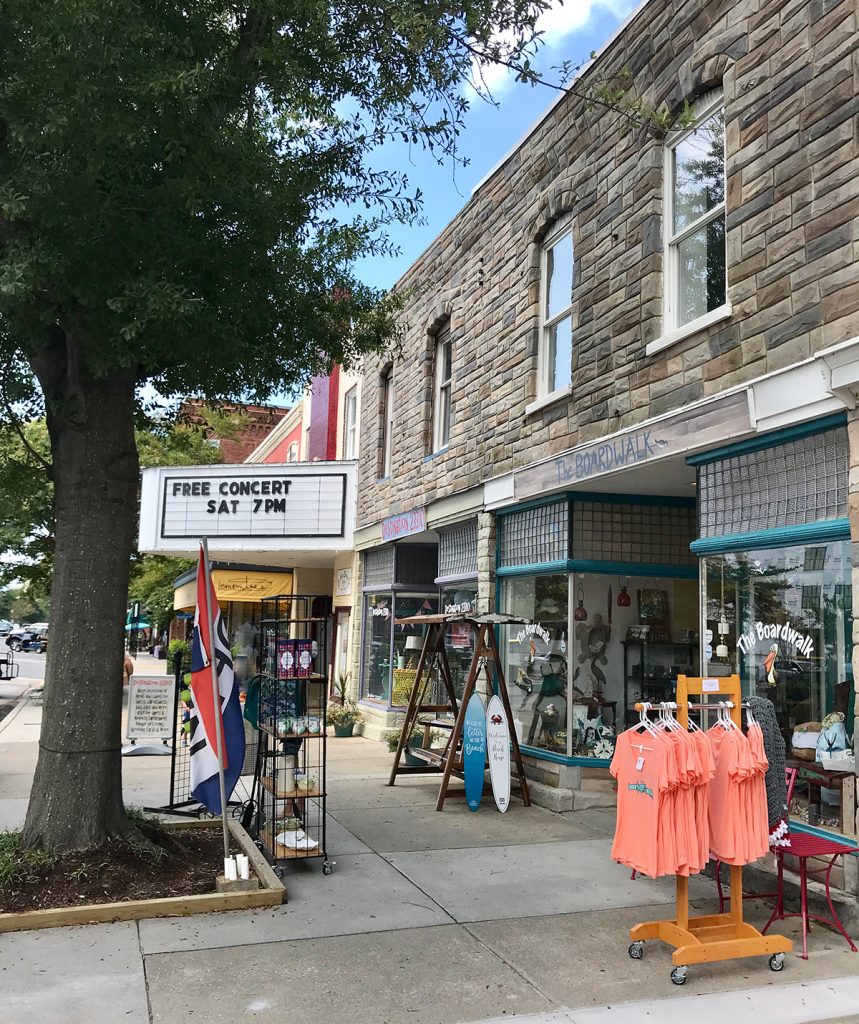 We definitely considered moving to Cape Charles full-time, but the thing that kept holding us back was the weather. Because of the climate here in Virginia, we'd only really get to enjoy the things we love about Cape Charles for maybe 4 or 5 months out of the year. In the colder months, it's less comfortable to be outside, there are fewer people out and about, and even a lot of the shops and restaurants that we walk to are closed for the off-season. So if we could magically drag out the Virginia summer to last most of the year, I think Cape Charles would be a near-perfect option for us.
That's why Florida kept catching our attention, year after year. We're not kidding ourselves that Florida = some magical perpetual summer with no cold days. But we knew that extending our current 4-ish months of summery weather in Virginia to the 9-10 months that occur in the area of Florida that we found would be a big improvement for our sun-loving family that just wants to be outside walking around.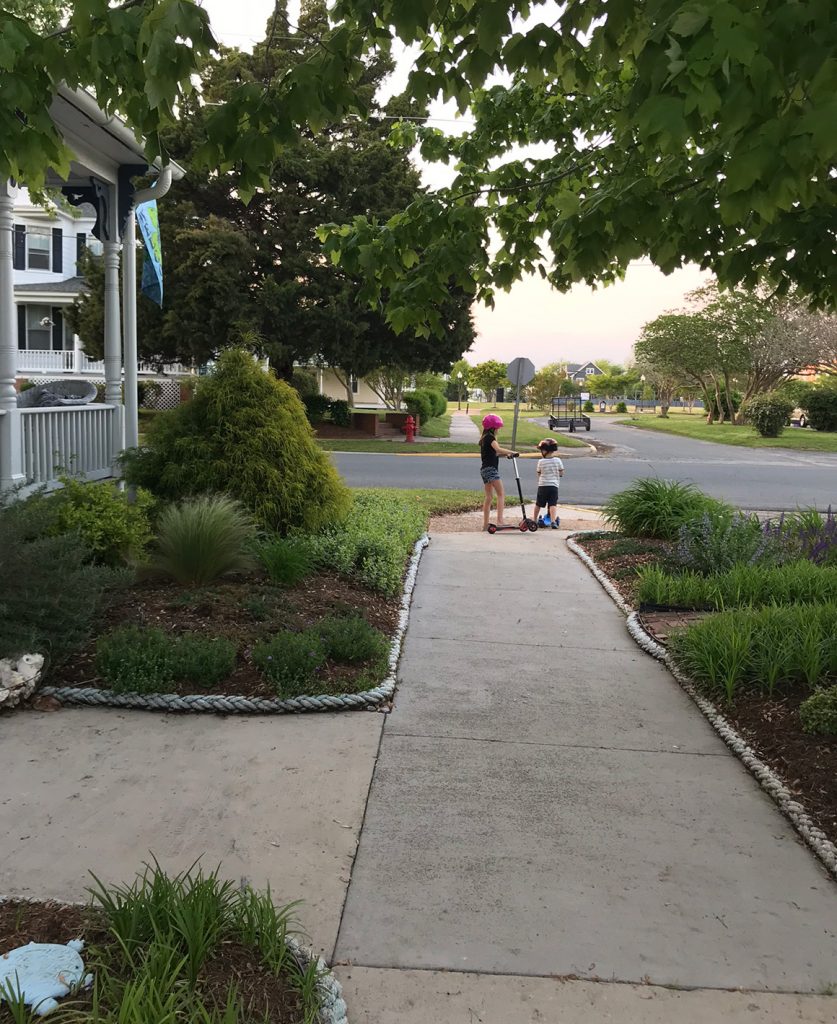 Not only did Florida feel like it could check the boxes of Cape Charles (warm, walkable, beachy), we also hoped it could check some of the boxes that we get from Richmond. You know, like having good schools nearby, lots of dining and shopping and activity options, and even those little conveniences that might sound silly but definitely contribute to our daily quality of life (like being near a Home Depot or a movie theater).
If we could find a place like that it would save us from driving back and forth between two houses that are 2.5 hours away from each other – and we'd get to own less/spend less/maintain less/clean less. Way less. Because as much as we're thrilled to be lightening our load by selling our duplex, we still have to maintain two houses, pay for two houses worth of utilities, care for two yards, etc. Again, I know it sounds like one of those "I'm playing a tiny violin for you" memes, but we have really come to believe that mo houses = mo problems. And we've talked about our simplifying goals for years now, so it felt like a chance to put our money where our mouth is.
Why Move? Also To Downsize!
In addition to simplifying our housing situation (no more multiples), we also saw this move as a chance to literally cut down on square footage (and yard size!). We confessed nearly two years ago in Episode #95 of our podcast that our current house in Richmond is too big for us. It's about 3,200 square feet and we feel like our beach house, which is closer to 1,800 works better for our family. Heck, even that feels big for us sometimes! Right now we just have much more space than we need or would like to maintain (both inside and out). And that has been something stewing in our brains over the last few years for sure.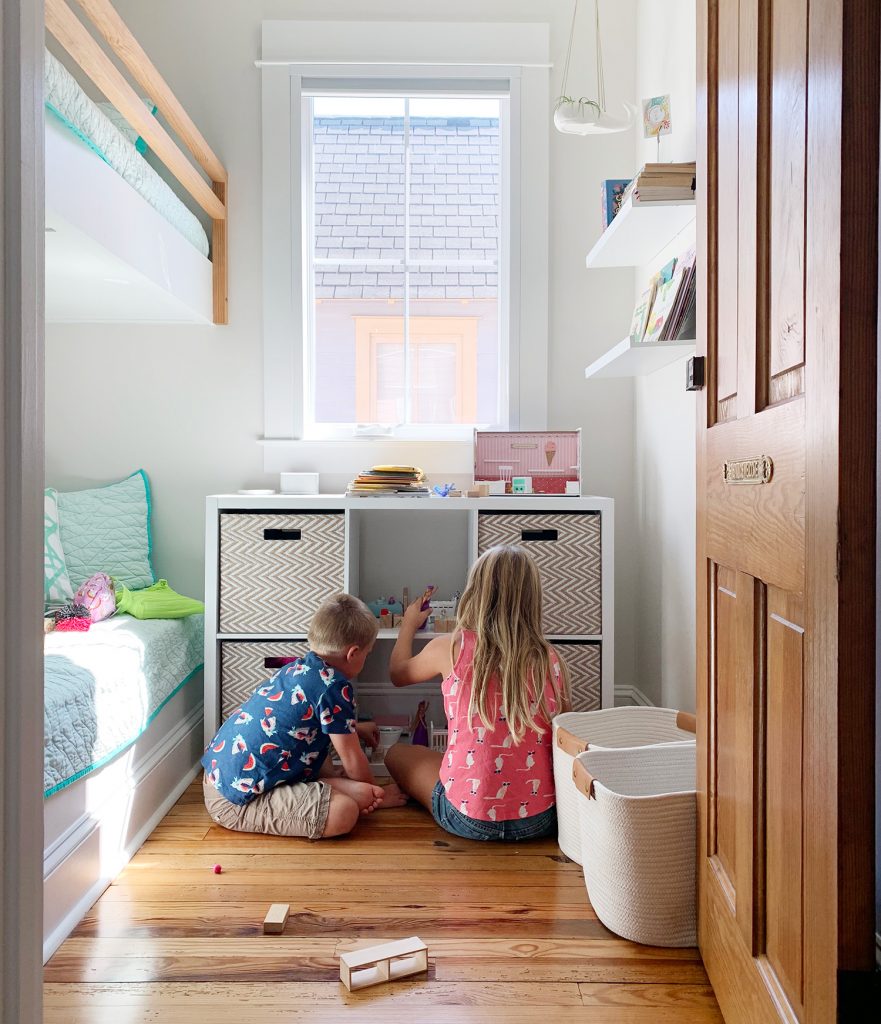 For a while, we didn't really know what to do about it. It's not like we're going to close off rooms or knock down portions of the house, right? One obvious option would be to move somewhere nearby into a smaller house, but it felt like a lot of trouble to pack up and move just to be in a smaller home but not have the warmer year-round weather that we were looking for. So we would daydream about moving into a smaller house in Florida, and then we'd talk ourselves out of it because we had planned on this home being a long-term house and a long-term community for us – and you know how hard it is for me, John "Spreadsheets For Days" Petersik, to deviate from a plan!
Why Now?
One definite reason that we finally felt confident enough to change our plans was the fact that we had just gone through another big change of plans recently: selling our duplex (that's all covered in Episode #160 – with a full transcript here). We realize the timing of this Florida news might seem like "Oh I get it, that's REALLY why they're selling the duplex…" And part of me wishes that HAD been the order of our decisions (it certainly would've made selling the duplex easier, ha!), but it was actually going through the process of selling that house that made us more open to idea of moving. Kinda like "if we can deviate from the duplex plan and be really excited about it, maybe we can deviate from other plans too." Taking one thing off of our plates and feeling that lightness made us itch to do more of that.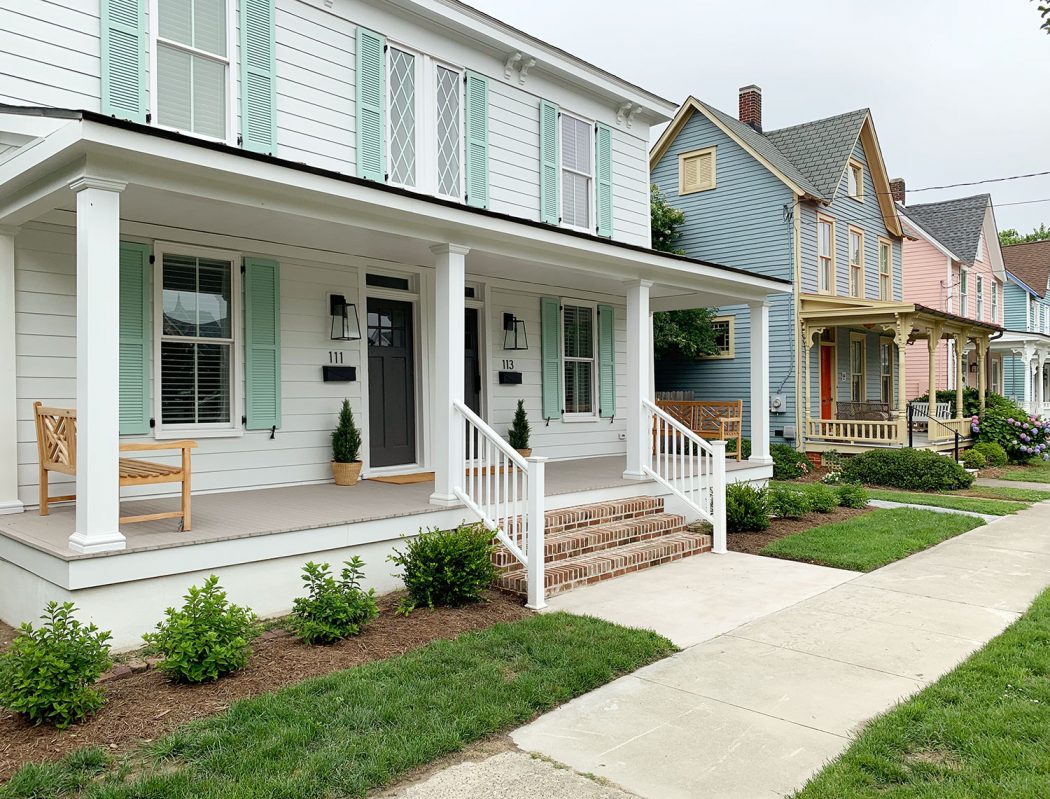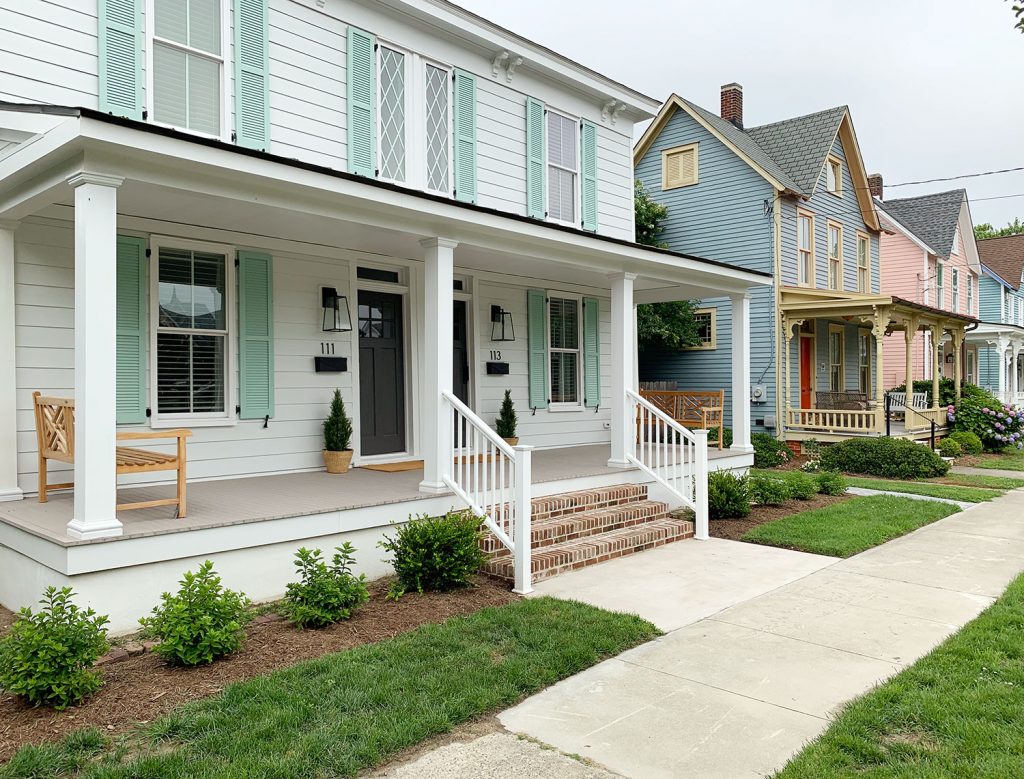 It still doesn't make changing plans easy. Because as much as we love the duplex, we love our Richmond house and our beach house even more. So it's not lost on us that this is a BIG change. We don't want to seem like we're downplaying it. But if we've been doing all this talking about downsizing and simplifying, and for the last few years we've been yearning for a more warm and walkable lifestyle… it just felt like the time to go for it instead of putting it off and talking ourselves out of it.
We mentioned that we've tossed around the whole moving-to-Florida idea on and off for a few years. It all started because some of our friends moved to Florida three years ago and they've been telling us what a great change it has been for their family ever since (they have three kids around our kids' ages). When they told us about their big move three years ago we were like: "That's so cool! What a big and ballsy decision! We could never do that…" But 2020 is the third year in a row that the idea has crossed our minds and each year we've taken the notion a little more seriously than the last.
Last year, after it came up for the second time, instead of just daydreaming about it, we actually took some time out of our annual Florida Spring Break trip (that's our Airbnb below) to drive around and look at neighborhoods. The idea still felt harebrained, but we wanted to see if we could find any street or neighborhood that we could picture ourselves calling "home." We were in the Fort Lauderdale area last year, and for whatever reason, we just didn't come across anything that felt like a fit for us. So, we tabled the idea for yet another year. We didn't mention it to family, friends, or you guys. We just assumed that was the end of it.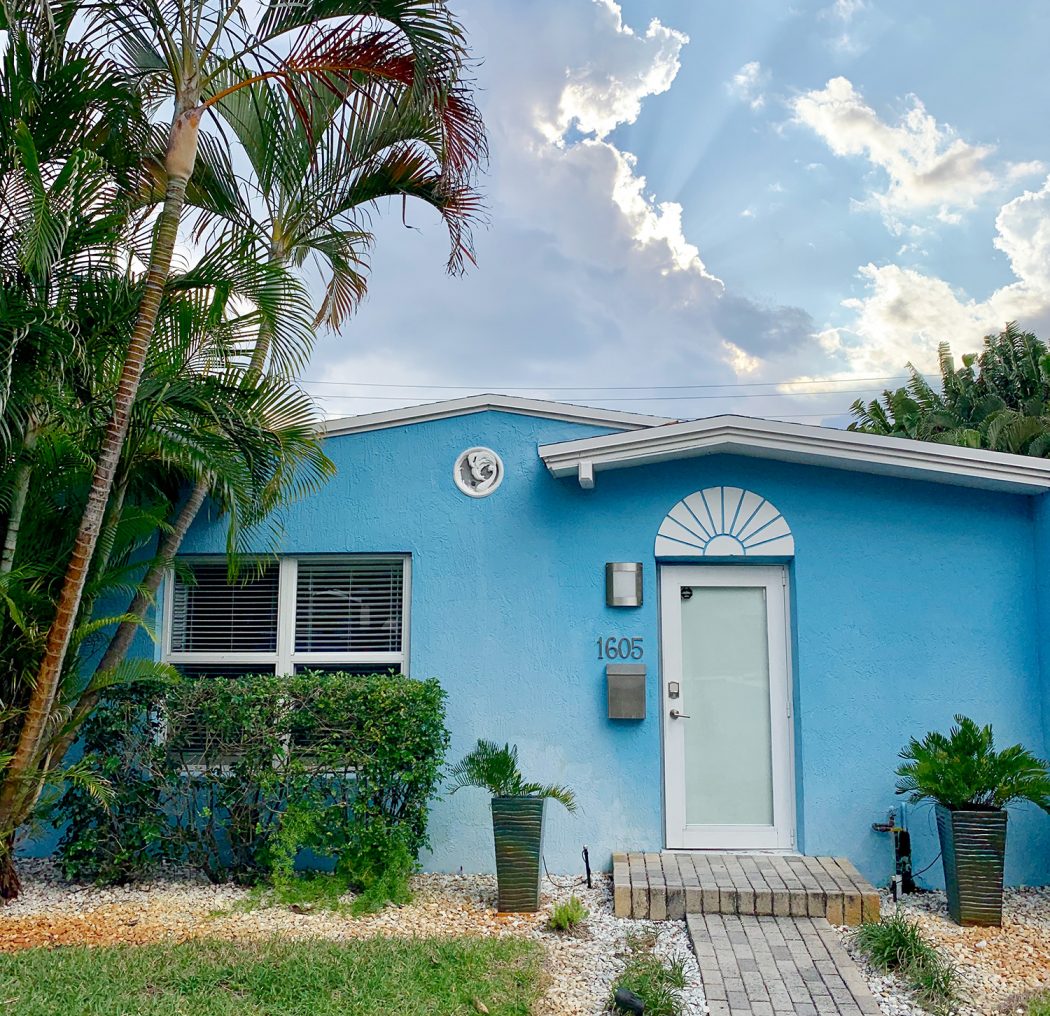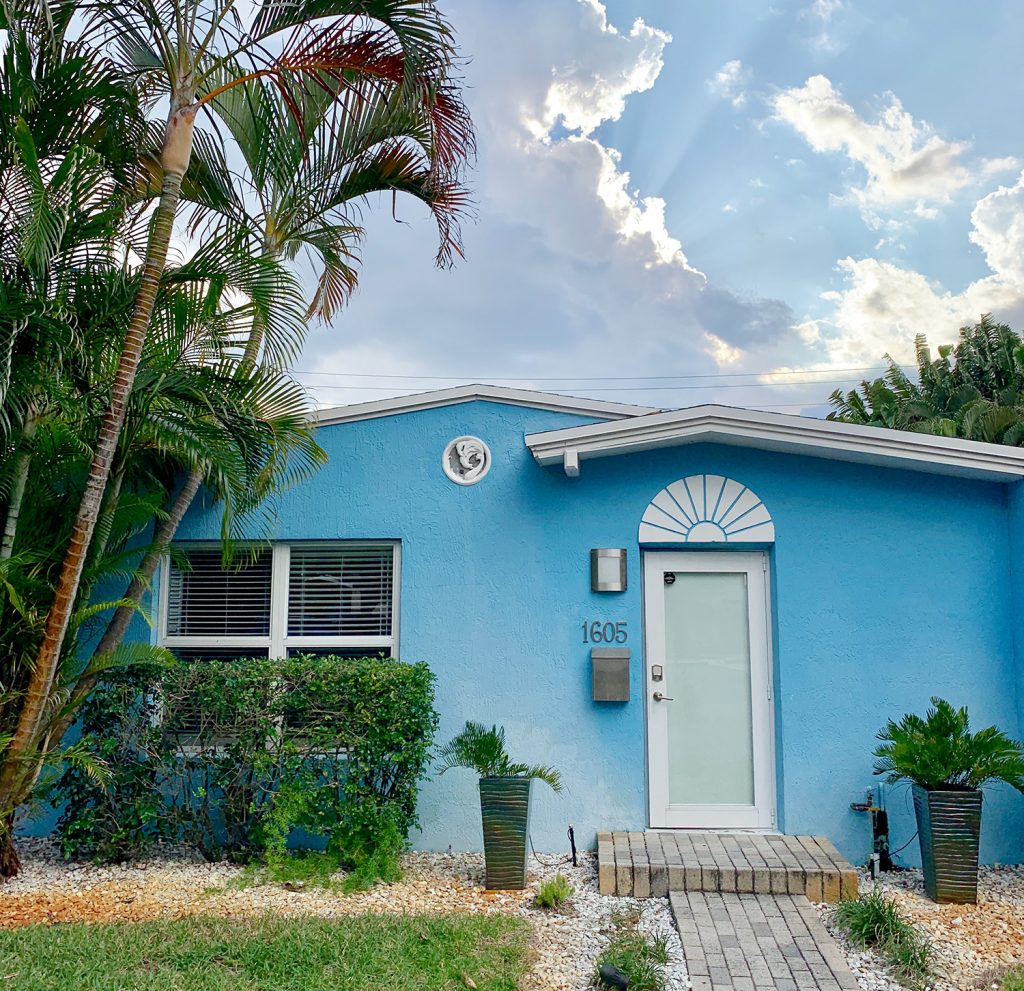 Then the idea bubbled up again last month. Like clockwork. Did it mean something?! Why did it keep coming around again?! And now that we were feeling a bit more emboldened by learning to pivot on our duplex plan, and feeling the lightness of letting that go, we felt like now was the time to decide: are we going to finally do this?! Or let it go once and for all?!
While that was what spurred us on to consider it more seriously this year, the reason we're deciding to actually move this year is based around our kids and their schooling. We felt like it would be best to transition them to a new community and a new school while they're still in elementary school. Our son is just in Kindergarten, but our daughter is in Fourth Grade – meaning we're coming up on her transition to middle school.
Here in Richmond, middle school starts in Sixth Grade, so we originally figured we had about a year and a half to decide if we really were going to move or not. But then we found out that in some of the places we were looking in Florida, fifth grade is actually housed in the middle school. So that kinda lit a fire under our butts because in case we ended up in one of those neighborhoods, we'd want to move before this August so our daughter could start Fifth Grade at the same time that everyone else is transitioning to a new school right along with her. Basically, if we were going to go, NOW suddenly felt like the time to act instead of twiddling our thumbs for another year.
Why The Timing Isn't Perfect
We'll be the first to admit that the timing isn't perfect when it comes to our house. First of all, we literally JUST finished our bathroom renovation and I know Sherry was counting on a lot more time to soak up (and soak in) her new tub. Plus we still have a hall bathroom that we have to renovate and we've wanted to add a back patio for years. We still had renovation plans for this house, things we could do to increase the value, and things we could blog about. We can totally see how this might look like, "oh because you finished your bathroom it's time to go – this has to be driven by blogging about DIY, right?!" but our house is not finished. I mean, we still have two seashell-shaped sinks to deal with. It's a lot of look.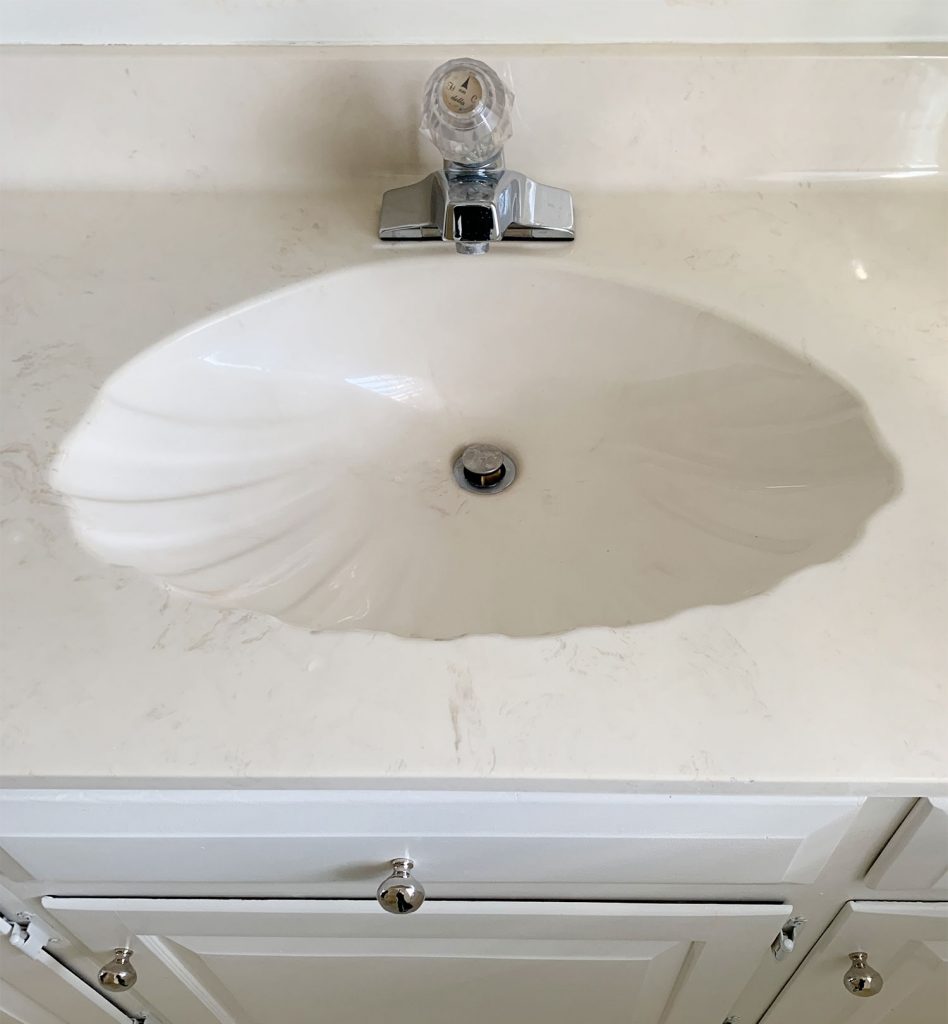 As a side note, there are much easier ways that we could scratch our perpetual itch to do home projects without moving (let alone moving 5 states away). And speaking of just finishing the bathroom of our dreams, we actually joked that there must be a curse when a blogger finishes their bathroom, because we watched our friends Chris and Julia move shortly after finishing theirs last year and we gasped right along with many of their readers at the time ("How can you leave that beautiful bathroom? Just stay there a little longer and enjoy all the work that you put in!") but now that we're in a similar position, we get it.
There are bigger life factors that drive where someone chooses to live and some of those are hard to communicate online. You know, a lot of us don't talk in-depth about our neighborhoods or schools or communities for privacy reasons, so it's understandably hard for people on the outside to see why we would ever live somewhere based on more than just a house itself. But in reality, you can love a house but just want a different lifestyle, location, commute, daily routine, climate, etc – something that has nothing to do with how pretty your four walls are. There are lots of things that go into why someone moves or stays put, and they're not all based on what the house looks like at all.
So, long story short, we know it's a hard pill to swallow that we just finished our bathroom (that we're reeeeeaaaally happy with, btw) and we're only going to get to enjoy it for another five months or so. But I think we've also realized that there's something funny about renovating houses that reminds you: You had the power to do that before, you can do it again.
How Did You Find The Neighborhood?
Earlier this month, Sherry and I took a little recon trip to Florida. Our friends (the same ones who moved there three years ago) invited us to stay at their house on the Florida panhandle so we could do some in-person house/neighborhood hunting – not only in their area but a few others that were a bit further away. We didn't share the trip on Instagram (hard as that was, especially since Sherry is extremely gifted at boomerangs) because we wanted to make sure that we were making this decision for ourselves and our family. It's obviously a really personal life change, and we wanted to make it privately, purely based on what we think is best for us (without being subconsciously swayed by anyone weighing in online).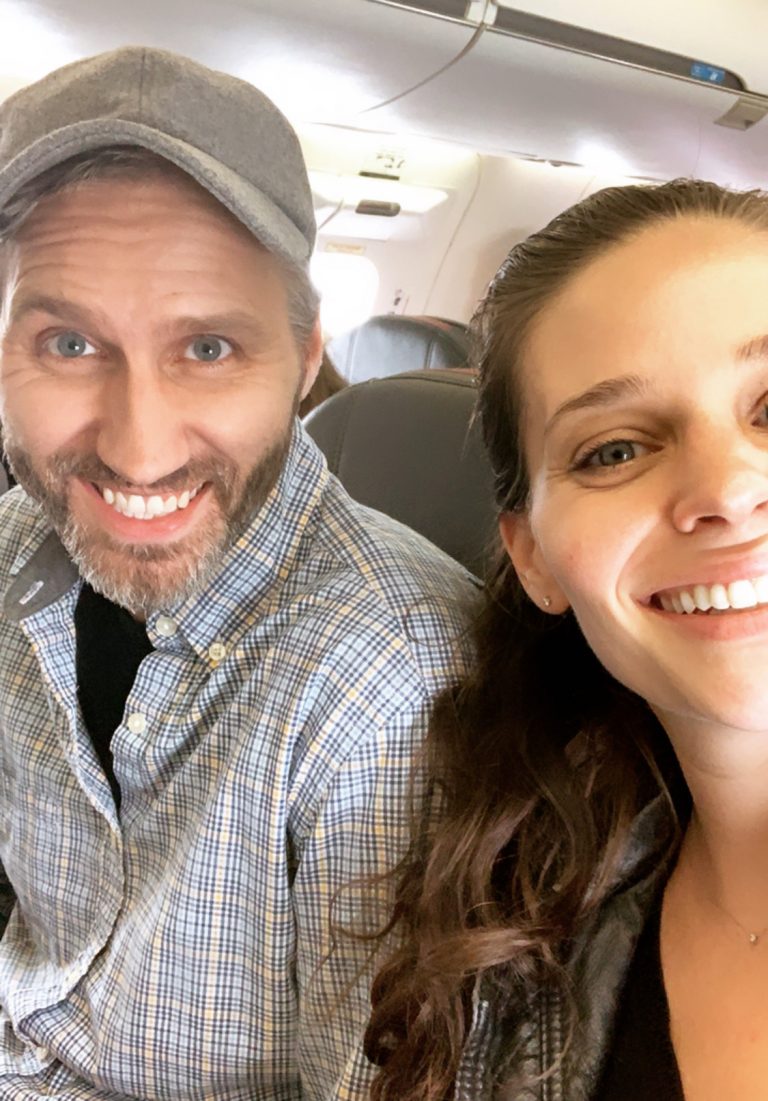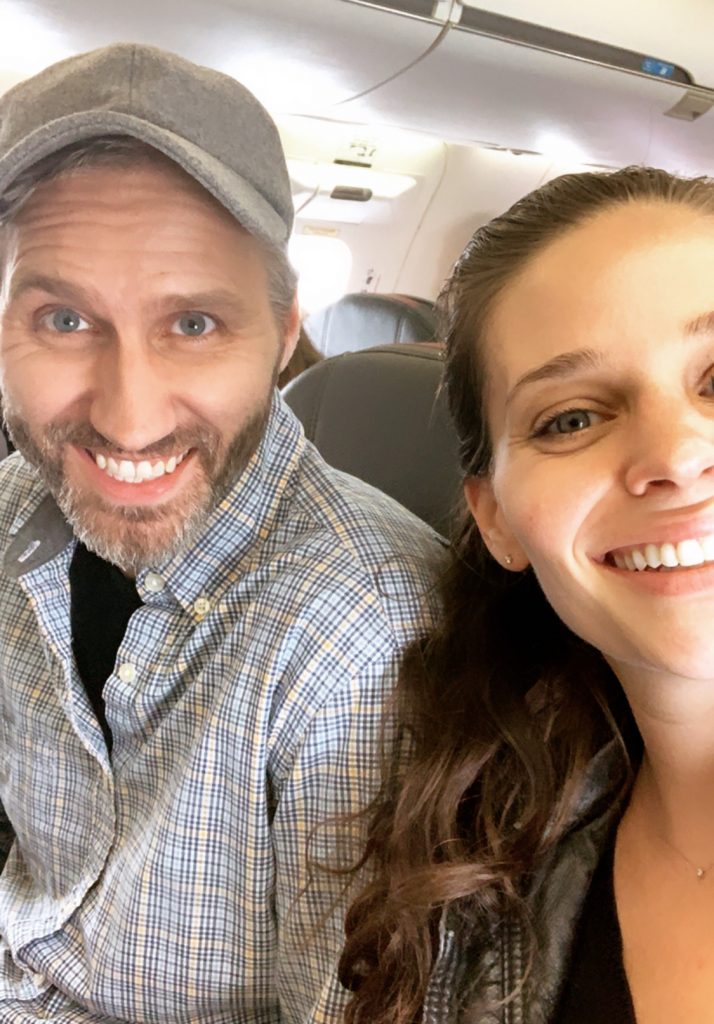 For 2.5 days solid, morning to night, we drove to tons of different towns, through various neighborhoods, went into over a dozen houses with a realtor, and even met with a contractor for his thoughts on a couple of fixer-uppers that we found. We checked out the schools, tested out walkability to the beach/local shops/restaurants with shrimp, and even road-tested the drivability to things like Target and the movies and the craft store (priorities people). Again, this is a BIG decision so we really tried to gather as much information and test our gut feelings as much as possible.
The trip was SO important because it's incredibly hard to judge things like community-feel or walkability from a real estate listing online. Before our trip, we had probably saved 75+ houses on our Zillow and Realtor.com apps that we wanted to check out in person (and yes I pinned them on a map so we could drive by them all AND made a spreadsheet of stats like square footage and number of bedrooms BECAUSE I AM ME). But despite our best efforts to scrutinize satellite maps and street views from afar – and even consulting sites that give "walkability scores" – most of the houses felt very different in person.
And actually, the neighborhood that we ended up falling most in love with was one that I almost wrote off entirely (!!!) based on the limited street view that I could see on Google. But in person, we loved how wooded and walkable it was. Not only is it right near the beach, it's walkable to so many shops, restaurants, green spaces, etc. We even saw a deer there – A DEER! NEAR THE BEACH! – which felt like a sign that we had actually found the place that checks the boxes of both Richmond (deer) and Cape Charles (beach).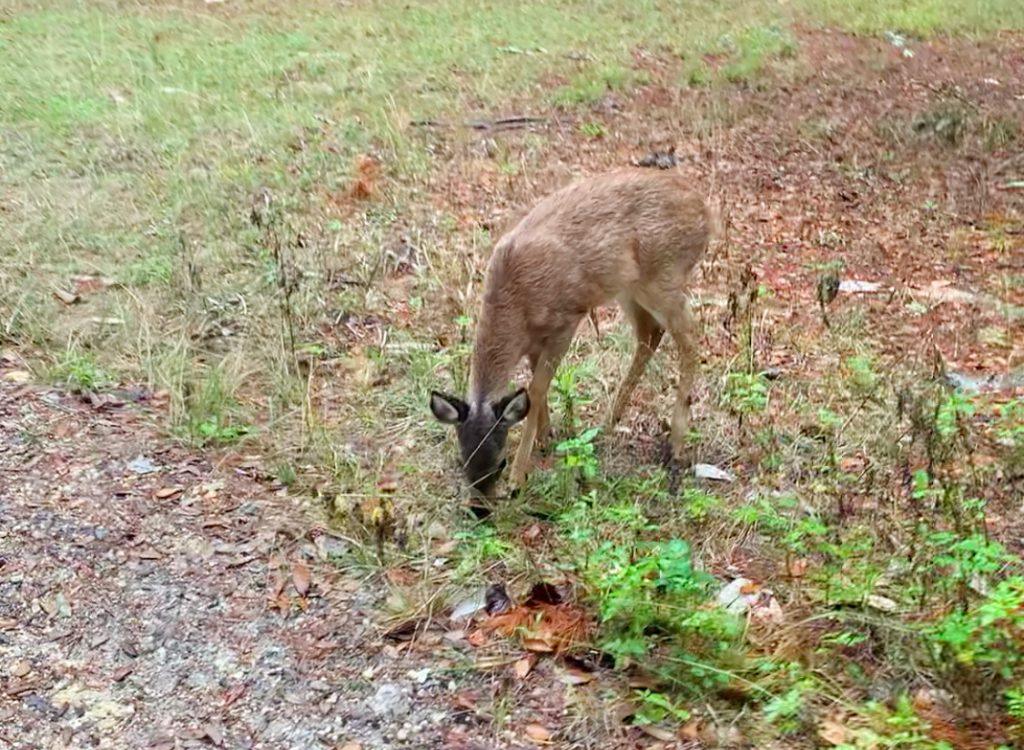 Falling in love with a neighborhood was a great first step, but we completely surprised ourselves by finding "The House" – and oddly enough we hadn't even "hearted" it during all of our extensive online searches back in Virginia! We almost didn't even see this house! Thankfully we stopped by to take a look at it once we realized we loved the neighborhood… which led to coming back the next day for another look…. which led to meeting with a contractor to get his thoughts on a few things…. which led to excitedly putting in an offer (just 12 hours before getting back on a plane to go home). And the next day on the tarmac, right after our plane had landed, we found out our offer had been accepted!
Tell Me More About The New House!
We're going to hold off on sharing photos or details of the house until we're officially closed on it (it feels jinx-y to say too much before it's 100% ours), but there are a bunch of reasons why we're so excited about it – including how it's helping us check the boxes of a warm and walkable location along with a downsized interior and exterior space near the beach.
The house that we're buying is less than half the size of our current house – so it definitely checks the "downsizing" box. It's actually closest in square footage to our very first home, which was around 1,300 square feet. As former NYC residents who literally couldn't fit a sofa in our minuscule apartments, we know that many people live with way less square footage, so while it's not a tiny house or a studio apartment, it's a big change from what we've been living with for the last 7 years.
We're excited for the challenge and think it'll be really good for our family – but we're also not kidding ourselves that it's going to be a challenge to get things pared down. We know from having lived at the beach house this whole summer that we can live with much less space and way fewer items, but getting there and making the choices about what we keep, what we don't keep, and what actually fits in these smaller bedrooms will be interesting to work through.
It's also a fixer-upper, which you know is our favorite kind of house. Right now it only has one bathroom and that bathroom doesn't even function (literally no water runs to this house – which seems to be a tradition for us at this point) but we have big plans to change the layout to create two full baths. Also, the only sink is currently ripped off the wall and sitting in the tub. And the HVAC system doesn't work. And there are holes and buckles in the floor. In fact, we're pretty sure the seller assumed whoever bought the house would just bulldoze it and build something bigger on the lot (it's in a really great location), but we're so excited to save this charming little beach house on this charming wooded lot.
Speaking of the lot, the yard is definitely smaller too, but in the best way possible. We're going to have about 90% less outdoor space to maintain than we have in Richmond. Literally, we are going from an acre lot to a tenth of an acre. While there's definitely something beautiful about a big sprawling yard, the pink house's tiny but lush & private lot has taught us that we LOVE smaller yards in a more walkable neighborhood (the park you can walk to – and the beach – they're your yards too!). And this lot is wonderfully wooded and lush. Added bonus: no lawnmower required. Seriously! Also remember: beach deer!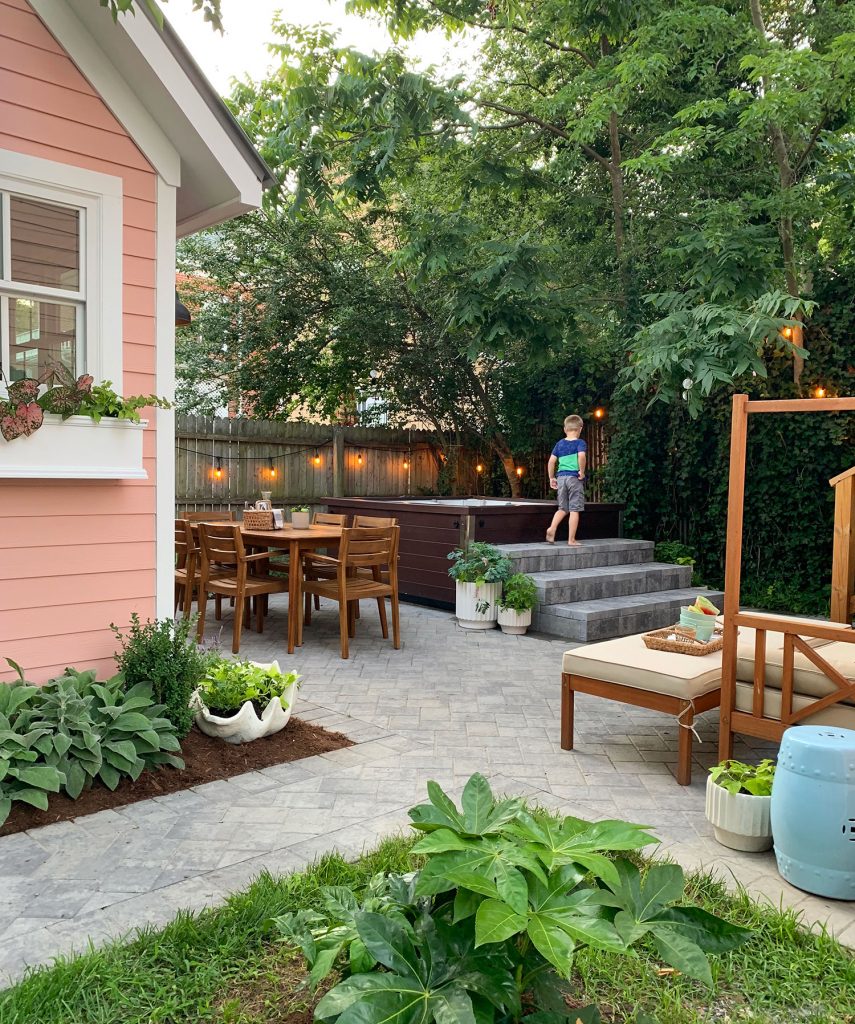 We even have long-term plans like adding a pool and a small guest house for our friends & family (basically a glorified shed – you know how much I love a shed) since this house is significantly smaller than our pink house, so there are only enough bedrooms for us. Actually it currently only has one technical "bedroom," but we'll have three after some layout tweaks that we planned with the contractor the day we met him at the house. That's why it was important for us to meet with him during our visit, so we could make sure we felt good taking the initial steps to get this house to a safe and livable condition from afar. Having someone we could trust to fix the holes in the floor, create operable bathrooms that actually have running water, and replace the broken HVAC system before we descend on the house with our kids and our dog and a big old moving truck is key.
Obviously, the best part about our new house has nothing to do with its current condition and everything to do with the fact that we were able to find a place that has that small-town community feel in a warmer climate, where we can walk a few blocks to the beach, shops, restaurants, and even a legit grocery store – twelve months out of the year! Other than our lives in NYC where we could walk to little corner bodegas, we've never been able to walk to a grocery store – so that's oddly exhilarating to us.
You're Selling Your Houses?!
Obviously, the other side of this change is that we will be selling both our pink beach house in Cape Charles and our home here in Richmond, which is extremely bittersweet. As much as we are excited about this next phase and the new adventure, it's sad to leave these houses that we love deeply and that have meant so much to our family. But we feel like we can treasure what they are and what they've meant to us and still move on to something else. Heck, we still have an emotional attachment to our first house (where we got married in the backyard) and we haven't lived there for a decade!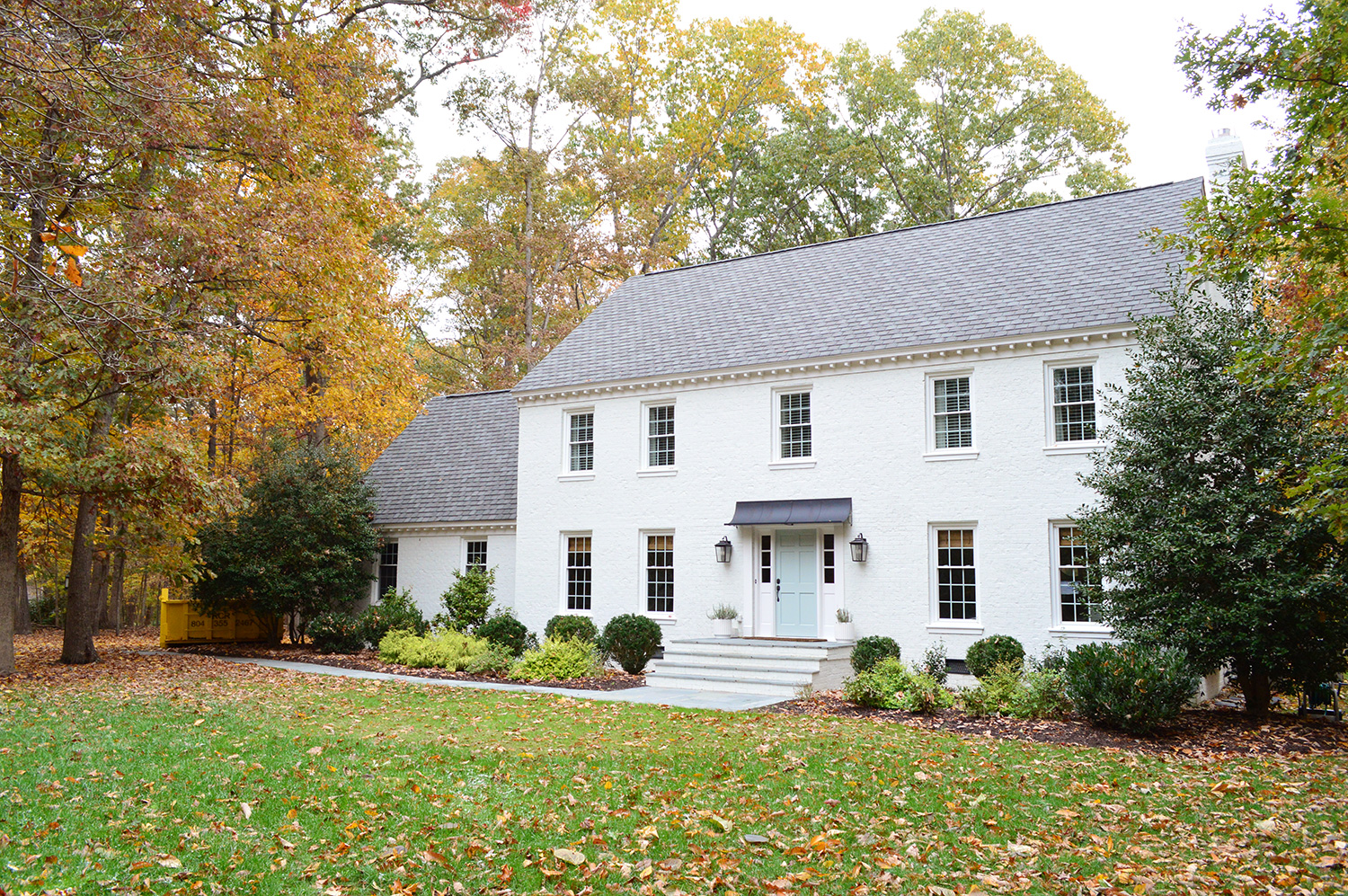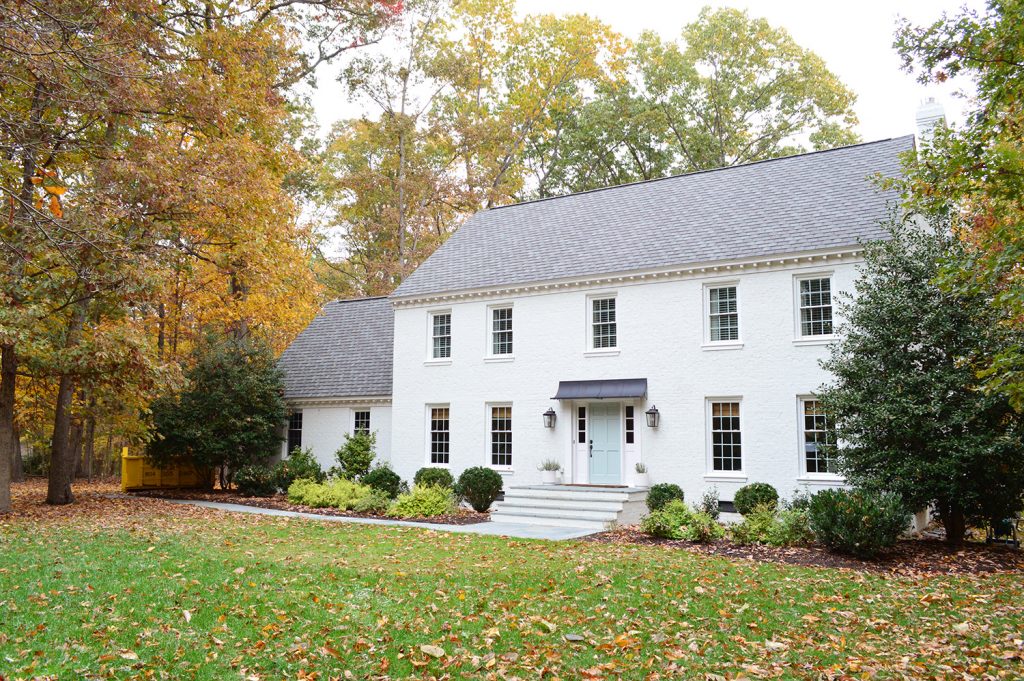 So we're definitely feeling all of the emotions of closing this chapter in Richmond. We plan to stay here through the end of our kids' school year (mid-June) which also gives us time to get the pink house and our house in Richmond ready to sell, sold, and all packed up. It also gives our contractor some time in Florida to get our new house in livable condition.
What About Your Family & Friends?
Hopefully, it goes without saying that one of the toughest parts of this move is leaving our friends and family but we're definitely going to come back to Richmond to see the people we love here – and they've already called dibs on staying with us in Florida… and we haven't even moved yet! So we plan to host lots of them and hugely appreciate their enthusiasm for a free place to stay near the beach ;)
Their support for this next chapter of ours has meant so much to us. My parents have already volunteered to drive the moving truck, and my dad can't wait to hit the bike paths there with me. It probably bears mentioning that our families are also already accustomed to being spread out around the country and traveling for family events and holidays – so that gives us some really nice reassurance too. My little sister's family and Sherry's mom are on the West coast, Sherry's dad and brothers are in New Jersey, and my oldest sister and her three kids are in New York City where they've lived for the past decade. So we already have great examples of how other members of the family have stayed connected – even when they don't live in the same state.
How Do Your Kids Feel About It?
This was another popular question yesterday, partly because some people were saying they'd have a hard time making such a big change if their kids resisted it – but in our case our kids have been campaigning for this longer than we have. They pretty much beg to permanently move to just about any warm beachy place that we go on vacation (remember how long we've been going to Florida on spring break – it's a pretty constant refrain). So we haven't had any trouble getting them excited for the move – but honestly if they didn't want to do this (or we didn't think this was the best thing for our whole family) we wouldn't do it.
Sherry and I have seen how they thrive in a simpler, more outdoor environment like our beach house, so we knew this move would be good for them. And it certainly made the decision easier seeing that they felt the same way. We are literally working on patience for the move with them, not excitement for the move. They have that in spades.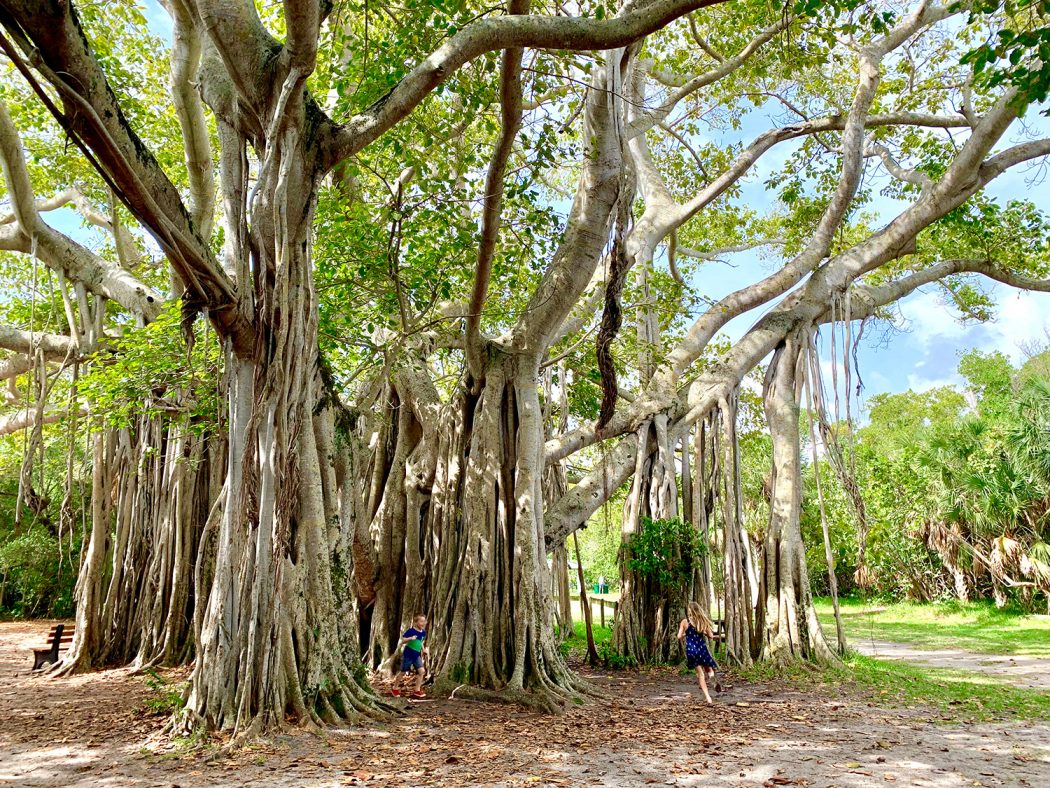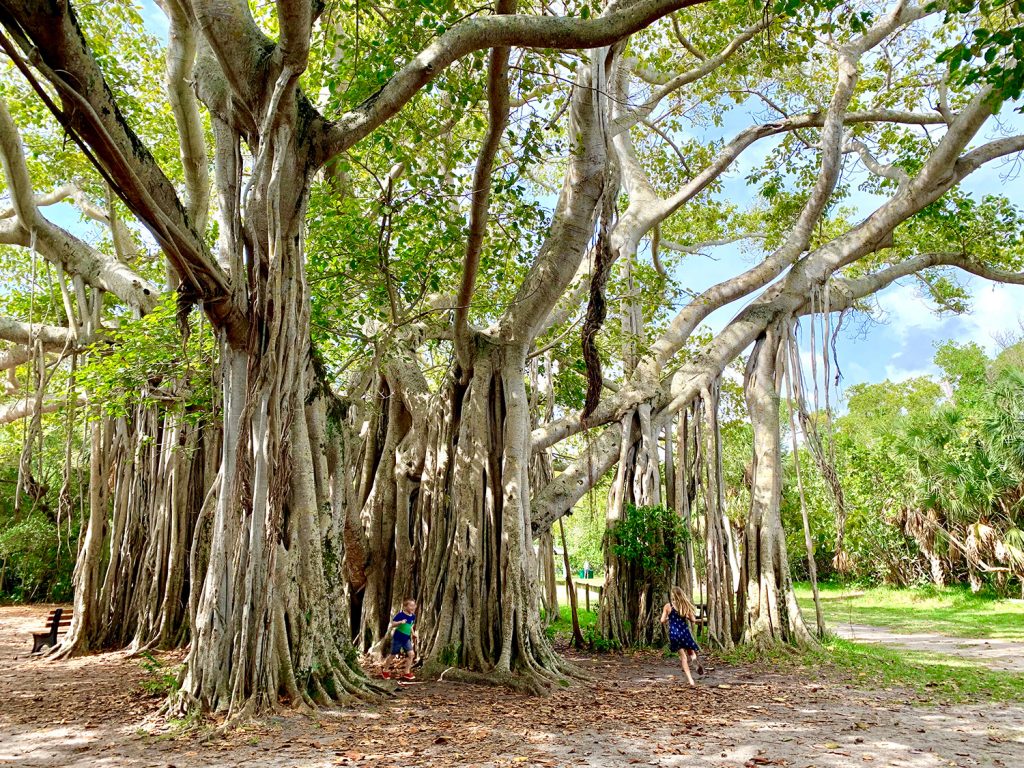 Long story long, we've got a giant mixed bag of emotions about this whole thing, but the overarching feeling is excitement for the life ahead. It's scary to make big changes, but we're eager to take action on some of the things we've been feeling (and thinking about) for a long time.
When we told one of our friends they said: "I'm just surprised you didn't do this sooner. You can work from anywhere. You're such beach people. This feels SO YOU." And that was probably one of the best things we could've heard – especially from someone that we were so nervous to break the news to. Then they asked when their family could come stay with us. Jackpot.
I'm sure there are details that we missed and questions you might have. We may not have all of the answers yet (like when our houses will be for sale – probably within the next few weeks but we're not fully sure) because this really did all just come together this month. But we're really looking forward to sharing this adventure with you. Now if you'll excuse me, I'm off to google if BeachDeer is an available license plate in Florida…