While putting together our house's before & after page and paint color/source page last week, we realized that the photos for a couple of rooms were already looking out of date. One notable example was our upstairs family room, which has gotten a few important additions since we first shared it back in July. Can you spot them?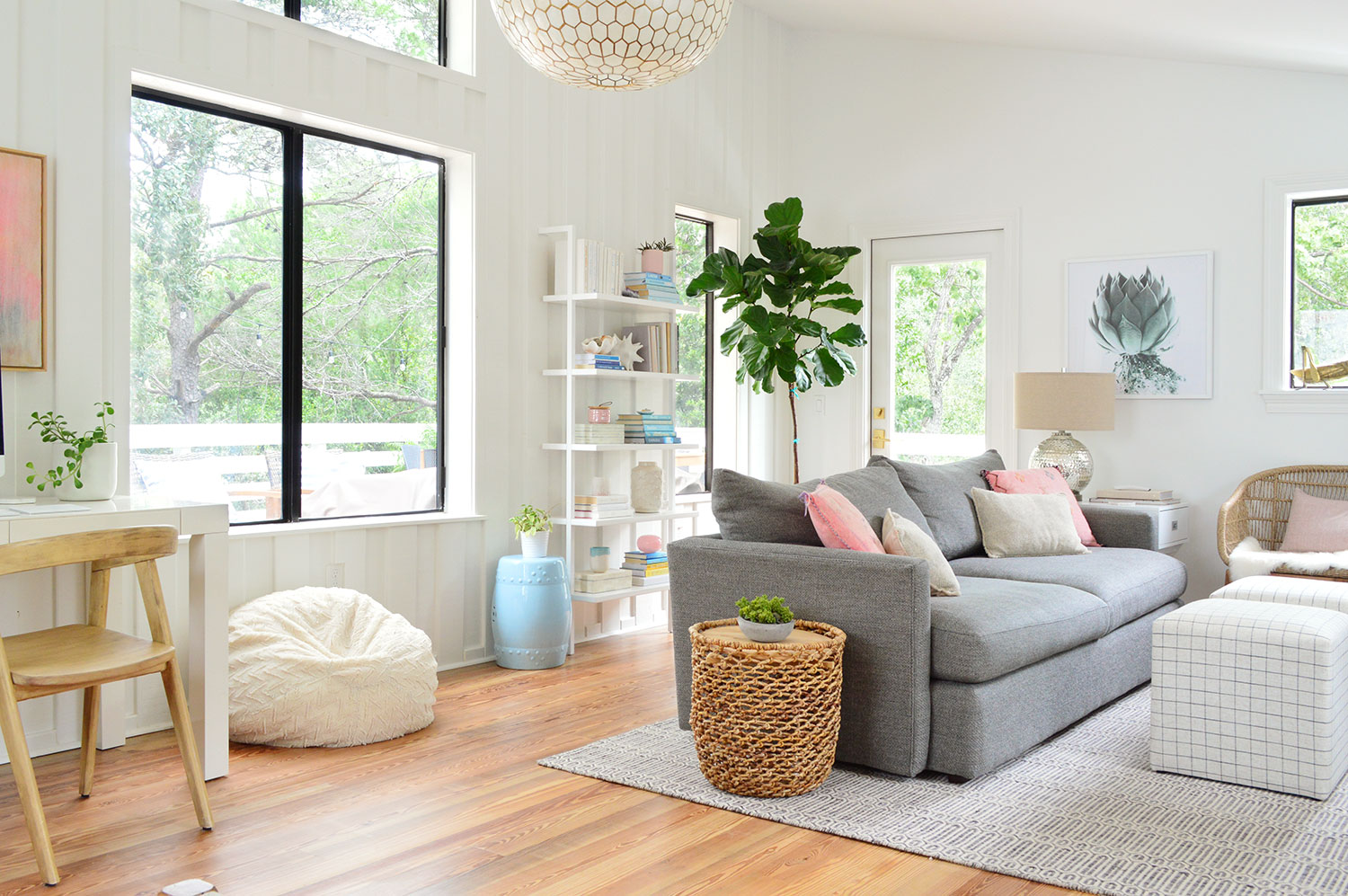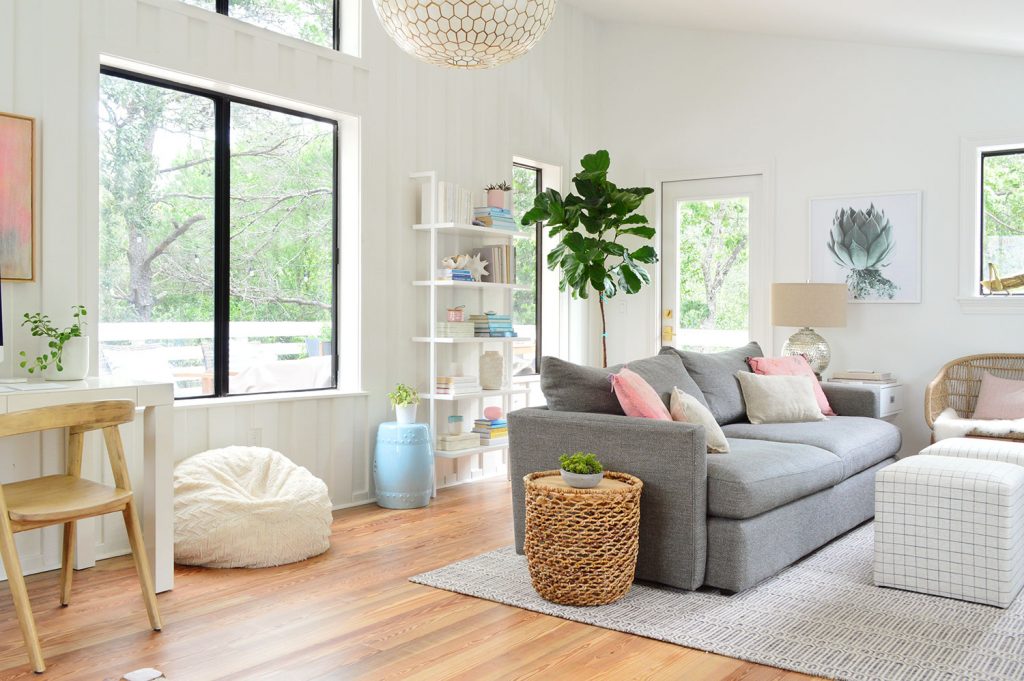 Probably the most prominent update is the addition of this oversized capiz globe light that has literally been in Sherry's mood boards and Pinterest pages for years. It's probably one of Serena & Lily's most well-known designs, but we've never had a spot where it made sense (or could fit!). That is until we found ourselves owning this living room with generous vaulted ceilings (they're around 10′ tall at the peak).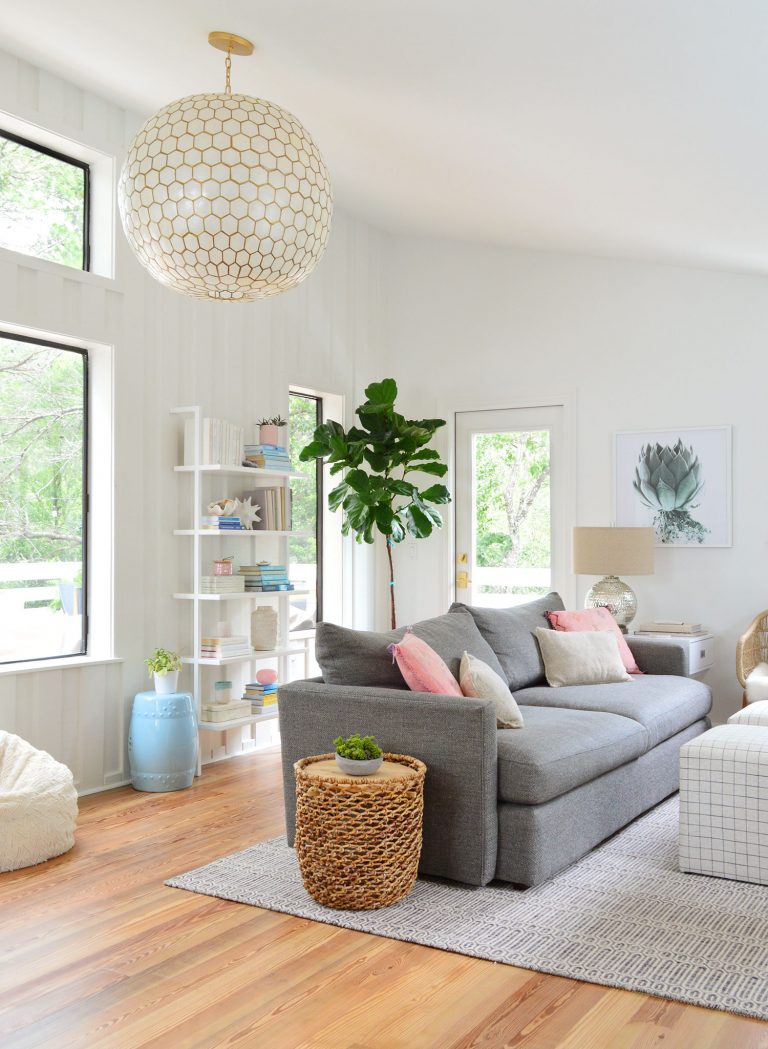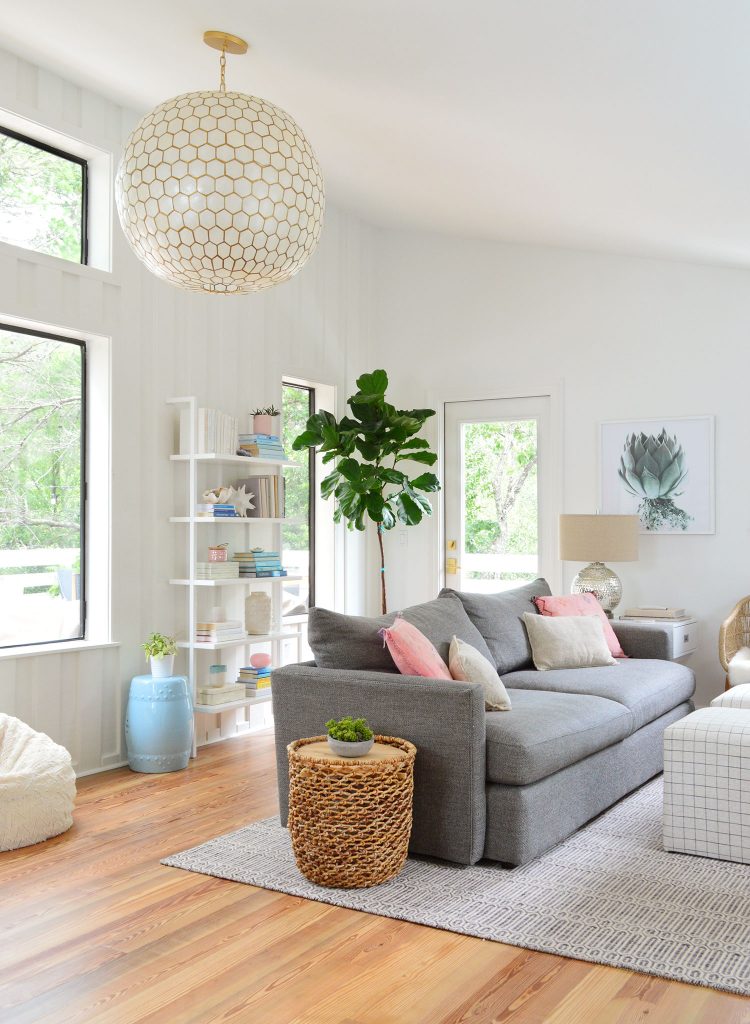 The light actually comes in three sizes (10.5″, 22.5″ and 29″ diameters) and this is the largest of the bunch (go big or go home, right?). It's hard to capture the scale in photos, but we did snag a couple of photos before we hung it that might give you a better idea. For instance, this shot of Sherry pretending to give Miley Cyrus and her wrecking ball a run for their money. Clearly she nailed it.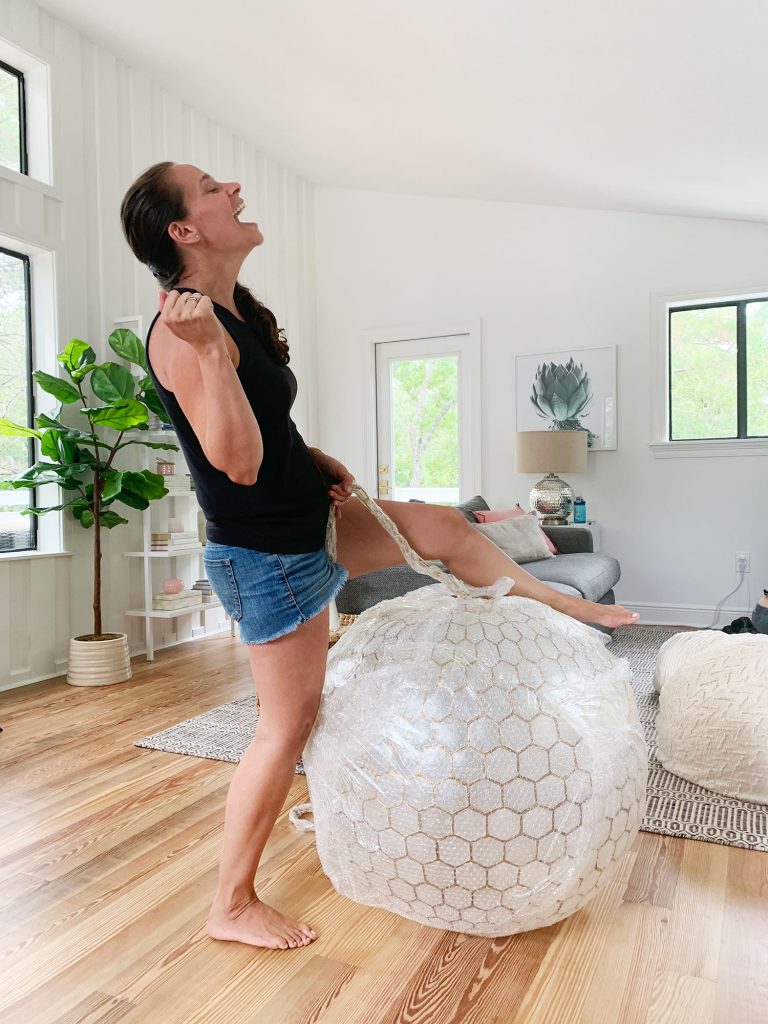 I think we took that picture in celebration of the fact that the light even made it upstairs in the first place. Our stairway is definitely on the narrow side (it's the reason tears were shed while Sherry & I struggled to get the couch up here) and you can see that the light just baaaaaaaarely squeezed through on its side. We could've hoisted it up over the deck if it hadn't fit, but this was significantly easier, so we're grateful it juuust fit.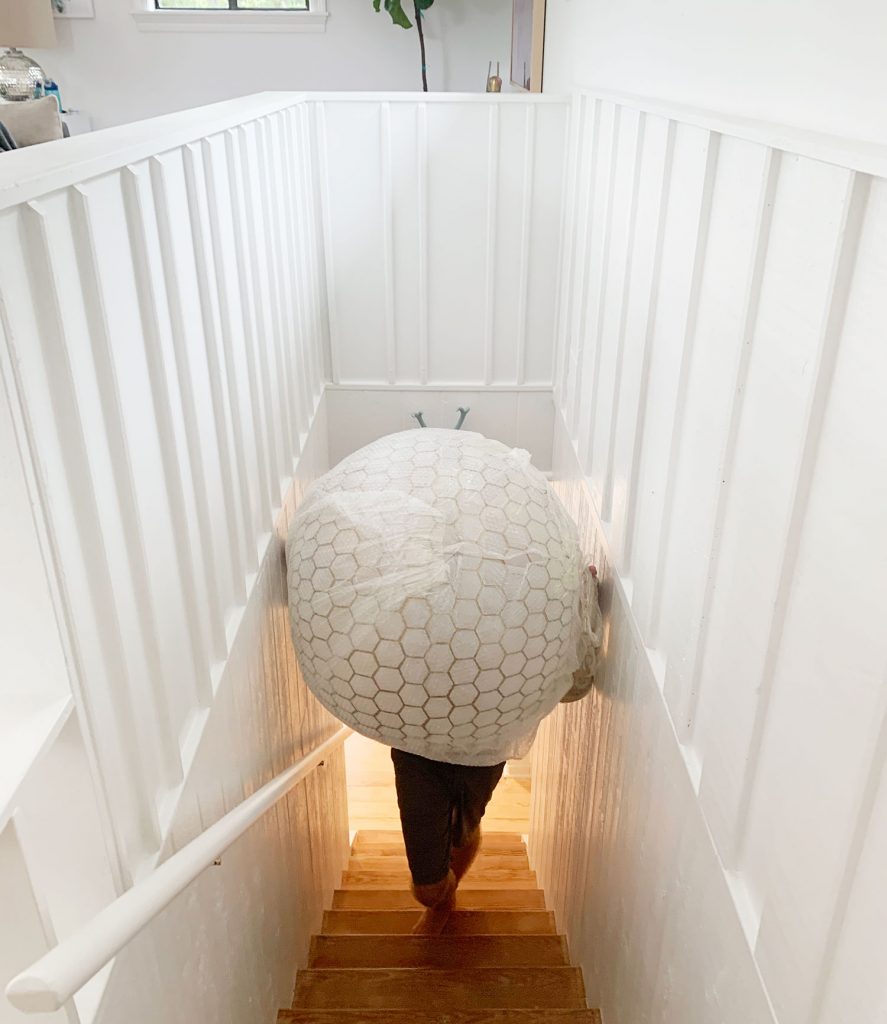 Once we got it upstairs we both sighed with relief. Not only because it fit, but because the large room and tall ceilings pretty much begged for something substantial up there – and once we actually got it hung we both stared at it for hours. It's the only overhead light in the room, so functionally it's very helpful, and because it's the only "visual element" in that higher plane of this huge 25′ long room, it creates a really nice focal point up there too.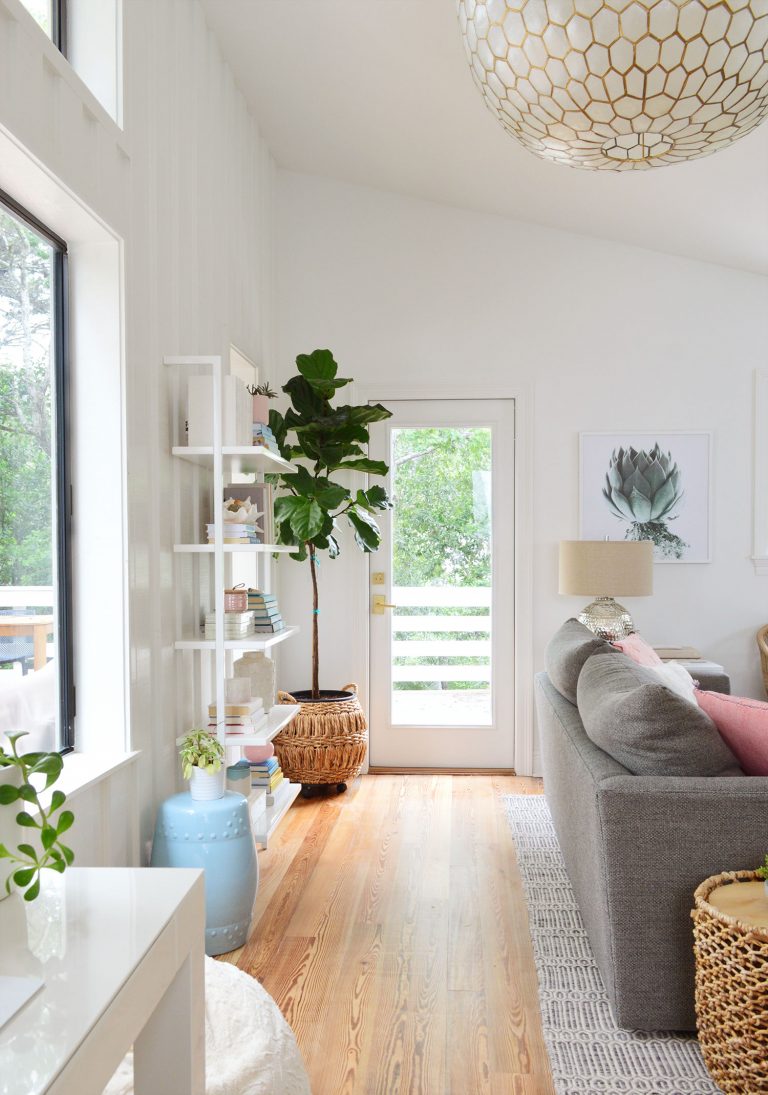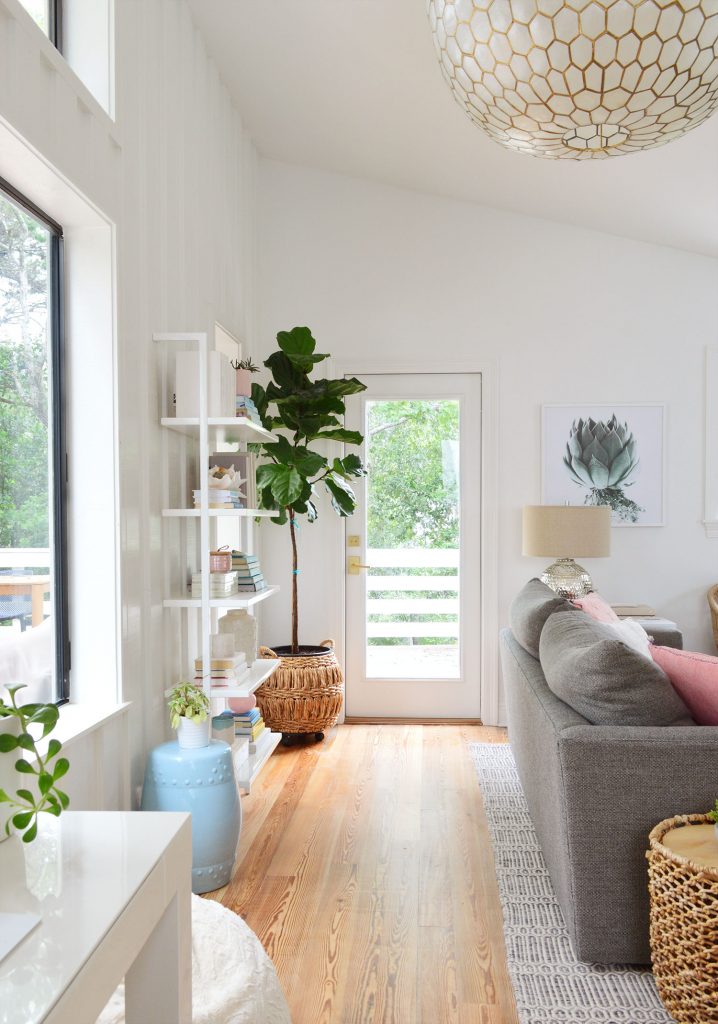 And now, I, John Petersik, will answer the question that we know everyone would ask if we didn't address it in words AND pictures (heck, a few people might still ask us, even with words and pictures in here about it). The question = can someone tall walk under it without hitting their head? Most definitely. I'm 6ft tall and have nearly a foot of clearance above my head.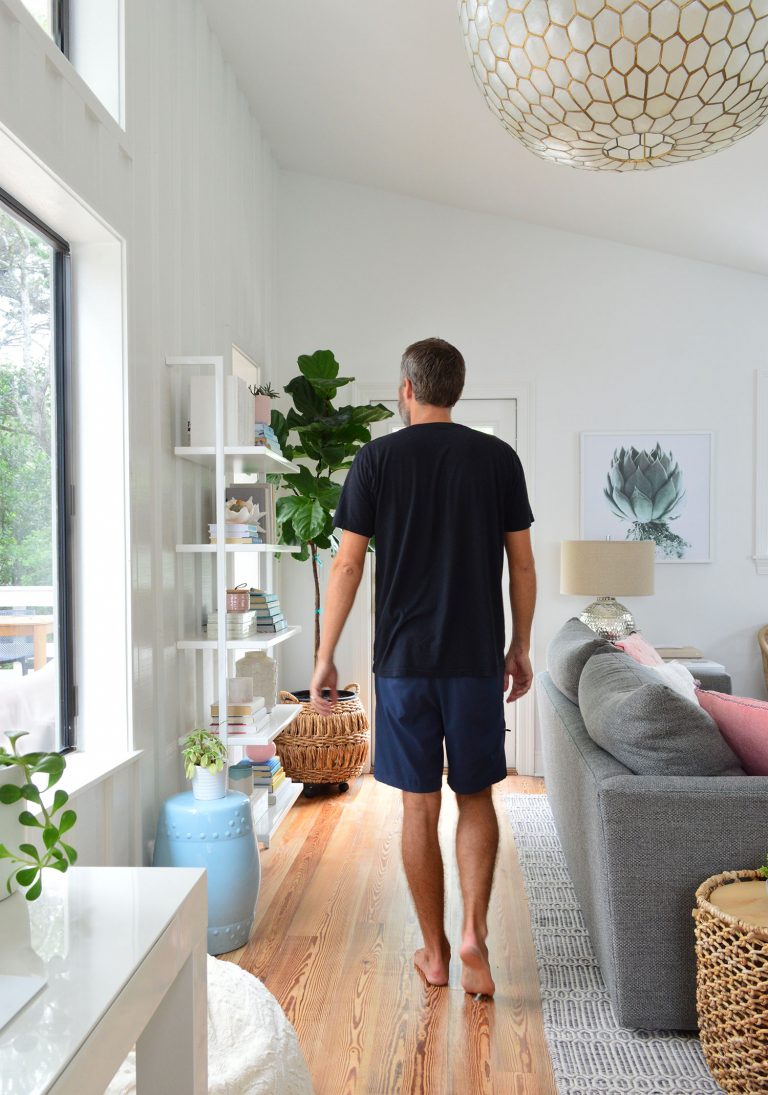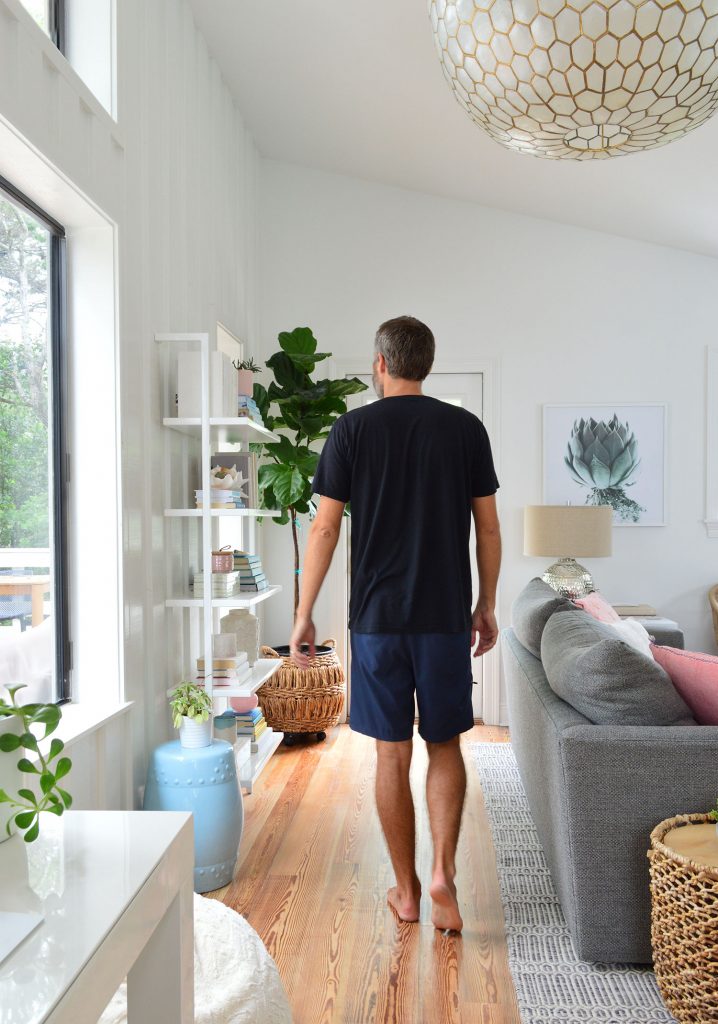 Sherry also filmed a quick little spin around our family room so you can get a better feel for it in the whole context of the space, since we know seeing something on video is the next best thing to being there yourself. Plus you can see if you notice the other additions to the room (hint: most of them are near the TV).
Note: You can also view this video here on YouTube.
If you watched the video (no sound is necessary, btw – it's just a silent walk-through), I'm sure you spotted the update to the seating / TV side of the room. You may recall from our last post that all we had was our couch and the kids' bean bags tossed in front of it. Our sofa is nice and long (93″ without large arms) so all four of us can comfortably sit on that for movie nights like we did in our last house. Which means we didn't immediately need more seating for others (thanks to moving in during lockdowns/pandemic stuff), but we knew later on when our friends & family could come visit we'd appreciate having more seating options up here. Also, a word about beanbags in the place of a coffee table. Take it from me, bean bags are terrible coffee tables. You can't easily prop your feet on them. 1 star. Do not recommend.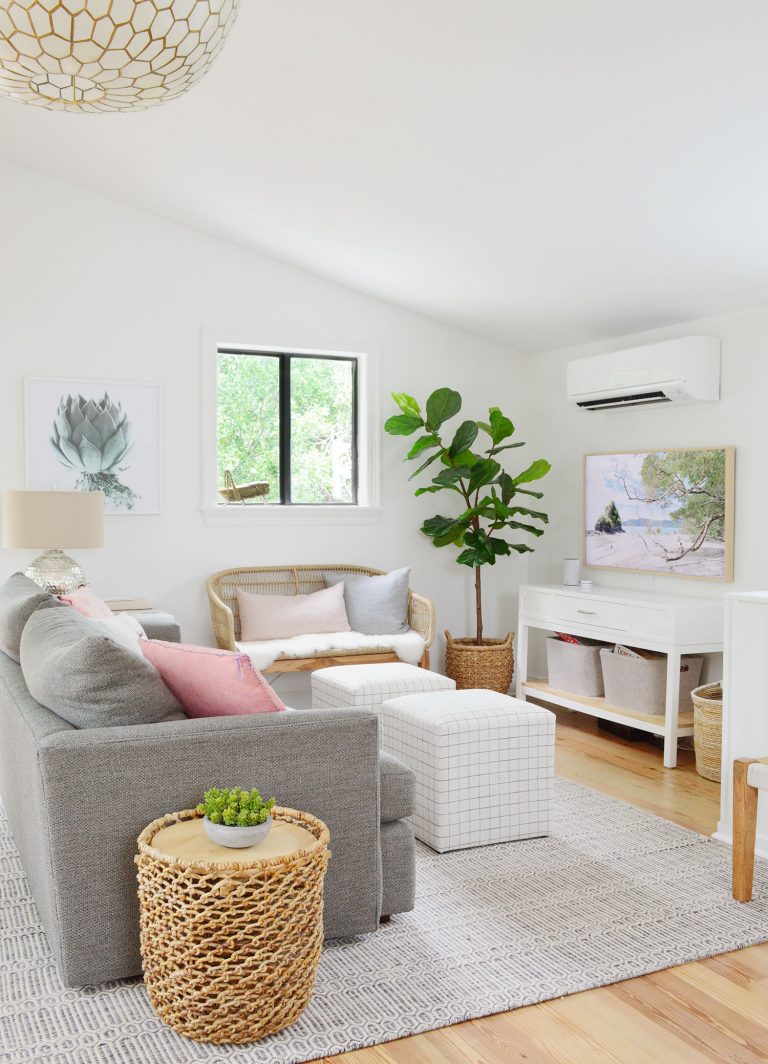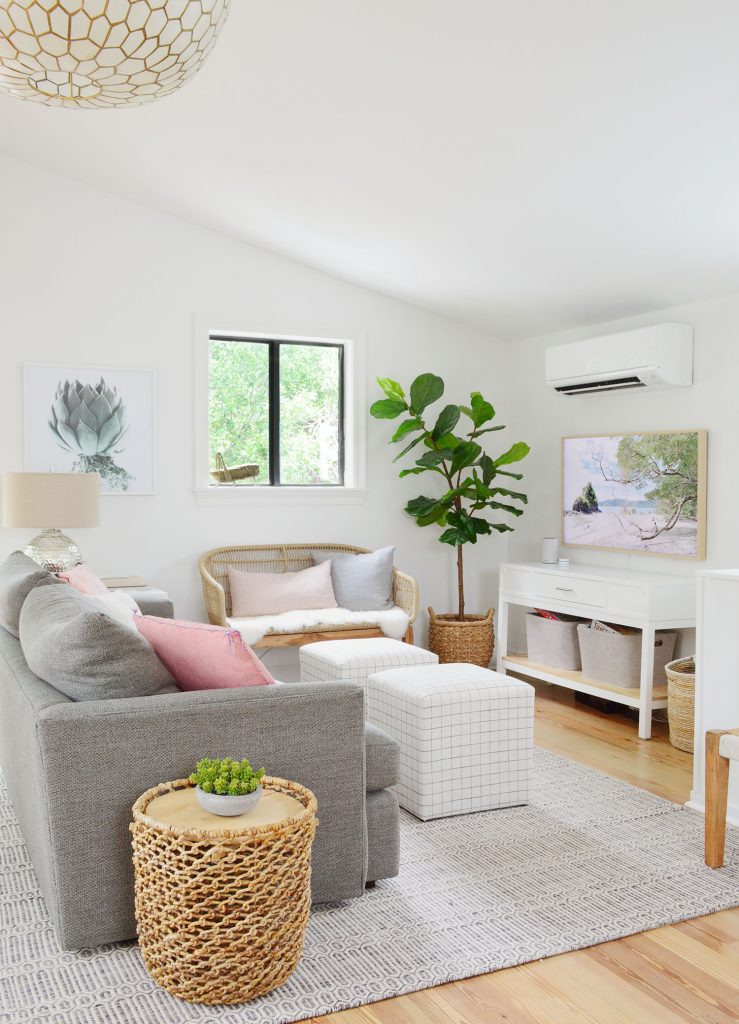 But now we've checked the overflow seating box with a new woven bench that we found at HomeGoods for $199 (sorry, don't have a link!) and we evolved from those shapeless beanbags to these upholstered ottomans. They definitely look a bit tidier than the beanbags did and are much better in the footrests department (in fact, I'm sitting with my feet up on one as I write this!). But since our kids still use this area for making forts, spreading out Pokemon cards across the floor, and finding weird contorted positions from which to watch TV – we still wanted a "coffee table" alternative that was soft-edged and easily movable.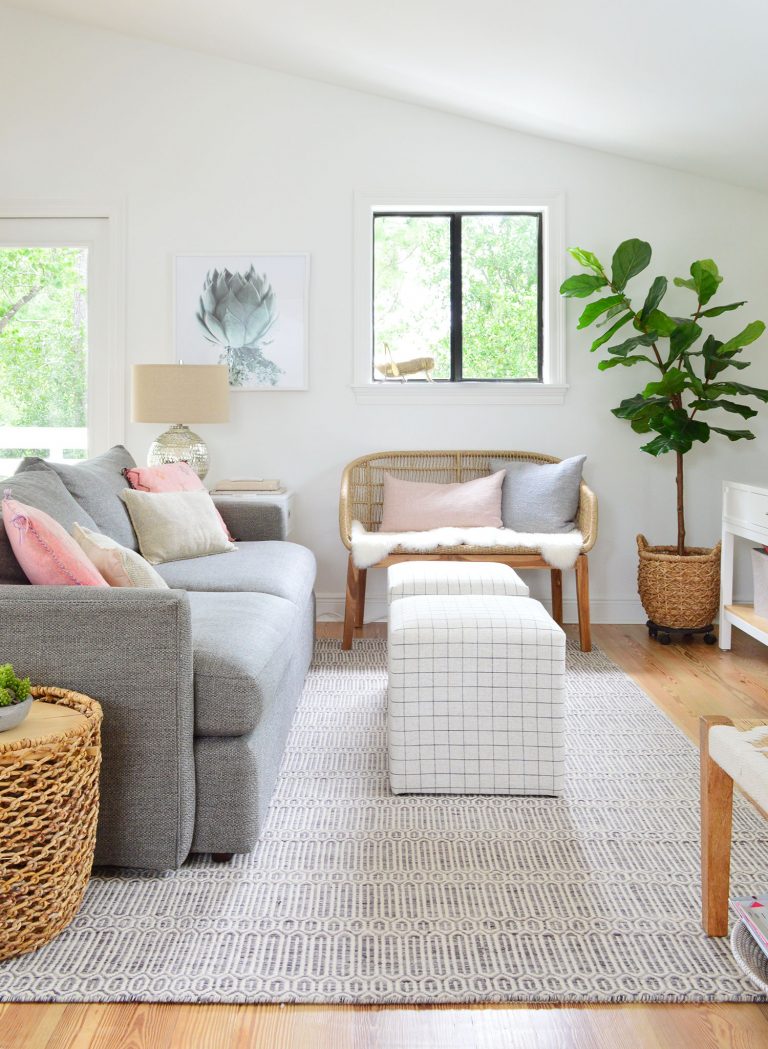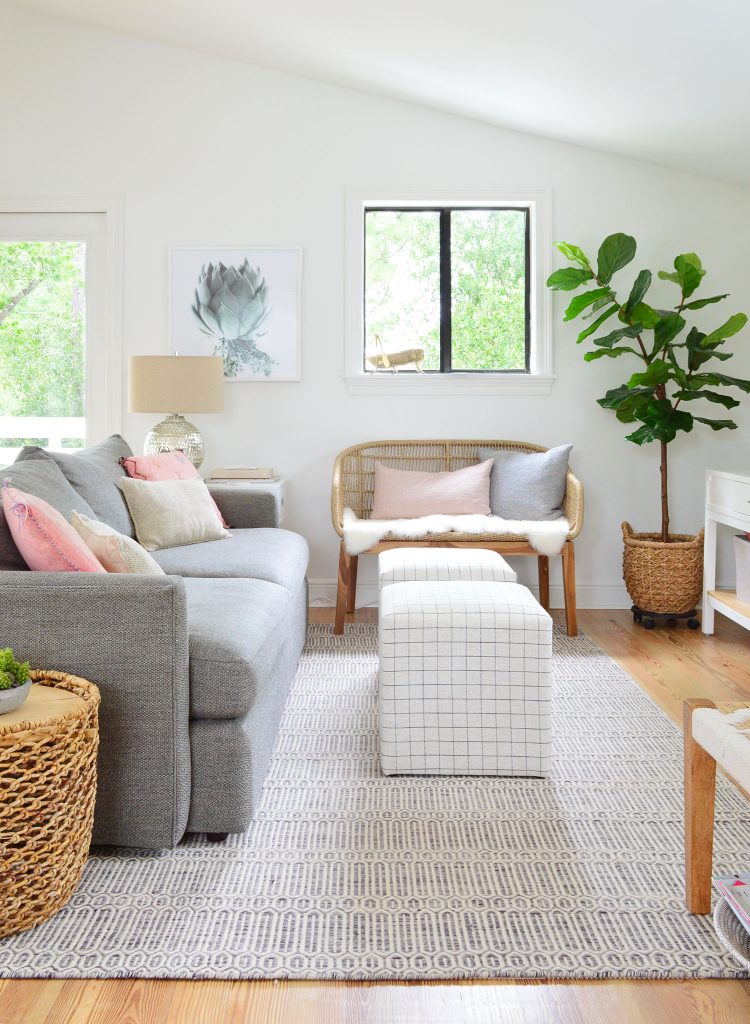 Plus in a pinch they can be additional seating for two more people to perch on (multi-purpose pieces in a smaller house really are a thrill).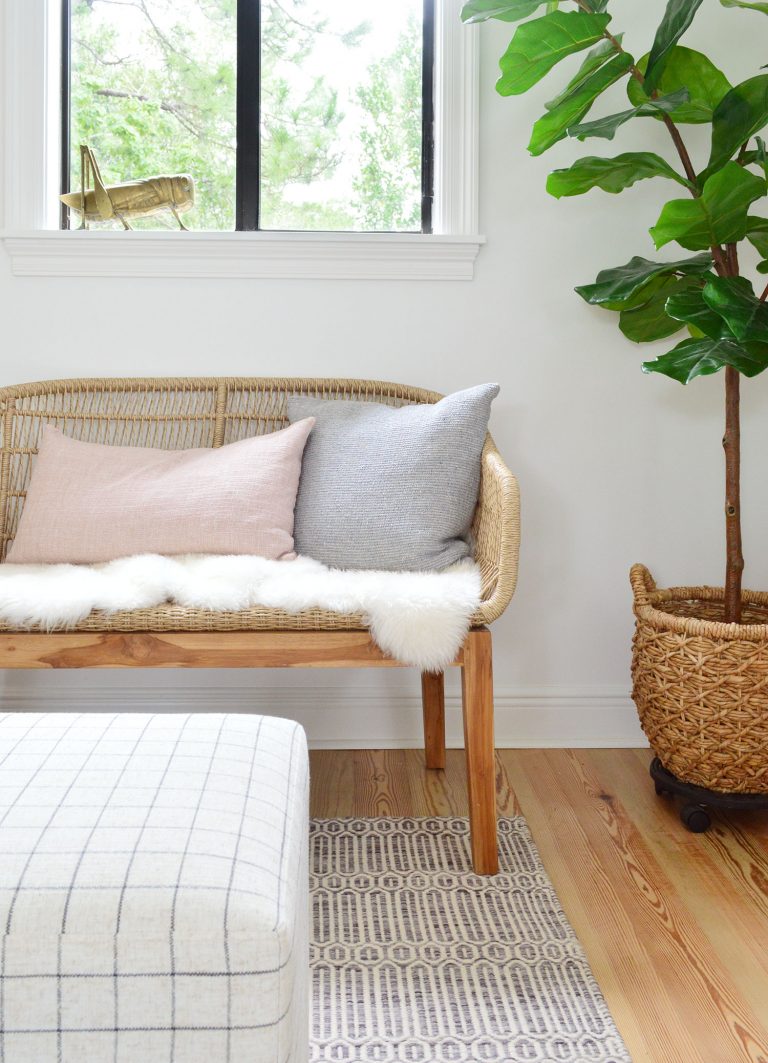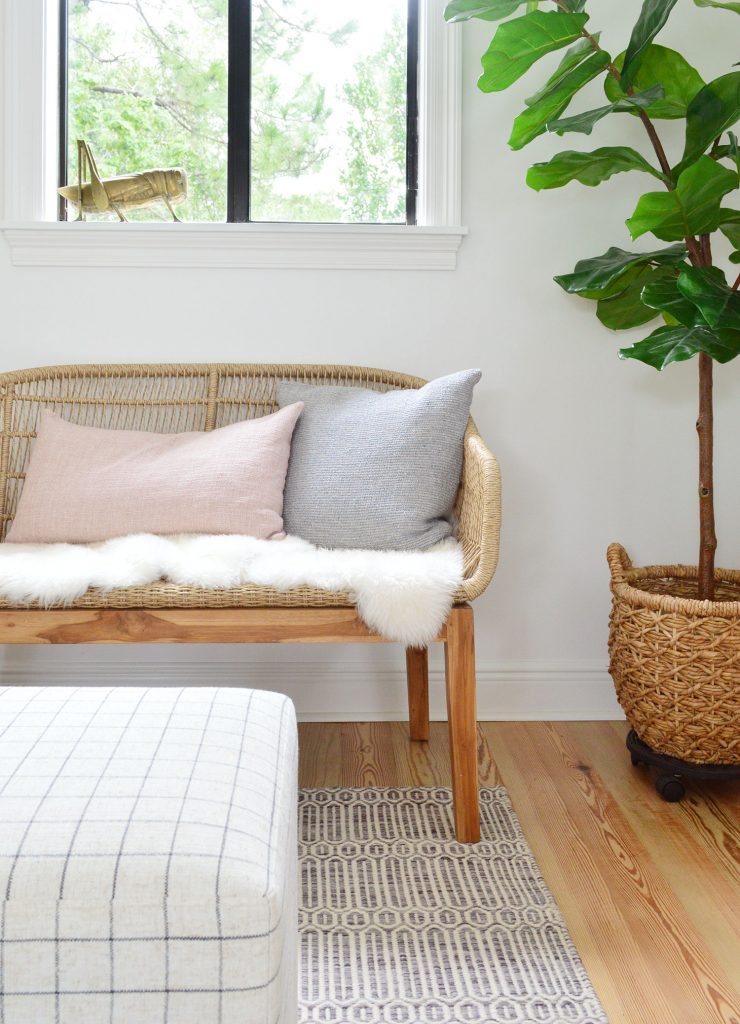 We also have plans to upgrade this bench by making a padded seat cushion in place of the sheepskin we've tossed down for now (Sherry's thinking some thick foam with fabric sewn around it – maybe even with a zipper to make it possible to remove the cover & wash it). And since the cushion will add a few inches to the seat, we'll also likely trim down the legs a little so it's not weirdly higher than the couch cushion.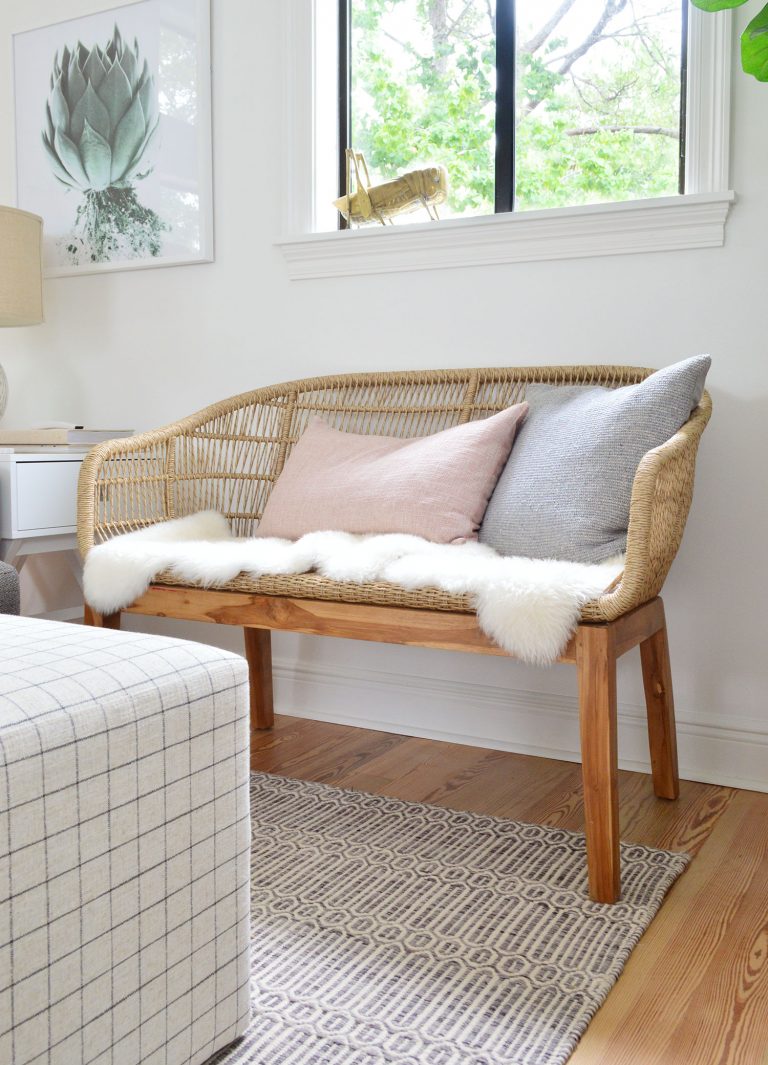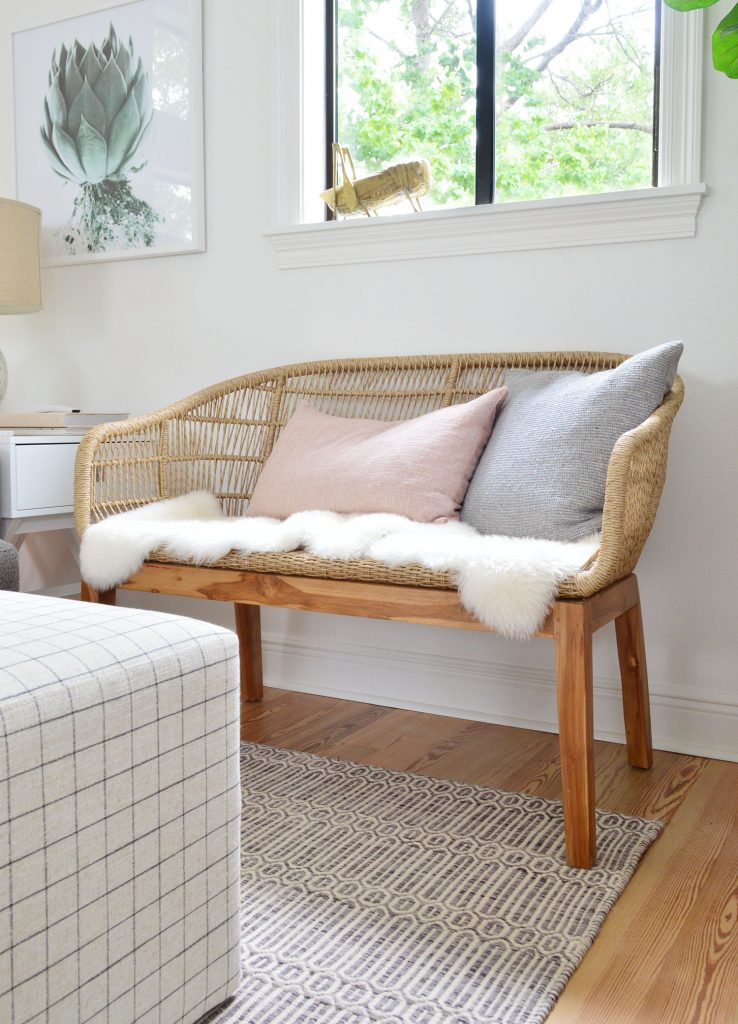 The last thing I'll say about this area of the room is that we have also ordered a new solution for our media console. This console table piece from our last dining room has been just fine (especially after we added the wood shelf on the bottom so those two large baskets full of all of our board games could live in there) but we've got a plan for majorly upping our storage over here. Like, we're about to be straight up storage rich along almost this entire TV wall. The materials are on backorder and we can't get started until next month, so we're doing our best to be patient. Sherry likes to say that smart storage is our love language these days, and I think she's right. It's going to be like Christmas morning when we finally have the new cabinetry all installed along this wall.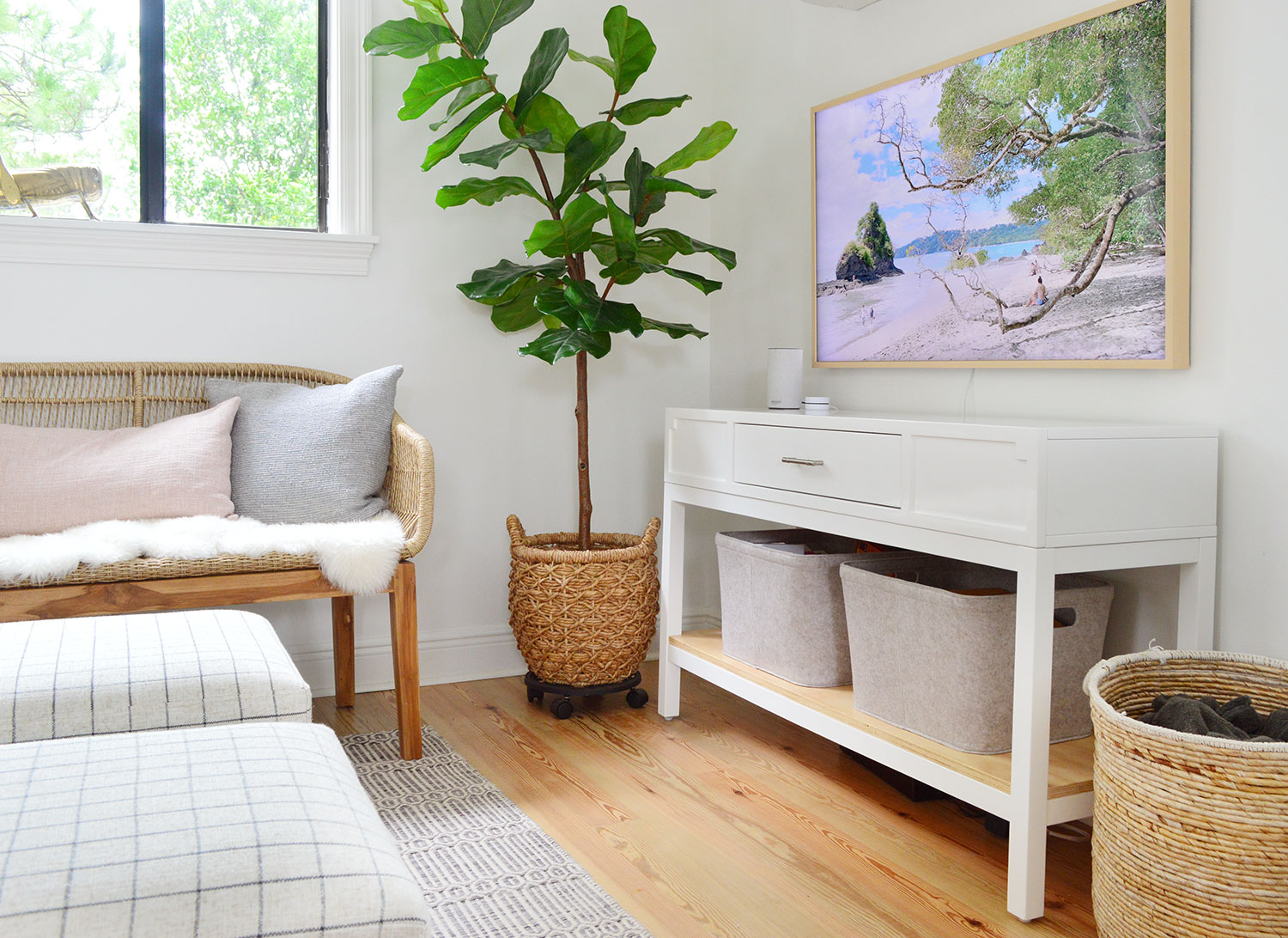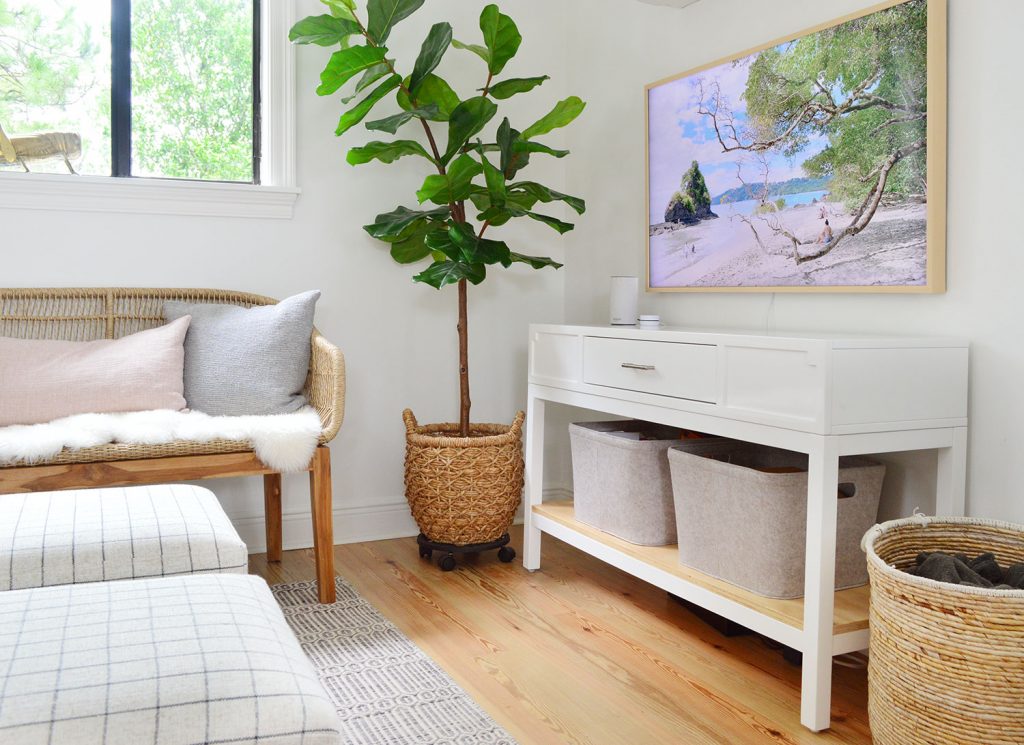 Before we wrap up this family room update, we also should spin around and show you the new hanging planters in the opposite corner of the room. You'd think with so much greenery out our windows that we wouldn't need too much in the room itself, but it's actually the opposite. It feels like the room is begging for plants at every turn to create some sort of visual flow between the inside and the outside. And my wife is not someone to shrink from the challenge of "MORE PLANTS."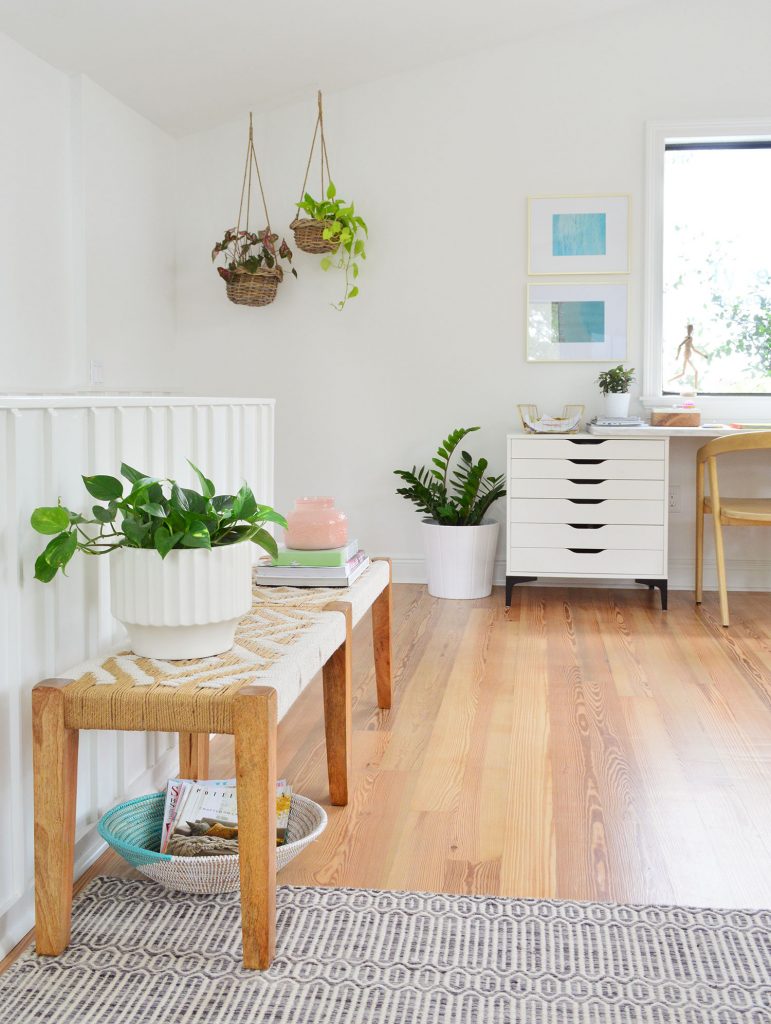 We also hung some art behind the kids desk, as well as those two hanging planters that Sherry found at a local garden center. I think it means she has unlocked a new level of her plant lady status now that she's embraced hanging plants.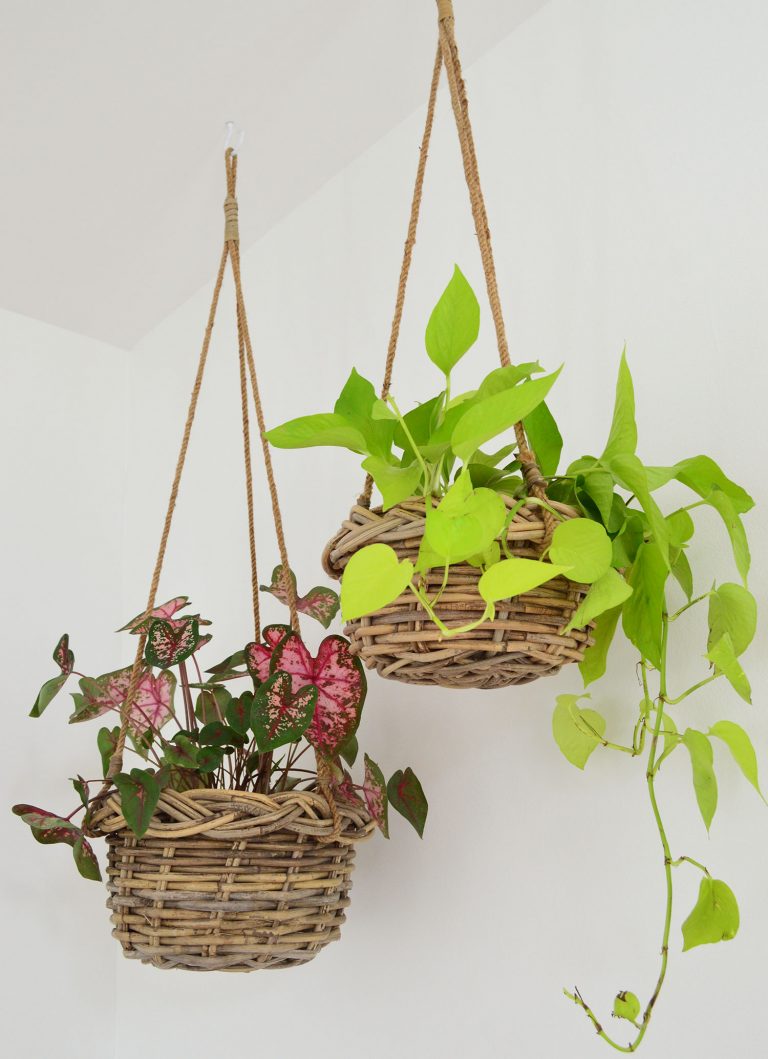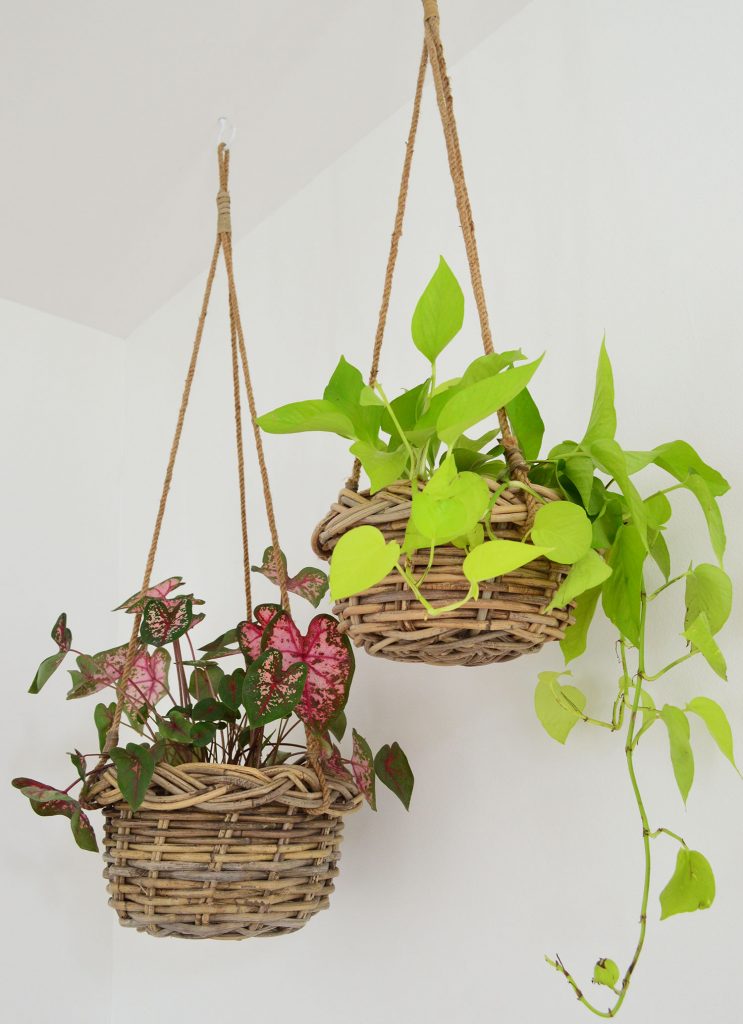 So that's pretty much all of the updates we have for you so far (you can see the other art we hung behind the kids desk on the other side in the photo below). We're still tweaking and adding little things along the way, and we know this room will be a work in progress for a while – but it definitely has us feeling pretty settled, and we're extremely grateful that this space works so hard for us these days.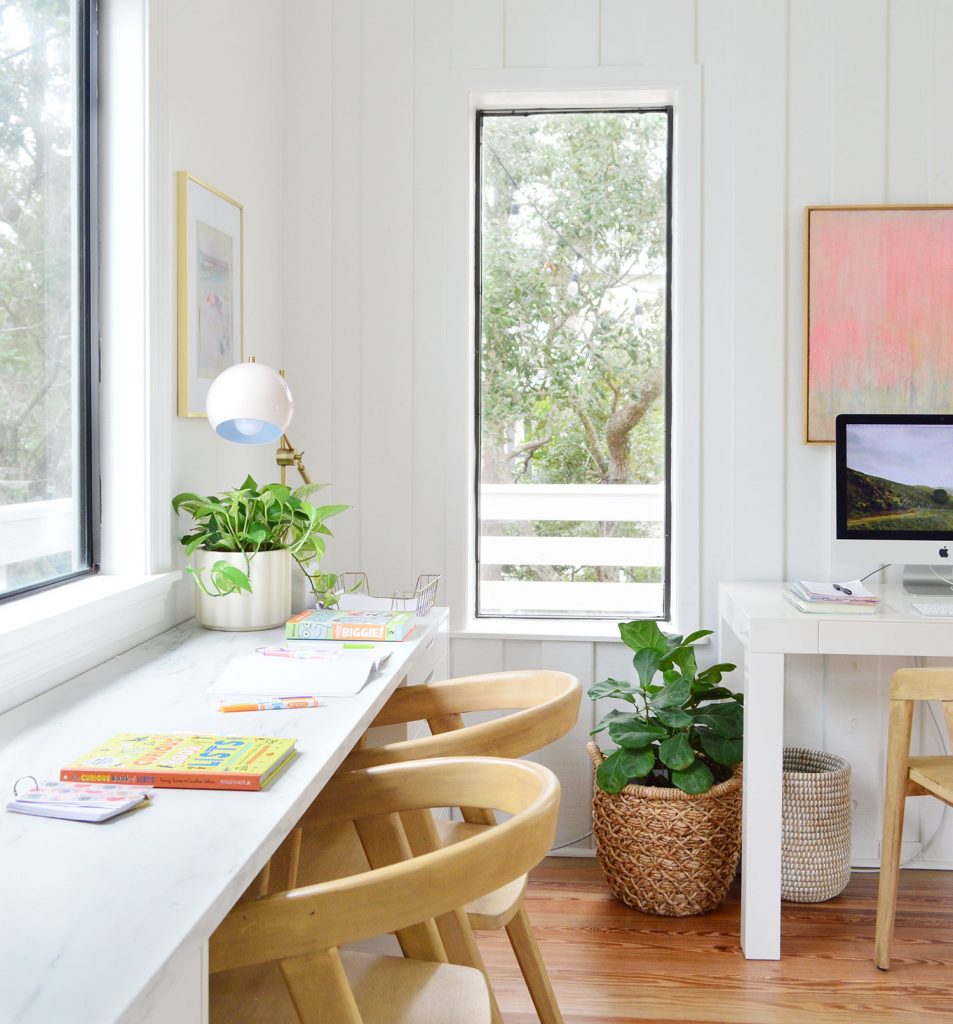 Sherry & I both switch off using the desktop computer at the desk that you see above, just based on whoever needs it for a specific project. The other person uses the laptop on the table out on the deck (best spot to work in the house by far!) or kicks back on the sofa like I'm doing now – or even at the kitchen table downstairs. Meanwhile this room has also been GREAT for the kids with at-home learning in full swing, as well as any sort of crafting & art that they want to do (thanks to the big double desk full of storage drawers). Plus it's a great movie room, hangout zone, fort-making station, reading spot, etc, etc. This is the largest room in our house (by a lot – it's around 25′ long!) and it's pretty exciting to feel like we're squeezing as much function as we can out of every inch of it. Even with things like the wall-mounted bookcase that stores lots of books and things vertically, without taking up much floor space at all.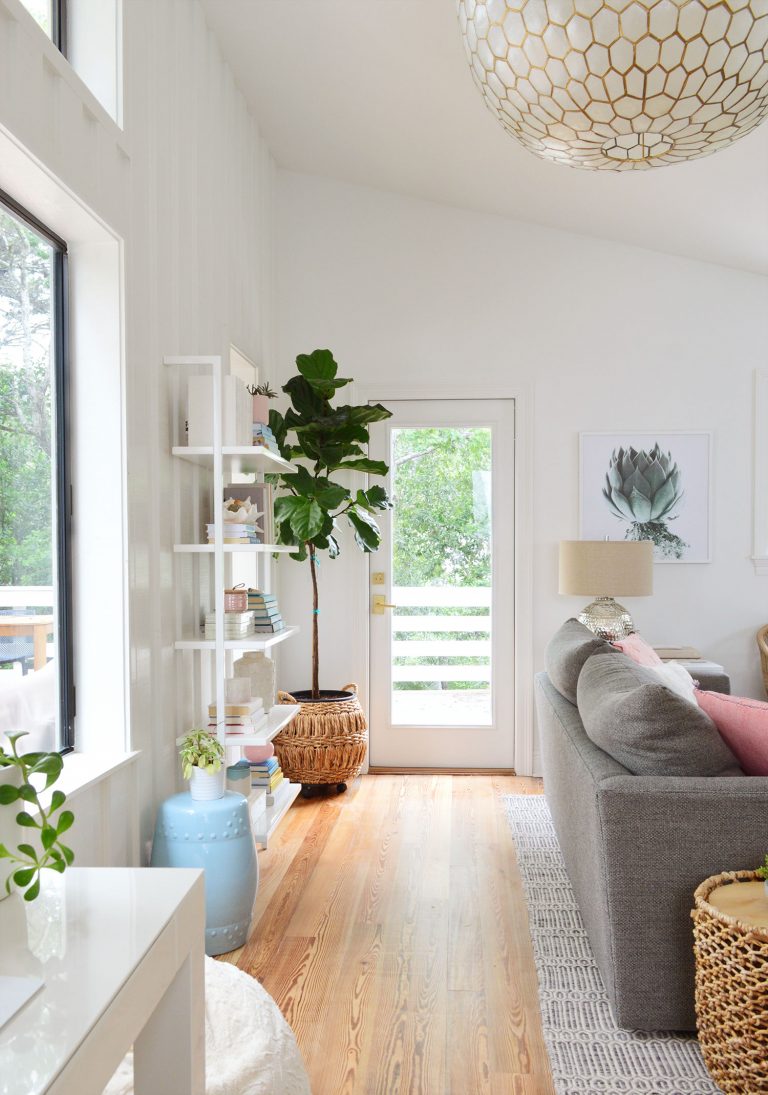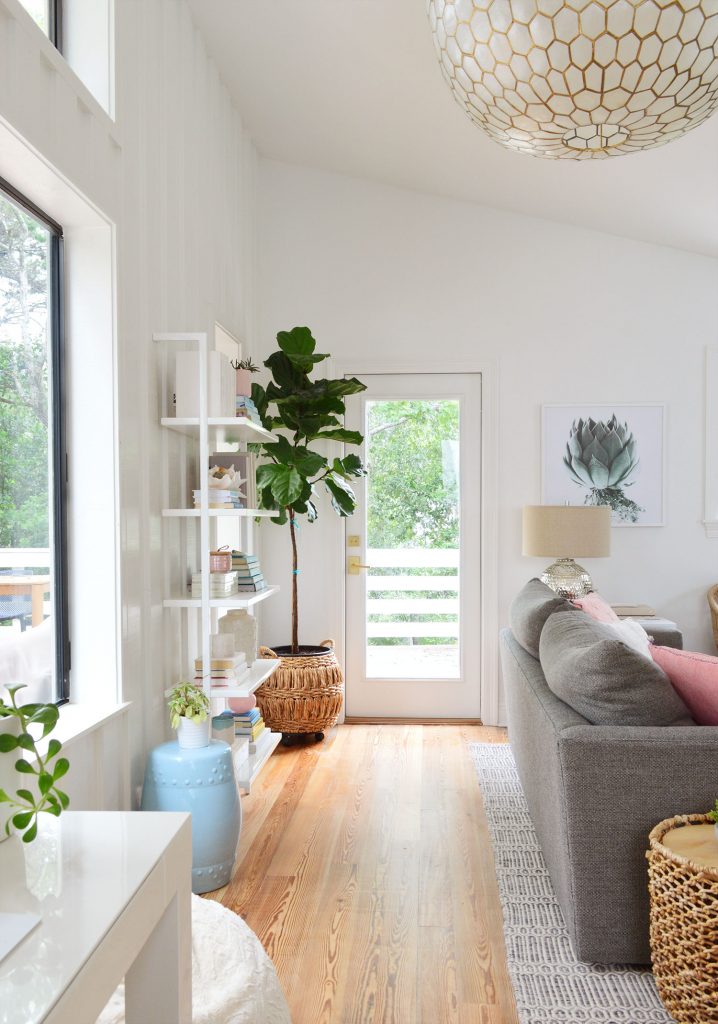 We're also excited to show you some changes we've made outside these windows too – including how our big upstairs deck is shaping up and a privacy solution we've built between us and the house that's under construction next door. Stay tuned!
P.S. You can see all of our Florida house progress right here. From our bedrooms to the kitchen (and our only bathroom), you can get all caught up quickly. There aren't that many posts because this house just has six rooms!
*This post contains affiliate links, so we may earn a small commission when you make a purchase through links on our site at no additional cost to you.