Back in October we mentioned our plans to add a hanging daybed to the covered portion of our front porch and our entire family couldn't be more excited that it's finally done.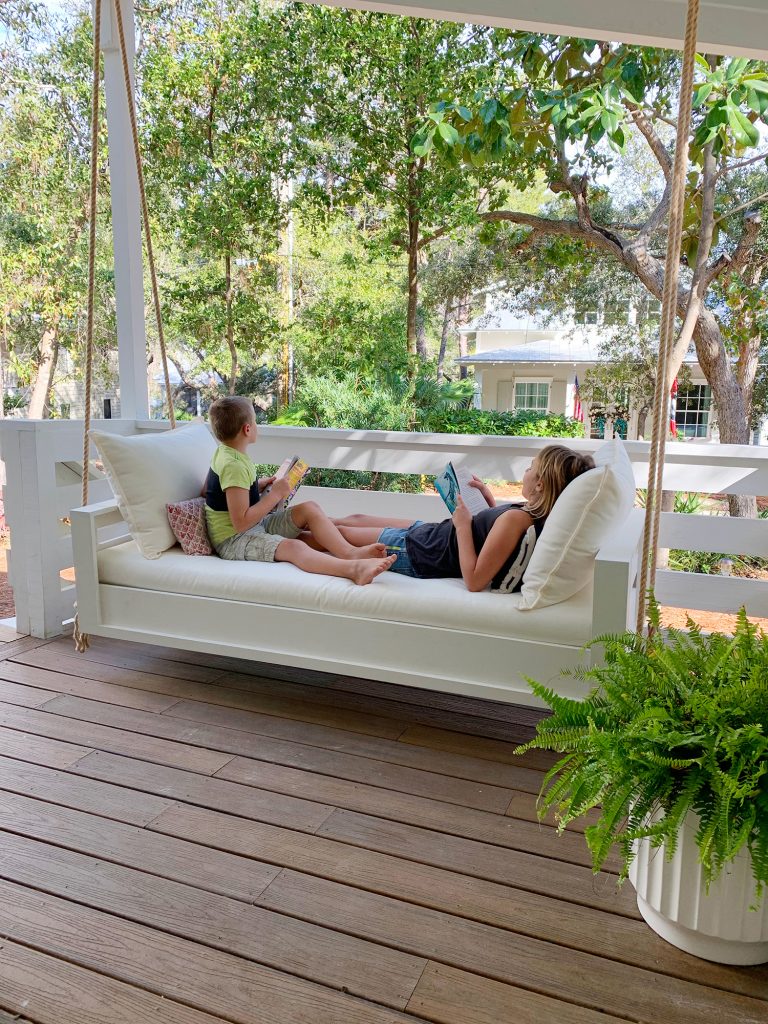 Hanging daybeds like this are super popular in our area, and we've always had a soft spot for them. Is there anything better than reading/napping outside on a lazy Saturday afternoon?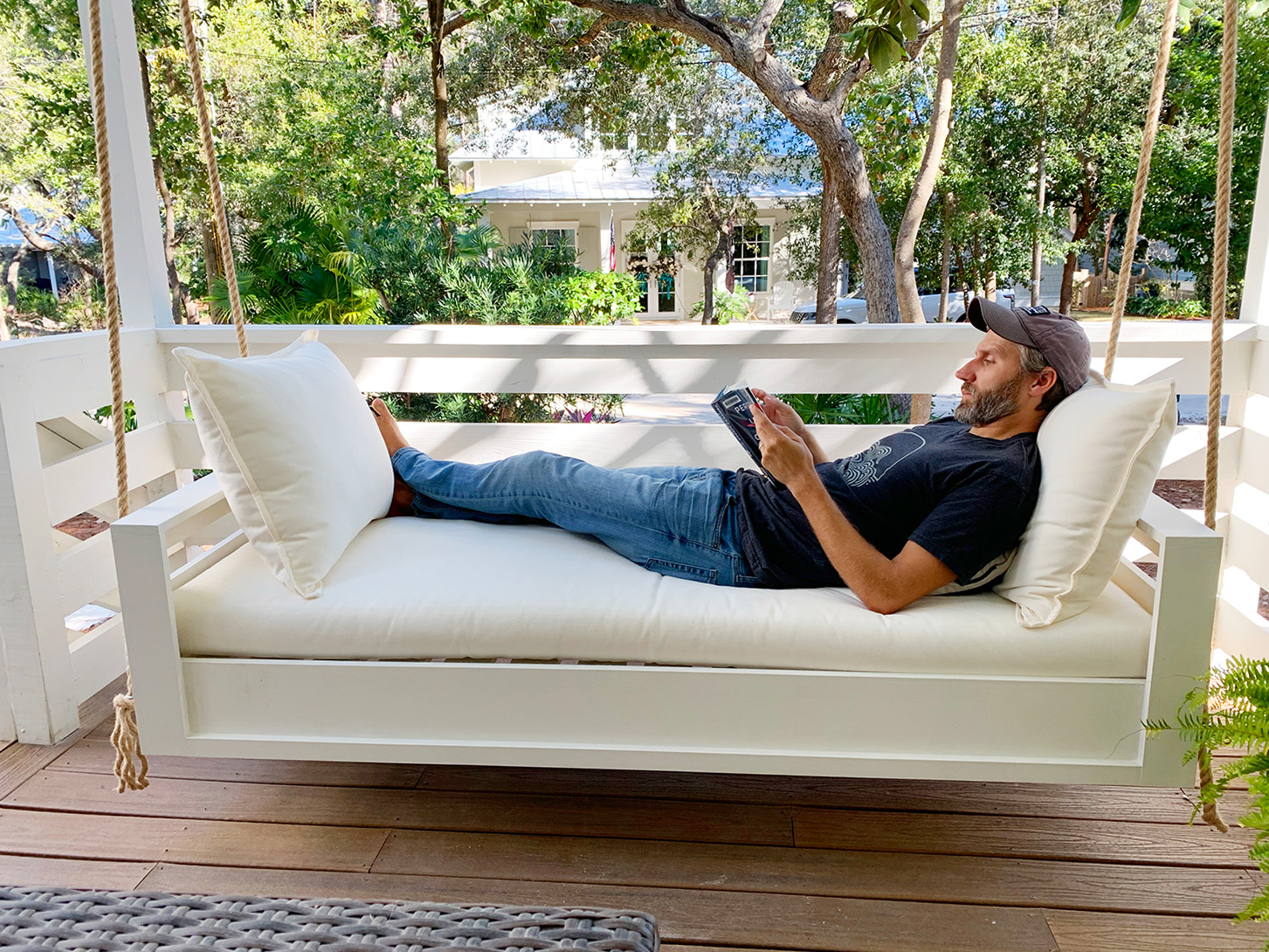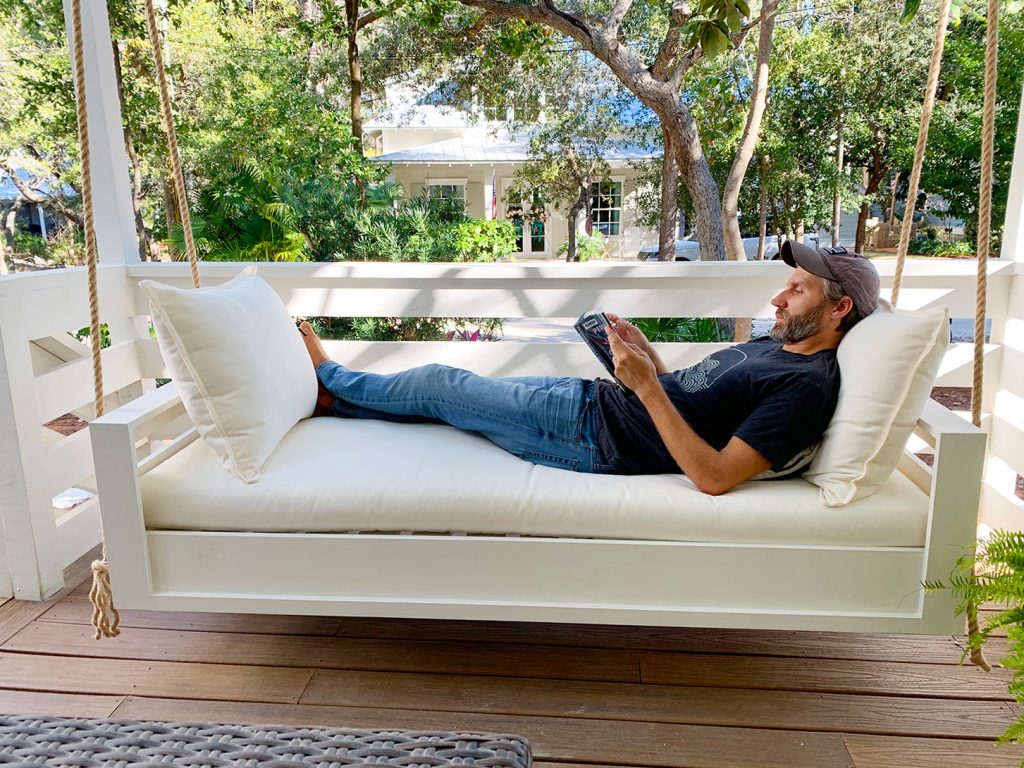 One of the Airbnbs that we stayed at in Costa Rica last January had one that pretty much cemented our feeling that they're just about the perfect outdoor lounge spot. Sherry and our daughter spent hours there, each leaning up against a side arm with their legs extended towards each other, reading and chatting and swaying.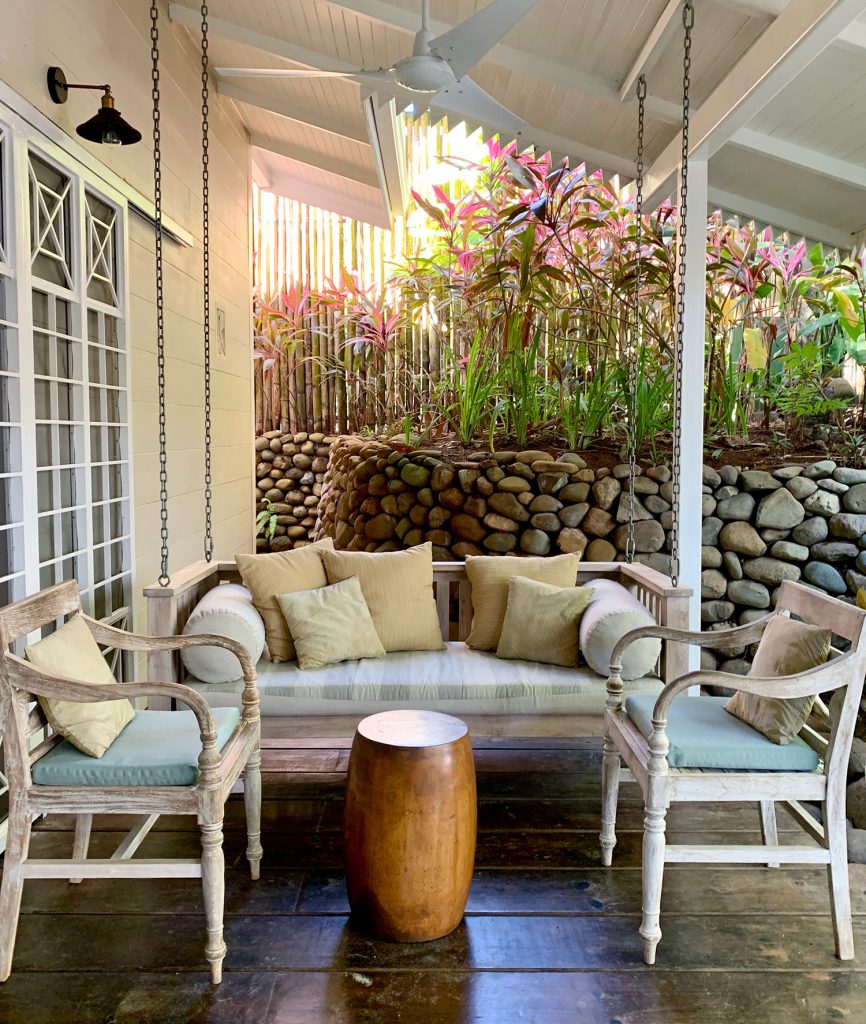 Then, lo and behold, we realized that we had a near-perfect spot for one on the front porch of this house. It's covered to protect us from rain and the hot sun. It has nice strong exposed beams to hang it from. We even have a fan right there to keep the area cool.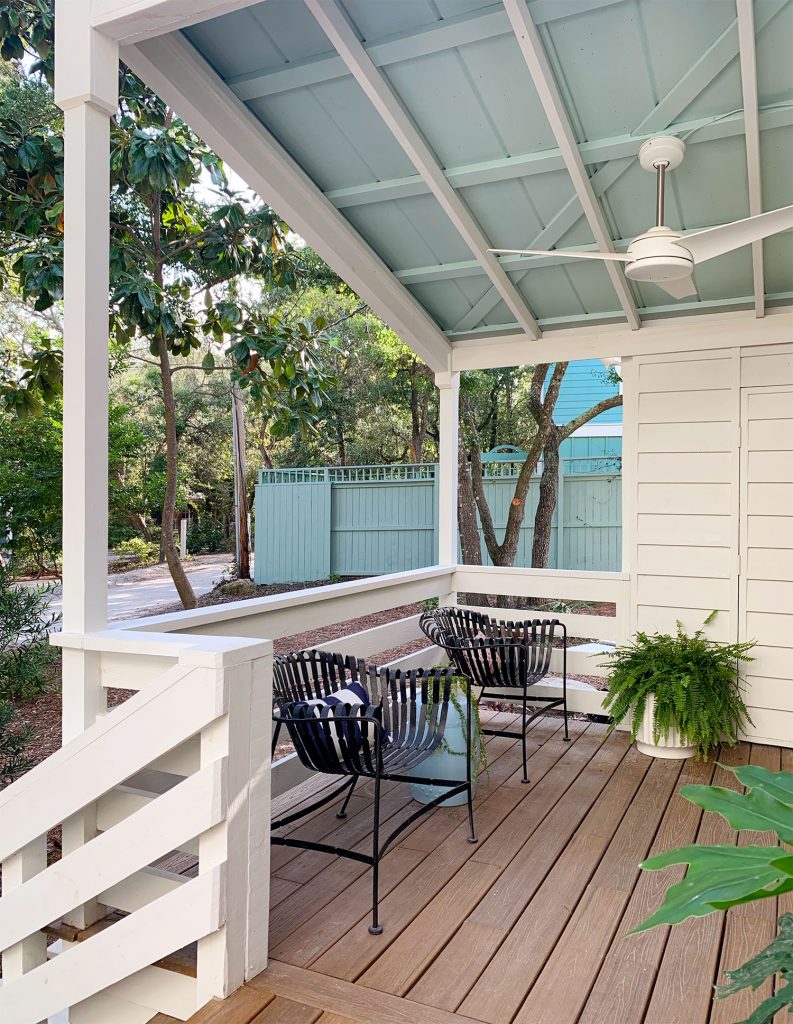 The only reason I say near- and not totally-perfect is that there wasn't quite enough depth to create the typical twin-mattress-sized daybed. We could have crammed one in there, but it would've encroached on our often-used path to our outdoor shower, and we didn't want to cramp that area. We also stand at that wicker storage bin and load beach chairs on and off of our backs when we're leaving for or returning from the beach, so extra clearance there is key.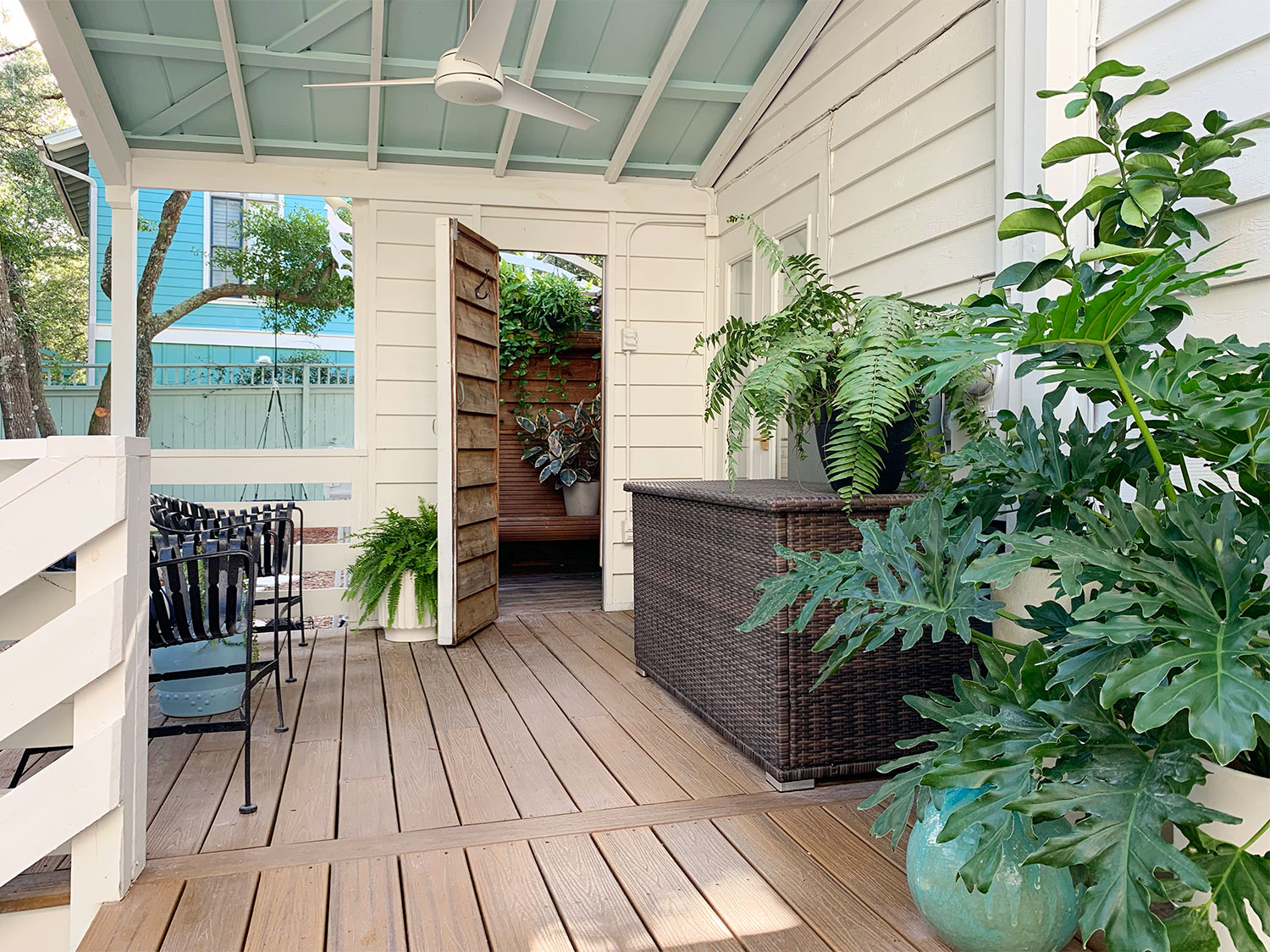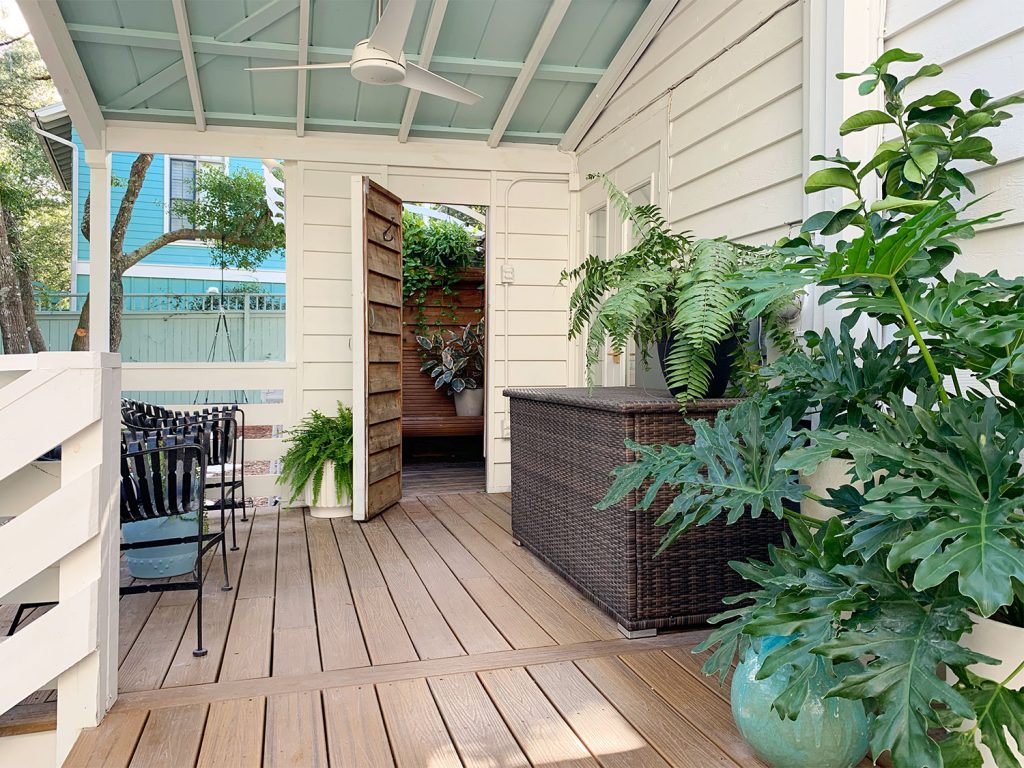 Thankfully the cushion that we landed on is just three inches shorter than the length of a twin mattress (still clocking in at 6′ long!), but it's 10″ less deep, which is definitely appreciated. Even with 10″ shaved off, it's still almost 30″ deep, which is pretty much a typical sofa cushion depth, and quite comfy (twin mattresses are significantly deeper than the average sofa). And we have plenty of clearance when we walk through to the outdoor shower or while grabbing beach chairs out of the wicker bin.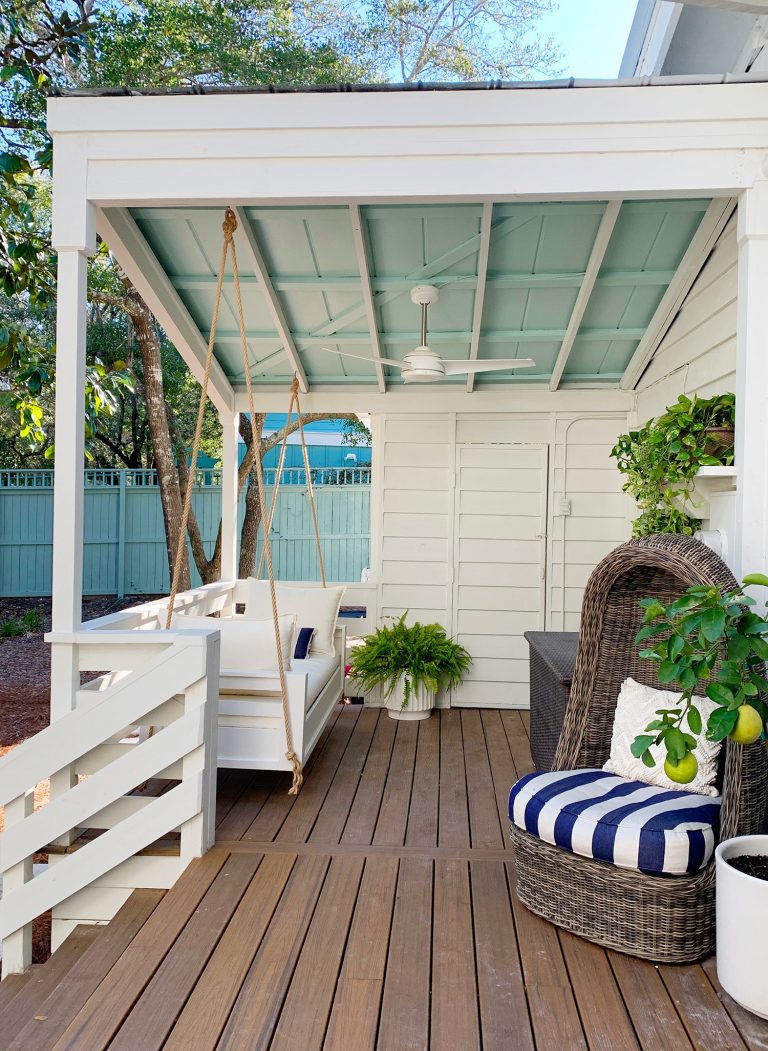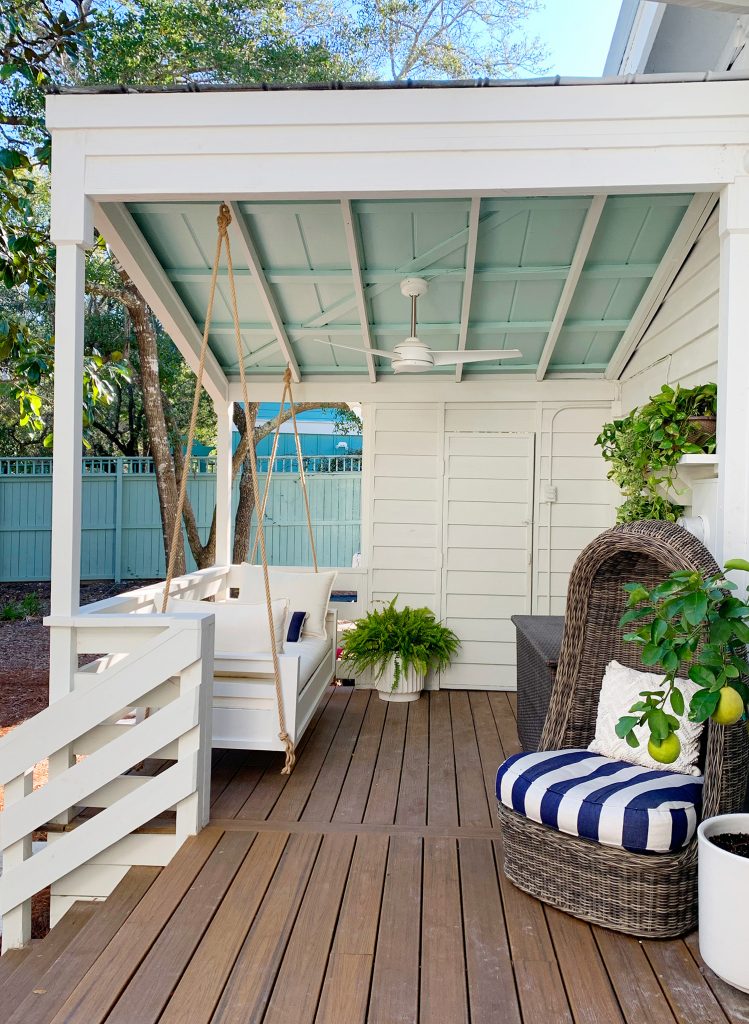 That egg chair above swivels BTW, so whoever is sitting in it can rotate to face anyone who's hanging out on the daybed. But back to the whole finding-the-goldilocks-of-daybed-cushions dilemma…
Finding An Outdoor Daybed Cushion
Even though the cushion would be covered, we still needed something that would be outdoor-friendly. My understanding from neighbors is that when someone uses a regular twin mattress, they zip it into a waterproof mattress cover and then cover that whole thing with outdoor fabric. If you're good at sewing you might be able to make one yourself – or lots of Etsy sellers offer them (this one seems to be well-rated).
We first looked into doing something like that, but substituting the mattress for a custom-cut mildew-resistant foam pad instead. Not only was the price adding up very quickly, we also worried we'd end up with some oddly heavy or bulky cushion that would be a pain to move around whenever we needed to take it off the daybed (like in a storm or to clean it).
Then we realized that we could order a replacement outdoor cushion that's already made for outdoor furniture and just build a daybed frame to fit that – if we could just find one that was the right size for our spot. That way it would be MADE to weather the elements, nicely tailored, ready to ship versus waiting on a custom order, and significantly less expensive than something custom-made might be! After a bit of hunting, we found this replacement cushion for the Pottery Barn Cammeray Outdoor Sofa -which was just about the perfect size, color, and material.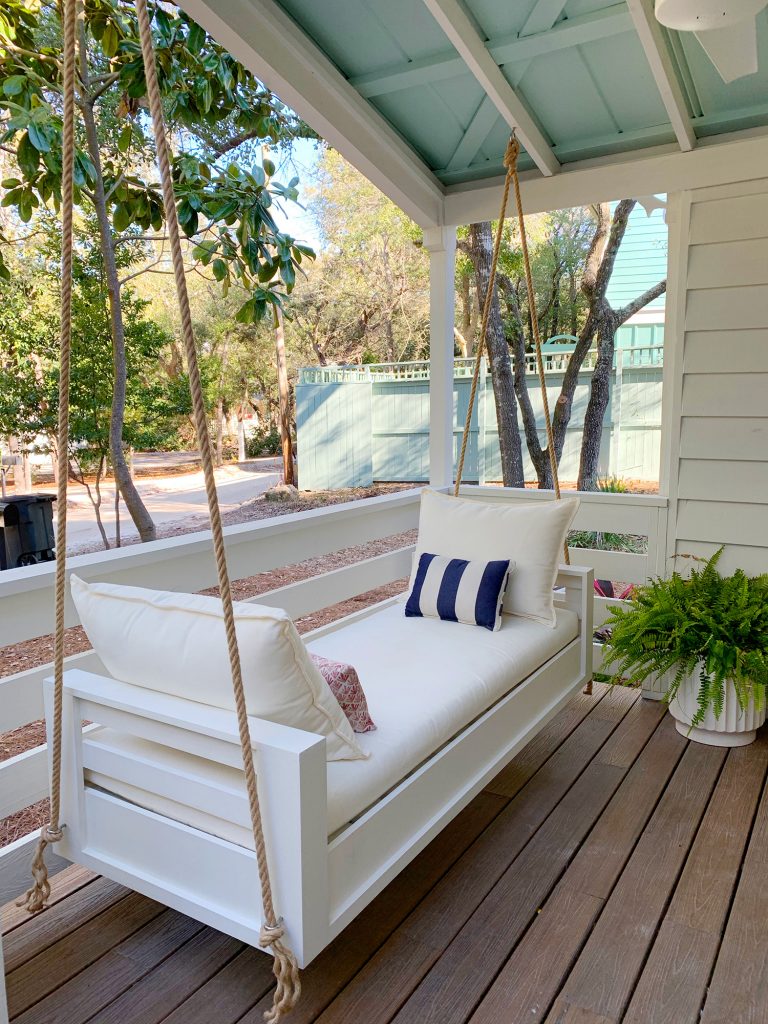 So way back in August, we ordered it during an end-of-summer sale (we got the bottom cushion and three large back pillows for $399). At the time they were back-ordered and the estimated ship date was October. So much for things being ready to ship and fast. We finally got them right before Christmas.
But they were well worth the wait (FYI, they're now shipping for mid-February delivery). They're nice and lightweight, they dry really quickly, and so far are very easy to clean. We've had plenty of rain, sun, and various child-related spills, and we're very happy with the durability and how quickly it dries out.
Materials
In addition to your mattress or cushion, here's what else you'll need to build your hanging daybed. The quantities below are for building our specific swing (our cushion was 28″ x 72″), so you'll need to adjust things if you're building one around a standard twin mattress, which I mentioned is 3″ longer and 10″ deeper (38″ x 75″). Also, if you plan to stain, not paint, your finished swing, you won't want to buy pre-primed wood like we did.
Three 8′ long 2 x 4″ boards (for the frame)
Four 8′ long 1 x 4″ boards (for the slats)
Three 8′ long 1 x 8″ primed boards
Three 8′ long 1 x 4″ primed boards
Two 8′ long 1 x 3″ primed boards
Three 8′ long 1 x 2″ primed boards
A box of 2″ exterior screws
A bottle of exterior-grade wood glue
Four 5-gallon buckets
3/4″ natural hemp rope (we got this rope in the 48-foot length)
Outdoor-rated paint and primer (we used semi-gloss exterior paint)
Building The Daybed Platform
I was a little nervous about constructing a hanging bed, but it turned out to be easy and extremely straightforward. When it came to figuring out the design that we wanted, we merged our experience building bunk beds at our beach house with this tutorial that we tweaked from Plank & Pillow, which has a nice clear step-by-step breakdown (and very fancy 3D renderings). Low and behold, we achieved a final look that we love, and it works really well for our space.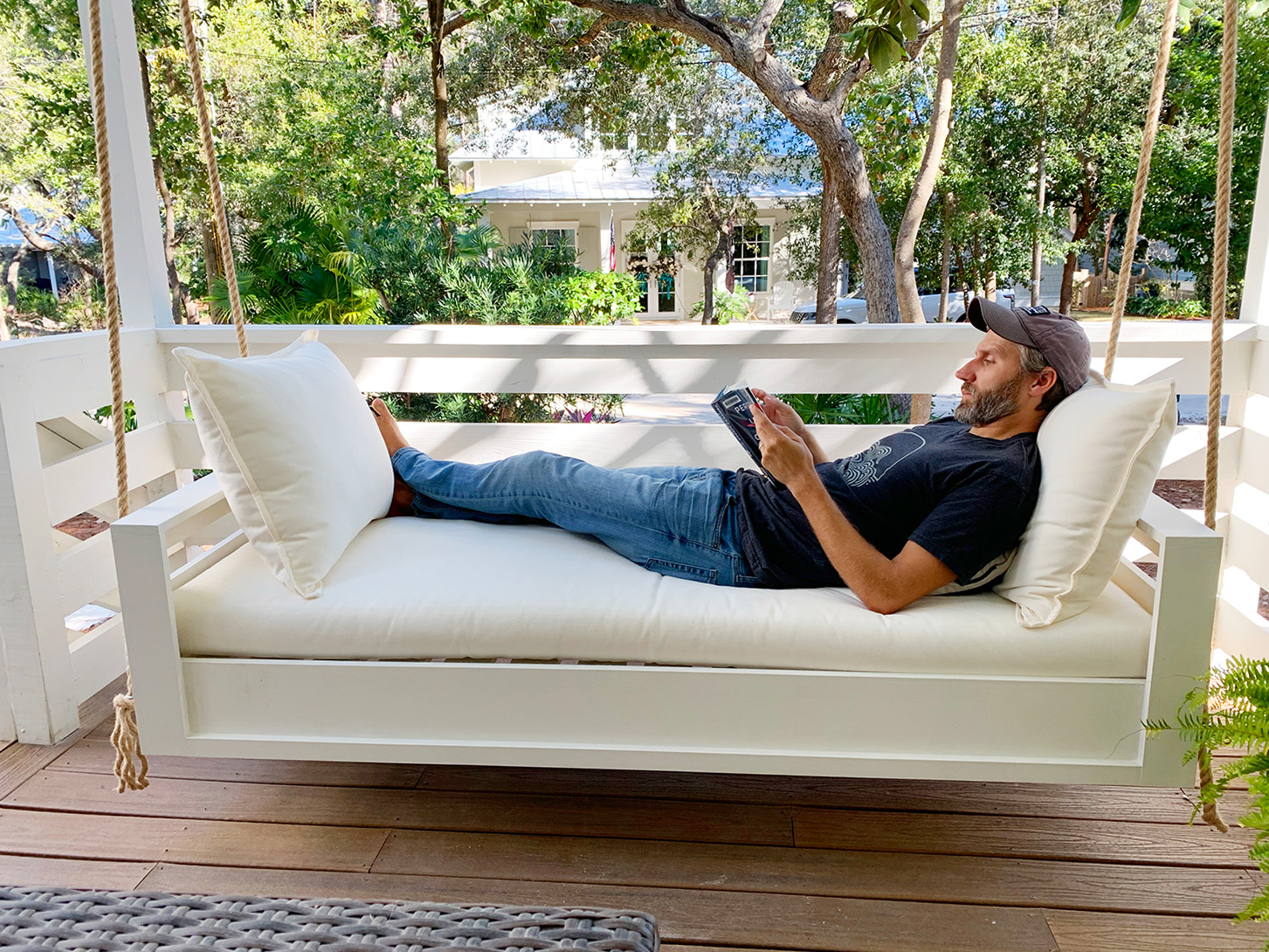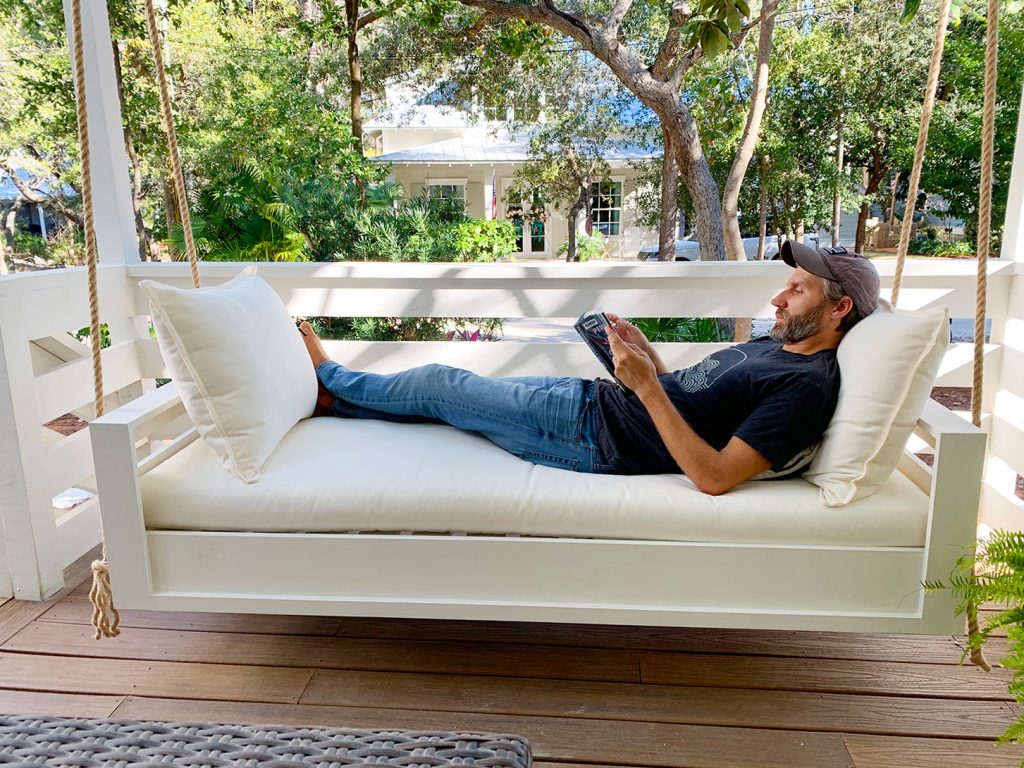 The structural core of the daybed is this simple frame made out of 2 x 4″ boards. It's built to the exact dimensions of our seat cushion, and we connected it using outdoor screws that we had on hand. This would not only support the cushion (and those sitting on it), it would also be where our hanging hardware would eventually go into.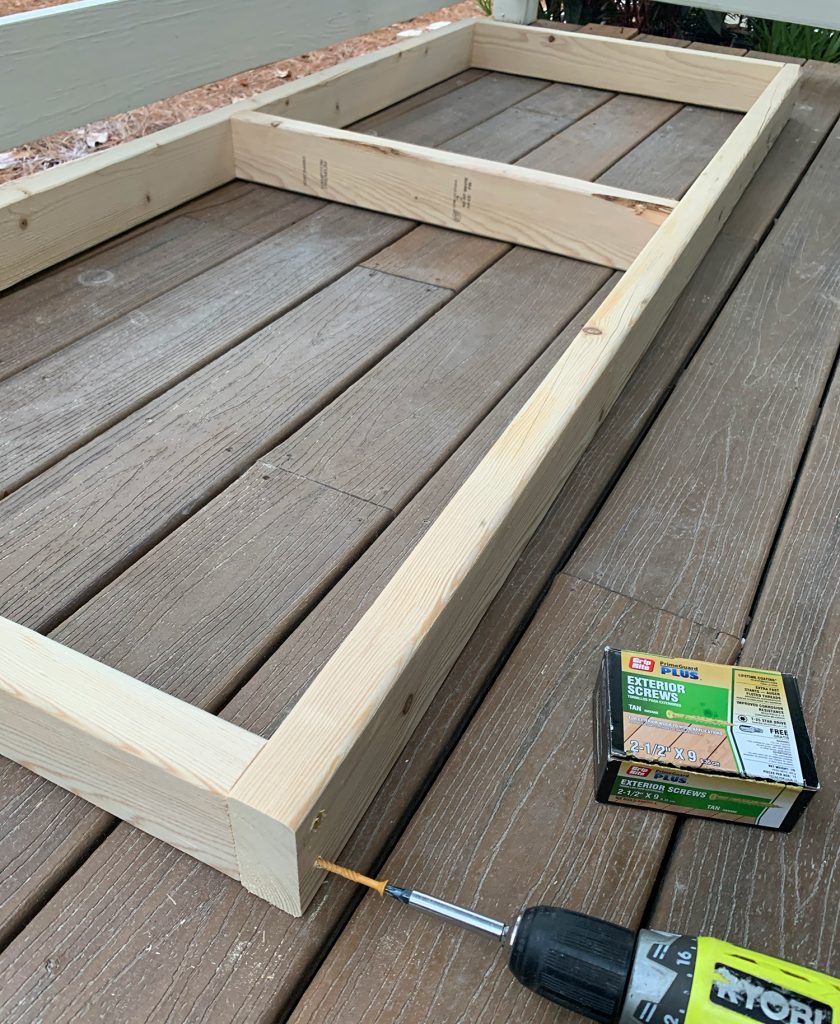 Since 2x4s aren't the prettiest wood on the block AND we wanted the daybed's base to look a bit more substantial, the next step would be to wrap all sizes of this frame with thicker wood. We chose 1x8s, but you could select something thicker or thinner depending on your desired look. And since we'd be painting our daybed, we purchased primed wood when possible, just to make our lives easier.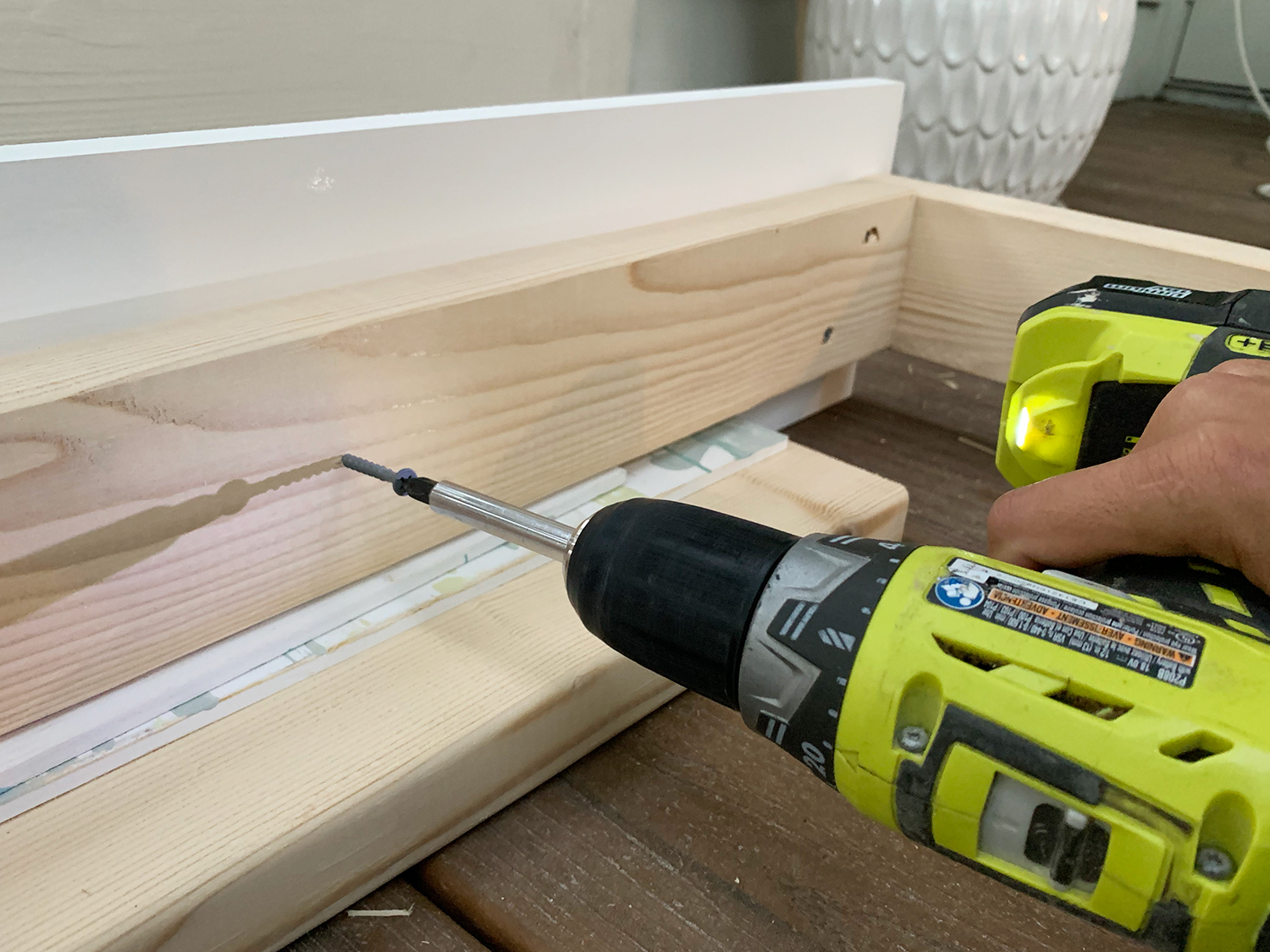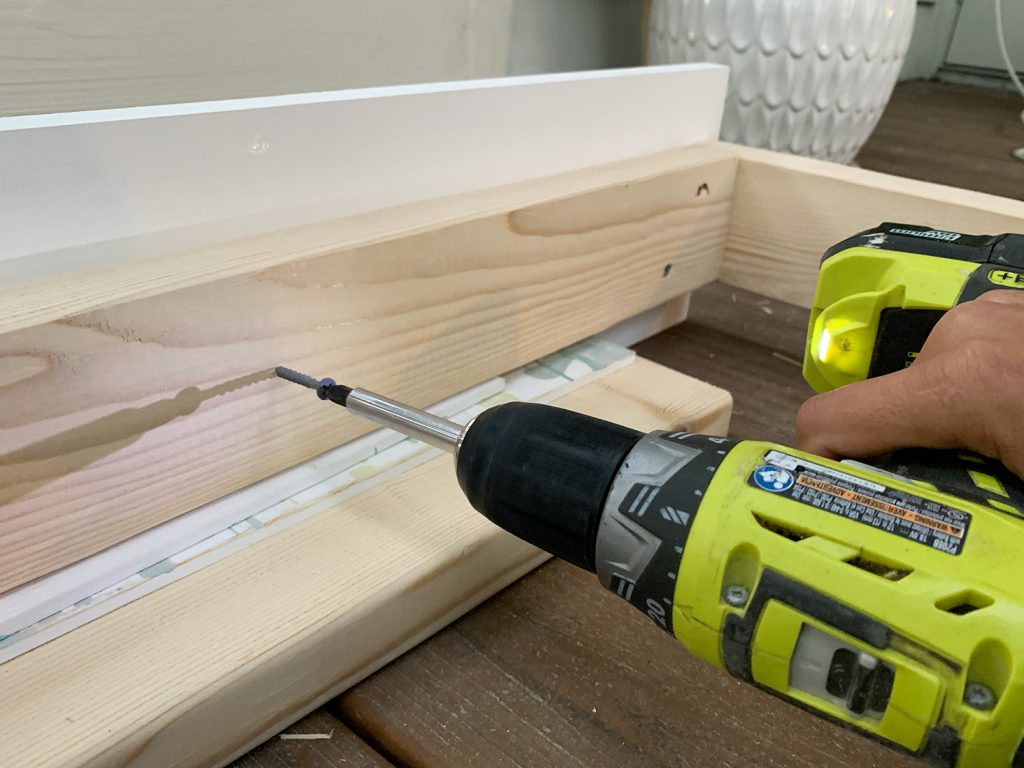 The only thing to consider here is how much you want your cushion or mattress to be recessed within your platform (how much is exposed vs. how much is hidden below the lip). Our cushion isn't super thick so we wanted a minimal amount covered (nothing is worse than sitting on a bed when the mattress condenses and you scrape yourself on the bed frame). So our goal here was to have just enough of a lip to keep the cushion in place but not too much that we'd ever scrape against the lip. So before we attached the 1x8s around the side, we propped up our 2×4 frame on some scrap wood until we got the height of our lip just right.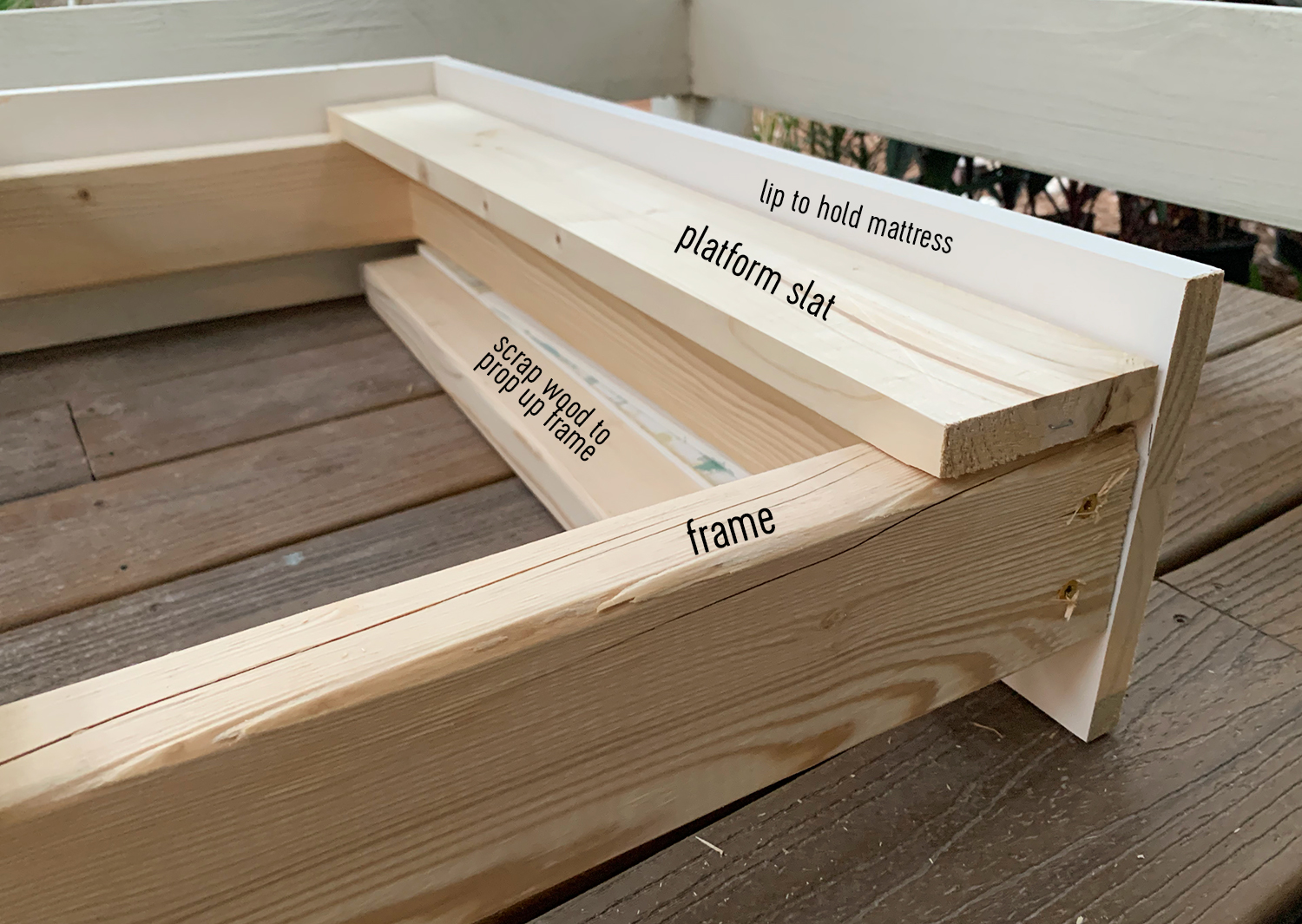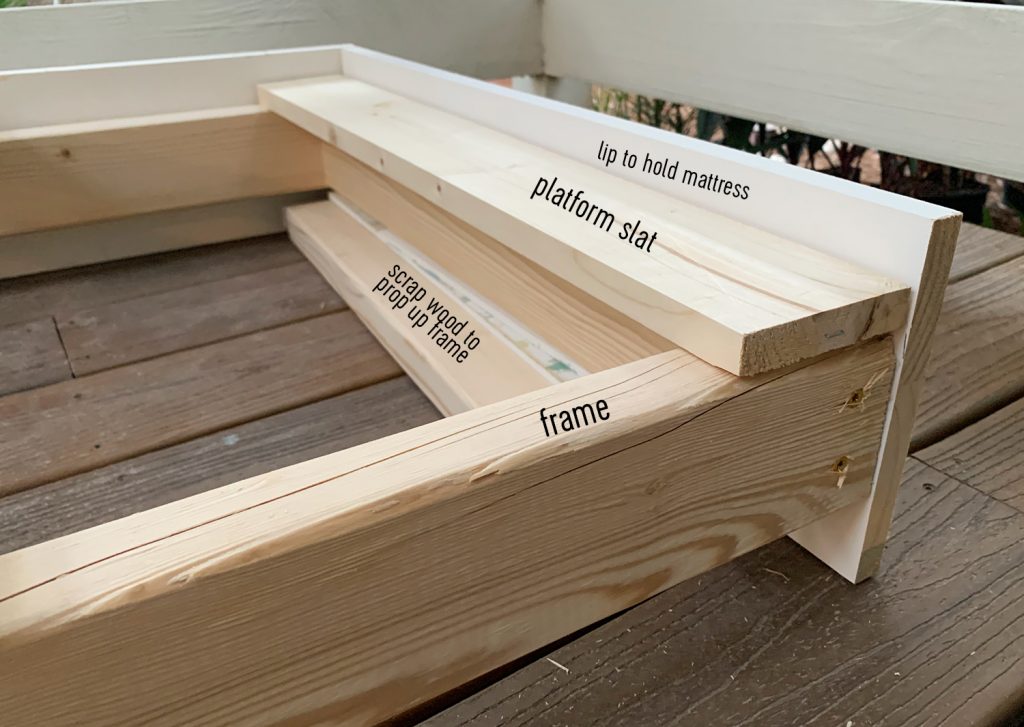 Note: you'll also want to be sure to account for the slats that you'll be adding to the platform in the next step, that's why you see one resting on the frame above – to ensure that we were factoring those in as well.
So below you can see our finished frame, once all of the 1x8s were screwed on. As you saw above, we screwed from the inside of the frame, that way we didn't have to patch holes on the outside.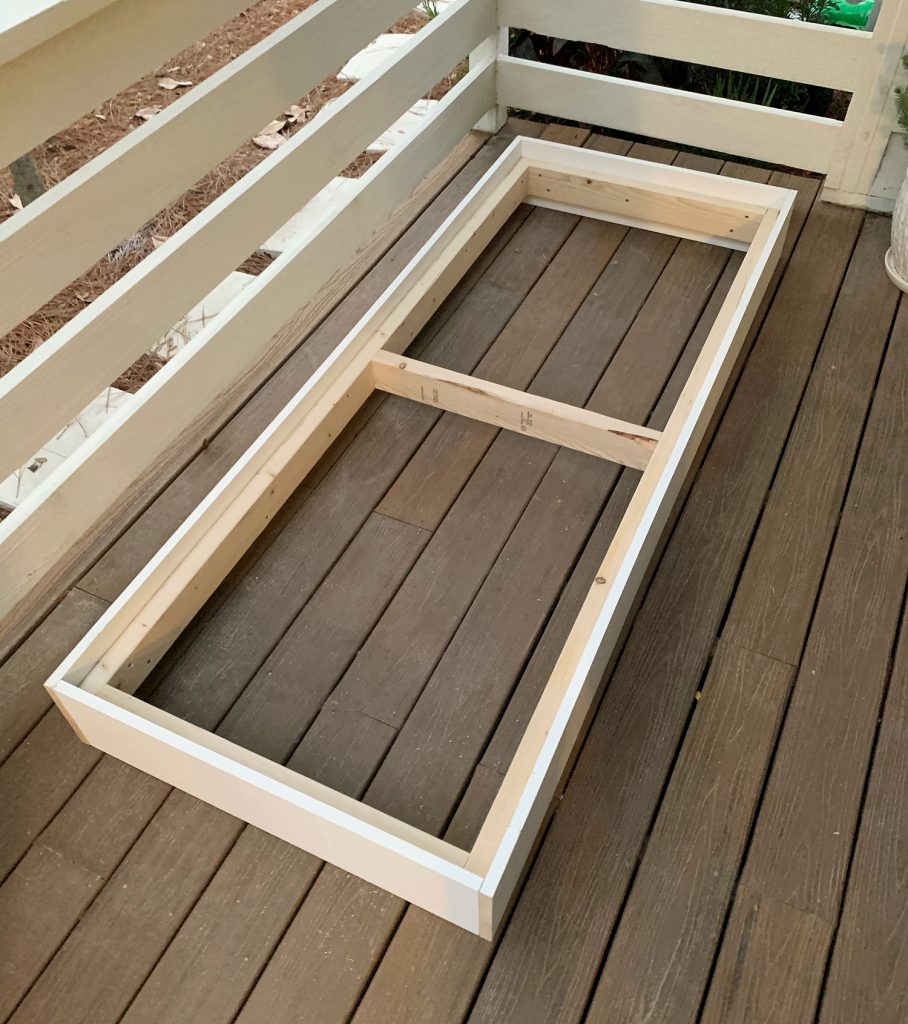 Next, we nailed in a bunch of cheap 1×4″ boards that we cut to size, creating our own DIY platform bed slats.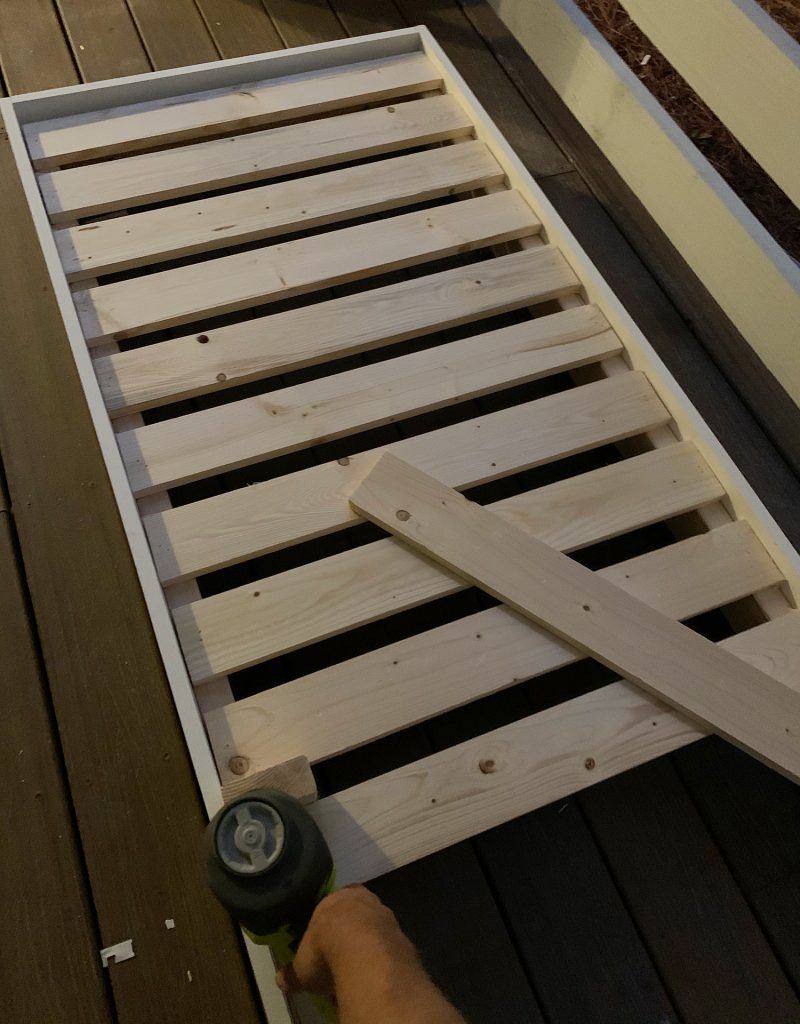 The next day we primed and later painted all of our exposed wood using the same exterior paint that we used on our outdoor trim/railings/etc (Moderne White by Sherwin Williams) – top, bottom, sides – we did it all. Maybe this was overkill, but we wanted to help protect the raw wood from the elements as much as possible.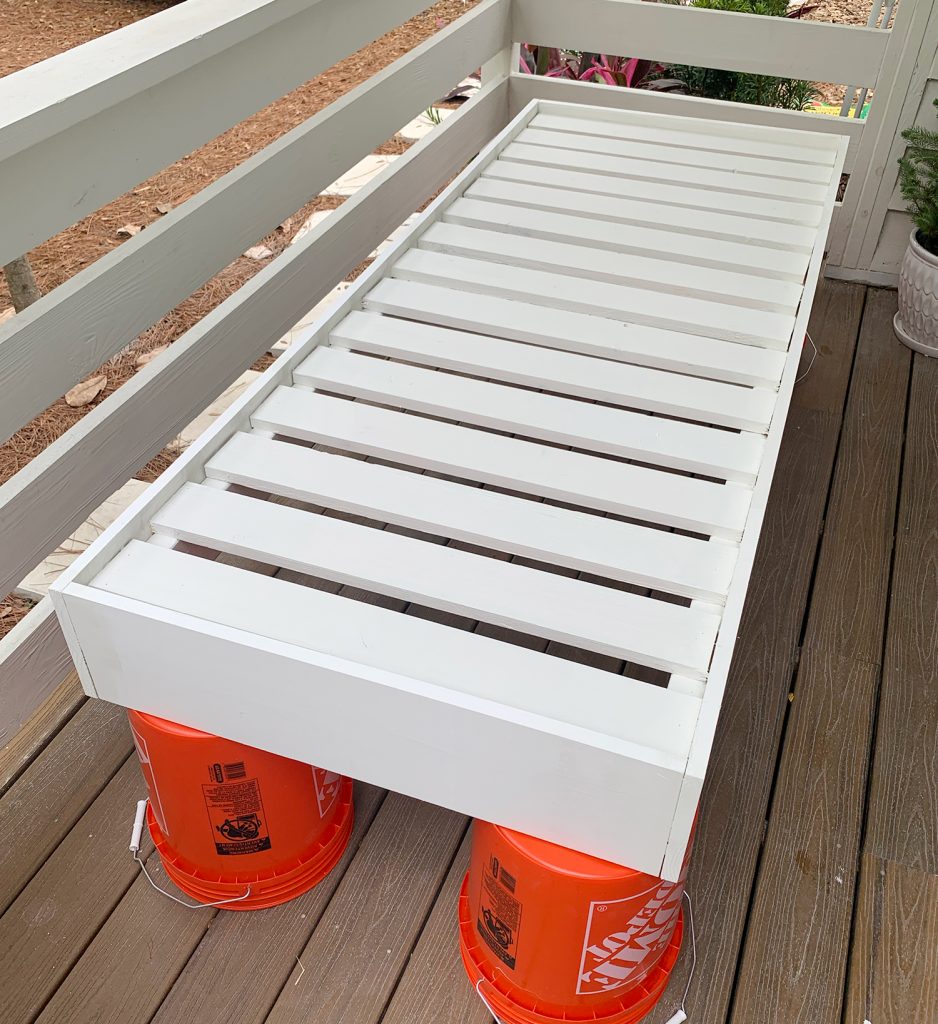 You can also see that we propped it up on some 5-gallon buckets, which I'll explain a little later. It actually made a certain step a whole lot easier.
Building The Daybed Arms
The construction of the arms and the side rails of your daybed is largely personal preference, and in our case we wanted to mimic the horizontal railings that we have around our house. We also opted to NOT build a back rail, (we just did two end rails, but not a third rail along the back side) which I realize might seem like a controversial decision.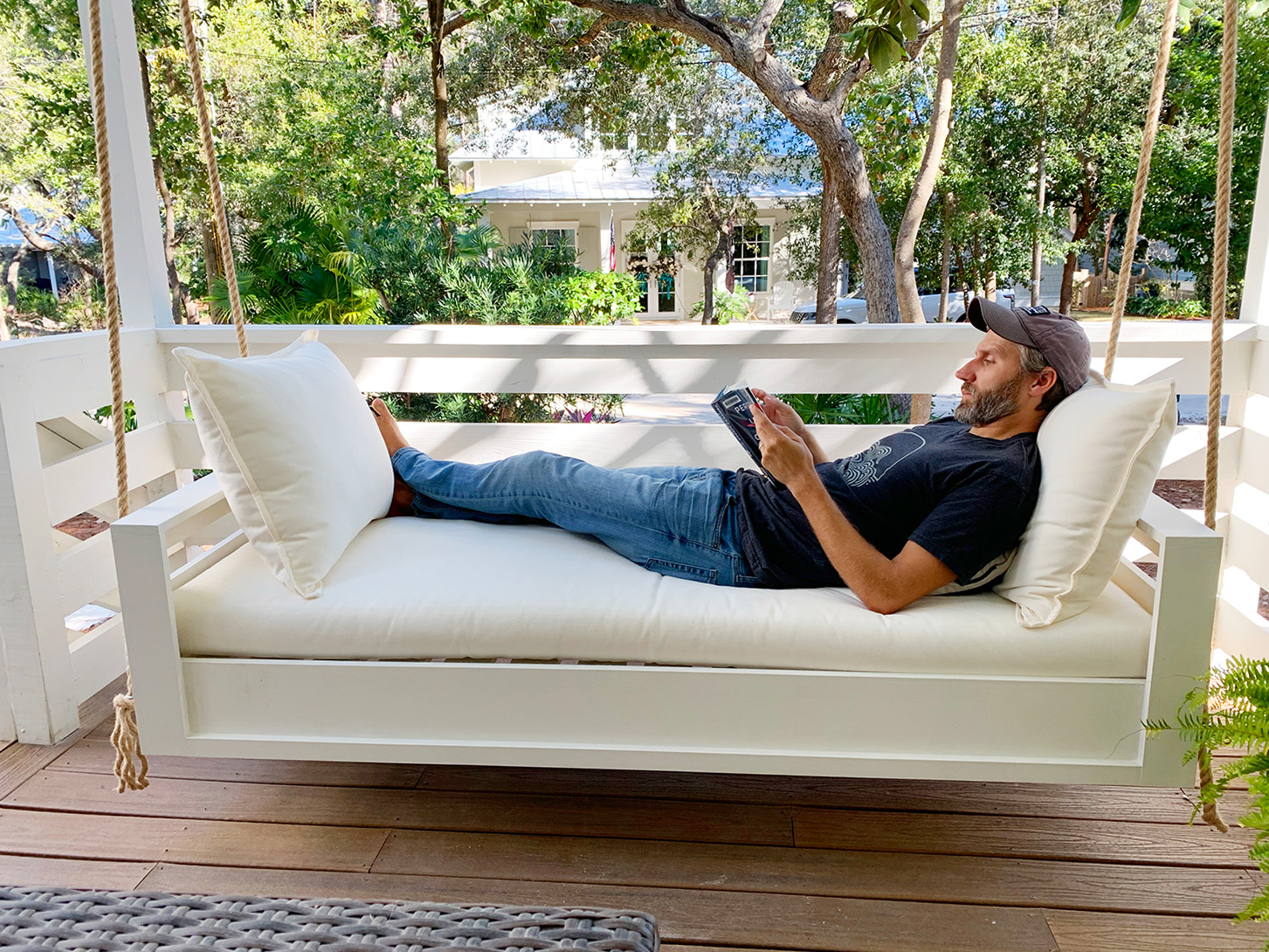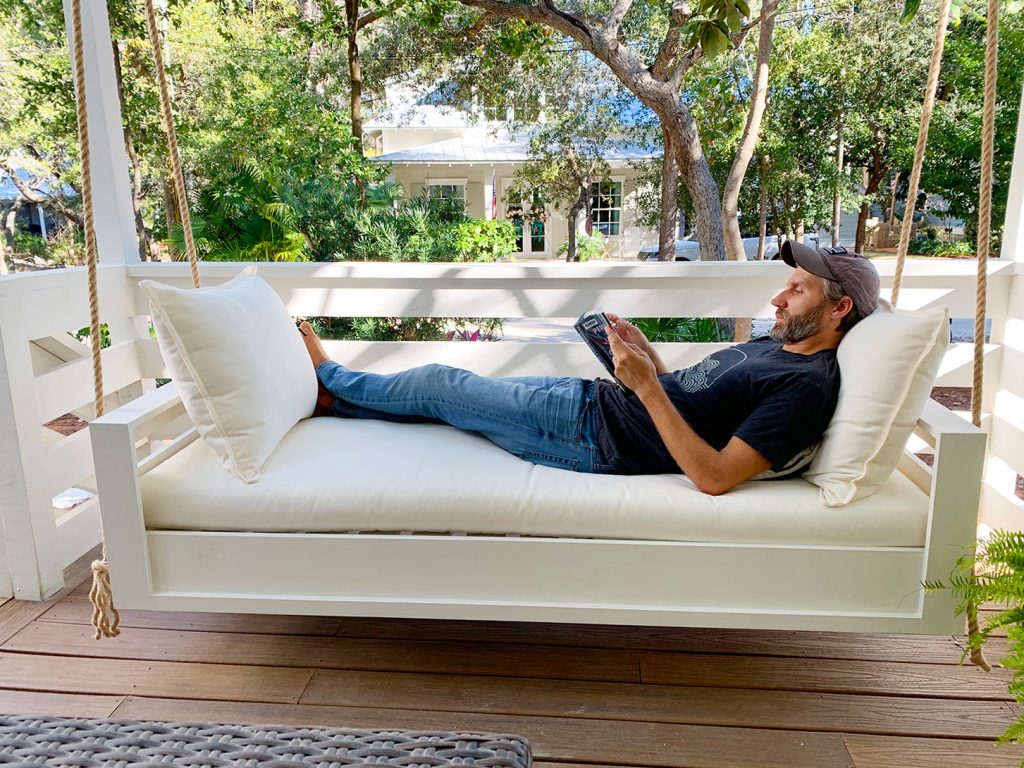 We worried it would just encourage us all to sit against it, kinda like a couch, meaning we'd end up facing the house – rather than looking out towards the trees and the sunshine. Sherry & our daughter's end-sitting experience in Costa Rica likely sealed the deal since they had a back on that daybed and didn't use it. The choice feels pretty risk-free since we can always add one in the future if we miss it for some reason.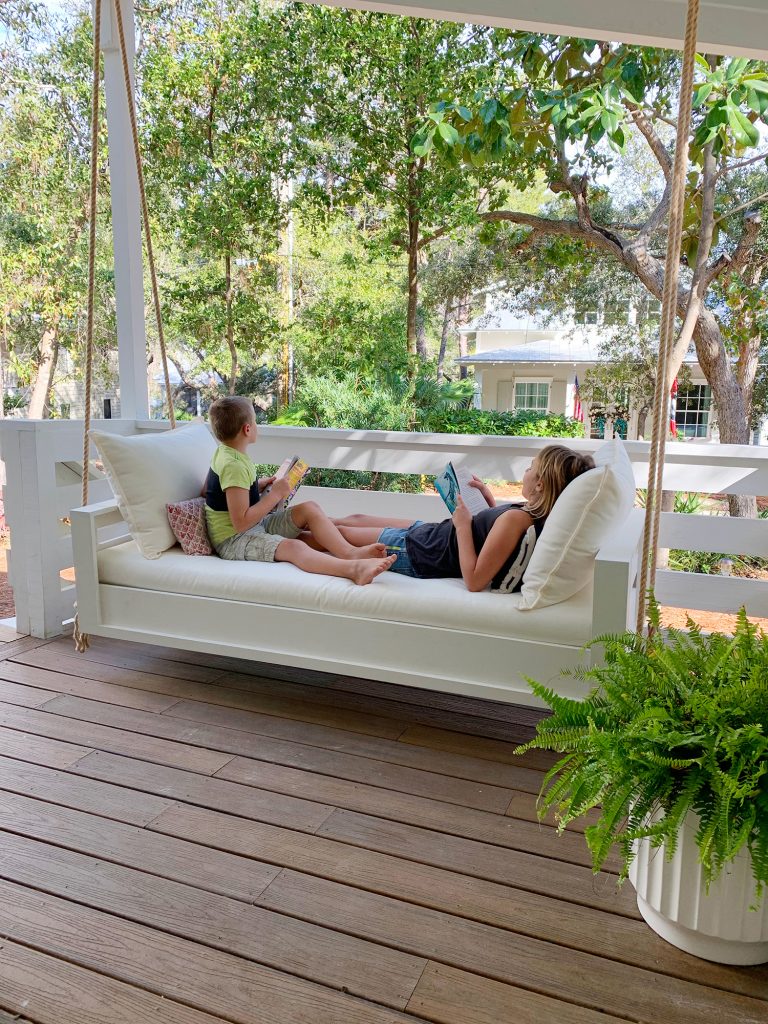 Whether you're adding a back or not, you still need to start this step by adding simple posts to all 4 corners of your daybed's base. These are each made from two 1×4 boards attached at a right-angle.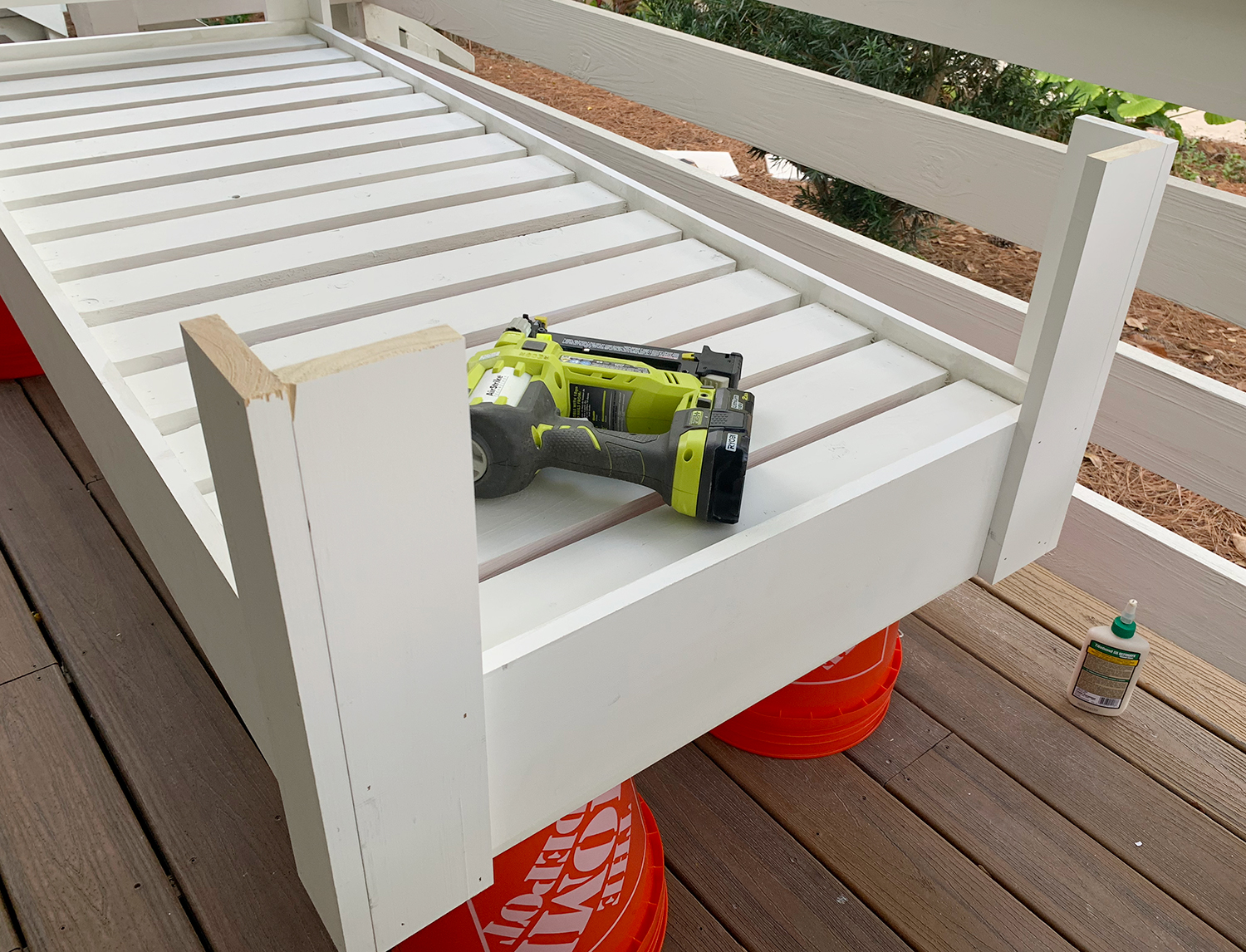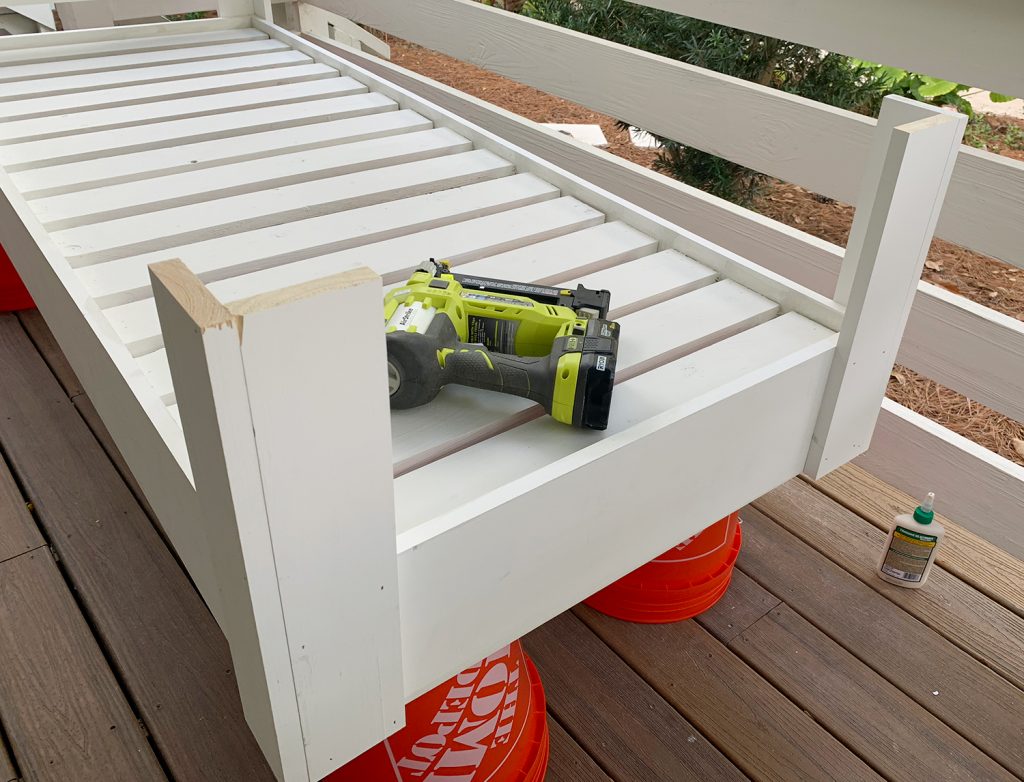 Arm height is also personal preference, but we kept ours relatively low – just enough to support a pillow for leaning back on each side (we also carefully measured so our horizontal rails could be evenly spaced). Our corner posts were 17.25″ tall.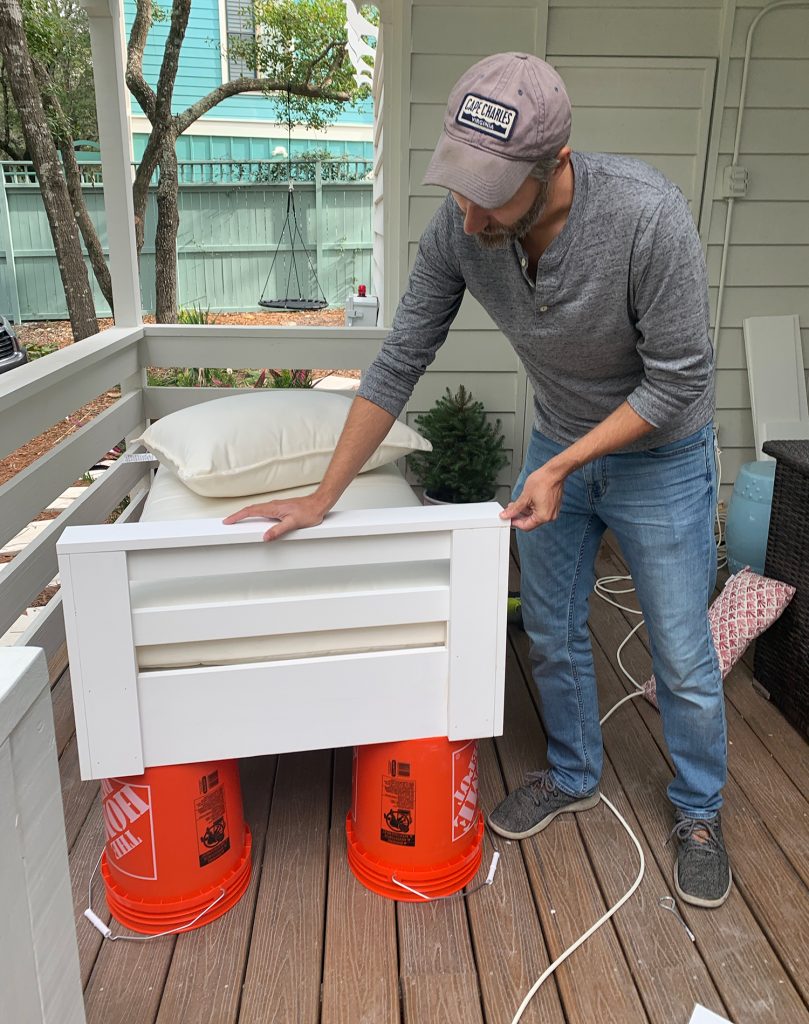 I should add here that any piece from here on out is attached with a combination of exterior wood glue and brad nails. The nails make it fast and easy to patch, the glue helps it hold for the long haul. You can see that I attached my 1x4s to the frame individually…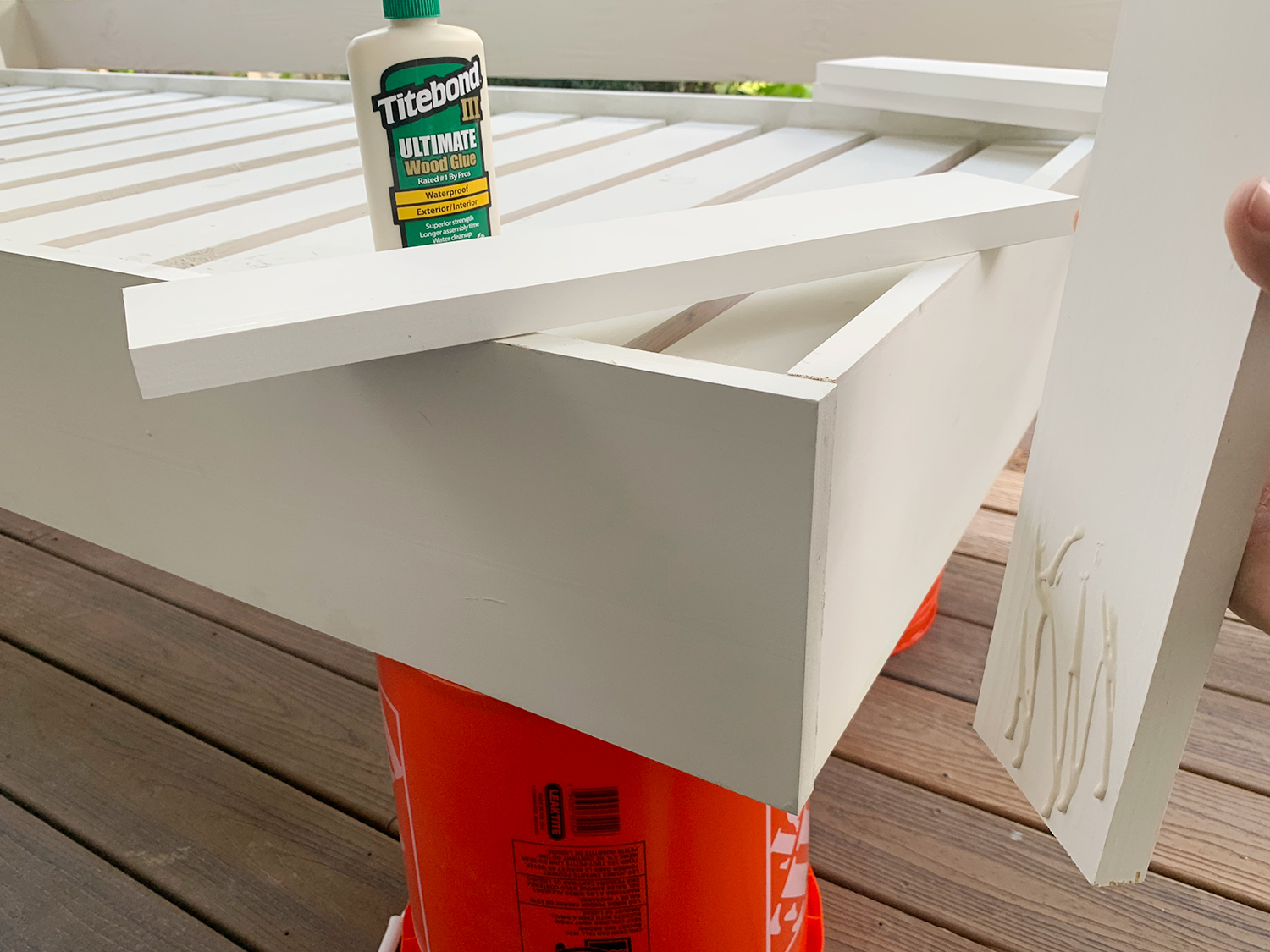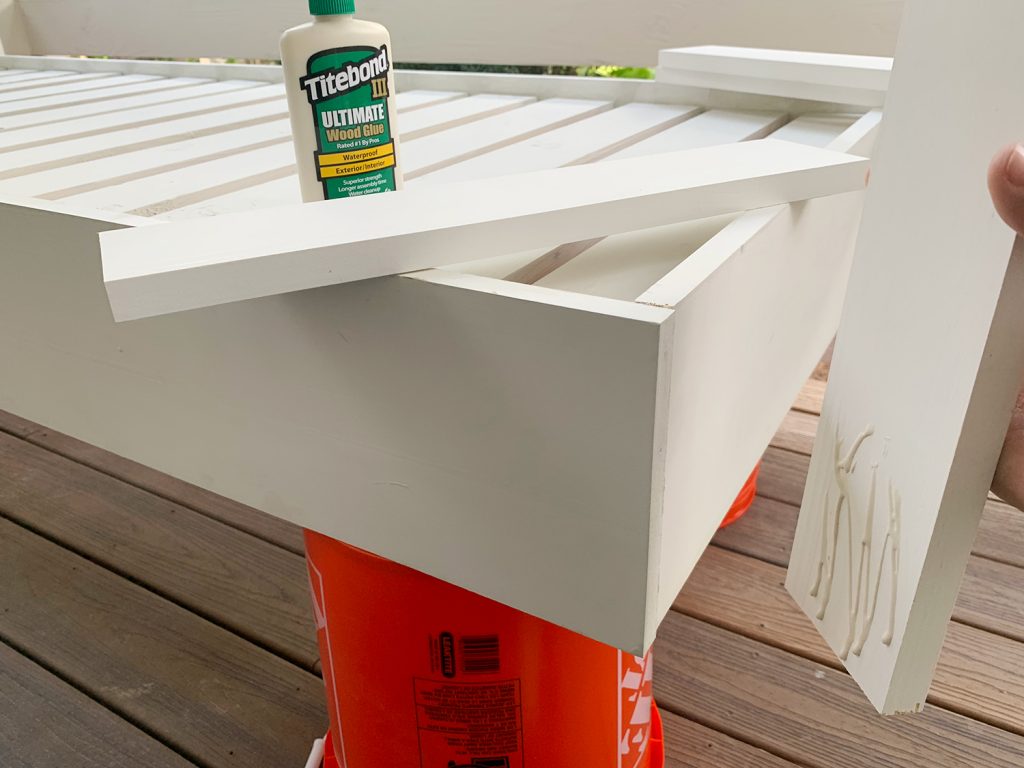 …and then nailed them together along the edge where they met.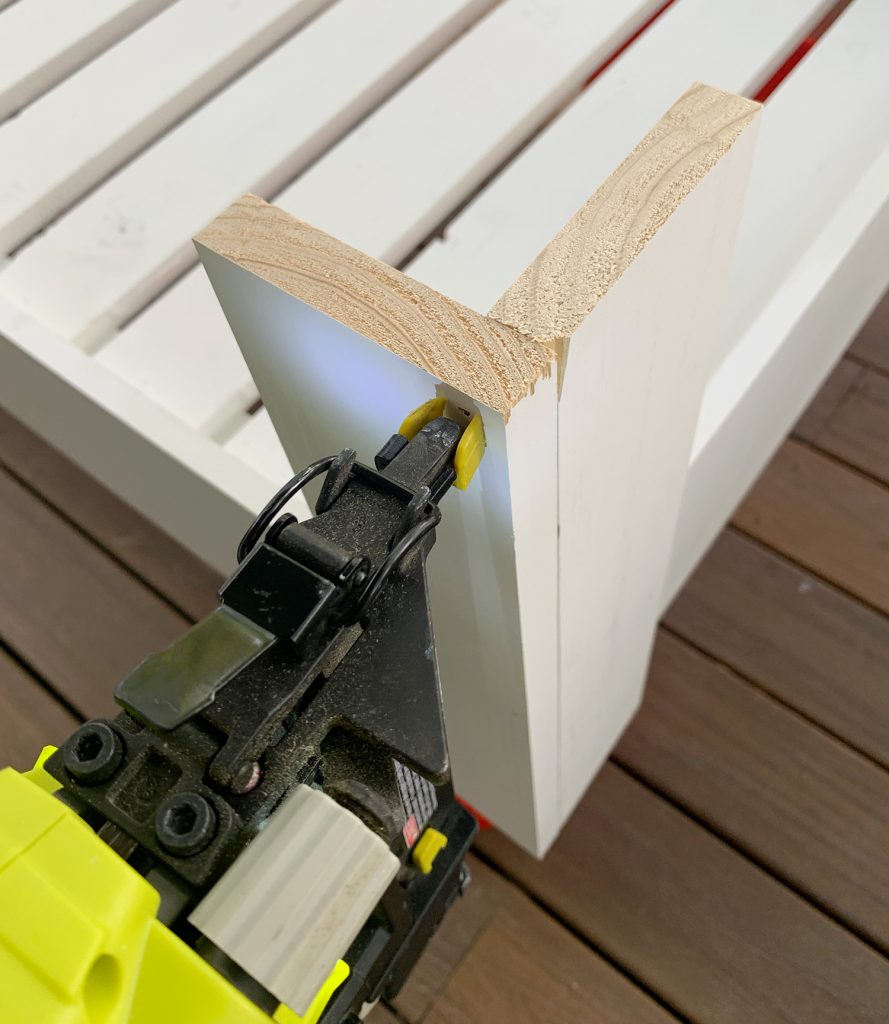 Once my vertical posts were secured to each corner, I added the horizontal rails using 1x3s. I nailed and glued these from the inside and used some scrap wood spacers to make sure they stayed level while I attached them (you can spot the spacers in each corner below – they're just small blocks of wood that I cut to the right side and put in each corner below the rail I was nailing – but they pll right out and can be used on all sides as you go around).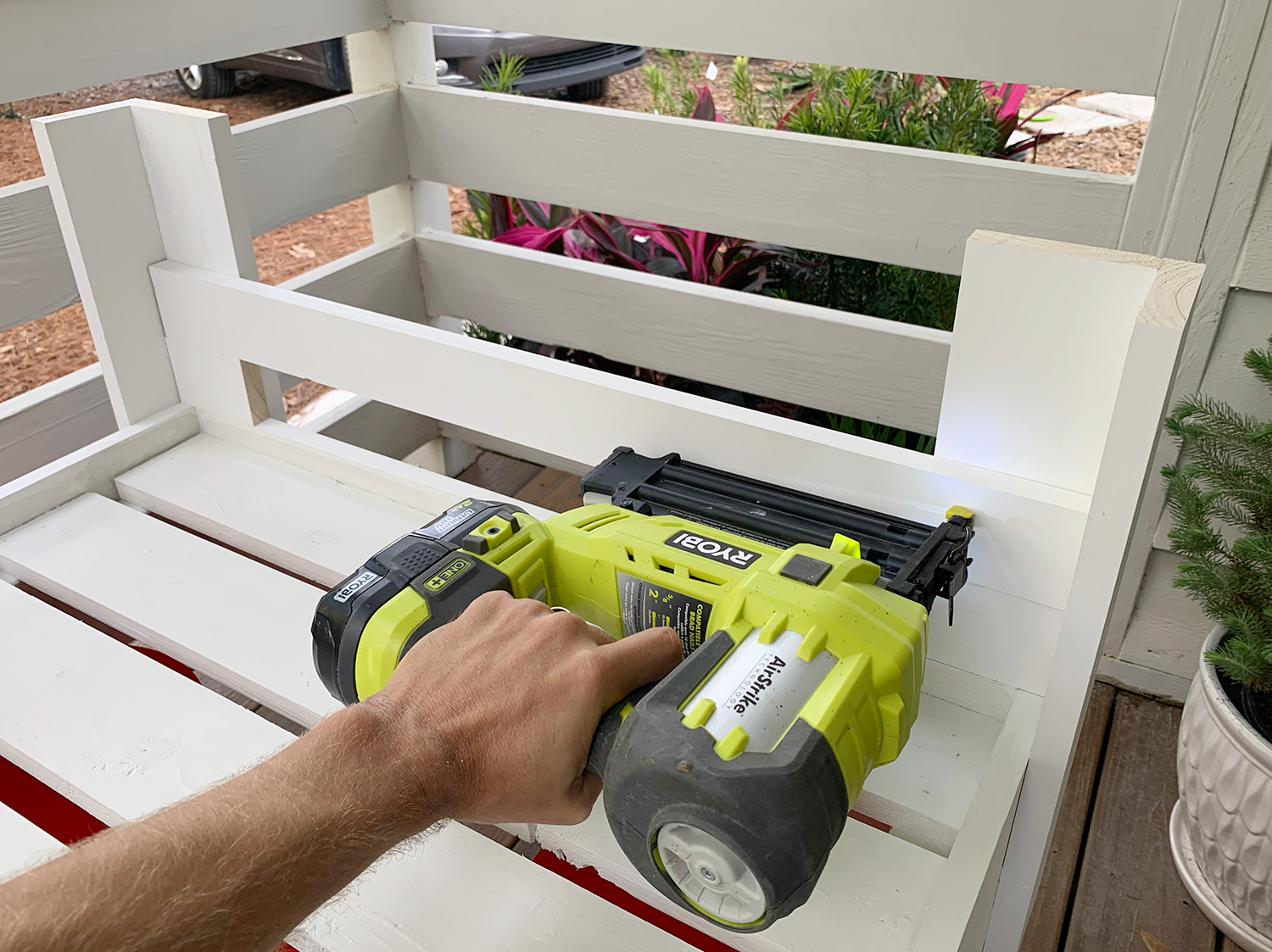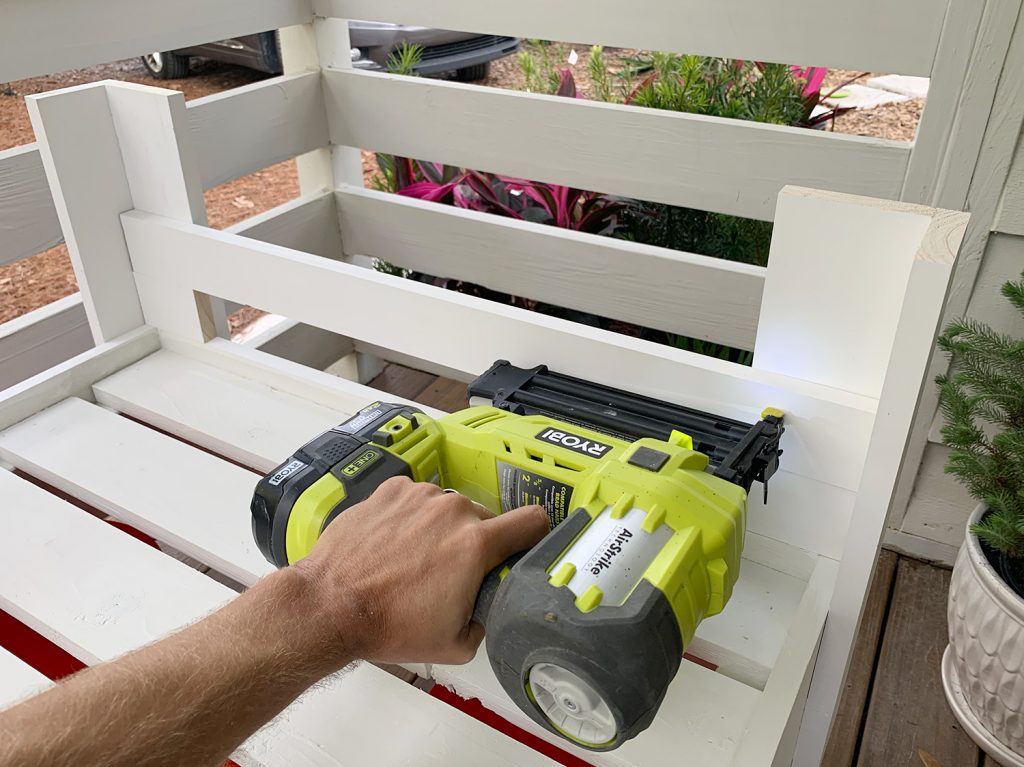 I repeated that same step with my upper horizontal rail, making sure it was flush with the top of my vertical posts.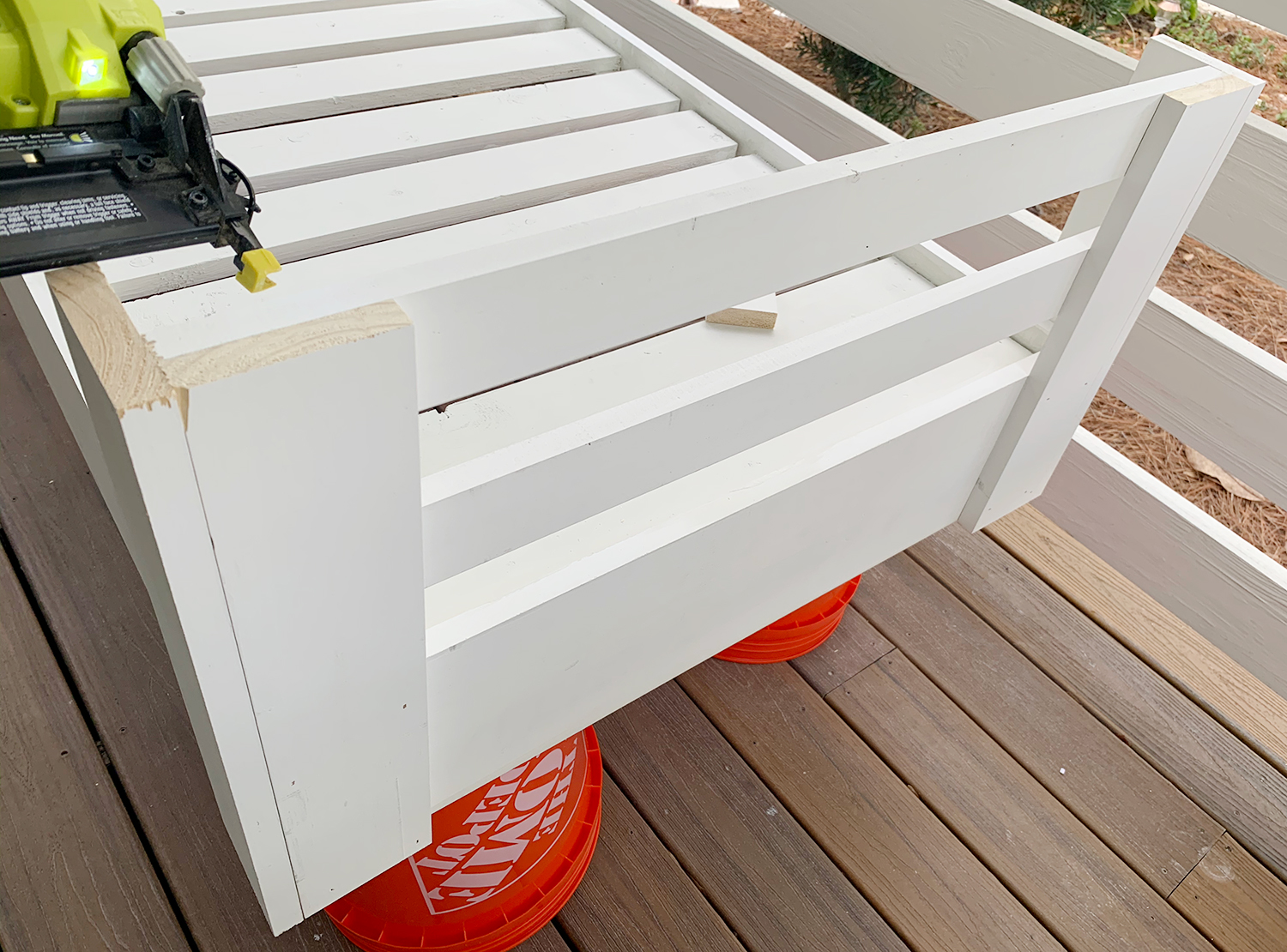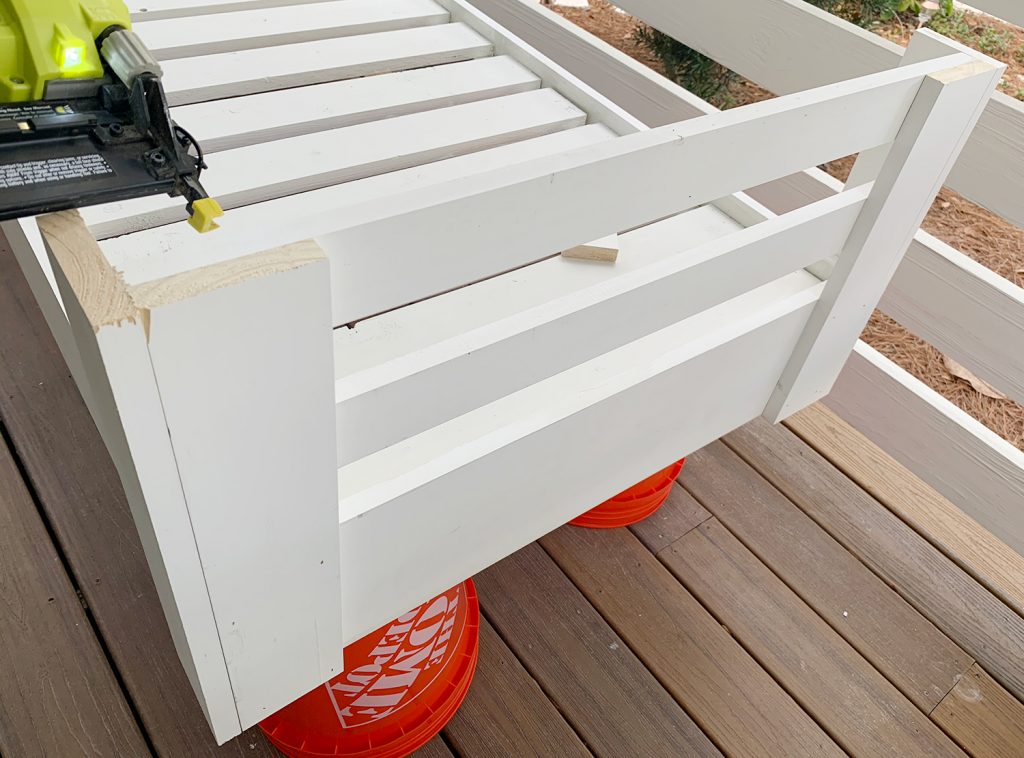 Next, we attached another 1×4″ board across the top to create a flat arm rest of sorts.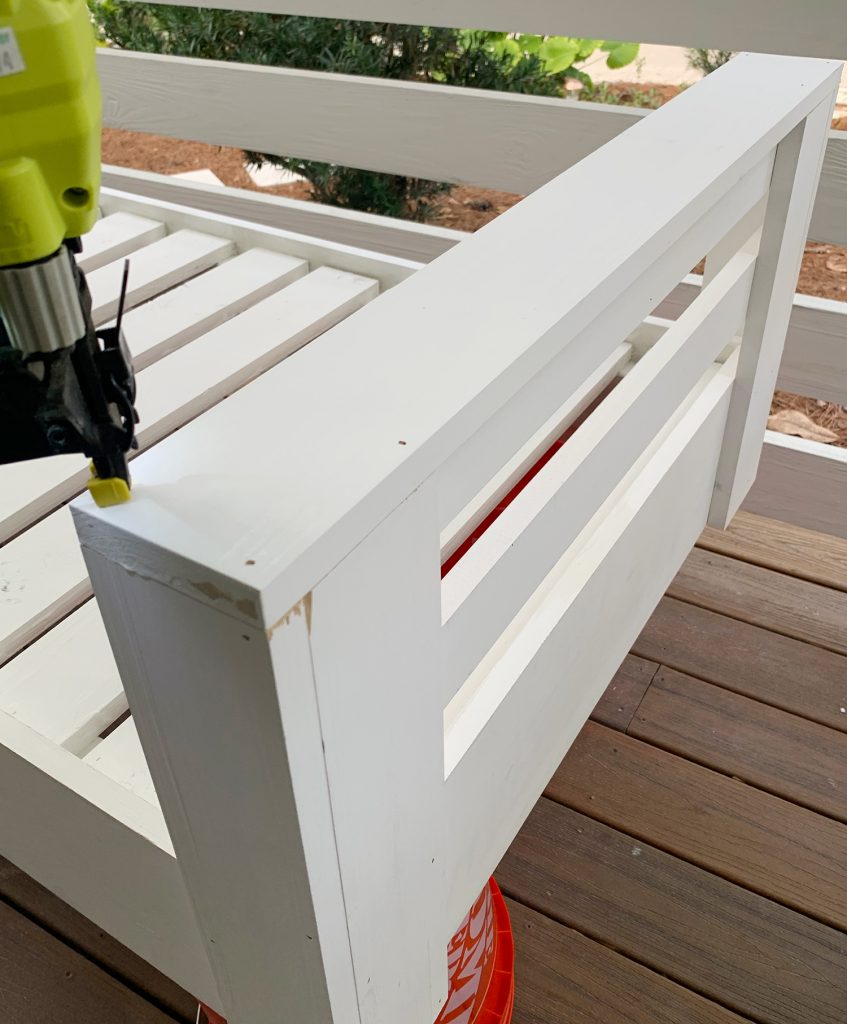 The last little detail we added was a 1×2″ board along the bottom edge of the frame, between all 4 corner posts. This was purely decorative, so could totally be skipped or tweaked depending on what final look you're going for.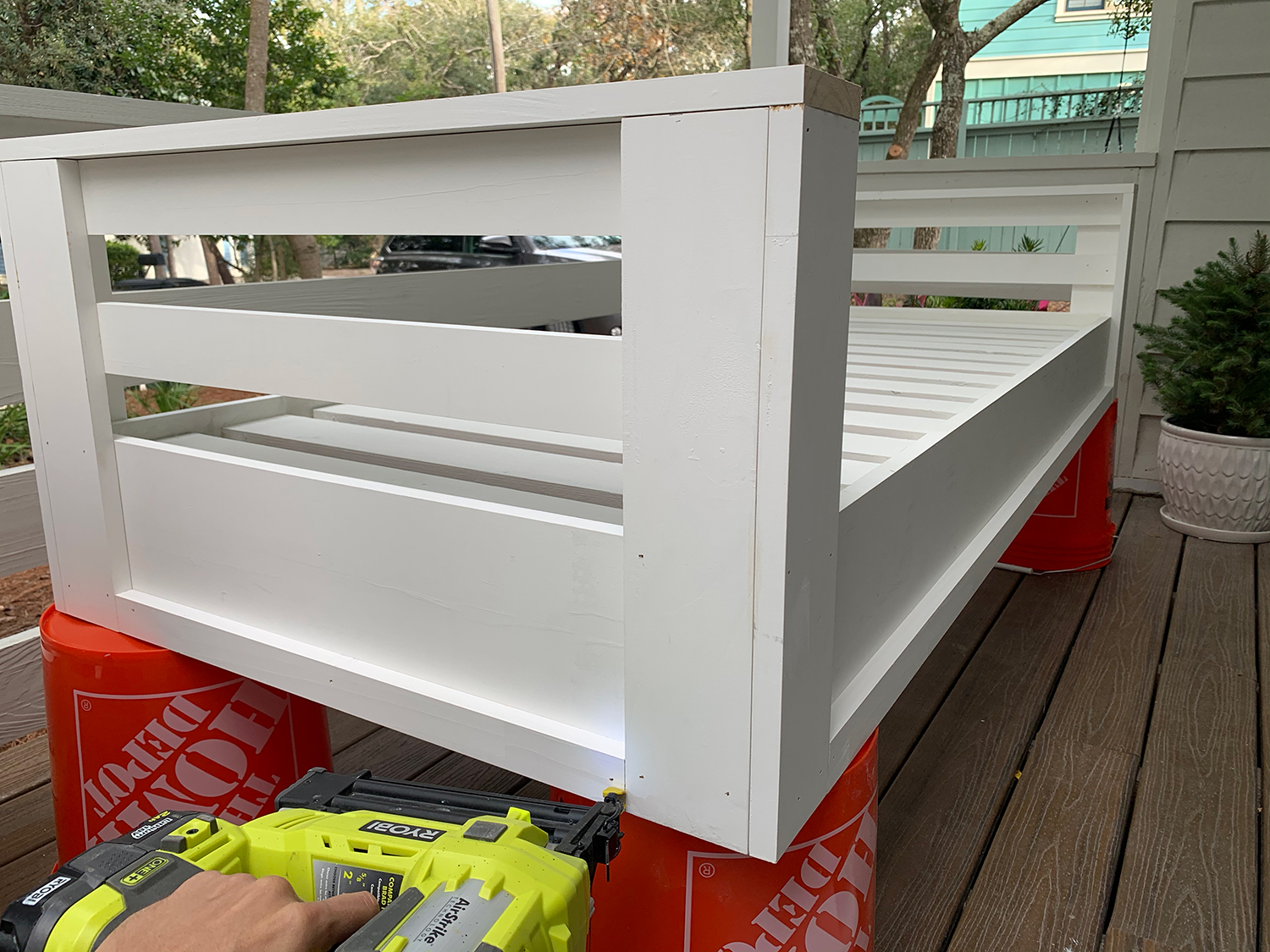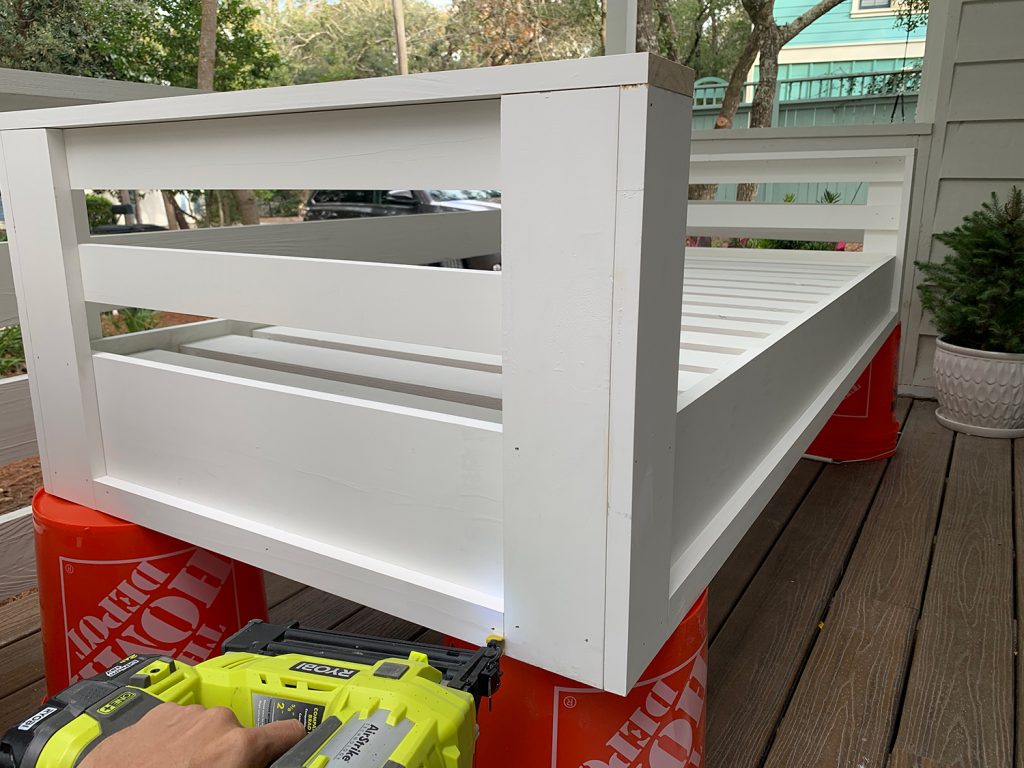 Once everything was constructed, we wood-filled our nail holes, sanded them smooth, caulked the seams, and painted everything with that same outdoor paint (SW Moderne White in a semi-gloss finish).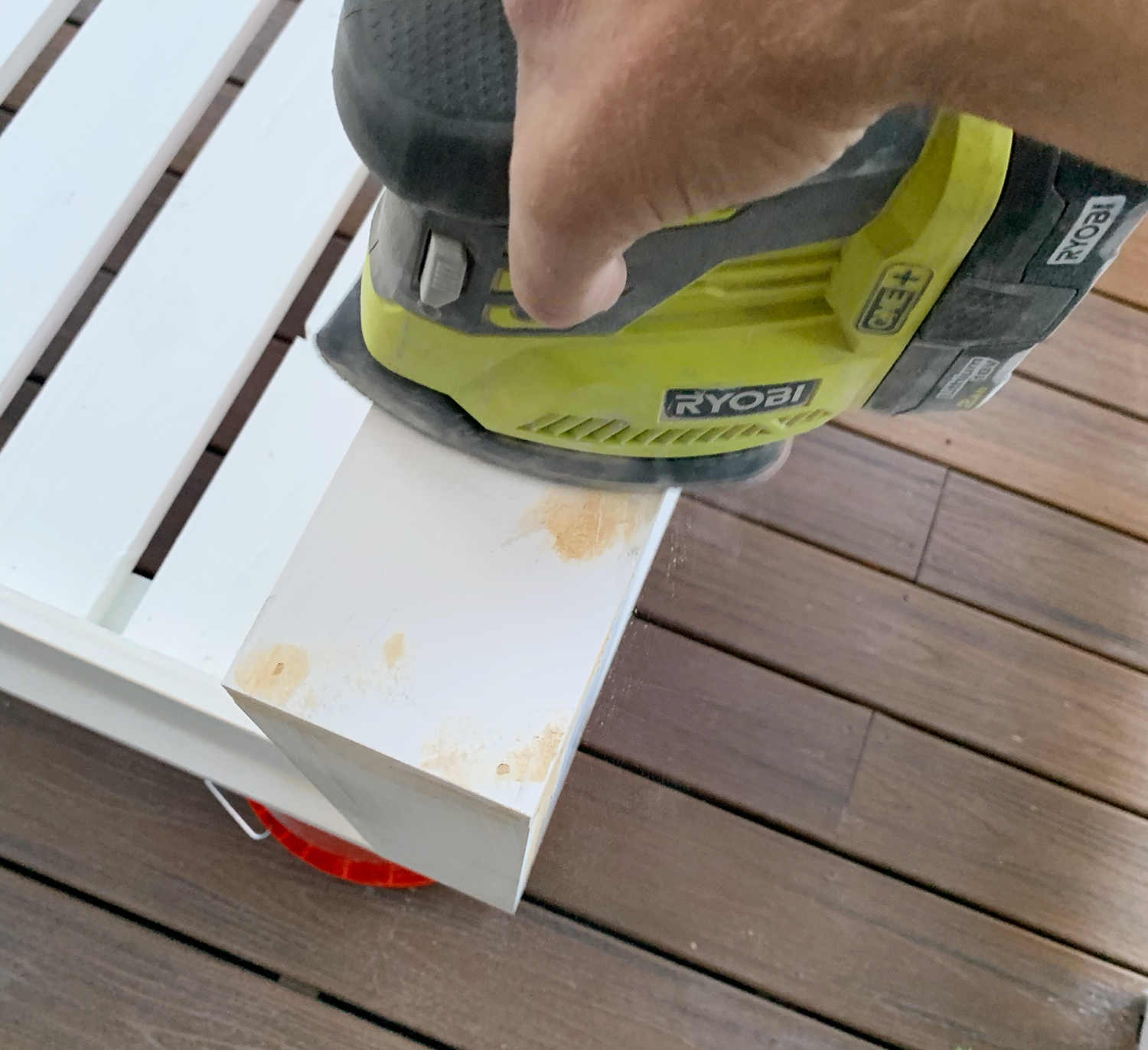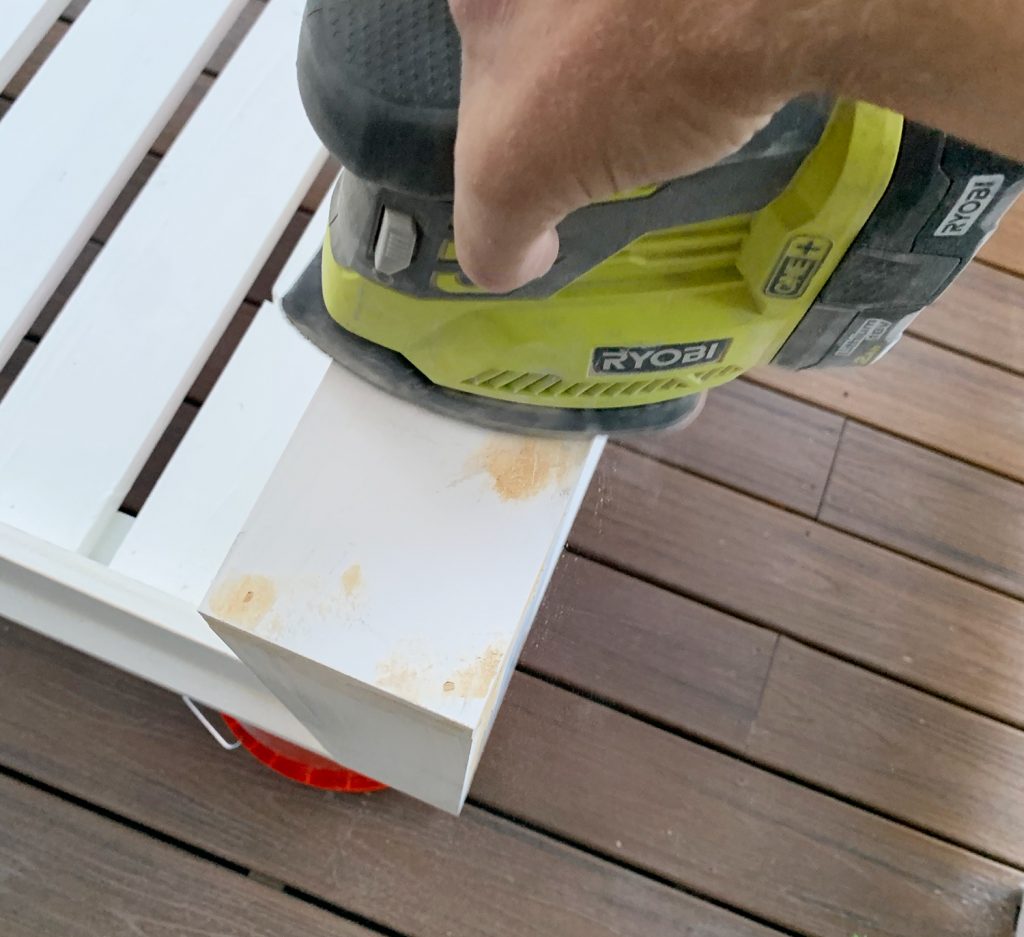 Once everything was dry, we were ready to hang it!
Hanging The Outdoor Daybed
I'm actually going to write a separate post about how we hung the daybed because we tried a couple of different methods – hanging from two anchor points (as you see below) and later hanging it from four anchor points (which had a lot more benefits). We made a detailed video to show you exactly what worked the best to save you time, trouble, and money (our multiple hanging attempts meant that we had to purchase the rope twice and that we wasted a stupid amount of time on a subpar initial method).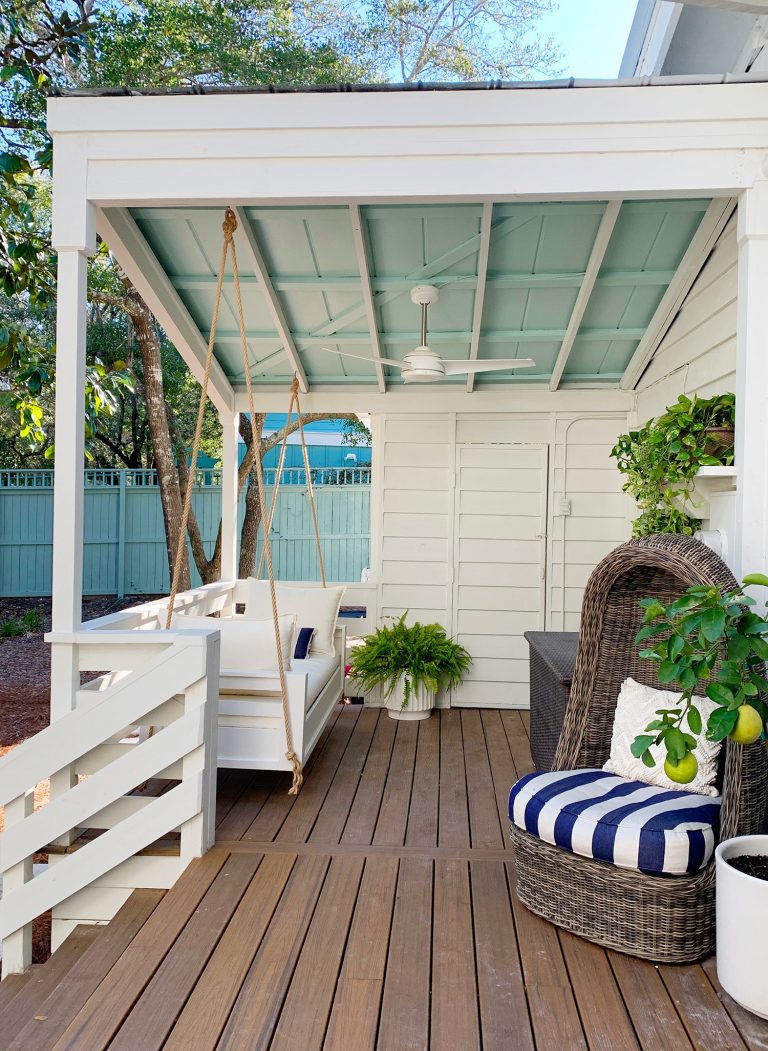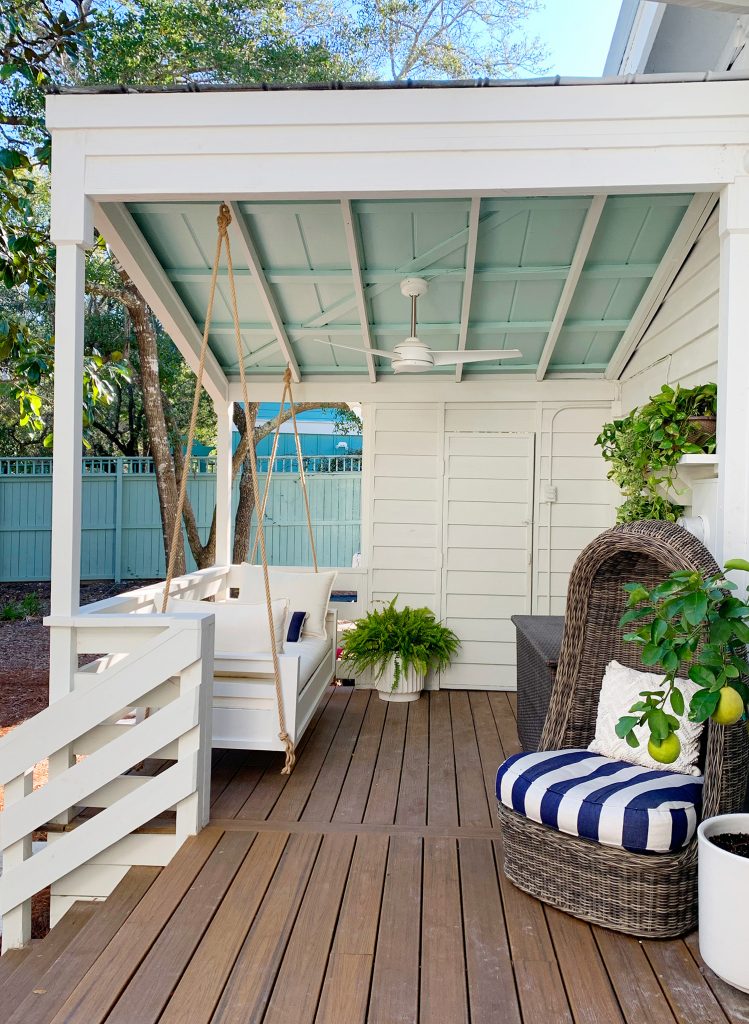 If you just want the material details so you can order it while we get that post together for you, we used this 3/4″ natural hemp rope, heavy-duty eye hooks (these in the ceiling, these in the bed), and some basic knots.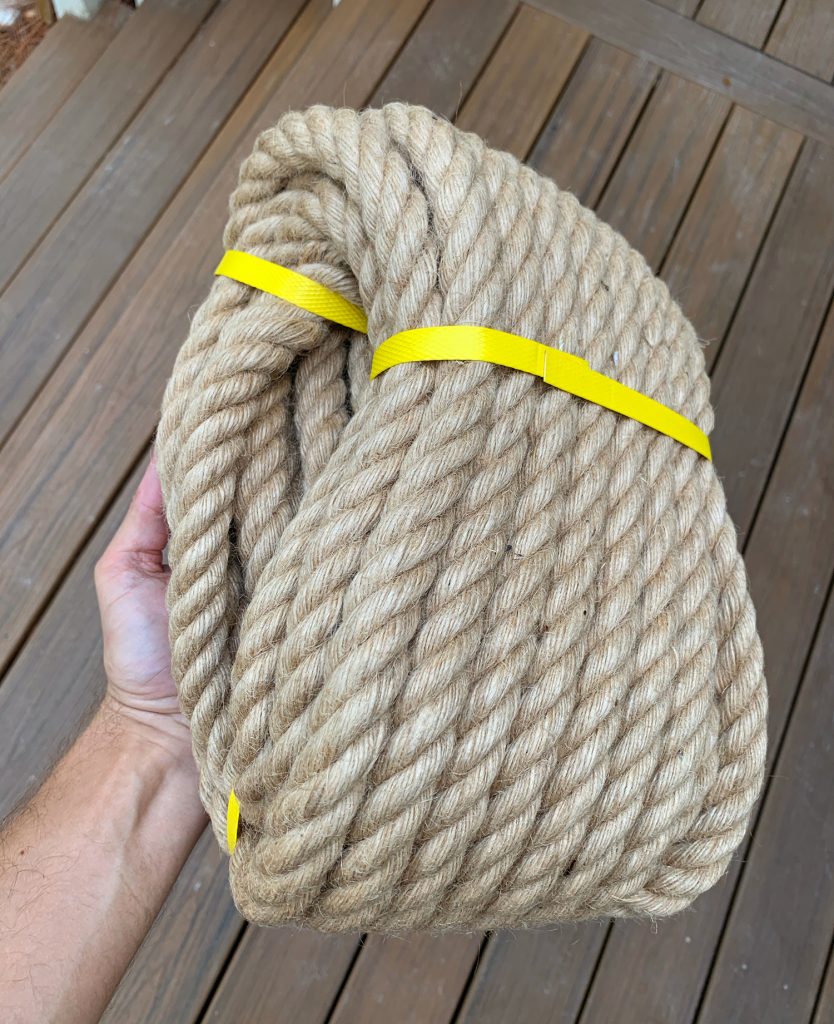 The rope was easy to cut with regular scissors and it does stretch out a bit under the weight of the bed, but that's where those buckets come in handy. I read in several places that your daybed will feel a little too high when it's propped up on the 5-gallon buckets, but they keep it level and help with placement. And once you tie your ropes and remove the buckets, your rope relaxes (ours did within the first use – once some weight was put on the daybed) and it ends up at the perfect height.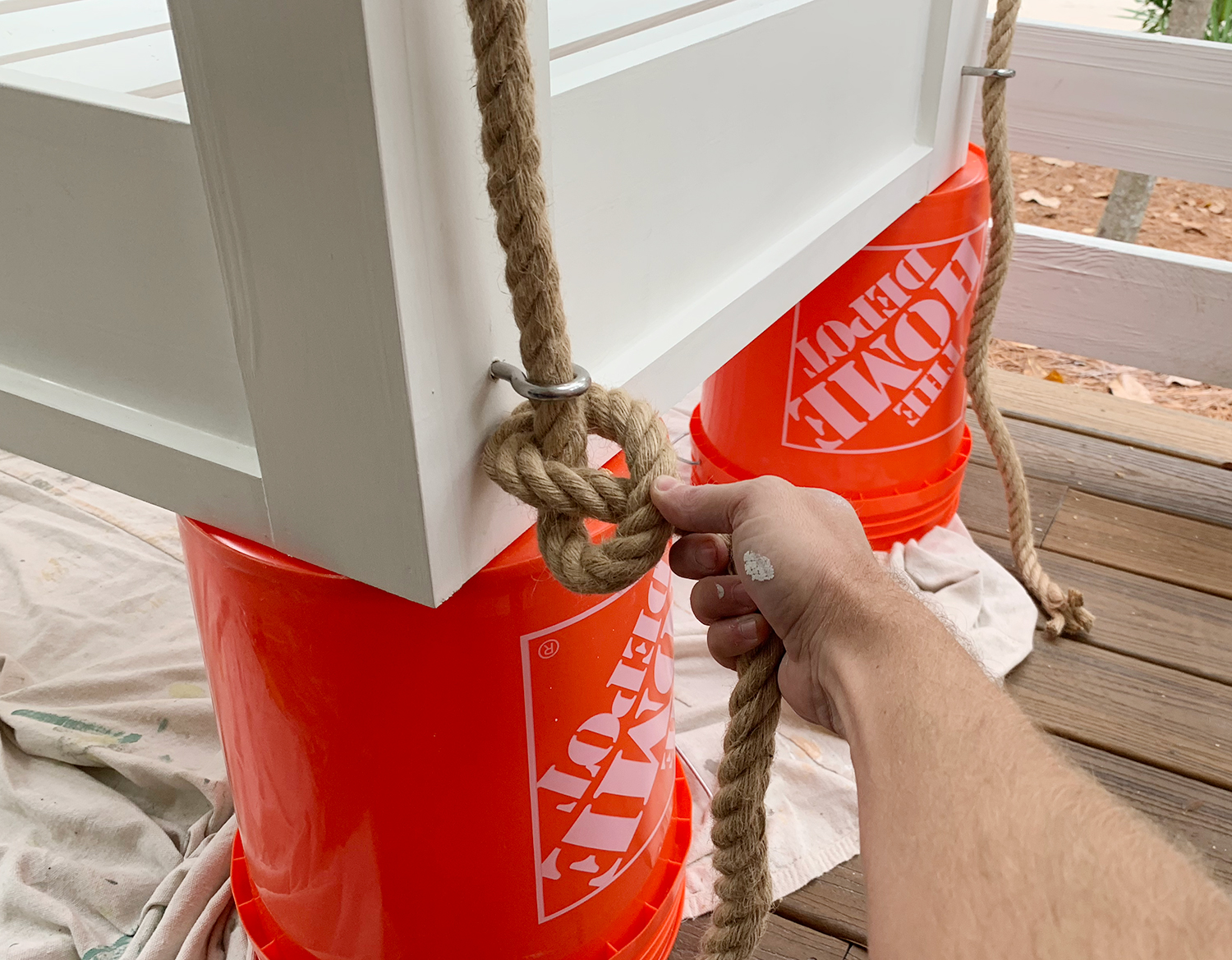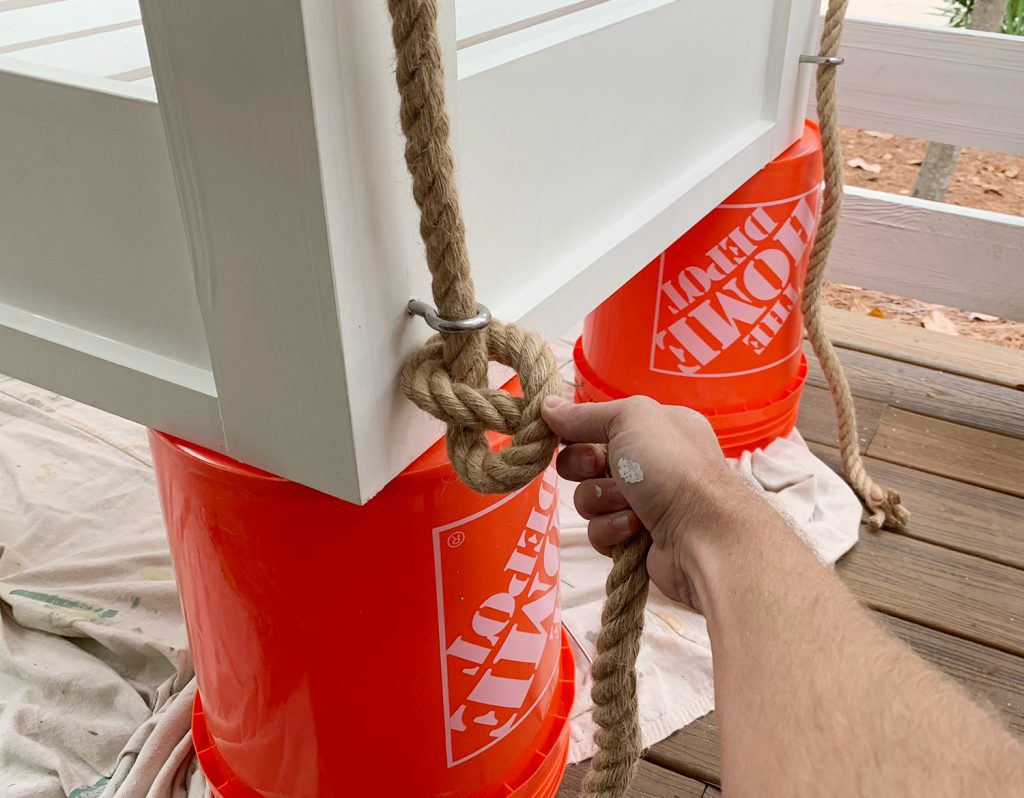 I'll get into more detail in a follow-up post, but the main thing is to make sure you find joists or other strong anchor points within your porch ceiling that you can trust. We were lucky that our ceiling is mostly exposed so we had lots of visible anchor points to choose from.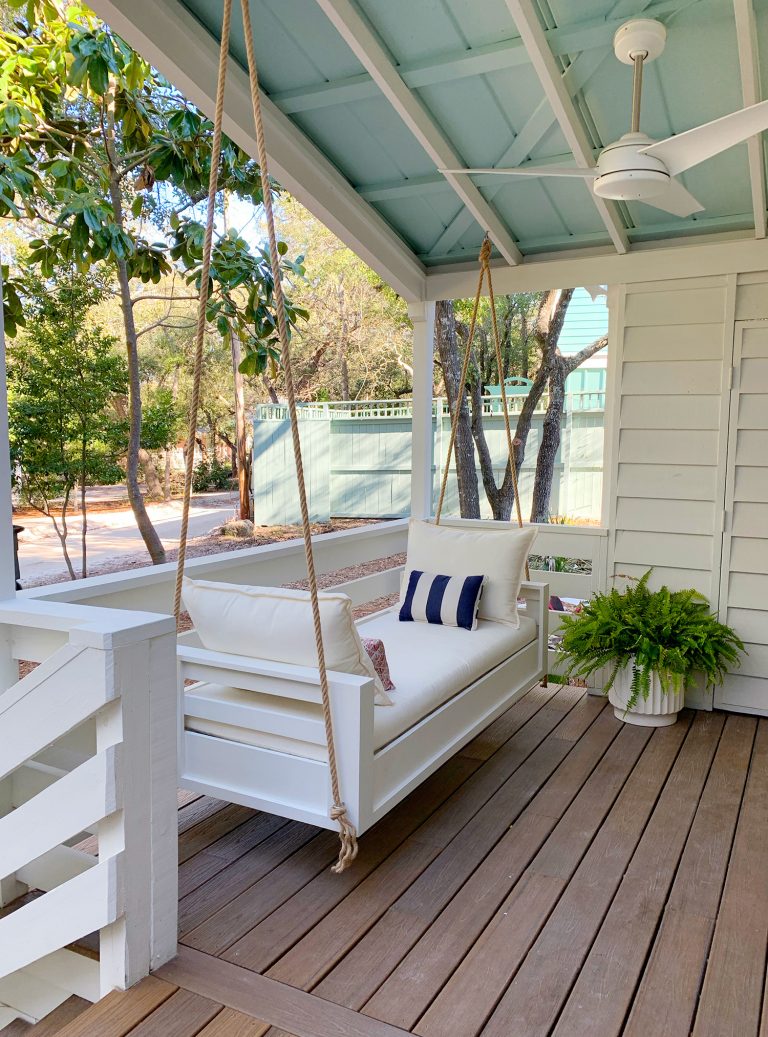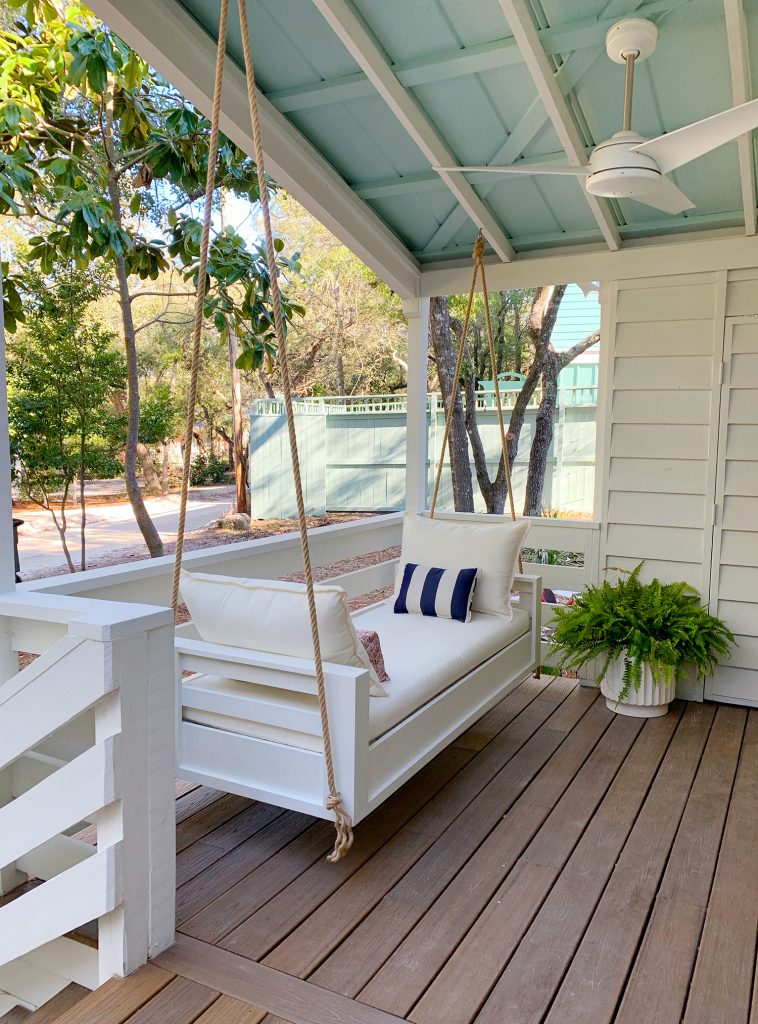 Even though the hanging method in these photos didn't end up being our favorite – now that everything is rehung, this spot is quickly becoming one of our favorite places to lounge around. We've been lucky enough to have several warm days over the last couple of weeks to actually enjoy it!
Thanks to our 6′ cushion, it's plenty comfortable for two people to sit upright at either end with their legs tucked under them, or out like this: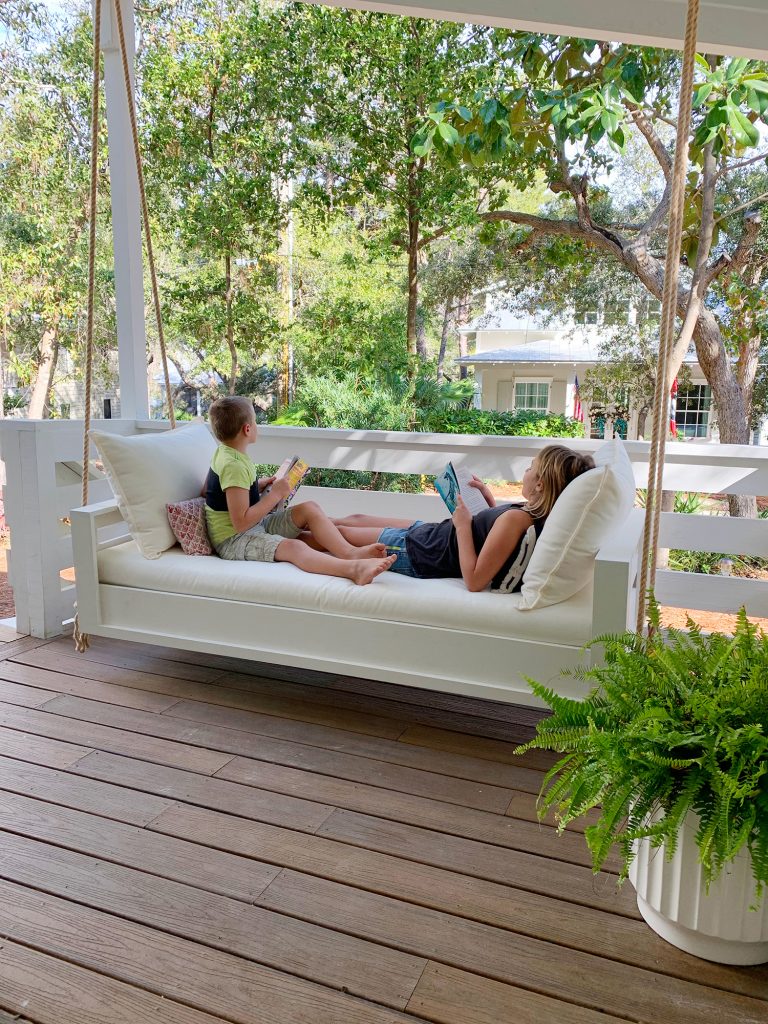 It's even big enough for a certain 6′ tall dad to sprawl all the way out on: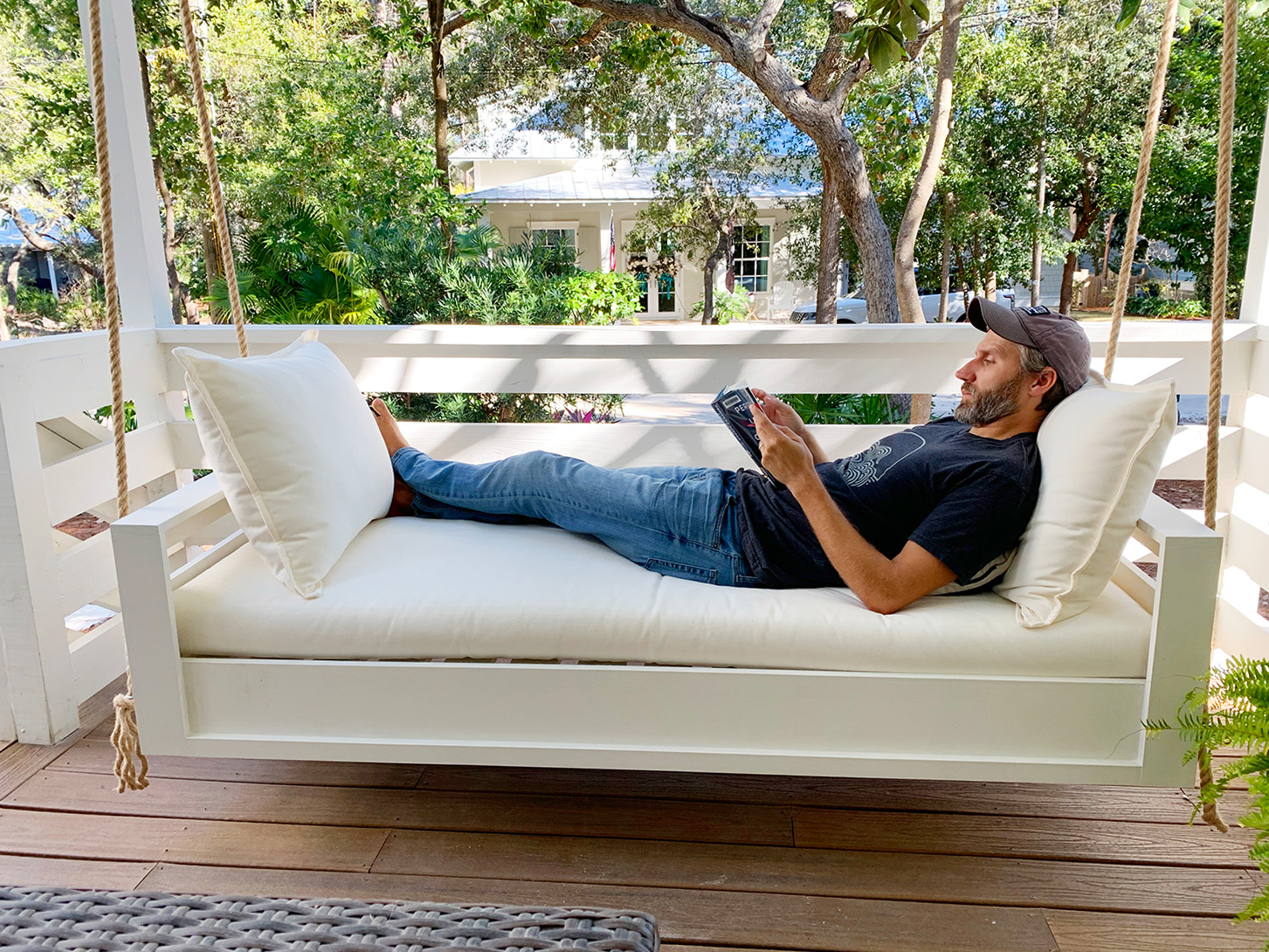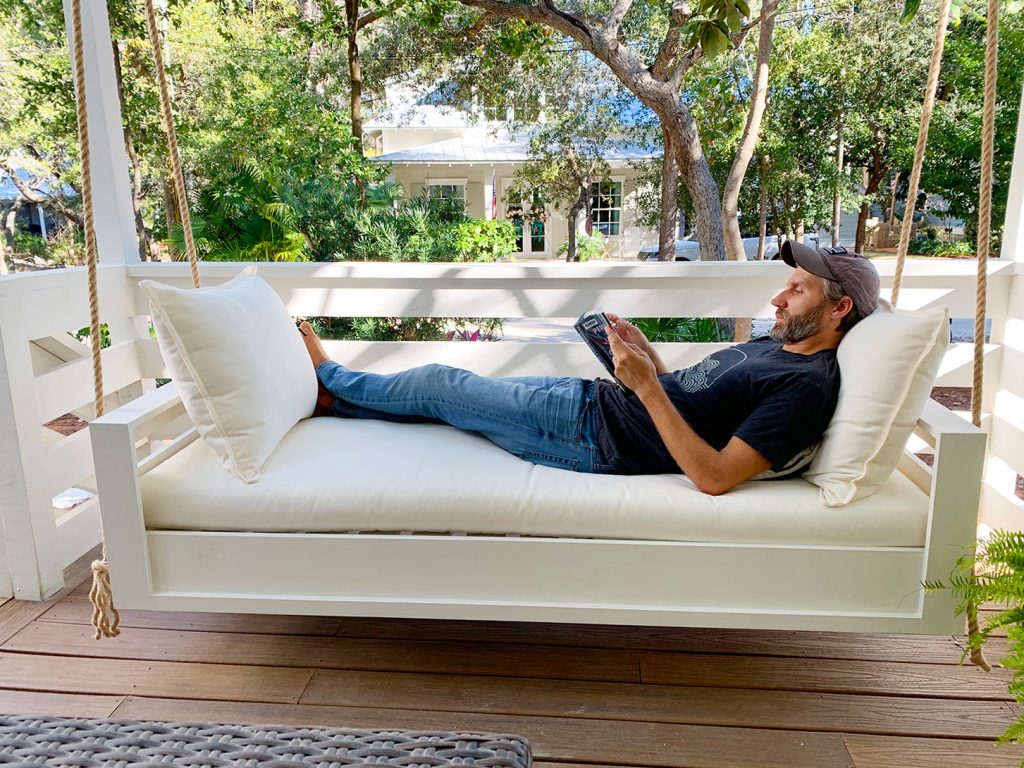 Budget
Apart from the cushion, the project was pretty budget-friendly. And I still feel like getting a long outdoor couch cushion, plus 3 matching oversized pillows for $399 was a pretty good find (we've got the 3rd pillow stored under our bed as a spare).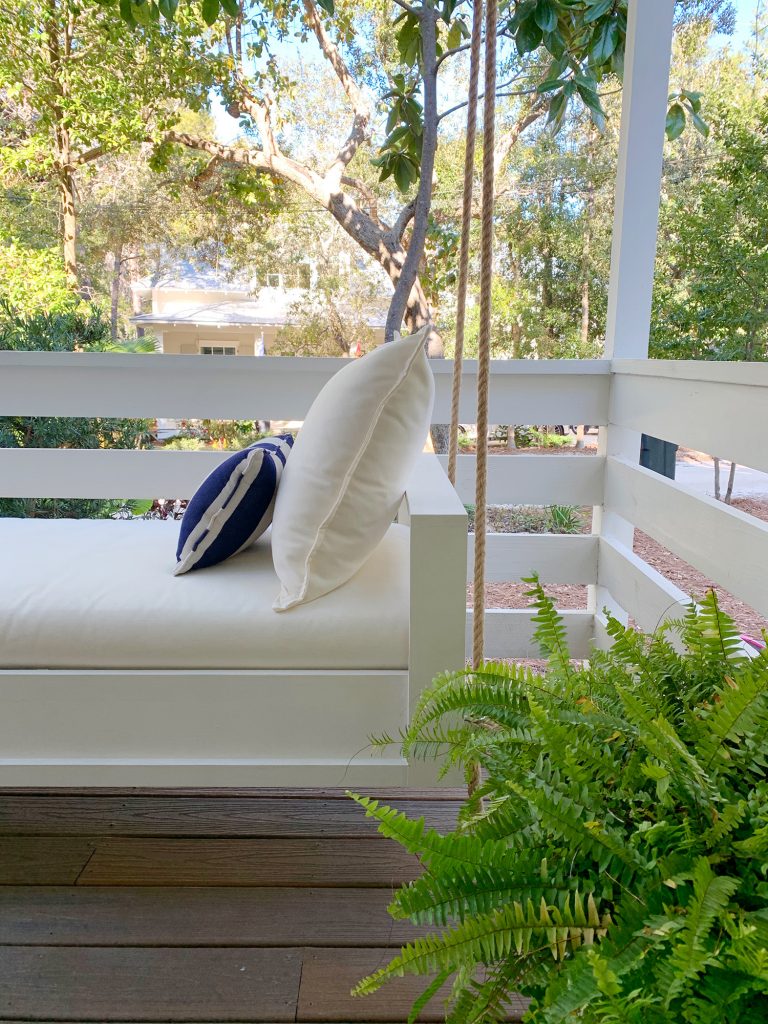 Here's the cost breakdown:
Wood: $150
Buckets: $14
Eye hooks: $25
Rope: $28
TOTAL: $217
And when you add the outdoor cushion set for $399, that brings us to a grand total of $616, which isn't cheap, but considering that many custom made ones (like these) are in the $1000-2400 range (!!!), this is a great way to get it done for 1/4 to 1/2 the price.
Also please know that more than showing you how to hang a daybed the right way (to save you time & money) – our next post is going to be a fantastic example of why we will never have an HGTV show. The video… let's just say it's one continuous outtake. So there's that to look forward to.
Want to keep browsing our building projects and furniture upgrades? This archive is completely dedicated to them. You can also see every single project and update we've done to this house over the last 8 months in this spot.
*This post contains affiliate links, so we may earn a small commission when you make a purchase through links on our site at no additional cost to you.