By now we've shown you every room in our new house, with the exception of this one: our bathroom! And as you've probably heard us say, it's our home's only bathroom (which has really not been a big deal so far at all – for which we're extremely grateful). The funny thing is that although there's only one, it wasn't even functional when we bought the house. The sink vanity had been torn off the wall, the water was shut off to the entire house due to various leaks, and there was not a functioning sewer or septic system attached to the house at all. As in, even if the toilet flushed, it wouldn't have anywhere to go…
So as much as we prefer to live in a house for a while before doing big renovations (more on that in last week's post) we had no choice but to dive right into this one. From five states away, no less!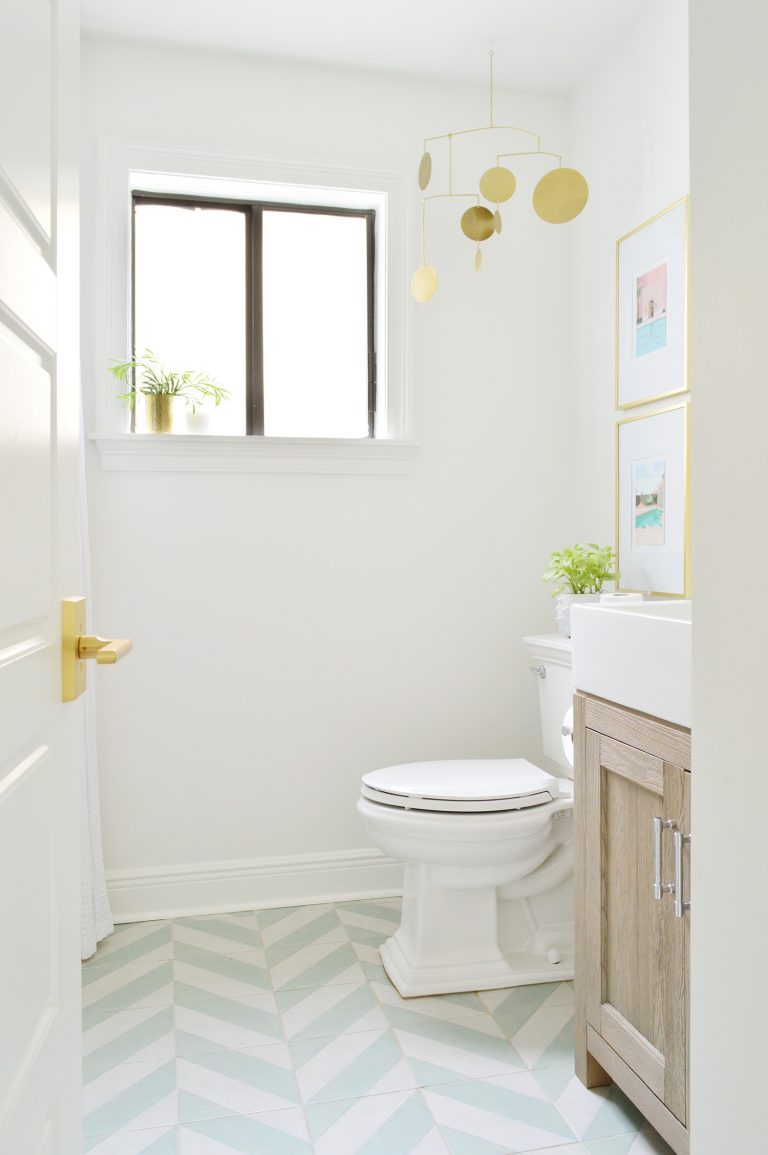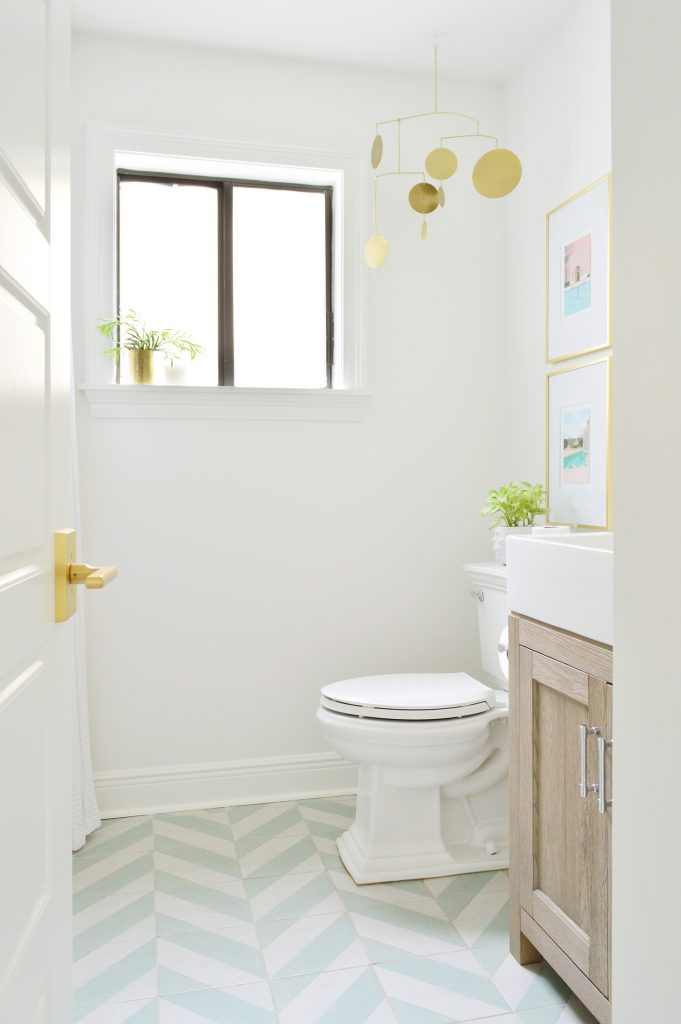 We worked remotely on the parts that required county help or pro help (like getting the house all hooked up to the sewer system), but we originally planned to tackle a lot of the actual bathroom update ourselves over our spring break back in April (that's when we were going to retile the floor, install a new toilet & vanity, and voila! NEW BATHROOM). Then our plans to come in person were obliterated by the coronavirus, so we remained quarantined in Richmond and switched gears to Plan B.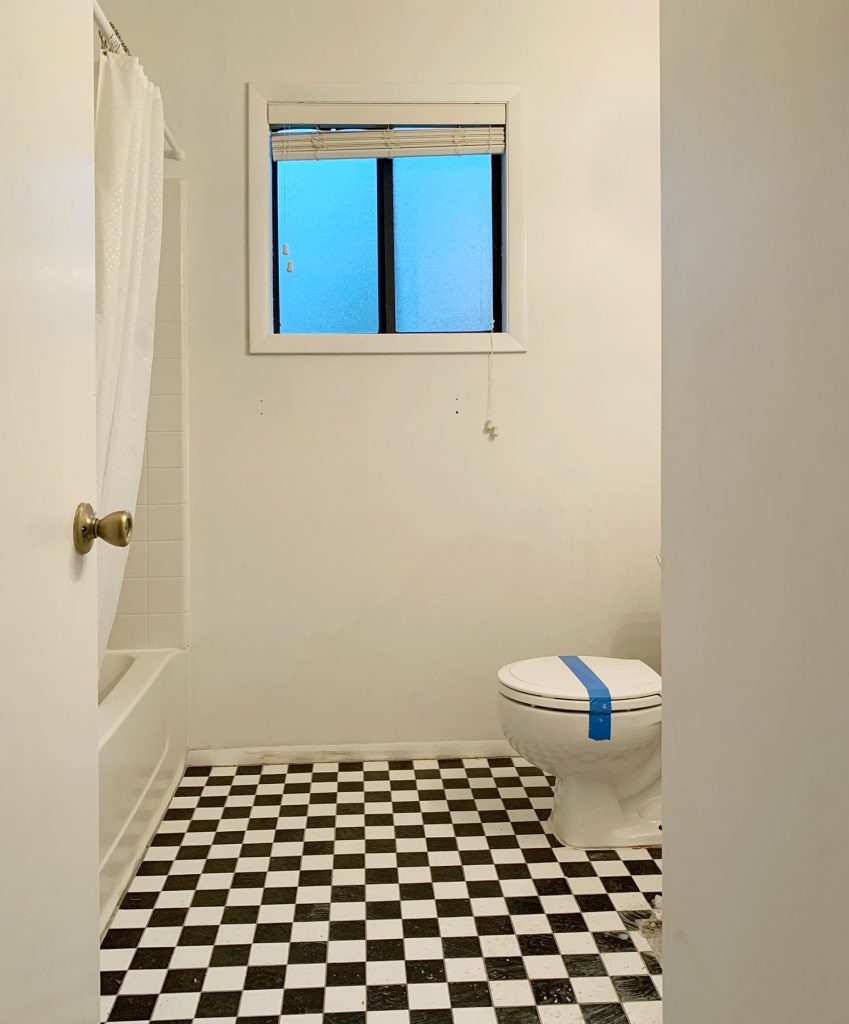 We were thankfully able to add the project to our contractor's roster, and that might have been for the best, because he discovered a leak in the wall behind the shower which meant the shower, tub, and drywall all had to be torn out & replaced. So basically it turned into a much bigger gut job than we likely could have accomplished on our own over one week of spring break.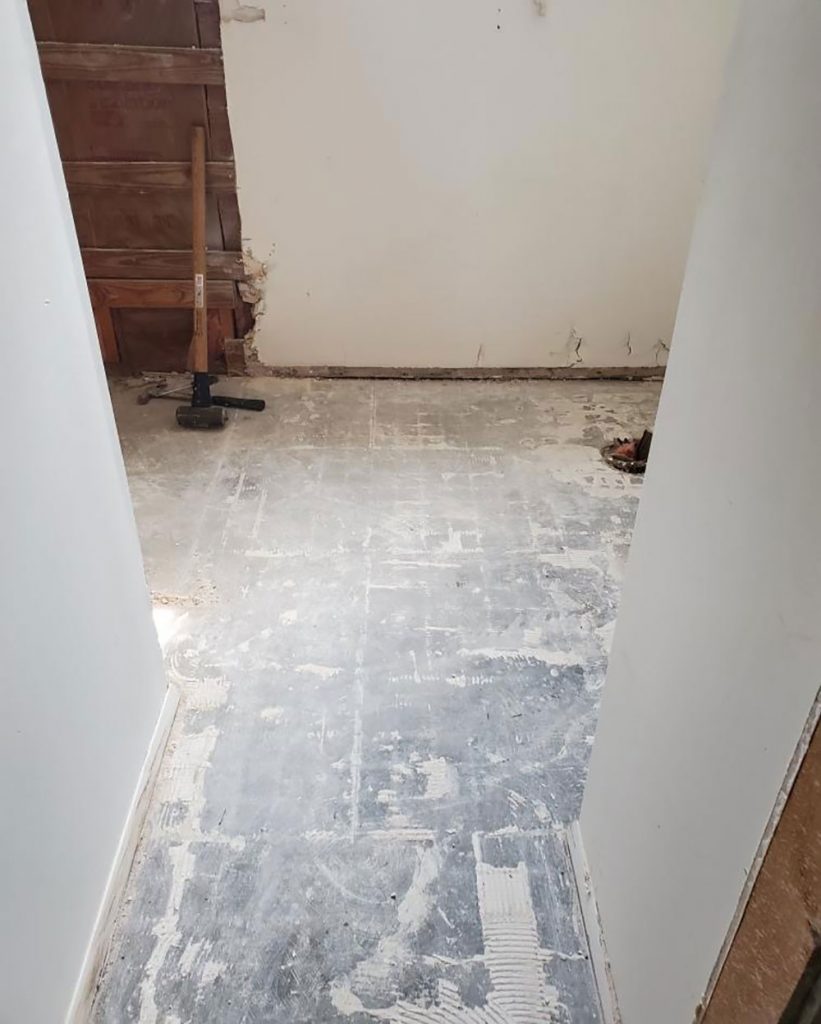 It also meant that we had to pick everything out online from Virginia in March, have it shipped directly to our contractor in Florida, and not get to see any of it in person until it was already installed and we were literally moving in on that big day in May. But thankfully it all came together, especially after Sherry added in some art and a few accessories that we've loved for a while (surprise: there are plants & brass & our favorite toilet of all time).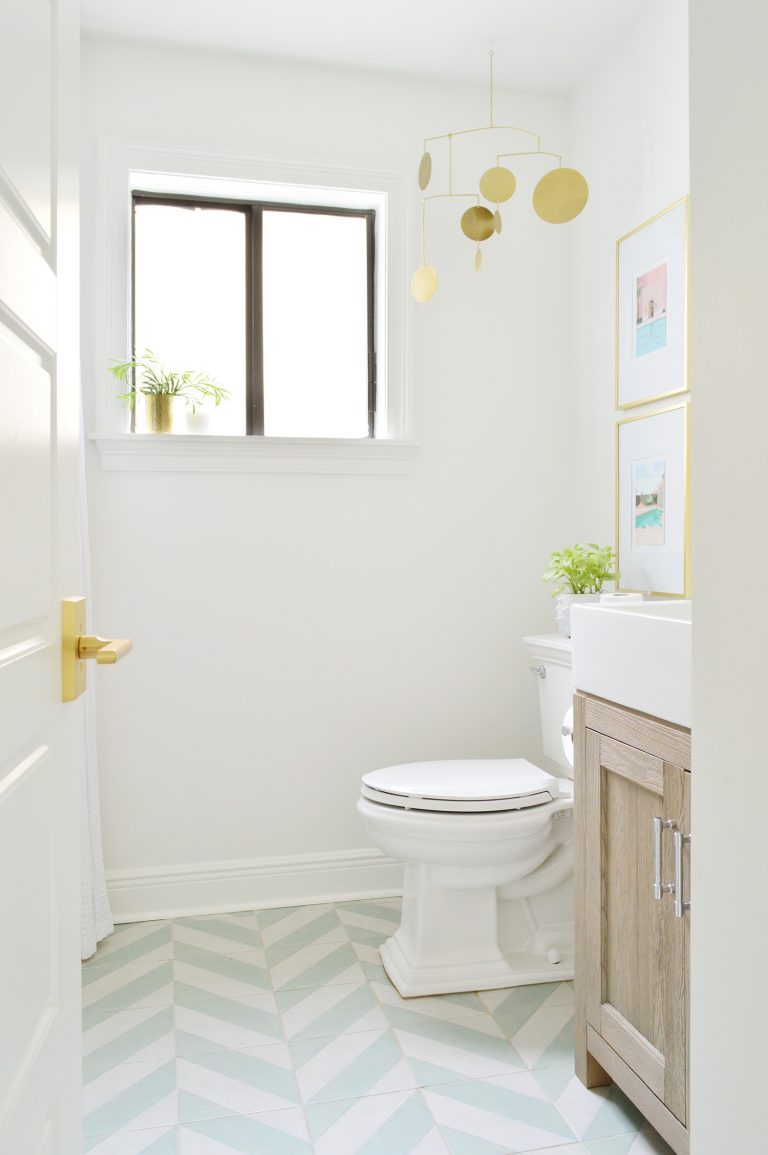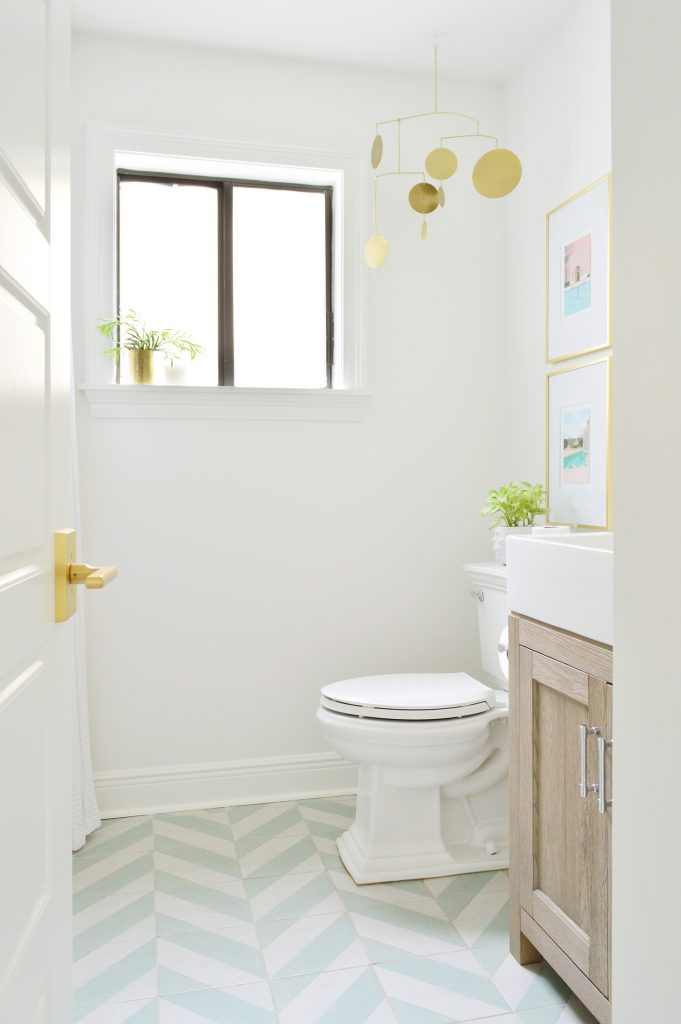 We're not calling this room done – but this is how it's looking now, and we're really happy with the function of it so far. As for the design, there are still some things we'd like to do in here at some point just to layer in a little more texture/interest since it feels a bit "blank slate" to us (wainscoting? wallpaper? shelving?). So those are on the someday list, but boy were we glad to land here and have a working sewer hookup, water throughout the house, nary a leak, and a sink that's actually attached to the wall!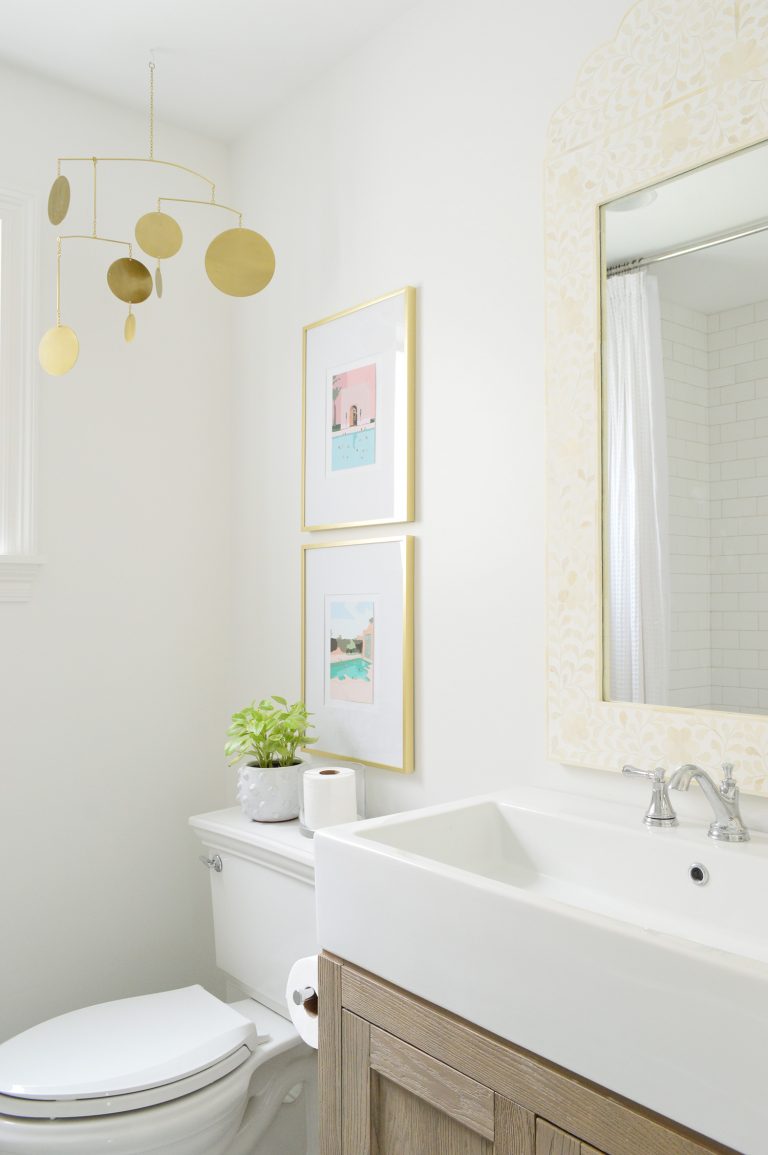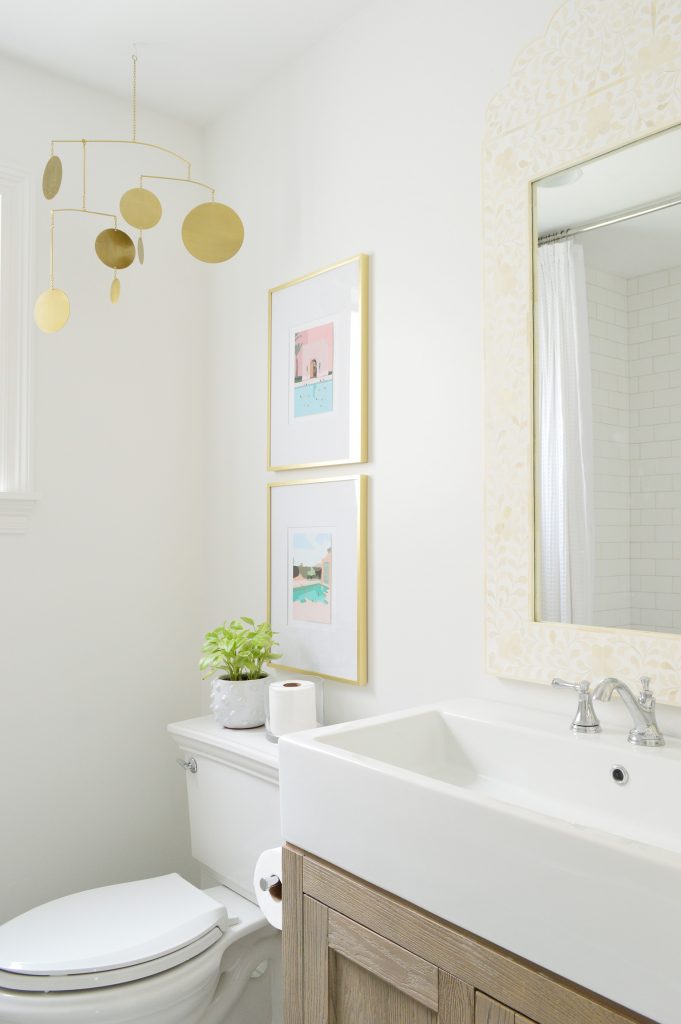 We had some trepidations about going from two generously-sized, recently-renovated bathrooms back in Virginia (here's ours and here's the kids') to this single smaller space. Before we literally each had our own bathroom sink (four sinks for four Petersiks!) and now we'd all be sharing just this one, which felt like a potentially sticky transition… but it has thankfully been a non-issue (phew!). We've actually put the brakes on our plans to add a new ensuite bathroom to our bedroom (which we thought we'd dive into right away) because we don't feel the urgency that we imagined we'd feel back when we bought this house. We'll still likely do it at some point, but we don't feel like we have to rush into it.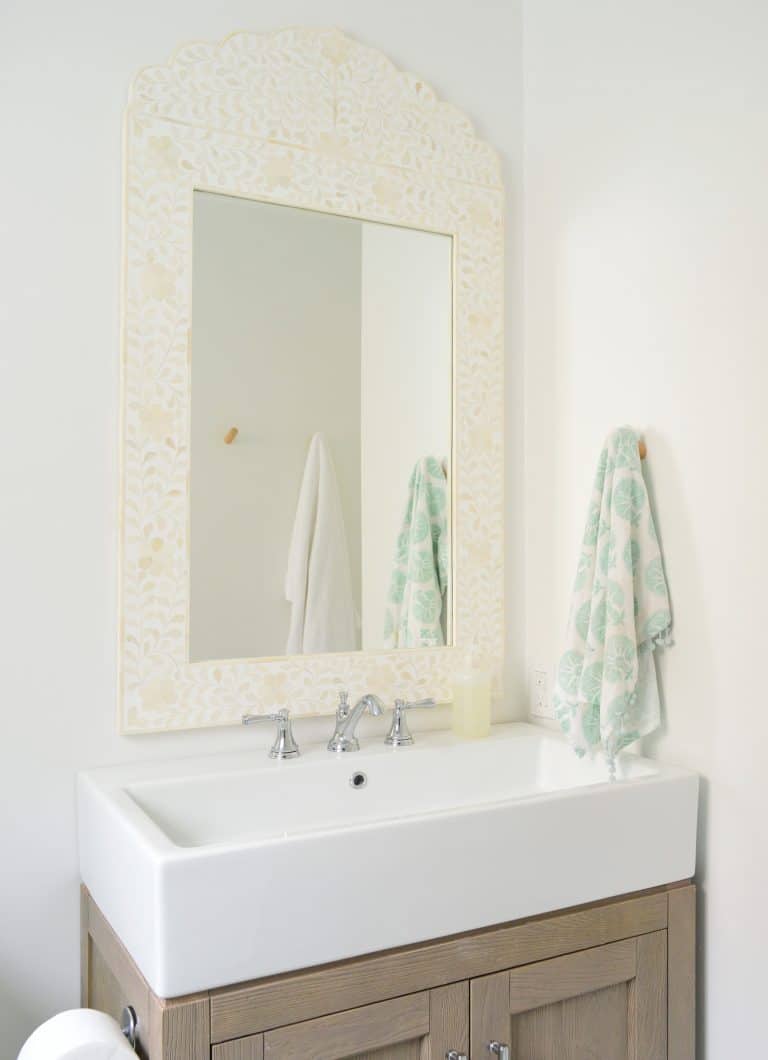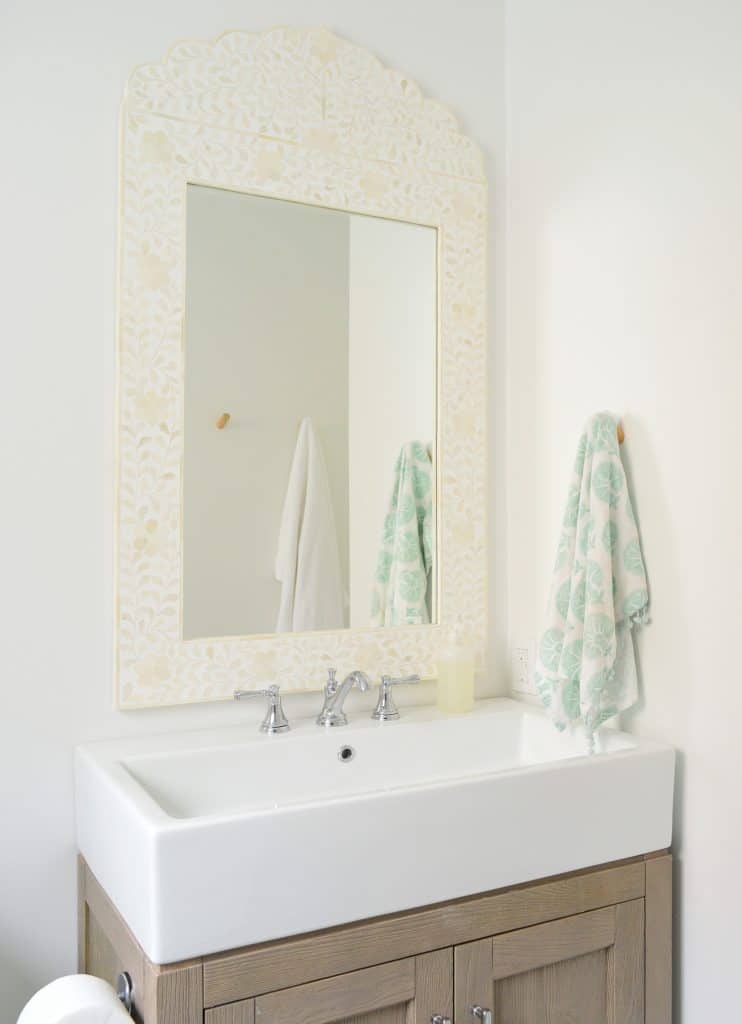 One useful feature has been this 31″ vanity with the suuuuuper wide sink top. The kids can still brush their teeth at the same time and not get into an elbows match when it comes time to spit, since they're not fighting over some small centered basin.
It does have a pretty limited "counter" surface, so we originally planned to add one of those long ledge shelves that runs across the entire back wall above where the sink sits – but the lack of counter room has actually shown itself to be a perk because it completely discourages us from crowding all of our stuff onto the sink's surface (you know they say that those toothbrushes should be behind doors when you flush anyway ;).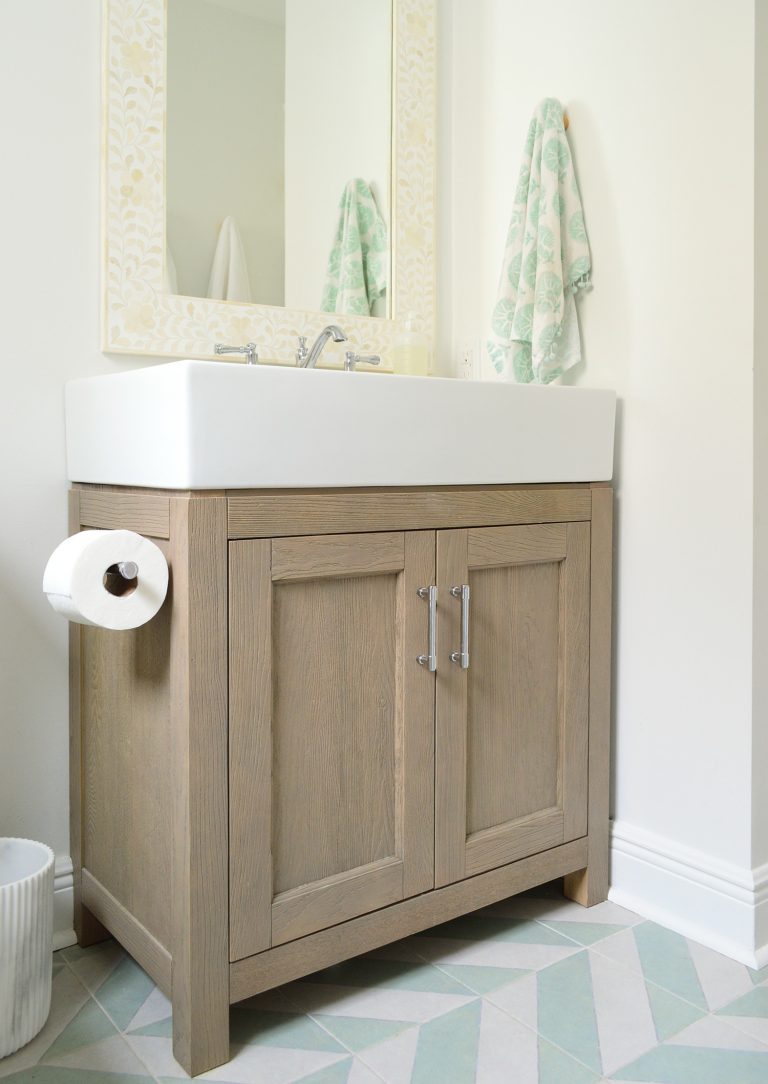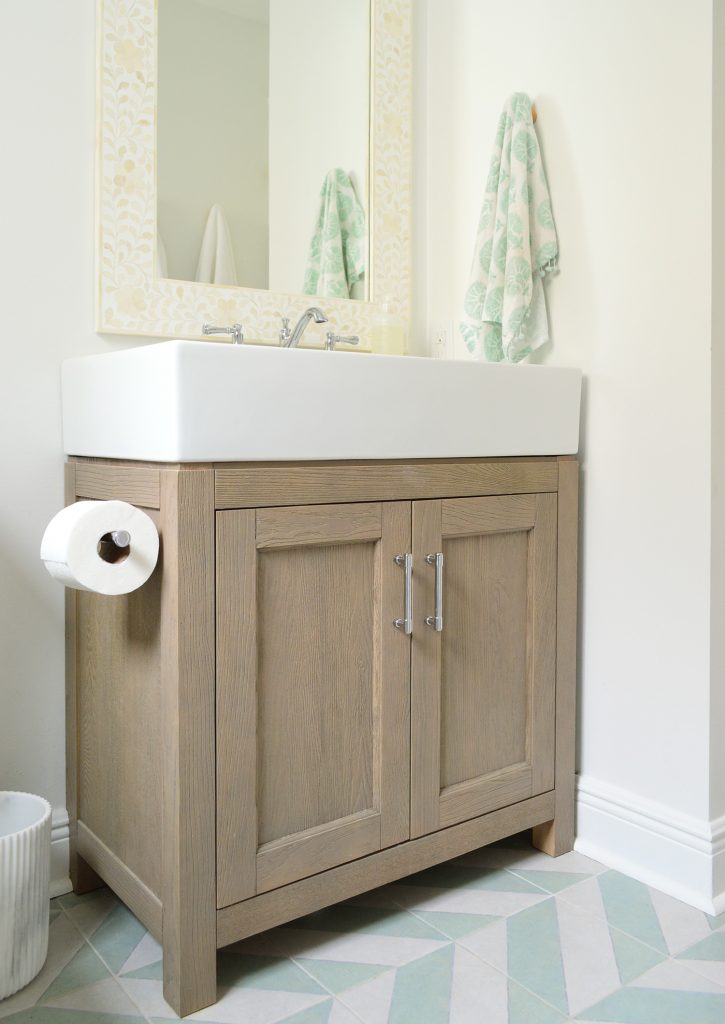 Instead we've just thrown all of our bathroom supplies away. EASY! Just kidding. We store our toothbrushes, toothpaste, contacts, etc. in bins under the sink. It's a nice large cabinet (basically as big as a large base cabinet under a kitchen sink) and we each have a bin of our own everyday stuff down there. So we can swing the door open & grab everything as needed, and just toss it back in when we're done. I've also taken a cue from Sherry and now keep things like deodorant, hair gel, and my Axe body spray collection (just kidding) in my nightstand in the bedroom. Sherry has been doing that for years (putting stuff on in the bedroom as she gets dressed every AM) and now that we both do it, neither of us is hogging the bathroom for very long each morning.
There may come a day – especially as our kids get older – that they'll have more toiletries to wrangle, but that's a bridge we'll cross when we get there (there's also a hall linen closet right outside this room, which definitely helps). Maybe at that someday-point when this setup feels like it isn't working as well, we'll finally tackle adding our own bathroom – but it's nothing we're too worried about right now. For the time being, we're just grateful to have come so far from what was going on in this room back in February when we bought the house: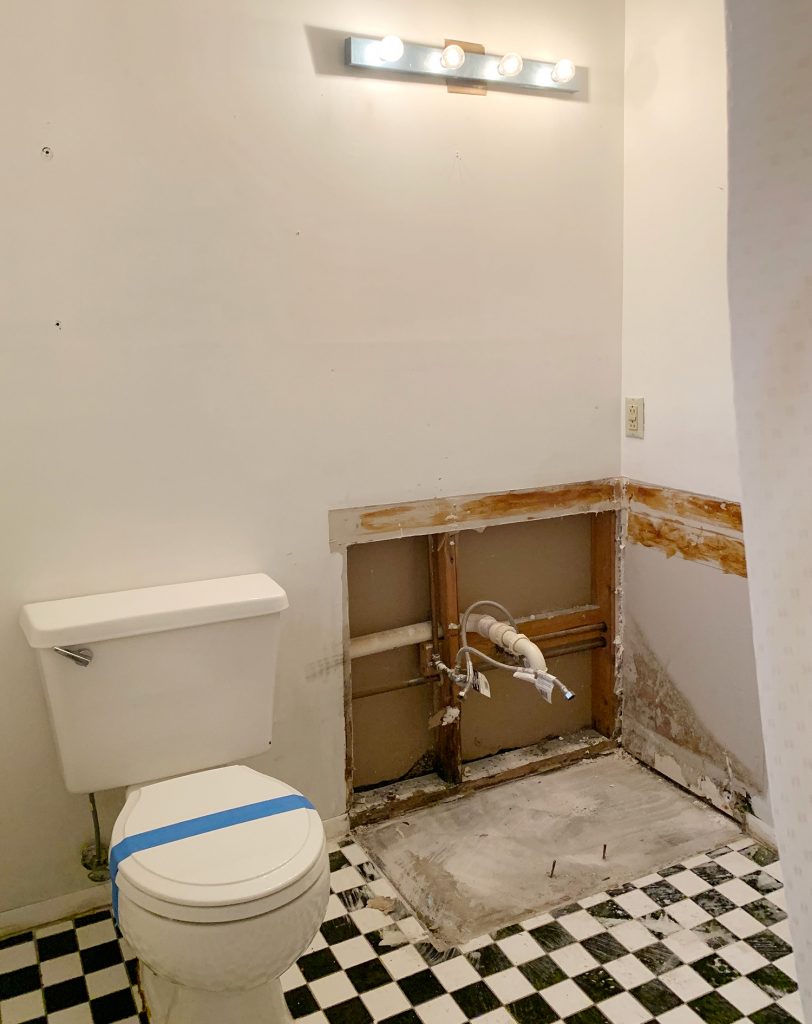 We kept the shower/tub situation pretty straightforward. Partly because we like the simplicity of subway tile to the ceiling and partly because it was an easy decision that we figured we wouldn't regret – especially with a more playful tile choice on the floor. In fact, it was the colorful floor tiles we used throughout the duplex that inspired us to do something fun on the floor in here. We loved how those bathrooms turned out with classic white ceramic shower tile and something beachy and cheerful on the floors – so it was fun to create a similar setup (classic on top, party on the bottom – is it the mullet of bathrooms?!) that we actually get to use ourselves.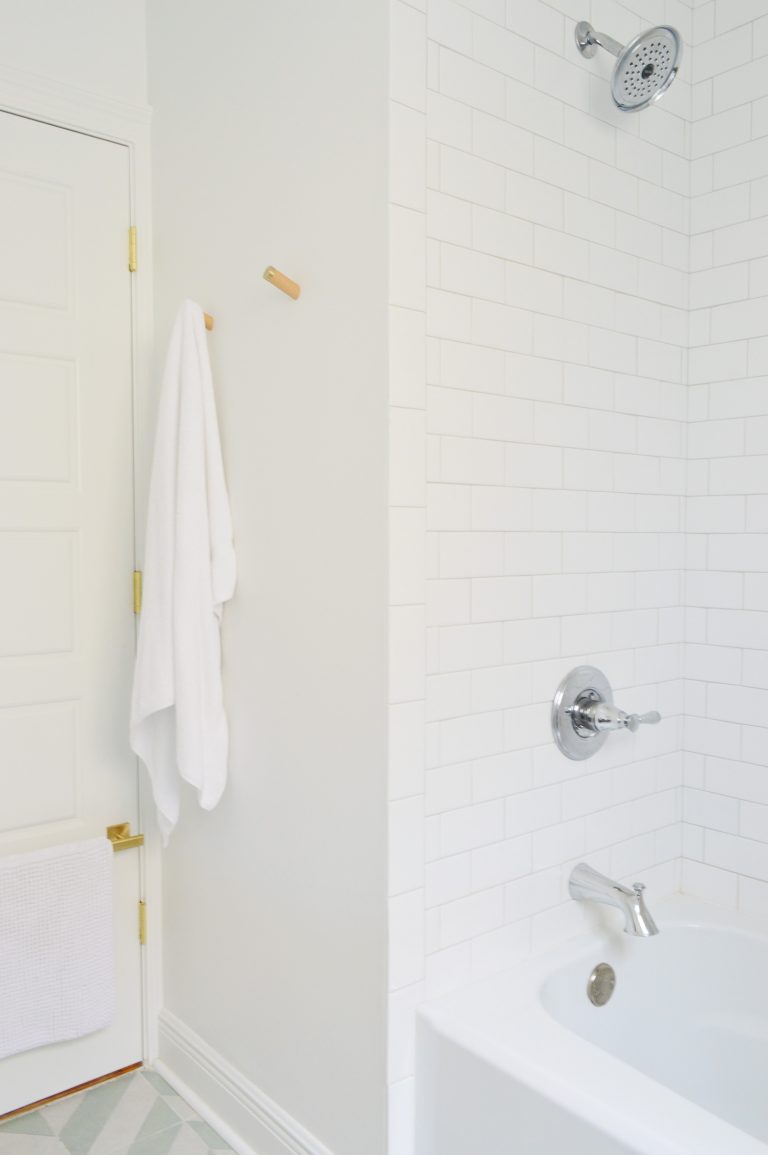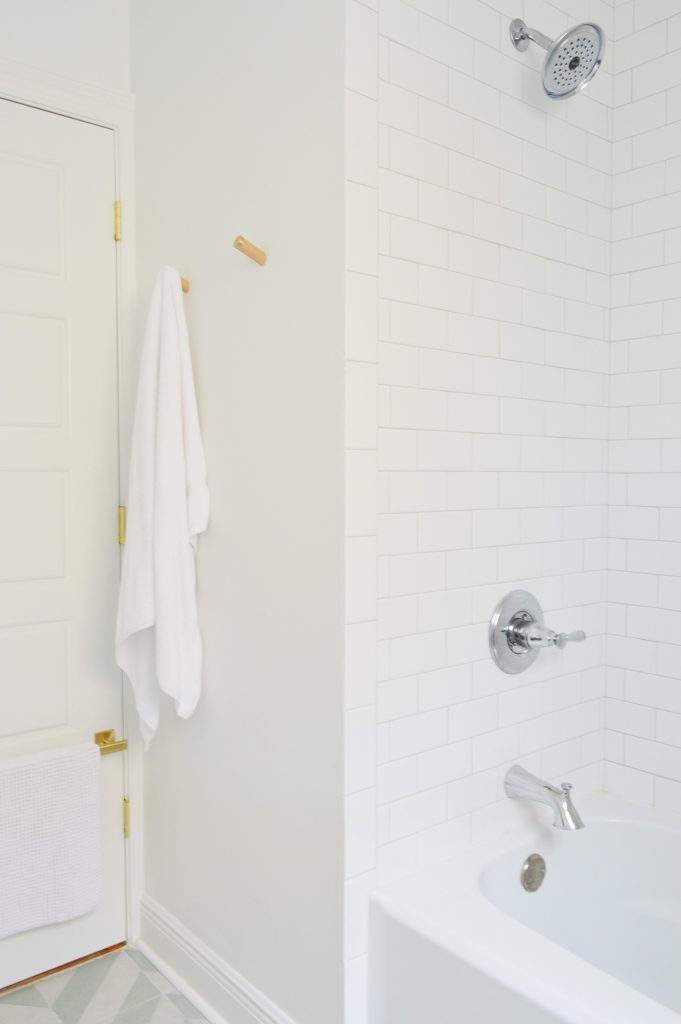 Speaking of the duplex, we went with the same tub/shower fixture set that we used in those bathrooms (it was comforting to rely on something tried-and-true since it worked so well there). It's also the same tub that we bought for the duplex, which not only fits Sherry comfortably but actually (big reveal!) fits me too. Maybe all these years of Sherry singing the praises of a bath finally got me to try them.
You also probably noticed that we continued the brass accents from the rest of the house into this room. One of our favorite details are these wooden brass-capped towel hooks from Etsy. They took like six weeks to arrive, but they were worth the wait!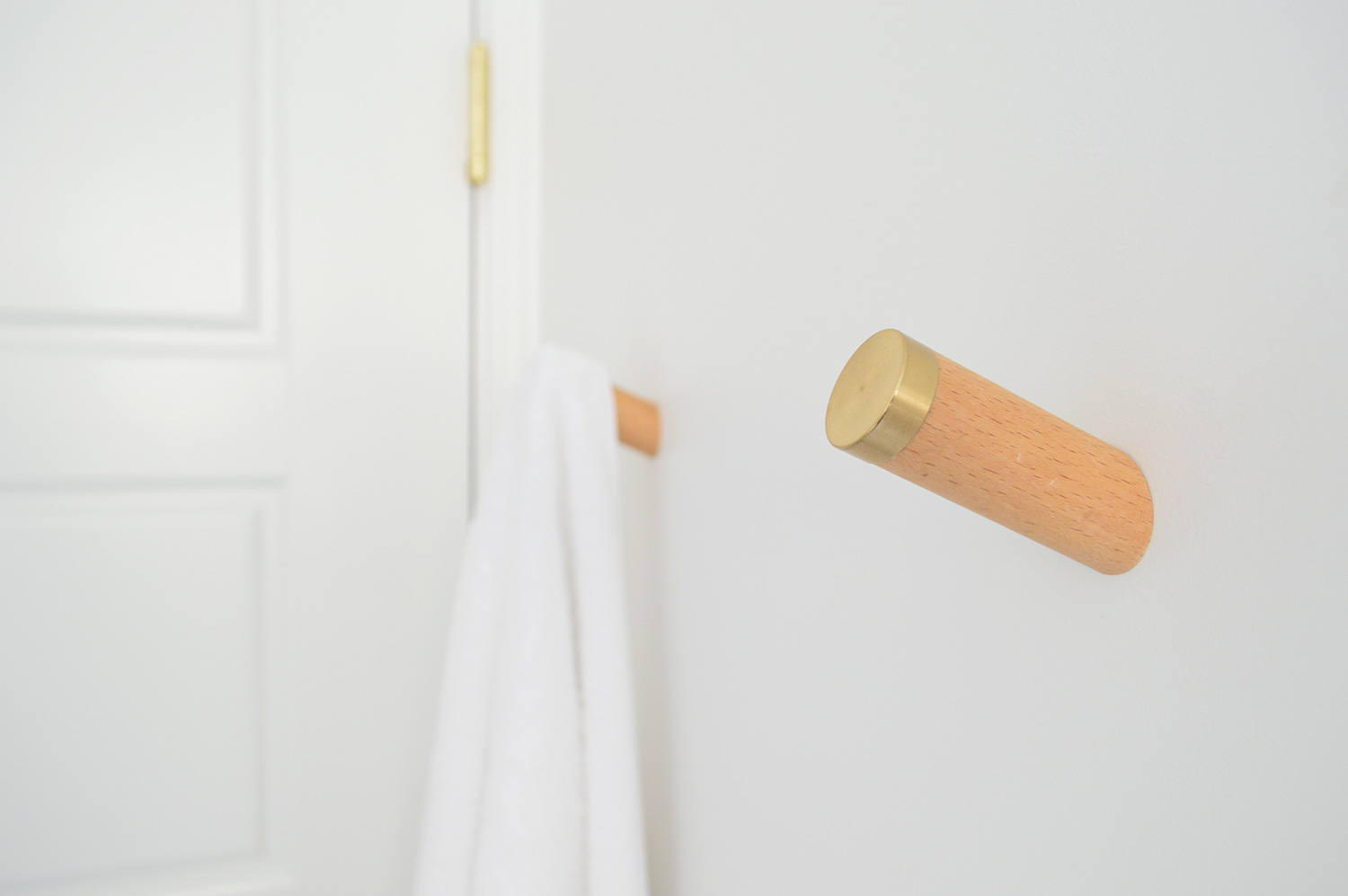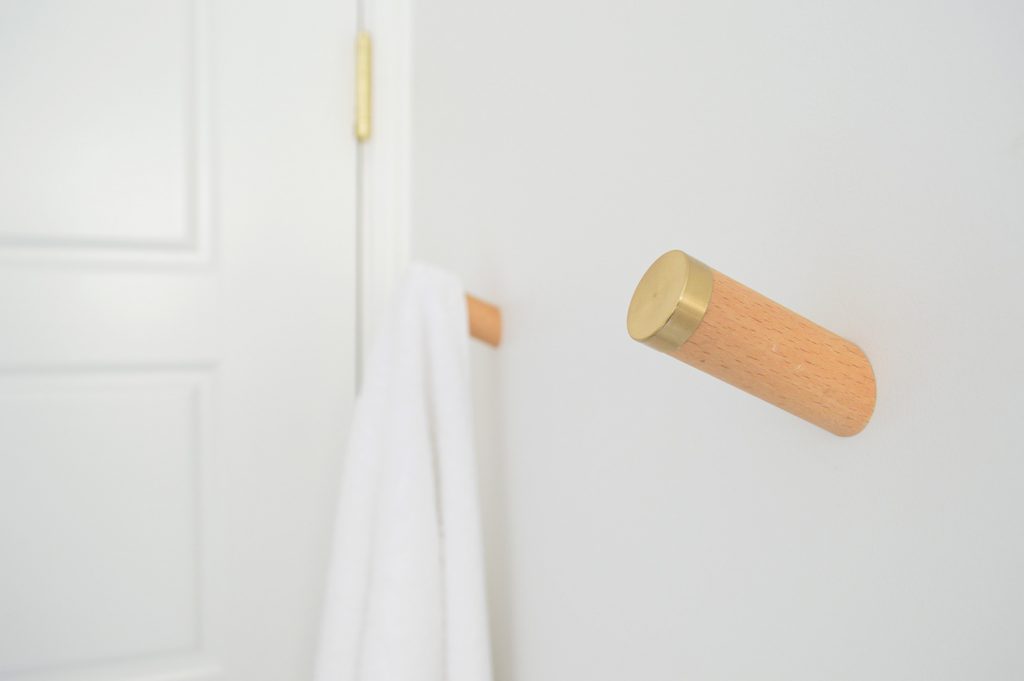 You'll probably recognize some of the other brass accents in here. The circles mobile is something we bought years ago (it's no longer sold but here's something similar) that used to hang at the beach house, and it helps to fill this awkwardly tall space along the wall next to the toilet. Nobody slides into that corner next to the toilet to stand around, so there are no head-hitting issues. And these two framed art prints in Sherry's favorite go-to gold frames have been ours for the last seven years or so? They're old Etsy finds from this shop (they hung in our last house's foyer).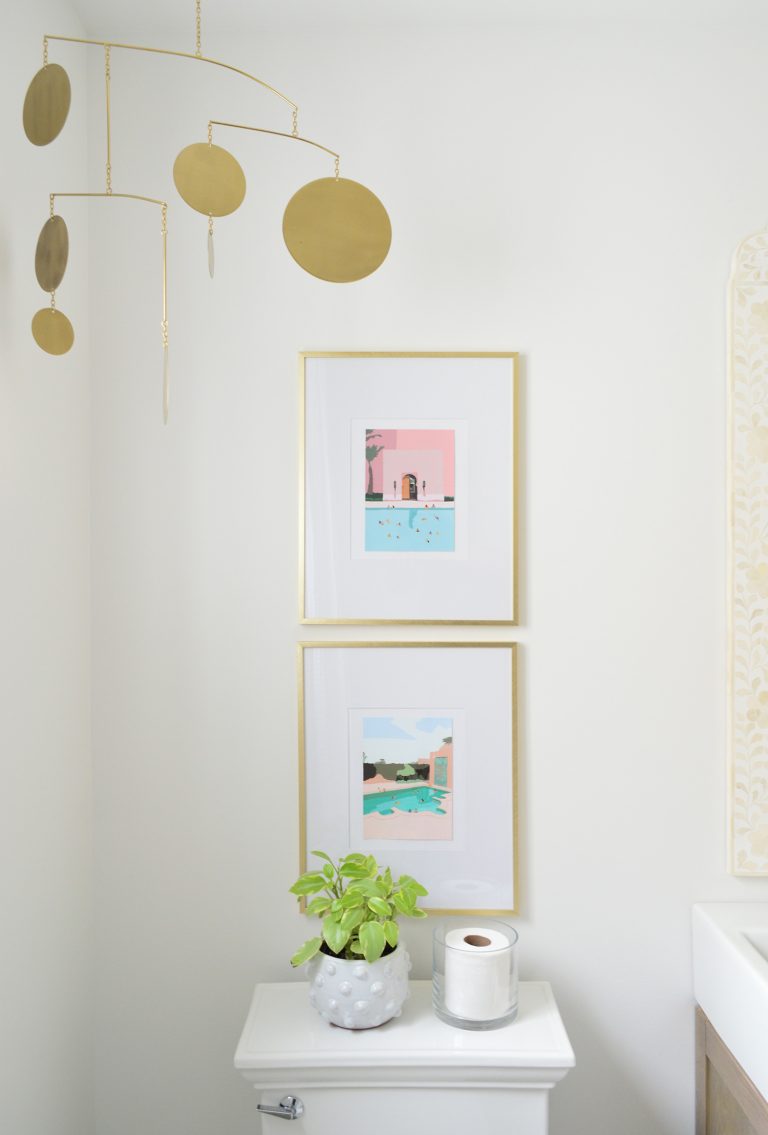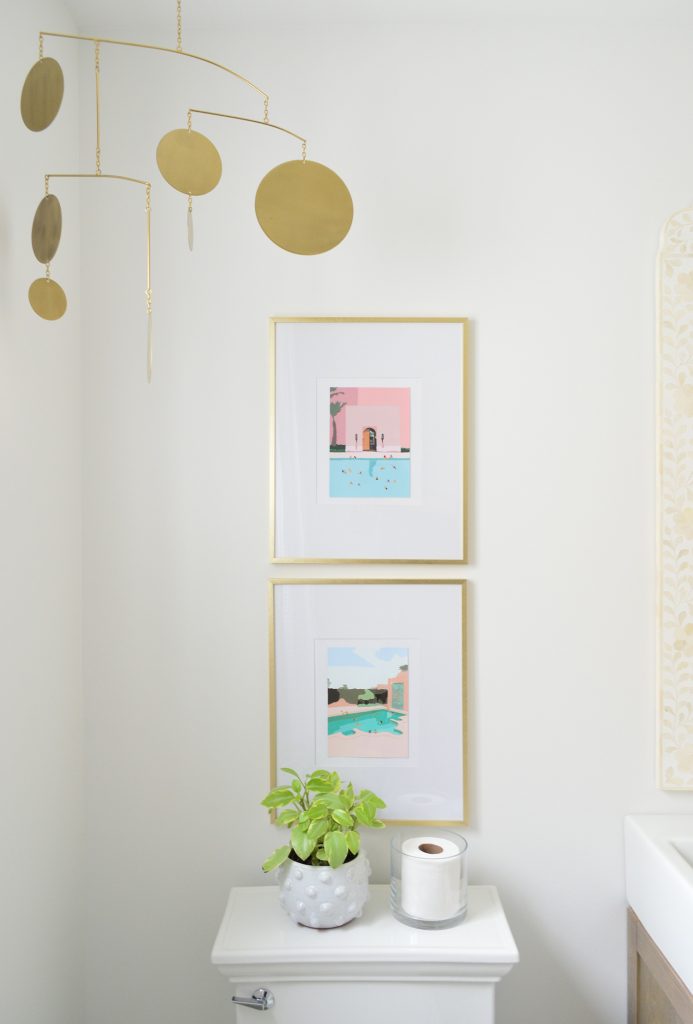 Things still look a little sparse in the photo above, which is where we think maybe some wallpaper or a wall treatment to add texture and interest would do a lot of good for the space. But for now, we're just reveling in the beauty of having a bathroom that meets all of our needs, and a toilet that flushes! Working on getting a sewer hookup through the county from five states away was one of the more involved tasks on our list, so we'll never take that toilet for granted.
One last thing I'll point out is that we don't need a window covering because the glass in this window is frosted. You can't tell in these photos, so I figured I'd point it out so you didn't worry about us flashing the neighbors.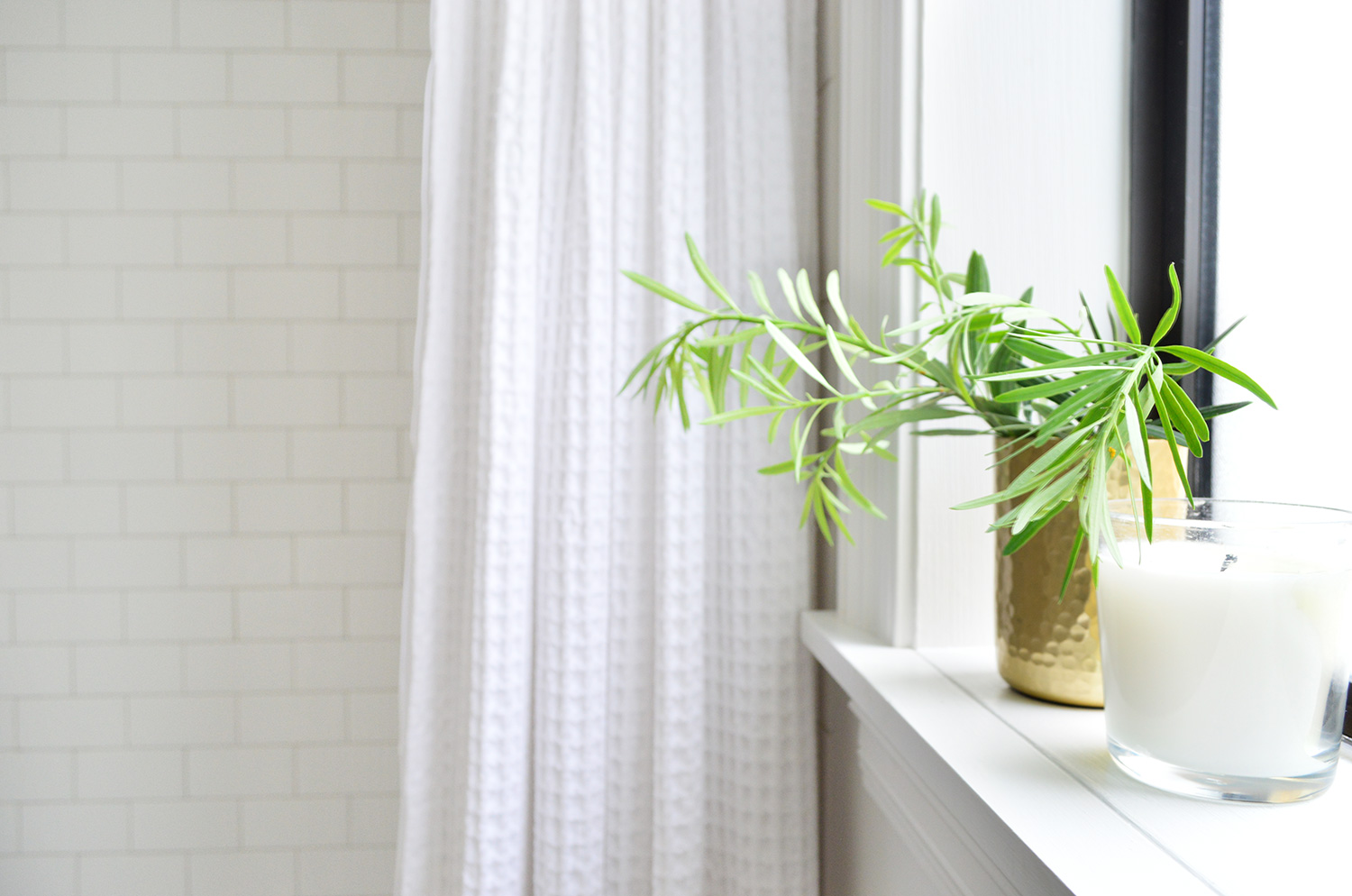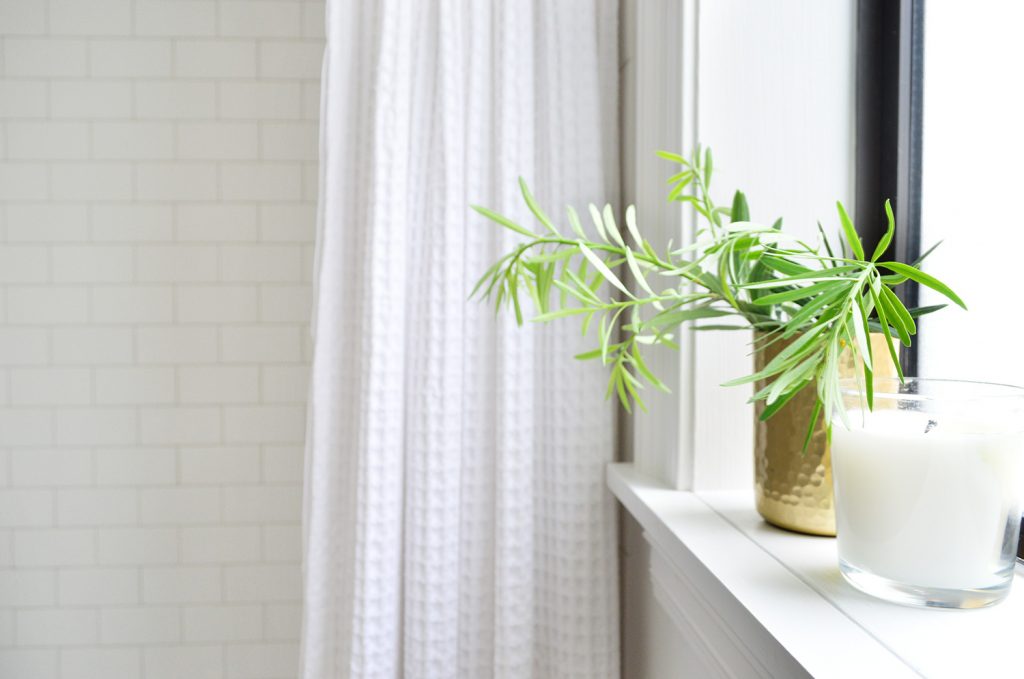 It has actually been great to have that pre-frosted, so we can skip some privacy blind or shade that would block more light. Plus we can take full advantage of that nice deep windowsill for stuff like another plant (in brass, no less) and a candle for those times that one of us is attempting to take a slightly more luxurious bath.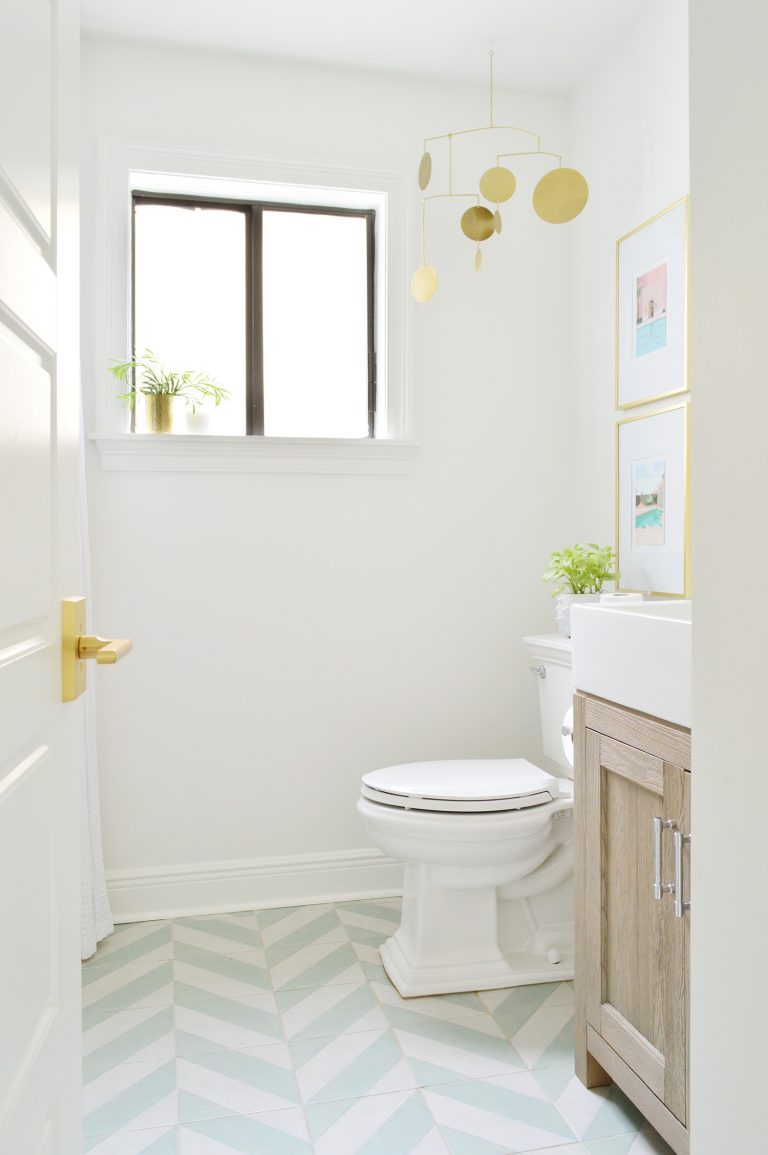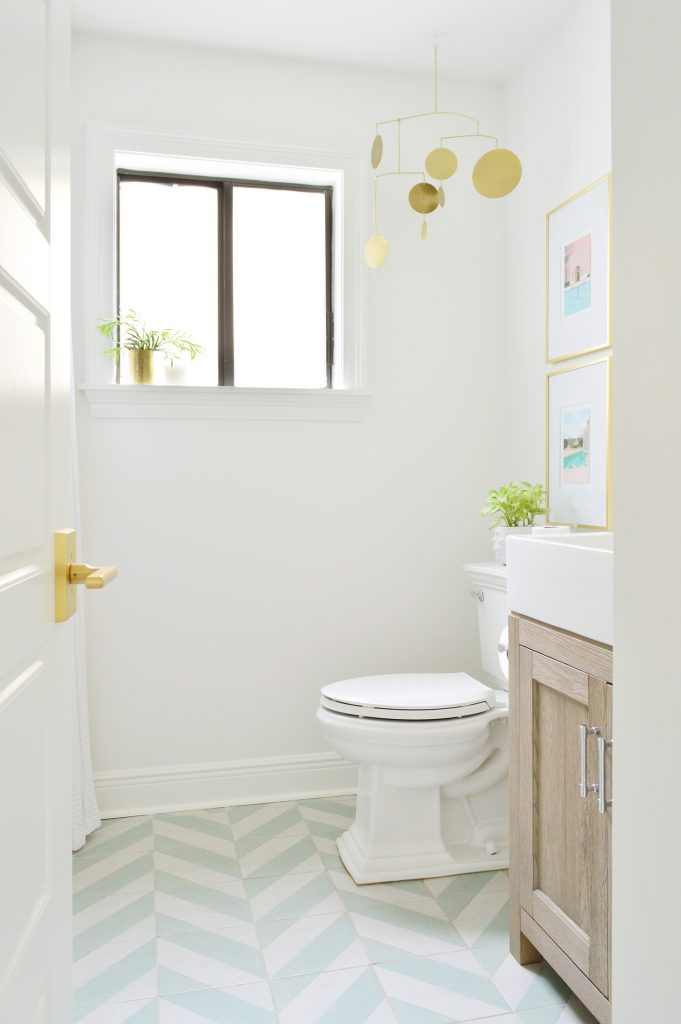 We actually don't use the bathroom shower all that much. In a surprise twist to all of us, we all prefer the outdoor shower, so that's what we use maybe, I dunno, 85% of the time? I'm sure that will change as the weather cools off, but for now it has been nice not to all be blocked off from using the bathroom while someone else is showering.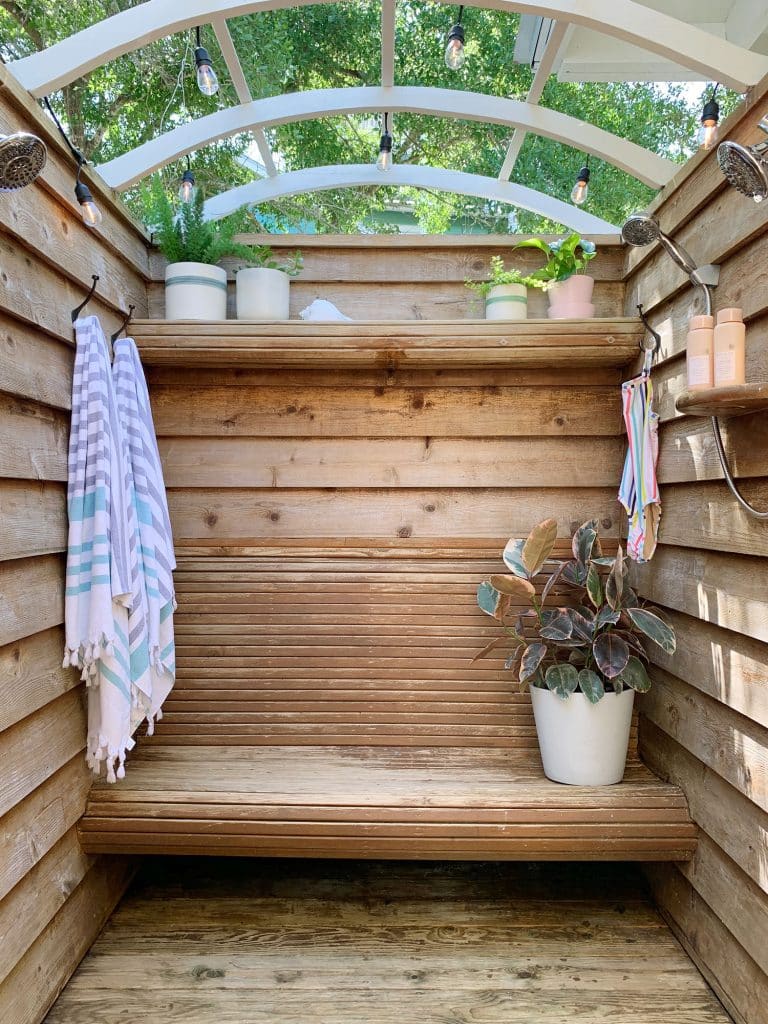 So there you have it – the last room in our house! We still have some outdoor spaces to share with you, but in case you missed any of the interior rooms – here are the links to those again:
And we're working on our "holy moly, it's mauve!" kitchen cabinet reveal (there's a sneak peek at the end of this post)… hopefully for next week!
P.S. You can catch up on some other aspects of our Florida house renovation right here. From the progress photos that we received from afar – to the exterior makeover, we've covered a lot of ground.
*This post contains affiliate links, so we may earn a small commission when you make a purchase through links on our site at no additional cost to you.