*Aka, the moment I've been waiting for since, oh, the day we moved in.
There's something extra special to me about decorating a house for your first holiday season spent there. It's right up there with seeing whatever pops up outside during your first spring at a new house (I basically scream out the window like I'm the announcer at a football game: "over on the left it's A PATCH OF DAFFODILS! NOBODY SAW THAT COMING!!" But back to our holiday house tour. It's looking very sweet & festive around here.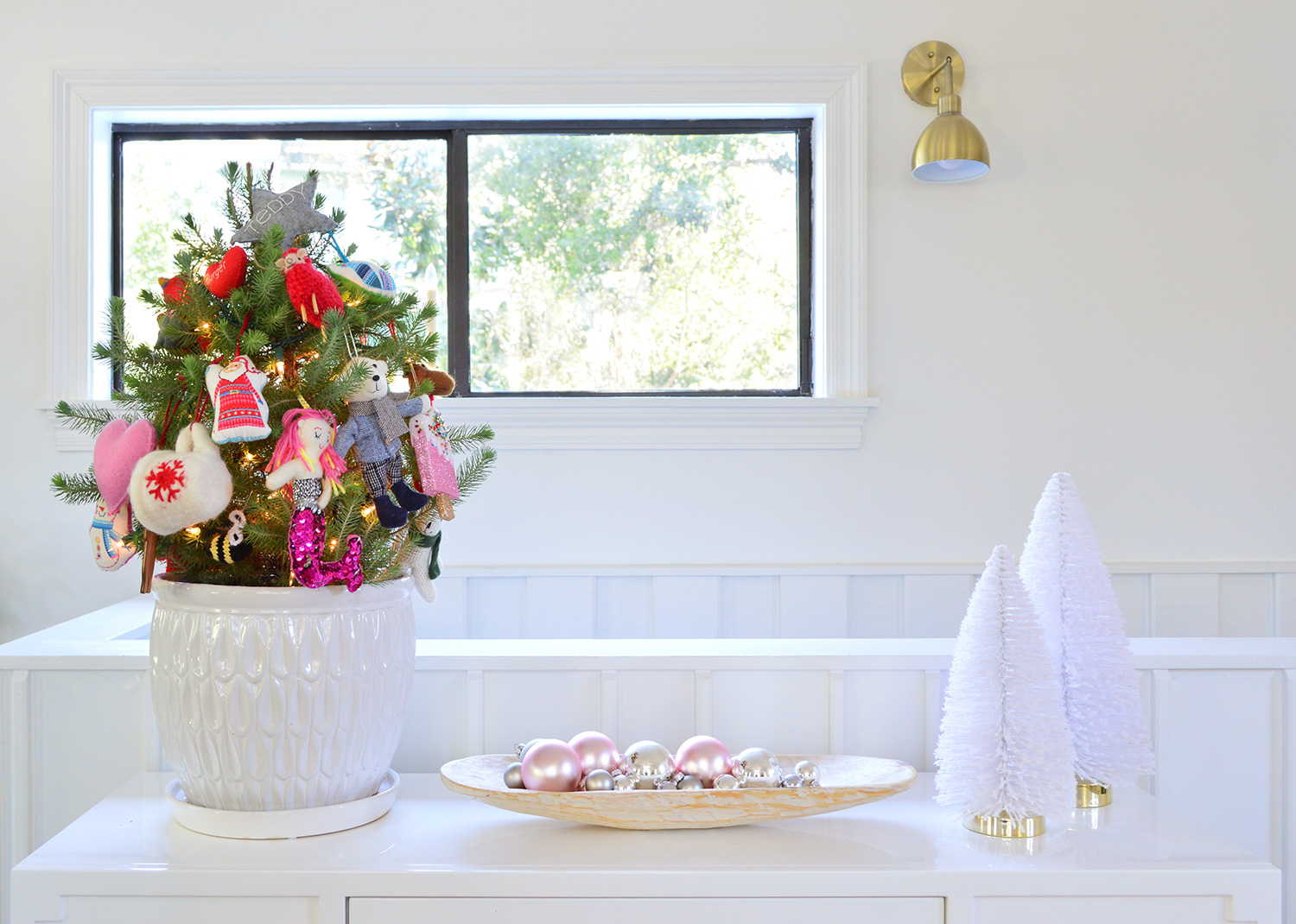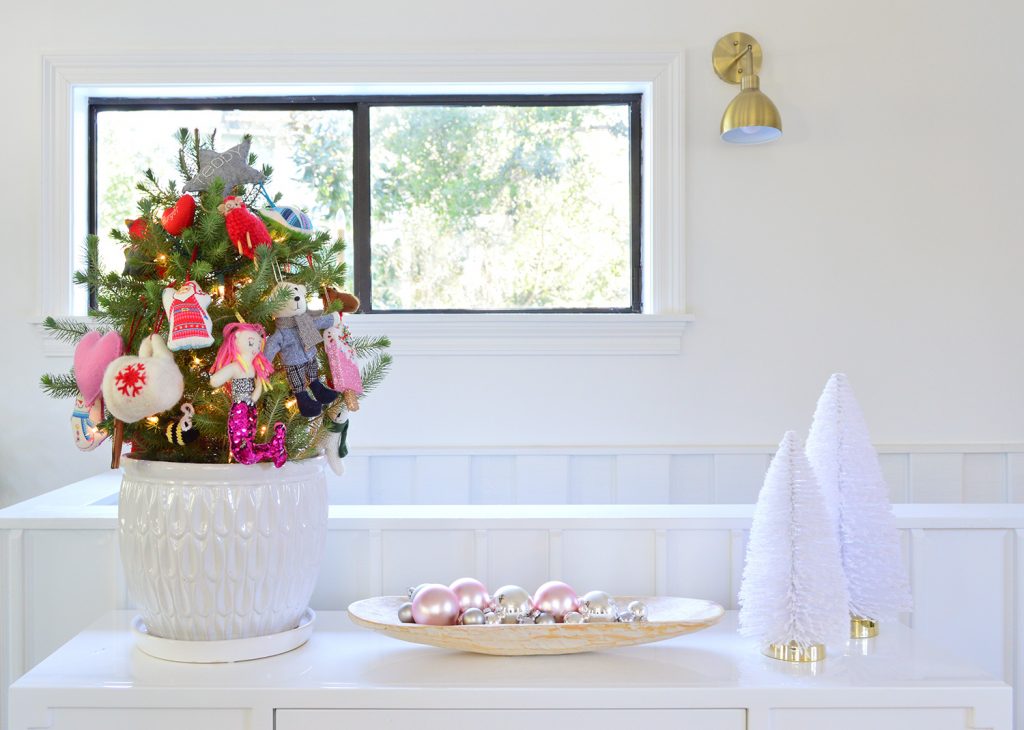 Since this move also involved some serious downsizing & simplifying (last week John shared an update on that), it promised to be an interesting exercise in what would go where in our smaller home. As you heard on the podcast a while back, we donated our beloved Christmas tree AFTER squeezing it into the pod and getting it all the way here, because we realized that such a wide tree (it had a 5'5″ base – so it was THICK) didn't really have a spot that it could be set up in a single room of our house that wouldn't severely impede the flow of things. We had let go of a lot of stuff at that point, so it was surprisingly easy to let that go too.
At first we toyed with the idea of getting a real tree this year. After all, you don't have to store a real tree, right?! Seems like a minimalist's dream! That is, until we realized that you still store the stand and the lights and the ornaments, so it's less but not nothing… and when we explored the local fresh tree options, they all were like 6′ wide at the base! If they were narrow enough for us, they were often only 4′ tall. Little mini guys. Which is how I ended up with this delightful little potted tree full of felt ornaments and lights upstairs. Isn't she cute? It was just $20 from the garden center and I can plant it out back when the season is over.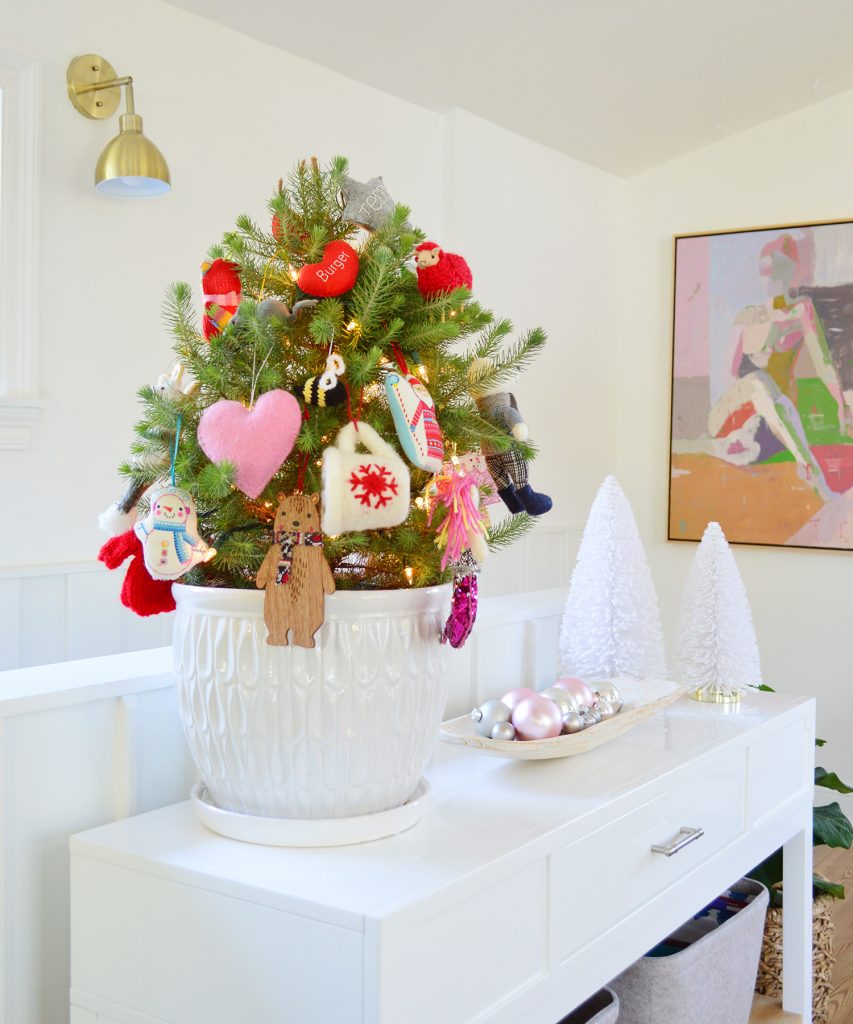 We still wanted a more full-sized tree, so we decided to entertain the option of another faux one, and I went on the hunt for the most real-looking, narrower-but-not-too-short tree for our new house. It was a real Goldilocks situation ("this tree is the perfect height but too wide," "this tree is the perfect width but too short", "this tree is the perfect size but looks fake," etc, etc).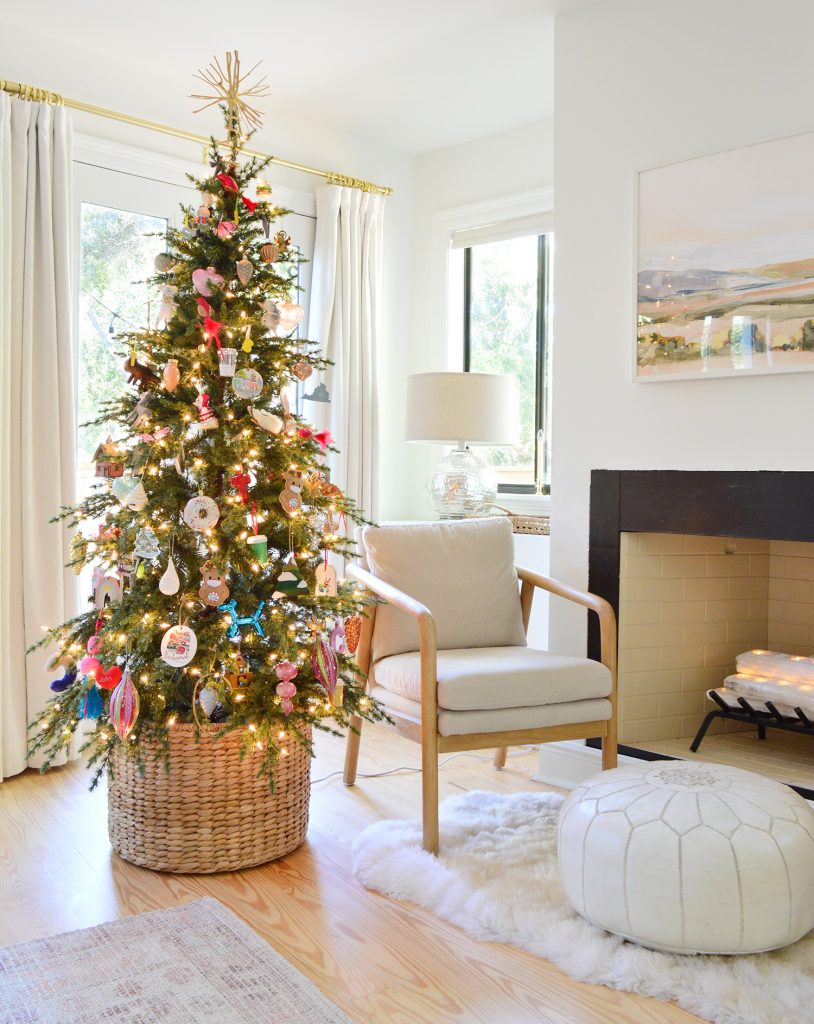 It's downstairs near our bedroom's fireplace, and I know you probably expected it to be upstairs in the family room because we expected that we'd put it up there… but after trying it upstairs and in here, it just felt better to have the little tree glowing upstairs, and the big one down here next to the fireplace (where we'd also love to add a mantel for our stockings).
We all hang out in this room on most evenings with the fireplace "on" (aka: candles lit), and maybe it was just years of having a tree right next to the fireplace in our last house, but it feels right to us.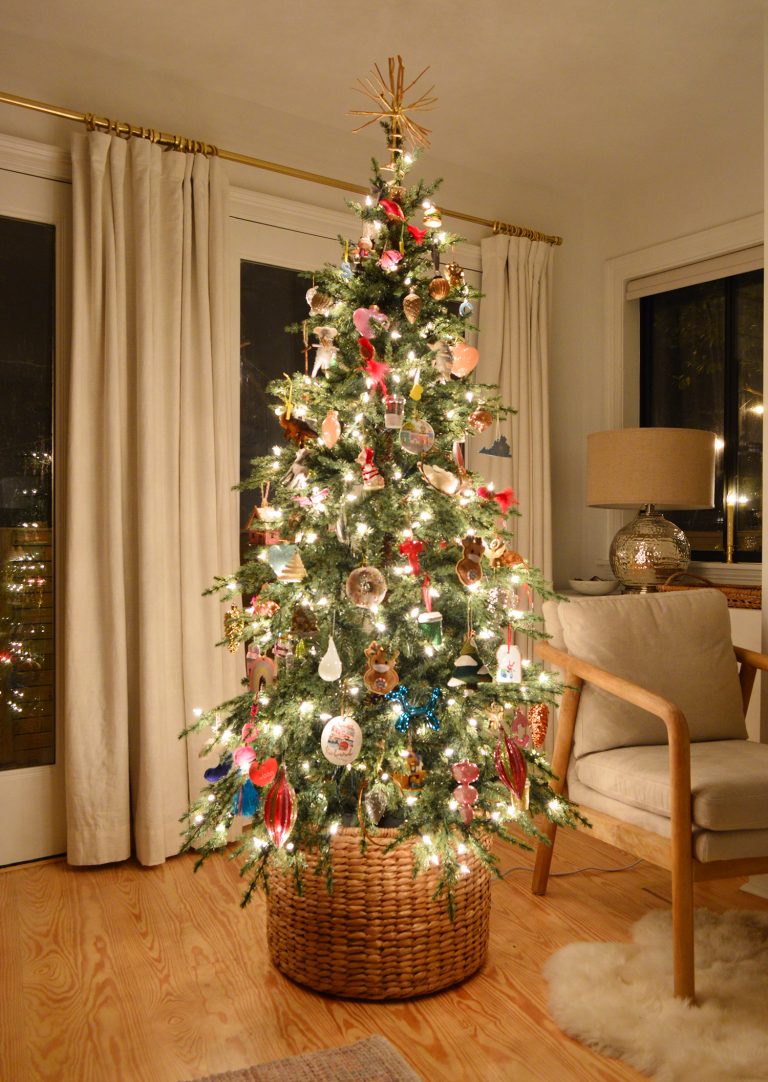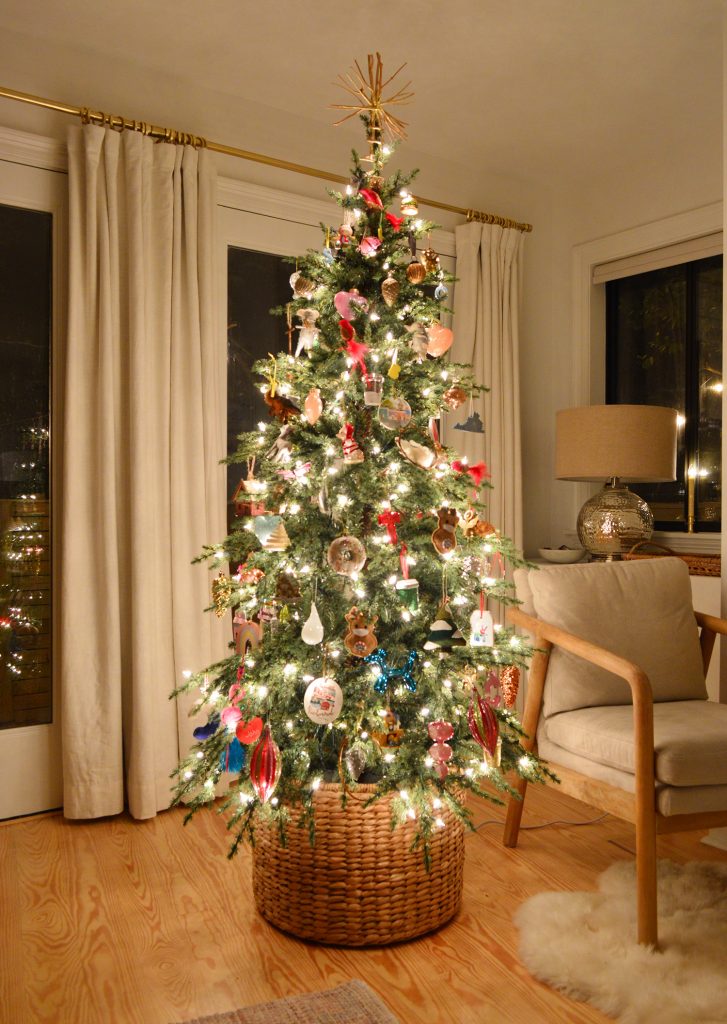 You can also see it glowing from the street through that window on the right above (no window upstairs would really allow for the same streetside effect since they're not really visible due to the deck's placement), so that's a nice bonus too.
As for the actual tree details, just last weekend we bought this 6.5ft tree for $99 (it was the last one they had – which felt like a very lucky break!). Sadly the tree is completely out of stock online now, but if you're looking for something similar, this looks really close and has great reviews.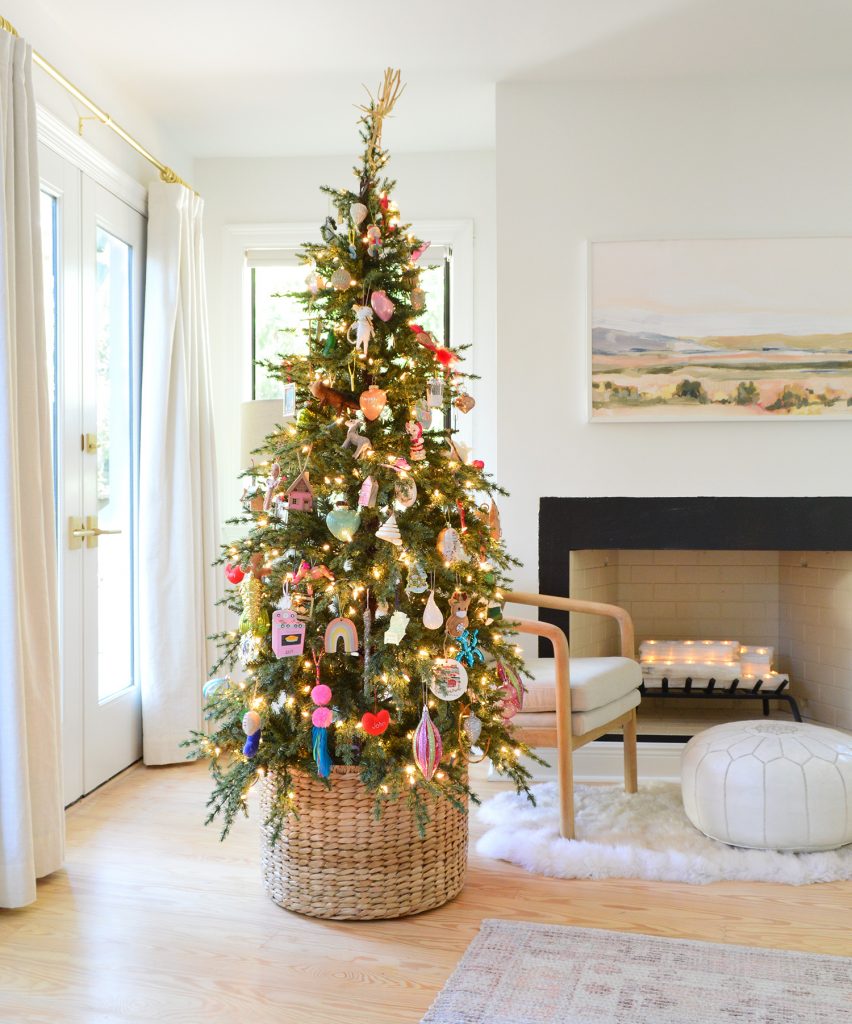 I wish I had taken an even closer detail shot, but as you can see below, the branches have that extremely real looking design, which is my favorite. Basically, if you're standing in person in front of my tree, I want you to touch it and still not believe it's fake. I'll do an IG story where I get super close, but it rivals our last tree in super-realism, which I love.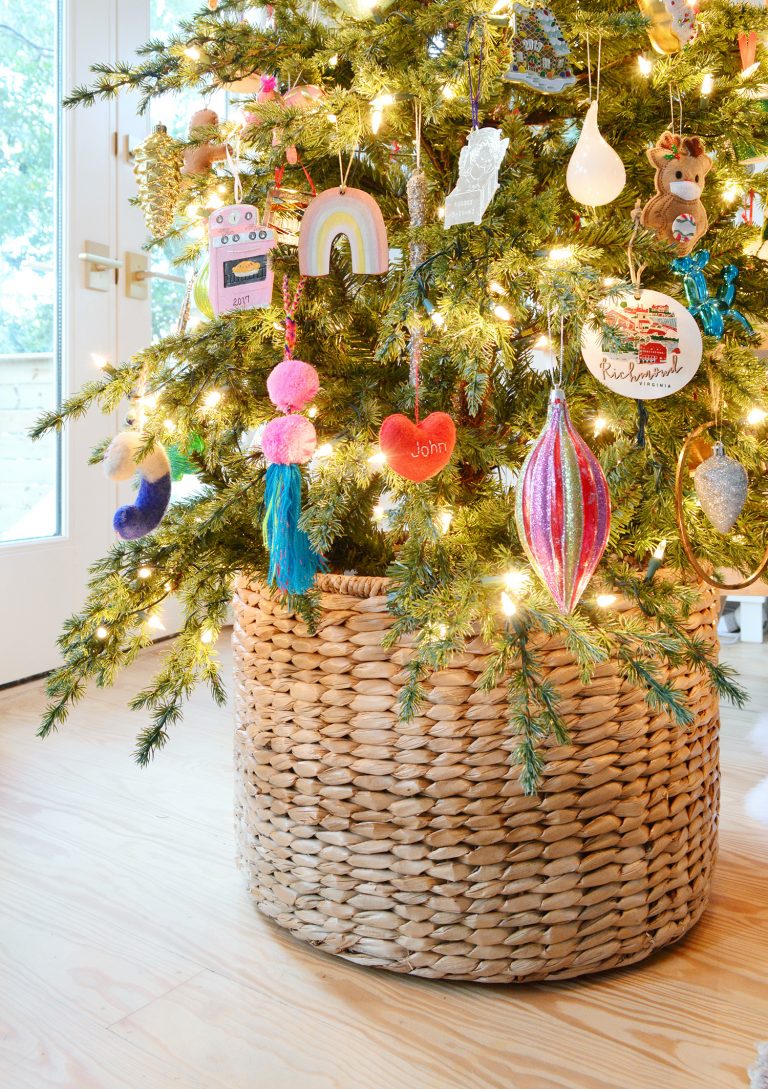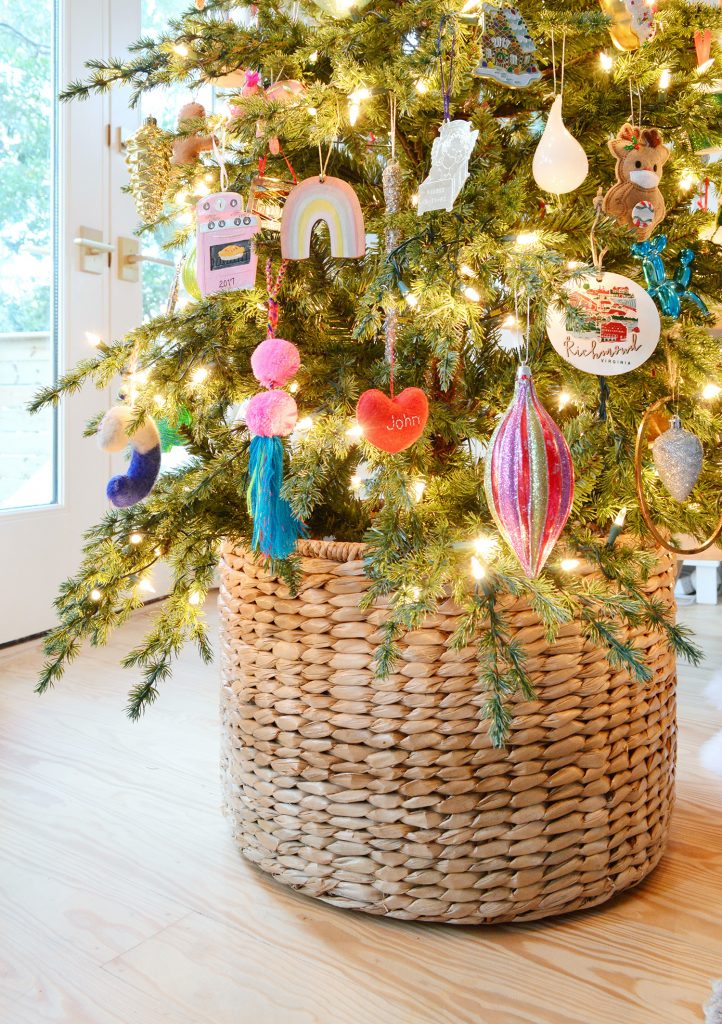 The tree actually comes "potted" in a faux-cement planter that was fine but looked a little too "English Garden" for me (you can see it in this product shot), so we plopped it into this basket that we already had to warm things up and add texture (technically it's a woven storage ottoman, sans top).
As you can see below, this placement still gives us enough space to walk behind it to close the curtains or grab something in the cabinet under the window – and unlike our last house, we actually got to decorate all sides of it, because half of it isn't shoved into a corner…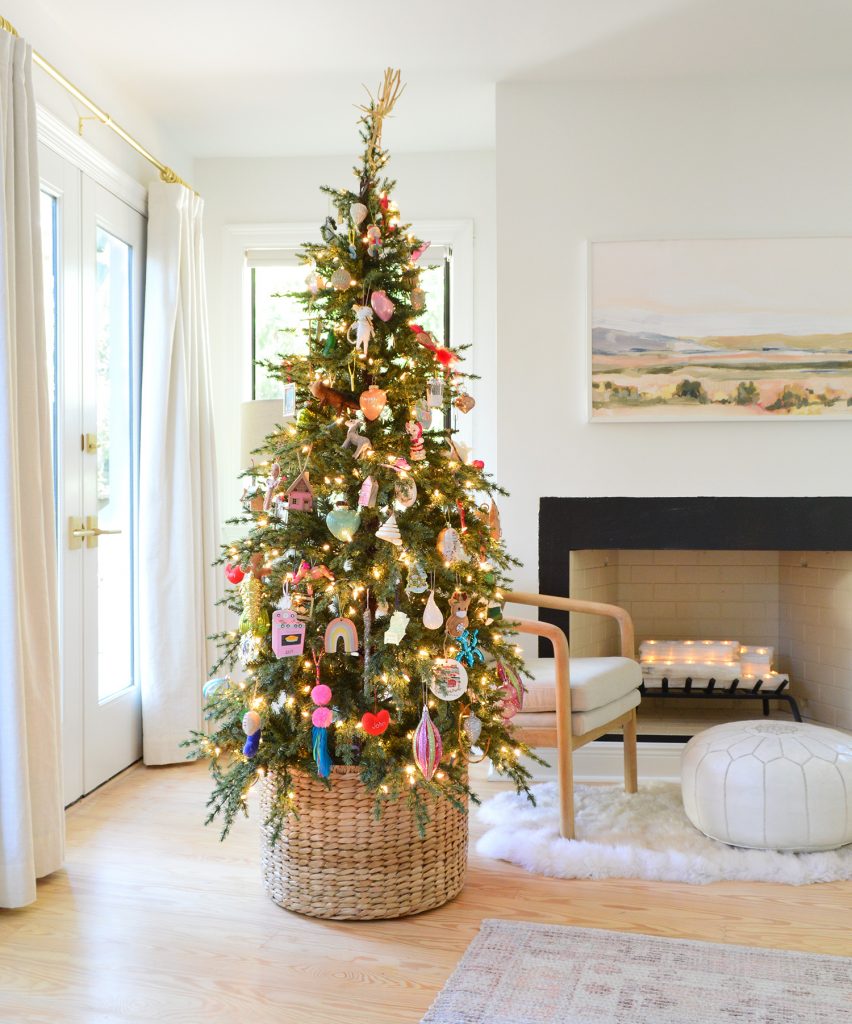 …which means that EVERY SINGLE ORNAMENT THAT USED TO BE ON OUR MUCH LARGER TREE FITS ON THIS ONE! Oh happy day!
One thing I actually dreaded was having to majorly pare down our ornaments (since so many of them are meaningful or handmade, I knew that would be MUCH harder than, say, letting go of a fake tree). So to bring this one in and decorate it as a family, and to realize that everything fits… it was a magical moment.
We only moved ONE large plastic bin of holiday stuff, which we stored in our kitchen's utility closet (that closet also houses our HVAC system, so it's a hodgepodge – it's also where we keep cans of paint) – so a lot of other things that we have in rotation are items we've owned for years. We already had that white planter that holds our "Christmas bush" and that wooden dough bowl of shiny ornaments and some white bottlebrush trees came right out of storage as well as all the felt ornaments on this little tree.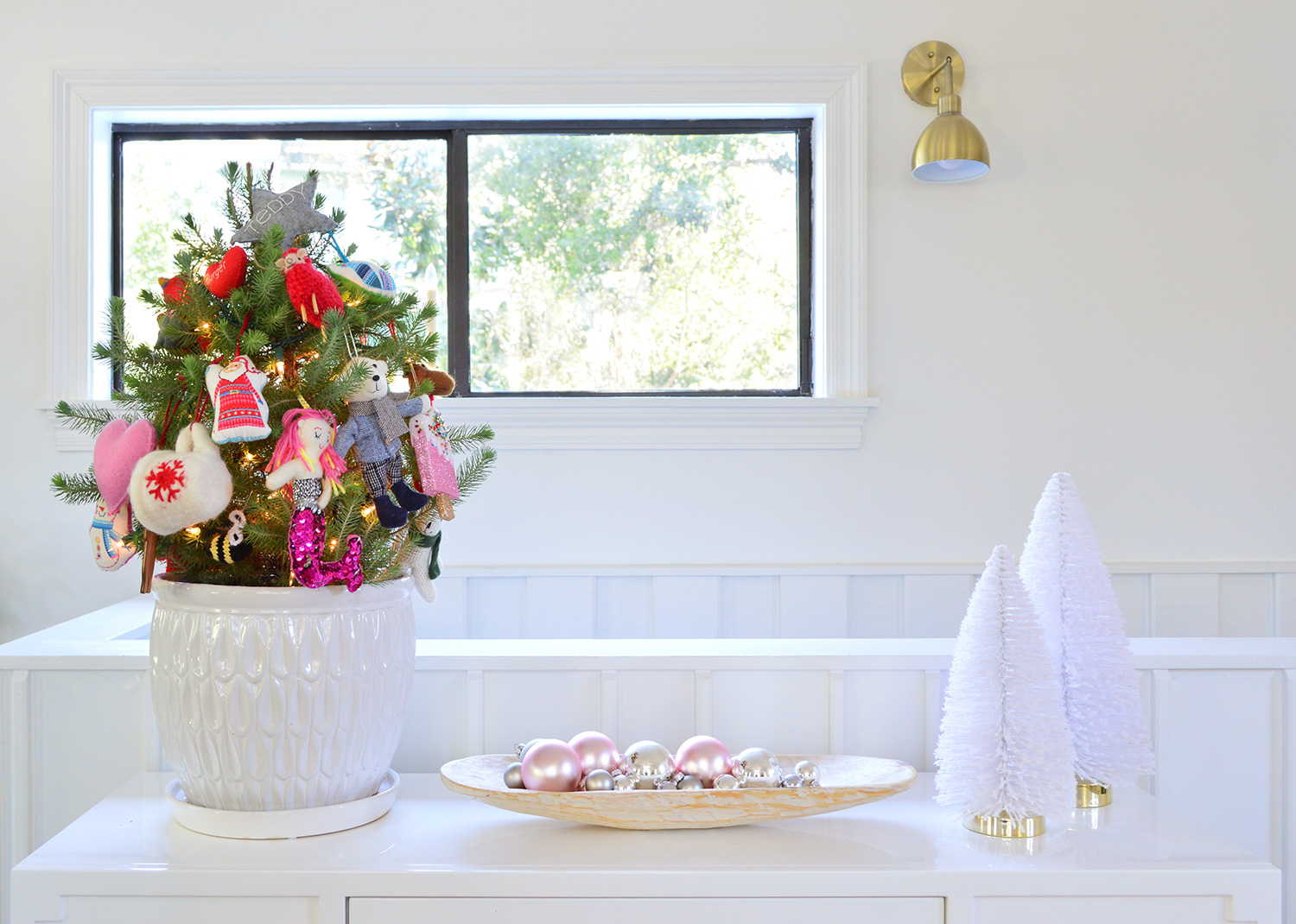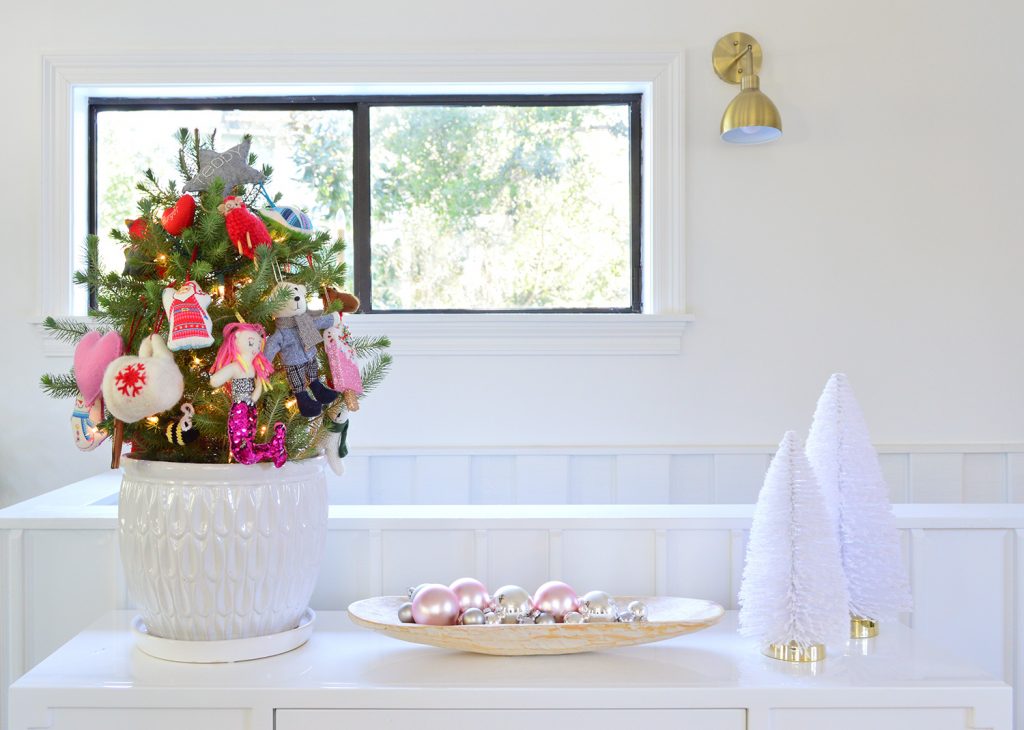 In other words: we didn't buy anything new for this holiday season except for our new faux tree downstairs and this fresh tree upstairs. And the amazing thing about our tree downstairs is that it breaks down into three smaller pieces that fit under our bed! And since we plan to plant this real tree outside, we know we'll be able to store everything when January rolls around. I'm SO GLAD we didn't go overboard buying too much stuff that'll be a pain to store in Jan. It feels like we passed some sort of first-holiday-season-of-living-smaller test. And it still feels super festive around here.
This little tree sports a lot of the felt ornaments the kids have collected over the years, just like the "upstairs tree" that we used to decorate in our last home's bonus room. So that might be another reason why the small tree upstairs feels right to us – that's how it was at our last house too! It sits on a console table near the desks where our kids do their schoolwork, so they like having it in their "zone" – and since we're all home all day/every day (yes, at home-learning continues!), we light it up every morning and don't turn it off until bedtime.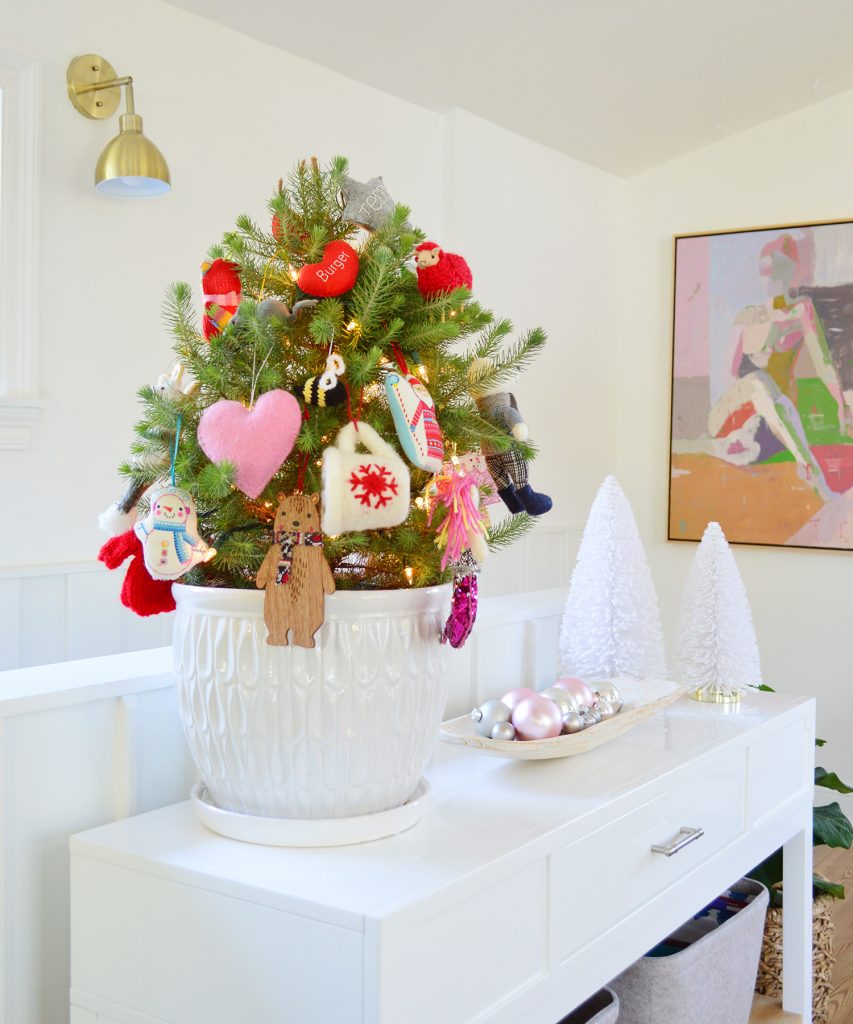 You'll be comforted to know that I've found spots for the rest of my menagerie of feather, glass, wood, and bottlebrush trees. So every room whispers "it's festive in here" – even the bathroom. This little window ledge in there sports a free evergreen branch from outside in a gold cup, along with a simple candle and two small ceramic trees from years ago (here's something similar).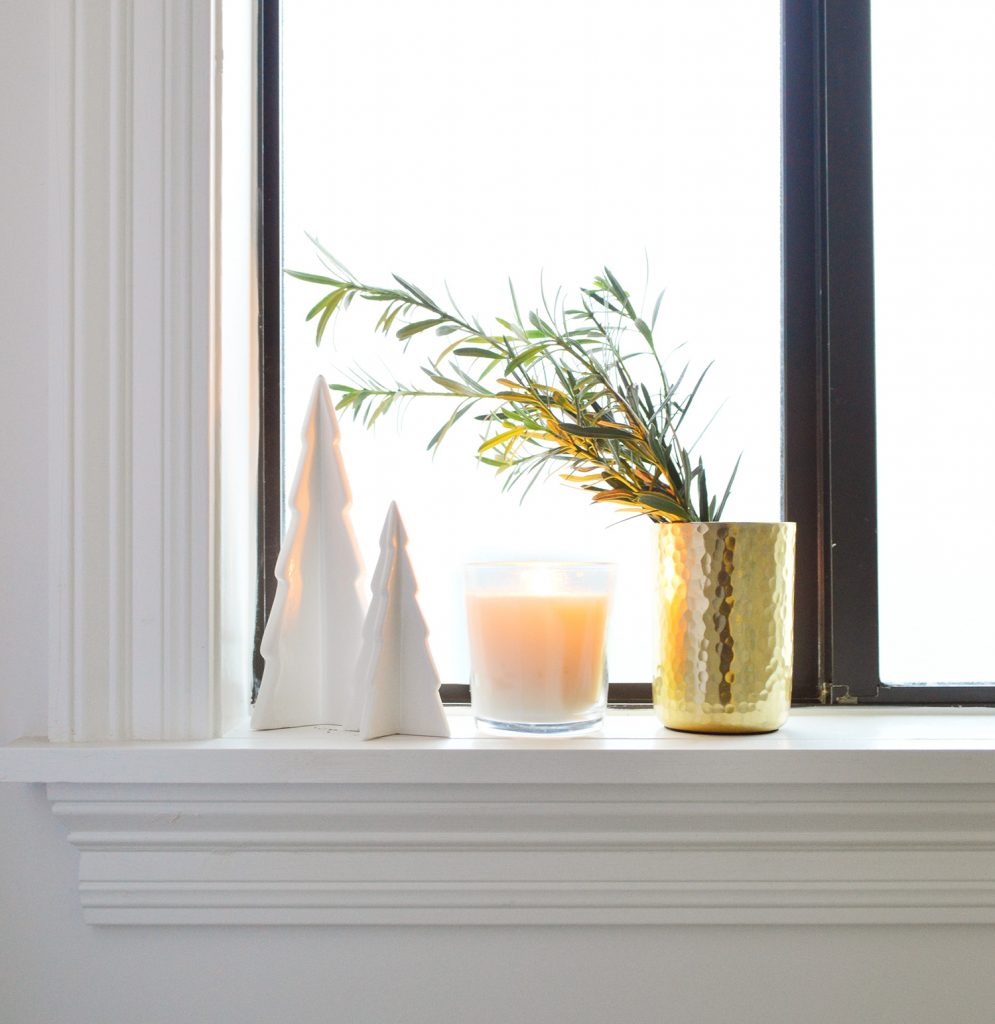 In the kitchen, I added trees to the two white shelving systems in there (can you spot all 6 of them in the picture below?).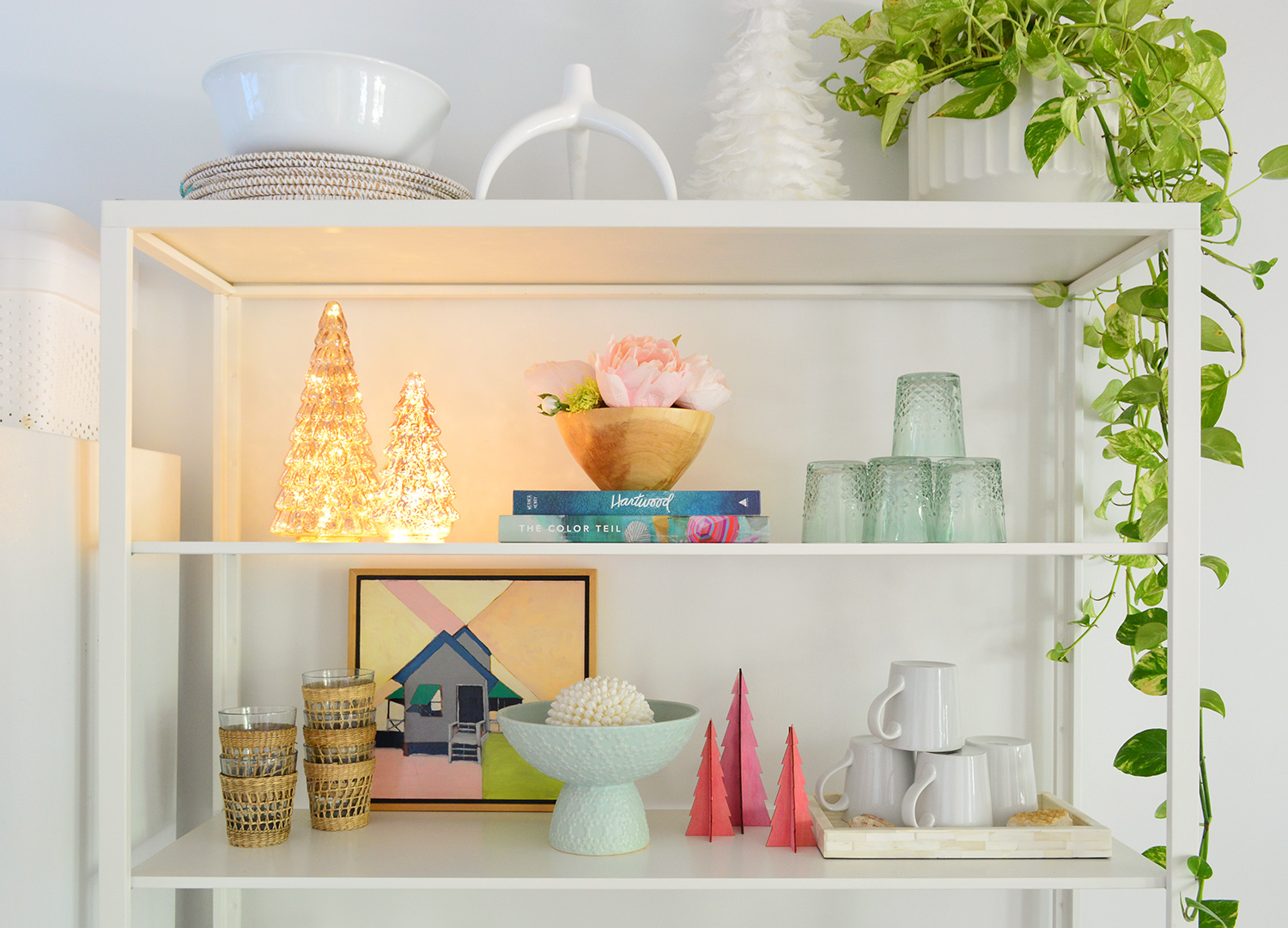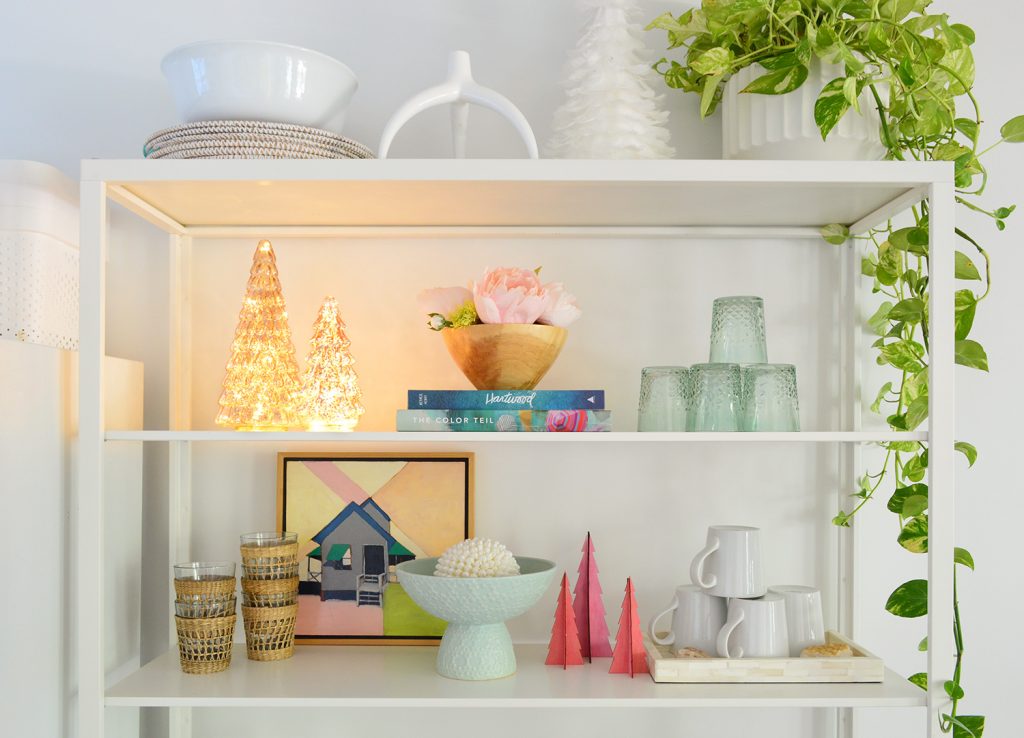 If you're looking for similar glowing trees, these are awesome. And this shop has some lovely wooden trees like my three pink ones above. And here's a nice feather tree too.
Anyway over on this side of the room we've got two more bottle brush trees on our other shelf, which we've moved to the opposite wall, and – by pure coincidence – our elf "Raychard" (named many years ago by our daughter) happened to plant himself there yesterday.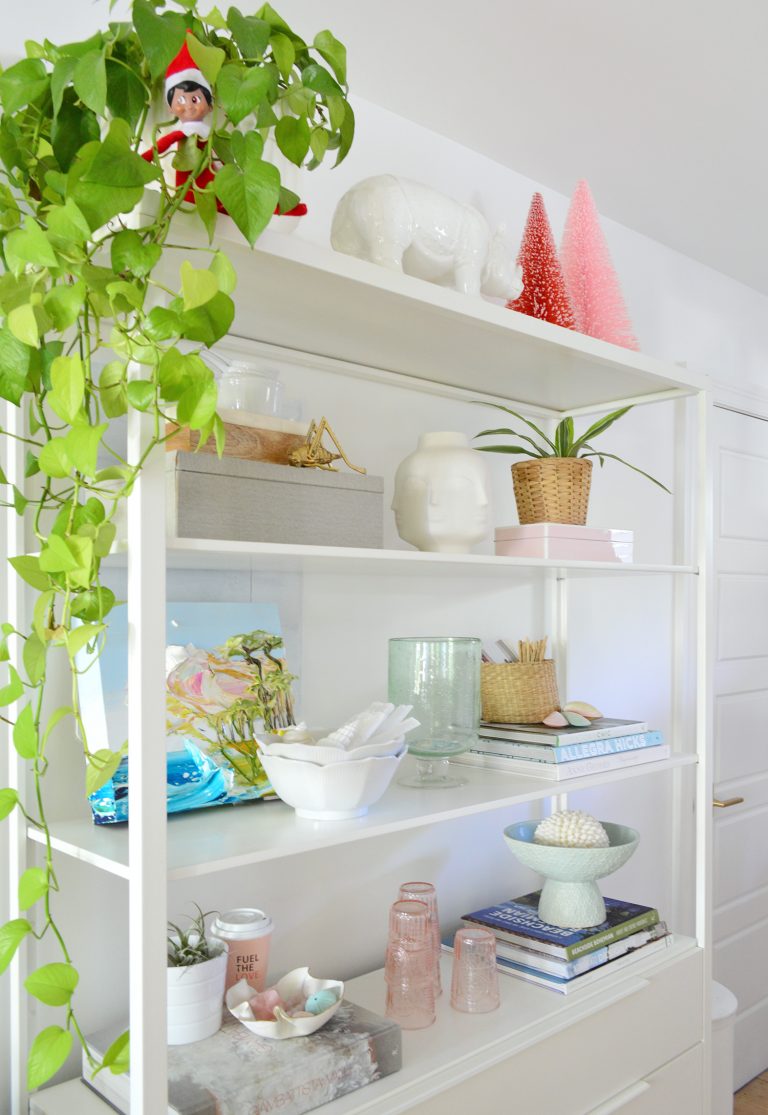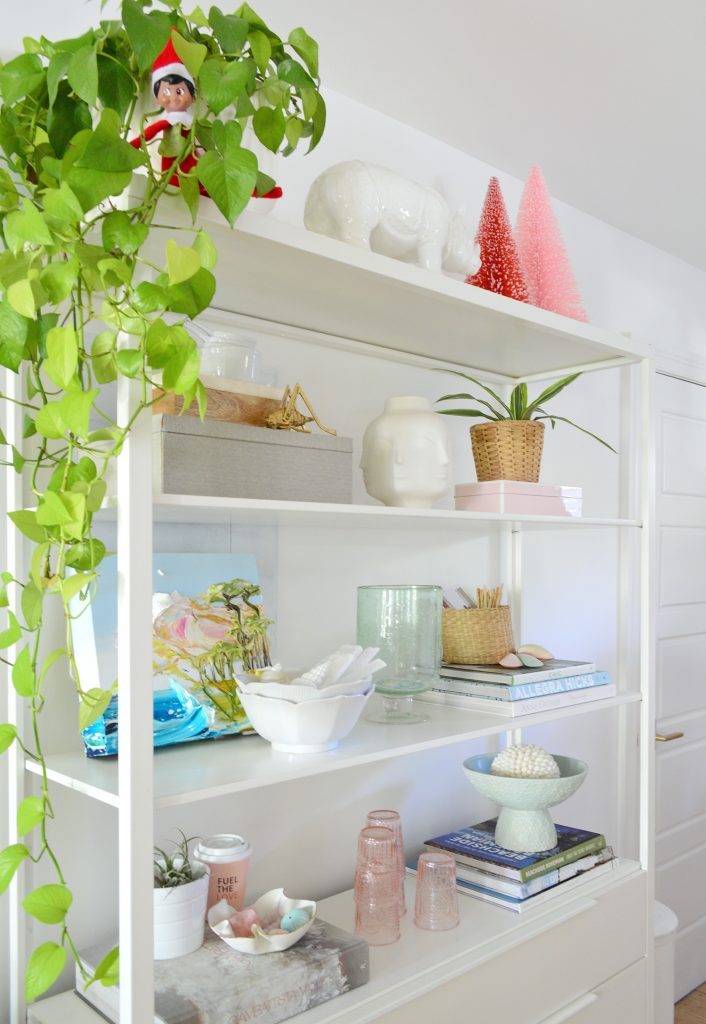 Just when you thought we were done with bottlebrush trees, there's one on the kitchen table…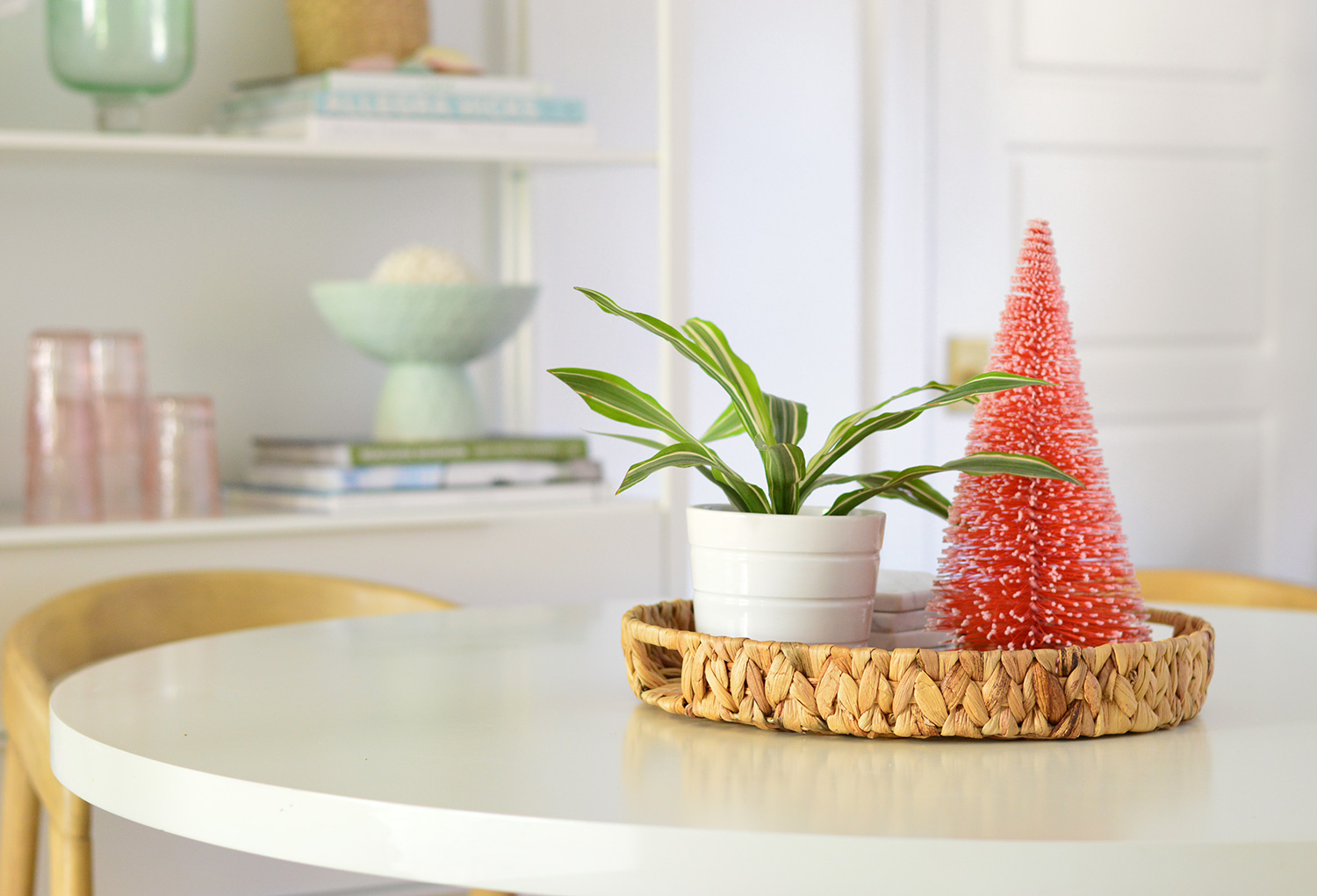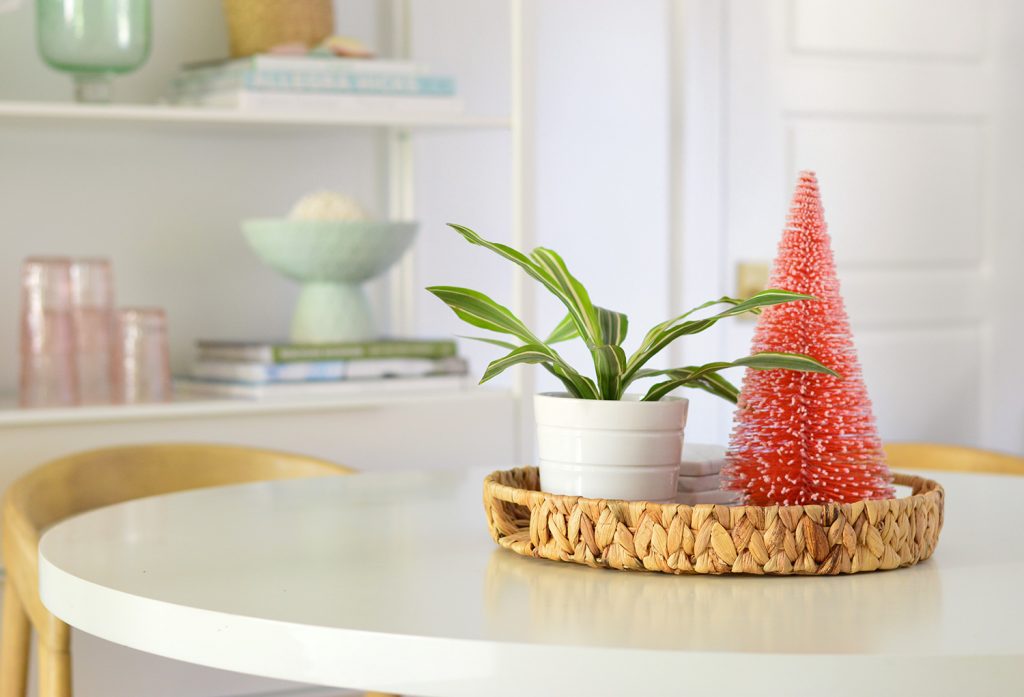 … and a couple more glowy glass trees on the entry table, which are also nice and visible from the outside when they're lit up in the evening (they have little twinkle lights that run on a battery pack inside).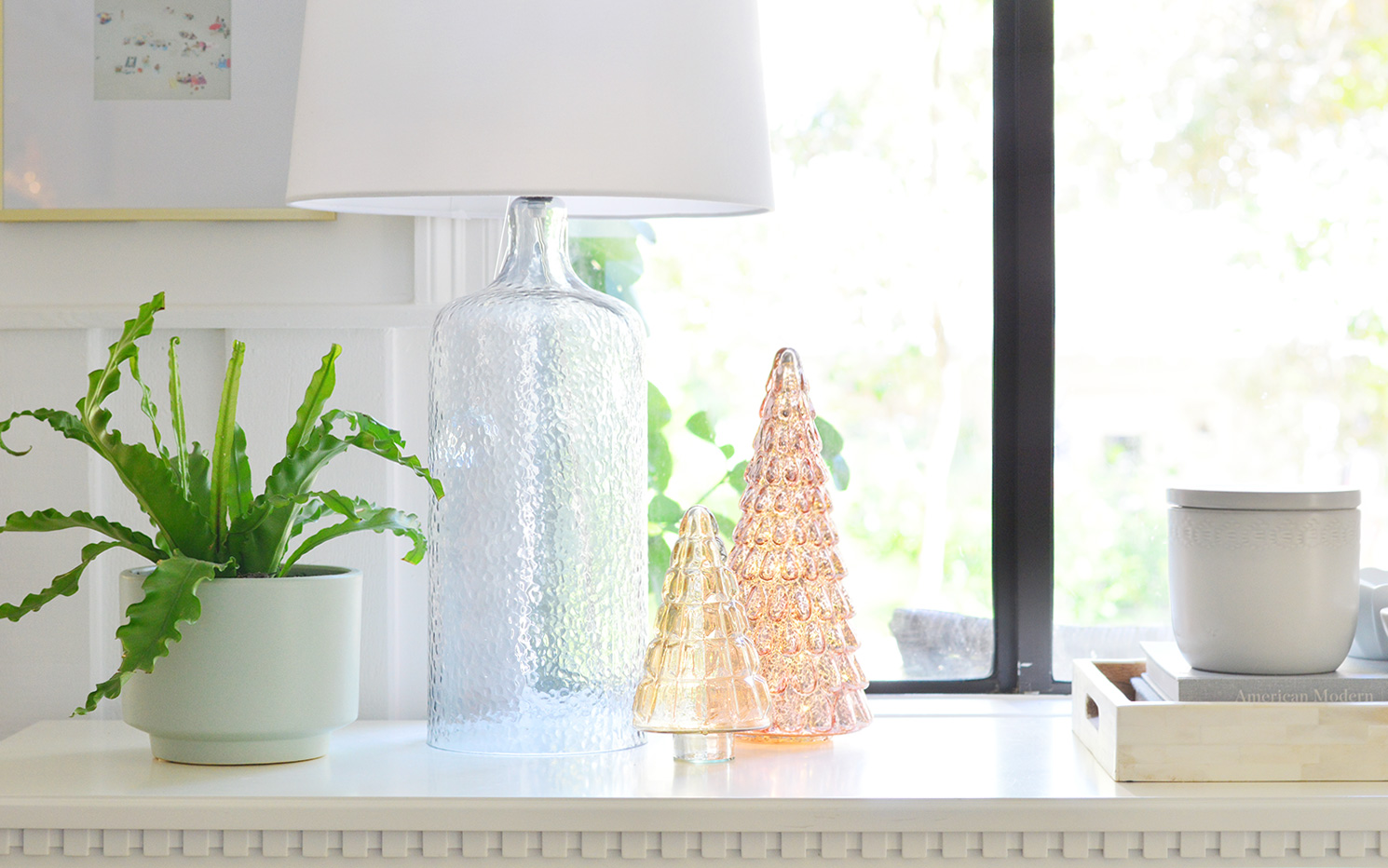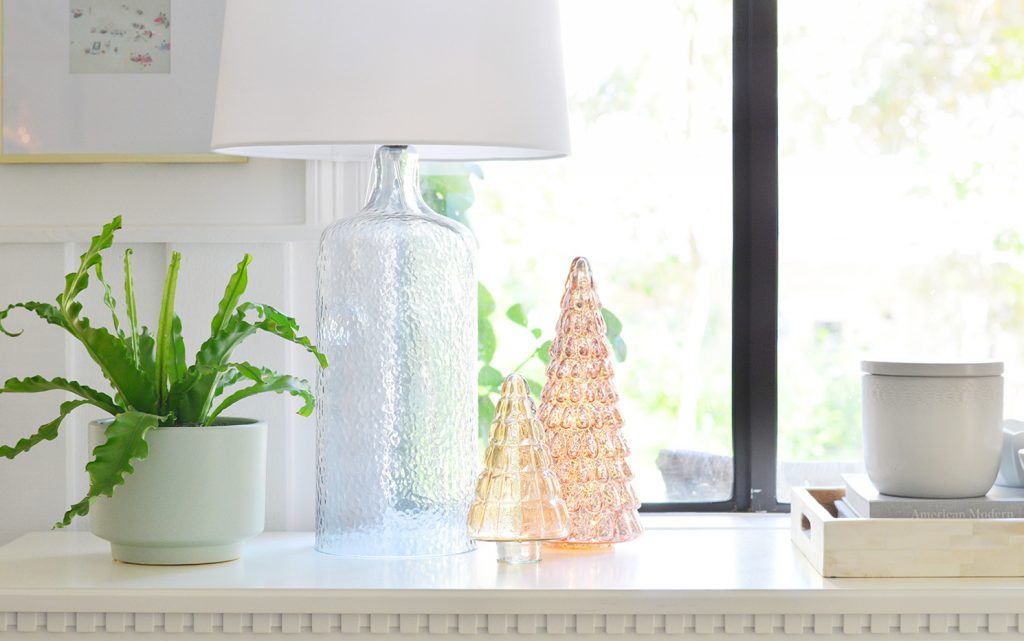 I mentioned that we'd love to add a mantel for the kids' stockings over the fireplace, but in the meantime we just looped them over the door handles to our laundry nook. My goal is a new mantel before the holidays (even if it's just a makeshift one for now) – so there might just be an update on that soon if we can get it together.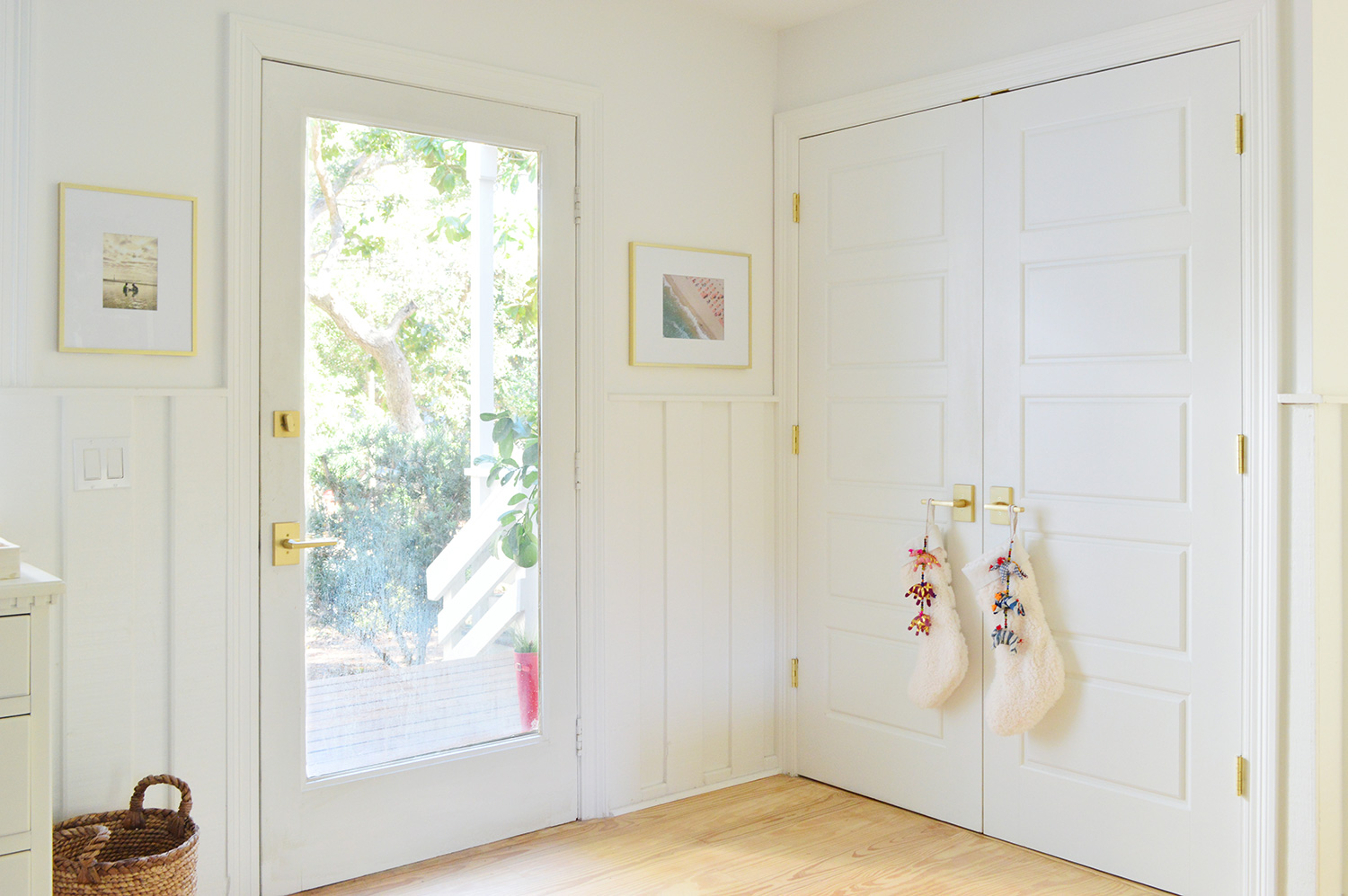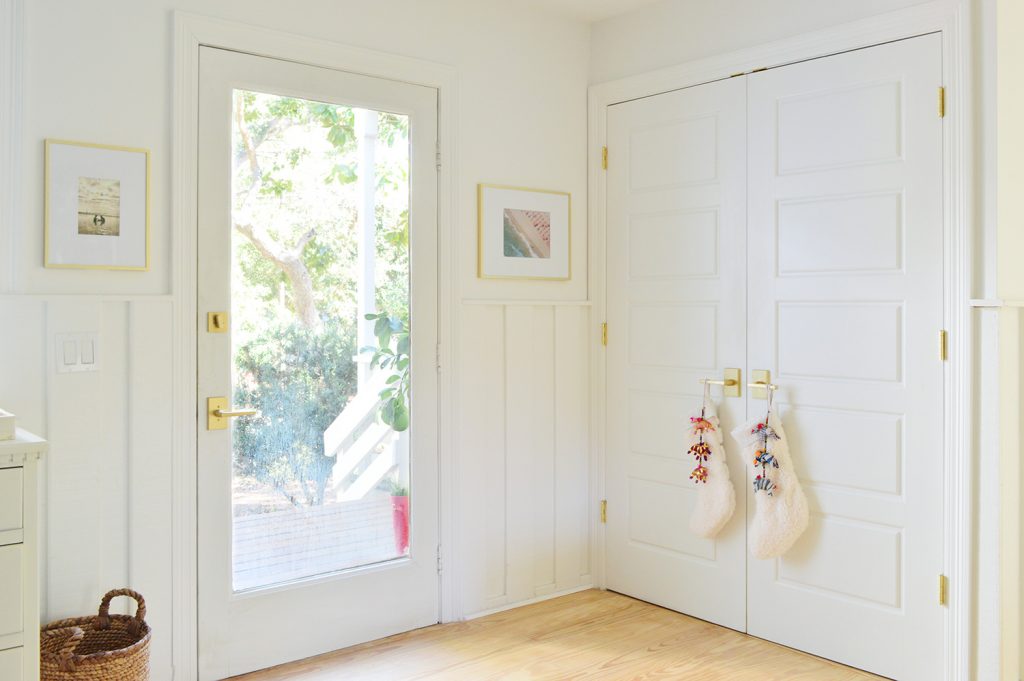 You may have noticed through the front door that our "boots with the fir" are still making an appearance on our front porch (I just bought cute rubber boots and added faux evergreen branches). This is their 5th year with us and the 3rd porch they've graced (including our last house and our beach house where they spent the last holiday season). The only twist this year is that they're hanging out next to a lemon tree and are sometimes visited by tiny lizards. What an exotic life they lead.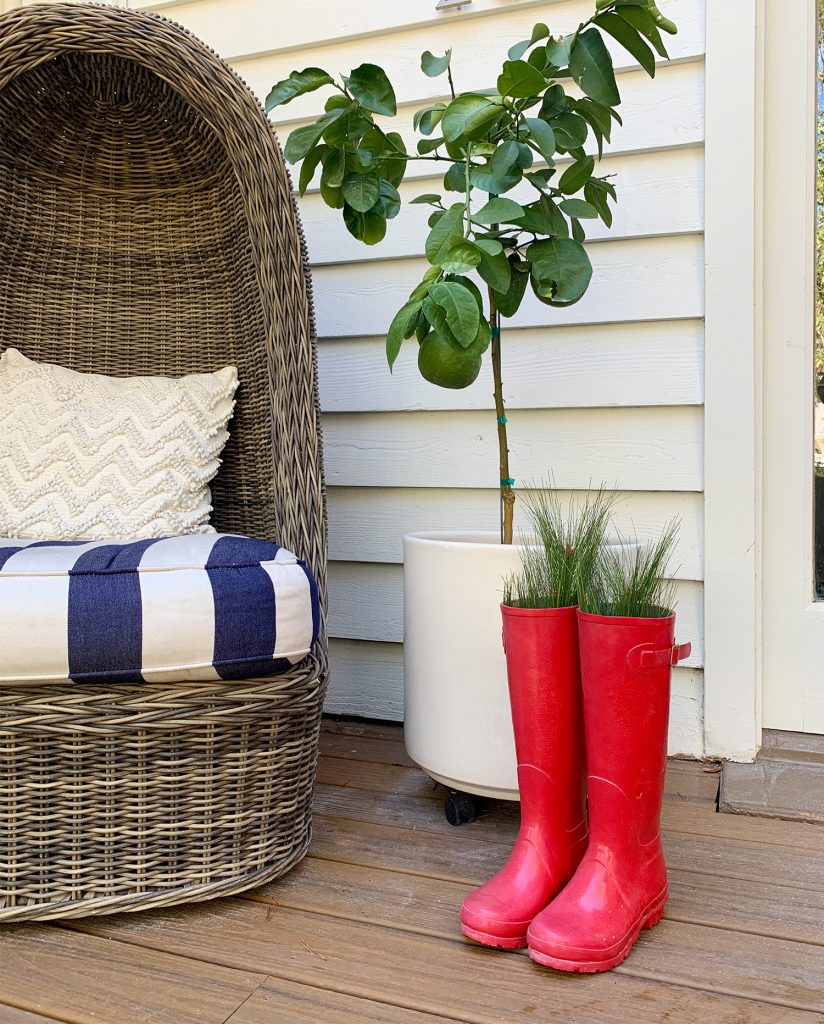 We don't currently have a wreath up because, for obvious reasons, I wasn't able to go to that wreath-making event in Richmond with my favorite ladies (an annual tradition of maybe 5 years?). But I ordered a wreath form (this one) to try my own DIY version using leaves from the many magnolia trees that we have around our house. AND I AM WEIRDLY EXCITED ABOUT IT. So stay tuned for that. It could be amazing, it could be a disaster – we shall see.
Beyond those little red boots, the only other thing we've got going on outside right now, beyond our year-round string lights that you can see on the right of this photo, is a tree that we wrapped using leftover string lights that we already had (these are the outdoor lights that John's special eyes like most). We used to wrap them around trees on either side of the front porch in our last house, so with several stands of indoor/outdoor lights at our disposal, John just kind of played it by ear and this was the result. I think it's so so pretty. Like I might want to keep it year-round like our string lights.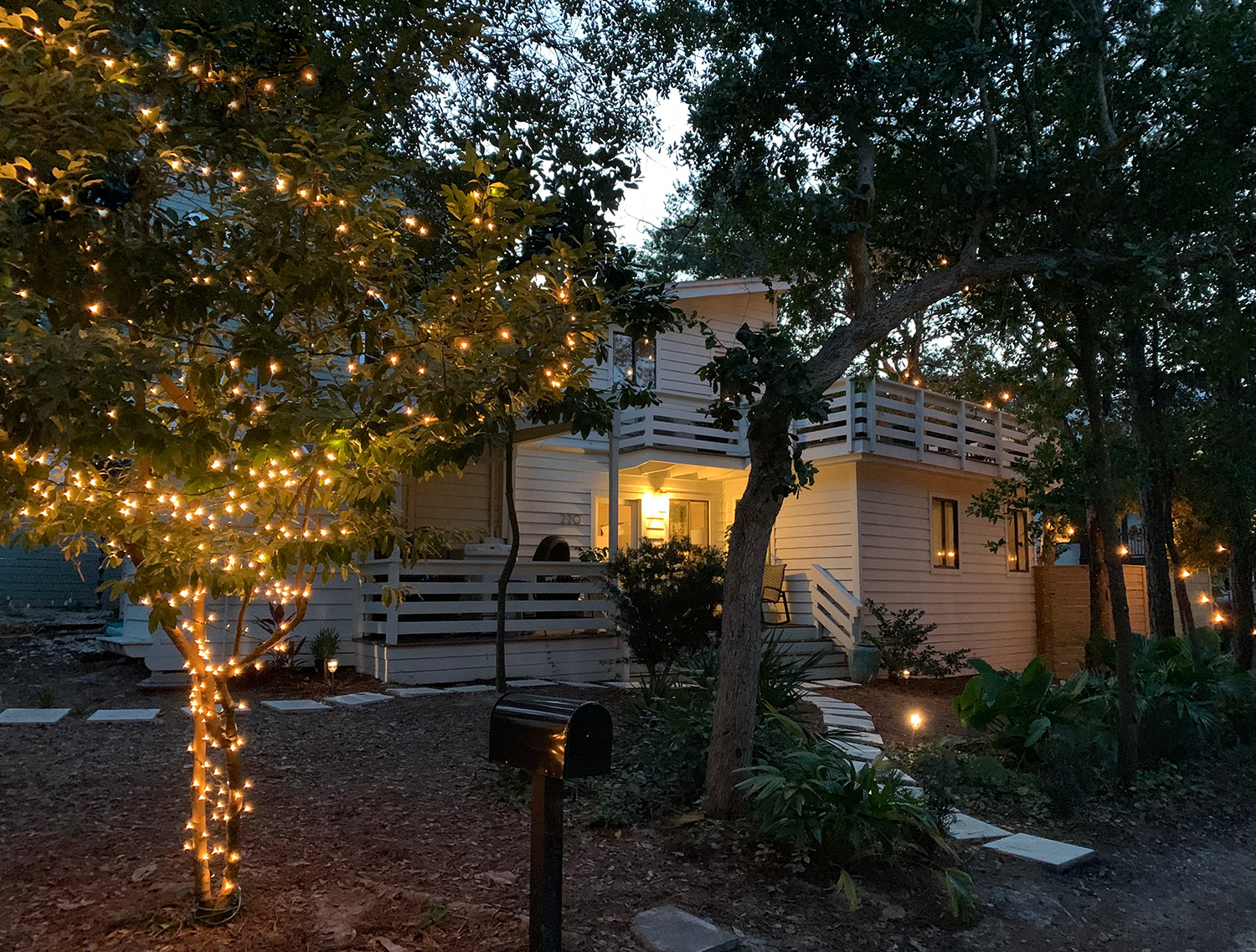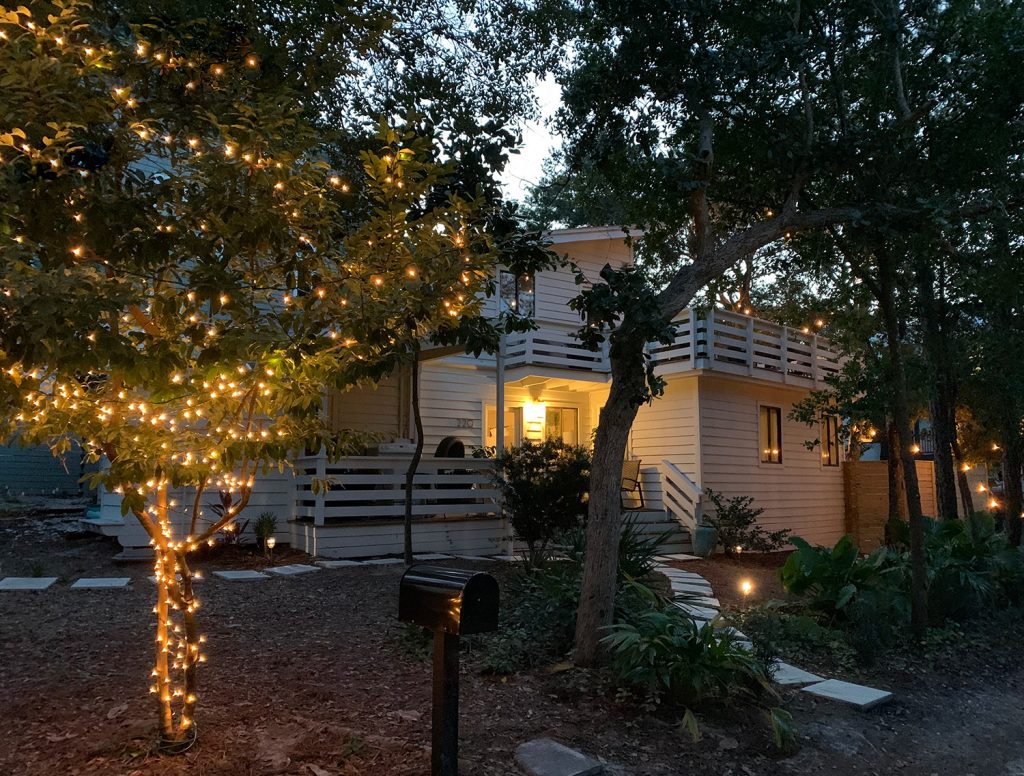 So that's where we are with our first go at decorating this house for the holidays. With a magnolia wreath & mantel for stockings hopefully coming soon. And maybe some live garland that we can drape over a window or two. We also put our battery-operated candles in every window of course (ours are out of stock but these are similar) – so I guess that counts as additional outdoor flair. But seriously, who's with me on making this a year-round look…?
P.S. To see how we decorated our last house for Christmas, this post has all the details. And this one is a full rundown of how we decorated the pink house for the holidays as well.
*This post contains affiliate links, so we may earn a small commission when you make a purchase through links on our site at no additional cost to you.