Last week we shared the current state of our bedroom and today we're sharing a fun project in our son's room: a DIY upholstered headboard that turned his bed into a cozy nook for lounging, reading, and – of course, sleeping! It was an easy way to make his bed more comfortable and look more custom, so we'll give you the step-by-step process for creating a wraparound headboard of your own!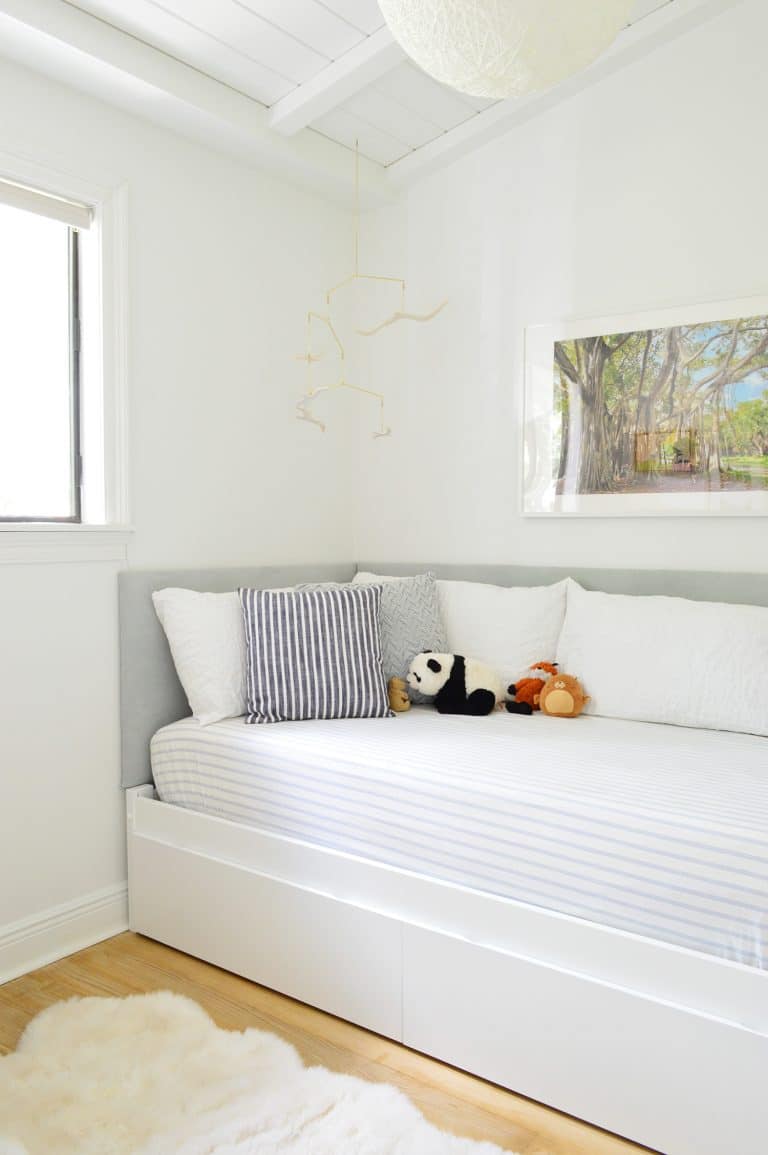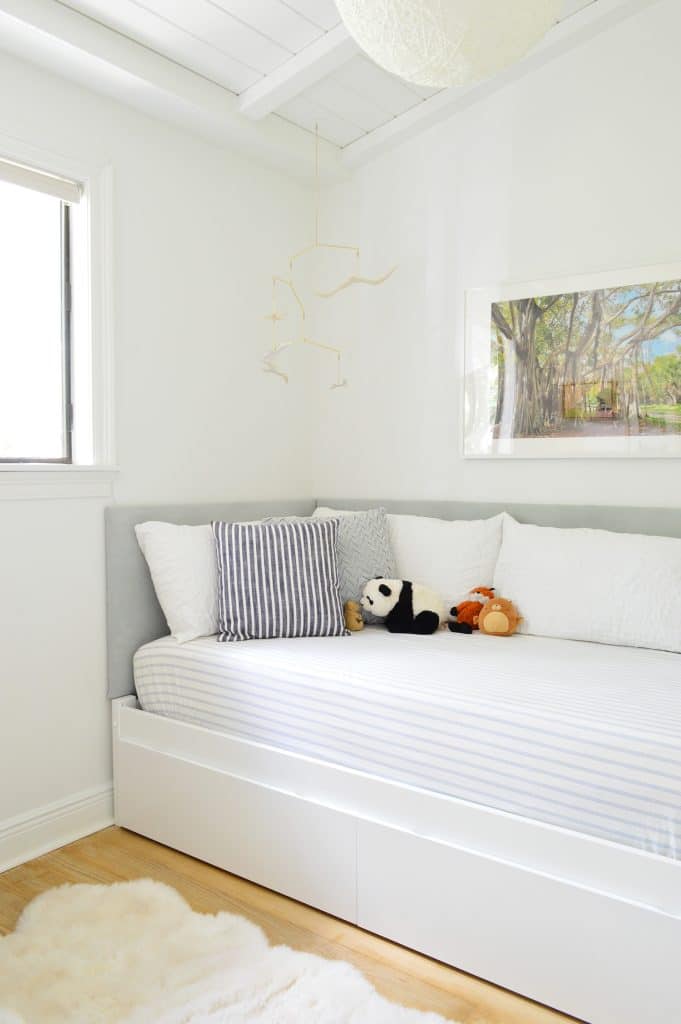 We definitely have plans to add more color in here, but for reference, this is what his room looked like when we first laid eyes on the house back in February. Popcorn ceiling, wall-mounted drying rack, bows drawn on the damp drywall (all of which we quickly learned needed to come out and be fully replaced).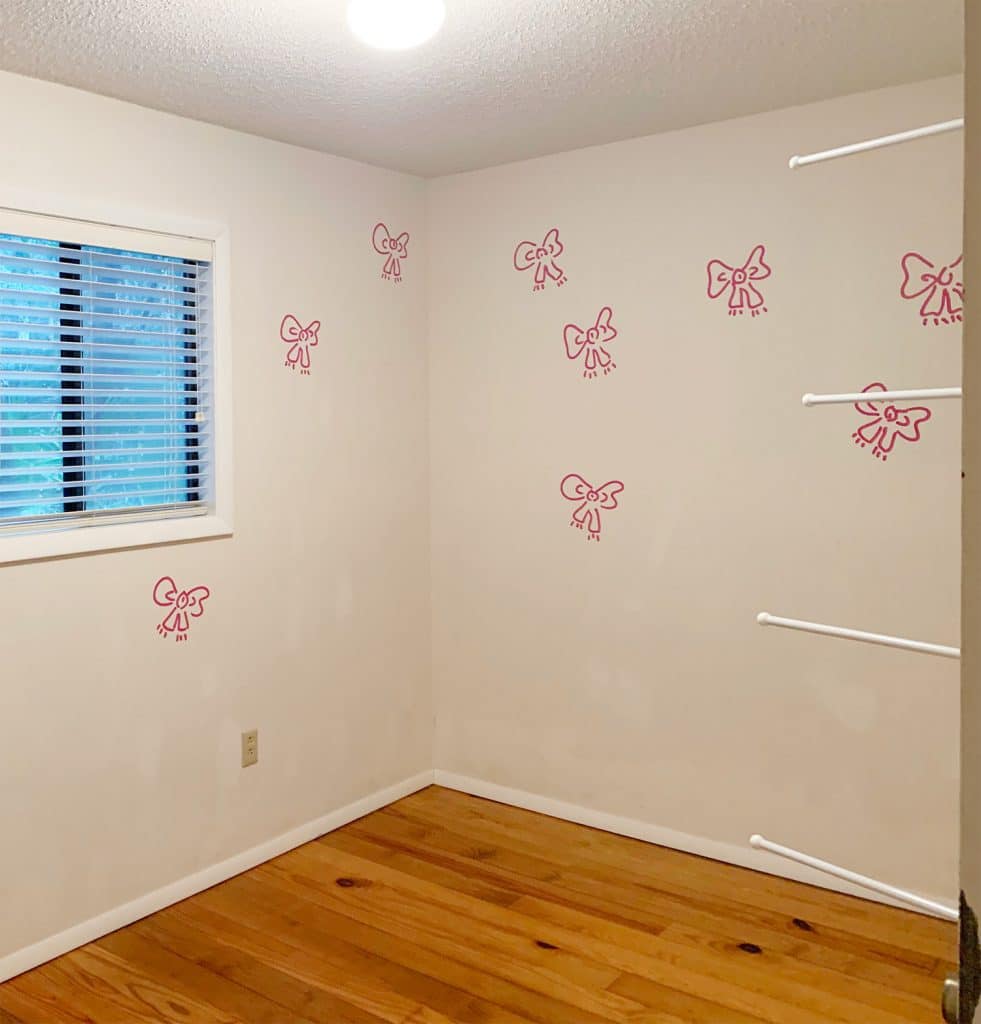 If you remember from our renovation progress post, we quickly realized that this room had a tall sloped roof above it (as well as our daughter's room) which made both rooms perfect candidates for vaulting the ceilings! That one change in this room and our daughter's room instantly made them feel a lot more spacious and extremely special.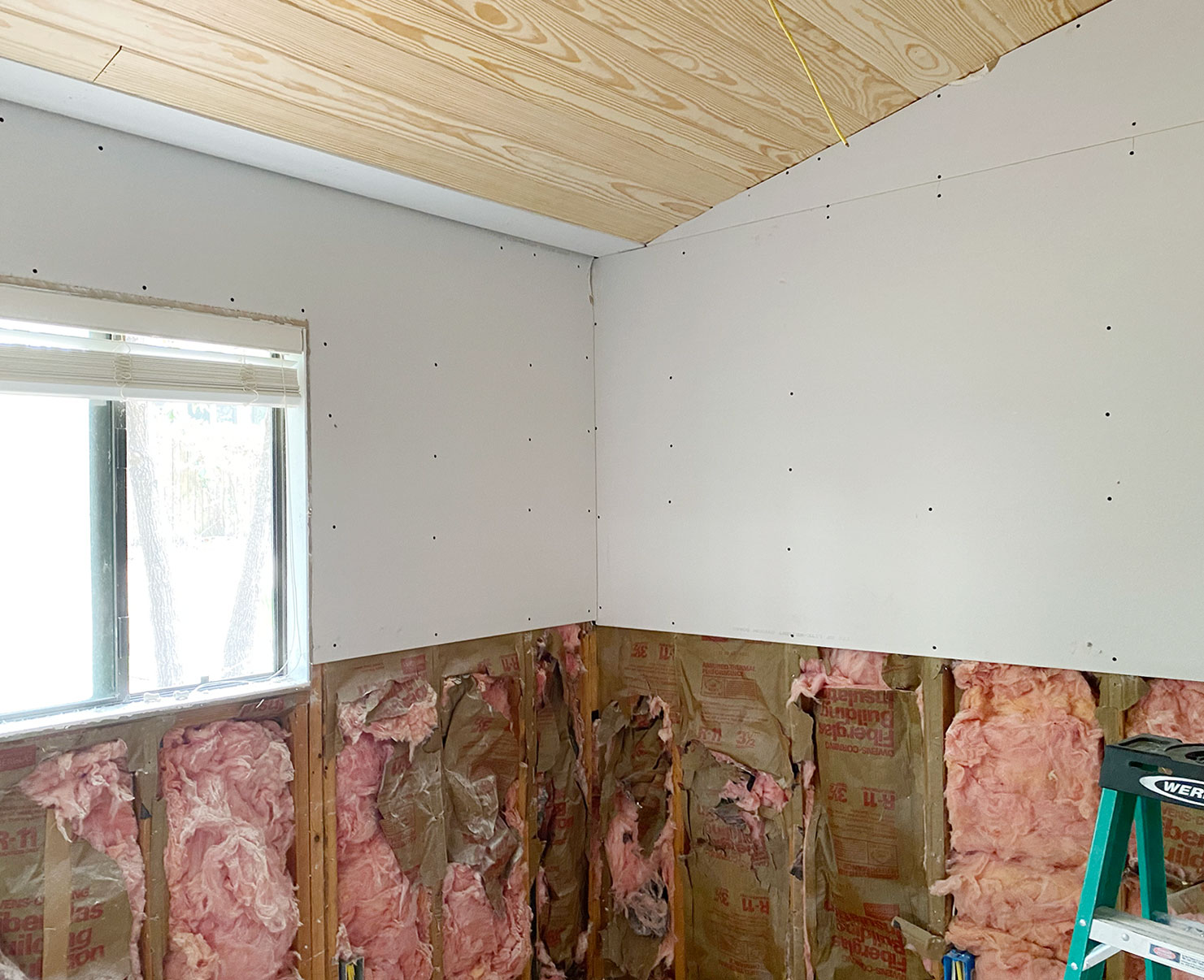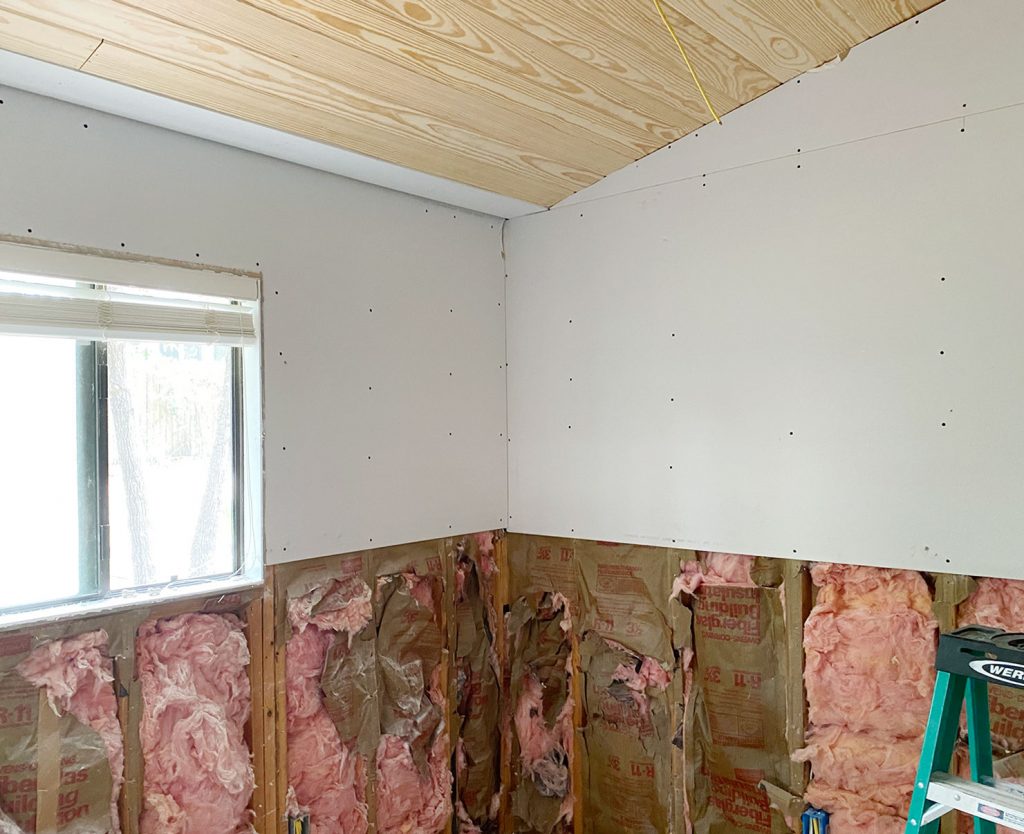 As of earlier this month, this is where his room stood. He requested a bed with big drawers for toys (more on that in this podcast episode) and we hung a few things that he picked for his room, which helped it feel less bare. But it still lacked a lot of coziness.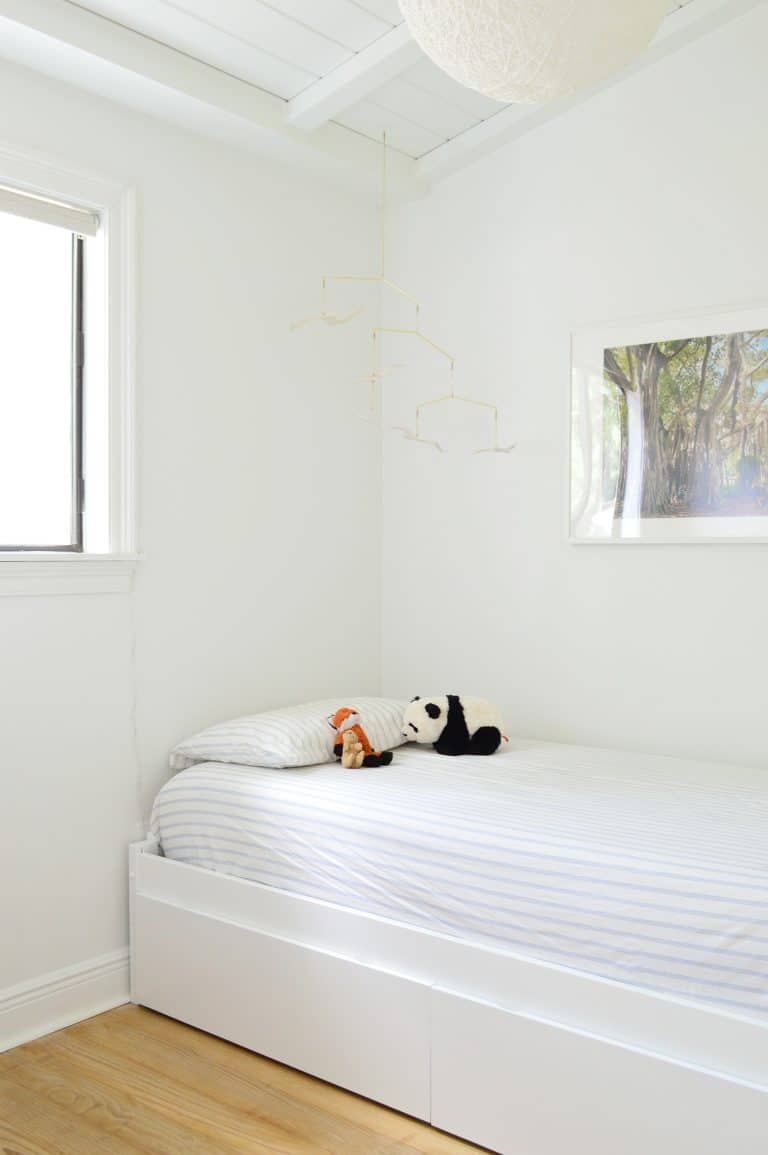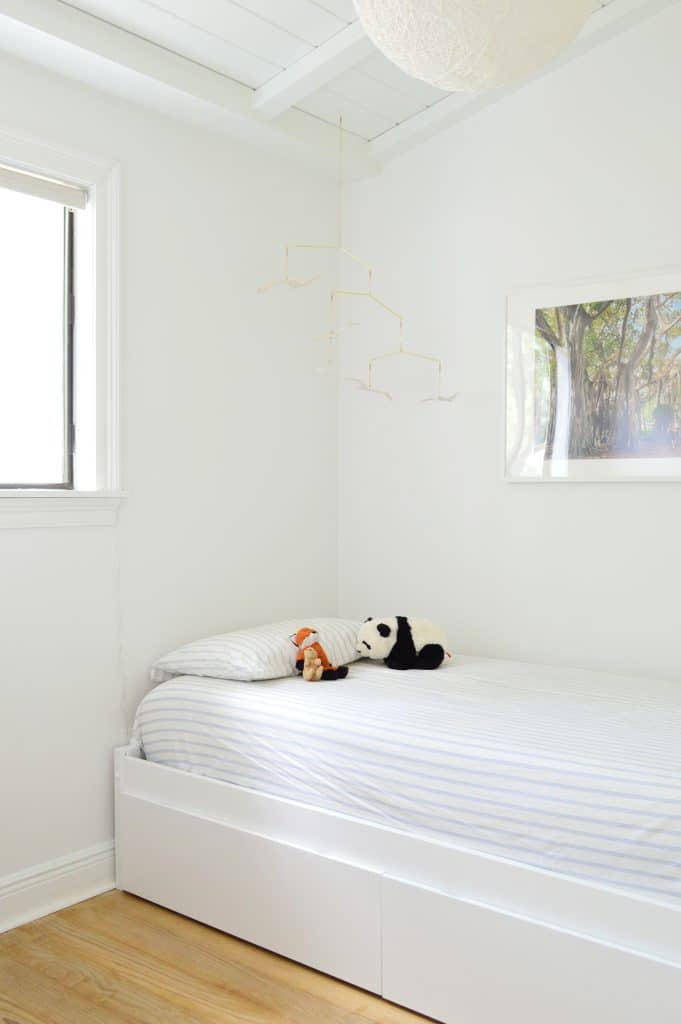 Even though it's the smallest room in the house, we know from our our beach house bunk room that sometimes the kids hang out the most in the coziest spots. So we whipped up an easy DIY headboard to make his bed a perfect spot for them to chill.
Why Make A DIY Daybed Headboard?
Every bed looks better with some sort of headboard, and this wraparound style is great for a daybed style bed. Our son's headboard goes across two walls (the head and back wall) because we built a DIY bookshelf at the foot. But you could easily add a third panel. Plus you can make them any height and use any fabric that you'd like! Bonus points if it also stopped stuffed animals from getting lost in the crack between the wall and the bed (spoiler alert: it did the trick).
Materials & Tools
Here's a quick list of what you'll need to make your upholstered wraparound headboard. Keep in mind exact supplies will depend on your measurements.
Step 1: Build A Lightweight Wooden Frame
We've done plenty of DIY headboards in our day (like this upholstered one that we used for years), but for this one, we threw it back to a technique Sherry used waaaay back in her New York City apartment before we were dating, and later revisited in our niece's bedroom. It starts with some sort of wooden frame, which helps to keep your project light and inexpensive (especially compared to using a solid piece of plywood or MDF).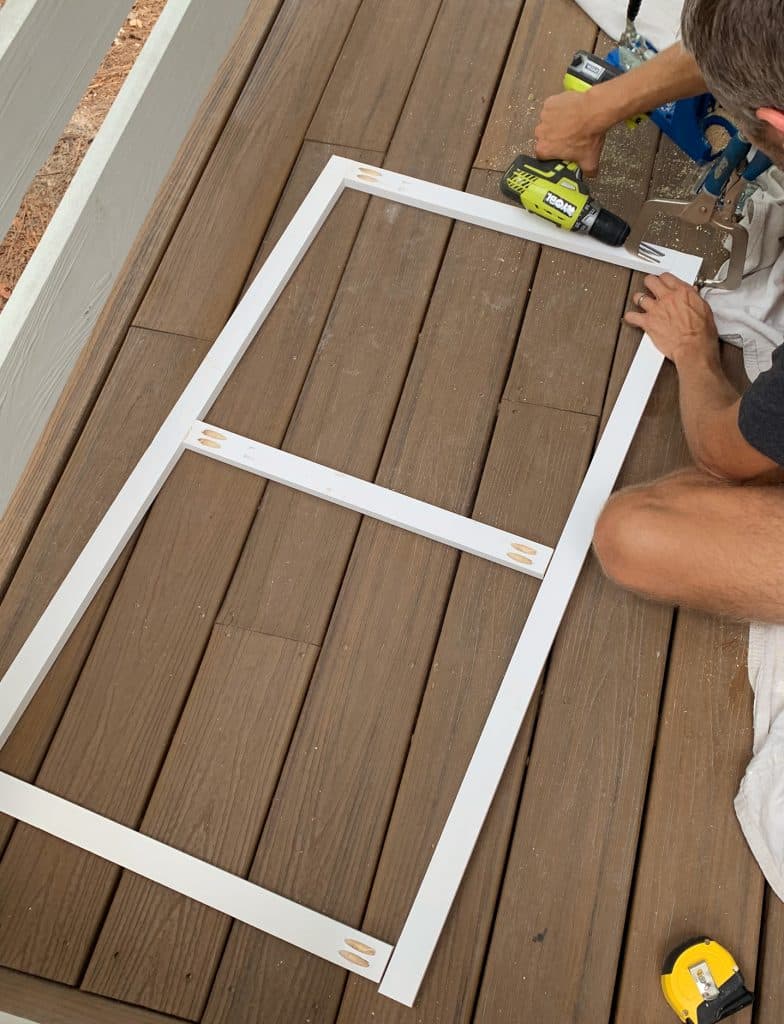 We used 1×2″ boards (they don't have to be primed, this was just what our store had in stock). I cut them to size and used my Kreg jig & clamp to make pocket holes for securing them tightly together. All of this will be hidden by fabric later so it's not important that it's pretty, so if you'd rather just drive screws through the sides of the boards that's fine too (no jig required). Just drill pilot holes first so your wood doesn't split.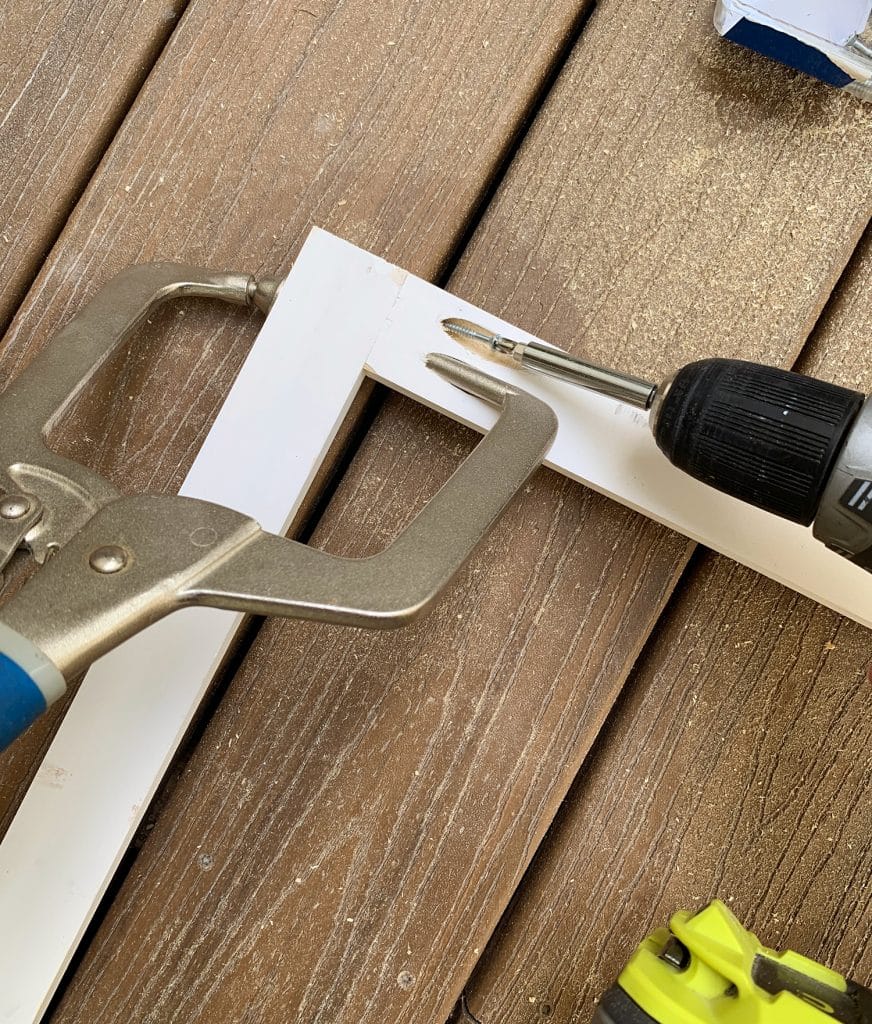 The beauty of DIYing this is that you can customize your frame size to exactly what you need – just remember that your fabric and batting will add about a 1/2″ to your final size. Our frame was 42″ wide and 25″ tall, which was as tall as we could go without hitting the nearby window molding. I added the middle support just to be safe, but it probably wasn't 100% necessary.
Step 2: Wrap Your Frame In Batting
Once you've build your frame, it's time to wrap it – first with batting, then with fabric. Sherry always says: "If you can wrap a present, you can make a headboard" because the process is basically just cutting your material to size (leaving 2-3″ of overhang on all sides) and then folding it over your frame and stapling it in place with a heavy-duty staple gun. At this point Sherry could do this with her eyes closed (except that sounds unsafe, so please don't actually attempt that).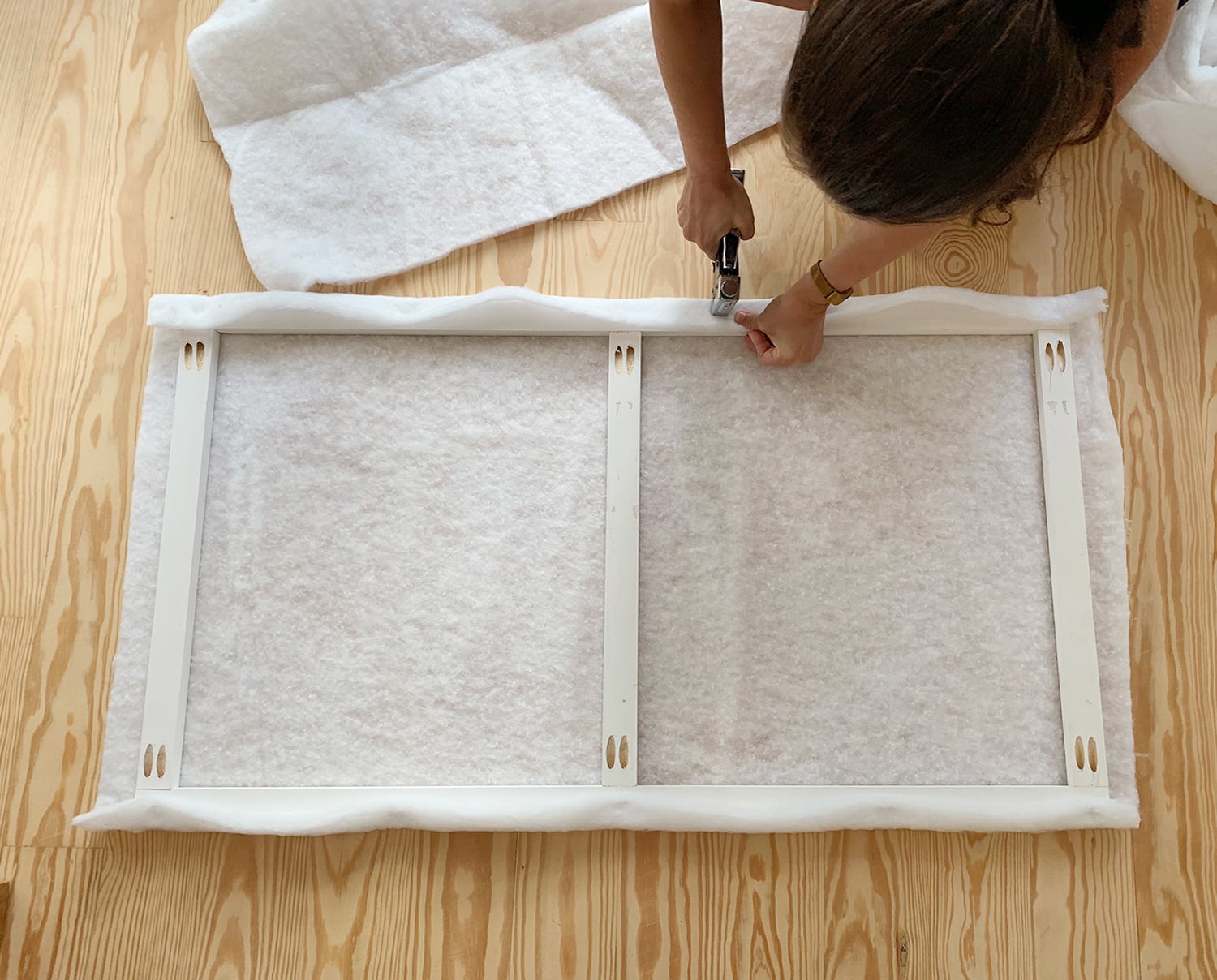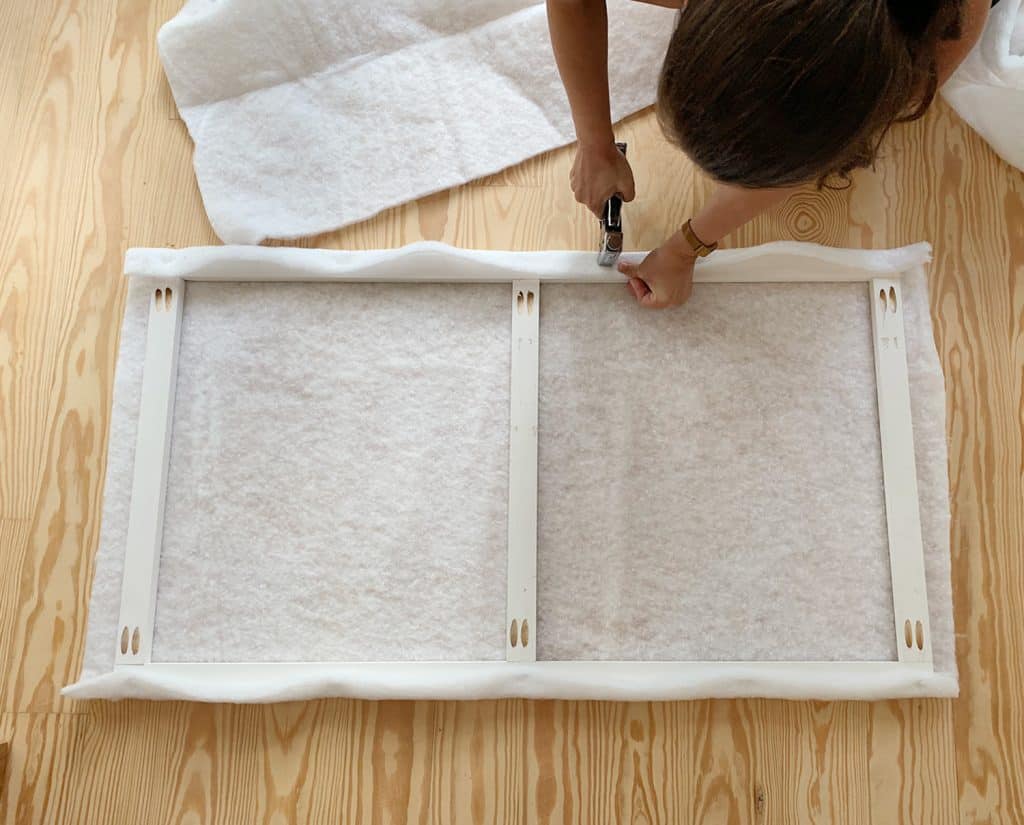 Depending on the thickness of your batting and how plush you want your headboard to feel, you may want to double- or triple-up your batting layers. We did two in this case.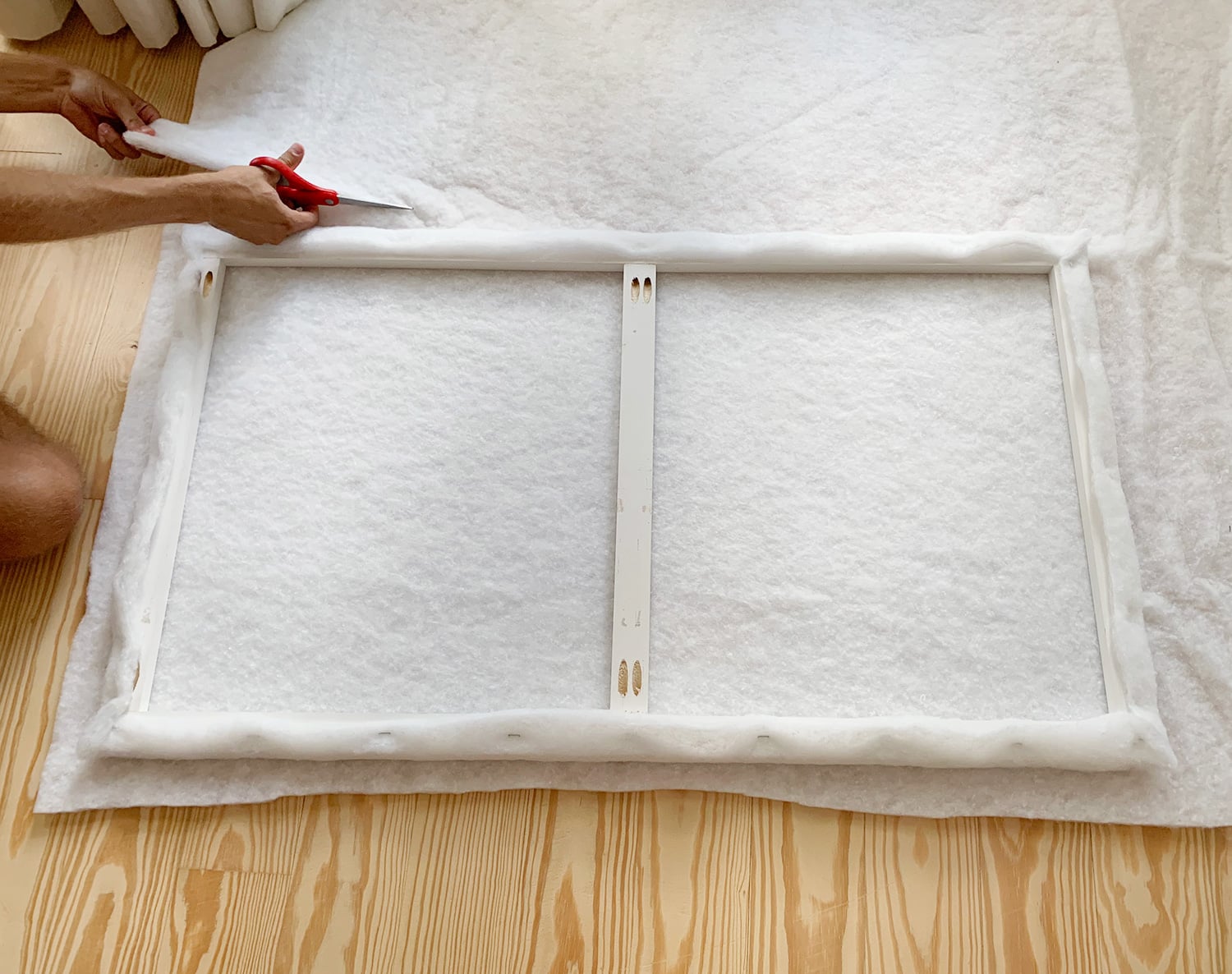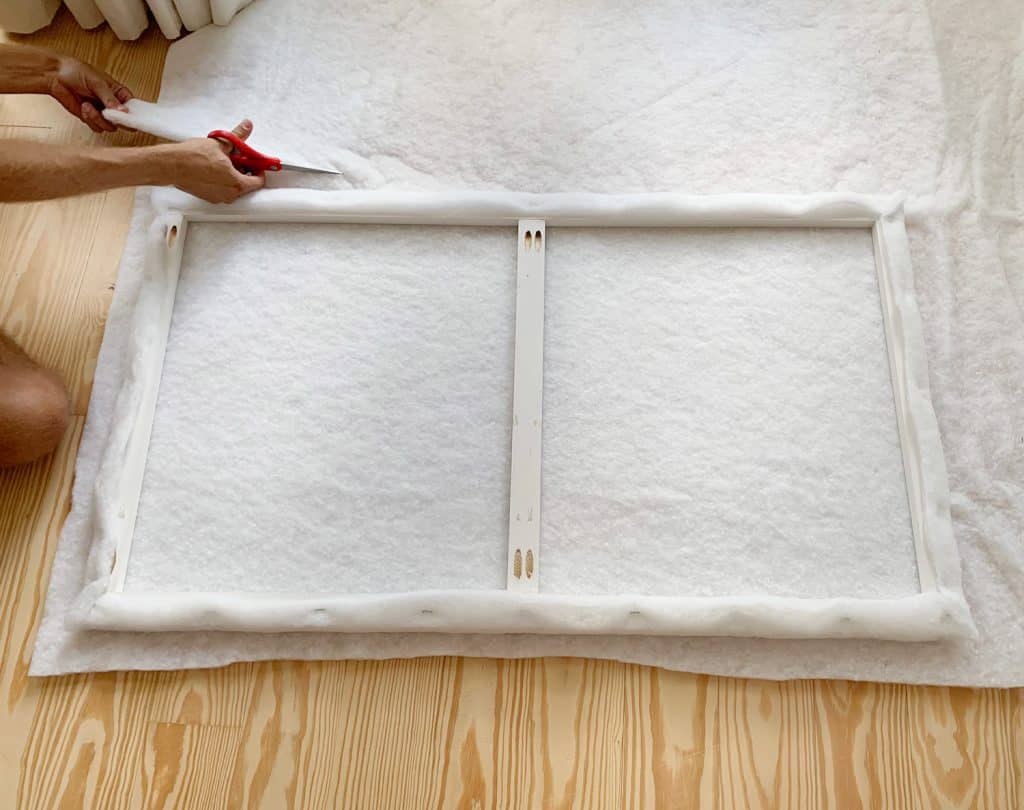 TIP: Wrap Your Corners Like A Present!
Whenever we share a project like this, people are always curious about how to do the corners. They can be tricky, but here's a general idea of how we get them to look tidy (from the front, at least) and not turn them into a big bulky mass of fabric. We pull the corners together, trim off the excess and then staple the rest down, trying to keep it as flat as possible.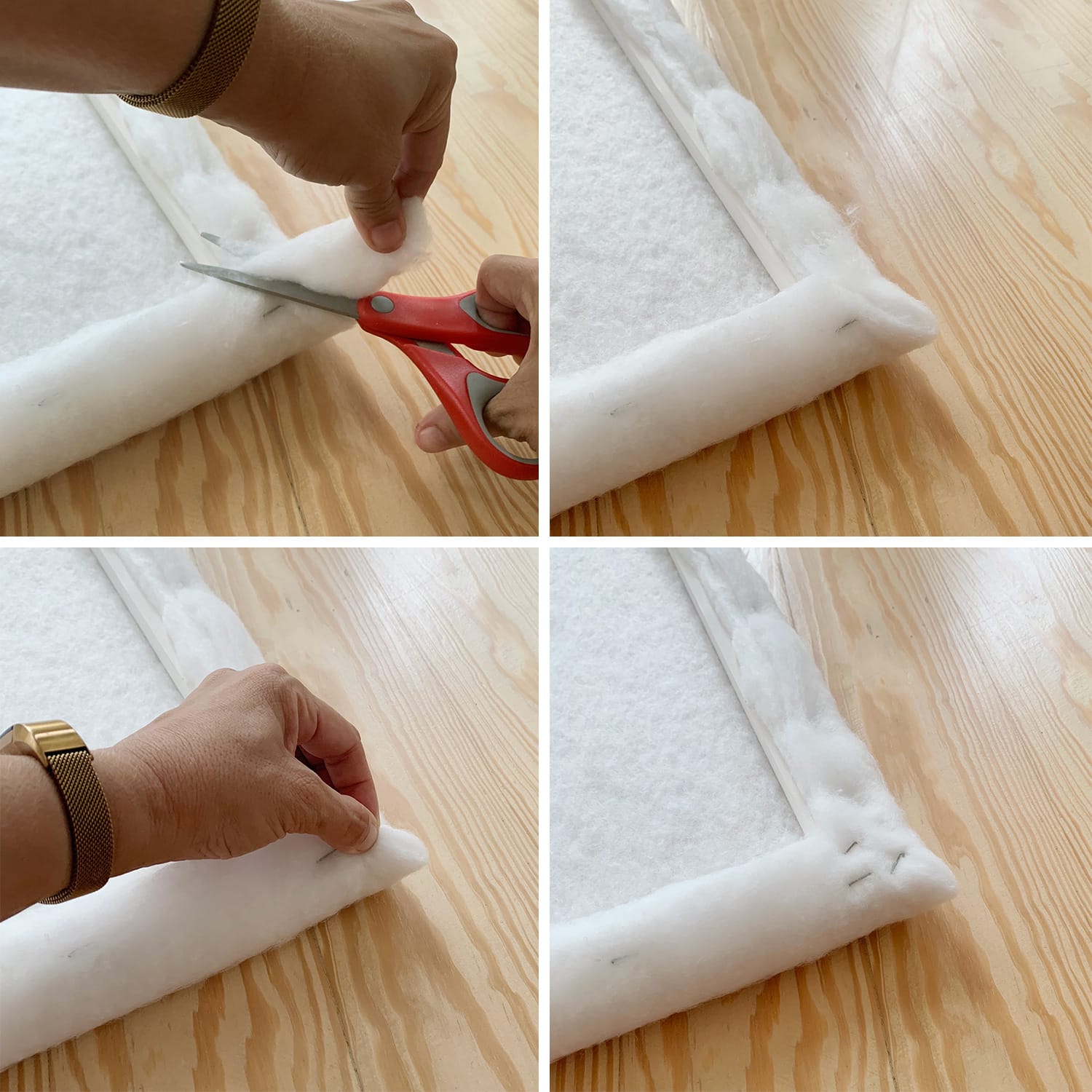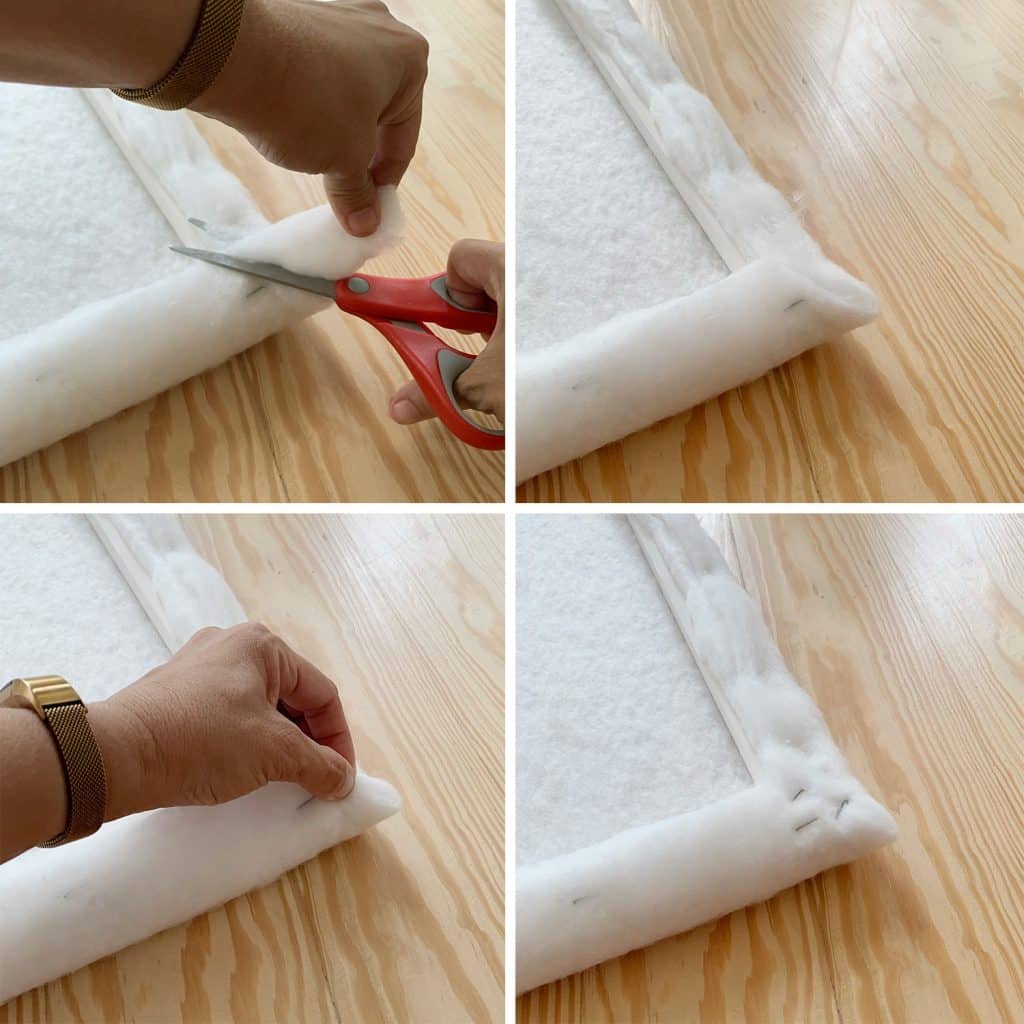 Step 3: Repeat This Process With Your Fabric
Then you just repeat the process with your fabric. If you're choosing a fabric with a pattern that needs to stay aligned or level (like a vertical stripe) you'll need to be mindful of your placement. And if the fabric has a lot of stretch you need to be careful about pulling it evenly around your frame as you staple, that way you don't warp your pattern or create accidental darts (choosing "upholstery fabric" typically works really well and isn't too stretchy).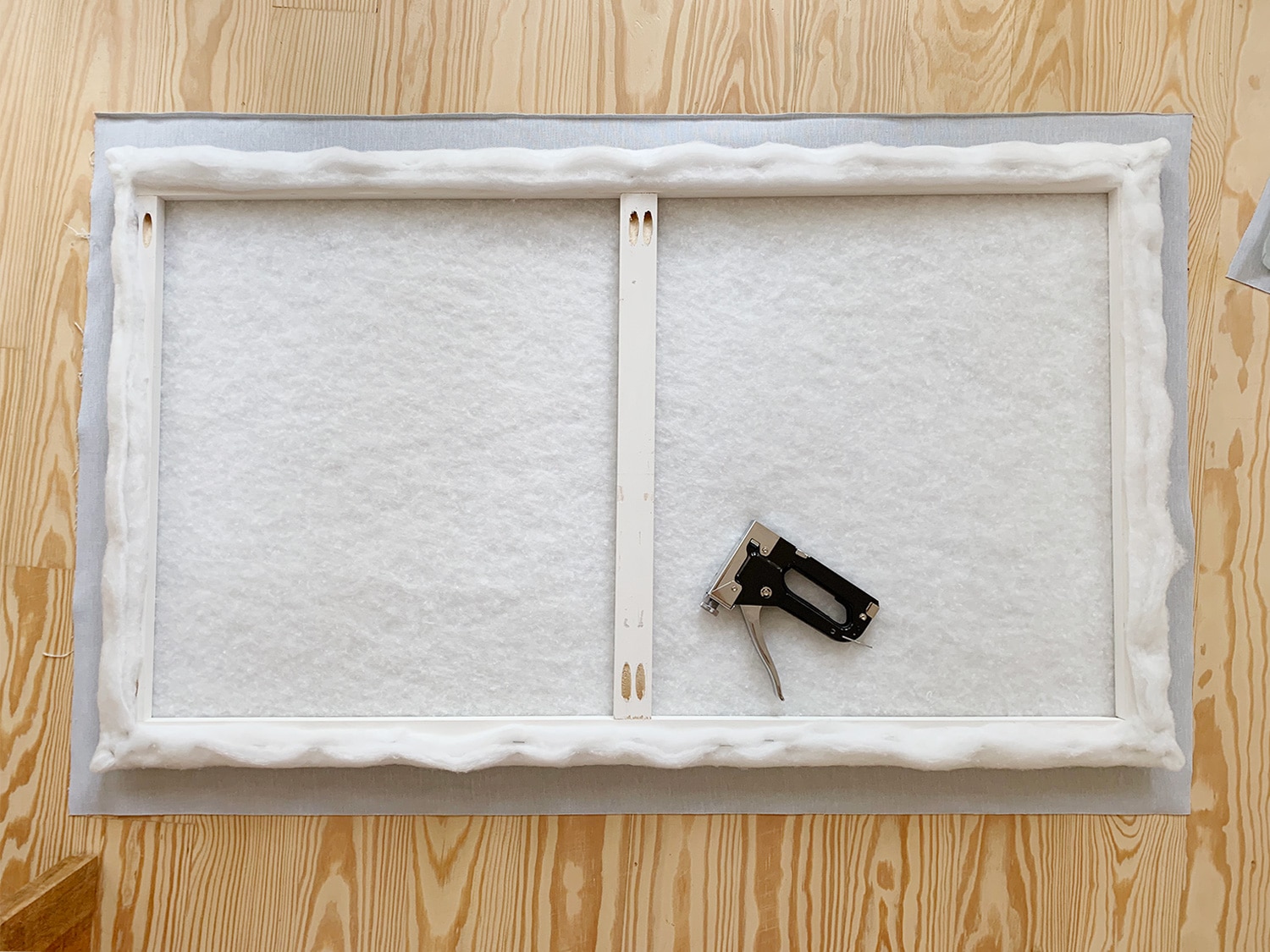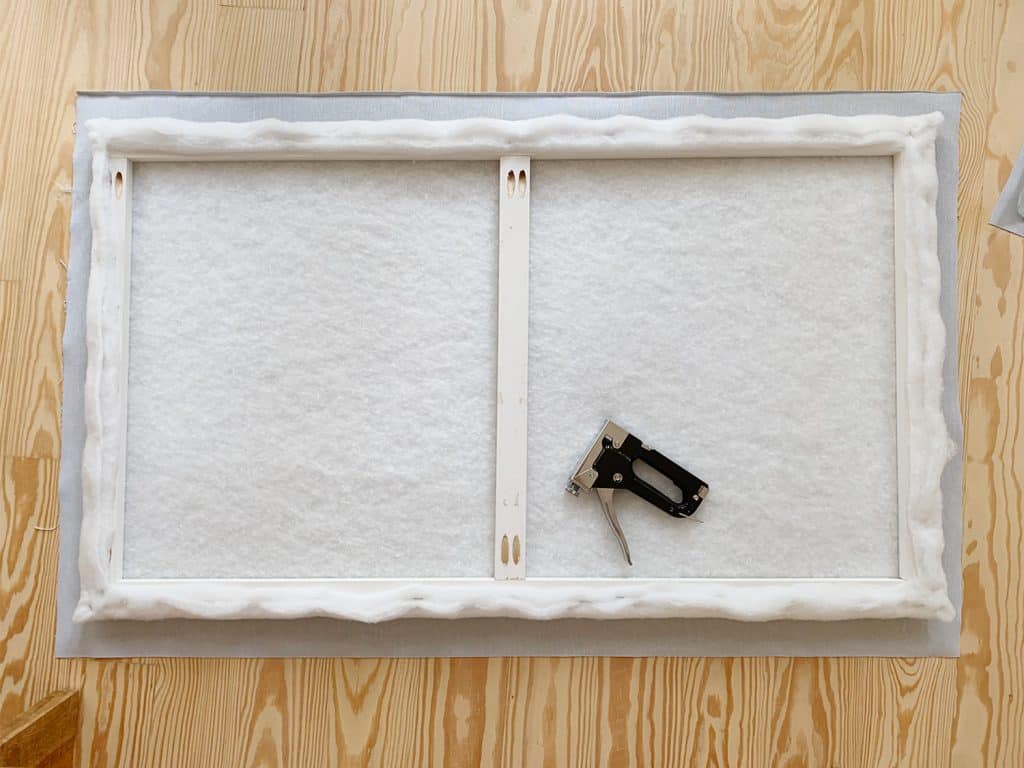 Again, the corners can be tricky, so just be patient as you figure out the best way to staple it so you get your desired look from the front and side. It's not unusual for Sherry to fold it around a corner, hold it there without stapling, and flip it over to check that she likes how it looks from the front before securing it with a few staples. That way you can refold things or hold them a different way if it looks off from the front. Remember, the back doesn't really matter because it gets hidden against the wall. Just don't make it too bulky because then your headboard won't sit flush to the wall.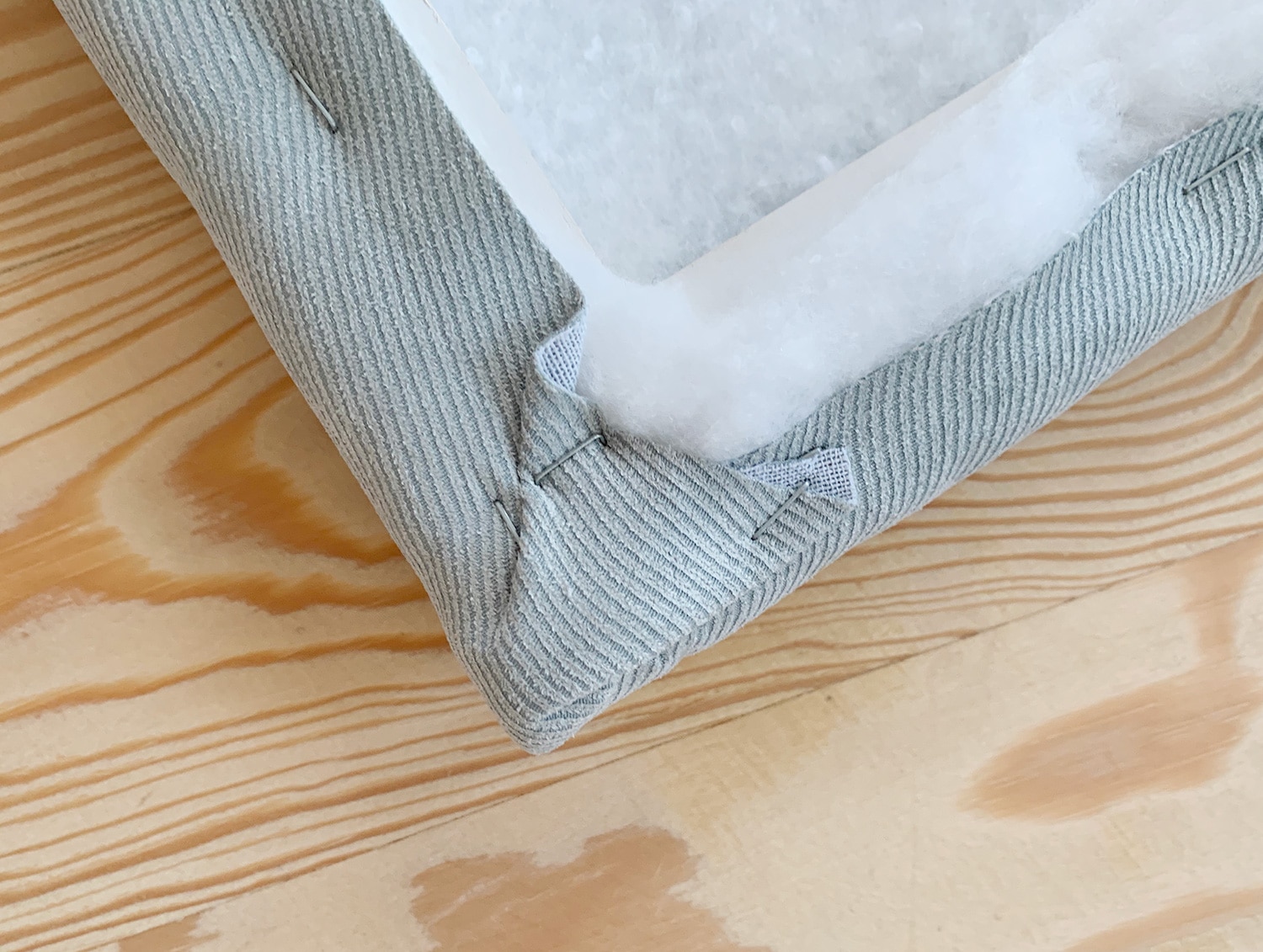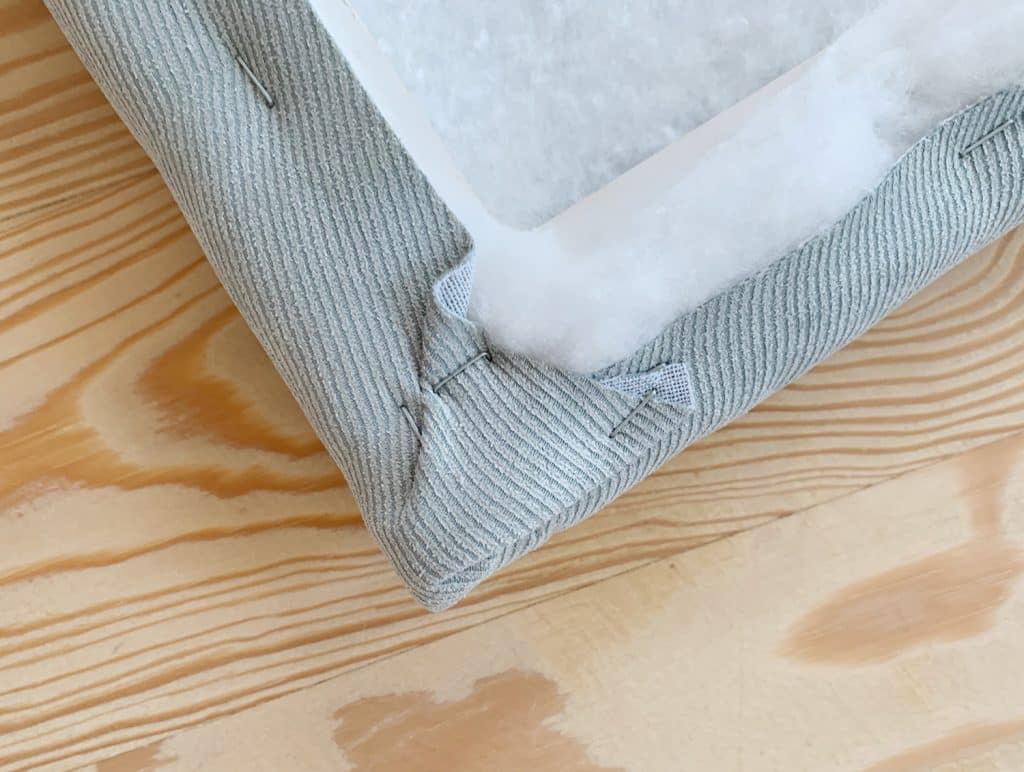 Step 4: Repeat Steps For All Sides Of The Bed
Once we completed our headboard for the head of the bed, we repeated the process for the longer side: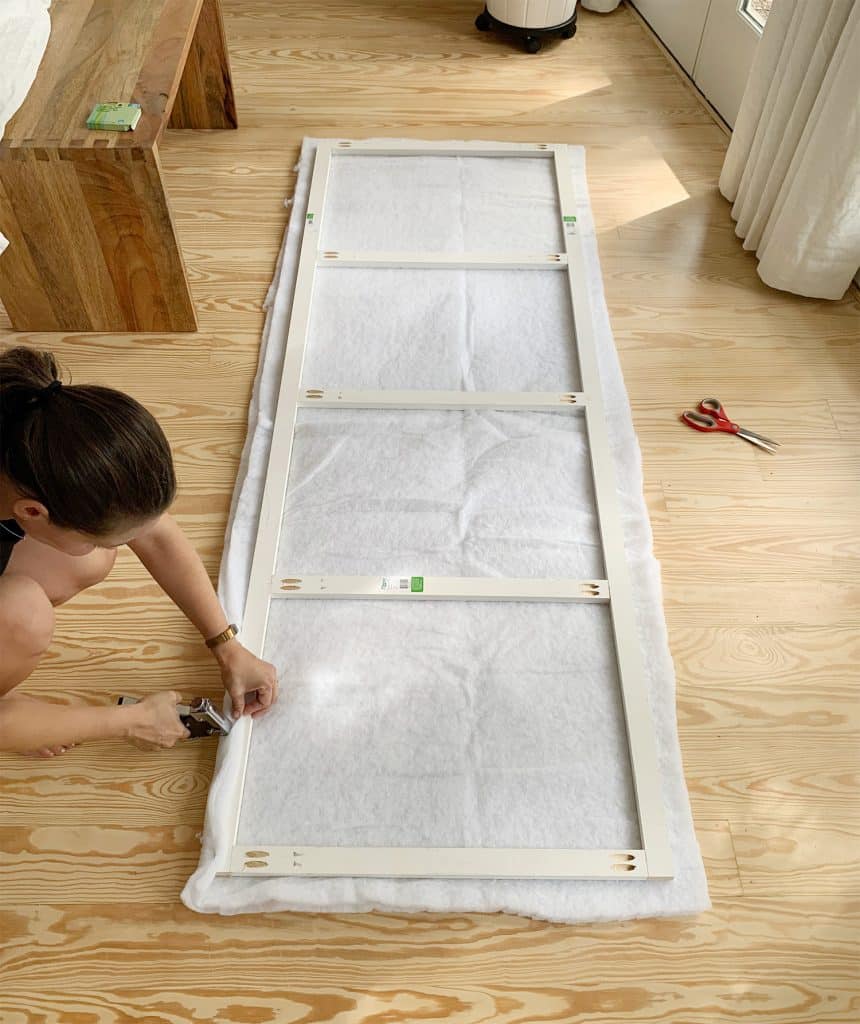 Step 5: Hang Your Upholstered Headboards
Then, using a level and some long nails along the wall into studs in a few spots, we hung both sides of the headboard in place behind the mattress. Again, the beauty of using a wood frame vs. a solid piece of plywood is that it keeps the finished product nice and lightweight. Which makes hanging it as straightforward as hanging a picture frame.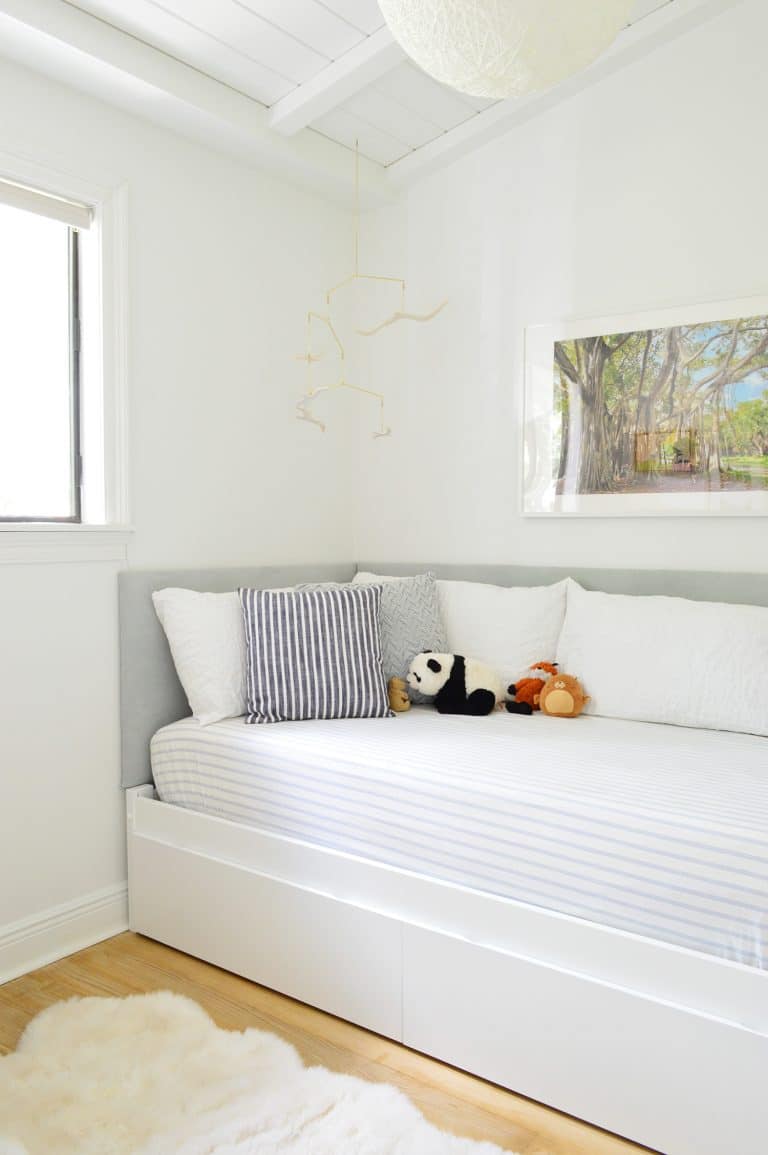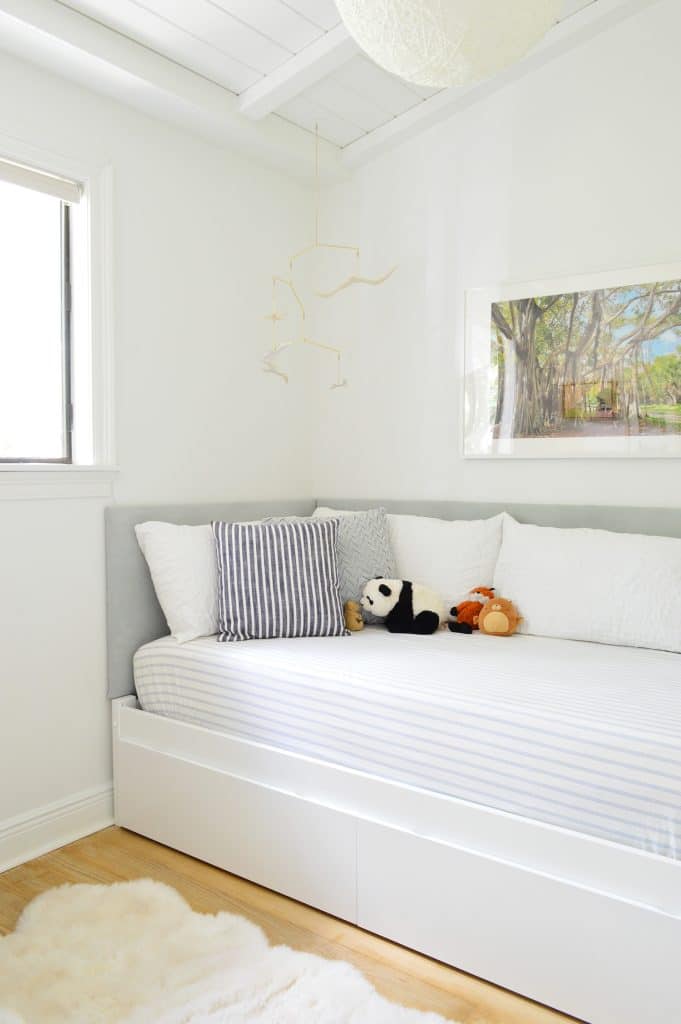 We didn't bother securing the two pieces together in the corner – they're just hung so that they butt up against each other along that seam. And having the mattress wedged against them keeps them fully in place.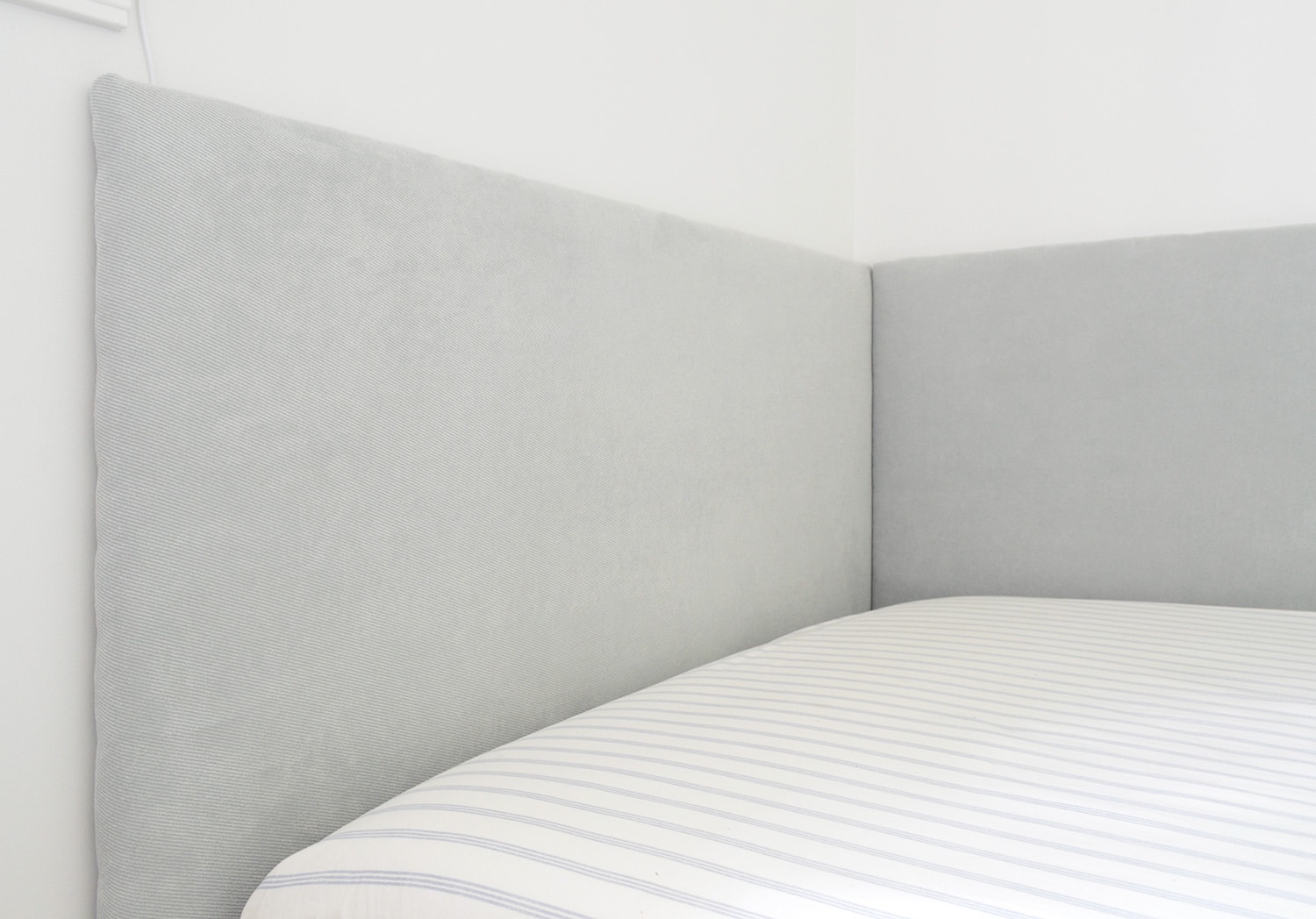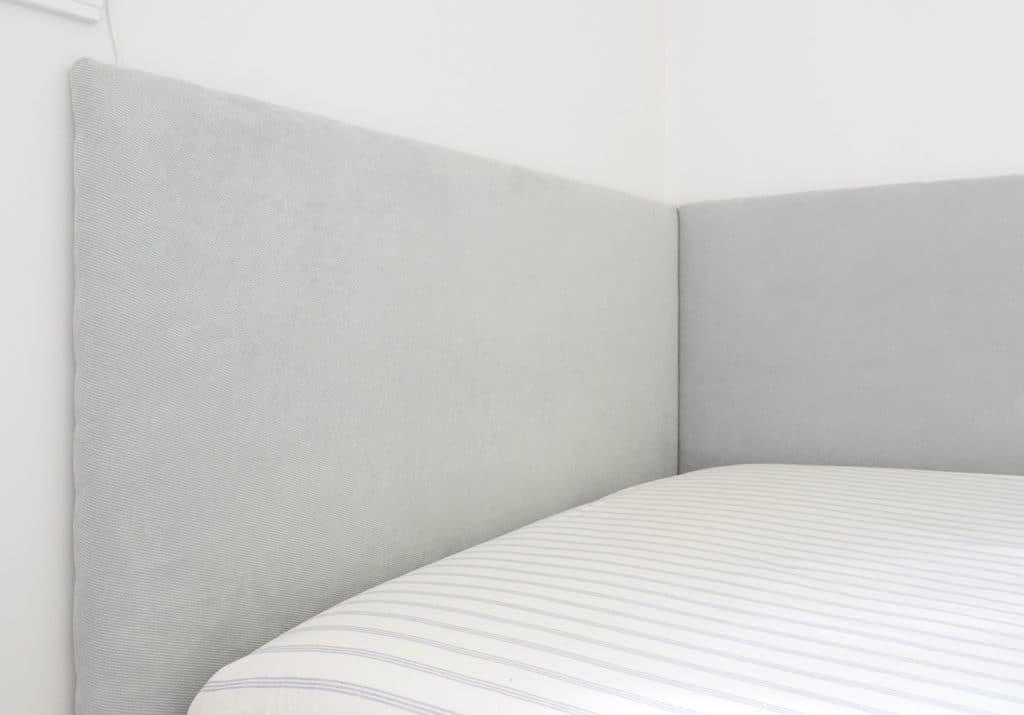 It's hard to tell in these photos, but the fabric has a subtle diagonal stripe – kinda like corduroy almost. So in person it has a cozy soft feel to it and a nice texture that makes it more interesting than a flat solid sheet of cotton.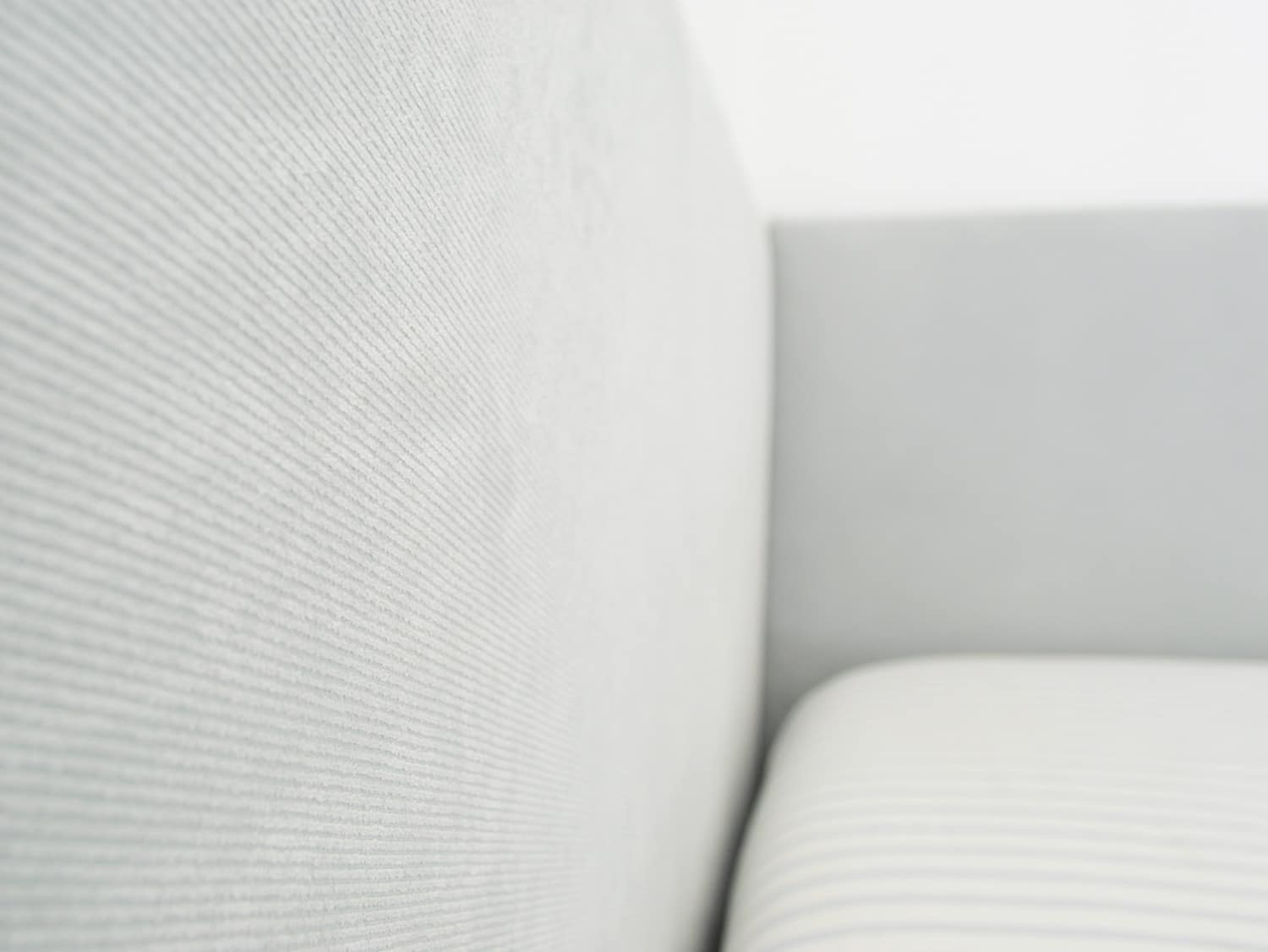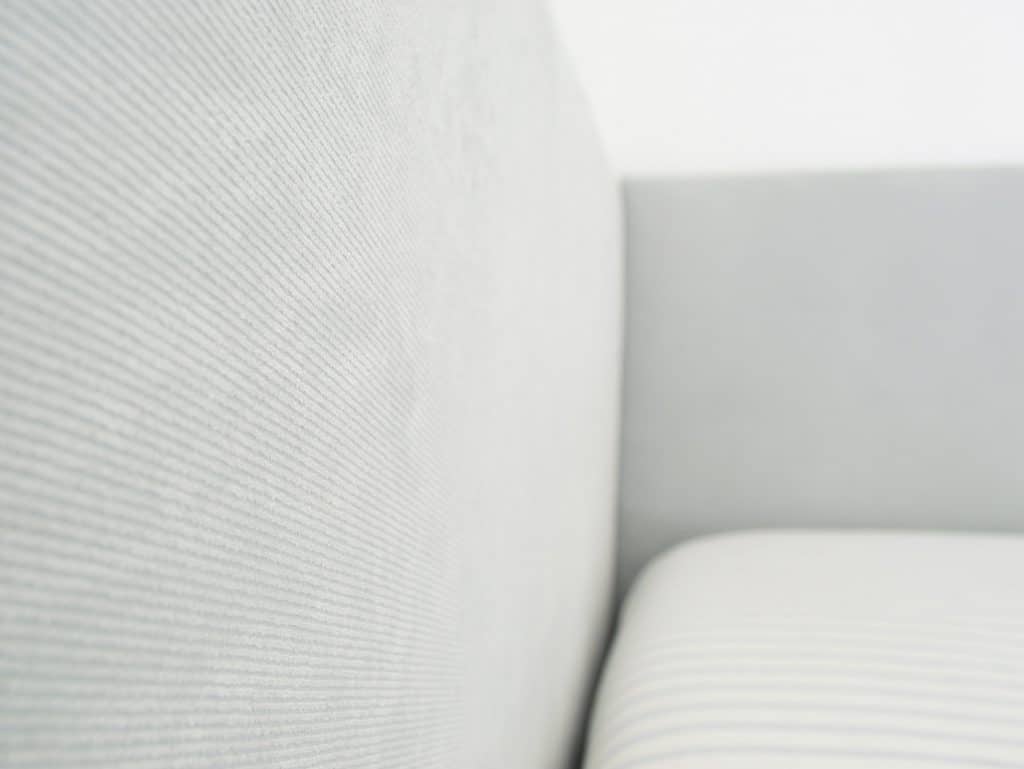 But as I mentioned, we have some other ideas brewing for this bedroom, including some sort of paint or wallpaper treatment (we're collecting some ideas to show our son and see which one he wants to go for). So this is just what it looks like about 8 weeks into living here. It's fun to imagine where we'll end up. And we're currently working on a VERY COLORFUL project in our daughter's room, so we can't wait to show you how that turns out.
More DIY Headboard Tutorials
Want more DIY headboard ideas? Check out these other projects we've made using the same basic techniques: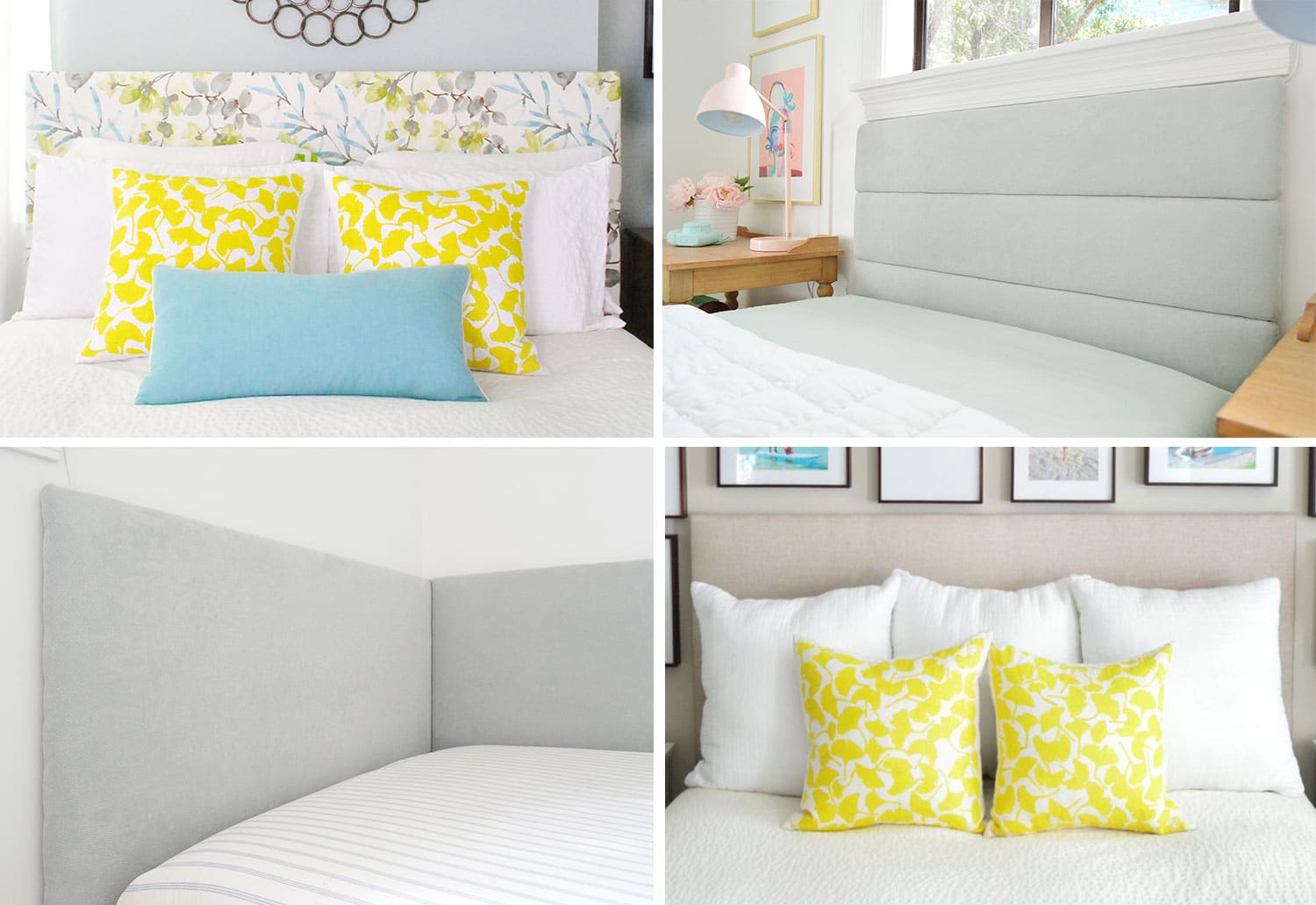 P.S. To follow along with our entire reno of this house, you can see every single update we've made right here in this FL House archive.
*This post contains affiliate links, so we may earn a small commission when you make a purchase through links on our site at no additional cost to you.