Oh yeah, this is a weird one guys. I thought it would be fun to get crafty with a bunch of faux pumpkins and gourds that I've had for years, along with a few other items that have been tucked away in my craft bin for forever and a day. So all of these quirky little seasonal updates cost me zero dollars (holla!), and it turns out I'm cool with putting legwear on decorative items, so I learned a little bit about myself. Enter three sets of pantyhose, stage left. Or should I technically call them fishnets? Either way, I've been thinking about how much fun they'd be to slide around a pumpkin like a spider-web-ish slipcover for years now (I got them on clearance at TJ Maxx in 2011 for this purpose and promptly forgot about them).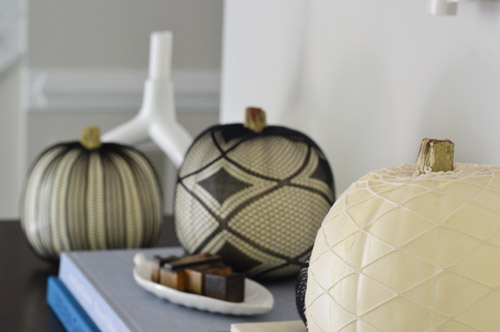 While I was at it, I also used some craft paint and a sharpie to give a few old gourds a new look.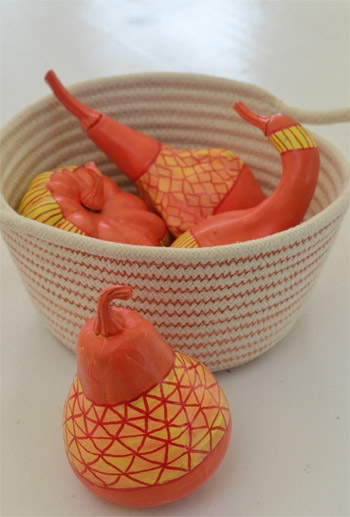 Here were all of my materials laid out before I got started. I had sprayed some of the gourds white a bunch of years back and those white faux pumpkins hailed from Michael's before we even started this blog I think (I like using them in fall/Thanksgiving decor too since they're pretty versatile, so I didn't want to permanently do anything to alter them, like paint them with Halloween-specific things – which is why the fishnets are such a nice update). Let's call them temporary tattoos, if you will. Except they're a new breed that can be removed and reused every year around Halloween.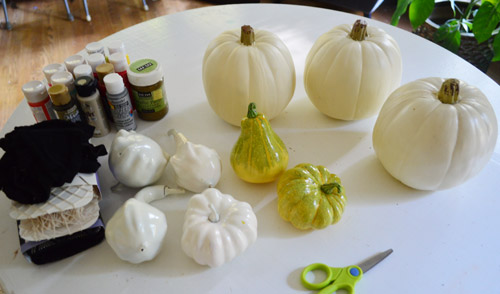 This was such a simple project that only took a few minutes per faux pumpkin. I just slipped the pumpkin carefully into one of the legs and tried to squish it as close to the foot part as I could. Pardon this next sentence (possibly the weirdest one I have typed to date) but in case you can't tell what's going on here, the pumpkin went in at the top of the pantyhose where the crotch is, and I pushed it down one leg as close to the toe as I could get it.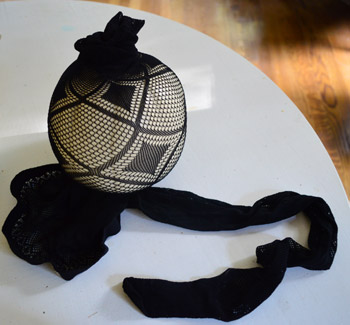 Then I just cut the pantyhose off off at the bottom of the pumpkin (so it was long enough to wrap around under it and stay put) and I clipped it off at the top. Thanks to the shrinky nature of pantyhose, even though I cut off the entire foot area of the fishnets, they sort of shrunk up around the stem, as you can see below. I did two exactly the same way using two different fishnet varieties (they were $1.99 each from TJ Maxx when I grabbed them two years back if anyone is wondering what they might cost to buy).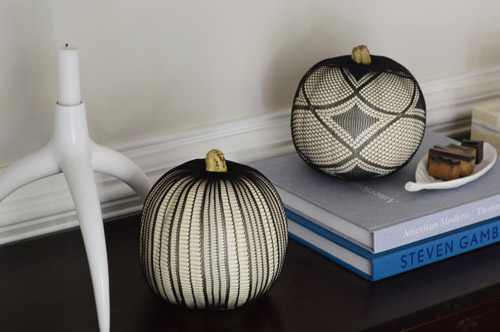 Here's a closer shot from the top so you can really see how the stockings hug the pumpkin and sort of snuggle the stem so there's not a big band of white up there or anything (just try to press the pumpkin in as far as it can go and cut off as little as possible of the stockings because obviously if you snipped them off at the thigh there would be a lot more of a hole and it wouldn't hug your pumpkin as tightly and look as fitted up around the stem).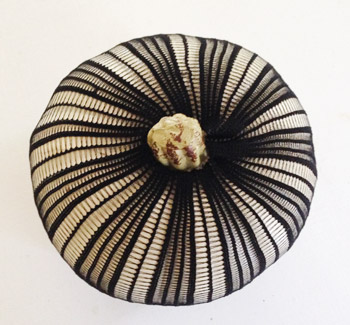 I think the diamond one's my favorite.
The white fishnets are sort of subtle and even more real-life-spiderweb-ish. I think they'd be really cool on a chalkboard pumpkin or even a bold orange one if you want a little more contrast, but a black and white palette like this is fun too. Oh and I did two of the gourds with the small foot sections that I had snipped off, which are somewhat cute, but I'm not as in love with them as the big ones (when the fabric is tighter around the pumpkins I think it's a little bit cooler of an effect).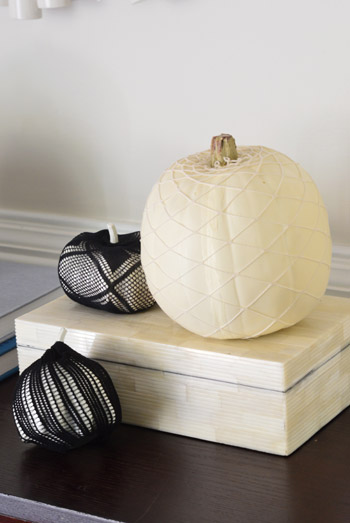 Update: Apparently we have been living under a rock, and it turns out fishnet pumpkins are a thing (someone commented to say they were on The Today Show this morning!) – so check out all the fun ones that came up when I googled it.
Now let's switch gears to my painted gourds. I used craft paint from Michael's and JoAnn that I already had in my bin and just sort of smeared the yellow and red around with a brush haphazardly to give one of those previously white ones an orange and smeary look.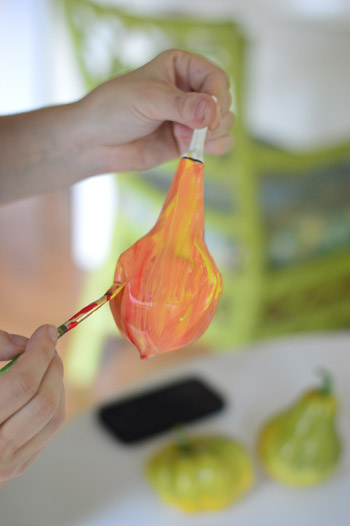 I did the same thing to the pear shaped gourd, and then just painted the smaller pumpkin and the goose-necked one solid yellow. After those dried I went back with some orangey-red paint and created some bands around each of them (two on all of them except for that squat little pumpkin, who just got one wide one around the top).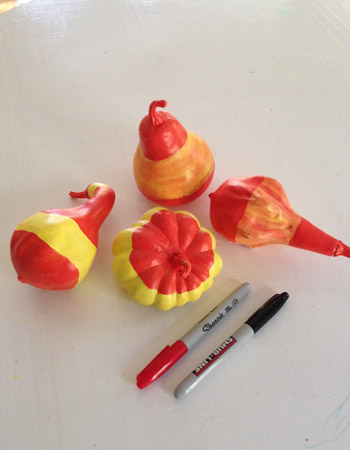 See that red sharpie in the picture above? Well, once they dried I took them outside (sharpies in the house = stinky, and I'm paranoid that they make Burger high) and doodled on each of the yellow bands around all four of them. I did some triangle doodles on the pear-shaped one, some diamonds on the long spiney one, and some stripes on the squat pumpkin and the goose-necked one.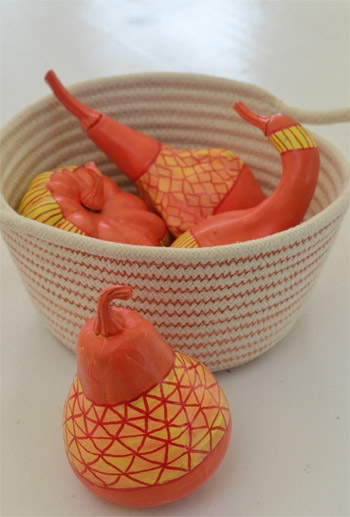 They're definitely far from perfect (my hand wiggled a few times since they're not exactly like drawing on a flat surface) but I think the word "doodles" perfectly describes them.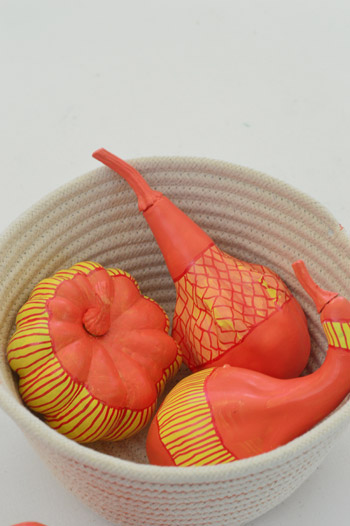 I like that I can just spray paint them all gold or white (or any other color) if I so desire, but for now I'm digging the happier orange and yellow look. And my fishnet stockings make me feel like a woman who puts pantyhose on fake vegetables. Me-ow. Most of all, Clara loves all things bug, so the spiderweb-y slipcovers are definitely a hit with her. I think I might even grab some of those creepy rubber spiders and set them on top of each pumpkin, just to see the sheer joy on her face when she discovers them. What are you guys getting crafty with this week? Any other pumpkin related updates? Are you carving real ones? We grabbed some of those too, and can't wait to find a night to carve them.
Looking for more seasonal craftiness? Here are 22 other fall/Halloween/Thanksgiving projects that we've tackled over the years: