Since one year olds aren't really "of age" when it comes to pumpkin carving, we've been trying to figure out a way to involve Clara in pumpkin decorating this year. And she deserved a promotion from last year's job as hand model: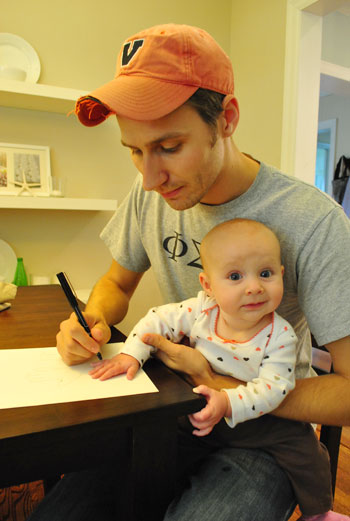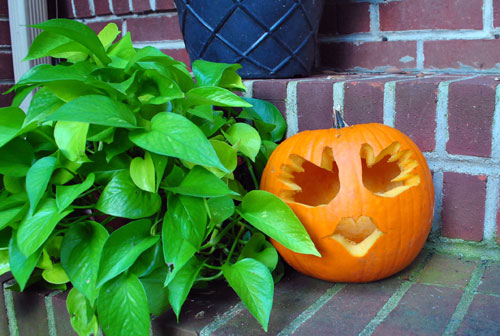 So a few days ago we finally figured out a way for Clara's hand to come in, um, handy again. But first – let's introduce our subjects. We'll call them Big Brother, Middle Child, and Little Piggy.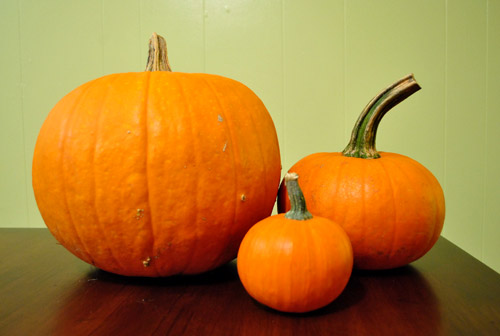 On Monday night I broke out my favorite all-purpose medium (aka painter's tape) and marked out a traditional jack-o-lantern stencil on Middle Child.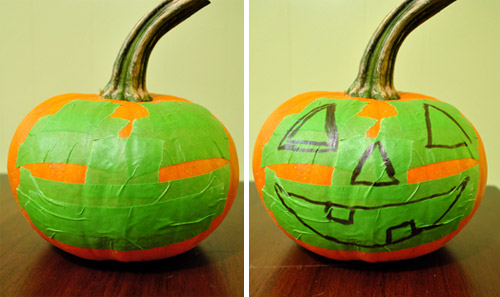 Then with an exacto knife I cut out the pattern carefully (okay, not that carefully – I sliced into the pumpkin a bit) and peeled away the extra tape.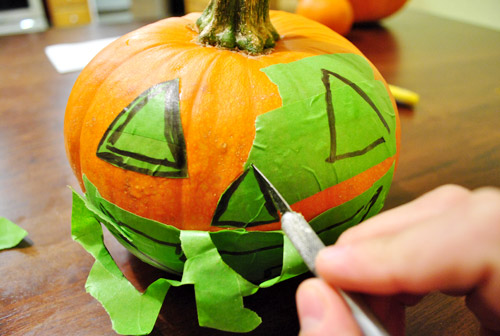 Voila. He's not done – just ready to be painted. Do you see where we're going with this?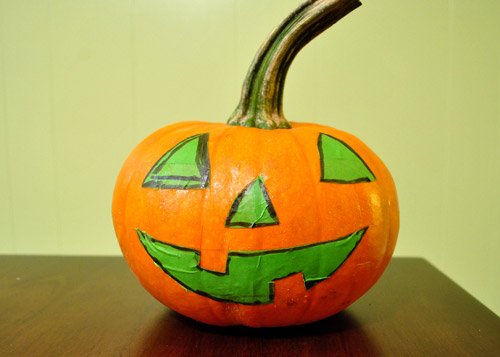 For Little Piggy I used a ruler to slice some thin strips of painter's tape and created a stripe pattern all around the pumpkin.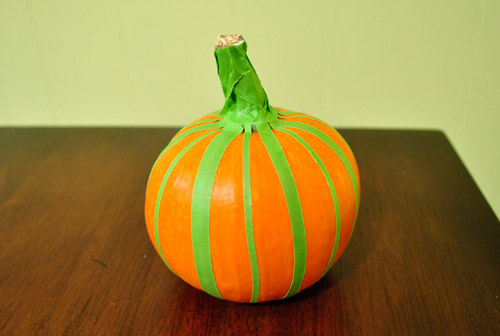 And for Big Brother we decided to go with a P to represent the whole Petersik family of four (four-leggers count in our house – so this isn't a baby announcement).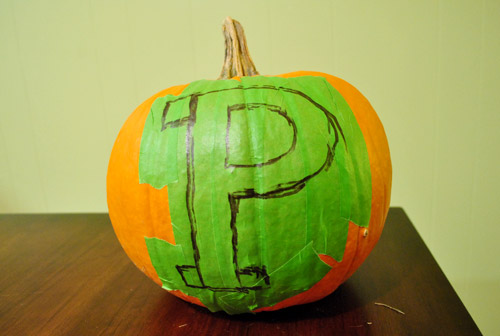 A few more cuts later, and our trio of pumpkins were ready to meet their artist.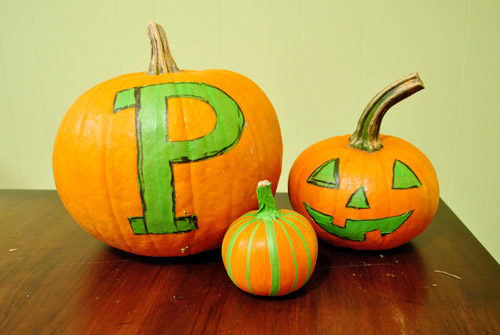 And here she is now. Stripped down to a diaper and ready to make a mess.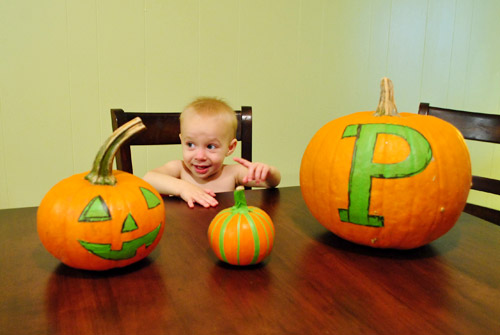 We poured out some Crayola Washable Paints on a few paper plates and with some minor urging, Clara delicately started coloring her orange canvas.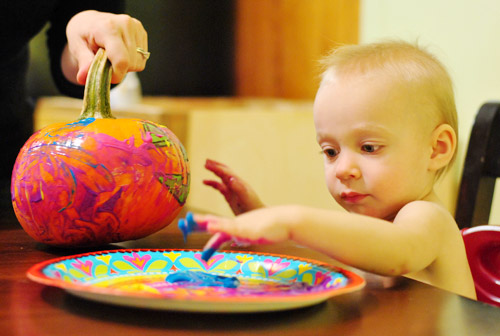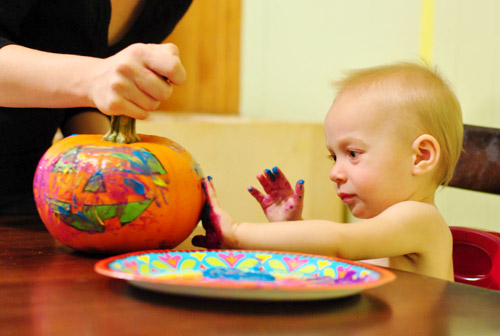 She was a little confused by being allowed to make a mess, so it did take a little bit of hand holding to keep her going. In some cases literal hand holding – place palm in paint, now slap it on pumpkin and rub! That solicited a good amount of giggling. Anything to keep the ol' artist inspired.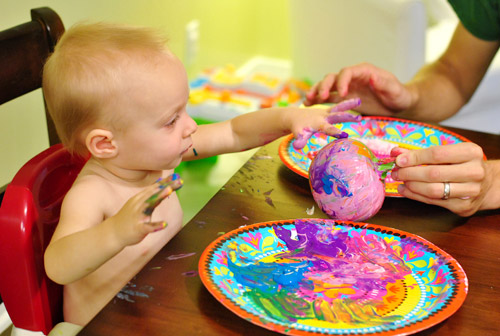 She grew a bit tired of touching the pumpkins after the first two (she liked just dabbing her hands in the paint instead), so Sherry took over the task of painting Big Brother. Which was probably for the best since we decided that a rough circle around the monogram might be fun (and there was no way little miss toddler hands could contain herself to such a strict parameter).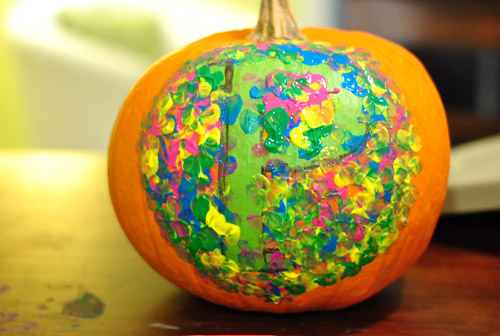 The verdict? Clara seemed to have a blast. But eventually we got the "all dawn!" signal (aka: all done) and decided to call our art session officially complete.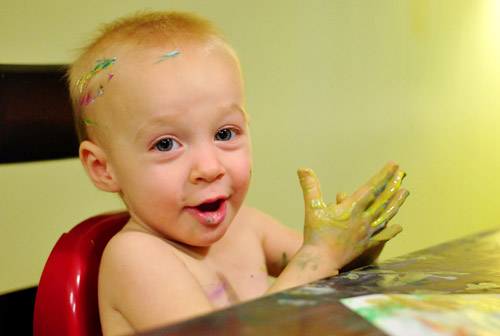 Not before snapping a few more cute pics, of course.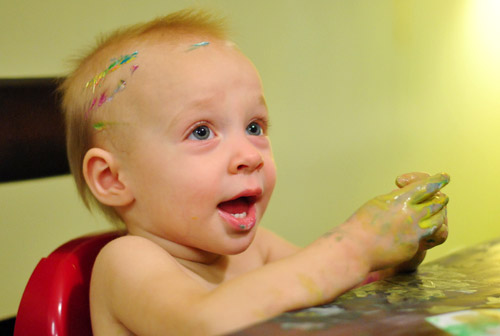 Once Sherry had whisked Clara off to the bathtub, I got to seeing what our artiste had accomplished. Yup, it was tape-peeling time…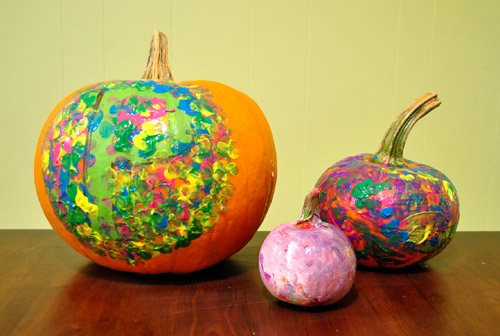 I carefully peeled of the painter's tape to reveal our final result (with the paint still wet, since we feared that peeling it off once the paint was dry would result in the paint peeling off in chunks). Behold: Psychedelic pumpkins!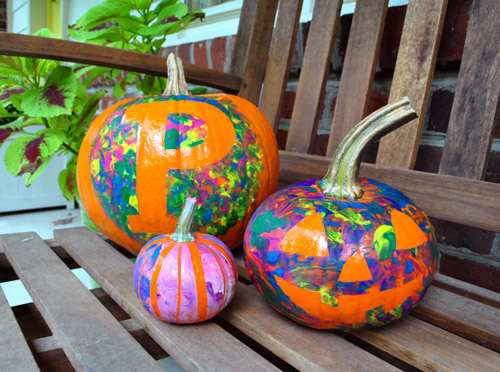 Sure, they're not über sophisticated – but they were fun. And we think white pumpkins + a more refined color palette (yellow & gray? emerald and navy? teal & grellow?) could be really fun instead of the rainbow-inspired color scheme that Clara chose. Oh and we sprayed them over with a sealer (we had Aileen's Gloss Spray Acrylic Sealer around, so hopefully that'll do the trick) because this paint is washable, so we don't want a rainstorm to send colors bleeding all over our bench (hopefully our porch awning + sealer = enough protection).
And on the subject of pumpkins, let's take a walk down memory lane. You've already seen our handprint-eyed jack-o-lantern from 2010 (first pic) but that was actually in addition to the crazy puffy painted versions that we also did last year (without Clara's help). I think they're our favorites of all time – and they could be fun to do with kids too.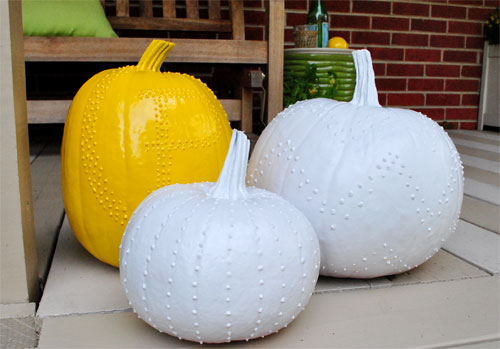 In 2009 we went the creepy route and painted insects on white pumpkins (and yes, monograms or initials tend to be a theme for us – but kids could have fun painting these too).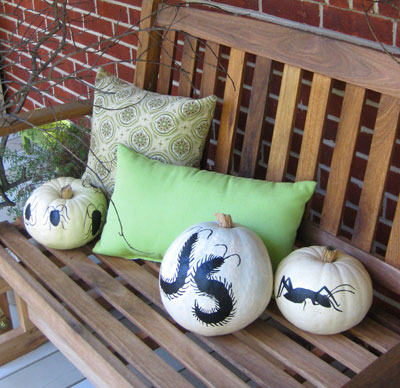 You can even watch that pumpkin project on time lapse video:
And last but not least, here's one where we actually cut our pumpkins. In 2008 we tried our hand at intricate carvings – only one of which really worked out that well, if you ask me. Which one? The monogram of course. Wow, we really do like to see letters on pumpkins don't we?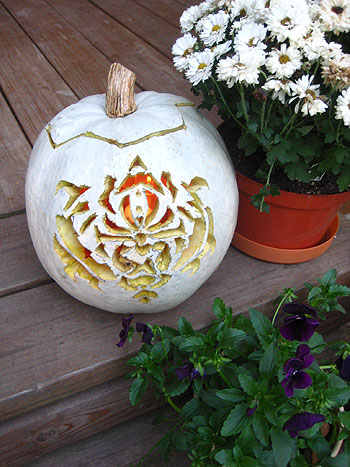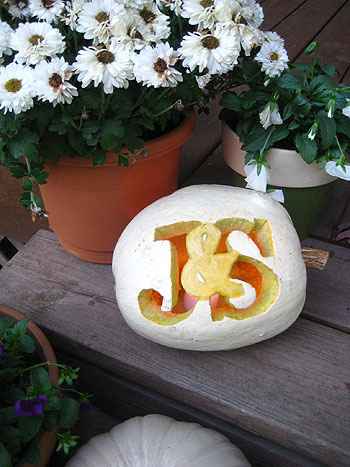 So, with all that said (and shown) – what are you guys doing for pumpkins this year? We'd love to see links and photos if you've got 'em. Or if you have any great tips for including kids and toddlers in the festivities, I'm sure Clara will thank you when next Halloween rolls around…
Psst- We had some fall fun this past weekend (more over on Young House Life).