The pumpkin carving bug snuck up on us this weekend. So we dashed out to a nearby church / temporary pumpkin patch and snagged a pair that was ripe for the carvin'. Rather than grab the traditional orange variety, we picked up (this should not surprise you) white pumpkins instead.  And these non-traditional pumpkins called for non-traditional designs courtesy of some homemade stencils.
I wanted to flex my pumpkin carving muscles (I got skillz, yo) so I located an intricate damask pattern online and used Photoshop to turn it into a black & white line drawing that we could use as a stencil.  After sizing it to fit my pumpkin, I simply printed it out on regular office paper. This is the moment where I should've second guessed my very intricate pattern choice: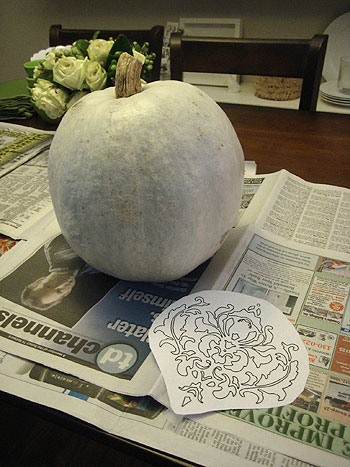 To transfer the stencil onto the pumpkin, we used a trick Sherry picked up in art school.  We flipped the paper over and rubbed graphite all over the back of it using a regular pencil.  It's like makeshift carbon paper.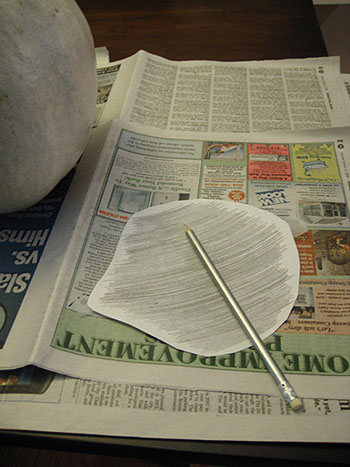 Then we taped the design in place on the pumpkin (graphite side down) and used the pencil (and some decent pressure) to trace over the damask outline. This transferred a faint outline onto the pumpkin, which we then went over with a thin Sharpie to make sure that the design didn't smudge away during the carving process: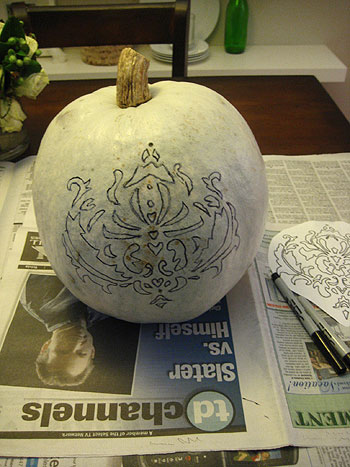 From there we got down to slicing and dicing, using a $2 four-in-one pumpkin carving tool we picked up from Michael's.  I'll spare you from most of the photos of this process, since everything after the initial pumpkin gutting involved a lot of strained grimaces and "man, this thing is thick!" faces. White pumpkins are a rare (and pretty thick-skinned) bunch.
But in the end, I was pleasantly surprised with the final result… since there were multiple moments in the process when I was sure it was ruined. Not the easiest design to read from the road (but I do like getting guesses as to what it is – a butterfly? a monster?). And I lived to tell the tale. With all ten fingers in tact no less.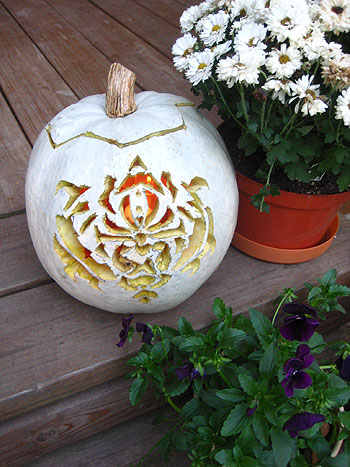 But we did take things a little bit easier with the pumpkin Sherry carved (although I think it was just as successful when it comes to what Sherry calls "swank-factor". We used the same homemade pattern process, this time to transfer a J&S monogram onto her pumpkin- I know, a monogram, how predictable of us. Oh, and this pumpkin had some balance issues so we decided to try carving it on its side (cutting out the back, instead of the top). It's actually a lot more interesting that way. Gotta love a happy accident. Here it is before the carve job: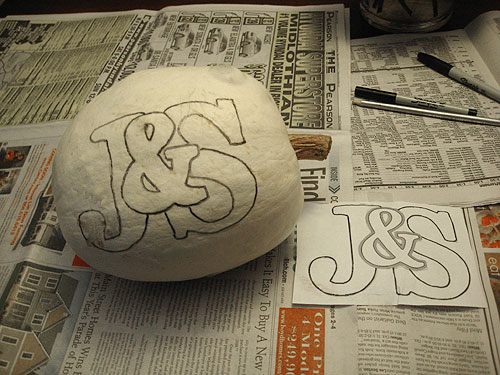 We designed the ampersand to overlap our initials knowing that it wouldn't be possible to completely cut it out. Instead, we just scraped off a couple of layers to expose the orange rind inside.  It's a good ol' trick sure to give your pumpkin a bit of the layered look. Here's the final result of Sherry's handiwork: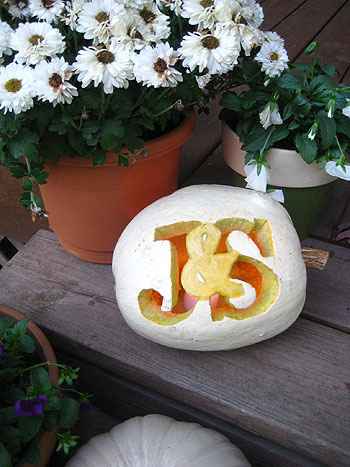 We loved how this one turned out, which gave us the idea of carving out our house numbers – one digit per pumpkin.  Maybe we'll tackle that another weekend when once my hands have recovered…
Got any unexpected pumpkin carving tricks or designs up your sleeves?  We wanna hear 'em so spill the beans- er, pumpkin seeds.