Updated 2018
Since Thanksgiving is suddenly upon us (how did that happen?) we thought we'd add a new tradition along with reviving one from last year. First let's talk about our Thanksgiving craft from last year, which is a small thrift store jar that we got for 99 cents…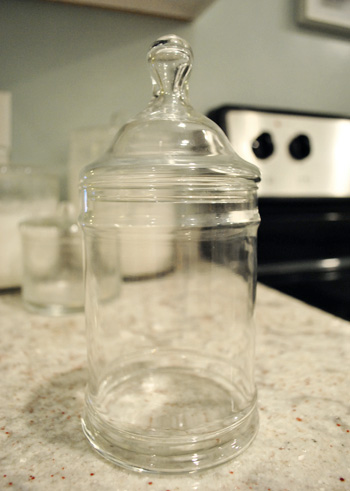 … and then etched with $6 etching cream from Michael's…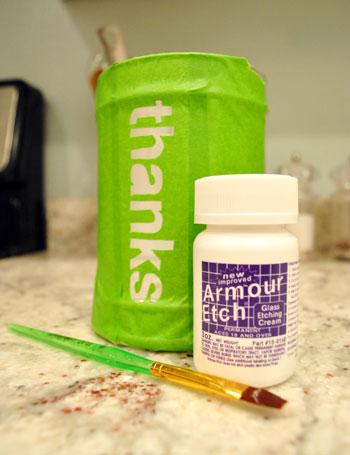 … using a homemade tape stencil to create a Thanks jar (more DIY details here).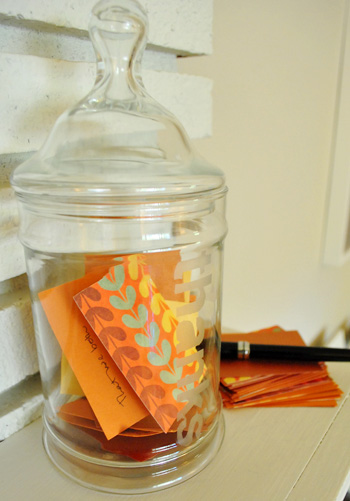 As for how it worked, we each filled out and dropped in a little homemade card with something we were thankful for each day for the entire month of November. And we weren't allowed to peek inside to see what each other had written until the end of the month when we cracked it open and read all of the gratitude notes.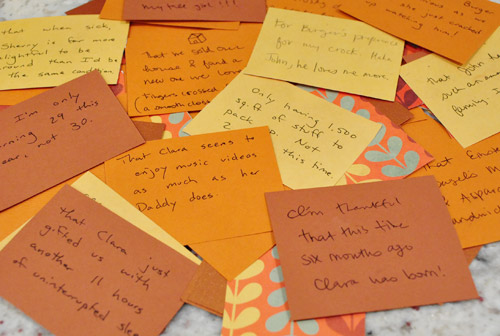 It was nearly as fun as Christmas morning (more on that here), and is definitely something we're looking forward to doing at the end of this month again (we saved all the original cards with a ribbon around that stack with the year written on it, and plan to save each following years' stack as well to look back on). So we're filling up our thanks jar again this year… along with another Thanksgiving tradition.
We thought since a few of our long-distance relatives can't travel to see us that we could let them know that they're in our thoughts by sending them a quick little card to tell them why we're thankful for them. So John whipped this little homemade "thankful card" in Photoshop that says "I'm thankful for you and here's why":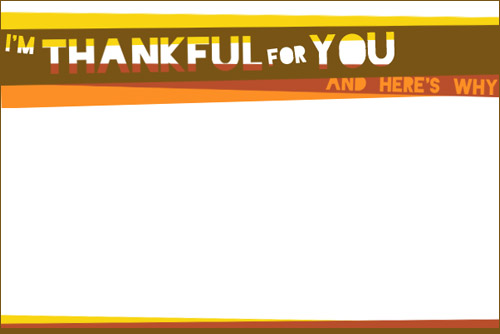 He designed an easy to print page with two of those thankful cards on it along with this little instruction card that reads: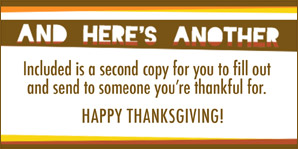 Since they're all on one page, we won't have much waste when we print them out on cardstock at home. Then we'll just slip one filled out "thankful card" and a blank one for them to forward on to a friend or relative of their choice along with an instruction card. We hope it'll create a nice little ripple effect with people reaching out to other folks to tell them how thankful they are to have them in their lives.
Oh and speaking of being thankful, you guys are like family to us and we're so thankful that you drop in on us on this wacky little house diary of sorts. So as a token of our love and affection (picture me pinching your cheek like a grandma as I say that) we included a downloadable version of that page for you right here. Just download it, print it out on cardstock, cut each of the three cards out, and fill out one out while leaving the second one blank and sliding it into an envelope with the instruction card.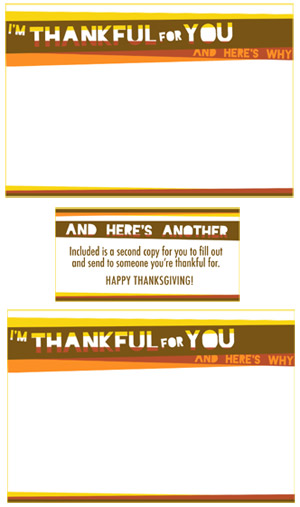 Then reward yourself with some early turkey and stuffing. Or leftover Halloween candy (are we the only ones still chowing down on ours?). Holy cow, is November really already half over? In the words of the always eloquent Bart Simpson: Ay carumba.
Want More Thanksgiving Crafts And Traditions?
We love celebrating Thanksgiving in our home, so check out some other holiday crafts and traditions here: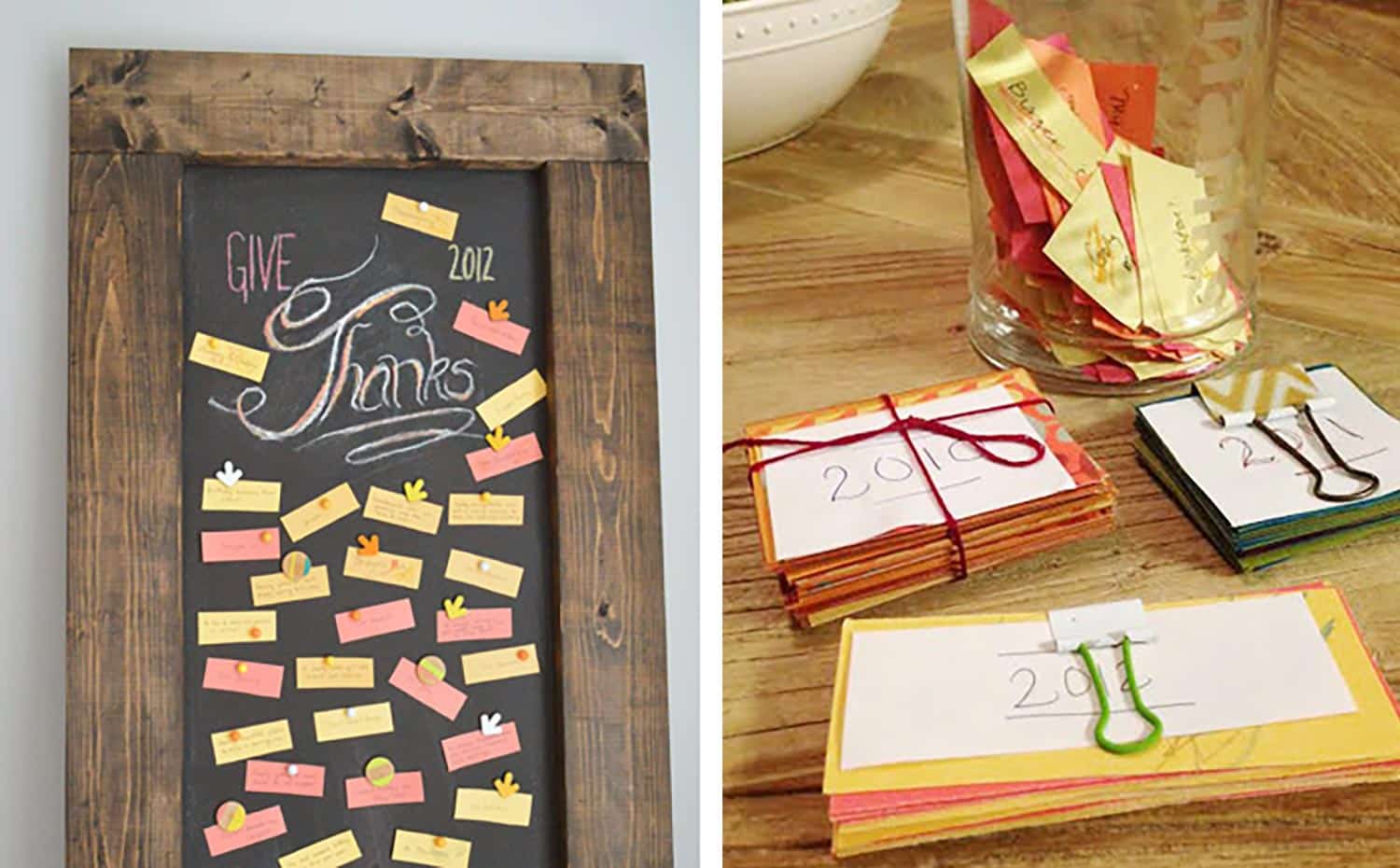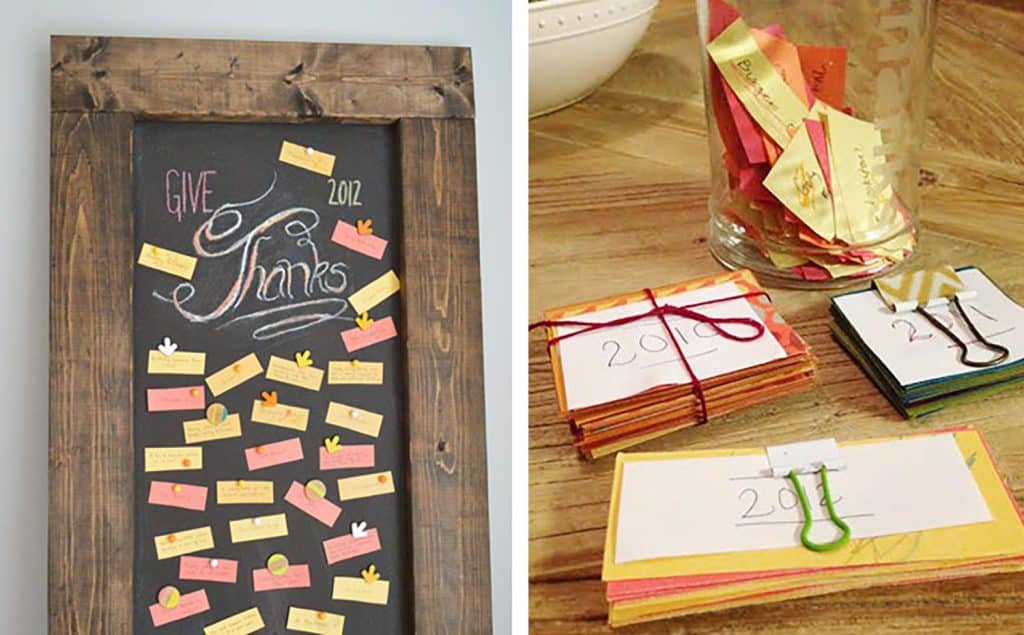 Update: You can check out all of our favorite holiday decor finds here – many of which are under $15!