Every other year or so we spend a few dollars on that fake spiderweb stuff and go crazy on the porch for the neighborhood trick-or-treaters. And since we skipped last year, this year was a definite go. We snagged ours for a few bucks at Target and got to work using other stuff we already had (some dead branches, a few white faux pumpkins from last year, and a some planters) along with some black spray paint and a few push lights from True Value plus three fresh white pumpkins that we had some fun with. The result? A moderately creepy porch. Mission accomplished.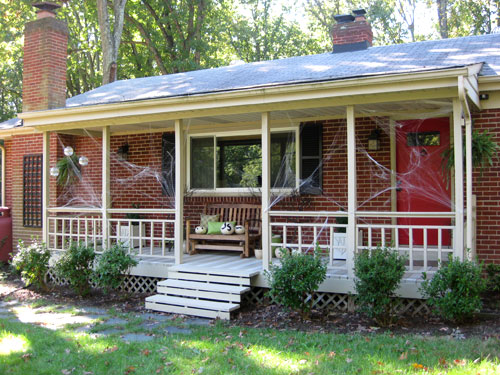 The branches were actually John's fabulous find. I sent him back into the woods behind our house to clip a few leafless twigs but pretty much all of our trees still have leaves on them, so when he stumbled upon a few old bush carcasses that we'd tossed in a pile (that were so dead when we wanted to remove them that we couldn't even craigslist them for free) he instantly recognized their potential. Who knew dead bushes can actually be a positive on a certain spooky holiday? Then we grabbed some black spray paint courtesy of True Value and their amazingly generous gift card (read all about their awesomeness here) and lightly sprayed all the branches so they took on a deeper ebony hue. We even stuck a raven from Michael's in one of them for good measure.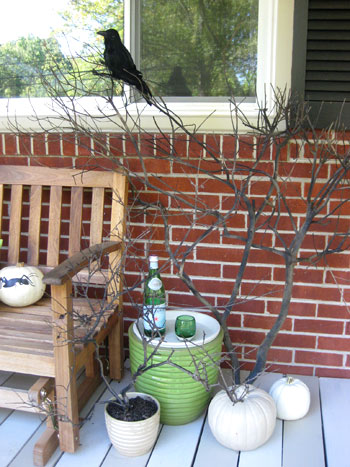 I love how John potted some of them and just leaned the larger ones on either side of the bench for a nice dead-ville vibe. And the two push lights were also John's little stroke of genius. They were only a few bucks at True Value and when placed behind our branches at night they cast a goulish little uplit effect into the spindly branches…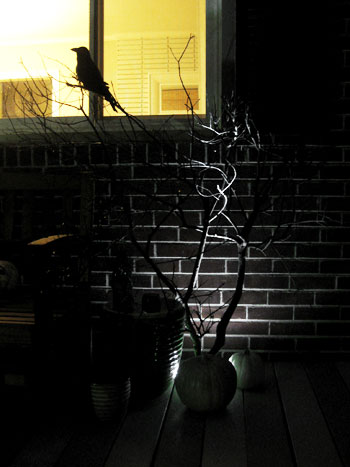 … creating exaggerated shadows on the porch ceiling and tons of eerie atmosphere.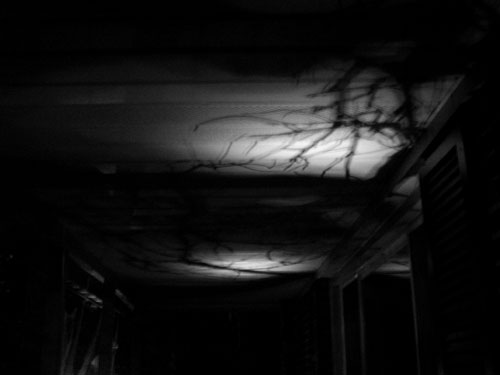 Then we just stretched some spiderwebbing stuff around the porch posts (the secret is to pull it thin so it looks less fluffy and more webby) and actually had more than half a bag leftover (so we might just do it again next year instead of waiting our usual 2 year span).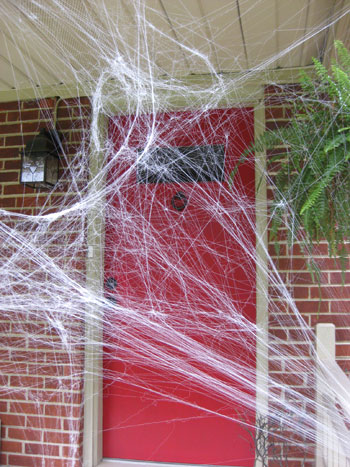 Three fresh white pumpkins were the last things on our list, so we selected a nice little assortment and decided to stick with our black and white theme from inside (after all, spiderwebs + black branches = a black & white theme going on already) so why not add a bit more to the porch in the form of painted pumpkins? We already had some black acrylic paint (Liquitex Basics in Mars Black if you're wondering- the key is to use something that cures and works in all weather if they'll be sitting outside) so we did a bit of brainstorming and landed on a bug theme in honor of all things creepy crawly and Burger's absolute favorite pastime (for him, bug hunting in the backyard ranks up there with eating treats). And we actually got three pumpkins this year (as opposed to two, like we did last year) because we thought Burger deserved one for himself.
And as much as this chihuahua stencil from BHG cracked us up, we knew he would like a tribute to his backyard bug hunting expeditions even more than a pumpkin carved in his likeness. We even came up with a way to do a gross little centipede monogram of sorts with both of our first initials formed by the leggy little critters, and settled on cockroaches for the second one with Burger's favorite- a grasshopper cricket looking thing- for the third pumkin. It only took about twenty minutes to sketch them onto the pumpkins with pen and then fill them in with our black acrylic paint (using a black sharpie for the super fine details on the cockroach pumpkin). Then we sped everything up to create this fast little time-lapse recap of the process (see it here on YouTube).
Fear not those who can't watch videos at work, it's pretty much just us sketching and painting in fast motion with a little bit of Burger in between. And here's the end result…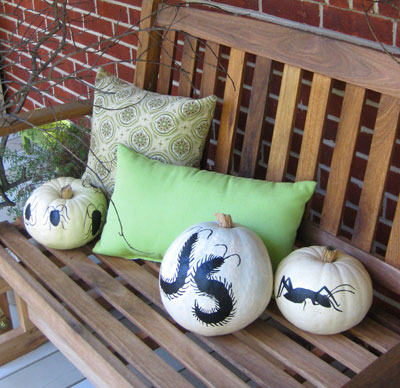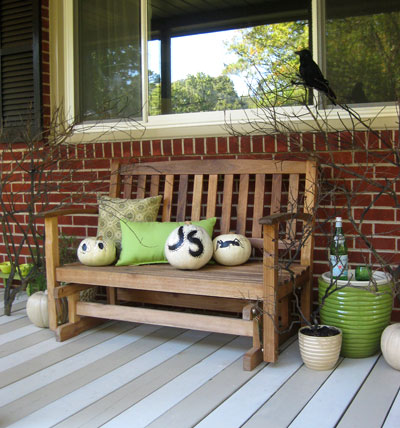 We really liked our departure from carving (although we thoroughly enjoyed that last year) because we're thinking our pumpkins will last a while since they're un-cut (plus the clean-up was blissfully easy). There was one downside though: no pumpkin seeds. Sadness. Oh well, maybe we can cheat and buy some at the grocery store. So that's our spookified porch all ready for the 31st. Now all we have to do is share some photos of Burger's delectable costume. Yup there's a clue in there. Stay tuned for that…
Oh and what about your Halloween curb appeal? Anyone else planning to bring home some pumpkins or stretch some spiderwebs? What treats are you planning to serve up? We try to give out the good stuff (peanut butter cups and snickers) because we remember how fun it was to hit up those houses as kids. Do tell.