I got all leaf-happy to add a bit of that fall/Thanksgiving vibe to the dining area. It was free and it took about ten minutes total. Here's the dining table with some pretty branches from the cherry tree out front: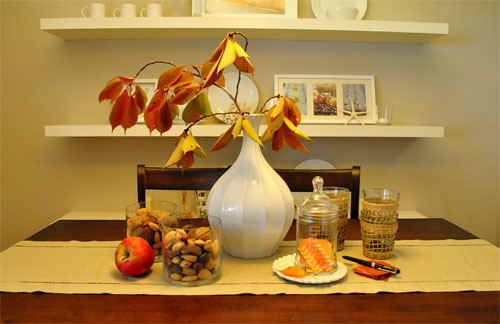 And I popped a few smaller branches from the same tree into my floating cb2 hanging vases.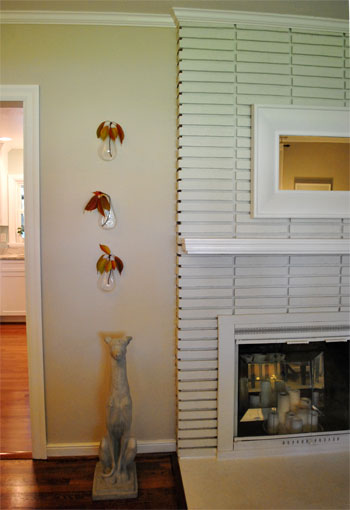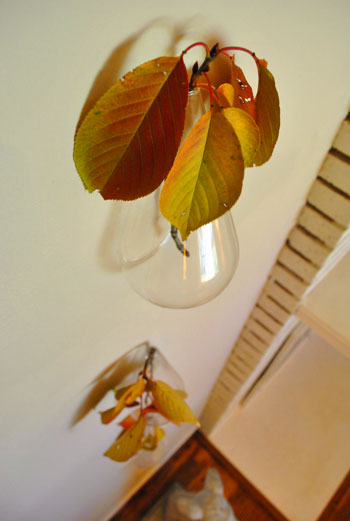 Sure, they're looking a little limp, but after adding some water to the vases, they perked right up. And since they're free I'm ok with them lasting just a week or so if that's what mother nature so ordains.
Oh and I thought a $2 bag of mixed nuts looked kinda Thanksgiving-ish (saw something similar in an old Pottery Barn catalog of yore) so I grabbed the bag and dumped them into two clear glass vases for more of that seasonal vibe. And I added an apple we already had in our fruit bowl- just for more of that pretty fall color.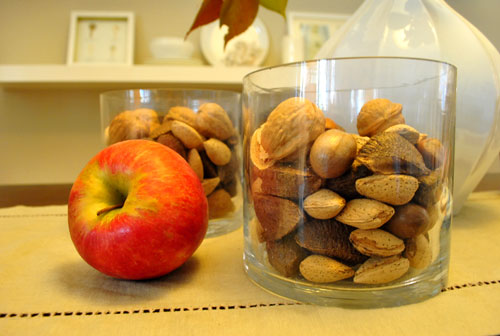 The great thing is that those apples & mixed nuts can look Christmas-y too, plus they're edible. Talk about multitasking only-takes-a-minute decor.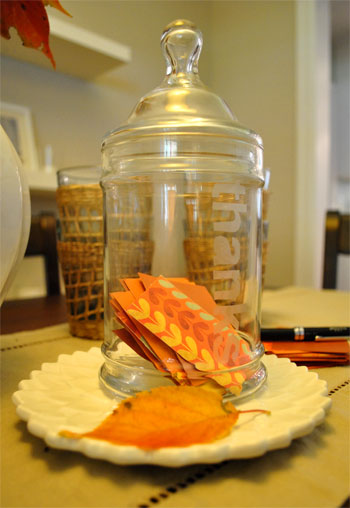 Oh and our etched "Thanks" jar is turning out to be a pretty fun project. We haven't skipped a day of recording something that we're thankful for yet (one of us usually reminds the other) and we can't wait til the end of the month when we can read them all (I have no idea what John's writing but he snickers from time to time, so I'm thinking it'll be funny to finally read his in a few weeks).
Any fall or Thanksgiving decorating going on at your house? Remember those fun trace-your-hand-and-make-it-a-turkey projects back in kindergarten? I basically lived for that when I was a kid.