Last year Thanksgiving flew by so fast that we barely got to acknowledge any fun fall decorating (except for this post with some seasonal inspiration that we were loving). So this year we were determined to do a little Thanksgiving sprucing of our own and we finally got around to it yesterday. First we transformed our formerly spooky Halloween console in the living room (more details about that here)…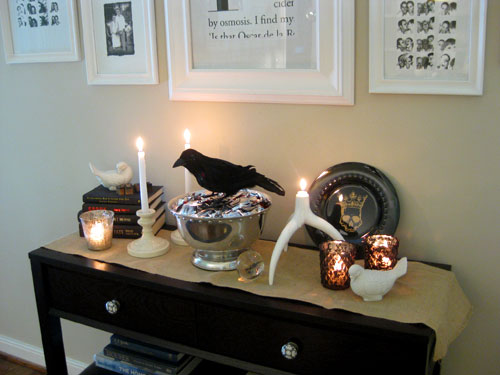 … into a less sinister, more fall-friendly Thanksgiving setup complete with white pumpkins, glittering votives, a stack of cream and brown books, and an abundance of corks atop a borrowed kitchen cake stand.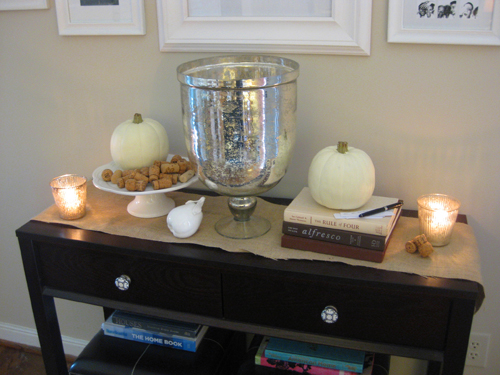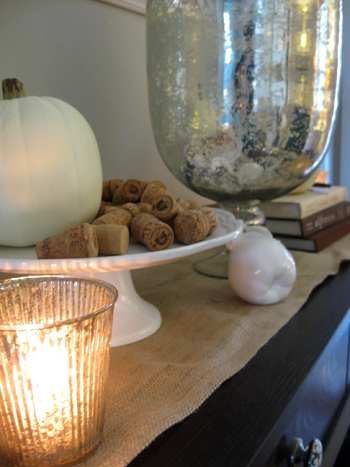 You'll notice that we kept the same textured piece of burlap as a runner (it works just as well for Thanksgiving as it does for Halloween) and switched out our studded silver bowl of candy for an oversized metallic hurricane. And we even added a few strips of paper that say "I'm thankful for…" on them (we think asking guests to complete the sentence and drop their answers in the oversized urn would be fun).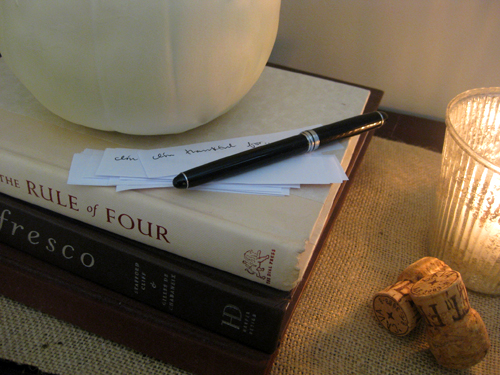 And whipping out those corks from our ever-growing collection had us thinking back to an old dining room tablescape that would definitely work for the fall season thanks to lots of neutral colors and natural textured (find step by step instructions for this oldie but a goodie arrangement right here):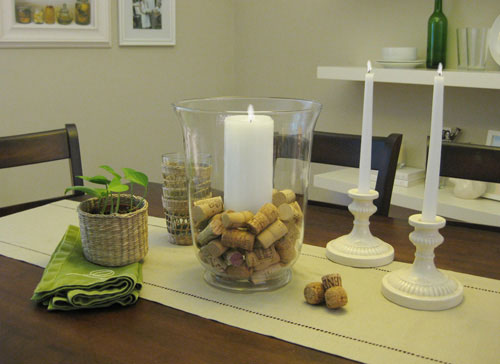 Other natural materials would also work really well for setting the stage this Thanksgiving, so don't forget about how much texture and interest baskets (which can be used for everything from planters to housing a bounty of gourds) and even brown-rice-as-vase-filler can lend to a tableau (here are those two materials living it up on our console table back in the day):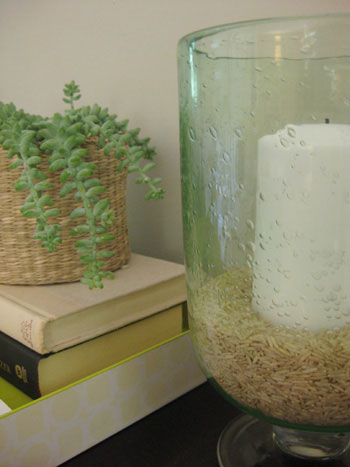 But enough flashing back to the past, on to the table settings we threw together yesterday along with our new console setup. We love how they feel festive and natural enough for Thanksgiving entertaining without hitting you over the head with turkeys or mounds of fake fall leaves. And some of them could even be tweaked to work for Christmas, New Years or even everyday entertaining as well. Gotta love diversity like that (more bang for your buck, right?). And speaking of the budget, we did all of the decorating in this post without spending a dime. That's right, every single thing you'll see here was already in Casa Petersik, so we just threw open our cabinets, closets and drawers to- in the words of Tim Gunn- "make it work." They might not scream Thanksgiving, but here's hoping they whisper it a bit…
Here's our first little table setting. We pulled out our old Christmas feather tree since the brown feathers are actually quite turkey-esque and the pine cone tree also feels pretty fall-like. Pairing it with some pops of fresh green (we love the idea of serving personal beverages like mini Pellegrino to each guest) and tossing down some wood block letters from the flea market to indicate who sits where finished things off (they're just a few dollars and so fun to use as "place cards" of sorts).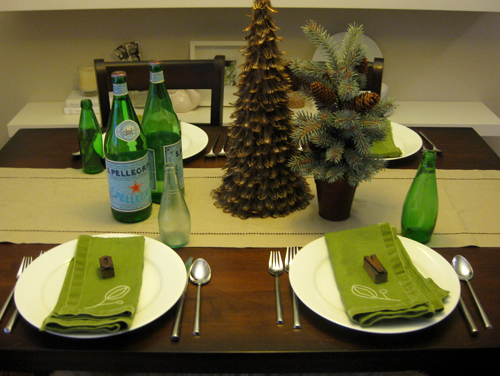 Our next setting is a bit more modern and airy. We revisited our cork centerpiece and added an antler candle (antlers are fall-ish, right?) and even flipped over a scalloped bowl to create a stand for the first one that we filled with caramel corn (the added height really helped to keep things feeling balanced). Woven cups and burlap-colored napkins with natural elements like ceramic pears and woven orbs completed the simple and streamlined look.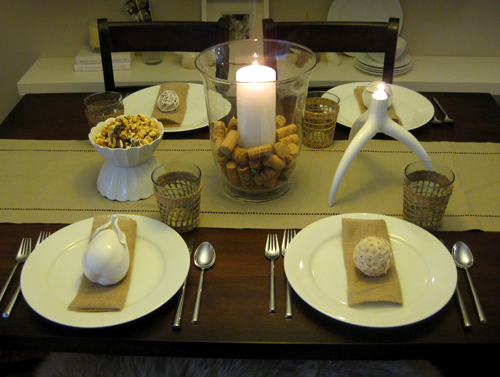 Here's yet another table setting option that we threw together since we had the gorgeous floral centerpiece on hand thanks a few kind friends who sent it our way to congratulate us on our bun in the oven. We thought the white and green looked elegant and festive, especially when paired with white napkins, china and candlesticks. And bringing in some punchy bowls and using corks to display place cards was the icing on the cake- er turkey? Sure it's a little fresh and spring-like but picture those glasses full of cider and those plates full of turkey and stuffing…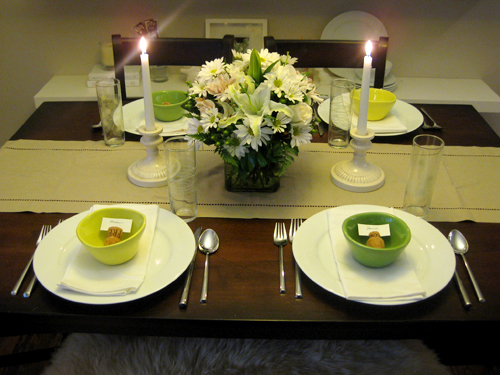 Here's a detail shot of the corks that we simply slit with a knife and stuck little hand-written card stock name tags into each one. We actually originally did this a while back for this old place setting post of yore- ah memories.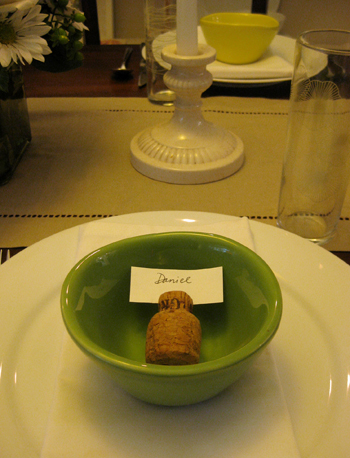 Here's another little arrangement we whipped up using a few hits of metallic silver (in the cups and the candlesticks topped with woven orbs) along with our little faux-spruce tree tucked into a basket this time for added texture. Again we went with a pop of green in the napkins (a lot of the things that we had on hand were green- but we like a little bit of modern freshness even for fall decor). Then we simply placed a dried grass cutting on each napkin (these can be found anywhere from your backyard to the parking lot at Target). We thought the soft feathery touch really paired nicely with the basket and the woven orbs while serving as a nice counterpart to the gleaming silver accents.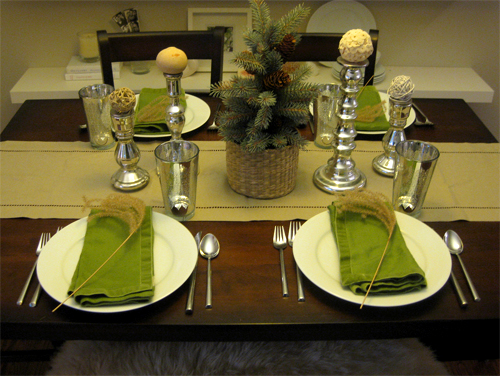 And for our last table setting we always like to do something a bit more casual, like an arrangement you might toss together if you have friends coming over for hot cider and dessert or just a little bit of finger-food. It's so easy to throw down a few things out in an asymmetrical arrangement that still looks chic and festive (thanks to the gleaming metallic cups and the fall feeling that the basketed spruce tree lends to the tableau). And who can say no to caramel corn and cookies?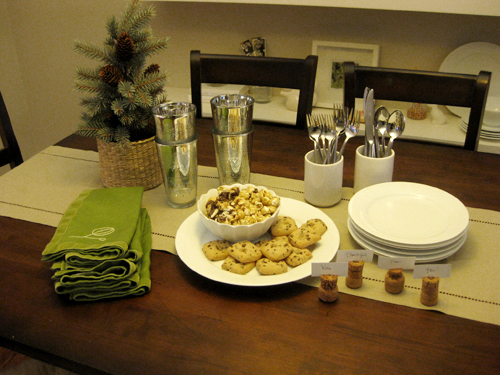 We also realized that wine corks can do more than serve as place card holders, they can actually deliver a sweet little Thanksgiving message to your friends and family. Ours was: "We're thankful for you!" – corny, but true.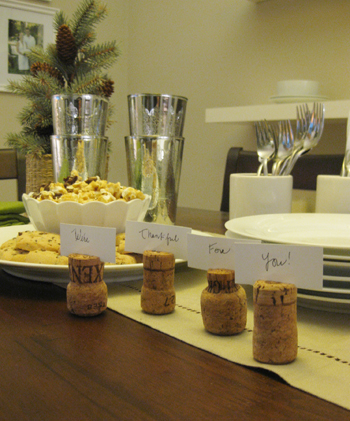 So there you have it. A few simple (and free) ways to bring some semi-Thanksgiving-ish cheer to your home using collected items like bottles and corks and universal pieces like white plates and a neutral table runner. We know the arrangements above aren't overwhelmingly Thanksgiving-esque but we loved using natural touches and the things we had laying around- plus we appreciated the fact that with some small tweaks they would also work for other holidays that are just around the corner as well. And of course adding a big platter full of turkey and even some white pumpkins and votives like the ones we used on the console table would add even more T-day flair to your dining table.
We hope you all have fun getting your house ready for the big feast! And speaking of you guys, what are some of your favorite Thanksgiving decor ideas? Anyone out there who spray paints pine cones or brings in pretty yellow and orange leaves to wrap with twine around some votive holders? Dish the dirt about your Turkey Day decor.
Psst- Jonesing for more table setting posts like this one? Check out this oldie with lots of everyday entertaining arrangements and this one loaded with Christmas table decor ideas.
*Oh and for the chance to win the giant hurricane and two metallic votive candle holders on our console table along with the gleaming silver cups in our last table setting that were generously sent our way courtesy of Z Gallerie, just click here. Gotta love some fab and festive freebies just in time for the holiday season!

Update: You can check out all of our favorite holiday decor finds here – many of which are under $15!