Yes, that was a gourd pun. Although I must admit that my all time favorite post title ever was Oh My Gourd (see that post here). Anyway, in case you couldn't tell, this post is about gourds. I like injecting a little seasonal interest into our home in a few fun and inexpensive ways (think Halloween decor like this and Thanksgiving decor like this). And given my love of all things white and ceramic I couldn't help myself when we came across these faux gourds at JoAnn Fabrics for 50% off their $2.99 price tag (so I grabbed all five for $7.45).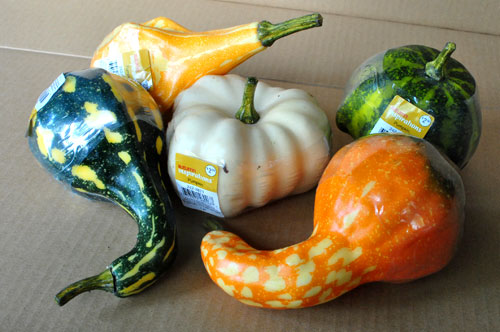 Then I spray painted the heck out of them with some white glossy paint. Hard to believe, I know. At least I'm consistent with my white object obsession.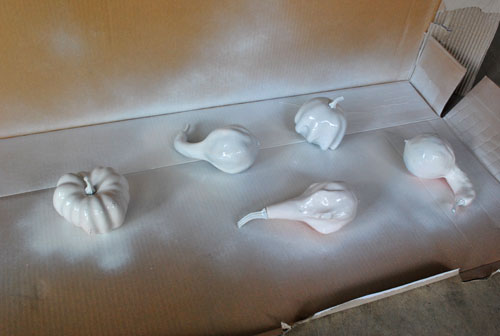 Within a few minutes of spraying and a few hours of drying I was left with these babies. Which I'm happy to report not only look like glossy white ceramic creations, but also feel just like them too (they were made of dense foam that was a bit heavier than you'd expect, so the whole result is actually a lot more convincing than I thought it would be).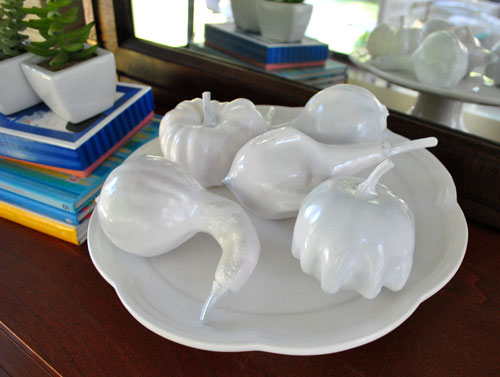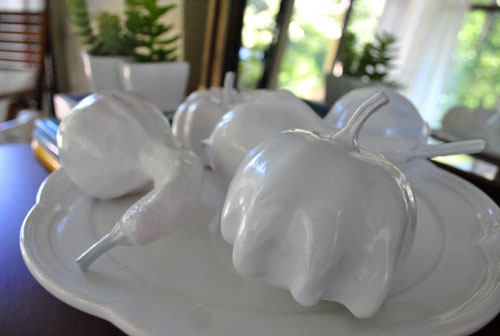 I like how they look grouped on a ceramic cake stand and definitely plan to work them into this year's Halloween and Thanksgiving related decorating adventures. Speaking of seasonal decor, what are you guys doing to usher in the temperature change and those upcoming holidays? We had to put the heat on for the first time last night. Brr.