Oops, we totally fell off with the whole used-to-be-monthly budget blooms thing. But lookie what I found growing in the jungle that is our front lawn: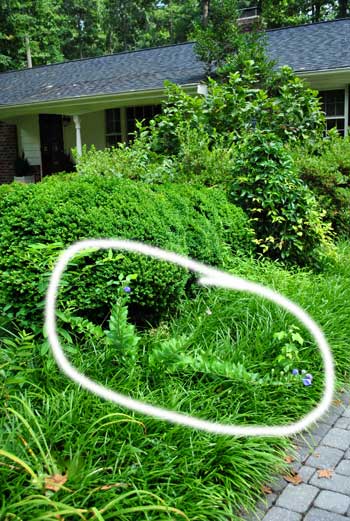 Allow me to put on my best Australian nature-show voice to set the scene for you: The air is still. Not a predator in sight. Something moves in the brush. A buzzard circles overhead. Somewhere in the distance a lion roars. No wait, that's a baby crying. And just like that I'm out of character.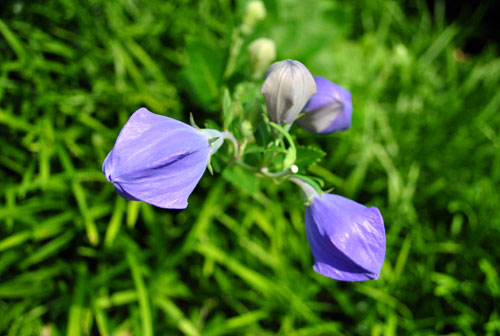 I don't know the real name for them (flower whisperer, I'm not), but I like the sound of Purple Ring Pops. So that's how I've been referring to them. At first I just admired them on our way up and down the driveway. Then I thought a little snip snip was in order so I could take some of the stems inside to be ogled more regularly. Here are a few cuttings living it up on the back of the living room console table.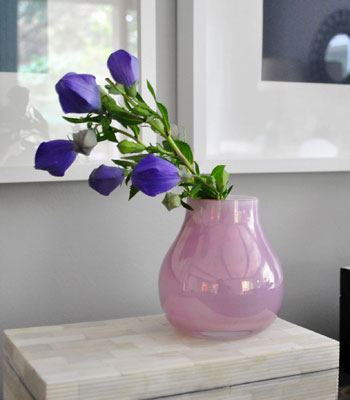 Sidenote: Everything looks better with a white cardboard rhino in the background (from here a while back, bee tee dubs).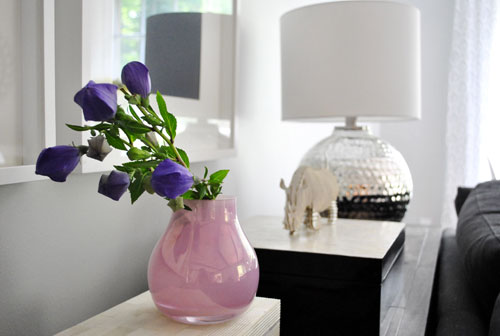 I think this vase gets used more often than any other in the house (it's from Crate & Barrel three years ago or so). Pink and purple sounds like it could sway into the unicorn/fairy princess realm… but somehow it works.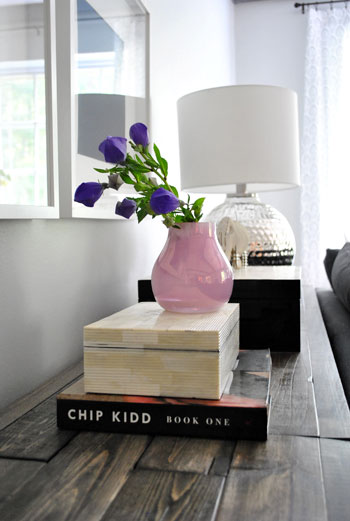 Anyone know the real name of these blooms? Have you found any fun mystery flowers – either in a field, at the farmer's market, at the grocery store or in your yard? Do you ever have that internal debate about whether you should leave flowers outside to enjoy when you're out there, or snip 'em and bring them inside, where you spend more time? I usually leave things outside for a few days and then can't help myself and bring in a few cuttings. Oh and did anyone notice I snapped these pics before our frame switcheroo (mention this morning) but it just took me longer to write this post than it took John to get his done? Maybe we should add Overachiever to his roster of middle names. John Overachiever Danger Soda Petersik. I like it.
Psst- Wanna see our first cheap-o bouquet from January of 2009? And February, March, April, May, June, July, August, and September's too? How about our 2010 blooms from January, February, March, April, May, June, and July along with one from a few months back? Can you even handle all of that glorious nature in one sitting?