As most of you know, every month we like to enjoy one inexpensive- and sometimes free- bouquet to keep things feeling fresh around here (the idea actually stemmed from a super sweet Christmas present from the hubs a while back). But this month we got lucky. Nope, not with a free backyard bouquet, but with the photo shoot that we mentioned this morning… which involved a cooler full of flowers provided by the prop stylist, many of which weren't even touched when the cameras were being packed away.
And what did that ever-amazing prop stylist do? She offered all the floral outcasts to us as she left. Did I mention said prop stylist happens to be my best friend who actually worked with us on our last photo shoot with Do It Yourself magazine as well? Anyway, we tried to send the bouquets home with her and she said she would just throw them away if we didn't keep them because she had a long hot drive home and they'd be a bit worse for wear. Convincing argument. So we kept them. And our house has never felt more fresh and spring-like. Here's what we ended up with.
We inherited a few errant cream colored carnations…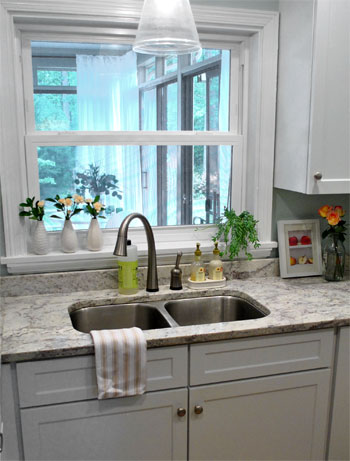 … that we stuck in three cheap-o Ikea vases on the windowsill with a bit of greenery to beef them up.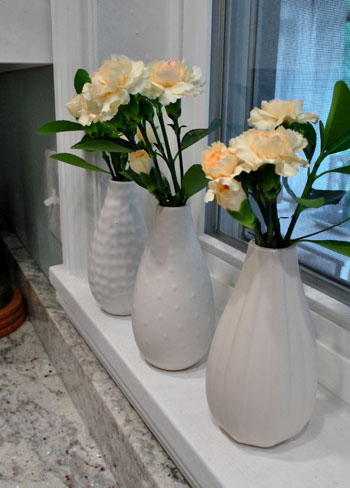 And you may have noticed that bottle with three roses in the first shot of the kitchen. Well, we were also left with these beauties, so a glass milk bottle that we had laying around became quite a charming (and kitchen appropriate) vase.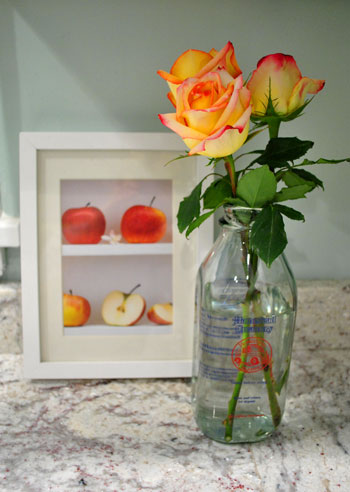 Aren't the scarlet tips so pretty with the creamy yellow coloring on the rest of each bud? We're not usually rose people, but we've both stopped to admire these guys for the last week on a daily basis.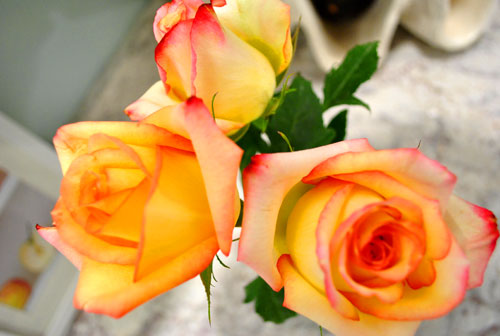 The half bathroom also inherited a nice little cluster of cream carnations. And this time the vase was actually one of our new drinking glasses from World Market.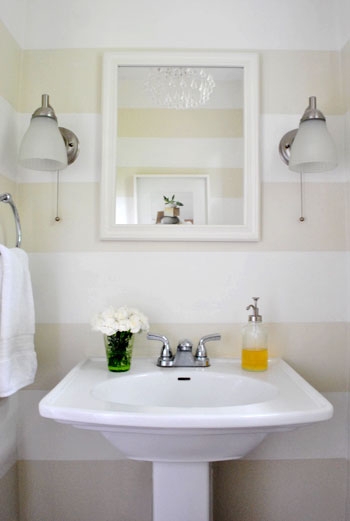 We love how the green glass and the green stems work so well to offset the pure white and cream blooms. And we're confident that these guys will last clear through May and well into June. Of all the flowers that we've brought home over the past year+ of this whole monthly floral arrangement adventure, carnations never fail to last the longest and charm us to no end the whole time.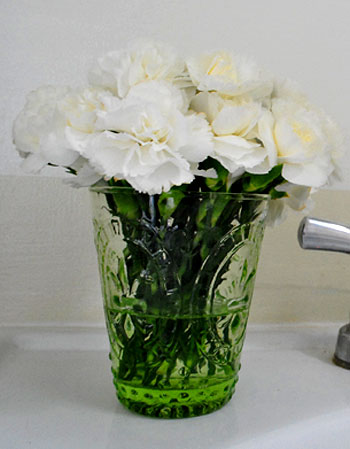 But now for the piece de resistance. Check out these luscious tulips with gorgeous varied coloring in my new green vase from Crate & Barrel (it was actually a sweet birthday gift from my sister-in-law, does she know me and my love of green glass or what?). These guys are definitely our favorite bouquet of the month- the entire house feels more vibrant and alive with them happily sitting on the dining room table.
So yeah, we're feeling pretty spoiled by all the bouquets. Heck we almost feel guilty for having such an abundance. Have you guys ever found yourself with a plethora of petals throughout your home? Maybe from an overly enthusiastic backyard rose bush, a secret admirer, or a flower sale at Trader Joe's? Do tell. And while we're on the subject of a bounty of bouquets, what do you prefer when it comes to bringing the outdoors in? Do you like all-the-same-flower arrangements? Clear glass vases only? Low packed-tight bouquets? Wild meadow-like bunches? Brightly colored blossoms? Spill the bloom beans.
Wanna see our first grocery store bouquet from last January? Itching to check out February, March, April, May, June, July, August, and September too? How about this year's January, February, March, and April bouquets? Just follow the links for some pretty sweet cheap-o (and even free) bouquets.