I'm back to share my cheap-o monthly bouquet (a super sweet Christmas present from the hubs). This time to usher in March I grabbed a mixed bunch: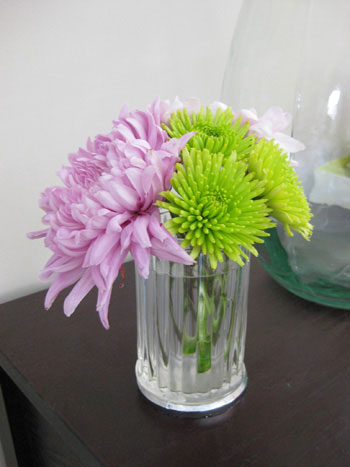 One of the fun things about a varied assortment means the scenery changes when you spin the vase (or the old-bathroom-drinking-glass-turned-vase). Here's the same arrangement from another angle.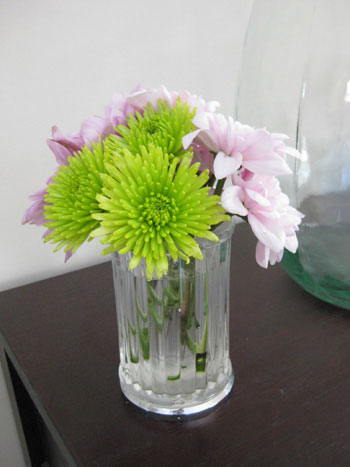 One big pink beauty plus some fun lime colored blooms along with some smaller pink cuties = love.
But you know we love to get at least two arrangements out of one $4.99 grocery store bouquet (making each arrangement less than $2.50). Here's the other half: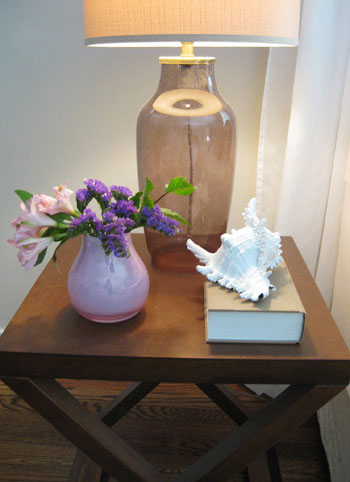 Look at those fun purple flowers. The flowers have flowers! Little white blooms erupting like barnacles.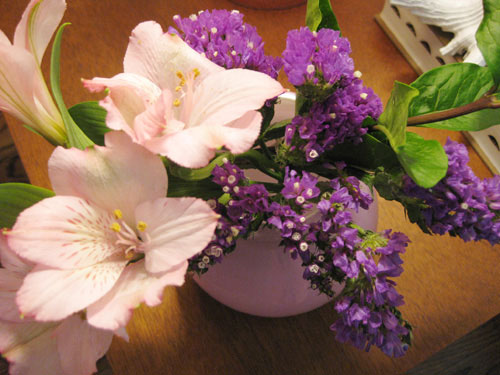 What do you guys think of my March mix? Do you know what kind of flowers they are? The thing about getting two flower arrangements for under five beans is that they don't really come with any information at all. And my flower knowledge is seriously limited.
The biggest surprise so far in our cheap grocery store bouquet "experiment" is how long they last. Each month's bouquet always looks lovely for at least three weeks (changing the water every few days and recutting the stems once a week seems to help). Both my January and February flowers went strong for over 21 days each. Here's to my March mix taking me all the way into April!
And speaking of April, has spring sprung for you guys? Anything you're doing to usher in the warmer weather? From spring cleaning to annual planting, we'd love to hear what you're up to!