I'm back to share my monthly grocery store bouquet (a super sweet Christmas present from the hubs), and this time our $4 flower purchase coincided with a photoshoot that took place at our house for our regular column in Richmond's R. Home magazine (stay tuned for the latest link in a few weeks).
We needed small green and pink blooms for the shoot (which we brutally cut off right near the flowerhead for the photos) so although you may notice that we've purchased these types of flowers before, after the shoot we resorted to displaying them in a totally different way (since they were sans stem).
That's right, we floated those babies in some small votive candle holders in our sunroom.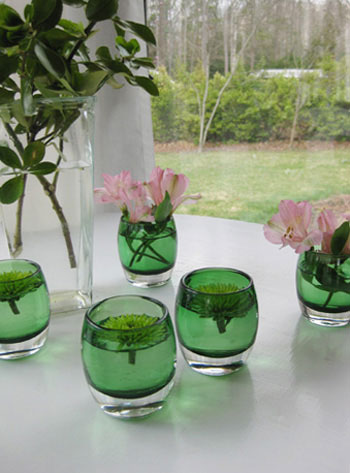 And they're such a sweet little sight to see when we're running in or out of the house (or even enjoying dinner alfresco).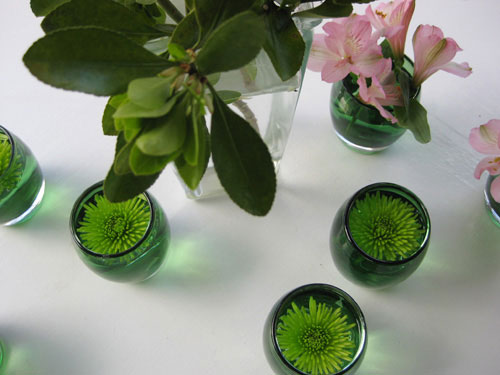 How are you guys ringing in April? Any new blooms poking up in your garden? Our daffodils came and went and we're anxiously awaiting some fresh raspberries thanks to a little bush that we planted in our soon-to-be edible garden. Is everyone that you know preggers? A ton of our friends and family members have buns in the oven (and we're excited to be aunts and uncles – no, not parents yet, sheesh!). I guess the birds and the bees are all a-buzz this April… what's new with you guys this month?