It's almost the end of September so it's high time I shared my monthly bouquet (a super sweet Christmas present from the hubs). Just like last month's myrtle branch, this month's blossoms didn't hail from the grocery store. It's probably the very last month we'll have backyard blossoms so we took advantage of that bittersweet fact and triumphantly clipped some of the season's final blooms. I seriously adore the delicate pink flowering sedum that grows around the back patio (we actually inherited it with the house but transplanted it after we upgraded the patio for our backyard wedding). Anyway, here are my lovely free flowers living it up in a similarly toned soft pink vase on the console table in the living room: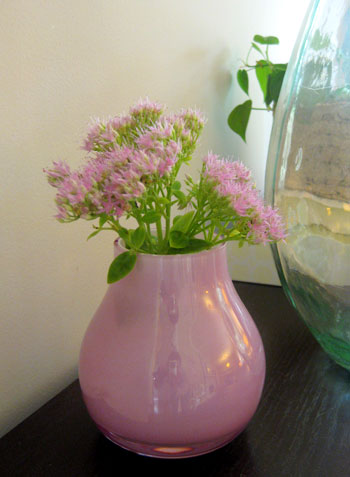 The cool thing about sedum is that the leaves and branches are almost like an aloe plant. They're succulents so they feel like they're full of gel- and thanks to the fact that they always feel so full of fluid they actually do really well in dry weather. We've also found this guy to be super hardy (we sort of beat him up when we transplanted him and he took a licking and kept on ticking) and my clipped stems have already lasted for weeks inside, so it looks like they do well when they're cut as well.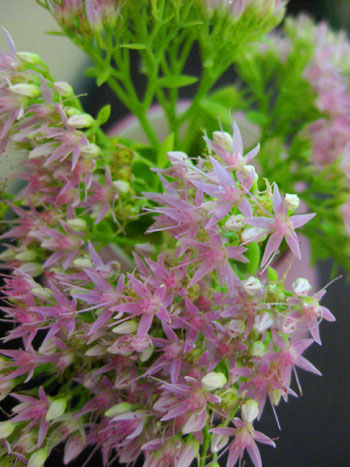 A lot of our favorite bouquets are comprised of all the same blooms, maybe because they mimic the same monochromatic yet layered textures that we love when it comes to our decor. I also really like the approach of putting bouquets in vases that are similar in tone (like these raspberry roses in a red vase from June) so the pale pink blooms paired with this soft pink vase really make my heart melt.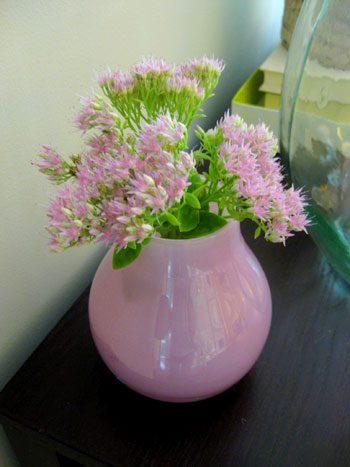 It's getting past blooming season here in Virginia so we're thinking next month we'll be back to snatching some cheap grocery store bouquets. But what about you guys? Have you snagged any cheerful flowers courtesy of your backyard or your local store? We'd love to know what flowers are on your "yes please" list this month.
Wanna see our first grocery store bouquet from last January? Itching to check out February, March, April, May, June July, and August too? Just follow the links for some pretty sweet cheap-o (and even free) bouquets.