I'm back to share my monthly grocery store bouquet (a super sweet Christmas present from the hubs). Except this month my bouquet didn't hail from the grocery store at all. No we didn't cheat and hit up a fancy florist, we looked no further than our own backyard. That's right, in lieu of the normal $3-5 grocery store bouquet, we spent zero dollars and zero cents clipping a dozen giant wild irises sprouting up between our old backyard boxwoods. Here they are living it up in the sunroom: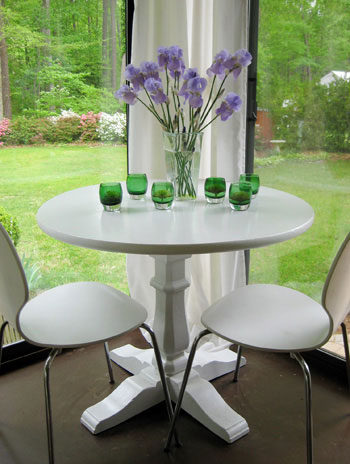 And what's that you see in those little green glass votive holders? Why those are some of last month's grocery store flowers still doing their thing a month later! And I'm loving the combination of the green glass with the purple blooms.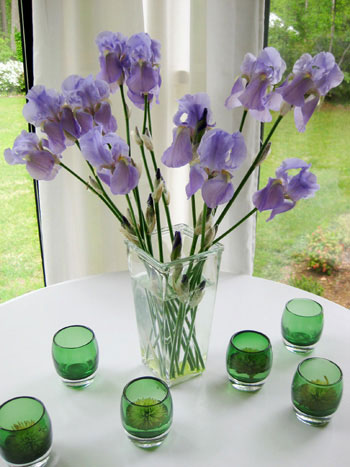 Possibly the best thing about this month's bouquet is how deeelicious it smells. Sort of like a lavender flavored sugar cookie. And you'll notice that there are still a bunch of buds just waiting to flower on each of our clippings so we should be enjoying even more of that intoxicating scent (along with an even fuller bouquet) in the near future.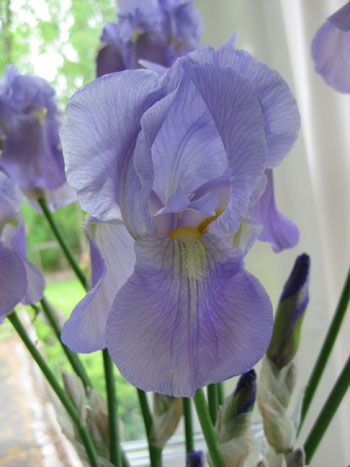 So today we're sending a big thank you to the previous homeowner who planted those bulbs years and years ago. They always come in huge and lovely every spring (we don't even fertilize 'em or anything) and we especially appreciate that we get to enjoy them even more this year by clipping a few and plopping them in a vase. Backyard flowers really are free decorating at its finest.
Wanna see our first grocery store bouquet from January? Itching to check out February and March and April too? Just follow the links for some pretty sweet cheap-o bouquets.