I'm back to share my monthly bouquet (a super sweet Christmas present from the hubs). And just like last month's gaggle of flora, this month's blooms didn't hail from the grocery store at all. In lieu of the normal $3-5 bouquet, we spent zero dollars and zero cents clipping a bunch of fuschia and coral roses from our backyard. Just like last month's irises, they're courtesy of the previous owners, and although we have no idea how to nurture roses (we've never fertilized them or anything) they just keep coming back year after year like clockwork. Here they are living it up a fun ruby red vase on our living room side table: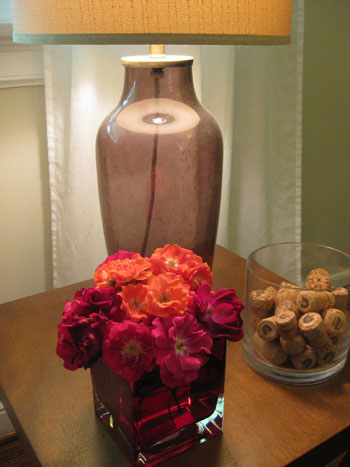 I love the two tones of blooms together, and especially like how great they look with the deeper fuschia ones around the perimeter while the coral ones fill in the middle of the arrangement.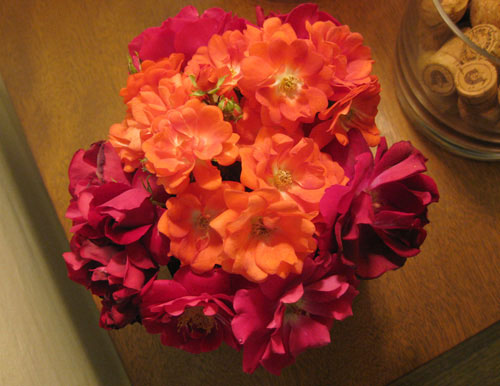 Even John has stopped to admire this month's bouquet. Maybe it's because we rarely have red & pink accents in our house, so it definitely pops and begs to be noticed. Gotta love such a punchy (free) accessory.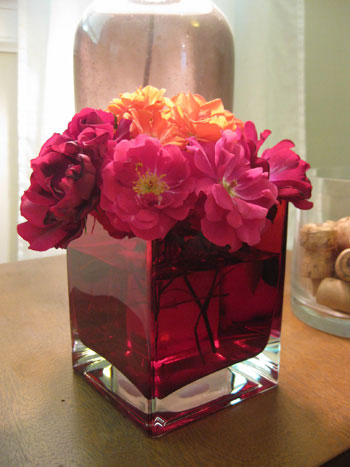 So what about you guys? Have you snagged any cheerful flowers courtesy of your backyard or your local grocery store? We'd love to know what blooms are tickling your fancy these days and what bouquets your backyard is yielding now that summer is upon us.
Wanna see our first grocery store bouquet from last January? Itching to check out February, March, April, and May too? Just follow the links for some pretty sweet cheap-o bouquets.