Thump. That's the sound of us falling off the fresh flower bandwagon last October. From the first of 2009 through September we were enjoying one inexpensive (and even free) bouquet for each month of the year (a super sweet Christmas present from the hubs). But somehow the end-of-the-year madness (toss in a few holidays, a growing family, a bathroom gut-job, and an impending nursery makeover) sadly derailed our year of budget blooms.
Well, John was determined to kick this year off right with a happy and cheerful January bouquet for me (actually purchased on 1/1/10- what a nice "fresh start" to the year). This month's arrangement hails from the grocery store and only ran us $4. Nice. And to stretch our flower budget even further, I separated the blooms into two mercury glass candleholders-turned-vases and proudly displayed our mixed batch of daisies, mums, and alstroemerias in this rarely seen nook of our kitchen: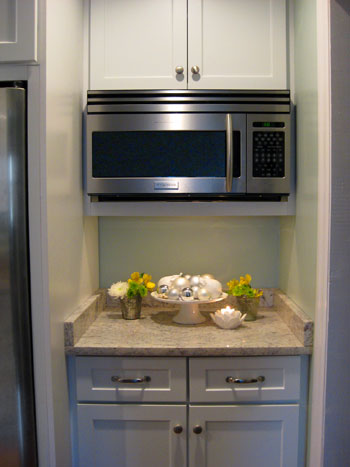 We love how they look sort of New Years-y and cheerfully festive with the cake stand full of ornaments and ceramic fruit… but of course since these flowers are all long-lasters we'll soon be replacing the ornaments with some edible treats (cupcakes if we're bad, fresh fruit if we're good) as the month goes on.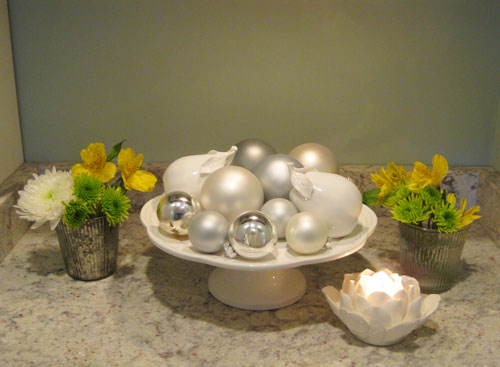 We really like how the happy pops of yellow in the alstroemerias (they're almost springy- which is encouraging on some of the coldest days) pair with the fresh green of the mums and the big white daisy (along with all the other white accents like the cake stand, ornaments, and lotus candle holder). It's sort of a winter-white-meets-New-Year's-sparkle effect… with an optimistic splash of spring tossed in for good measure.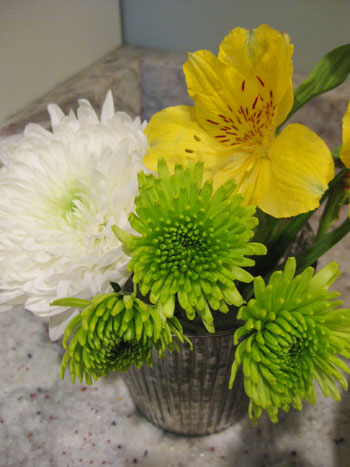 And of course for $2 per arrangement we're pretty happy with our re-commitment to at least one affordable bouquet per month. But what about you guys? Do you have any favorite seasonal blooms that you whip out each January? Is there any other greenery that you love having around to start the year off right (a gorgeously scented potted rosemary? a luxe bouquet of red roses?). Do tell.
Wanna see our first grocery store bouquet from last January? Itching to check out February, March, April, May, June July, August, and September too? Just follow the links for some pretty sweet cheap-o (and even free) bouquets.