As most of you know, every month we like to enjoy one inexpensive- and sometimes free- bouquet to keep things feeling fresh around here (the idea actually stemmed from a super sweet Christmas present from the hubs a while back). And this month John actually came home with a bouquet thanks to the fact that for the first time ever, he went grocery shopping without me. We always run errands like that together, but since Clara was just two and half weeks old at the time, us girls opted to stay behind and send daddy out for food on his own. Guess what? He survived without us (the nerve). And of course it was a lovely surprise when he returned with this cheerful $4 bouquet of yellow alstroemerias along with the milk, eggs, and other staples that he ducked out for.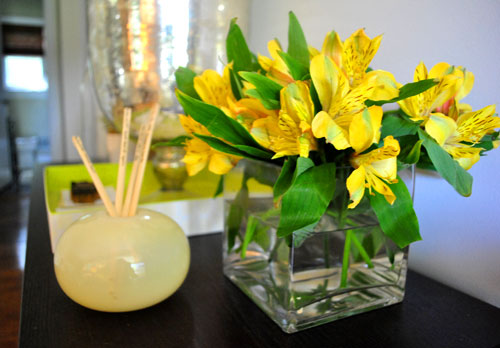 They look great on the console table by the front door (especially since people have been stopping by to see Ms. Clara, so we love the little pop of color that hopefully says yes-we-have-a-newborn-but-our-house-hasn't-imploded-in-the-meantime). Even if a few other rooms aren't nearly as neat these days…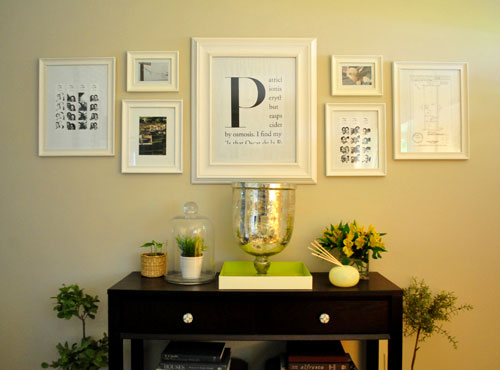 We love alstroemerias because they're one of the best bang-for-your-buck grocery store bouquets that we've found. They easily last three or even four weeks – all we do is change the water every few days and recut the stems on an angle about every eight days or so. And these yellow guys are so happy and sweet (we've always gone with soft pink ones in the past).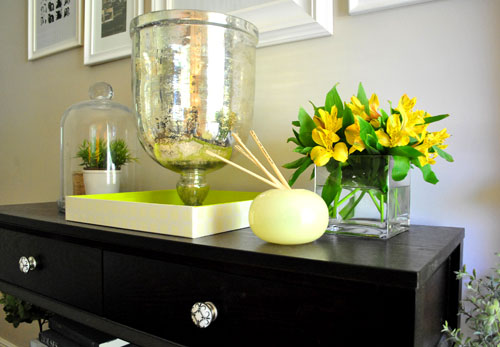 And instead of opting for a super bright vase, this time we went with a simple square glass one that we had laying around. It creates a nice balance to the glass greenhouse on the other side of the console and it really lets the yellow blooms and those fresh looking green leaves be the stars.
So that's our bloom o' the month breakdown. Have you guys been enjoying alstroemerias or any other cheap but oh so charming flowers these days? What's the state of affairs in your backyard? Any free blossoms to clip and pop into a vase for a quick little dose of happy in your kitchen or living room? Tell us all about your latest floral related endeavors.
Wanna see our first grocery store bouquet from last January? Itching to check out February, March, April, May, June, July, August, and September too? How about this year's January, February, March, April and May bouquets? Just follow the links for some pretty sweet cheap-o (and even free) bouquets.