Thanks to two pretty major road trips, August almost slipped away before I could share my monthly bouquet (a super sweet Christmas present from the hubs). Just like last month's lush lilies, this month's blossoms didn't hail from the grocery store. Again we bucked the normal $3-5 bouquet and headed outside, this time to snip one pretty hot pink branch from the crape myrtle on the side of our house. Here's my lovely free flowering branch living it up in a blue glass vase on the mantel in the living room: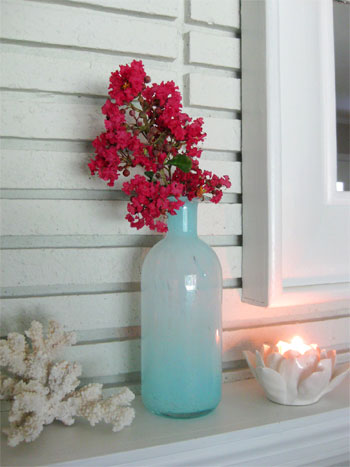 For those of you who live too far north to enjoy Crape Myrtles (amazing trees that runneth over with pink or white blooms pretty much all summer long), might I recommend moving to the south to enjoy them? They're planted along almost every road and around virtually every shopping center and they truly make a former northerner like myself feel like I'm in a Disney movie. I practically expected birds to land on my arms and fashion me a dress out of curtains when I moved here back in 2005.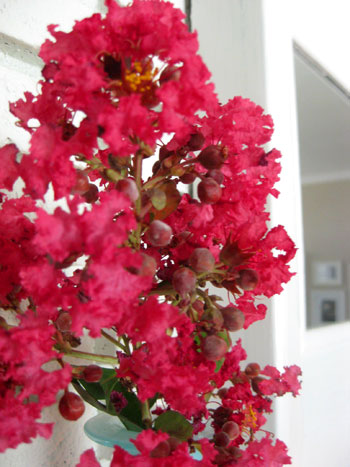 The pop of hot pink really wakes up the entire living room, and the raspberry tone mixed with the soft blue vase is an unexpectedly awesome pairing- especially in our otherwise light and airy home. Gotta love how something so small can make such a big impression.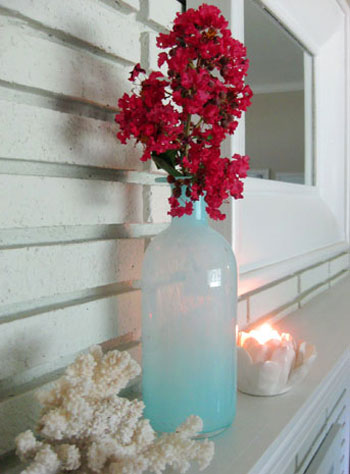 So what about you guys? Have you snagged any cheerful flowers courtesy of your backyard or your local grocery store? We'd love to know what blooms are tickling your fancy these days and what bouquets your backyard is bearing without breaking the bank.
Wanna see our first grocery store bouquet from last January? Itching to check out February, March, April, May, June, and July too?Just follow the links for some pretty sweet cheap-o (and even free) bouquets.